In today's world, selling items online is common practice for people who want to declutter their homes or start their businesses. Many visit such E-commerce websites to buy items, while others are associated with these websites as sellers. Since these websites are two-way streets, therefore they are able to fulfill demand and supply in proportion. In this article, you will learn about the best websites to sell stuff online.
16 Best Websites to Sell Stuff Online
Amazon and eBay are the most commonly known as well as two of the best websites to sell stuff. However, we are about to introduce you to a few lesser-known options that you can check out. These other platforms might act as a better starting point in your journey as a seller for different reasons like being focused on certain types of products or for other purposes.

Voted the best place to sell stuff by more than 12,000 people, the best Entrepreneurial company in America, and labeled as the best overall marketplace over Etsy, Amazon, and eBay by 50,000 people are just some of the feats achieved by this Seattle-based company. The platform is full of no less than 50,000 sellers and 35 million items.
It is a free-to-list website where you can easily set up an online shop and don't have to pay anything until you have made a sale. Also as a seller, the fee you pay for making a sale is comparatively on the lower side leaving you with a major chunk of profit even after paying charges.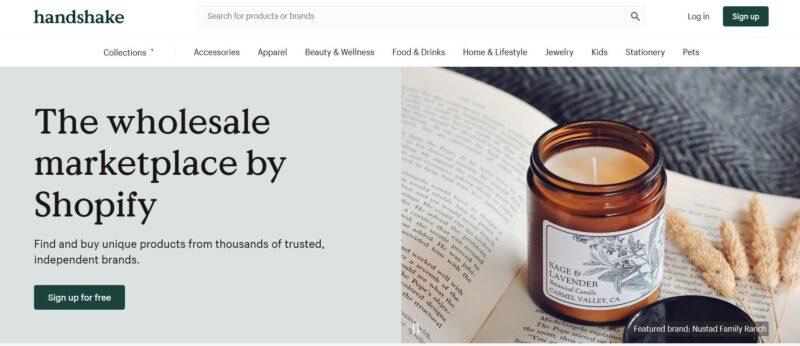 We all know the e-commerce platform Shopify. Shopify is responsible for building and operating another good e-commerce platform like itself named Handshake. It is a wholesale marketplace built to bring suppliers and retailers together.
It's not just the regular common products that you can find on this website but rather even uncommon and non-mass products can be found here. Because Shopify is backing this platform, it is better than many of its competitors and so if you have unique products that you sell under your brand then you can consider selling as a wholesaler on this platform.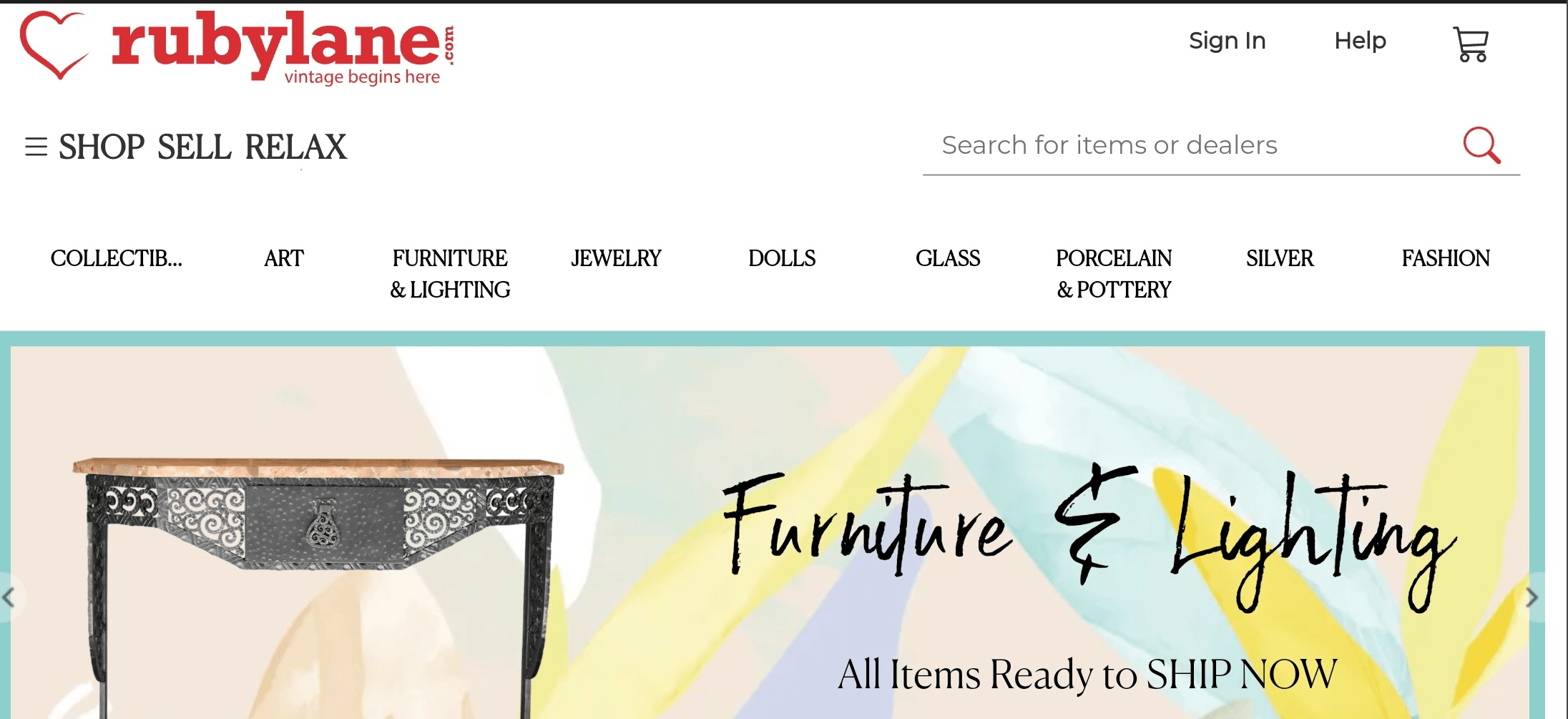 If you deal in antique and vintage items then one of the best websites to sell stuff is Ruby Lane. A few years back it was voted as the number 1 recommended selling venue. One of the best things about this platform is that you don't need to pay anything to set your shop up on this platform.
There is no listing fee or anything to worry about unless you have made a sale or listed more than 50 items. Since the niche of products sold on this platform usually has a high price you can make good money selling stuff on this platform if you can connect with the right audience.
Everything is available online these days be it top-quality furniture or home décor stuff you just have to head to the Chairish website and locate the perfect product that you wish to possess. Again listing stuff on this website does not require you to pay any kind of money as you are only charged any money if you make a sale.
Although the team running the website will check your product and review them as per your standards and will also work on the product images submitted by you. With this website, you have the option to provide shopping yourself or the company can take care of it for you.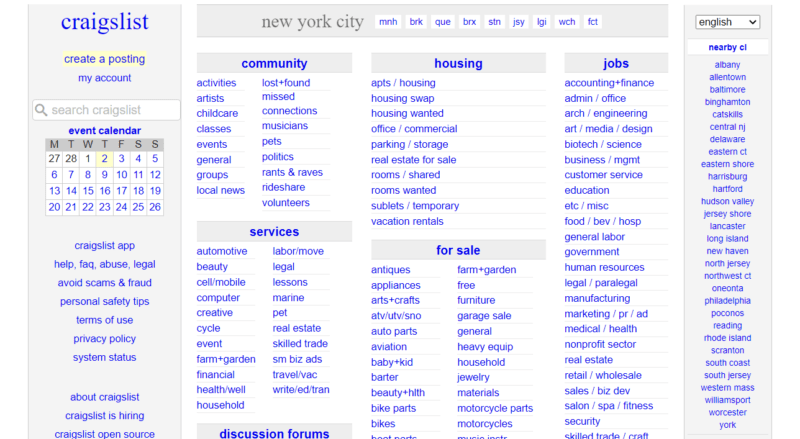 Anyone who has watched a lot of English movies or follows American culture closely knows how big a deal Craigslist is. This is an e-commerce platform that has a presence on more than a couple of continents.
Craigslist can be compared to Facebook marketplace except that the latter is more useful when you wish to sell your products to locals. Here again, you don't need to pay any kind of listing fee as the website is free to list. Also when you become a seller on this platform you will always have the option of selling almost any item and you could be paid via online methods or you can also choose to meet the buyer in person.
Who doesn't know Facebook? Social media apps like Facebook, Instagram, or pretty much any other are no longer staying on the backfoot with each of them entering the e-commerce space and that is exactly what Facebook's marketplace is. If you have a Facebook account you already are a part of the marketplace.
It is a free-to-use platform as there is no listing fee charged to you. You just need to head to the marketplace page in your personal or business account and there you can start listing products you wish to sell. Since Facebook is a social media website first, you can expect a more personalized experience when using this platform.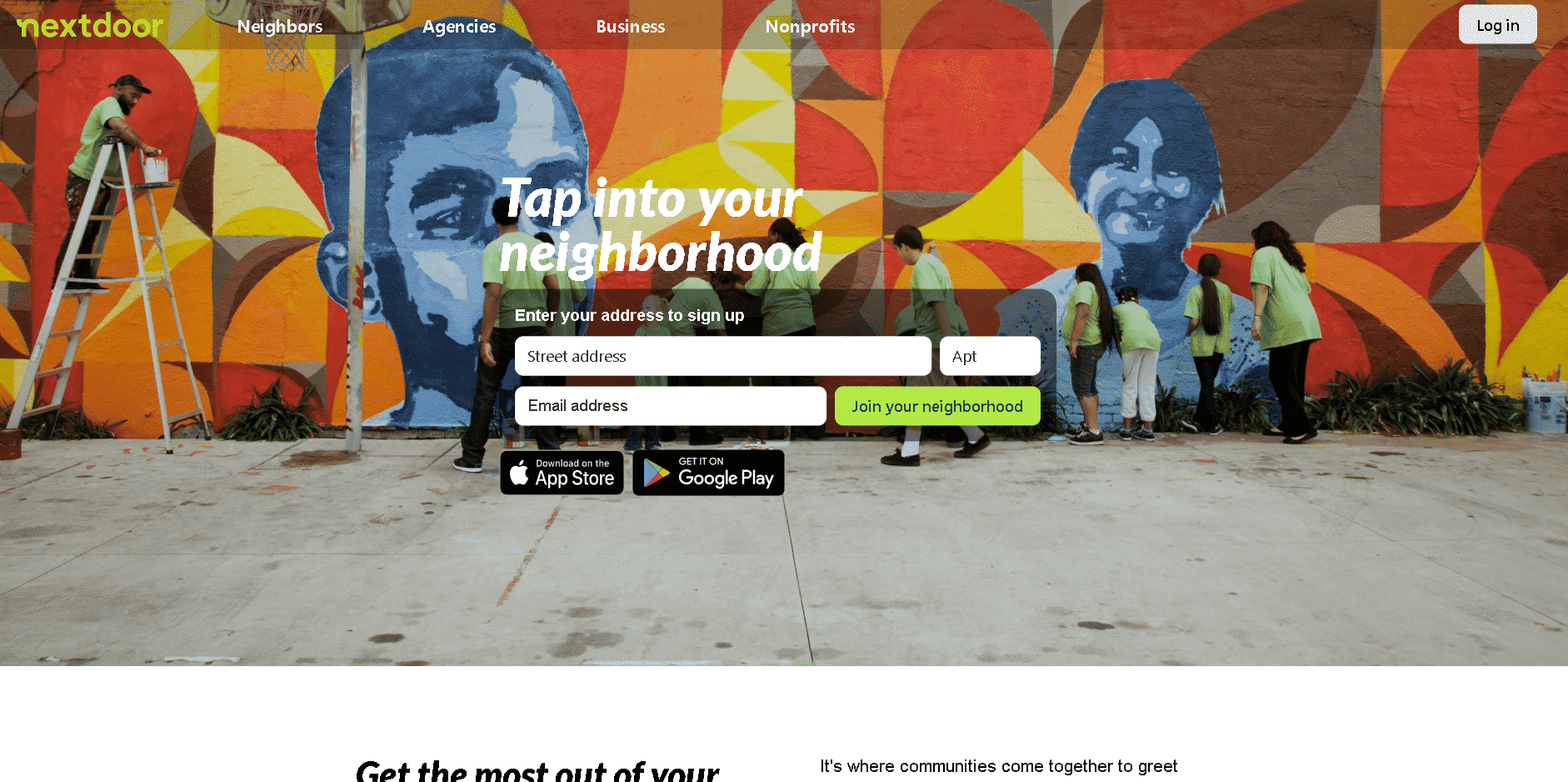 Another e-commerce place or one of the top websites to sell item online is Nextdoor and which is pretty similar to Craigslist and Facebook Marketplace. Available only in the UK, the US, Canada, Spain, France, Netherlands, Australia, Denmark, Sweden, German, and Italy it is a simple forum for online sellers.
It's not just a selling place but a place where you can update or get updates from people in local neighborhoods about what's going on at their place which is what also makes it a social media website. There is no listing fee or membership fee to pay but you do need to create an account before you can begin selling stuff online.
From Australia, we have this e-commerce platform that was founded in 2006. This is a marketplace that is more or less similar to Etsy. The platform is famous for its print-on-service-demand items that help independent artists to find a place where they can sell their work and make money from.
The platform has no less than 700k people from around the world selling stuff on this platform. Your job finishes as soon as you have uploaded the photos of your design. Third-party producers will print the design on high-quality products and ship them to the customers from which you will make money.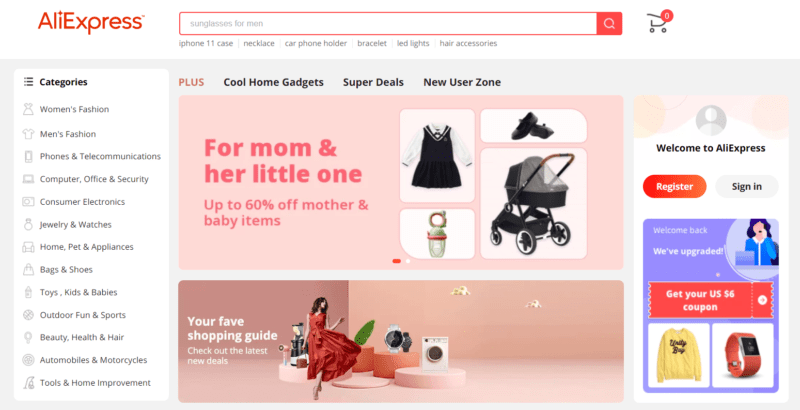 If not the largest then one of the largest marketplaces in the world is Alibaba Group. The company's top marketplace is AliExpress. The former reportedly earned 780 billion US dollars in 2022 and that should tell you how big a company it is.
AliExpress is not just a great marketplace but an easy one to operate as well and so selling stuff on this platform is much easier. It is a platform that charges reasonable fees from the seller and your products can reach global markets when you sell on this platform.
From Japan, you have the world's third-largest e-commerce platform featured on this list of online marketplaces. They are not into 1 or two businesses but more than 70 and they operate across continents.
As a seller, you can use this platform to sell your products globally without being worried about the local restrictions of a country. In addition, the platform also provides sellers with various helpful tools and a good customer service team to help them out with any troubles that they might face.
Also Read: 25 Best Craigslist Alternatives For Selling Your Stuff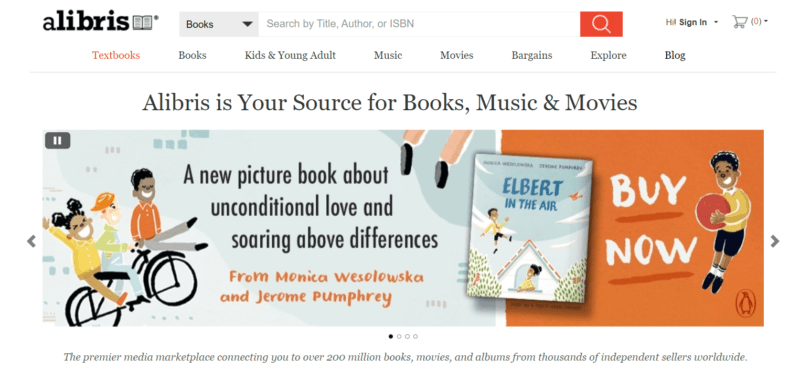 Alibris is unlike any e-commerce platform that we have seen so far in this article and that is because this platform is dedicated to selling movies, books, and music. Thousands of independent sellers across the globe have been using this platform since 1998 to sell stuff to millions of buyers.
Again when you use the platform as a seller you are provided with industry-leading listing tools and a great marketplace. Since it is independent artists that are selling stuff on this platform you would be helping out them and locals by using this platform.
From Southeast Asia, you have Shopee which is again one of the best websites to sell stuff. This Singapore-based platform was founded as recently as 2015 and is home to thousands of vendors who wish to sell their stuff.
The platform charges no listing fee to the seller and their commission fee is also not that high making it a great marketplace for the seller. Not only is the platform easy to use but it also gives you the chance to establish yourself in Southeast Asia as well as internationally.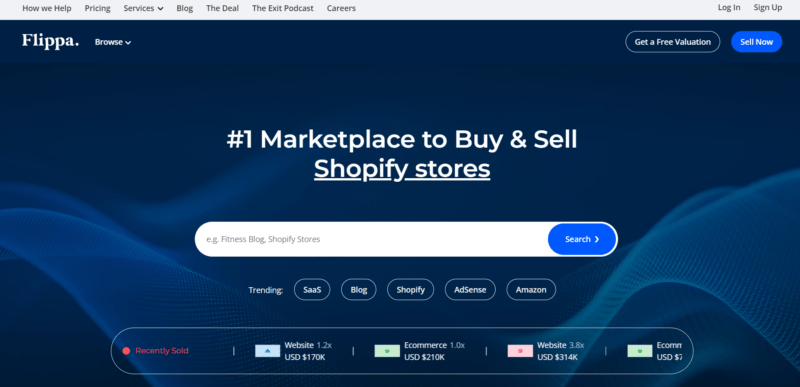 Founded in 2009 it is not just one of the best websites to sell stuff online but also one of the easiest ones to use. Be it buying apps, domains, web stores, online businesses, etc. all of it can be found here. The platform has verified buyers and so the chances of any scams taking place significantly go down.
The website gets at least 30,000 new users each month and the sellers on the platform get access to various tools for free that can help them with their business. You can also get your listings to feature on Twitter or the website's homepage while also getting access to various business-related reports.
If you are looking for a place to sell digital products then you might want to consider selling stuff on Sellfy where a market for ebooks, music, videos, and lots of other related stuff can be found. The website has been around for more than a decade and allows you to create your digital storefront easily.
You just have to list products on the website and your job is pretty much done. That's how easy it is to use this platform as the rest will be taken care of. You can also use Sellfy to embed buy buttons across your social media accounts. The services of this website can be availed by selecting one of the three affordable plans offered by them.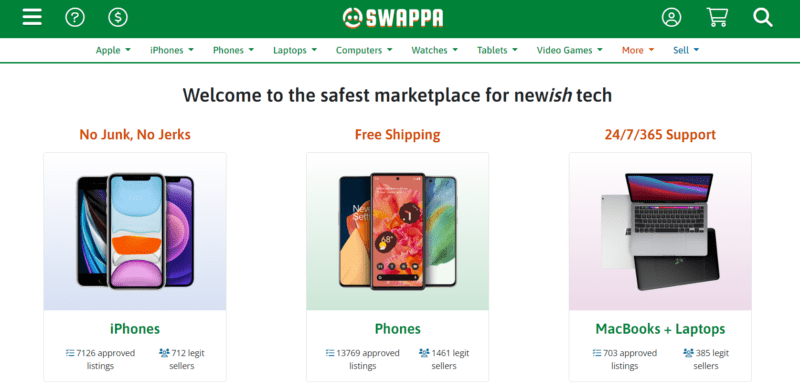 Established in 2010 was another easiest online selling platform in Swappa. It is again a tech-selling marketplace where you can sell your old stuff like mobiles, laptops, cameras, etc. The platform reviews each listing so that scams can be kept under check. It is one of the easiest online selling platform and it is also affordable.
You can get your listings on the platform highlighted if you want them to attract more attention. Using the local feature on the platform you can opt to sell stuff locally if that is your intended target audience.
Developed in 2013 Decluttr is another one of those e-commerce marketplaces that has earned good reviews from various reviewers from different corners. It easily makes for one of the best websites to sell stuff if old gadgets are what you are looking to sell. It is very easy to sell using this platform as you just have to tell the platform the stuff you wish to sell and they then give you a rate for the same.
If you accept their offer then you can send the product to them and get your money the very next day. Since the app is free and so is selling this platform might be the one that you should try and use next time you wish to get rid of a properly working old gadget.
Internet offers a vast array of websites to sell items online, providing individuals with convenient platforms to reach potential buyers. These websites facilitate seamless transactions and provide exposure to a wide audience, enabling sellers to maximize their chances of successful sales. Leveraging the power of online platforms can be an effective strategy for those looking to sell their belongings or products in a global marketplace.