Getting your brand in front of a massive crowd and enhancing brand awareness is not a piece of cake. You need to outperform your competition and make great efforts to allow your business to build authority in its niche. This is where webinar marketing comes into the picture.
Webinars increase customer engagement and help you build a personal relationship with your audience. The webinars also actively support answering the customer's objections or queries.
Nowadays, almost every marketer is hosting webinars. So, choosing all-in-one webinar software has become the need of the hour. We understand that it might be challenging for you to select amongst various options available online. Hence, we have developed this guide to help you engage your customers, generate more leads, and improve your sale tunnel by choosing the best webinar software platform.
How to Choose The Best Webinar Platform?
There are a plethora of factors that you must not ignore before opting for an ideal webinar software for your business. However, we have listed the most important ones below:
The platform must be impressive that help you fetch more attendees outside of your current audience to maximize the potential of your online event.
Provide participants access to engagement tools so that they would feel part of the proceedings.
An excellent webinar software always allows users to review its performance using KPIs to get informed about their scope of improvement, making their upcoming webinars better.
Ensure that the software is user-friendly and your audience can use it.
Always set a budget in place so that you do not end up spending more than what you can afford. If you are a beginner, you can also choose free webinar software. Once you get used to it, you can upgrade the package depending on your needs.
The software must have a recording facility so that the audience who could not attend your live webinar will be able to view them later.
Ensure the platform is reliable, secure and should provide robust technical support by phone and email.
The webinar software must enable the right number of presenters as every webinar does not feature the same number of speakers.
You must comprehend how efficient your webinars are. So, while choosing the best webinar software, make sure they comprise useful analytics.
Your webinar must be compatible with mobile or tablet view, as many people prefer watching the webinar through their smartphone or laptop.
Note: Do not forget to check the previous customer reviews of the webinar you are about to choose. This will help you evaluate its pros and cons and inform you of all the features you will get.
How Does Webinar Software Help?
The best webinar software is the one that makes your work minimal and helps you stand out from the fierce competition. Listed below are some of the benefits free webinar software offers:
The software provides you with a lucrative opportunity of letting you reach out to a massive audience. Moreover, it helps you avoid social media broadcasting integrations, such as Facebook and Instagram.
Allows businesses to save time and cost.
Facilitate creating engaging and impressive presentations for your potential customers.
Helps build domain expertise while connecting you with a new following.
Allows businesses to generate new leads and nurture relationships with their target audience
Red Flags To Watch Out For While Selecting the Webinar Software
Run the other way if you see any of the following aspects in your webinar tool:
Technical difficulties with video or sound.
Poor customer service.
Puzzling Dashboards.
Complicated downloads and extensions.
All these aspects are not worth the trouble you get into. So, always beware of dealing with such issues, and before finalizing the platform, always know that you and your attendees deserve better. So, never compromise on any aspect and always look for an amazing experience with the free webinar software.
25 Best Webinar Software Platforms (Reviewed)
The list of the best free webinar software is based on all the platform's features, pros, and cons. Everything you need to know about all the software is mentioned below that will cater to all your needs:
Livestorm is an astounding webinar software that offers multiple product demos and sales. The platform can be accessed from any device seamlessly, that too without any restrictions on the size of your webinar.
The tool is best known for running live, automated, or on-demand webinars, which are majorly used for the events like technical sales, customer training, and product demos.
Livestorm is integrated with stupendous marketing tools such as Salesforce and HubSpot. It also allows the attendees to speak live in real-time and offers in-depth resources on creating webinars, analytics, and instant meeting options.
The software offers a freemium plan with requisite features, including unlimited on-demand webinars, general meetings, live recording, etc. However, opting for its premium plan will cost you $99/month.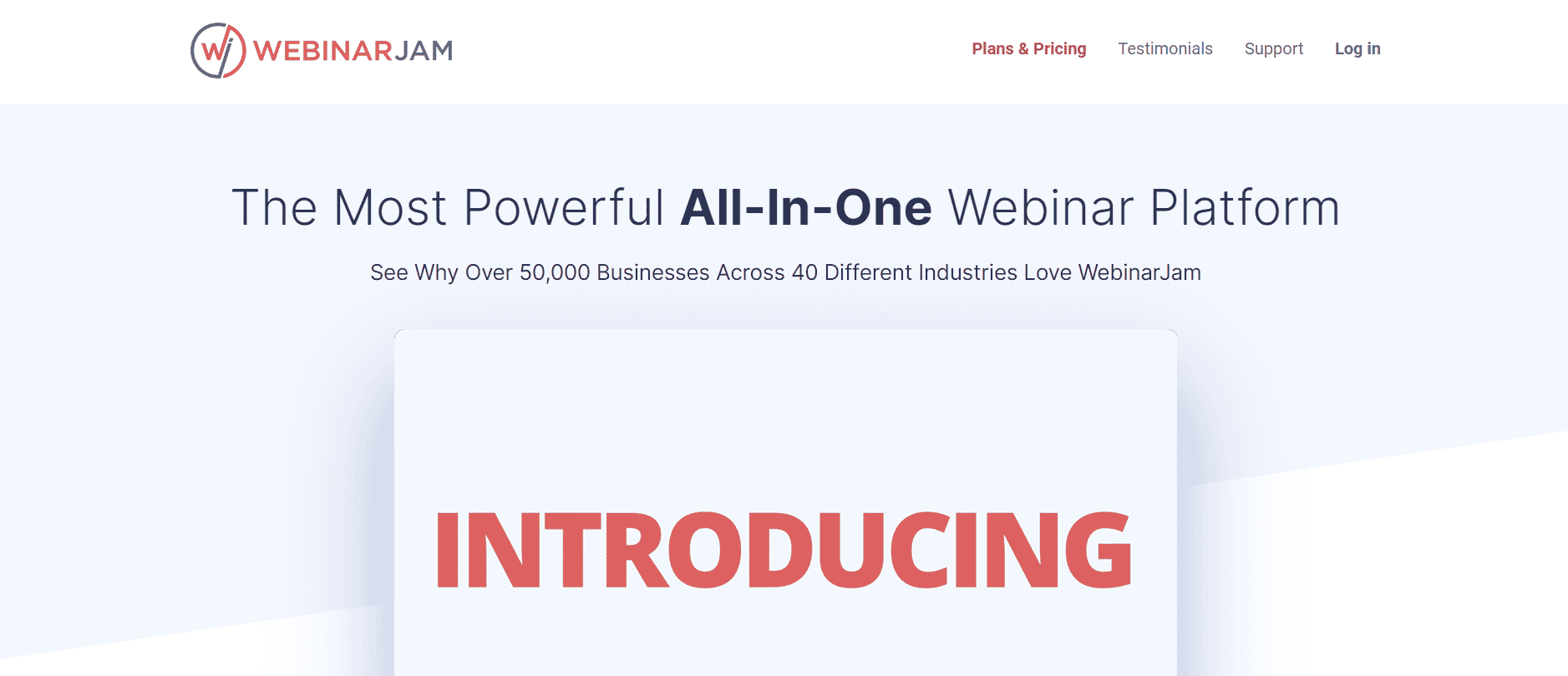 Looking to sell a product or a service via webinar? WebinarJam offers an intuitive solution to provide digital solutions to innovators for streamlining their products and services.
The platform is developed by Genesis Digital, which provides you with various extraordinary features allowing you to launch webinars and broadcast them live to YouTube pages. It also enables the attendees to take action on the spot by setting up a pop-up with a countdown timer and buying your products or services right from the webinar.
Furthermore, the tool also offers two-way communication via the advanced live chat feature. It grants the ability to pull videos of webinar participants for 1:1 video communication and provides a more personalized experience.
You can get WebinarJam starter plan for $39 per month, in which you are allowed to have 100 participants per webinar. However, if you have more attendees, you can opt for its Enterprise plan, which will cost you $379 every month but will allow 5000 participants per webinar. The users can also buy their yearly subscription.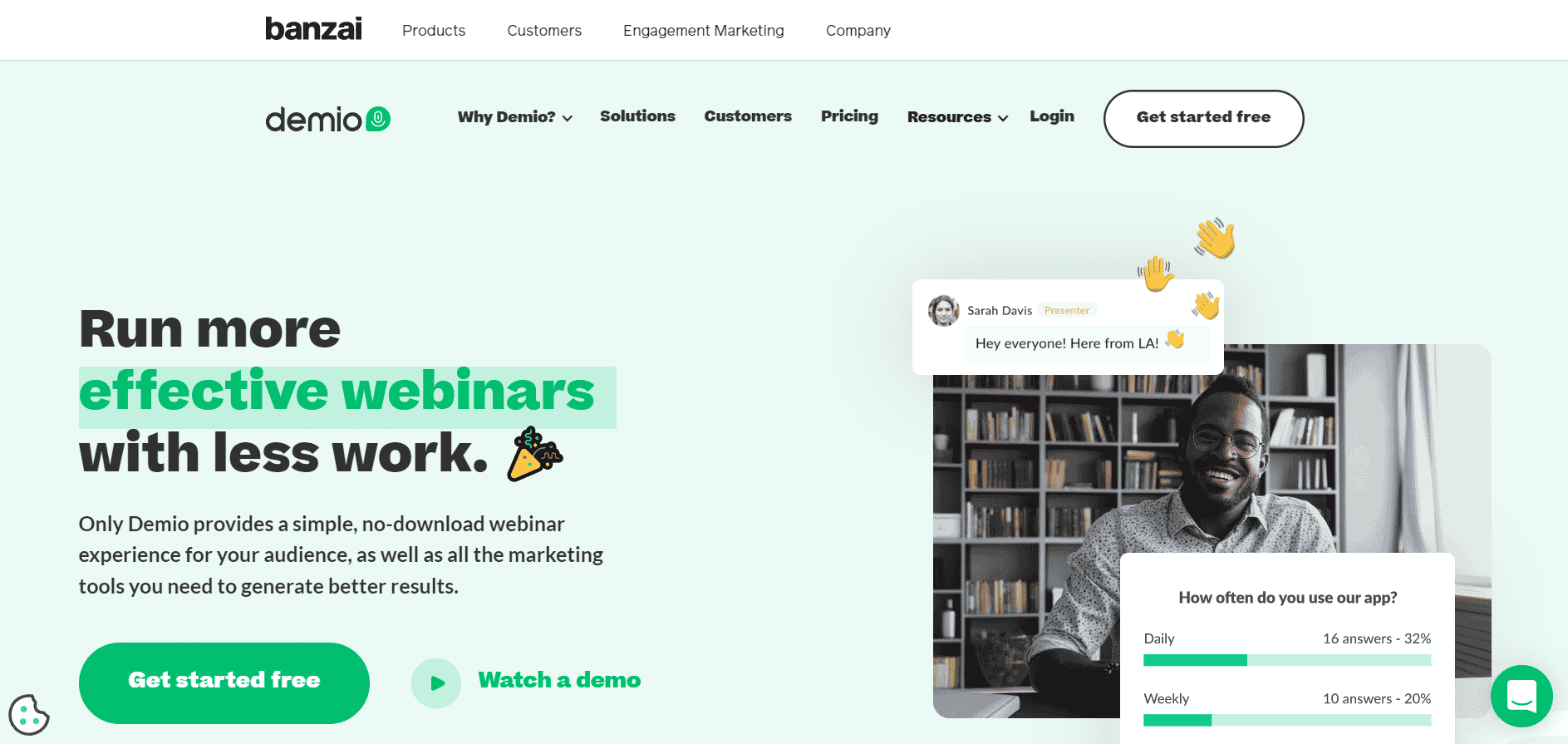 Demio is a magnificent platform integrated with an array of marketing-oriented features. It provides a modern interface that enhances the user experience at all levels. The software boasts about maintaining its core elements better than other tools.
Demio allows users to stream live or pre-recorded videos easily. Moreover, it makes it easy for the one conducting a webinar to connect with their audience via recording live videos. Its aesthetically appealing interface enables you to customize everything to match your brand.
The platform is best known for providing an enjoyable waiting room experience with engaging chats, handouts, and polls. In addition, it features built-in analytics and insights, email automation & event reminders, and automatic & cloud-based events.
Its 14-day free trial allows you to test its key features. If the software solves your purpose, you can continue using it by paying for its subscription; that costs $49 per month for a Starter plan and goes up to $99 per month for a Growth plan. They also have a Premium plan which is customizable and will cost you accordingly.
One of the best webinar software, GoToWebinar, is an impeccable solution trusted by many large businesses.
The platform allows you to add brand colors, images, and logos to the webinar products/services. It also facilitates setting up a live event and broadcasting it seamlessly.
The tool is also great for engaging your potential clients by enabling them to participate with slide-in questions and live results.
The platform can enable you to accommodate up to 3000 participants. However, you need to take hefty money out of your pocket in order to achieve that; $399 a month. The platform also offers a 7-day free trial and offers a basic plan starting from $49 per month that allows you to hold up to 250 participants.
Also Read: 30 Best Refer and Earn Apps in India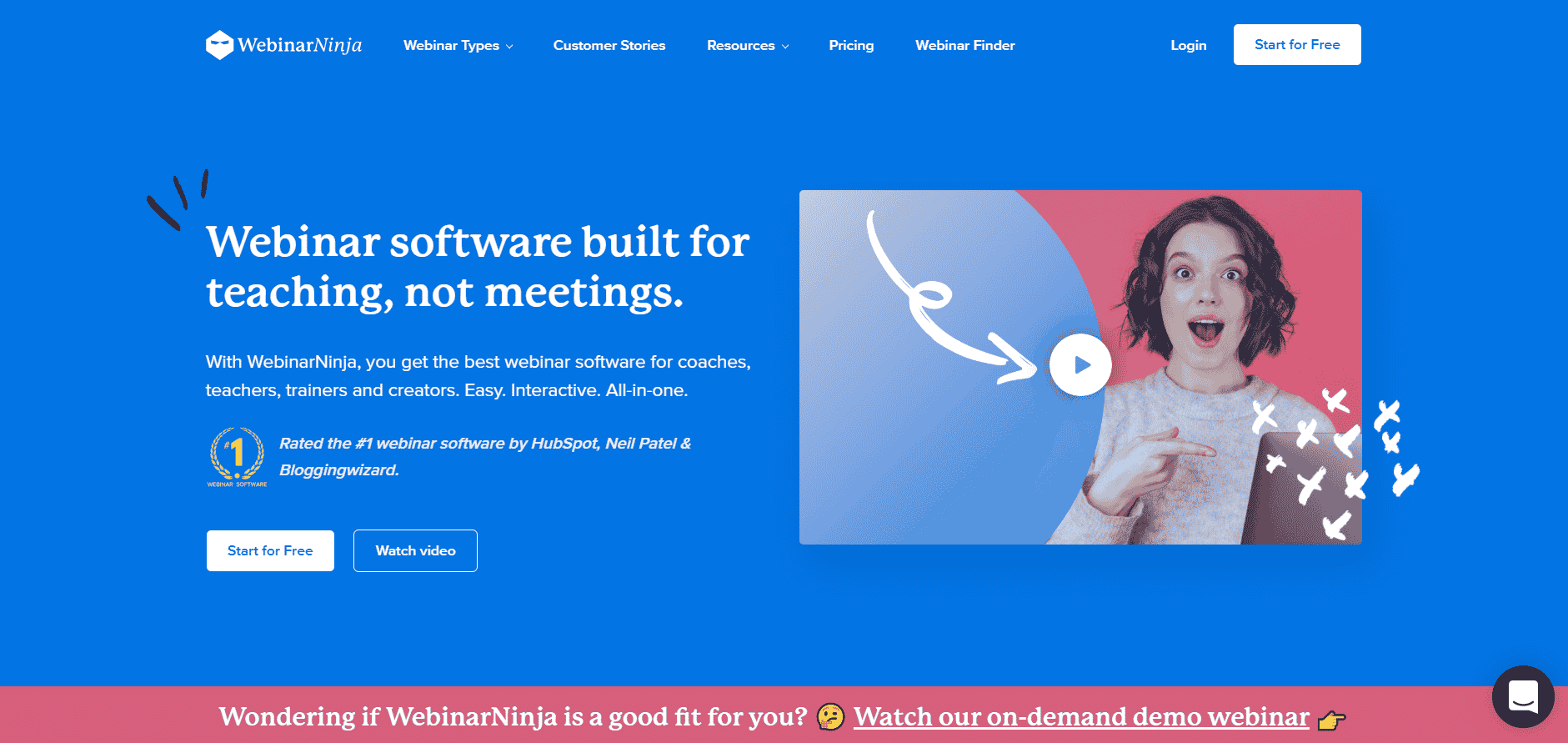 Searching for a one-stop solution allowing you to run all types of webinars? No matter whether you are a newbie or a pro, WebinarNinja will make the process of running webinars really easy.
The platform is trusted by esteemed brands, including Podia, AppSumo, Printful, etc. The software is best-known for providing easy tools to use and allowing you to create webinars within minutes.
It offers splendid features including email automation & drip campaigns, instant screen sharing, prompt live chat, timed offers to display during your webinar, analytic dashboard with the competency to export data, and integration with multiple apps with Zapier.
To access these features, you can opt for a 14-day free trial to test out its functionalities. The platform also offers paid plans starting from $99 every month, equipped with more advanced features.
One of the best business software, EverWebinar, is touted as the ideal tool for automating your video event marketing. It is integrated with WebinarJam and offers a wide array of unique features, including keeping users in the loop, automated email connection based on customer activity, and completing the webinar set up within minutes.
The software allows users to record the webinar automatically, enabling them to replay for potential leads. Many small and medium businesses have subscribed to this software to boost their sales.
Some of the significant features offered by EverWebinar includes running a live chat even if the webinar video is not, setting up a pop up 'Just in Time' for the attendees who signed up late to give them the feeling that they have not missed the content much, and importing the WebinarJam videos to this platform and use them for upcoming webinars.
The platform offers a yearly plan for $449 which is complete value for money.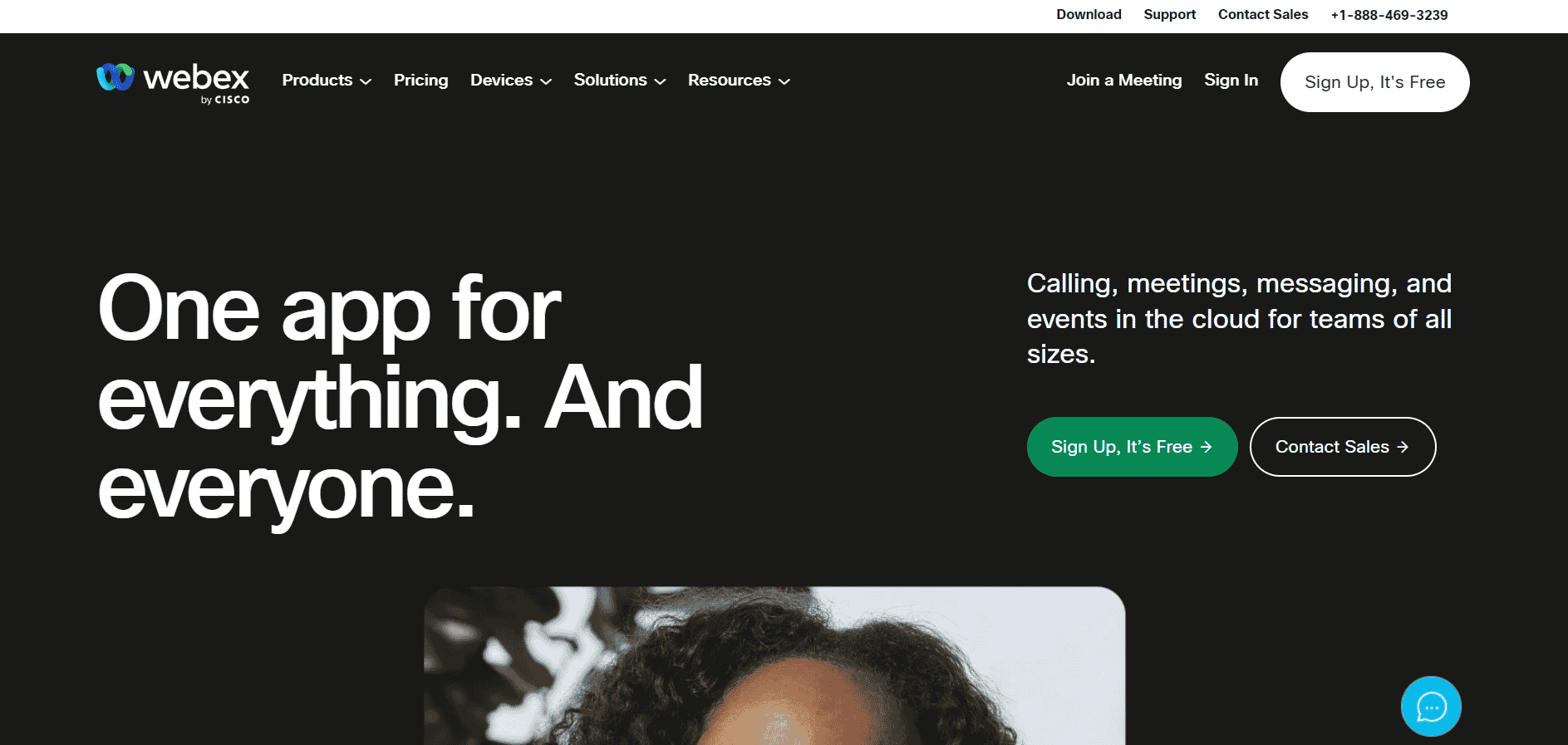 WebEx is a spectacular webinar software offering a wide range of features for holding training sessions, virtual meetings, events, team collaboration, and interactive presentations.
It is a cloud-based tool that is highly trusted as it guarantees data security, unlike many other tools.
The platform is quite similar to GoToWebinar and provides the same valuables as Demio. It is an ideal tool for businesses that require a robust video communication system without the marketing features.
The software offers a high degree of customization, making it easy for every business to cater to the environment and hold online meetings throughout your organization. The best part about this software is its price, which is very reasonable compared to other webinar platforms. The starter plan starts at $13.5 per month, whereas you can level up to other plans as per your usage and requirements.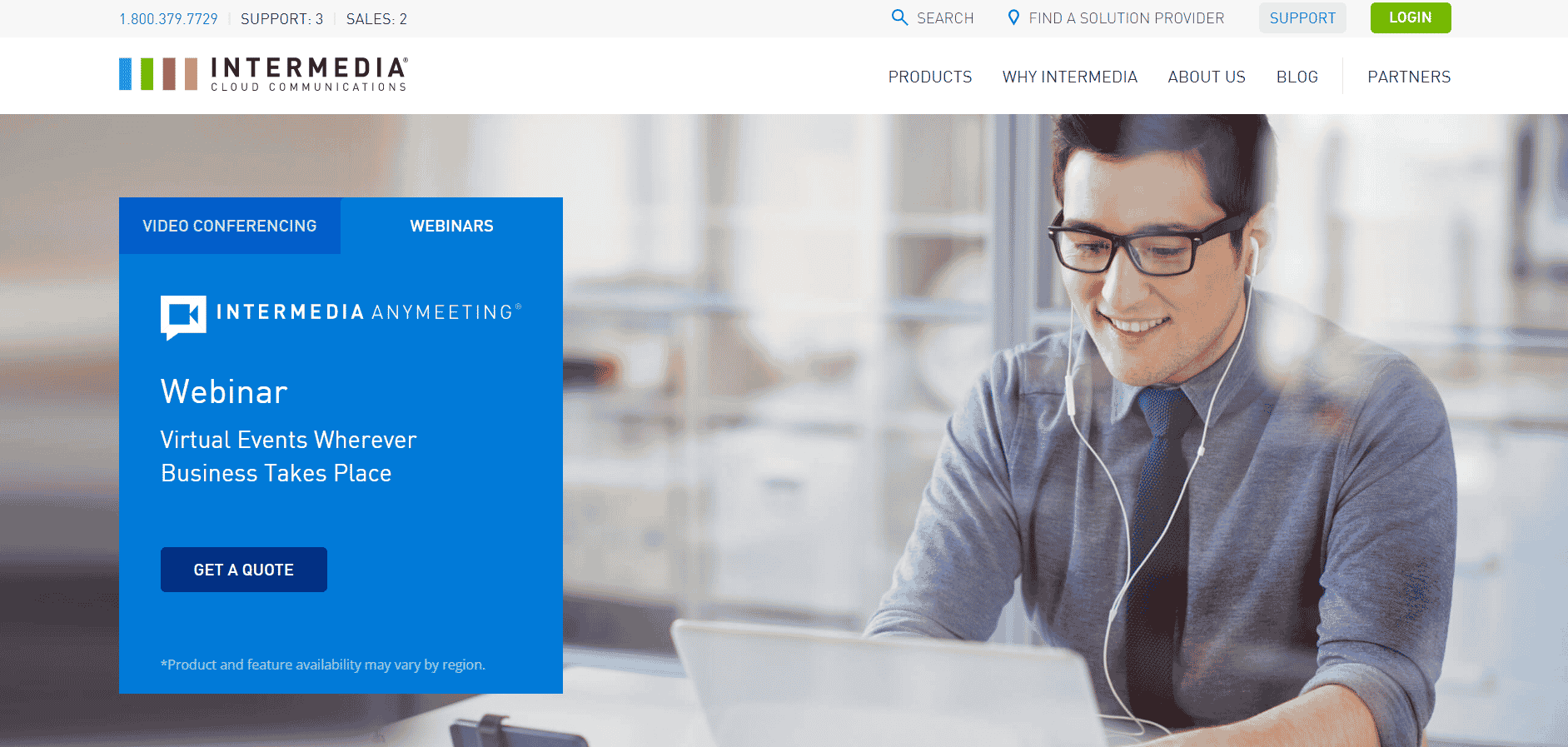 If you are searching for user-friendly, intuitive webinar software, ideal for startups and small organizations, Intermedia AnyMeeting is a perfect choice you can opt for.
It features impeccable web conferencing tools to conduct collaborative sessions with potential clients, prospects, and team members.
The tool lets you use built-in Q&A sessions, surveys, live chat, and polls for audience engagement to make your webinars potent. Plus, the real-time audience chat feature provides people with efficient answers to all their questions. The platform also allows you to build custom email invites and regular follow-up for the attendees.
You can access all these features in a price plan starting from $48 per month, which can hold up to 100 viewers. If you want up to 1000 people to participate in your webinar, you need to opt for its enterprise plan, costing you $298 per month.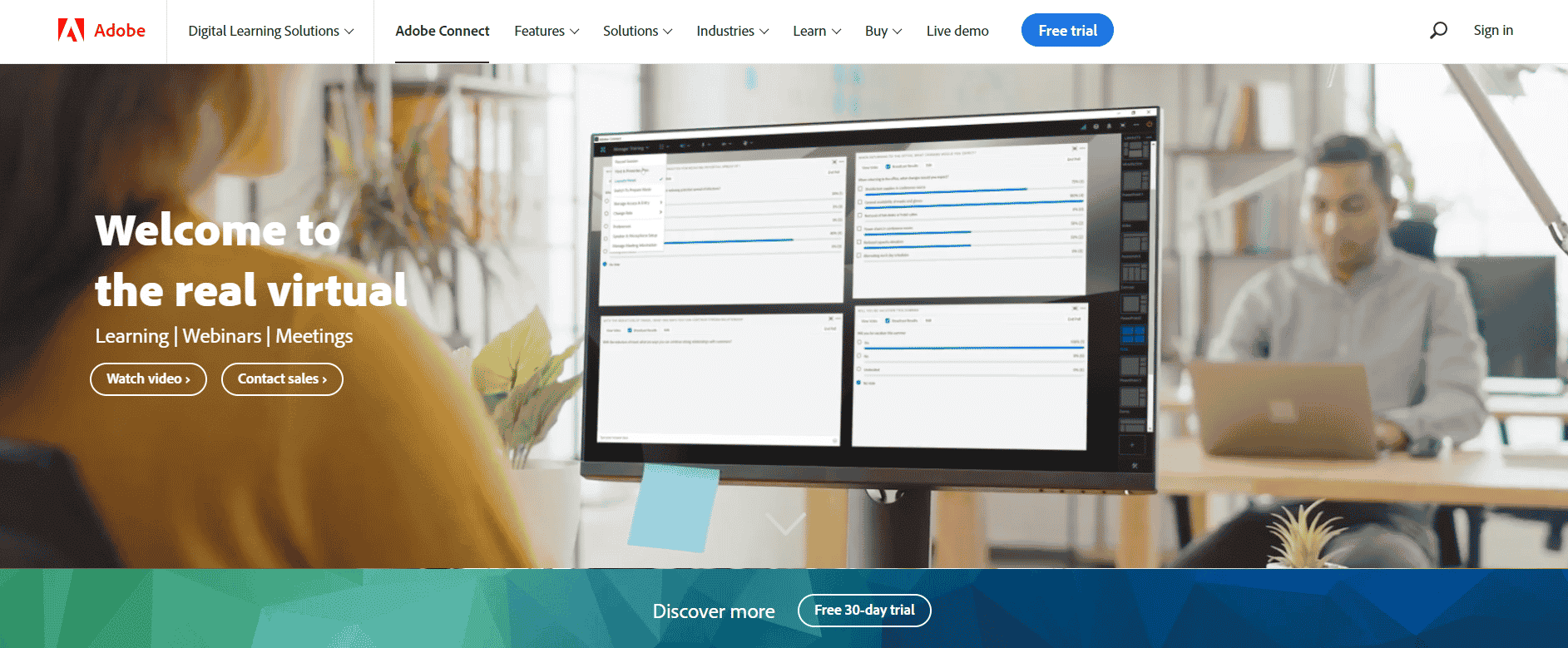 One of the best webinar software platforms, Adobe Connect, allows you to seamlessly host videos and online meetings. You can also share documents with Adobe Connect at exceptionally high speed.
Adobe Connect is an ideal platform for larger enterprises, huge marketing organizations, and town halls that want to exhibit their products and services to a wider audience.
The software offers various templates facilitating customization for virtual environments and detailed adobe analytics for potent insights.
You are allowed to use its 14-day free trial and test out all its features. However, subscribing to this software will cost you $50 per month to hold 25 participants. Whereas the plans go up to $580, allowing up to 1000 members to participate in your webinar.
Also Read: 16 Best Ludo Earning Apps to Win Money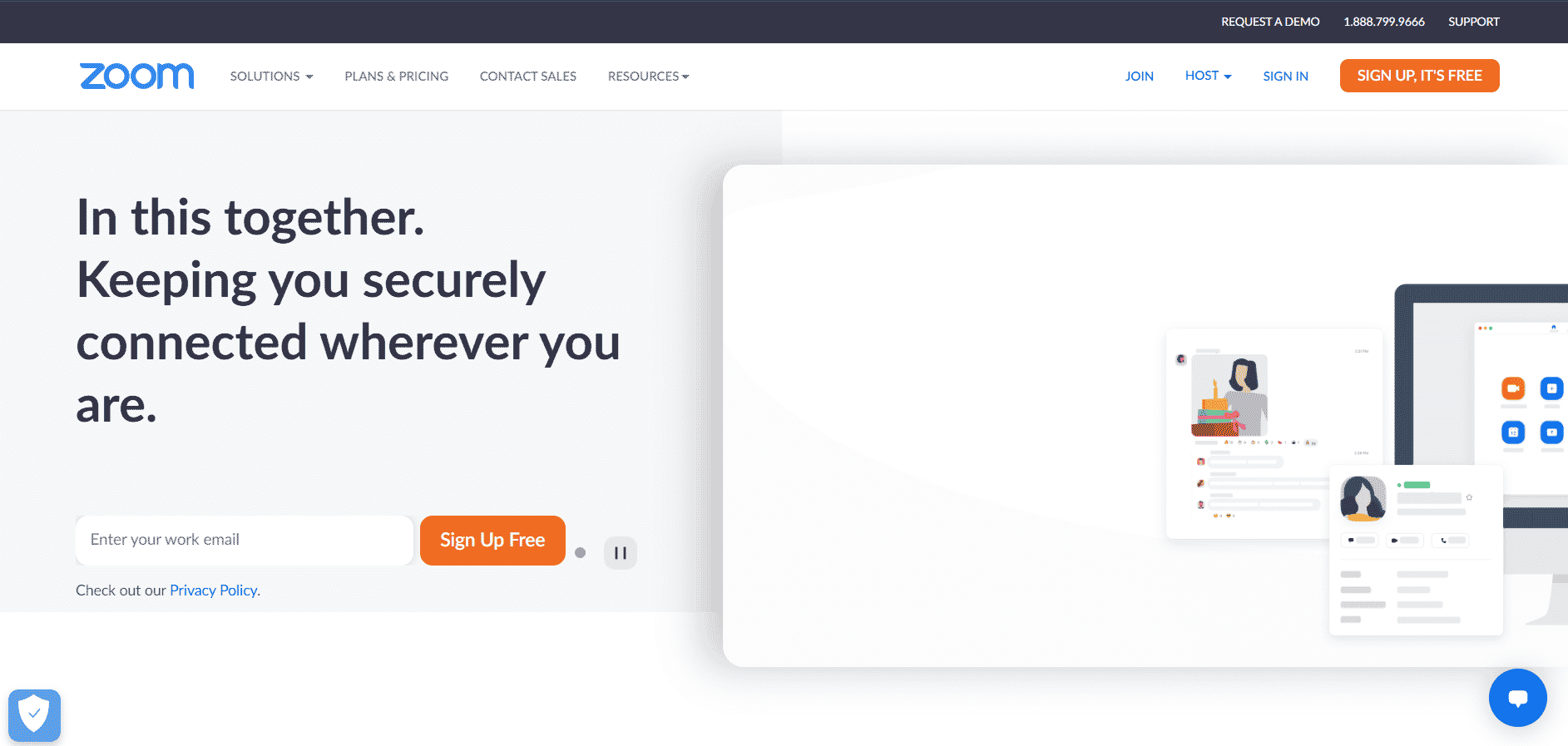 Zoom is ranked as one of the best free webinar software due to many reasons. It helps connect millions of people, teams, and organizations in one platform and lets you conveniently get information about a larger audience.
If you want to steam events across Facebook or any other social media networking site, this platform will help steam events and customize service integration.
The leading tool ensures you get timely reports on registrants, participants, attendees engagement, polling, and Q&A for follow-up. It can be considered a free webinar software when it comes to screen sharing as it allows free sharing of all desktops, applications, and devices. This helps you to reach a wider audience than you may have never thought of.
You can access this platform for free if you hold a webinar for the duration of 40 minutes and include up to 100 participants. However, if the list of your attendees is more than 100, then the business plan will cost you $19.99 per month, which includes meetings up to 30 hours.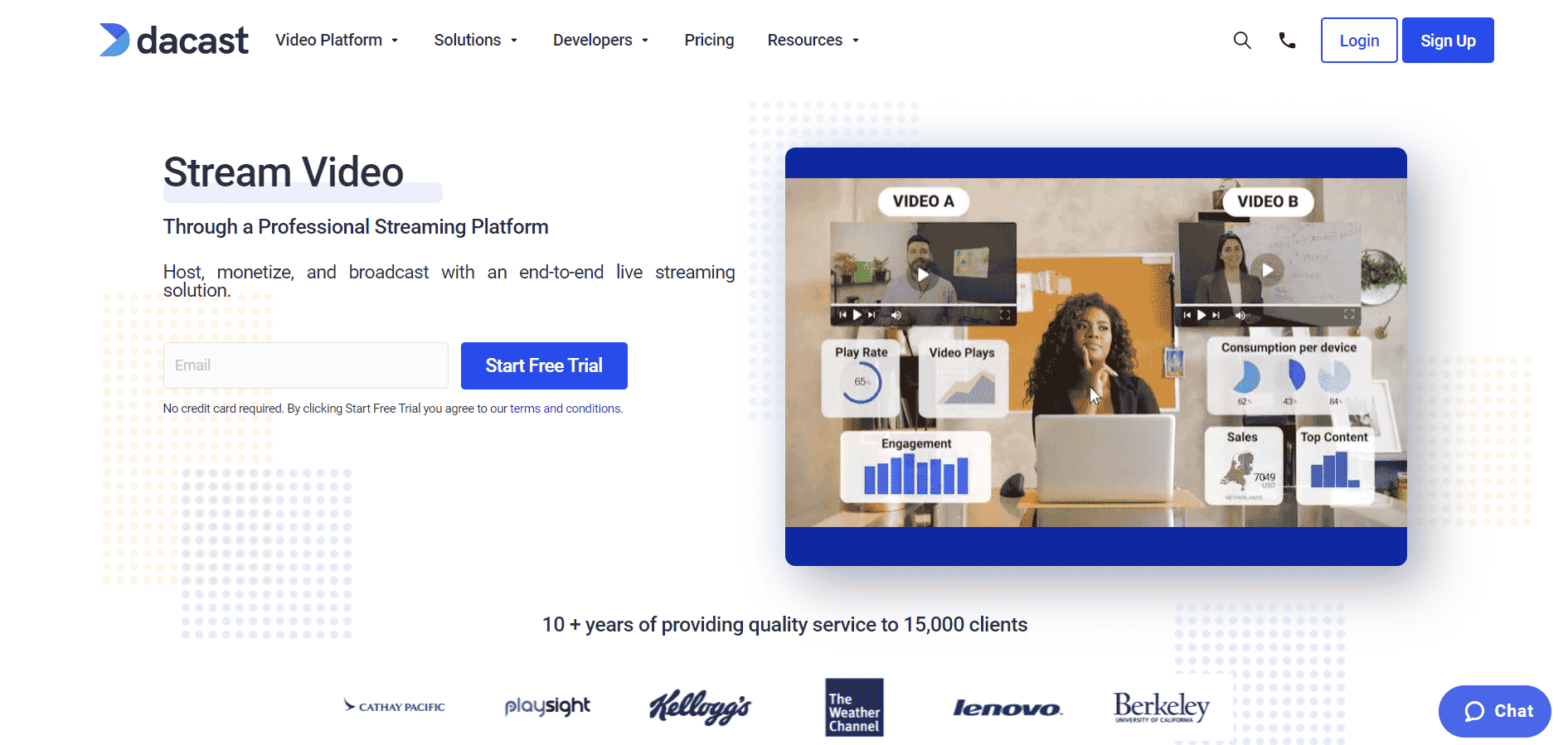 Dacast has everything in-built that any webinar software developer can dream of. One of the best webinar platforms, Dacast features a powerful dashboard that guides you on making videos so that it matches your brand.
The astounding cloud video platform analyzes your performance by efficiently managing your video content and finding ways to monetize them, and transcoding them into VOD content.
The tool enables all viewers to watch the webinar without any interruption or lag or buffer regardless of the viewer's location.
The price plans of this software immensely vary depending upon the bandwidth and storage demand of the users. An ideal tool for a mid-tier seminar, Dacast basic plan starts at $39/month.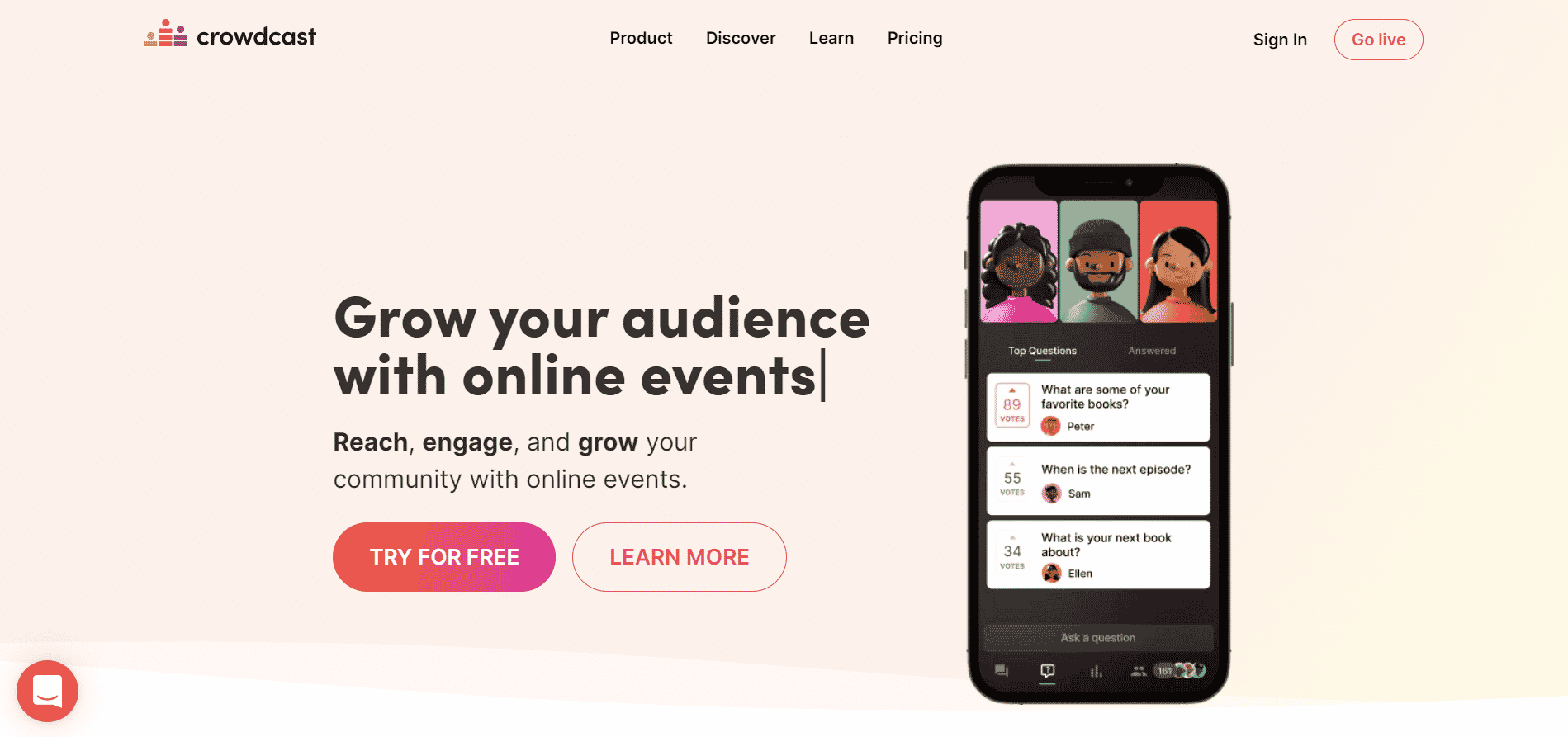 The leading live streaming platform for webinars, Crowdcast is perfect for your brand if you want to live stream in mere minutes, that too when you are not tech-savvy. Besides live streaming, the software also offers Q&A, concerts, online conferences, and courses.
The platform includes an extensive list of features such as providing a straightforward invite option, live-chat feature before the webinar starts, compatibility with streaming software (Wirecast, OBS, and many others), and making the webinar interactive with polls, surveys, and detailed analytics.
The most affordable plan starts at $29/month, whereas the business plan costs $195/month.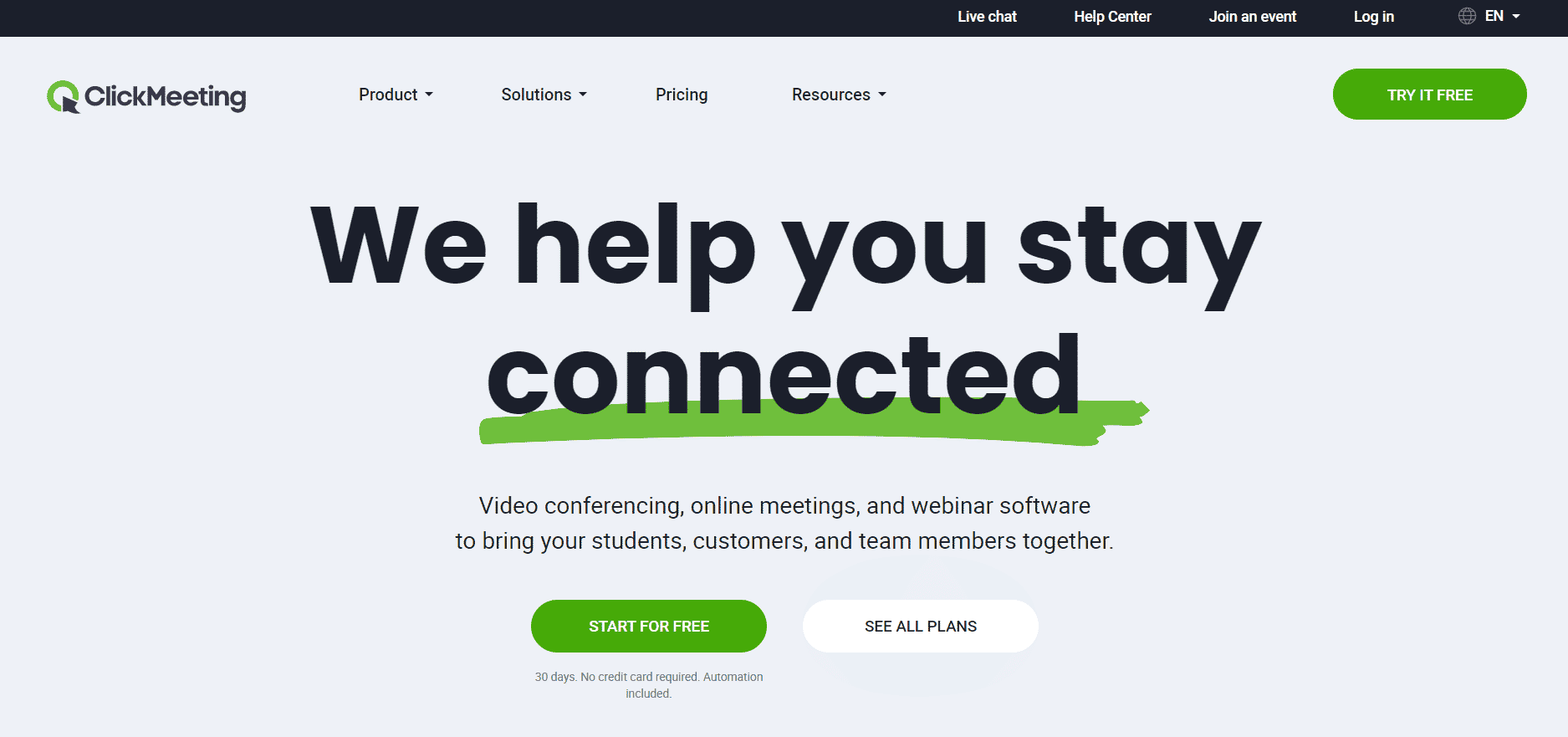 If you are searching for a well-integrated and intuitive platform to reach your target audience, ClickMeeting is one of the best webinar platforms you can opt for. The spectacular software facilitates online meetings and customized invites. Plus, it is an ideal option for small and medium enterprises that are unwilling to spend a massive amount every month.
The tool helps you take effective webinars through polls and surveys for feedback. It also provides chat privilege and interactive sessions to viewers that enable them to stay connected and bring your audiences, students, and team members together.
All the recordings can easily be downloaded as they are stored in the cloud. The best part about ClickMeeting is that it allows you to make HD video presentations for multiple presenters and lets you connect to live Facebook and YouTube sessions to enhance engagement.
Besides providing a 30-day free trial, you can subscribe to this software for $30 per month, which allows up to 25 attendees. At the same time, some businesses purchase a customized price plan depending upon their utility.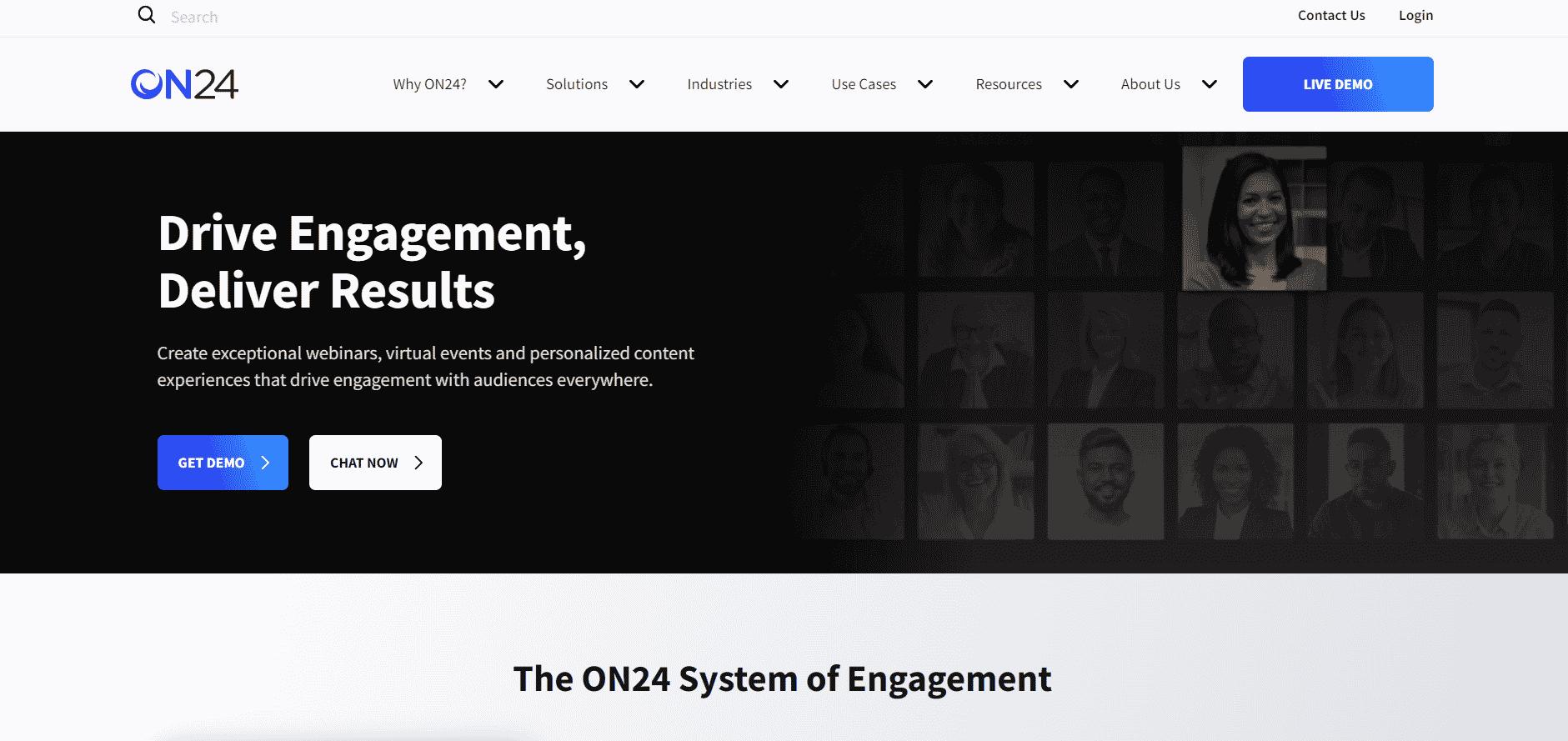 Looking for the best webinar software platforms and not yet explored the ON24 option? Numerous businesses/companies rely on this software as it is one of the oldest VC-backed IPOs of 2021.
Besides webinars, the platform also focuses on large-scale user conferences. In addition, it also lets you create, personalize, and scale engaging webinars, virtual meetings, and multimedia content experiences.
The tool is also competent in creating and managing live webinars and content hubs where the content goes live. Now, how does it benefit you when the content goes live? It immensely helps boost sales and amplify conversions by allowing you to customize these experiences to suit your company's requirements.
The platform is integrated with Salesforce and helps you create real-time statistics reports on online conferences you arrange.
Also Read: 55 Best Part-Time Weekend Jobs That Pay Surprisingly Well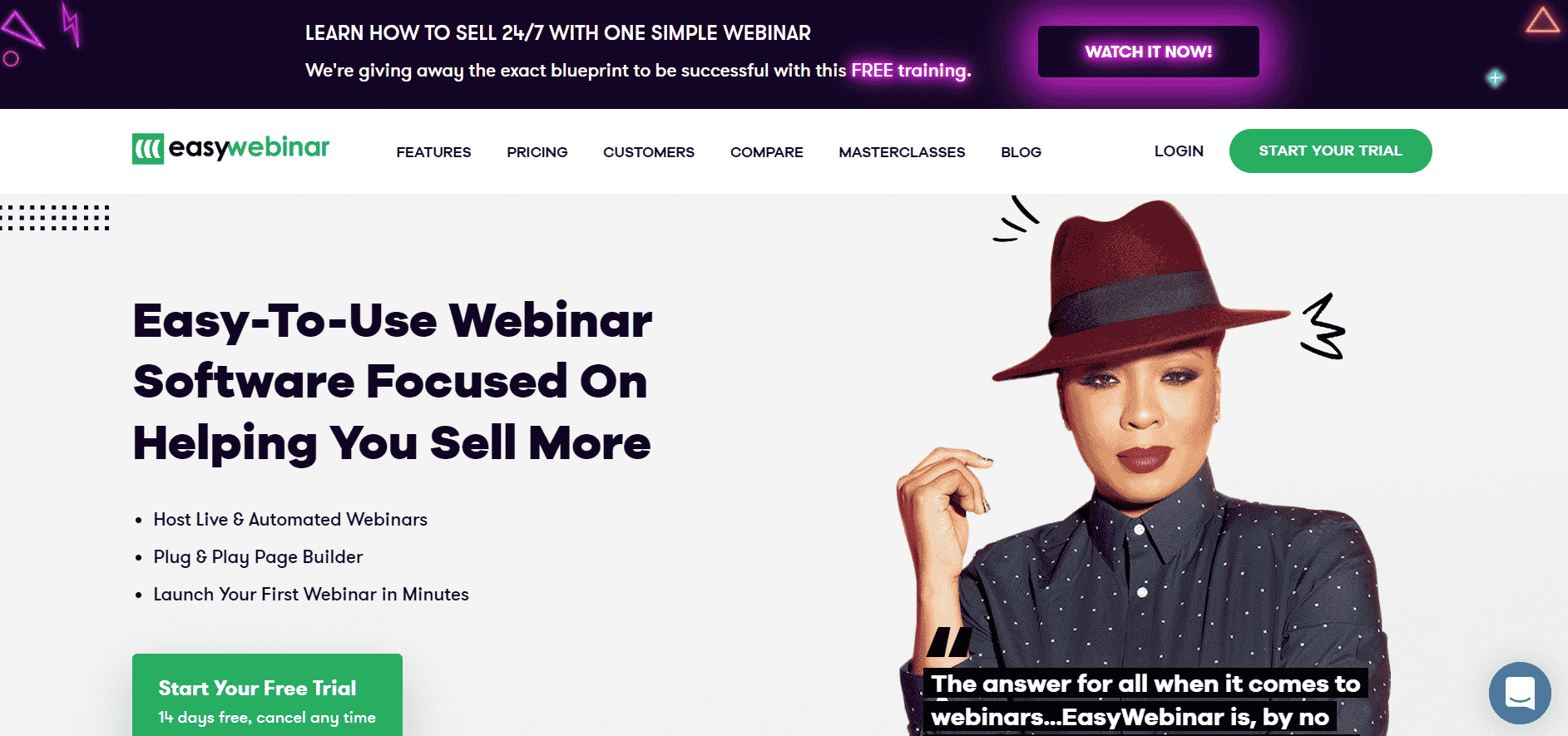 If you are searching for a user-friendly webinar tool, EasyWebinar is the best option you can choose from. With this platform, you can access integrated webinar technology, helping you to conduct robust marketing campaigns.
The software is a one-stop solution for automated hybrid and live webinars from all across the globe. Depending upon the plan you select, the attendees are allowed to watch the webinar hosted by you. For instance, the standard plan costing you $78 monthly will allow up to 100 attendees. At the same time, you can level up your plan if you wish to increase the attendees for your webinar.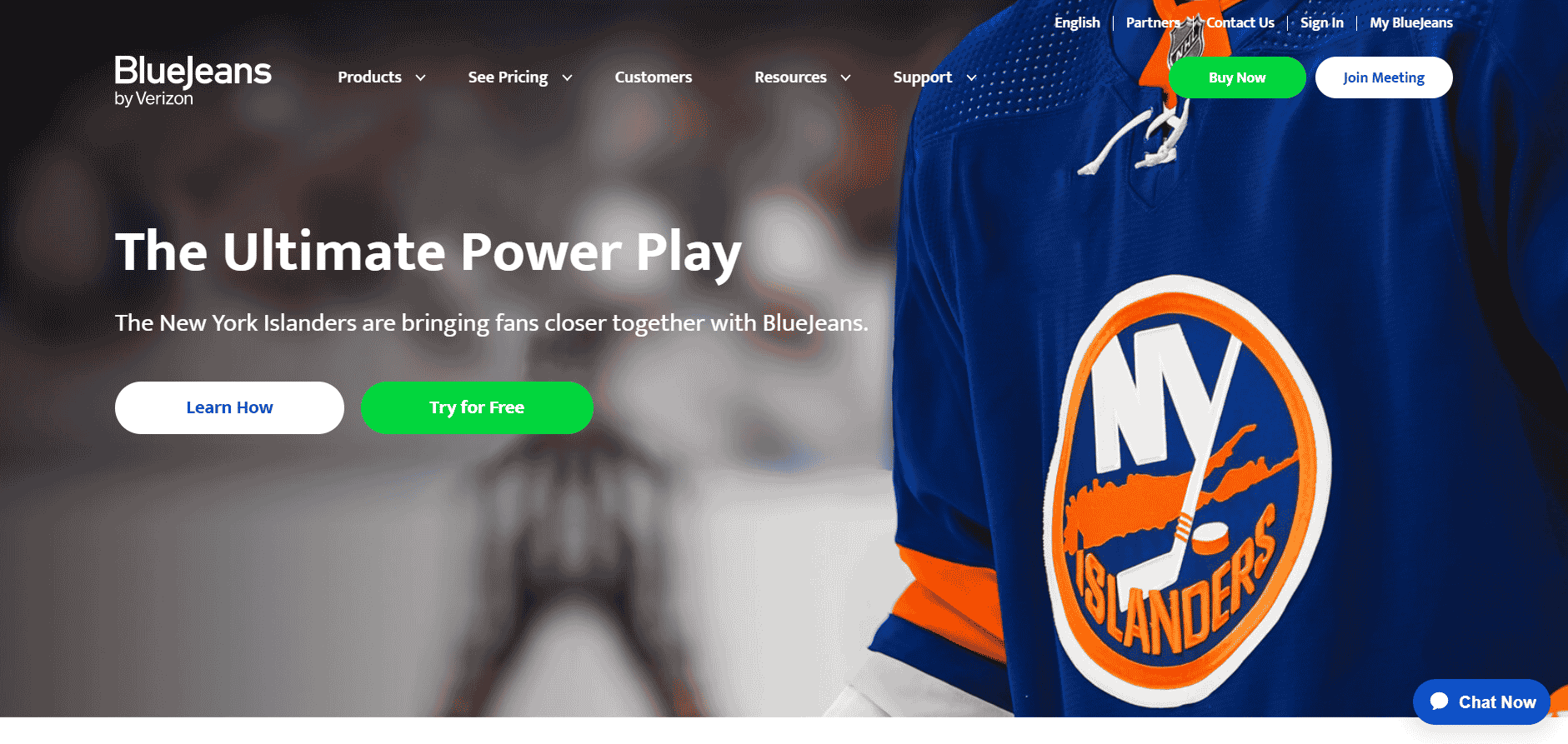 BlueJeans provides a powerful solution to boost conversions and sales through large virtual events and town halls.
The virtual event software is also used for other purposes including hosting huge engaging events, taking productive team sessions and managing live streams.
The platform's starting plan costs you $69 monthly, allowing up to 500 participants to attend the webinar. However, for large-scale video events, you need to contact their team to get a customized quotation.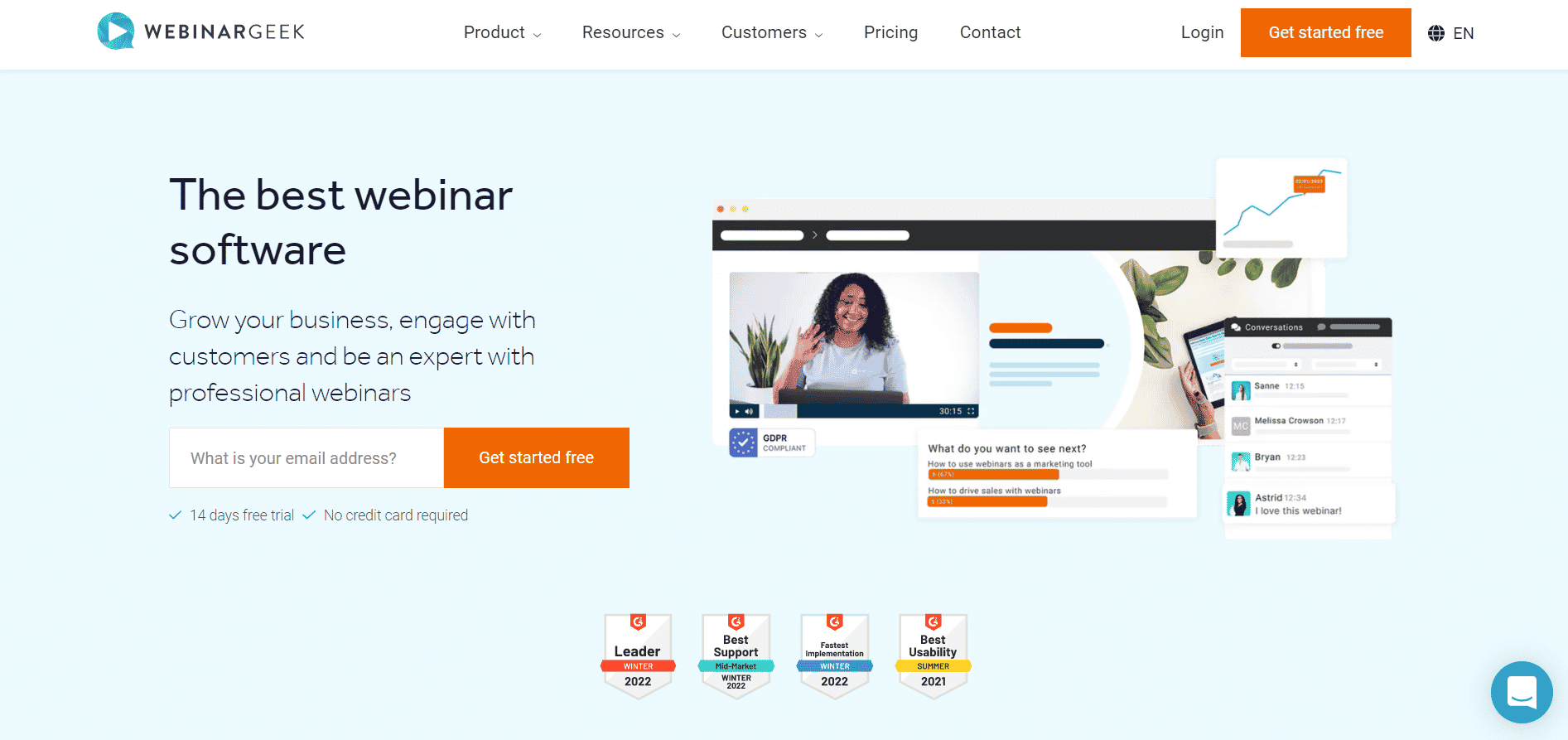 WebinarGeek is a robust and bandwidth-friendly software allowing you to host effective webinars with powerful marketing tools.
The platform allows you to broadcast in real-time in 1080p, which is HD quality. Moreover, it makes the work easy for you by letting you follow a webinar without any downloads, which is just a single click away, no matter whatever browser you are using.
One can access its features to analyze the viewing pattern of attendees to an individual level in its starter plan, costing you just $20, lower than most of the software mentioned in this list. You can also opt for its customized advanced plan if you are running a large enterprise. However, the price quoted on request; as per your requirements.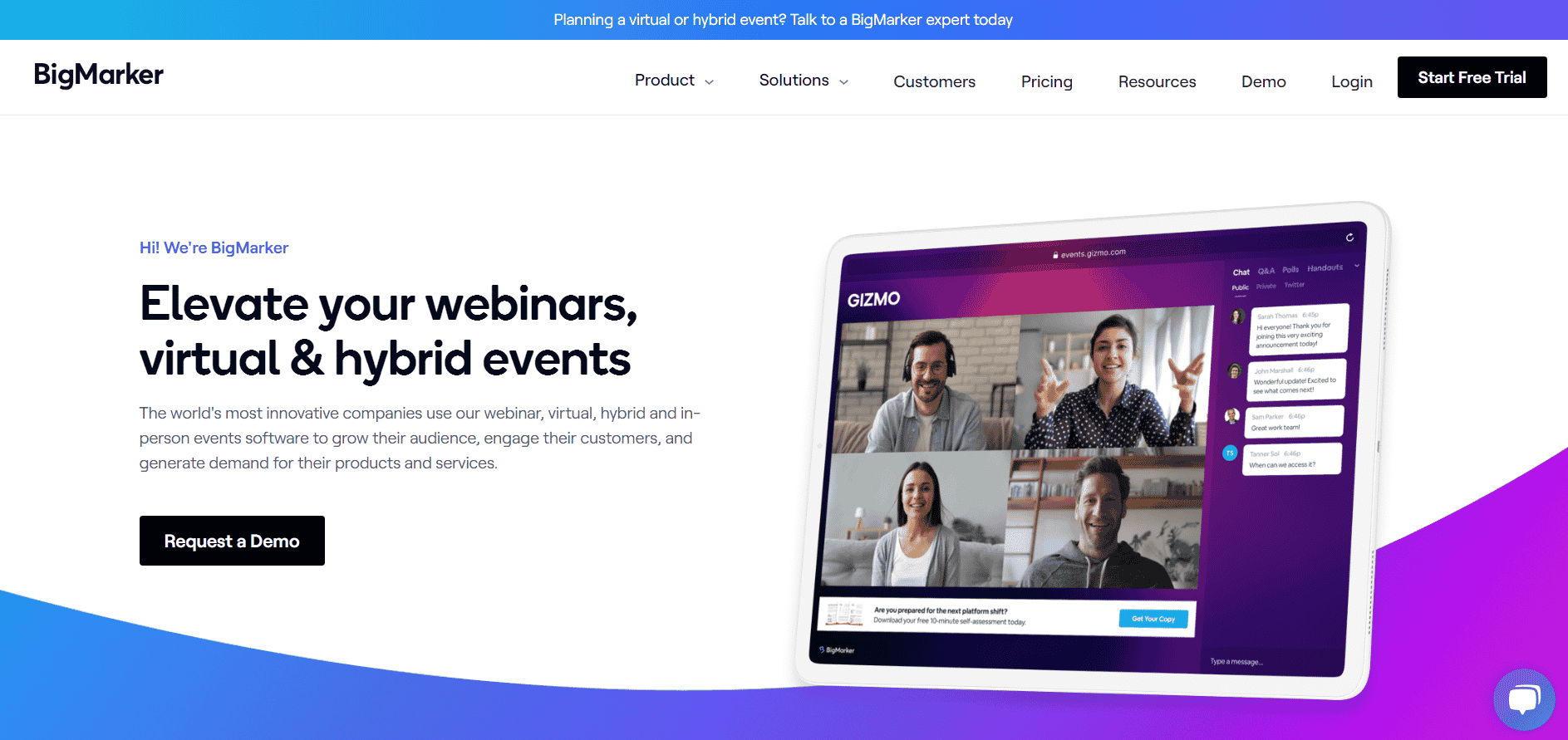 BigMarket features a suite of marketing tools facilitating you to set email reminders, create custom invites, registration landing pages, orchestrating massive events with multiple guest speakers, and live virtual events.
The platform also allows you to interact with the audience by providing a potent webinar solution with live Q&A, polls, and digital handouts.
BigMarker offers impeccable 24×7 customer support to all its members who bought its subscription, starting from $99 per month for 100 attendees and 1 host license. You can also host large events through this software which are up to 10,000 attendees. However, it will come in a white-label customized plan which you will need to purchase.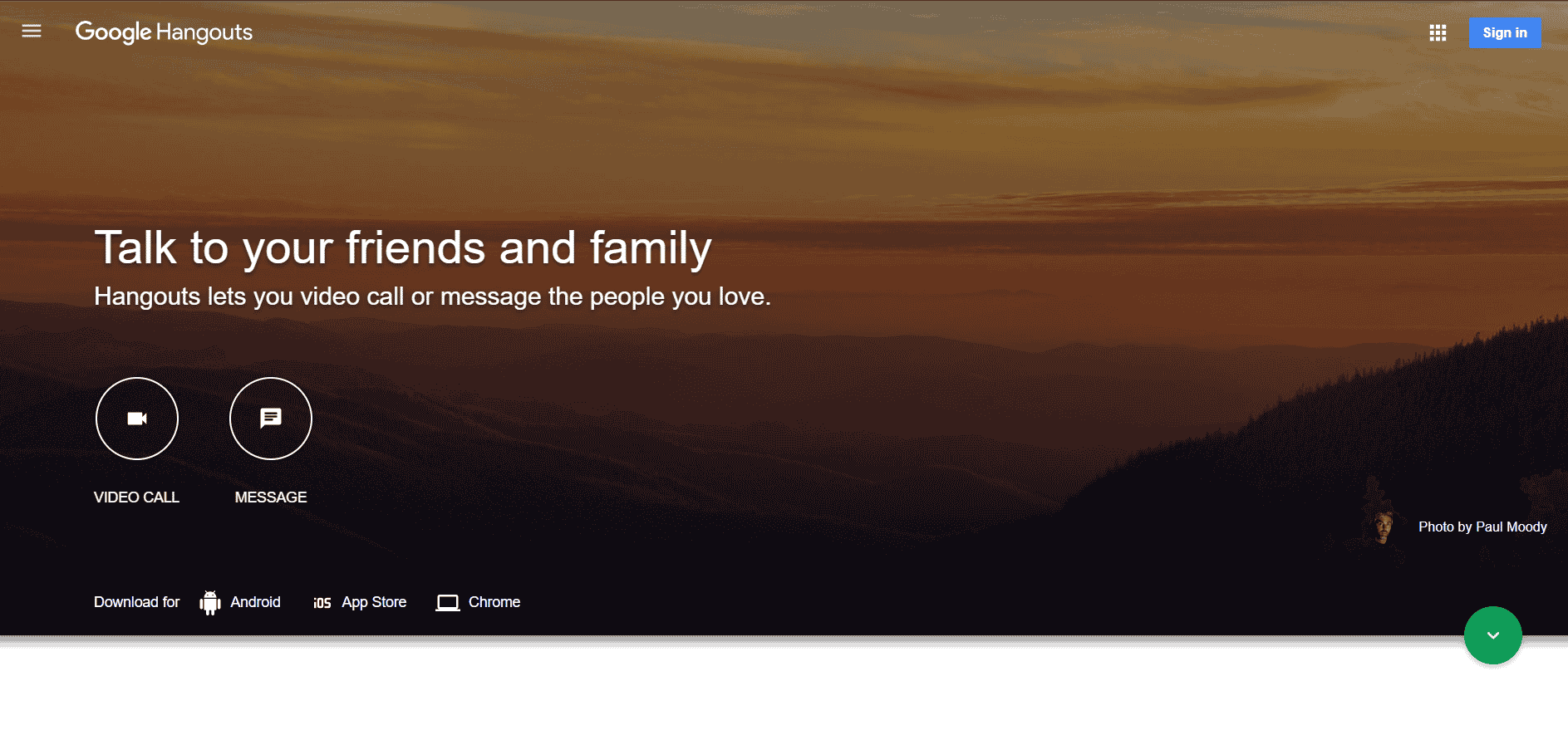 An impressive communication tool is providing you with free online chat services for all devices. Yes, you have heard it right! It's absolutely free. It implies you can message and hold video calls to promote your company's product or services to anyone hassle-free.
The unique and exquisite aspect of Google Hangouts is that, unlike other tools, it is competent in holding online events and webinars for up to 30 participants, entirely free of cost.
The platform is also best-known for streaming live sessions through YouTube and Facebook to get more recognition and participants at a time.
You are not required to spend a dime to use this platform, which is why it is also known as the best free webinar software.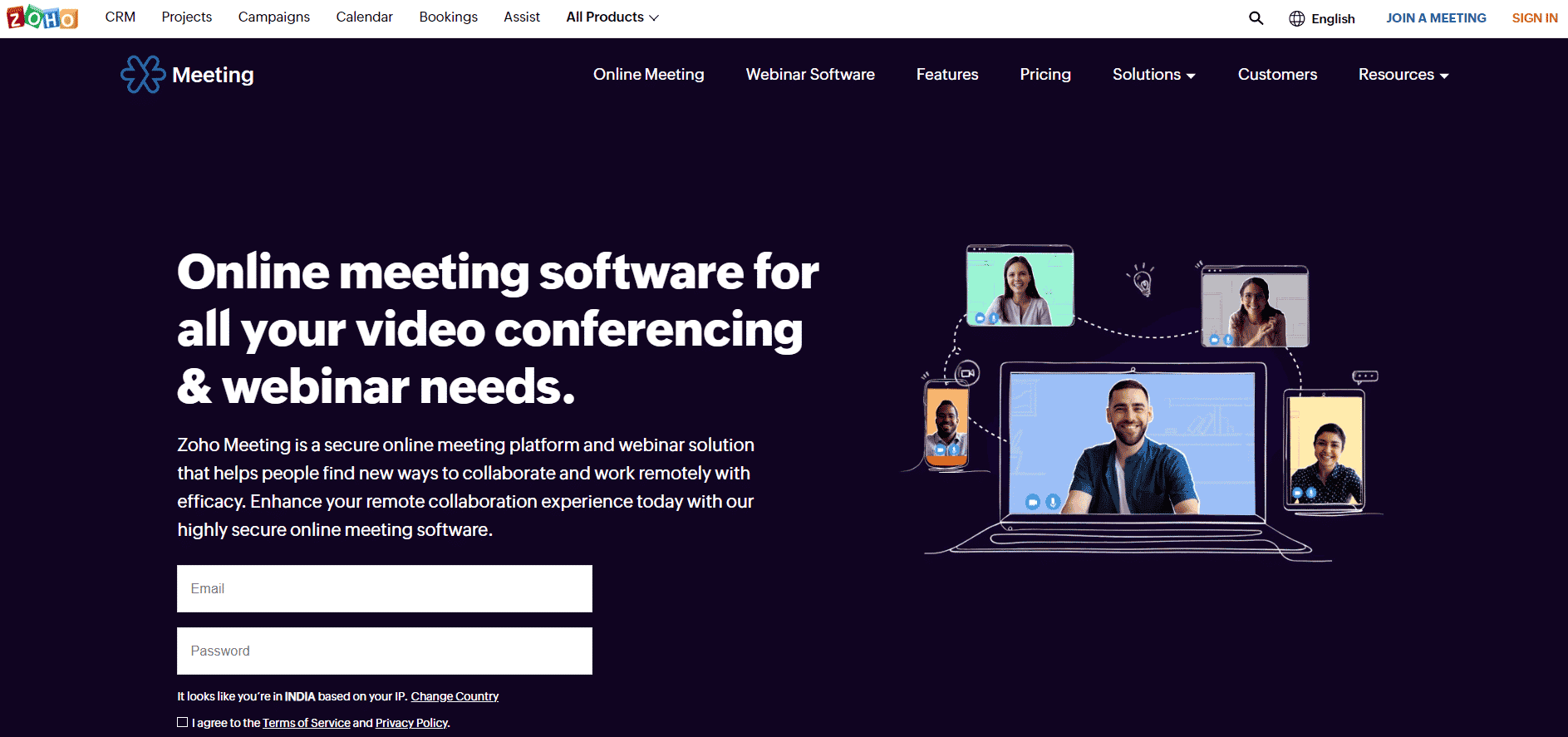 Zoho Meeting is a viable solution for business owners and attendees as it offers a user-friendly interface, essential remote support, application-based demonstrations, team collaborations, and virtual meetings.
It is a secure online meeting platform aiming to enhance your remote collaboration with impressive webinar solutions.
The software offers a free version for meetings of 100 participants. However, you need to get its paid package and spend $10 monthly if you want more than 100 participants to watch your webinar.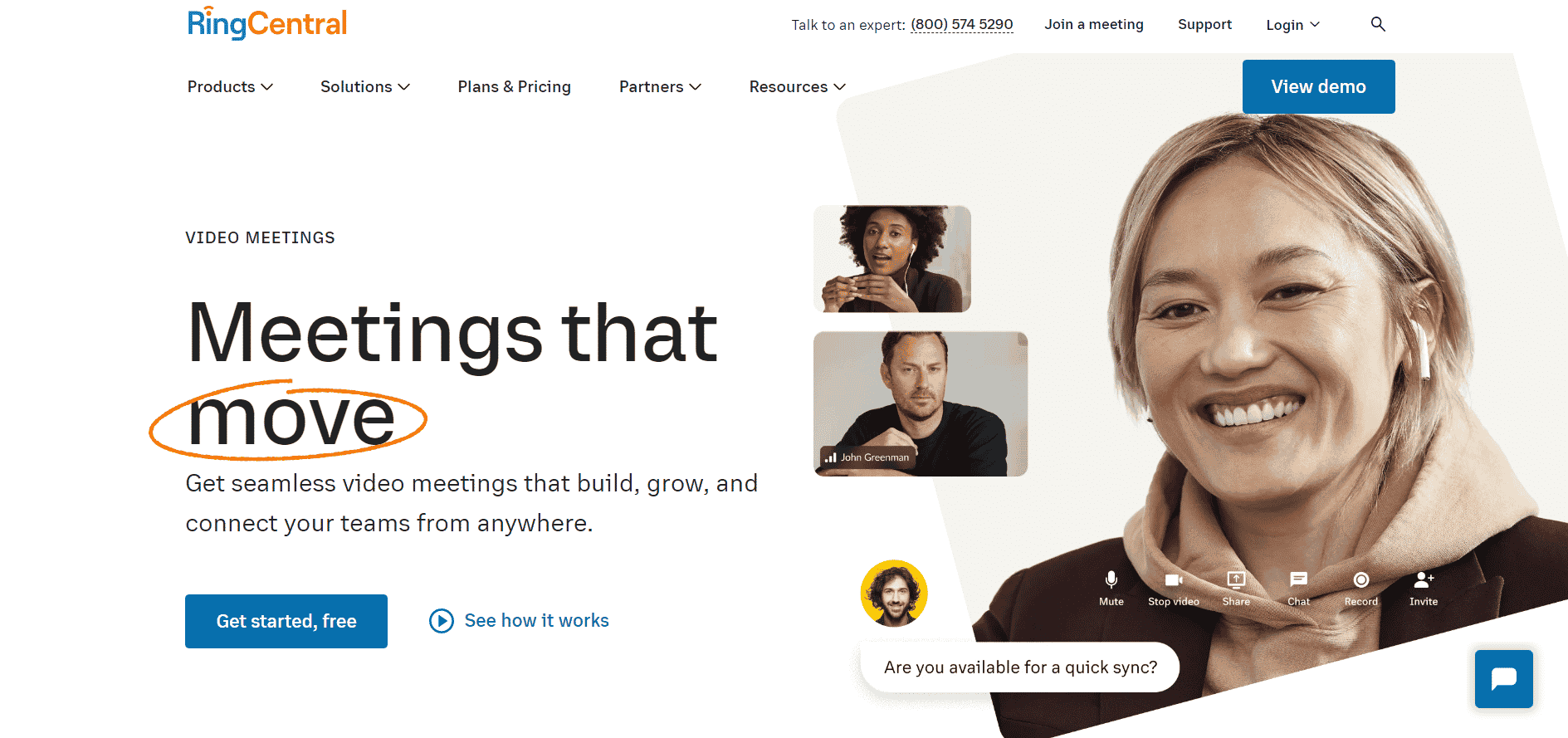 Want to experience clear, high-quality, and accurate voice video on every device for the webinar you are hosting? RingCentral Meeting is a reliable platform allowing you to organize high-definition video meetings with your target audiences and team members.
Moreover, the software is compatible with every device, be it laptop, desktop, iOS or other Android devices. The platform also allows you to easily replace hardware video conferencing rooms and provide seamless access to screen sharing and video meetings.
It is a free cloud service with the main motto of empowering its customers with an effective business communication solution. However, they have a pro+ plan at $14.49 with some additional features.
Also Read: 15 Best Crypto Wallets of 2022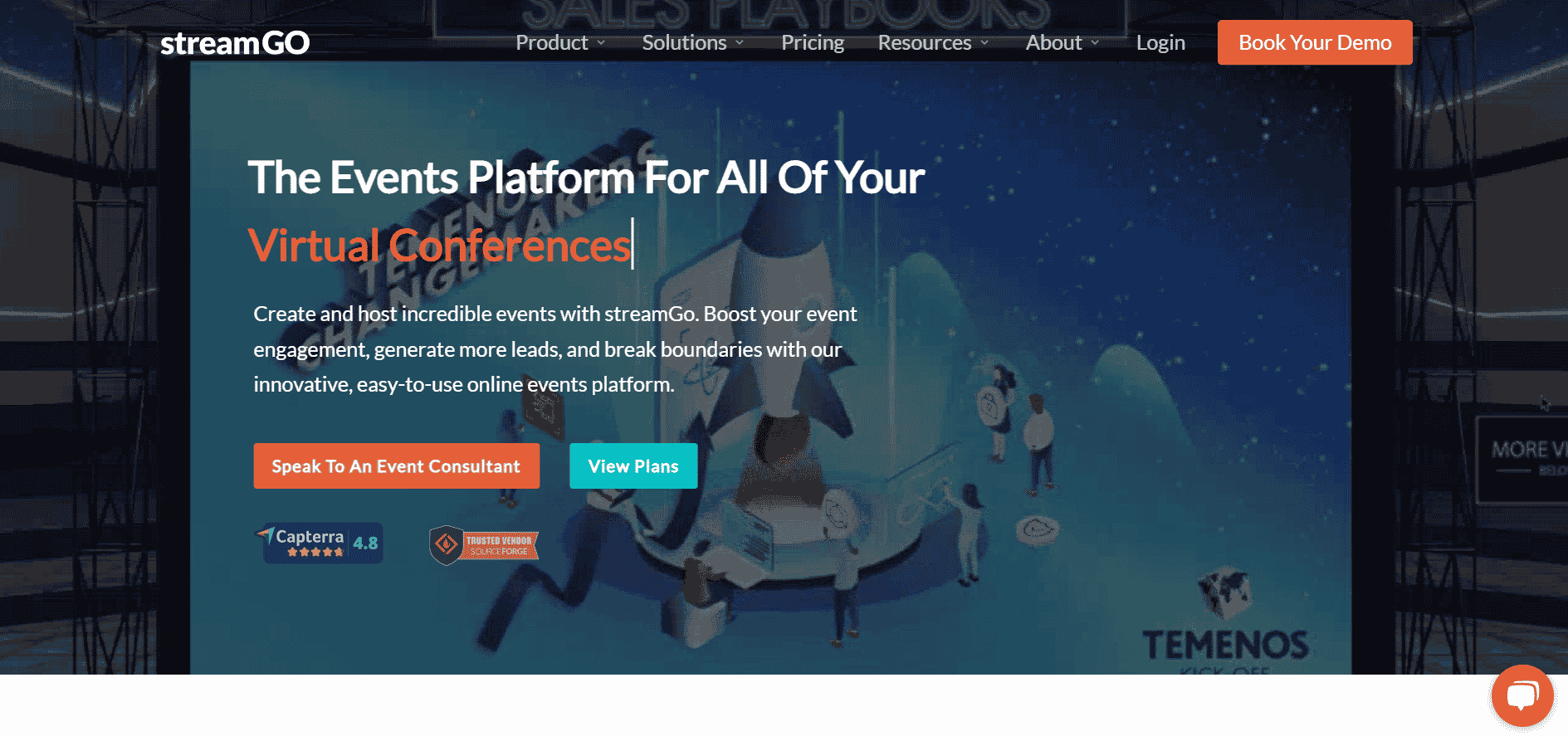 One of the leading webinar platforms, streamGo is considered a viable online event management tool best known for boosting engagement with your potential customers.
The eminent features offered by streamGo include providing you with the option of viewing live data on every sign-up, participant, and engagement, enabling the audiences to automatically get the desired quality video for their connection, facilitating the launch of products, and delivering engaging keynote sessions. Moreover, the platform also allows you to mark and choose the audiences you want to view your webinar.
The platform is on the expensive side. However, if you compare and look at the features it offers, it proves to be worthy.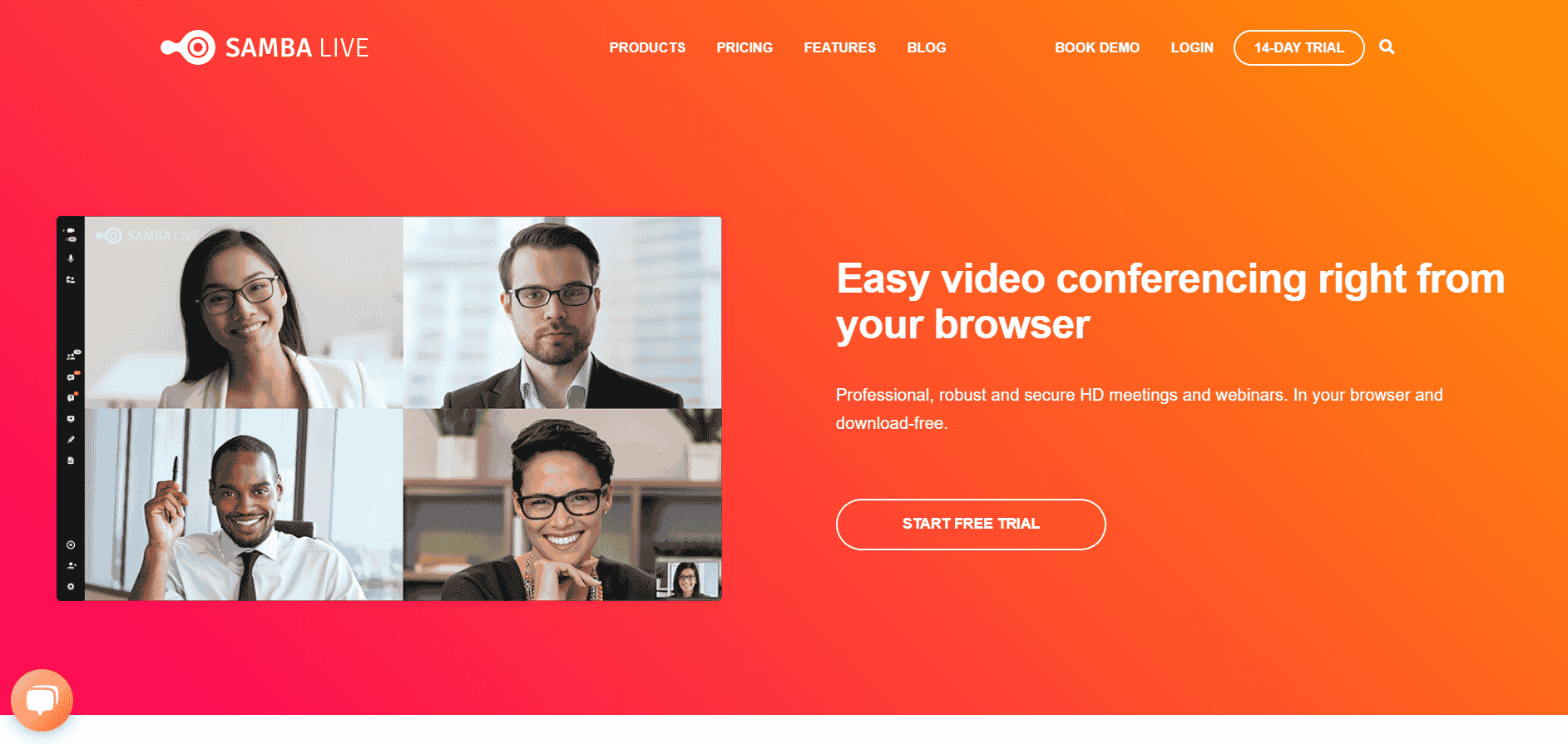 Want to conference right away from your browser? Samba Live has got a solution for you!
The software runs in your laptop's browser without additional downloads and protects your data with SHA-256. It is also equipped with RSA encryption and enables you to customize your branding and logo. The company offers a pro plan starting at $52.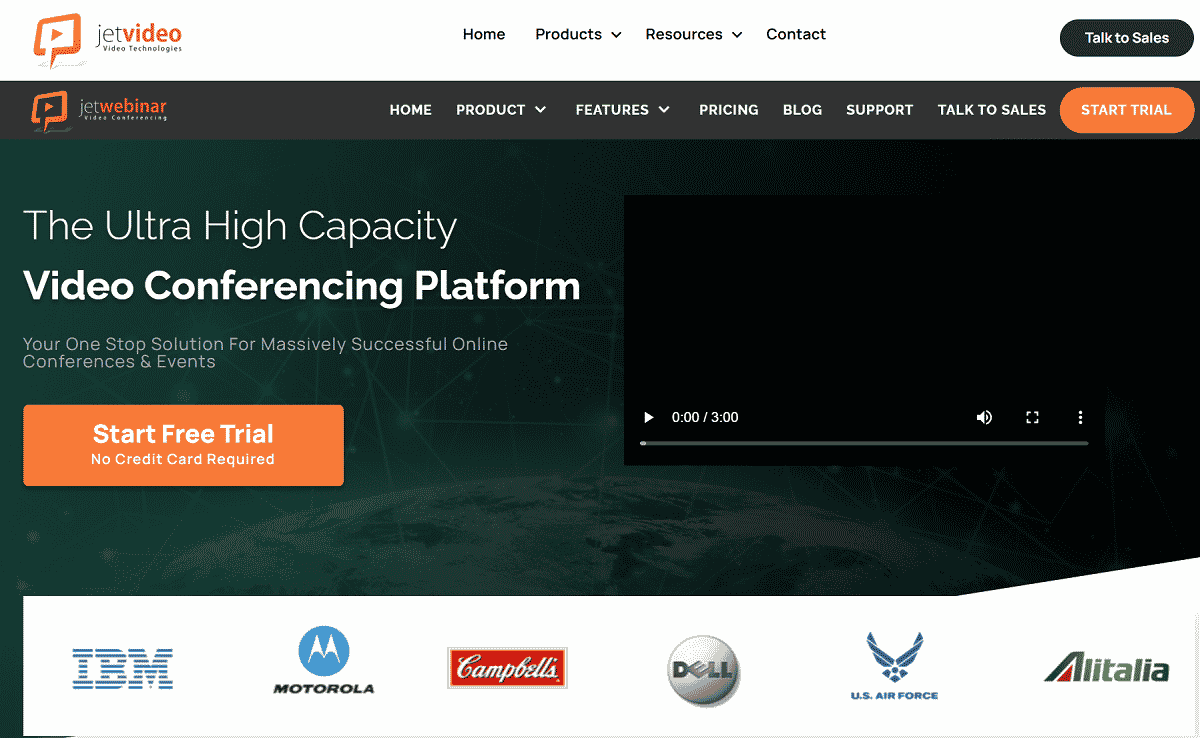 The platform serves as a one-stop solution as it is backed up by ample features that you need for hosting a webinar.
Undoubtedly, it is one of the best webinar software platforms as it prompts viewers to convert monetization options with pop-up style product offers. Moreover, its tracking pixels set you up for remarketing via Google Ads and make the webinar engaging by asking viewers through polls, surveys, and chat functionalities.
The platform is ideal for startups and small businesses that do not want to spend a hefty amount on marketing and showcasing their products and services.
It is one of the best webinar platforms allowing you to conduct high-quality, secure, and interactive HD virtual meets and webinars effortlessly.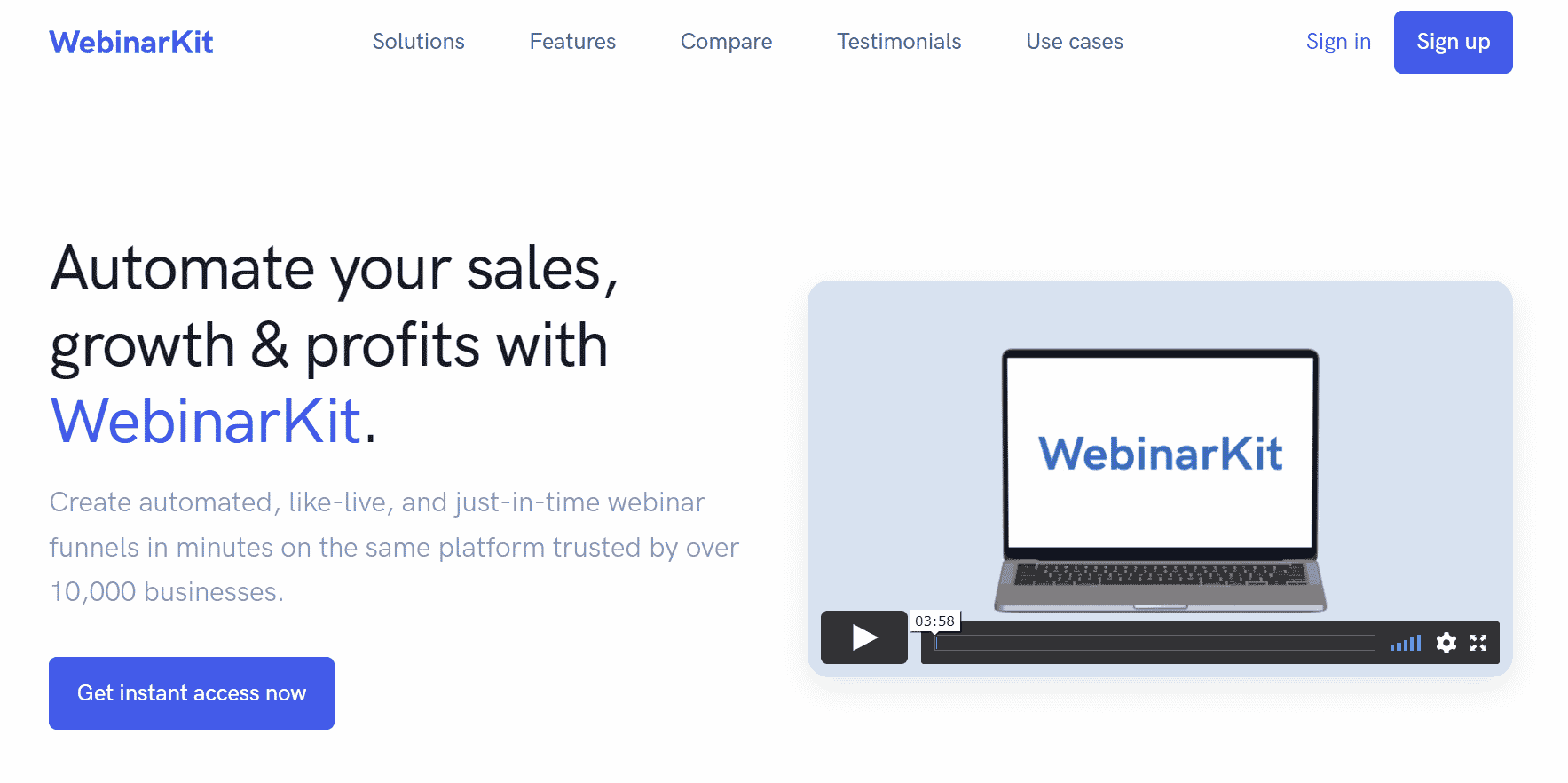 WebinarKit comes with powerful features which aim to make your life easier and let you sell 24/7 and host content without constantly needing to "go live", and get more sales and engagement with way less work.
It is the first all-in-one auto webinar solution that combines building your entire high converting marketing funnel, running your simulated live webinar, selling, and remarketing to your leads all inside one powerful tool.
It costs $87 for a lifetime license, which makes this an awesome deal.
the lifetime access makes this an awesome deal.
Here is the list of its features:
Unlimited funnels, registrants & attendees
One-time pricing
Easily create like-live webinars
Full webinar funnel builder
Easily customize all parts of the webinar funnel
All pages hosted on your servers
Browser-based, pixel-perfect HD quality
Unlimited webinars, registrants & attendees
Host content for your team, students, or clients
Boost sales with webinar offers
Easy webinar scheduling
Interact with viewers at any time with live chat
Simple and easy to read analytics
Receive and answer attendee questions easily
Powerful email notifications
Integrations with top CRMs and email platforms
Advanced remarketing segmentation
Easy conversion tracking
Full multi-language support
Tips To Help Your Webinars Stand Out
1. Extensive Audience Research
The motto of your webinar is to generate leads, enhance the brand image and increase the sales of your products/services. Therefore, the need to know your audience is an integral part that helps you determine your webinar's output. An in-depth audience analysis will help you evaluate what the audience expects from the webinar based on the current market scenario.
2. Leverage Analytics
Leveraging analytics is a crucial part of every webinar as it enables you to know what type of message your attendees are most responsive to.
You can use different tools of analytics, including Facebook Insights, Google Analytics, etc. These tools provide a meticulous and customized breakdown of traffic on wide-ranging parameters.
3. Well-Timed Promotions
A couple of factors are responsible for intriguing the viewers to attend your webinar. You can flash a 2 days discount sale on the webinar before a week. Here, the timing matters! For instance, suppose you announced the sale a month before, no one will remember when the time comes. However, enticing offers just before a couple of days of the webinar will put significant influence on the audience.
4. Visual Branding
According to surveys, it is proven that people are likely to retain only 10% of the information they hear after the 3 days of the session. Thus, visual branding is essential to increase the retention rate from 10% to 65%. It will help you to generate more leads and build the brand image in customers' minds. The perfect way to do this is by inserting a logo, tagline, or relevant image/video of the product/service.
5. Keep your Webinar Concise
It is imperative to ensure your webinar is succinct and only focuses on facts rather than theories. As facts will engage more customers towards your webinar, theories will loosen their interest. It is perceived that the attendees always prefer shorter and value-added sessions pointing towards strategic consideration.
Also Read: 11 Copy Paste Jobs Online Without Investment
FAQs
Q1. What is a Webinar?
A webinar is an event organized online and attended exclusively by audiences over the internet. In other words, it is a form of web conferencing that comprises the blend of the words; web and seminar.
Webinar software is a platform used to run or conduct a webinar online. Primarily, it is a tool for making your webinar's content more engaging, intriguing, and flexible. These tools facilitate converting passive viewers into leads which increases your revenue. The software is used to enhance users' experience and to build good repo with the audience.
Q2. Why are Webinars Important?
The webinar is a crucial element responsible for conducting a robust promotion campaign of your products or services all over the internet. Viewers love to watch the founder of the company informing the customers about their product or services. This way, you can also entice your potential audience through effective webinars by giving a demonstration.
Moreover, a webinar is an easy source of communicating with your audience and everyone across the globe from the comfort of your computer. It also provides a lucrative opportunity for experts to boost their sales by acquiring leads, engaging blog audiences, and nurturing existing customers.
Q3. What are the Benefits of Webinar?
Here are some benefits of organizing a webinar:
1. Engagement Tool
The webinar is considered to be an effective tool to engage with your audience on a personal level.
2. Educate and Train
The webinar is one of the best methods to educate and train customers about a particular company's products and services. For instance, you can show the features, utility, and benefits of the product or service you deal in. This will help you increase your user base and boost the opportunity to add testimonials from other satisfied customers.
3. Video Marketing
Video marketing is a powerful method to increase the revenue for any business these days. In this fast-paced digital world, the importance of webinars is also amplifying. It is because the video clips can further be used to aid your marketing efforts.
4. Lead Generation
The webinar is a sure-shot way to bring more leads for your business. The more attendees you can fetch, the more leads you are able to generate. As simple as that!
Q4. How Many Participants Can Attend Your Webinar?
A webinar can hold from 100 participants and scale up to 10,000 attendees. However, it can vary depending upon the webinar software you are using, the price plan you have purchased, and the purpose of conducting the event.
Note: It is always recommended to do an extensive webinar software comparison before you finalize one.
Q5. How to Get People to Attend Your Webinar?
You must follow the practices mentioned below to influence people to attend your webinar once you have chosen the best webinar software:
1. Create your Registration and Landing Page
The registration page is required to know about the attendee's basic information. People who are looking to attend the webinar must fill in the registration form. Another important aspect you need to cover is your existence to the people and how audiences will reap benefits from attending your webinar. People will have a lot of questions to ask about your webinar and your company, so the landing page must send a user-friendly and professional image.
2. Post a CTA on your website
Your website should feature CTA to inform visitors about your upcoming webinar. Also, don't forget to create a pop-up option, 'Click to Join,' to alert the visitors that you have a webinar coming up.
3. Realize the potential of social media
One of the easiest methods to grab the audiences' attention is using social media. Build a significant hype for your webinar and engage the target audience by creating polls that will enable you to get feedback on the webinar topics. You can capture these moments in a video and share them on the social media platform so that a wide range of users get to know about your webinar.
4. Ask partners to promote you
It is always a good option to ask your friends, coworkers, or industry experts to use their network and promote your webinar by activating their market networks, increasing their social media presence, and online influence for the promotion.
5. Maximize the reach of your email list
Blasting your email list is imperative if you want to inform everyone about your upcoming webinar. This is the best time to make use of your enormous email list by sending them an email on your personal email list about the webinar details such as the date, time, and venue.
Q6. How Much Do Best Webinar Platforms Cost?
The price range depends upon a couple of factors, including the number of attendees, the features you require, and the type of audience you have in your webinar. On average, the price range varies between $39 per month to $199 per month.
The best free webinar software we mentioned in this article works exceptionally well for all types of requirements.
Still, confused about which webinar software is perfect for your business? The foremost thing to start with is prioritizing the requisite features for your business, based on which the budget needs to be placed. Then, identify the size of your audience and your end goal, such as whether you want to conduct an informative webinar or boost your conversion rates to increase your sales.
All the tools in this list come with a free trial period or money-back guarantee. So, you can test the product before paying for it before upgrading to a premium plan. If the product suits your needs and is ideal for your business, you can make the final purchase. As simple as that! You can let us know which tool you have opted for and how it reclassified your business.