Looking for some of the best free Typeform alternatives? Don't worry, you've come to the right place.
Many companies opted for Typeform to create customized web forms, while many individuals want to switch to some of its best alternatives. The reason is simple. Typeform is a platform that proves to be quite expensive for small businesses. In addition, the data transfer off of the app can be a challenge. It might create an absurd experience for the user if they had to go backward on the form.
What Is Typeform?
Typeform is an online survey tool that creates simple-to-follow forms and surveys in which individuals love to take part. Primarily, the platform is best known for collecting online data to analyze and perceive customer experience and perception of the brand image. The tool aims at creating intriguing forms as per the target audience of the brand.
The platform is best for creating positioning strategies based on tentative consumer behavior and patterns. Moreover, it comprises built-in photos and multiple custom templates to choose from.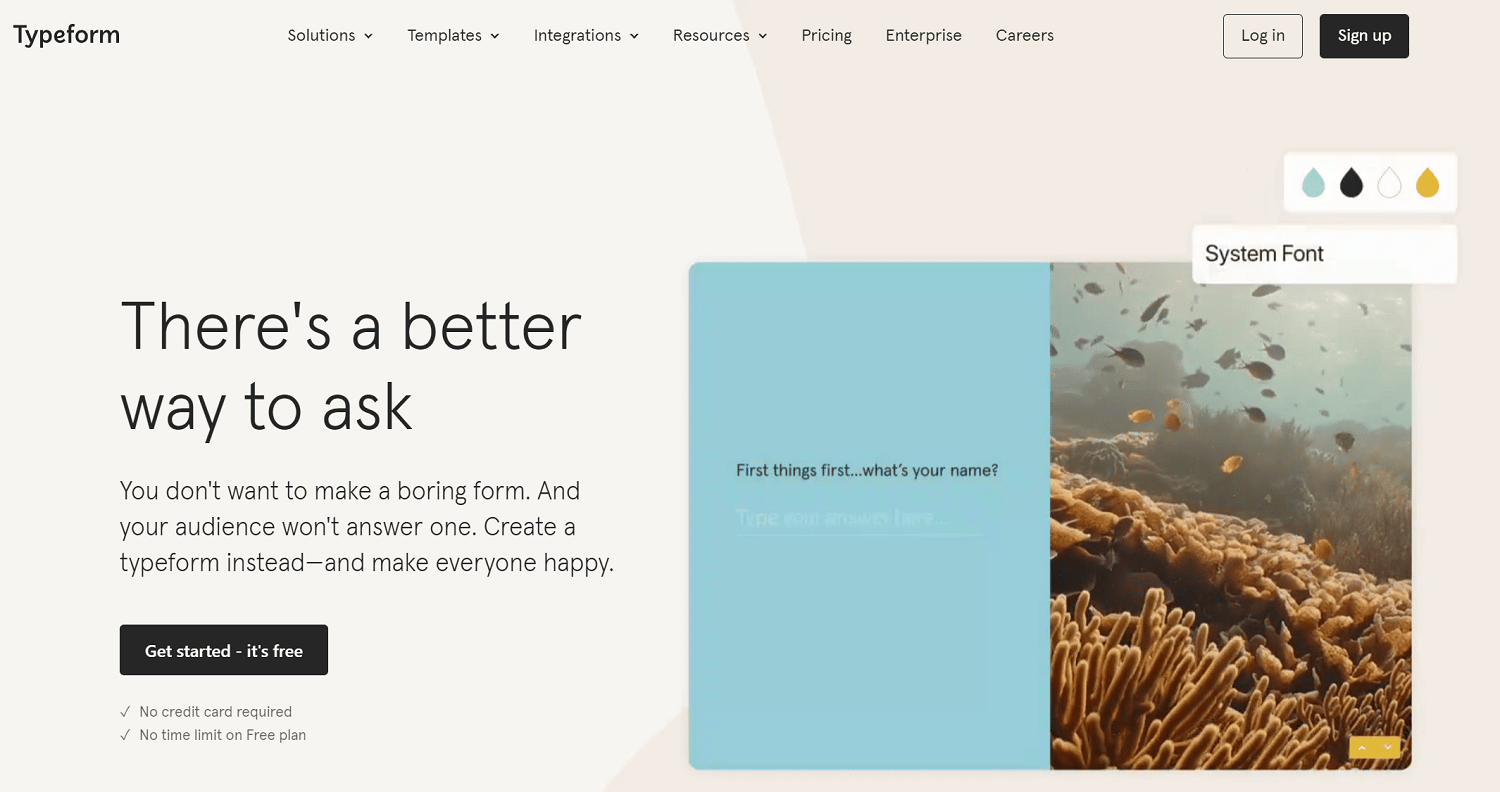 Typeform is competent in collecting demographics of the customers to gauge their purchasing patterns and crafts a better user experience that drives growth. However, there are some reasons why you might want to look for Typeforms' alternatives free.
The Need for Typeform Alternative
Although, Typeform is a competent tool that is easily available in the market. However, many tools are capable of performing the same tasks in the same efficient manner, just like Typeform. So, you can choose from an extensive range of collections that performs the task better than this platform in some way or the other.
The major reasons you need Typeform alternatives include:
1. Better Price
Typeform's price is quite expensive compared to its top competitors, including SurveyJunkie, Google Forms, and Paper forms. However, you can get the same and even better features on these platforms at a lower price. So why not opt for them?
2. Scope of Improvement in Flexibility
The pre-built templates and design schemes are limited in Typeform. Moreover, the platform does not integrate with renowned websites, including Squarespace, Hubspot, Bluehost, etc. The app does not show any option to display the sequencing and makes only 1 question appear at a time. This lets respondents start wondering about the length of the survey.
This is why you need to switch to some Typeform alternative that offers more flexibility.
3. Superior Functionality
The web-based platform offers diverse functionality, allowing you to create and share the surveys seamlessly. However, Typeform is not featured with a language customization option. It implies that the platform does not let users customize the survey entirely to ensure it remains user-friendly.
So, now you got to know that finding Typeform alternatives will let you access the platforms with better functionality. So why not go for it now?
Some other reasons to opt for Typeform alternatives include:
It becomes difficult for beginners to deal with overbearing and difficult interfaces.
An evident variation in the paid and free versions.
The price point of the advanced version of the tool.
It turns off the respondent as they can only see 1 question.
We get it. Do you know why you do not want to use Typeform, which is why you are searching for the best Typeform alternatives? Isn't it?
Choosing the right form builder is a crucial decision to make. It might be challenging for you to pick up Typeform alternatives. Hence, we have come up with this article to help you know the free alternatives to Typeform. Before knowing the alternatives, let us check what to look for in an Online Form Builder.
Factors to Consider While Choosing an Online Form Builder
An online form builder must be designed with an intuitive interface that beginners can easily operate and manage. Typeform is a robust form builder. However, it is quite challenging to build the form templates for beginners.
At the same time, you need to incur heavy costs to use Typeform. So, why not opt for the best Typeform alternatives then? We have come up with the following important aspects that a user must analyze before choosing an online form builder:
1. Intuitive Interface
If you need a web development degree or an instructor to use code in HTML like Typeform, there is no point in opting for an online form builder as every small business owner cannot be a coder. However, it increases the significance of web forms, allowing you to build apps and websites.
2. Robust Customer Support
Choose a form builder that offers impeccable customer support. How great it would be if the platform you selected offered a lot of documentation and tutorials and 24×7 customer support to solve all your queries.
3. Numerous Features
Usually, all form builders are specialized in creating conversational forms. However, a potent form builder will be the one that offers other valuable features to help users by reducing the amount of boilerplate required to build complex forms, build forms in Angular, and provide shortcuts to create an instance of the FormArray or FormControl.
4. Marketing Integrations
Always ensure your form builder connects to your email marketing service. It will facilitate the integration with other platforms.
5. WordPress Specialization
If you want the online form to effortlessly integrate with your website, always opt for a WordPress form plugin that other users try and test, have good reviews on the WordPress website, and hold specialization in WordPress. Typeform is not specialized in WordPress, which is why it does not have positive reviews on WordPress.org. At the same time, the free alternatives to Typeform we have mentioned are fully compatible with WordPress.
6. Cost-Efficient
The form builder must be cost-efficient and affordable. Even a small company should be able to get access to the platform. Notably, web forms are a robust source for creating conversational forms still, the price to opt for them must be kept minimal.
7. Ease of Customization
A powerful form builder will allow you to customize your forms to meet your brand's requirements.
8. Money-Back Guarantee
Trying the services of a platform without any risk, what's better than that? A good form builder will always give you a chance to try it after ensuring you return all your money if you wish to unsubscribe it after the trial period.
25 Best Typeform Alternatives
All the alternatives we have mentioned are the top competitors of Typeform and are ideal for all types of businesses, be it small, medium, or large. So let's jump into the alternatives to Typeform: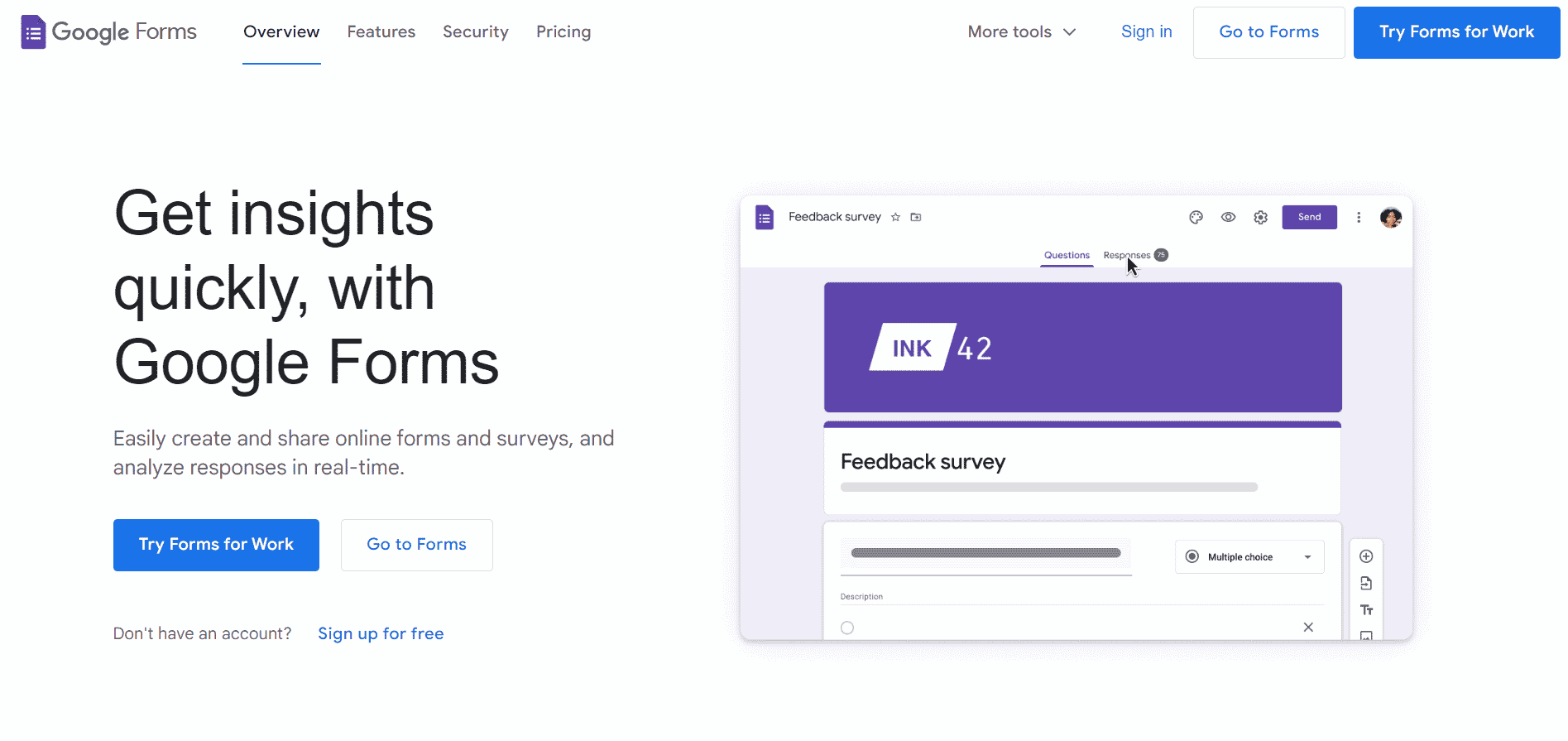 One of the best Typeform alternatives, Google Forms, is designed with an intuitive layout that is pretty easy to use for beginners. In addition, the platform offers many pre-made templates and can change the fonts and colour schemes as required.
The platform is also best known for its drag and drop form builder that allows users to create compelling online survey forms, quizzes, and questionnaires. Another reason it is famous among the massive user-base is that it is entirely free.
Other incredible features offered by Google Forms include simple integrations with other Google apps such as Google Docs, Google Slides, Google data Studio, etc., breaking up long forms into multi-step ones, making data-driven decisions by organizing the collected information, setting up automated emails hassle-free, and much more.
If you are searching for a mobile and desktop responsive platform offering extensive professional features, Google Forms is an impeccable software to choose from.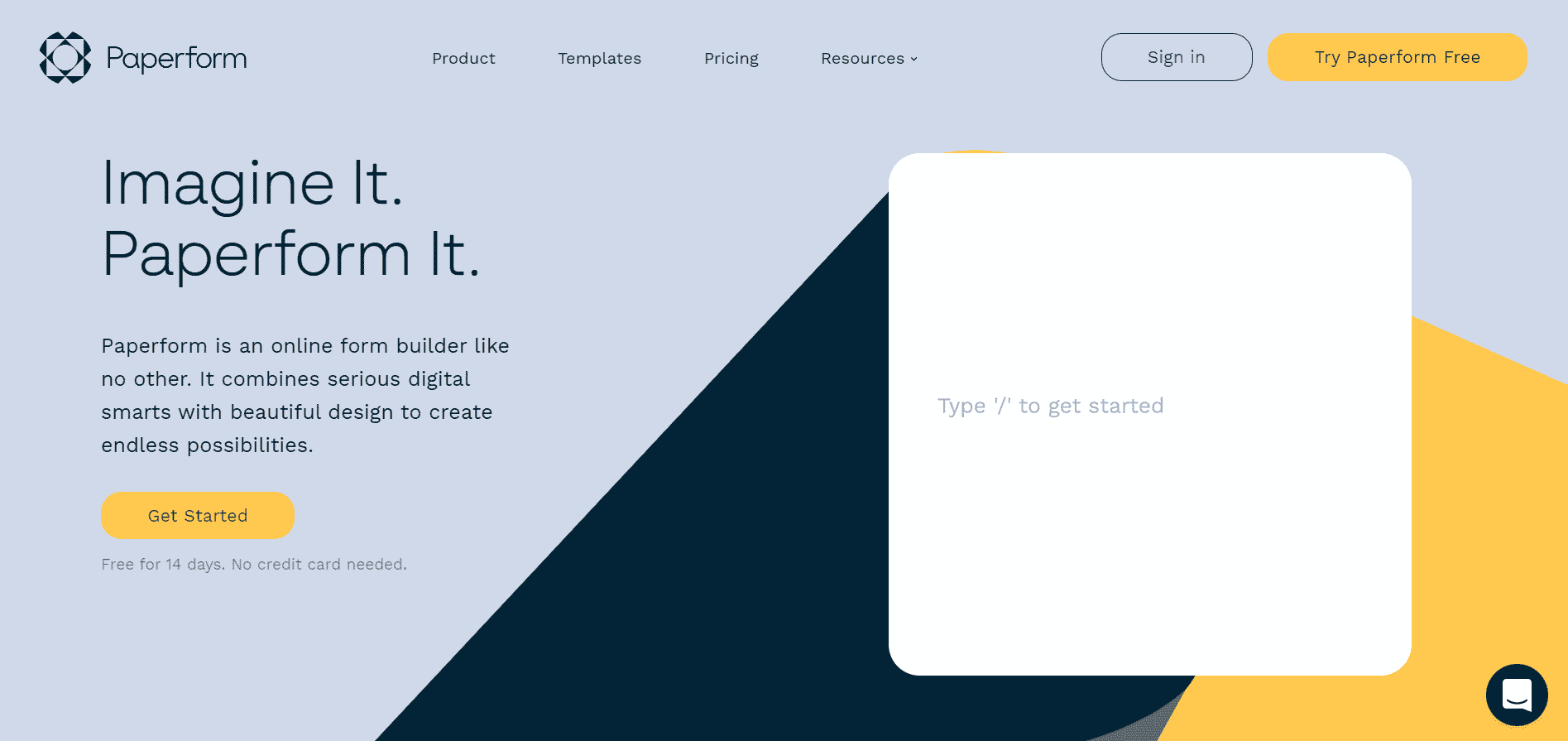 Paperforms is another tremendous alternative to Typeform that allows you to build flexible online forms with formatted text and embedded media. The platform is aided by Zapier, which makes the entire payment process seamless. In addition, Paperform lets you create simple and quick customizable forms that become easy for your clients to design and share. The form builder can integrate with over 750 services without requiring a line of code.
Moreover, the user interface of Paperform is captivating. It provides you with a flexible online form that can be used on a paper form, custom website, standard online shopping cart, and so on.
The lowest plan starts from $24 per month; however, it ranges up to $159 per month if you want to opt for its most superior Agency plan.
The software helps in creating personalized email responses from submissions and customizing the entire UI as per the language. It offers 500+ well designed pre-loaded templates differentiated by industry & category and more than 20 field types to choose from. The platform also configures the fields according to your specification.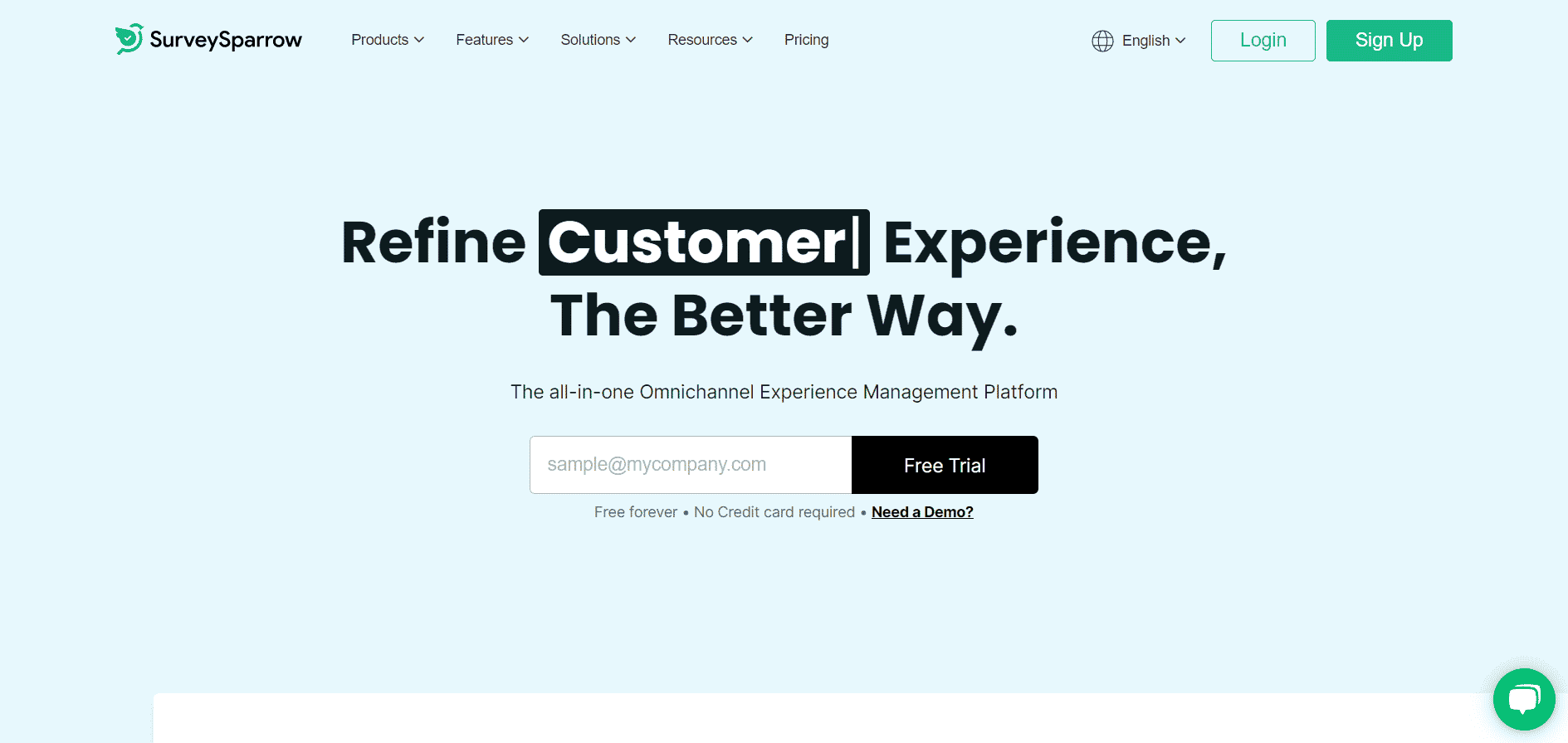 Searching for the closest choice for a Typeform alternative? SurveySparrow provides an intriguing experience by creating engaging survey forms and valuable insights.
This platform will enhance the user experience and ensure extraordinarily high survey response rate, up to 40%. The online form builder is also known for useful features such as automation of workflows, multi-channel data collection, chatbots, etc.
The platform offers some unique features as it lets users run polls or create NPS surveys besides helping you gain a ton of insights through its advanced analytics. Plus, it serves as an impeccable performance management tool to measure employee engagement and boost survey completion rates.
The online form builder, SurveySparror, bills all its customers quarterly or annually. The starting price of the platform is $39 per month which is billed quarterly. It also has a free plan.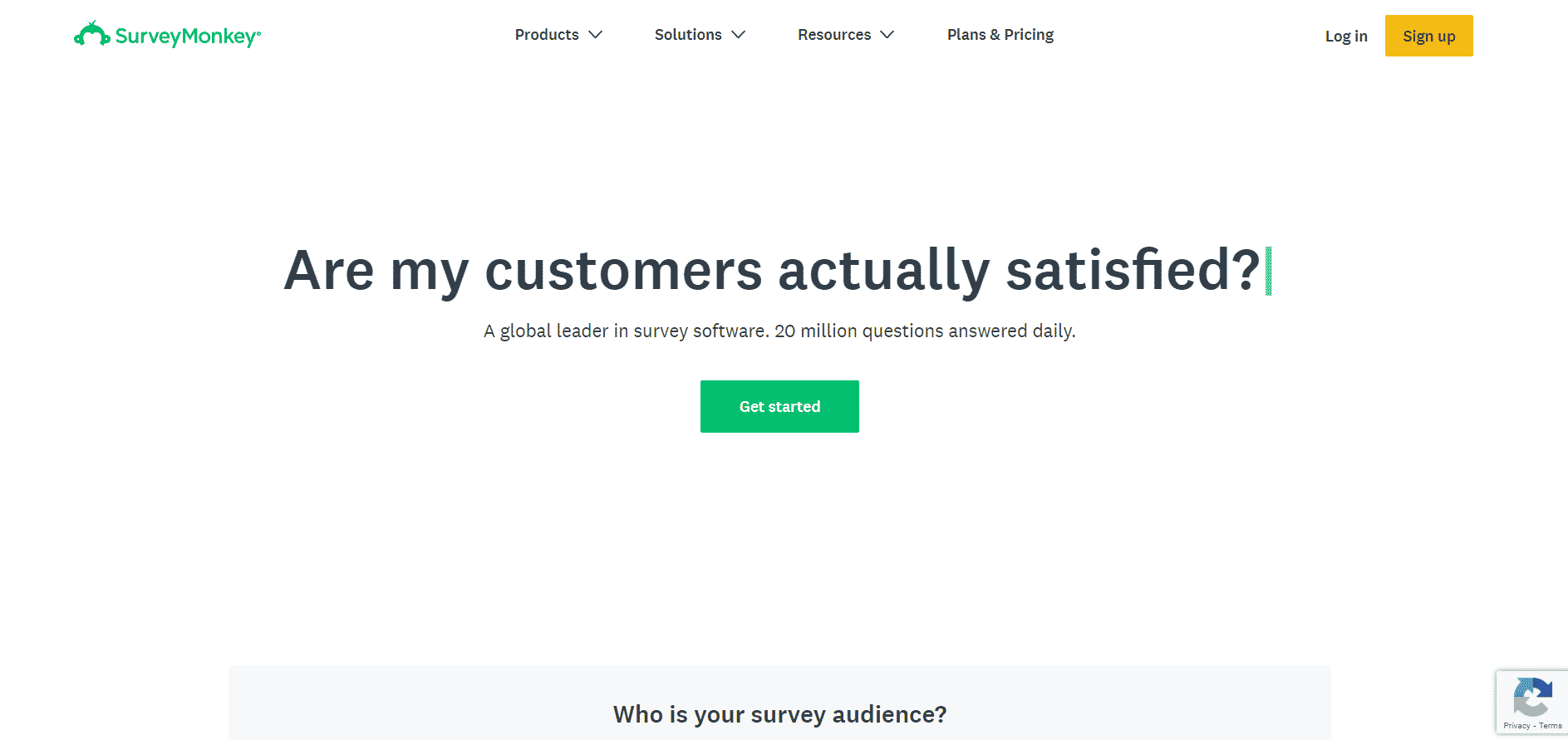 A typical Typeform alternative, SurveyMonkey used by people from all walks of life, including professionals and students. One of the best parts about this platform is that it has certain built-in survey questions and templates, facilitating your job.
The form builder also allows users to edit, remove or add questions based on their specific needs from the templates available. In addition, the platform features customized branding that enables you to create custom themes, build thank-you pages, use different fonts, and add a logo. SurveyMonkey helps its users to perform data analysis by filtering and sorting technology. The data analysis further enables users to make data-driven decisions effortlessly, which can help your business succeed.
This online form builder is probably the perfect solution for you if you want to build captivating surveys with ease. Moreover, the platform is fully responsive and mobile-friendly. The only downside of SurveyMonkey is its limited customization provisions and cluttered interface.
The pricing of the platform starts at $11.60 per month for individual plan.
WPForms is an incredible plugin for online form building that is compatible with WordPress and other renowned website platforms.
The platform is built-in with conversational forms, a 1-click tool helping you turn your forms into a conversational-style form. Moreover, it can create engaging surveys and polls and integrate addons seamlessly.
Its intuitive interface features a drag and drop visual builder enabling users to build forms in real-time. WPForms are designed to offer you much more, including multiple integrations, robust security, 300+ form templates, conditional logic, form notifications, open-source help reducing SaaS bills, and world-class customer support.
This platform is best known for offering bountiful features for just a fraction of the price, ranging from $79 to $599.
Also Read: 32 Best URL Shorteners to Earn Money Online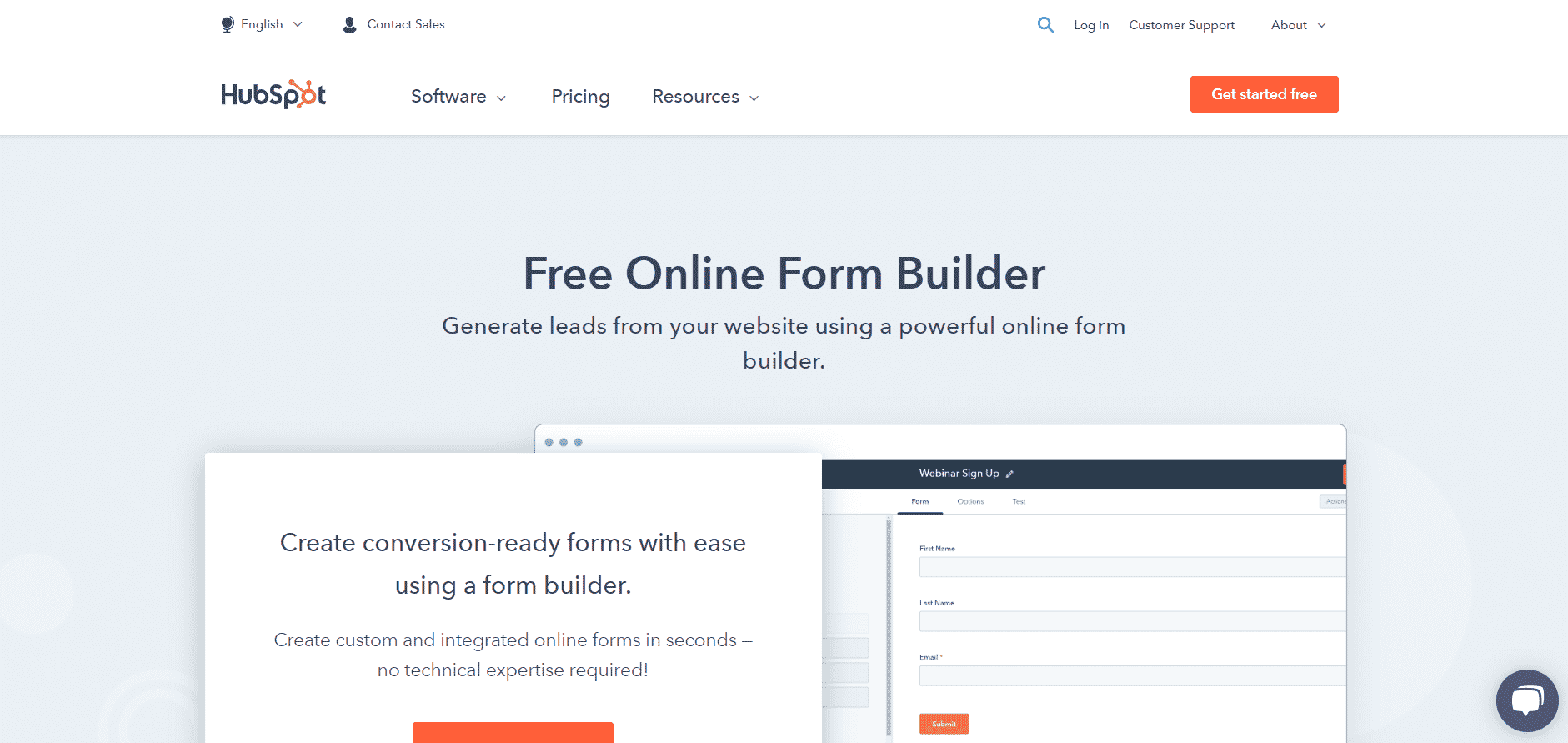 HubSpot Forms is a competitive form builder that is a part of HubSpot's marketing program. It is a platform that includes all-important marketing tools and features an email automation system. The software is a well known CRM platform.
The platform helps in creating forms with a drag and drop builder. Moreover, it also allows users to manage relationships with leads and customers because it enables all users to add to your CRM automatically once they fill out your form.
HubSpot Forms has in-built templates based on specific goals and uses up to 1000 form fields and many field types. The users have access to email marketing, live chat, landing pages, and many more functionalities. The platform is also flexible to be integrated with the WordPress site as it is also available as a WordPress plugin.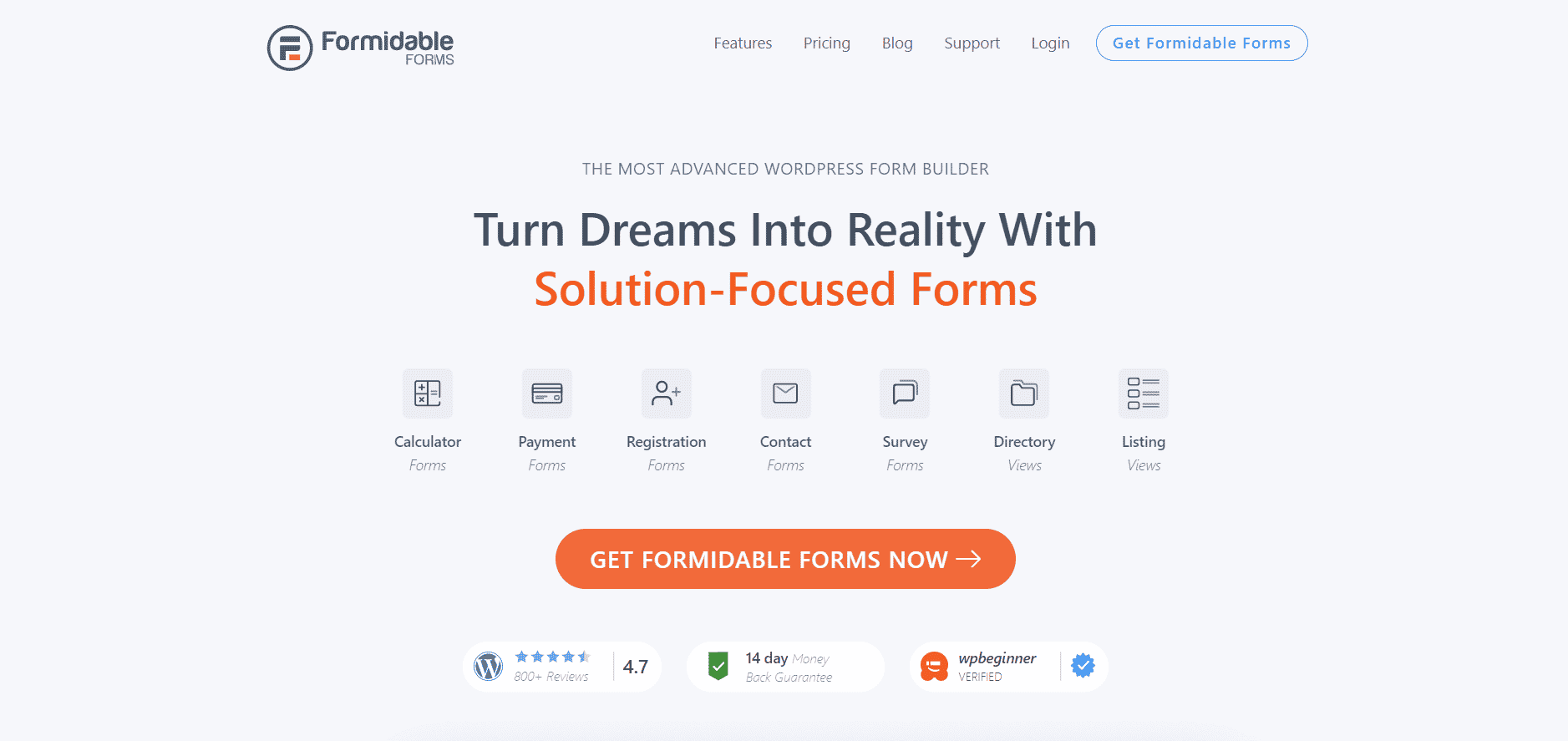 Looking for an astounding option to build technical forms on your website? An online form builder is a great tool that allows you to access advanced things with your forms, like advanced calculations.
The platform allows you to create forms with quizzes that display scores and facilitates math calculations by offering instant online estimates. Plus, it also enables you to calculate advanced product options.
Furthermore, its drag and drop feature lets you create advanced forms that you can connect with popular third-party services to make it popular.
The price of the platform starts at $79 per month. In addition, there is a free version of the plugin available at WordPress.org. However, you are required to pay for its subscription to access the majority of the valuable features.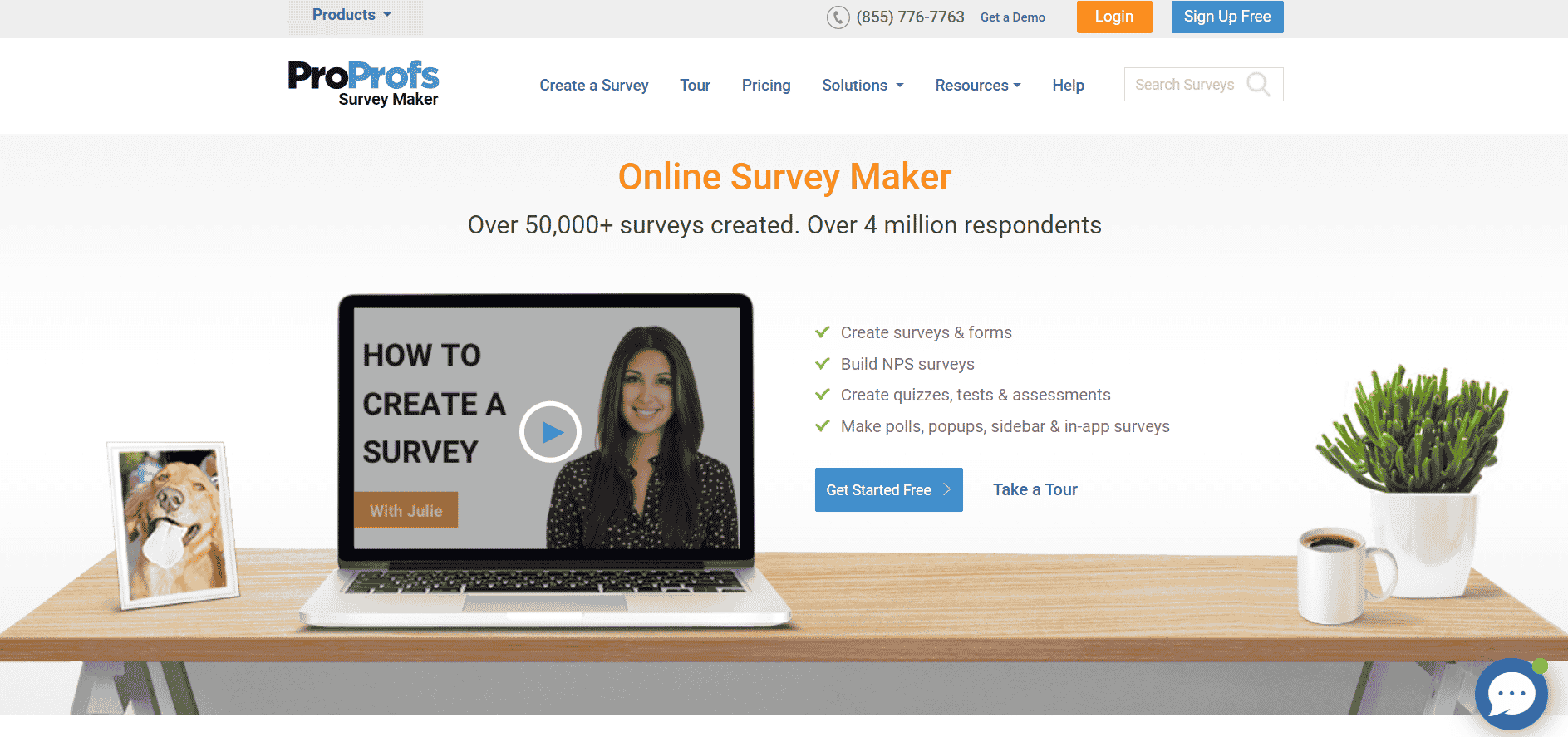 A renowned tool, ProProfs Survey Maker is known for its ability to create personalize surveys like NPS surveys, polls sidebar surveys, pop-up surveys, and app surveys, in any possible manner. The platform also offers to drag and drop questions in surveys to restrain the users from creating the data from scratch. It also comprises 100 professionally built survey templates.
The online form builder creates web forms for job applications, contact us, and product feedback. Moreover, it allows users to grade the user's responses.
The tool is competent to deploy quizzes and surveys on different platforms using distinctive channels. It also ensures the faster processing of surveys by offering skip logic and question branching.'
It is an ideal platform for medium and large enterprises as it enables them to deliver necessary information to massive audiences, collect employee and customer data, and engage them online. To opt for the ProProfs Survey Maker, you need to spend a minimum of $60 per month.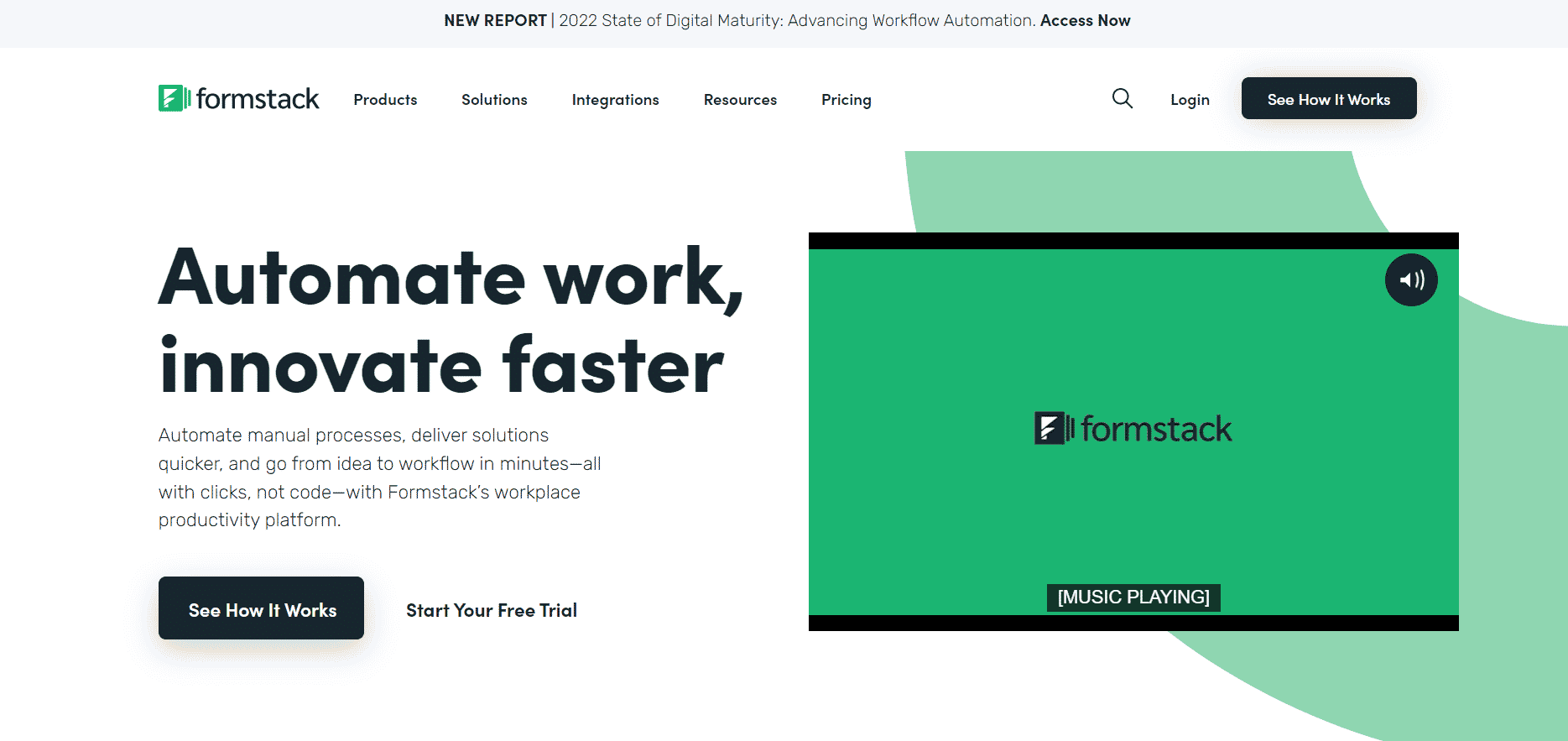 Formstack creates simple, complex, and short online forms based on your business requirements. It is a secure workplace productivity platform best known for building ingenious solutions to slow organizations down.
The tool allows you to build simple forms and go live within minutes. The platform displays one question at a time for a seamless mobile survey experience and allows its users to capture electronic signatures from any device.
Formstack also notifies the respondents as soon as they finish submitting the form through automated follow-up emails.
The form builder starts at a basic price of $59/month.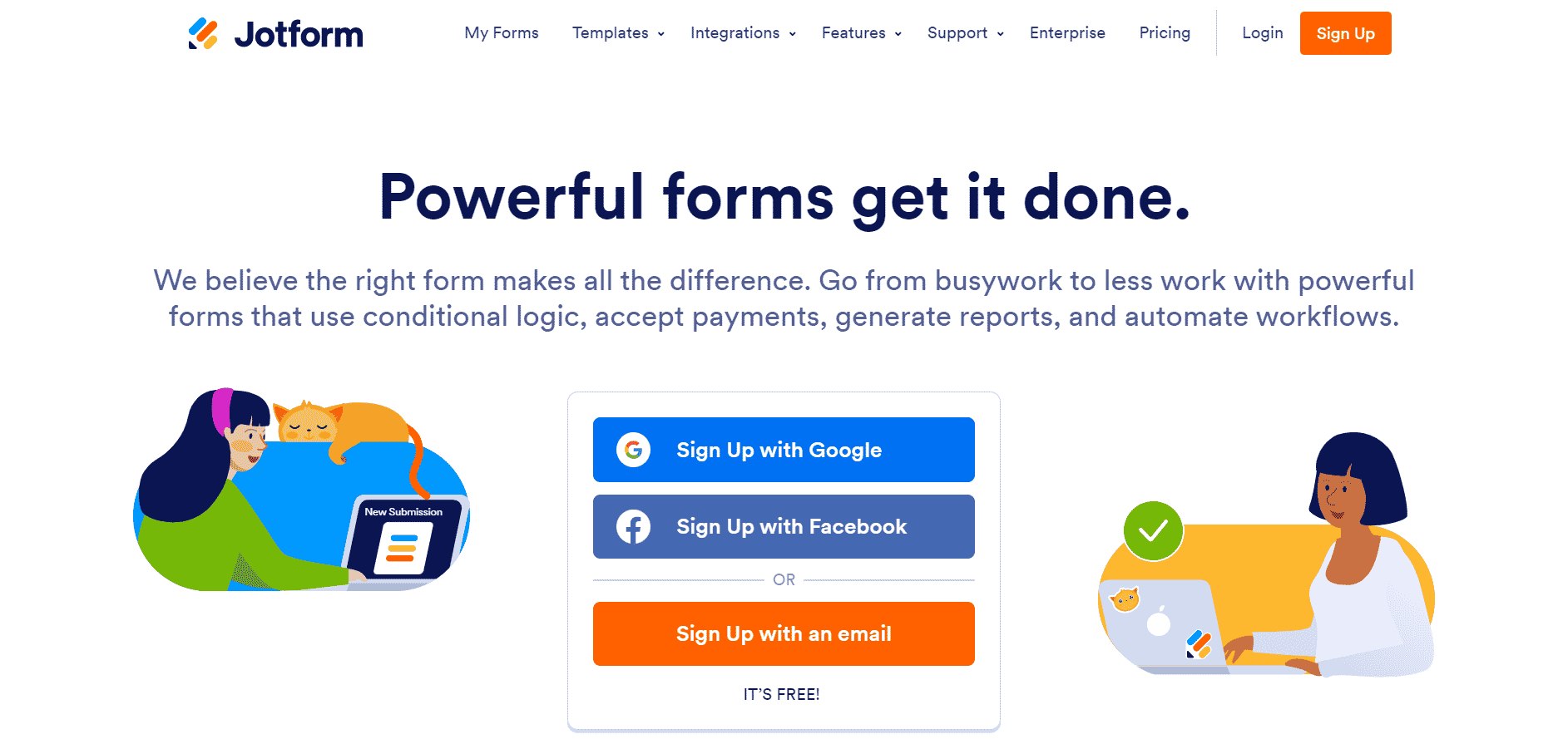 Searching for a fully-featured tool helping you build forms and create engaging surveys? Jotform is the perfect online form builder you can opt for, which helps you create compelling forms and collect significant user data even when you do not have an internet connection.
The users are also allowed to customize notifications and get push notifications for every new response. Plus, it is a mobile-friendly platform that empowers users to duplicate the forms on their account, end number of times.
You can also collect responses in emails for all your surveys and let you share your survey data by adding sub-account users to your account.
The platform offers integration support and has a free version as well. However, the starting plan of Jotform is just $29/month.
Also Read: 30 Best Refer and Earn Apps in India 2022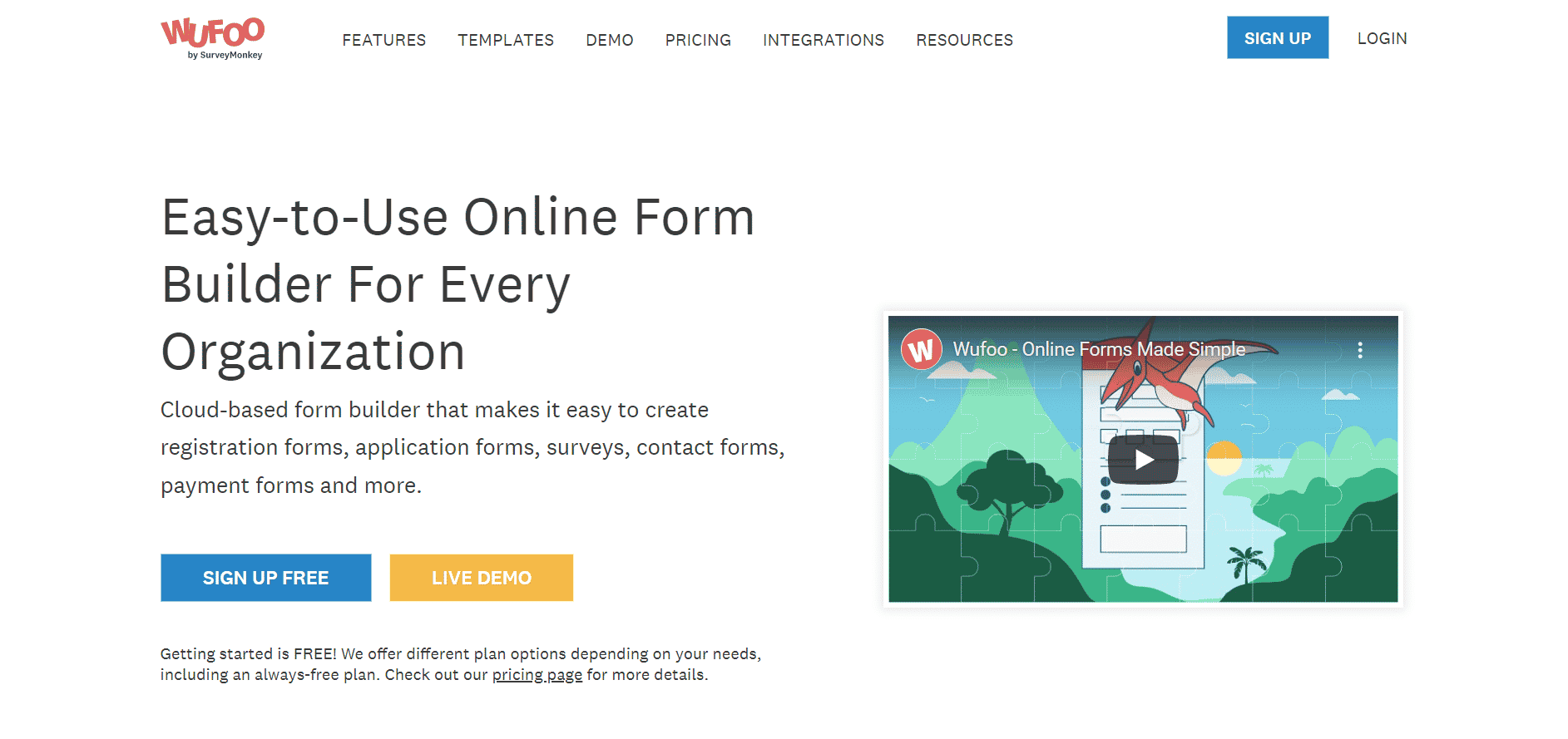 One of the best Typeform alternatives, Wufoo is an excellent form creation tool designed with a dynamic-based logic, ensuring that respondents get only those questions that are relevant to them by analyzing their previous responses.
You can do much more than conducting customer-facing surveys as there are subscriptions, applications, approvals, acknowledgments, and orders, that many brands/companies use this platform for.
Since Twitter and Facebook adopted the platform, the platform has gained utmost recognition. It is easy for beginners to operate this tool as the platform features an intuitive interface and enhances the users' experience.
Commonly used for contact forms, online surveys, event invitations, and payment forms, with having registration forms attached, Wufoo is easy to customize.
The pricing of the platform starts at $14.08 per month which is billed annually.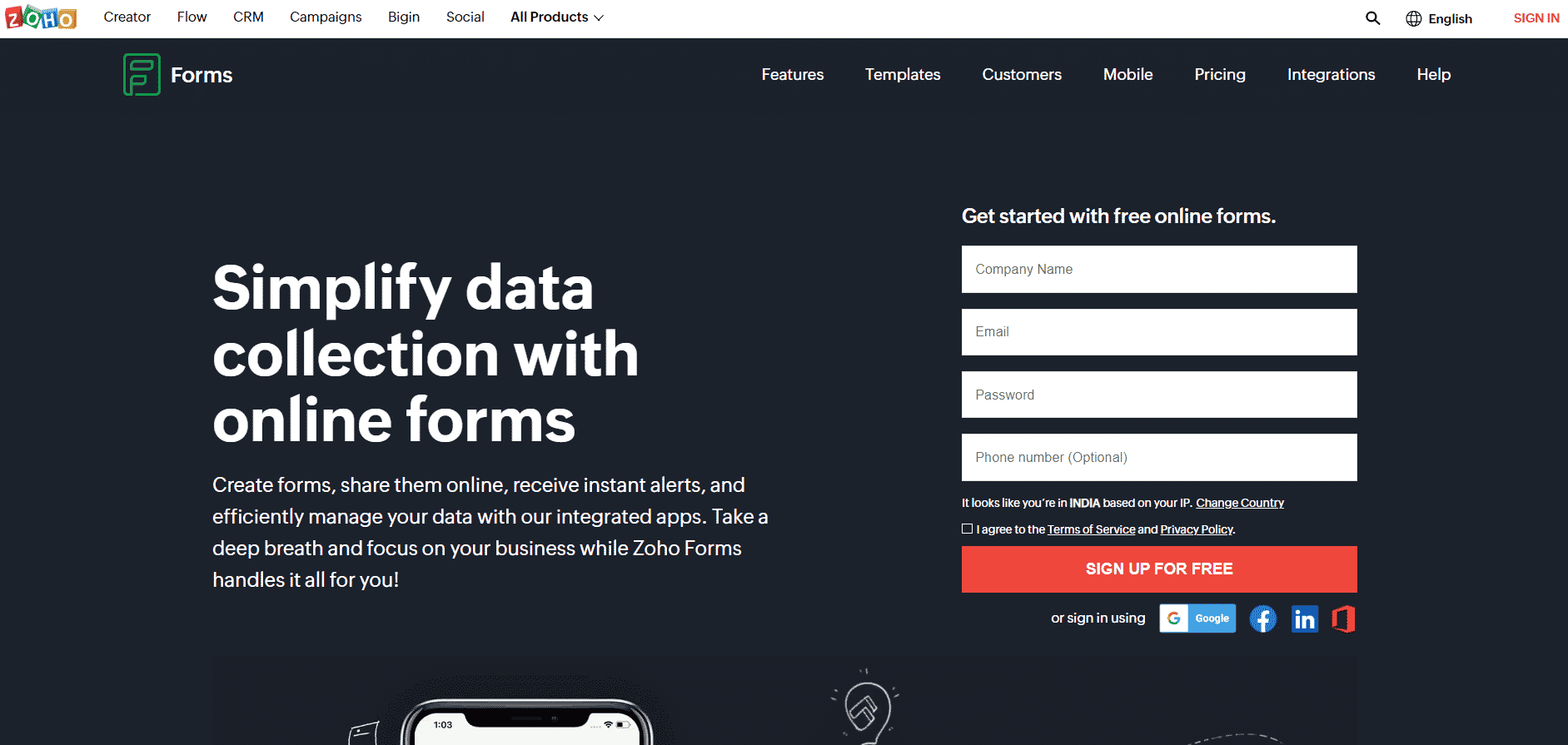 Still confused about which Typeform alternative to choose from the list? Zoho Forms offers a simplified solution to collecting enormous data and pushing it to other Zoho apps.
The online form builder acts as a front end for all backend applications, which caters to different requirements or different users.
The platform offers you a variety of tools to collaborate with, enabling you to work as a team irrespective of your location. It is also featured with the Zoho Survey option that helps you connect to online surveys. Moreover, you are also allowed to watch the performance of your forms with form analytics.
You can get access to its advanced branding features and built-in safety measures such as role assignment with the starting price of $10 per month. In addition, the platform is ideal for configuring approvers, creating reports for the users in the organization to approve/deny business processes and tracking income records.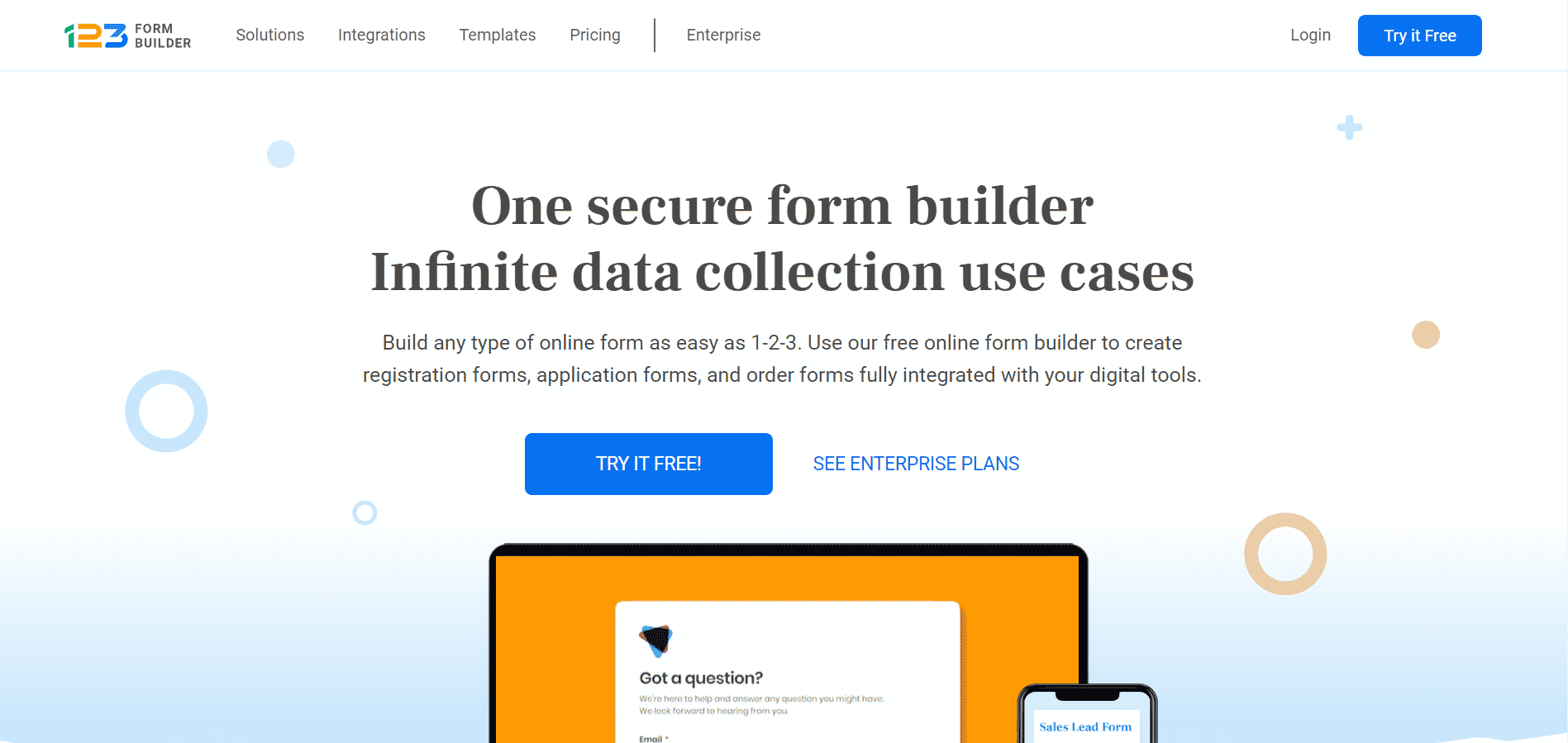 Want to create free HTML forms for your website? Accessing 123FormBuilder can solve your purpose of creating and collecting forms to analyze the results and make excellent business decisions.
The platform offers ample options. For example, its drag and drop editor makes it seamless for businesses to create and collect forms to analyze the results further and make business decisions.
The form builder is ideal for building simple forms with wide-ranging templates. In addition, it enables you to track the performance of your forms and evaluate how they are doing with advanced form analytics. The best part is the users are not required to build the form from scratch if they do not want to, as the templates cover all the basics.
The platform's subscription starts at $24.99 per month, which offers 100 submissions. It also offers a free version.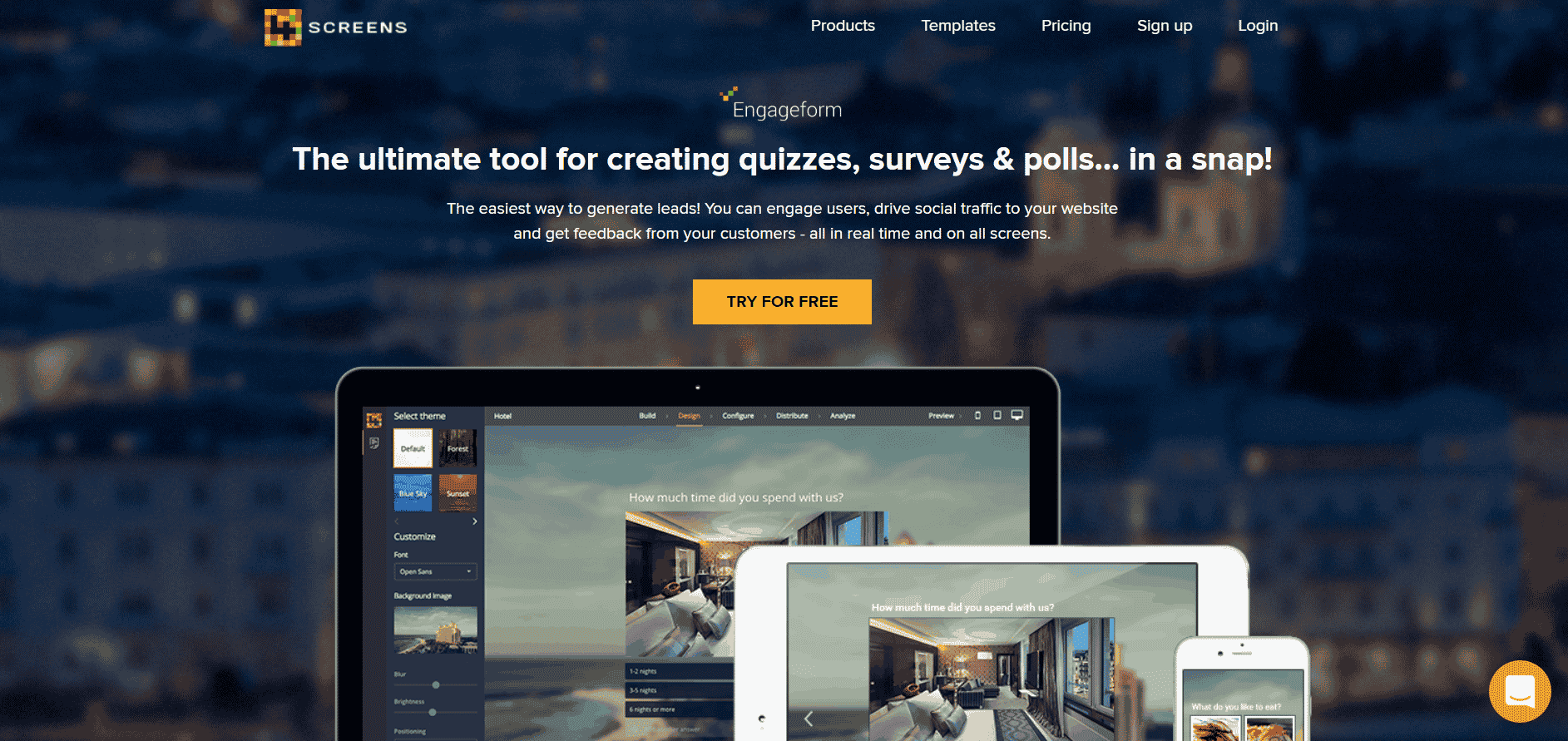 Engageform is a multitasking online builder that allows you to create online surveys, quizzes, polls, customer feedback surveys, and much more. The best part is all the surveys it creates are mobile-friendly. The platform boasts a user-friendly admin panel that all types of users can easily manage, beginners or professionals.
If you are using Engageform as a Typeform alternative free, the best part is that you do not need to have programming skills to build compelling surveys. All the surveys can be easily accessed through mobile devices, laptops, desktops, and tablets.
Engageform is specifically designed for businesses looking to attract more traffic to their website for nurturing leads and improving their digital presence.
Coming over to its price, the starter plan of the platform will cost you $29 per month. However, if you are looking for more features, you can choose a business plan that will cost you more.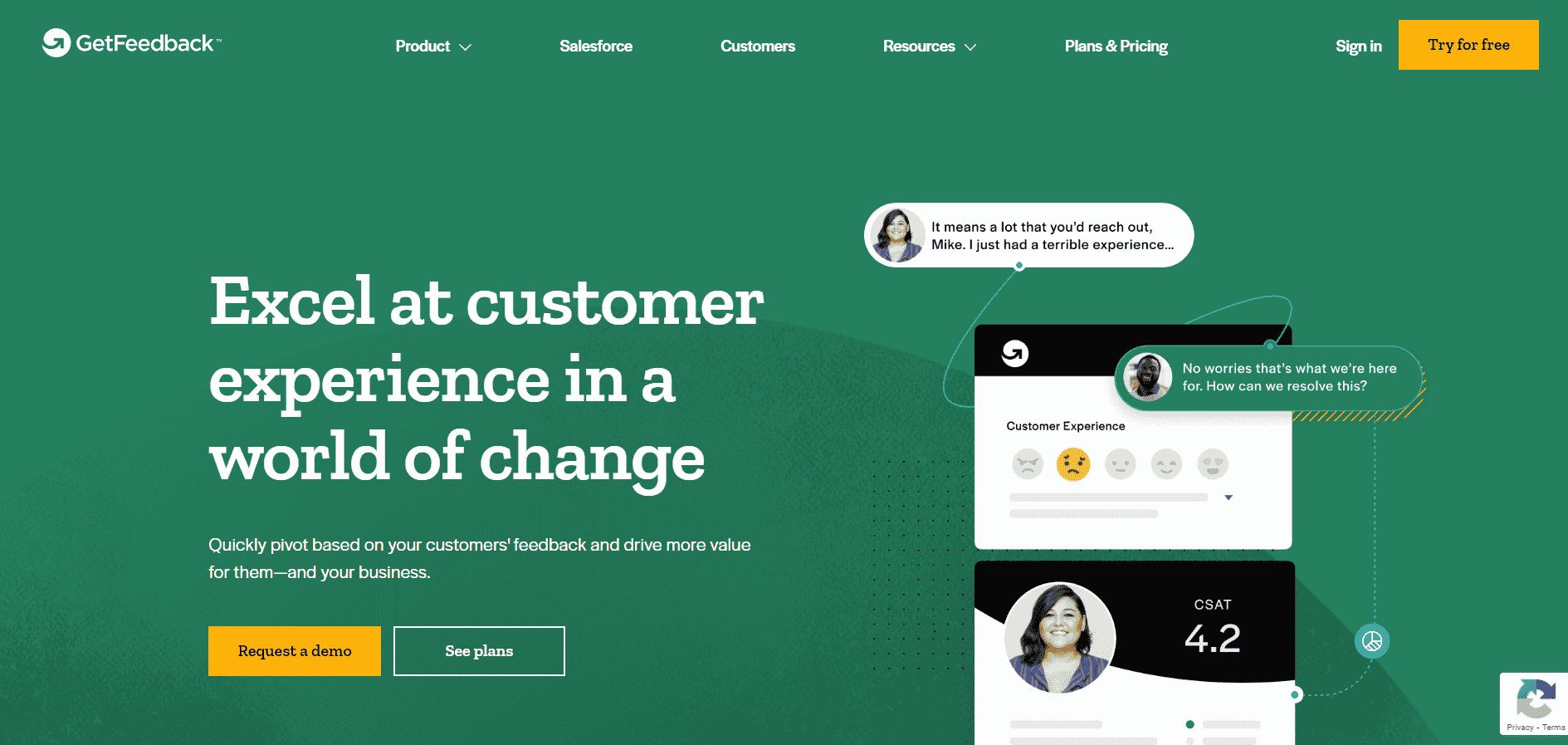 Still not able to find a free alternative to Typeform? GetFeedback comes with magnificent features that give tough competition to Typeform. Moreover, GetFeedback also offers its free trial version, ensuring that you have opted for the right platform for building online forms.
The price of the platform depend on your requirements. However, its plethora of features, including CRM integration, API integration, Customizable Branding, Feedback Collection & Management, Email Integration, Collaboration Tools, and Text Analysis, justifies its price.
Today, 10,000+ companies are using this tool as it also has integration options available with Salesforce Sales Cloud and Campaign Monitor.
The platform also creates instructions by analyzing customers' responses, letting them skip questions, and providing different content. Plus, you are also allowed to send surveys to users who can be classified into distinctive batches based on their particular interactions with your company.
Also Read: 15 Best Crypto Wallets of 2022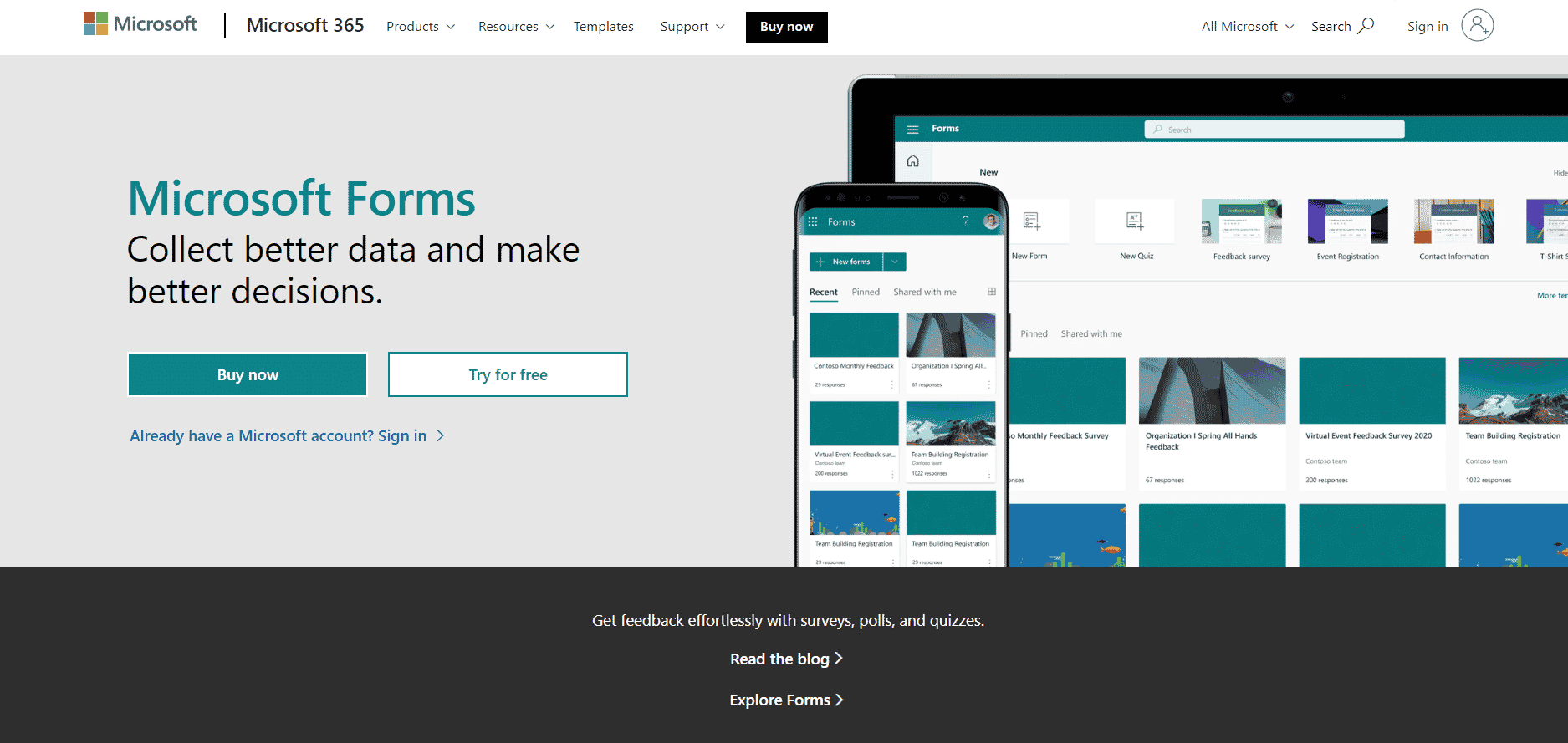 Microsoft Forms is an excellent tool that can build forms featuring its drag and drop builder. It is the best platform to use if you want to use Excel instead of Google Sheets.
The platform boasts of connecting your web forms to Excel, which lets the data appear systematically in a spreadsheet. Microsoft Forms also helps you gain detailed insights about your audience by gathering data.
The tool is free for anyone having access to Microsoft Office 365 license, which can be grabbed by paying $6.99 monthly for personal use.
The only drawback of this tool is that it does not allow users to upload files on the forms you make.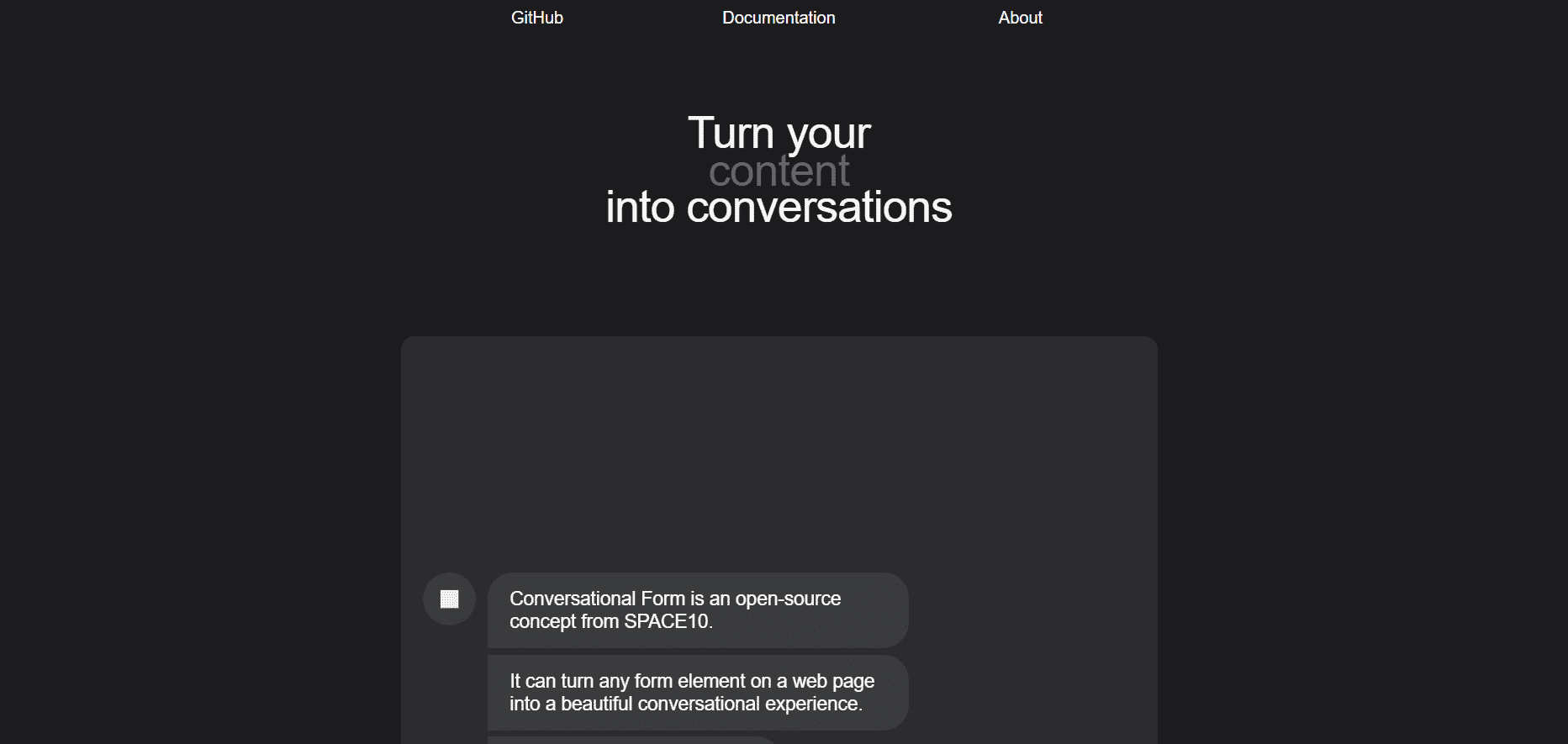 Want to turn web forms into conversations? Now, make your dream come true with this incredible tool featuring conversational replacement of all input elements, full customization, reusable variables from previous questions, and control over the styling.
One of the best Typeform alternatives, Conversational Form, helps you sign the forms electronically through its Signature add-on feature. Plus, the online builder also allows you to fetch the geological data of your users on the map.
The tool also helps in creating more leads by collecting partial entries with the form abandonment addon. The best part is that platform's addons restrain it from feeling robotic, ensuring your forms look human and engaging.
So, get on with this magnificent online builder and choose among a wide range of templates that can later be edited and embedded as per your requirement.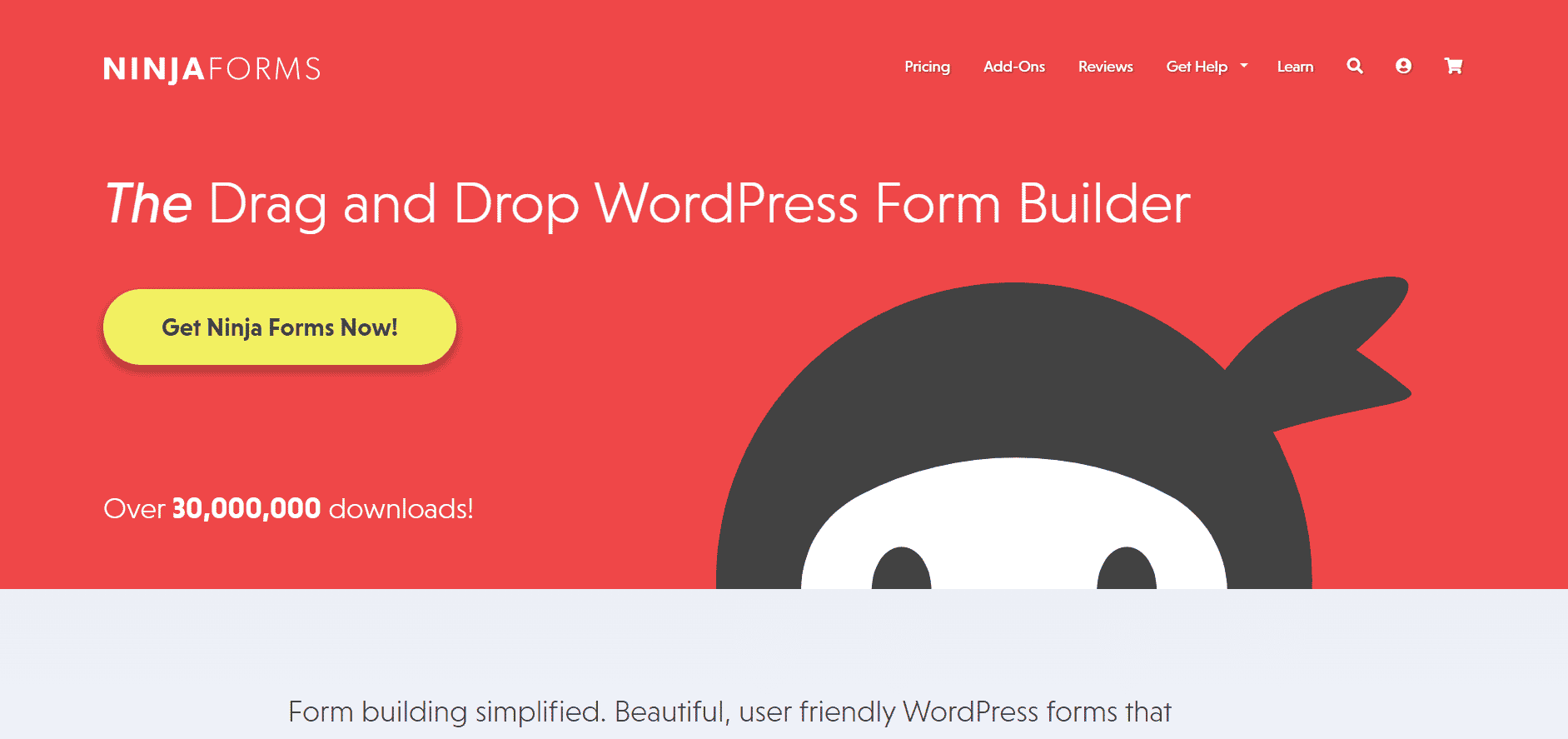 Ninja Forms offers 16 templates along with the visual drag and drop form builder for WordPress.
The online builder allows you to import your existing Ninja Forms and install them on different sites. In addition, it also lets you preview the form you are building, which gives you a precise idea of whether it is turning out as intended. This platform also enables you to add the Google reCaptcha x2 option.
It is an ideal tool for brands looking to access drag and drop form builder without a learning curve.
You need to pay $99 every year to access the basic plan of this tool. However, you can start with its free trial and ensure that the platform meets all your requirements.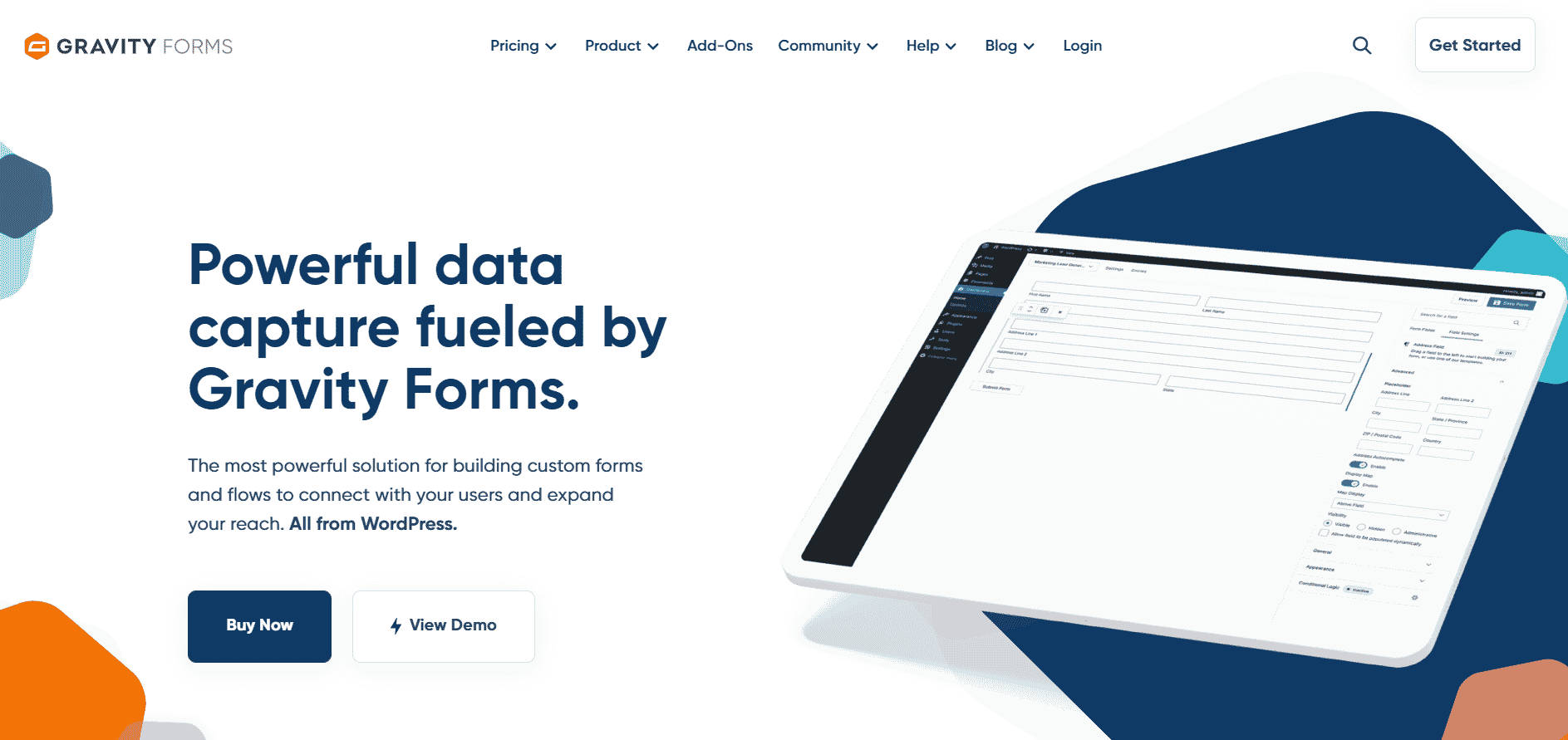 Searching for one of the most advanced Typeform alternatives for WordPress? Your hunt is over as Gravity Forms may solve your purpose what you are looking for. Primarily, it is a plugin that allows you to create surveys, quizzes, landing pages, payment forms, and much more.
The platform enables you to go beyond the basics and get your visitors to upload a wide variety of files through your forms. In addition, helps you create multi-page forms, save, use the captcha to restrict the spam submissions, save your progress as your edit, and can be integrated with accounting software that makes it easy to create advanced forms.
The tool offers 13 templates to choose from, along with a drag and drop builder for WordPress, similar to many other platforms mentioned in this list. It also uses conditional logic to showcase certain form fields based on previous answers.
The basic subscription can be opted for by paying $59 per year.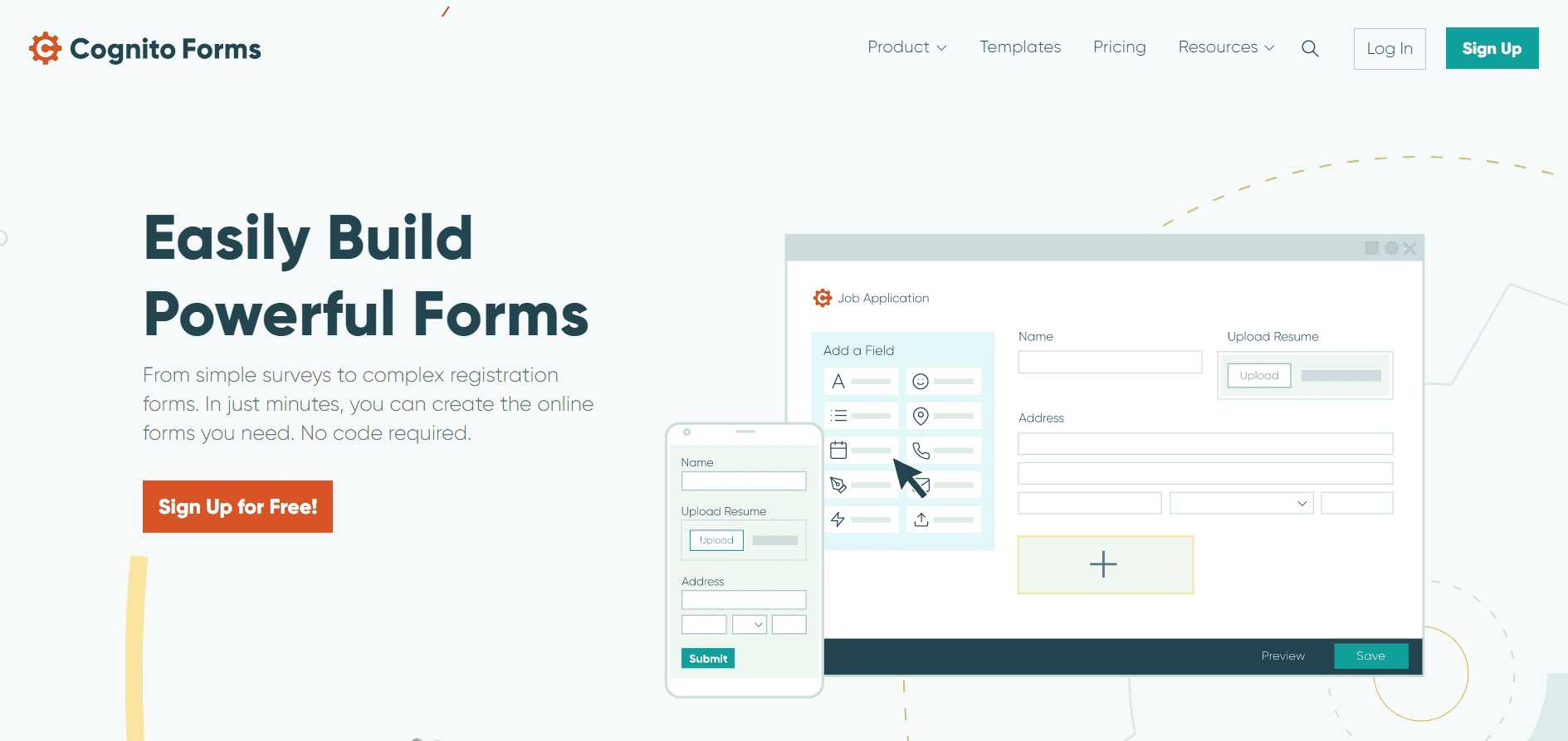 Cognito Forms is a great online form builder that builds robust forms and allows you to get started swiftly by offering pre-built templates. The best part is that you can experience the intuitive tool for free.
It lets you choose from 150+ templates and helps you put forms together by featuring a visual drag and drop builder. Moreover, the platform makes forms smarter with conditional logic.
Unlike many other Typeform Alternatives listed in this guide, the platform is affordable. The plan starts at $15 per month and goes to $99 per month.
Also Read: 11 Copy Paste Jobs Online Without Investment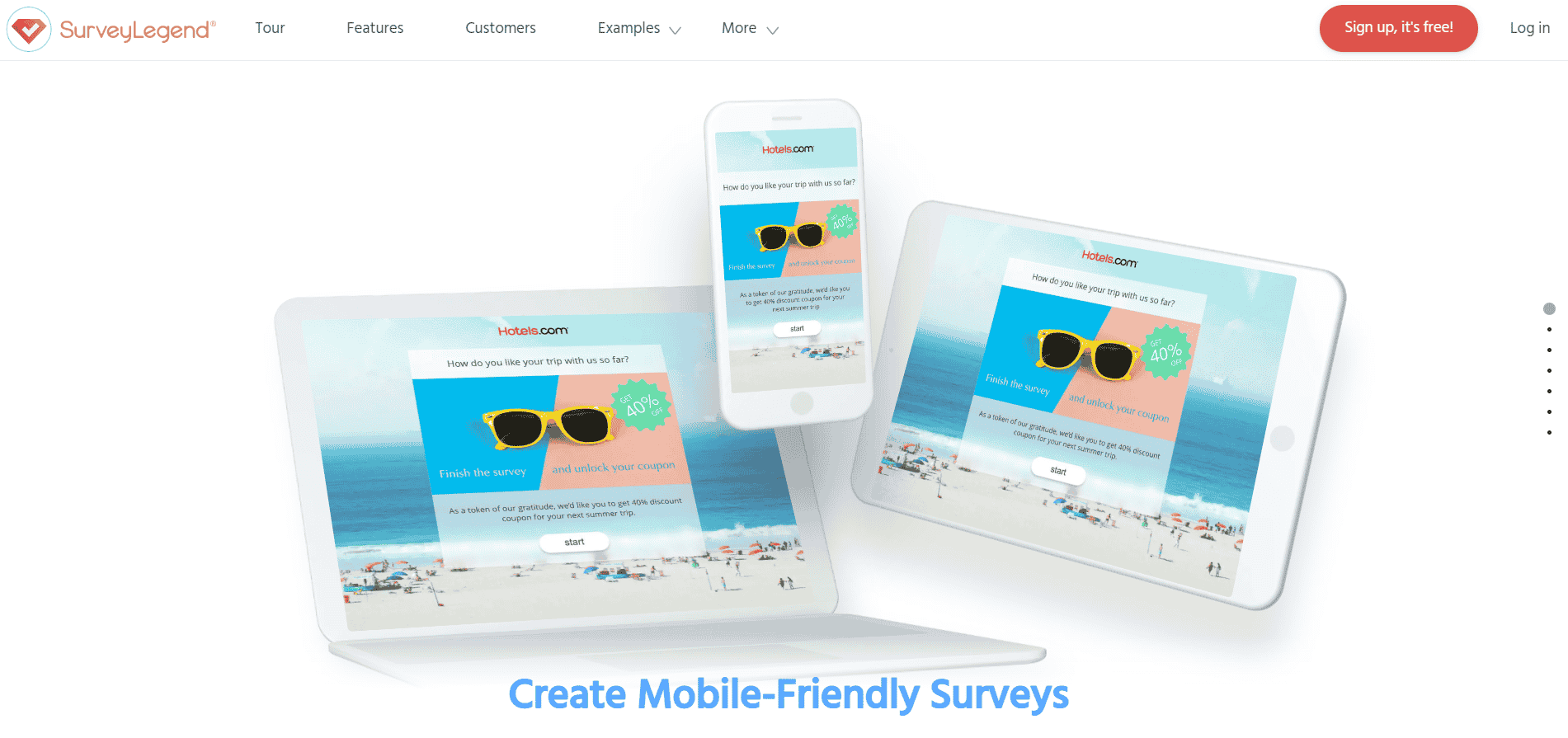 You can give this software a spin and check whether it suits you. Like Cognito Forms, SurveyLegend is cost-efficient, too, costing you $19 per month.
Accessing this platform will provide you with 12 templates to choose from. The tool has also been cited as the next generation of online surveys to build engaging surveys and quizzes.
The platform is designed for companies looking to create mobile and laptop friendly forms. It is a perfect choice for startups and individuals.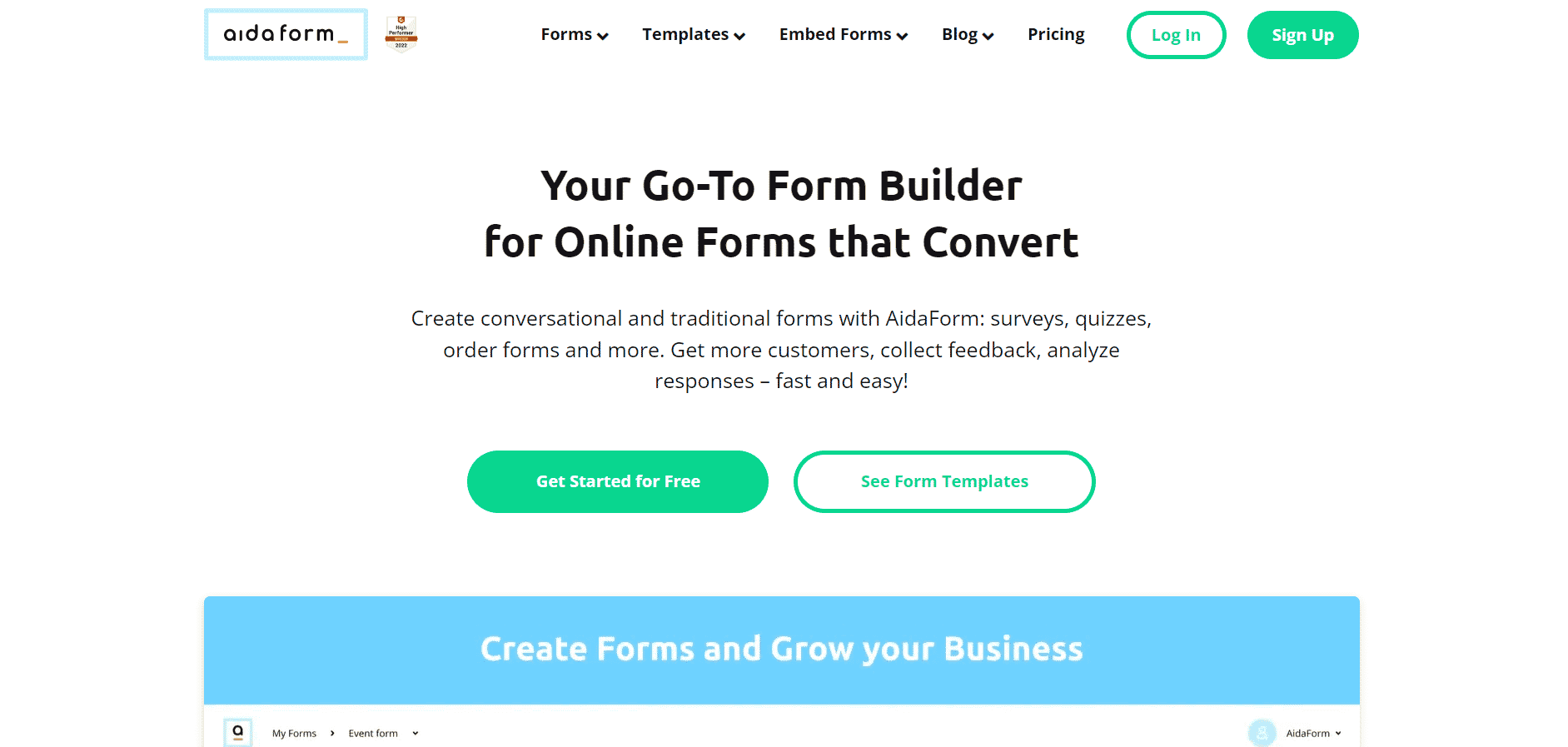 AidaForm is a fully customizable form building tool that offers 90+ templates to its users.
The online form builder has an intuitive interface and can be integrated with plentiful platforms. Plus, it allows you to build all types of forms, including business forms, job application forms, questionnaires, surveys, contact forms, etc.
Moreover, it allows you to create landing pages of all kinds. You might be glad to know the starting price of the platform, which is just $10 per month.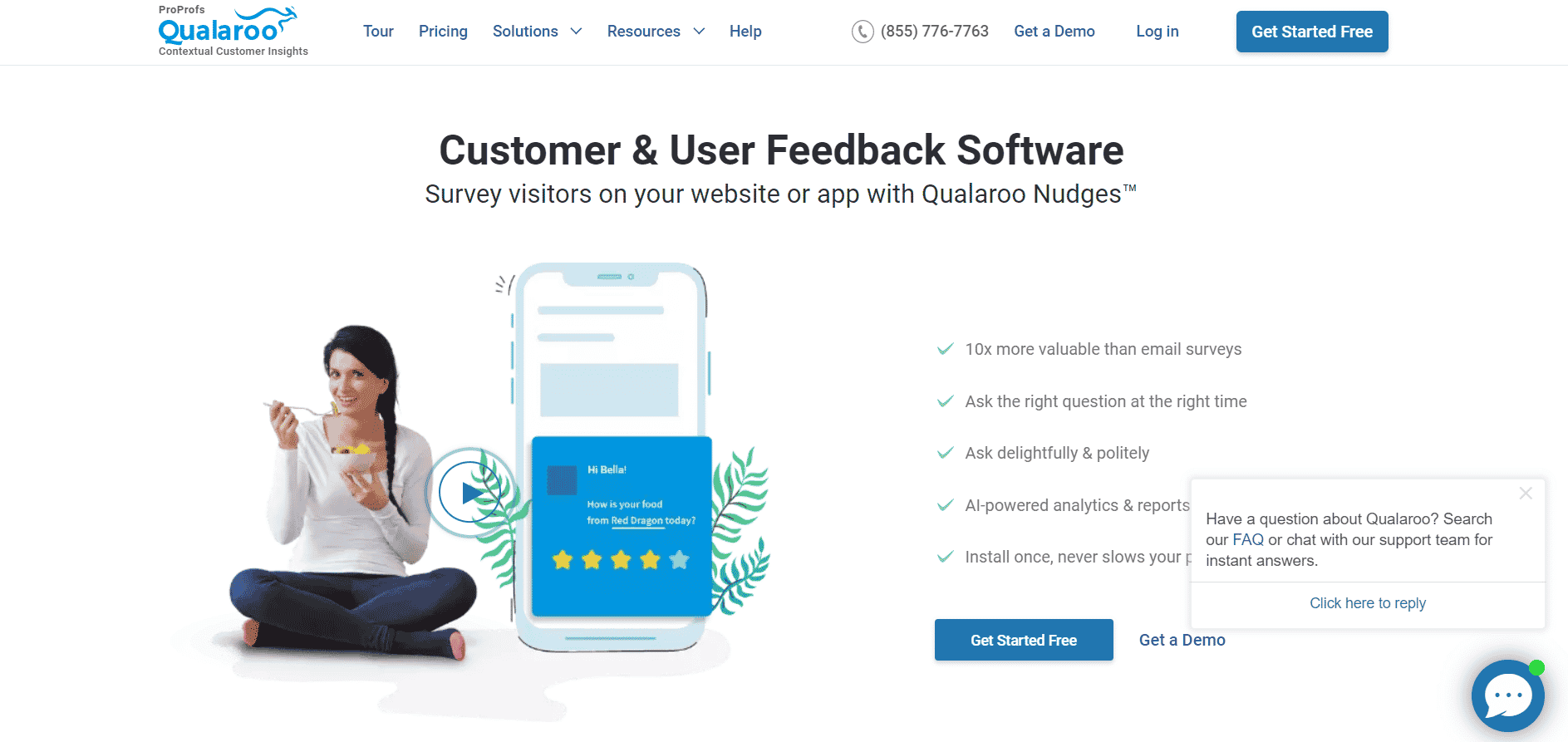 Qualaroo can easily collect valuable feedback from the customers and support question branching and skip logic for screening. The platform comprises more than 100 pre-built survey templates and personalized surveys such as CES, NPS, SUS, UES, CSAT, etc.
The tool is specifically designed to increase website conversions while offering an excellent survey experience. The online form builder also makes it easy to understand the perception and behaviour of respondents.
The platform also features an in-depth reporting system and the ability to duplicate surveys on multiple devices. Backed by AI technology, the form builder comprehensively visualizes the open-ended results.
Although it might hurt your pocket a bit, opting for this tool is completely worth it. To access this platform, you need to pay $100 every month.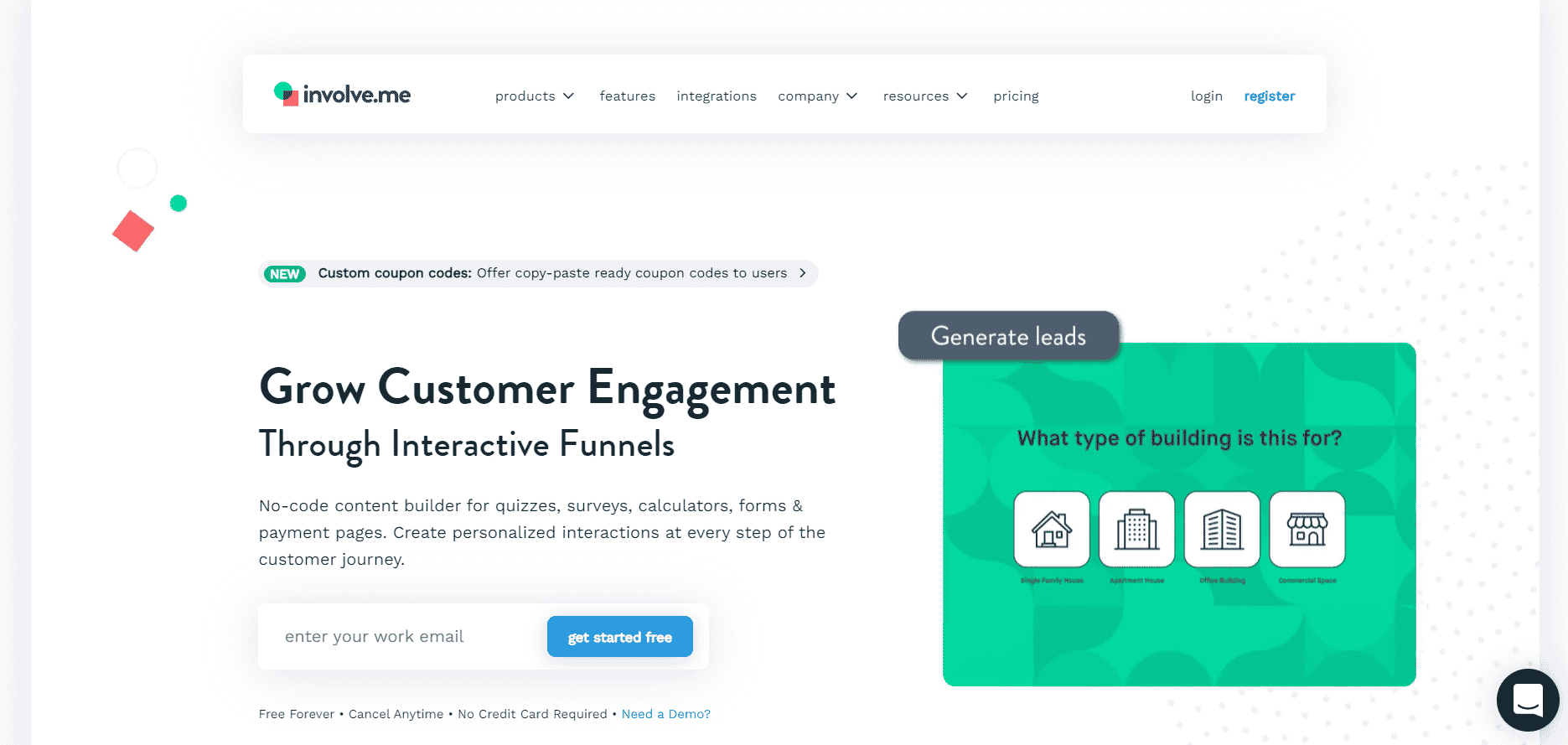 A reliable and modern customer experience platform, Involve.me is competent in building a plethora of leads for your business. Simultaneously, it offers a rich pre-made template library and excellent customization options.
The tool caters to different scenarios for quizzes & surveys and efficiently gathers all kinds of data that further boost your audience's engagement.
Although it is the newest platform compared to all other platforms mentioned in this list, it is still best-known for offering potent features to customize interactive forms.
The starting monthly price of the platform is $19. However, you can fully utilize this cost if you want to analyze your customer's data and create advanced lead segmentation.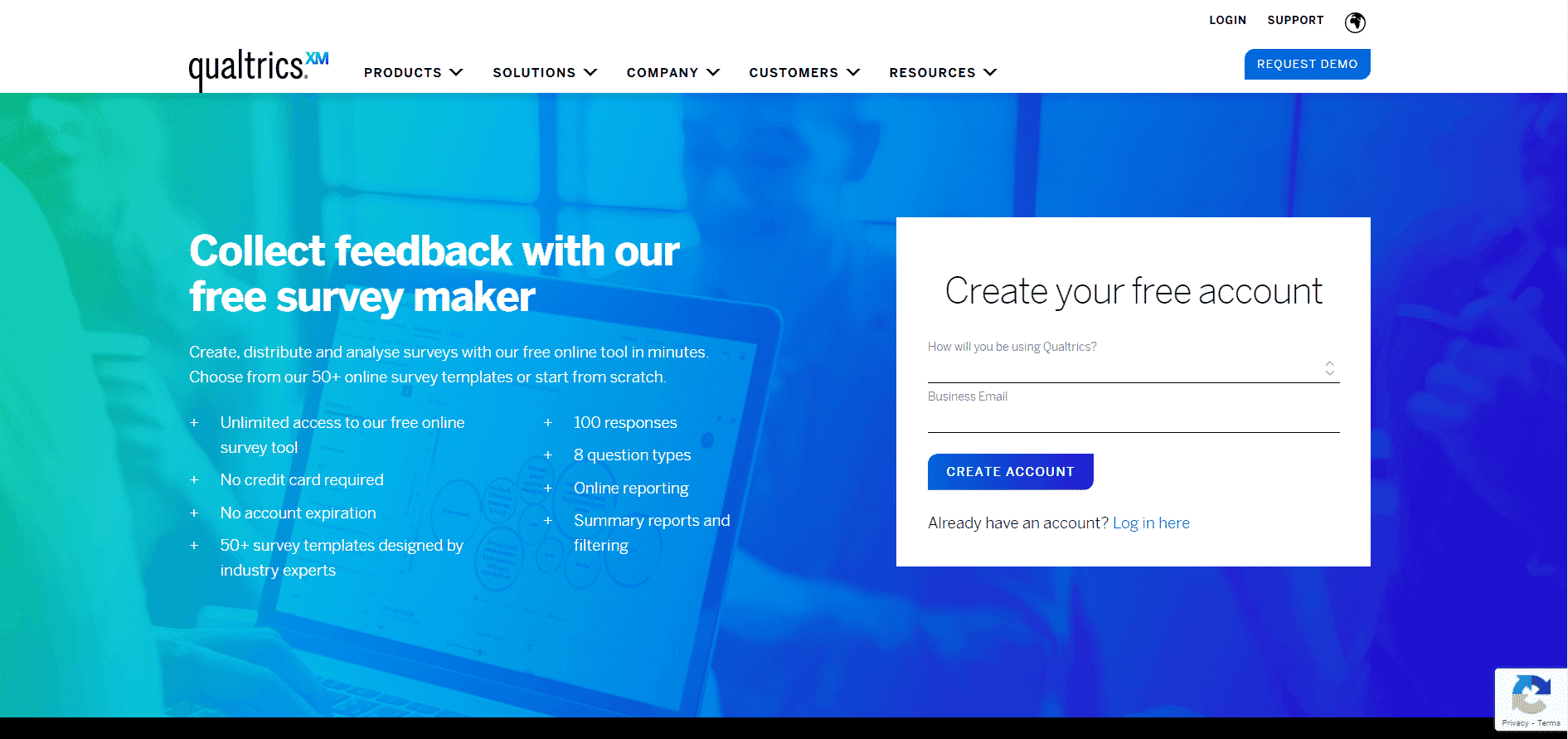 One of the most feature-packed customer survey tools, Qualtrics Survey Maker is very easy to set up, and you can start collecting feedback in no time.
The platform ensures the users get the best possible view of the surveys and quizzes as it features an impeccable Survey Flow screen. In addition, the tool is packaged with astounding customer support that proves much helpful while building complex surveys and deploying them on a large scale.
One of the major drawbacks of the tool is that it is expensive and requires time to learn. It is not recommended for individuals, startups, and small scale businesses.
If you work for a huge company, this platform is one of the best options to select. Want to know its pricing? Unfortunately, you need to get in touch with its sales team to know how much will it cost. The team of Qualtrics will create a personalized quotation as per the features you require.
Also Read: 54 Best Fantasy Cricket Apps in India

Comparison Table
Check out the comparison table of all the online forms builders listed in this guide.
| | | | | |
| --- | --- | --- | --- | --- |
| Tool | Monthly Price (Starting From) | Free Account | Analytics Tool | Third-Party Integration |
| Google Forms | Free | Yes | Yes | Yes |
| Paperform | $24 | No | Yes | Yes |
| SurveySparrow | $39 (Billed Quarterly) | Yes | Yes | Yes |
| SurveyMonkey | $11.60 | Yes | Yes | Yes |
| WPForms | $79 | No | Yes | Yes |
| HubSpot Forms | Free | Yes | Yes | Yes |
| Formidable Forms | $79 | No | Yes | Yes |
| ProProfs Survey Maker | $60 (yearly) | Yes | Yes | Yes |
| Formstack | $59 | No | Yes | Yes |
| Jotform | $29 | Yes | Yes | Yes |
| Wufoo | $14.08 (Billed Annually) | Yes | Yes | Yes |
| Zoho Forms | $9.03 | Yes | Yes | Yes |
| 123FormBuilder | $24.99 | Yes | Yes | Yes |
| Engageform | $29 | Yes | Yes | Yes |
| GetFeedback | Requirement based | No | Yes | Yes |
| Microsoft Forms | $6.99 | No | Yes | No |
| Conversational Form | Free | Yes | Yes | Yes |
| Ninja Forms | $99 (yearly) | No | Yes | Yes |
| Gravity Forms | $59 (yearly) | No | Yes | Yes |
| Cognito Forms | $15 | No | Yes | Yes |
| SurveyLegend | $19 | Yes | Yes | Yes |
| AidaForm | $10 | Yes | Yes | Yes |
| Qualaroo | $100 (yearly) | No | Yes | Yes |
| Involve.me | $19 | Yes | Yes | Yes |
| Qualtrics Survey Maker | Free | Yes | Yes | Yes |
Discover one Typeform alternative available in the market and let us know which one works best for you! Happy Surveying!