Choosing the best online personal finance software for 2017 is turning out to be far more cumbersome than what I had initially thought it would be. When the new year began, one of the resolves I made this year was to track my spending, income and investments. This would ensure that when 2018 dawns I shall know exactly where every rupee was spent, invested and squandered. However, choosing the best software is proving to be a gargantuan task because of the wide variety of offerings and fragmented market shares.
So before you sign up for any service determine if you intend to use it on your mobile, tablet, or desktop. The desktop version is easier to operate and visualize your spending patterns. Next, you will have to determine the features you require, for instance, do you intend to use it to pay bills and track bill due dates? This feature is offered by only a few mobile apps but is more widely supported in desktop software.
Wealth Management is both a science and an art that can be mastered with only the right tools. Just like how a painter's canvas is shaped by the tools he uses, an economically productive individual needs the right tools to shape his financial destiny. You might find our previous articles on how to approach wealth management informative if you are new to this field. If you are a spendthrift looking to reign in your splurges look for no further our guide on saving money.
Until 2013, Intuit Money Manager was the undisputed leader in this space along with Mint.com which had a more global profile. However, in February 2013, the Intuit Money manager was shut down and was replaced with Quick-books. Since then the top spot remains unoccupied but it won't be for long because the applications reviewed below will definitely emerge on the top of the heap someday.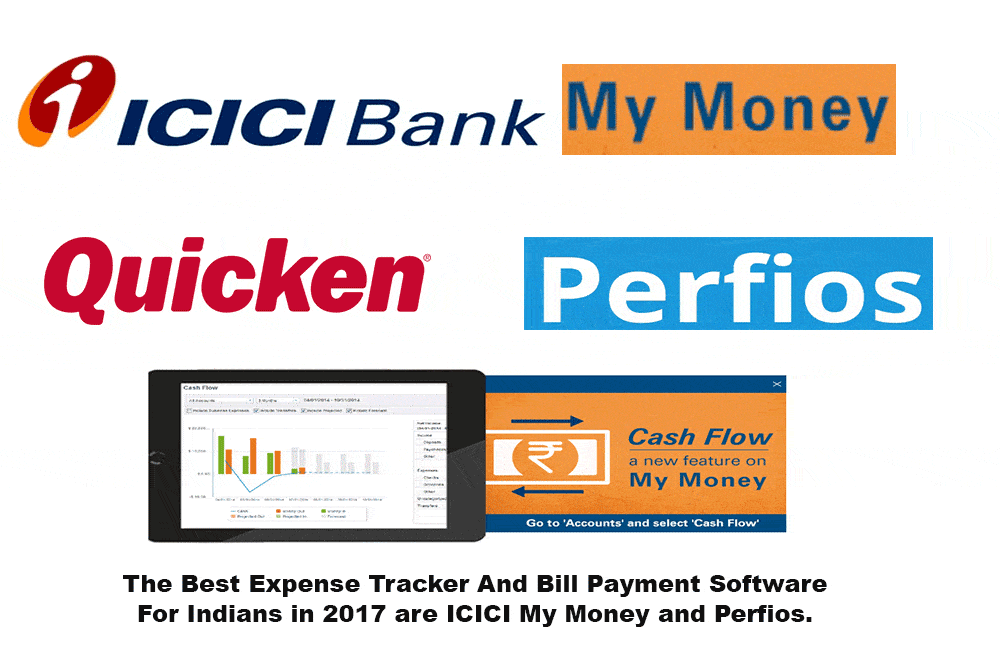 Perfios which is the abbreviated form for "Personal Finance One-Stop" is a decade old company based in Bangalore. It is the leader in the expense tracking space and provides the back end solutions for financial giants involved in Wealth management like Reliance Capital, Aditya Birla Money and Bajaj Finserv. It can be used to monitor your spending habits along with your investments. This personal expense tracker is the most popular service online and provides support for budgeting by allowing you to auto-update your bank and credit card accounts. You can also create spending limits and save money by using this application.
Their product is available on the Google Play Store as well as an iOS platform. This handy pocket expense tracker is the highest rated among its peers and commands unrivaled loyalty among its user. The main reason why it is the most preferred personal finance manager is that it integrates with more than 700 different e-statement formats issued by banks, credit card companies, financial institutions and brokerages in India. Perfios currently does not support foreign banks and overseas clients. It however supports different personal loan vendors.
Signing up for their service is free and they provide a single dashboard where you can integrate your different types of accounts like :
Savings Bank Accounts With Their Latest Balances.
Credit Card Accounts.
Demat And Trading Accounts.
Mutual Fund Investment Portfolio's
Upgrading your account to Gold will provide you additional benefits like the ability to export your custom reports in PDF, Excel and HTML formats. The Gold account also offers a plethora of features like unlimited SMS alerts, Tax planning, ITR filing assistance and mobile interface.
My Money from ICICI bank is exclusively for customers of their bank and offers a free 30 day trial period. Once the trial period is complete you will be charged around Rs 350 annually for this service. The service is powered by Yodlee, which was founded in 2006 and is the oldest online personal finance software. I tried their service for two weeks and realized that while it has a good interface it does not allow you to customize their software.
The platform is quite rigid and what I found the most ludicrous was that it was unable to detect the ICICI bank statements I exported into the account in Excel formats! Another major drawback of the account is that it is authorized by ICICI Bank to only import the latest three-month statements. So if you are planning on analyzing your expenditures and incomes spread over several years, this software will not work out for you.
Unsubscribing from My Money is quite tricky because when you try to terminate your account through the customize settings, you get an error code. So you will need to call the ICICI Bank call center and ask them to manually end your subscription or else your account will get debited by Rs 350 annually.
This is the most expensive service out there and costs US$ 40 (Rs 3000 Approximately) annually. It comes with a desktop and mobile interface which can be customized seamlessly. This service is ideal for NRI's and ex-pat Indians looking to reconcile their different bank accounts located across multiple countries. The company is headquartered in California with a back-office in India and has built quite a fanatic following online. Quicken supports budget monitoring, bill payment and investment analysis in real-time.
Other Notable Apps that I have not used but which have garnered a mammoth user base on the Android platform are AndroMoney ( Expense Tracking By SMS ), Buxfer and make. I did not get the time to evaluate these options so you are free to evaluate them and let us know about your experiences in the comments section below.