With the increasing demand for online education and e-learning, the growth of online course platforms has exploded in recent years. Today, you can enroll into several courses from the comfort of your home. But with so many options, it can be overwhelming to decide which platform to use for this purpose. In this article, we will inform you about the best online course platforms with certificate.
Best Online Course Platforms with Certificate
These platforms offer courses in a variety of subjects. Some courses are paid while others are free, but the primary thing is that you get a certificate acknowledging your completion of the course which will improve your CV and help you gain new skills. Let us begin our list.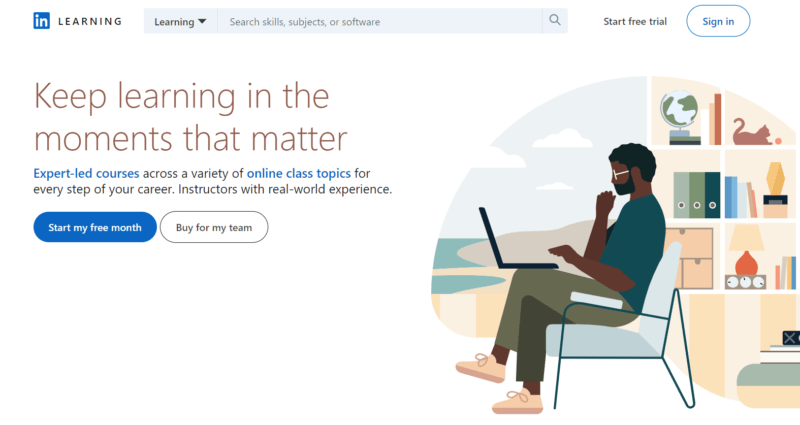 Formerly known as Lynda, LinkedIn Learning is one of the best online course platforms with certificate. When looking for jobs, LinkedIn is one of the first names that come to your mind so just imagine how helpful their learning subsidiary might be as far as getting a job is concerned.
You can find more than 16,000 courses on this platform in as many as 11 languages while getting certificates for most in-demand professional courses.
Students and instructors both can take up this course. The first month is free after which you pay 39.33 euros monthly or 19.66 euros a month if you sign up for the yearly program.
When the pandemic took over this website containing more than 2,13,000 courses became a household name. It hosts no less than 50,000 instructors and 40 million students. Be it video courses, PDFs, Powerpoint presentations, etc. knowledge can be acquired from this platform in multiple forms.
If you take up a course on this platform, then you get the benefit of setting your own pace at which you plan to complete the course. The platform is for both students and instructors.
Completing a paid Udemy course gets you a certificate which you can then add to your CV or show at interviews as proof of the skill that you picked along the way.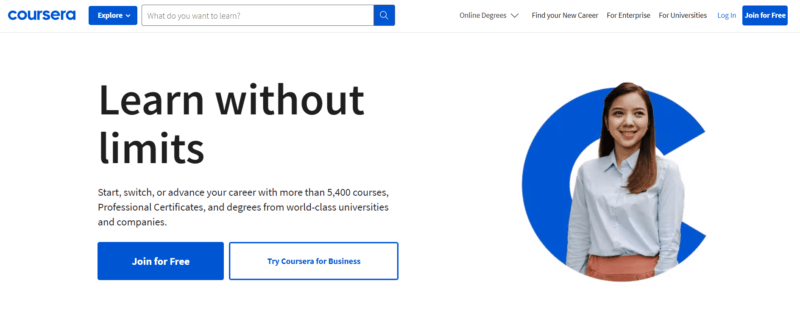 If an online course platform boasts having 82 million kids use their platform then it surely must be one of the best in its field. Be it getting a degree, specialization, or certification course that you need to get done all of it can be done through Coursera.
The platform has partnered with various top universities which means that completing the courses gets you a certificate from these renowned institutions.
This platform offers you multiple learning options like video lectures on-demand, peer-reviewed assignments, and more. The platform is for both students and instructors. You can find free, subscription-based, and one-time pay courses on this platform.
More than 5 million students use this platform where as many as 35,000 lessons from various creative fields can be found. The course lessons on this platform are as long as a TV series episode ranging between 20 to 60 minutes. The courses are taught by industry leaders, professionals, and other top faculty.
There are four types of courses that you can choose from, lifestyle, business, creative fields, or technology. You also get access to a forum where students can share feedback. The platform is for both students and instructors. You can take a free 7-day trial after which you pay 32 dollars monthly or 168 dollars a year to be able to access all the courses offered by the platform.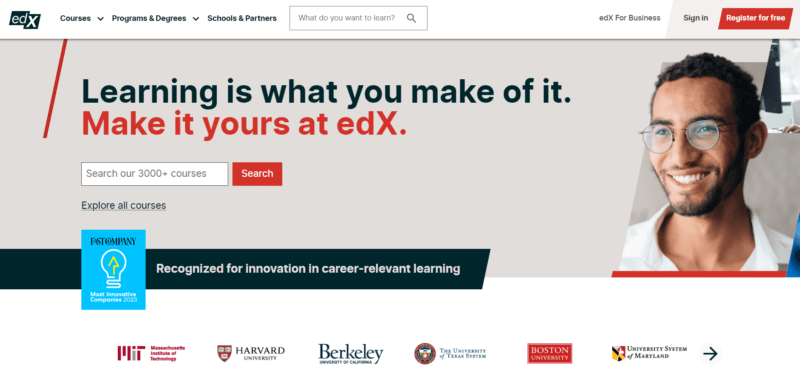 If you have always dreamt of going to an Ivy League college but couldn't realize it then no need to worry because you can get a course done from universities like Harvard from this website.
That's not all, this website also has courses from universities like IBM, Berkeley, MIT, and more for you. The platform has more than 3, 000 courses under 300 different programs which range from tops like finance to linguistics to medicine and more.
It is, without a doubt, one of the best online course platforms with certificate as you get certificates from such famed universities upon completion of courses on the platform. The courses may be free or priced between 50 and 300 dollars unless it's a Master's degree in which case the price can go as high as 25,000 dollars.
Also Read: Best LinkedIn Practices for Business Professionals
On the list of best online course platforms, you have a platform known as iSpringMarket, a platform where you can create, host, market, or sell an online course. On this platform, content can be created or uploaded in a range of formats such as presentations, audio, video, or SCORM.
The platform provides you with analytics to understand your sales figures as well as the trainee program. You also get certificates to complete courses on this platform. The platform offers four plans which range from 77 dollars a month to 277 dollars a month and the last plan is a custom plan for which you can get a custom quote from the sales team.
When it comes to tech-based courses that you might have to do to learn certain skills required in that field this is the platform you head to. This platform has collaborated with institutions like Google and Microsoft to offer nano degrees. The platform has a clean and simple interface and provides quality content to its users.
There are more than 200 free courses on this platform and competing courses on the platform also get you certificates. The platform is for students as well as instructors. The platform has free as well as paid courses whose price may usually begin from 399 dollars a month.
This platform allows you to build your academy as you can use it to market, create, and sell unique, interactive, and knowledgeable courses. Course creation becomes easy and affordable with this cloud-based platform.
This platform comes with a lot of useful tools which help you learn stuff such as learner's performance, offering mobile learning, and more. The platform offers you a 30-day free trial after which you can choose to sign up for 29, 99, or 299 dollars a month or go for a custom plan with custom pricing that can be discussed with the sales team.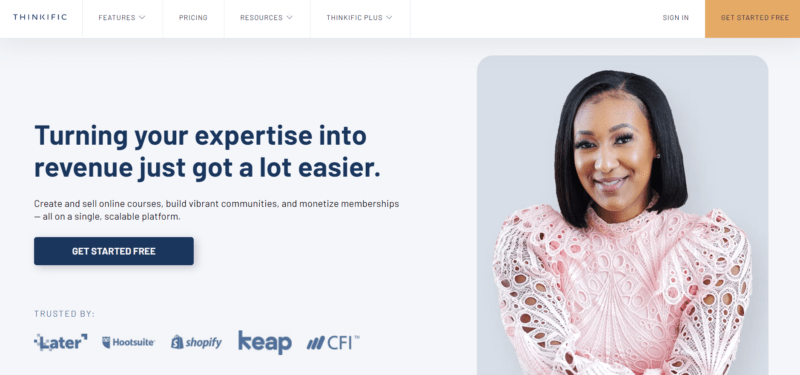 One of the best online course platforms around is Thinkific and it is also very popular amongst people who wish to create and sell their courses online. You can find content in various forms on this website which includes but is not limited to video, audio, PDF, etc.
The platform also allows you to keep a track of your sales as well as the student's progression. The platform can also be integrated with tools such as Segment.io. You can sign up for the 99-dollar monthly plan or 199 dollars monthly plan once you have used the free month trial.
A platform with more than 120k instructors and 28 million students has got to be worth it. A platform that believes that everything is teachable has got to be one of the best if not the best online platforms for courses.
The platform is clean, simple, and easy for even first-time users. You can easily create or find tons of courses big and small on this platform.
The platform supports videos so they can be directly uploaded and you can also run an affiliate program through this platform. You have a free version, a 39-dollar-per-month version, and 299 monthly version options to choose from.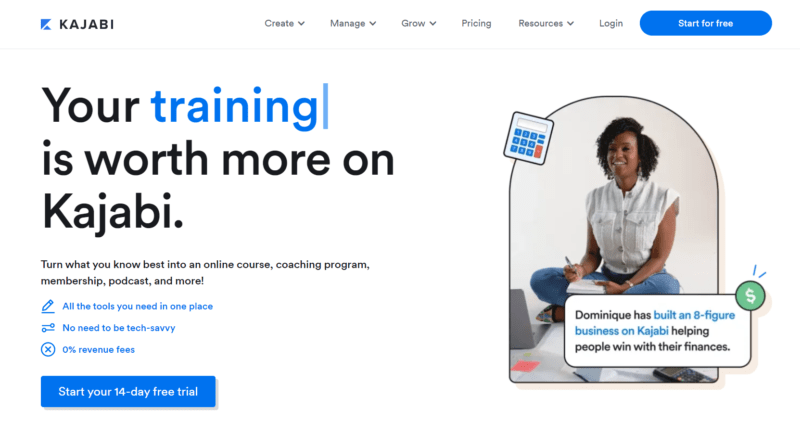 This online teaching platform is for building and selling your courses. The platform can be integrated with multiple email software which comes in handy if and when you plan to run an email marketing campaign using this platform. Wistia, a streaming video platform has been integrated with this platform so that it supports video-based content.
The platform comes with a lot of useful tools and supports interactive courses in various formats which is what helps it make its way to this list. The platform comes with a 14-day free trial after which it costs 149 dollars a month, however, you have a 39-day money-back guarantee provision in place as well.
Also Read: The Best Blog for Startups: A Complete List
It is an e-learning and marketing platform where you can build websites, sell courses and do much more. It is a very easy-to-use platform as it has a modern and clean design. This platform was launched in 2018 and since then has been growing in popularity. The platform comes with an email tool and can be integrated with some of the most popular email service providers like Mailchimp and more.
Podia also is partnered with Wistia to support video streaming which is just another one of the many great things about this platform. The platform gives you a 14-day free trial after which you can sign up for their services by paying 39 dollars a month before the discount.

For 599 dollars a month, you can lay your hands on this top course platform. A price that huge means that everything that you wish to customize can be customized and that means you can launch your brand the way you wish to use this platform.
Using this platform you can easily create self-paced courses while you can also conduct live virtual training sessions. It is an enterprise trading platform which makes it more suitable for corporate and big businesses.
Another great online course platform is MemberPass which runs on top of WordPress, a platform that is responsible for powering as much as 43% of all websites on the web. It is very easy to operate and you can create, manage as well as sell courses online using this platform. The platform supports video content and downloadable resources.
The platform also has an email marketing service through which you can email all the students to provide them with useful info. You can also run an affiliate program on this platform and the platform is integrated with top email marketing services like Mailchimp and others. The platform commands a price of 179.5 dollars per year.

Another great WordPress online course builder is Thrive Apprentice. Just like you had so many great platforms in the best online course platforms with certificate list you have many such in this list as well. The platform has more than 50 pre-made templates that you can choose from for various stuff.
The content drip feature of the platform allows you to release lessons at regular intervals as happens with TV serials. This platform also allows you to have different content drip schedules for the same course and enables you to personalize content for different users.
One of the best online course platforms for instructors to go for is a platform named WooCommerce. You can sell as well as manage a course via this platform if you have their Sensei LMS extension. Not only is the platform easy to use but also quick to help you build a course.
You can use this platform to also sell other physical and digital products while using plugins can help you extend your website and grow your business. Being able to create courses you will have to pay 149 dollars a year to get the necessary add-on.
Best Online Course Platforms for Instructors
While online course platforms need to be great for students or users signing up for the courses they can only reach their potential if the instructor on the platform does their job well and so just like we had a list of best online course platforms with certificate we now have a list of great platforms for instructors where they can create well-planned courses for kids.

Use the 14-day free trial of this platform and you might come to understand why this platform features on this list. It is one of the nice online course builders out there on the internet.
The platform is easy to use because it is very straightforward in the sense that developing courses using this platform couldn't be any simpler. Once you are done using the free trial the platform costs 49 dollars a month or 470 dollars a year.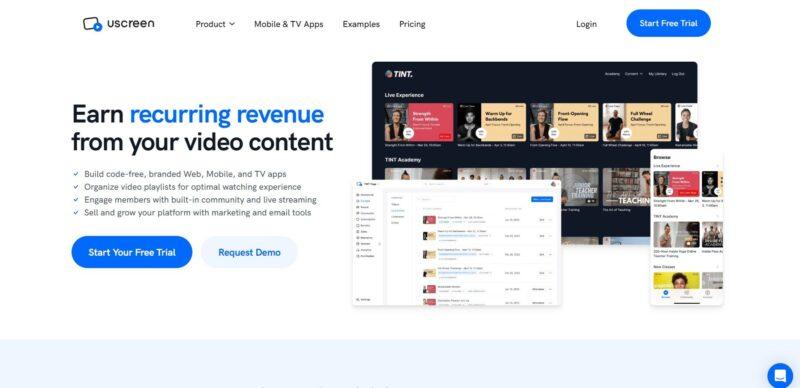 This platform not only allows you to include content in various forms like videos and more but also enables their delivery to mobile devices and they also support OTT distribution to platforms like Fire Stick, Roku, and Apple TV.
You can request to get a demo of this platform or also avail of the free trial before you pay 99 dollars or 199 dollars a month to get their subscription.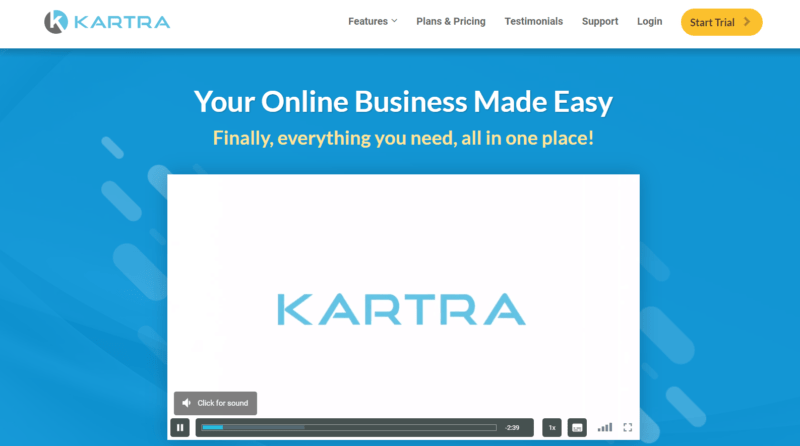 If you are looking for an online course platform that also comes with great marketing prowess then you might want to look at this tool. The platform excels at supporting video-based content which is one of the reasons that we recommend this platform.
Apart from this, the platform comes with loads of other important tools and features. The tool is free to use for 14 days after which you can select one of the many plans which range from 99 dollars a month to 499 dollars a month.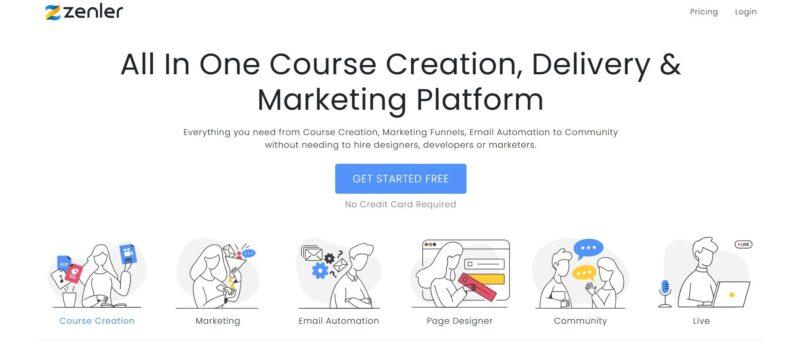 If you are looking for a great online course platform that is great at sales and marketing then Zenler is where your search stops. You can create a course, get access to marketing funnels, send automated emails, and do much more with this platform.
It is an all-in-one platform that takes care of multiple needs and helps you sell your course to a large number of prospects and that is why you should consider using it. It is one of the platforms that is priced on the lower end of the spectrum which makes its case even stronger.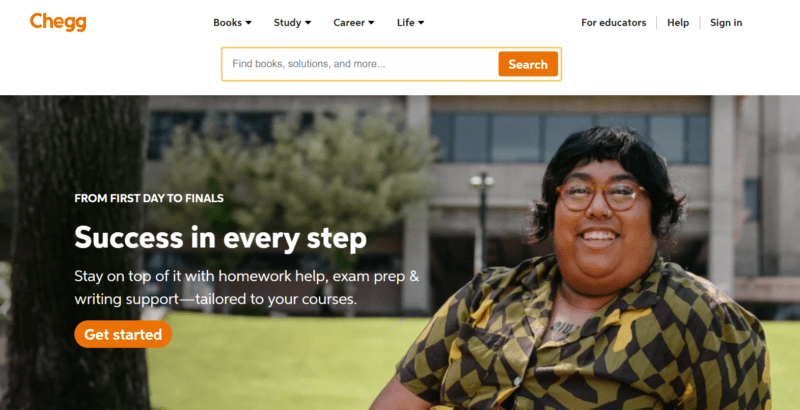 Like many of the websites mentioned in the best online course platforms with certificate list, this platform also is great for students as well as instructors. Anyone wanting to improve their knowledge or is interested in getting answers to personal study-related questions can use this platform.
The instructors teaching on this platform have a degree from approved universities and the students can receive education in various forms such as video, voice, or even text format.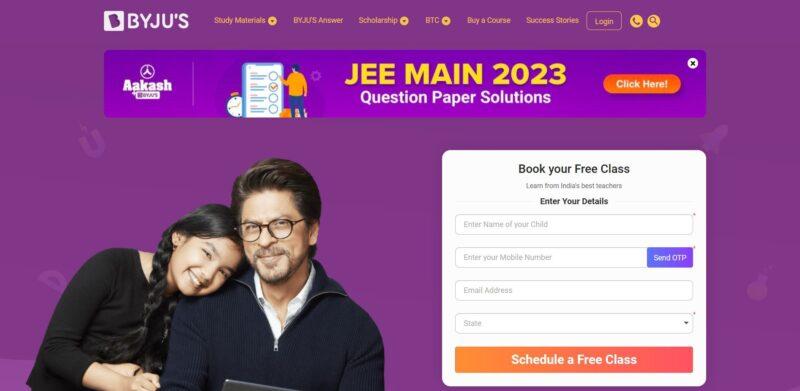 You don't go ahead and make a list of the best online course platforms and then leave Byju's out of it. The platform boasts of top professionals from top universities who offer on-demand tutoring to the users of this platform.
Anyone can learn anything using this platform 24/7 as connecting with a coach is possible in less than 30 seconds. Students can avail of a three-minute 30-day free trial of the platform before they sign up for it.
This is a great live student-teacher platform where online learning takes place. As an instructor, you can sign up with this website and start teaching kids. Just teaching kids for 3 hours a day for a month can help you bag at least 20,000 rupees. The platform is only for students between classes 6 to 12 and the courses taking place here are live and interactive.
There are a lot of free lessons that students can access on this website and the platform has more than 35 million monthly users which tells us why the platform is on the list.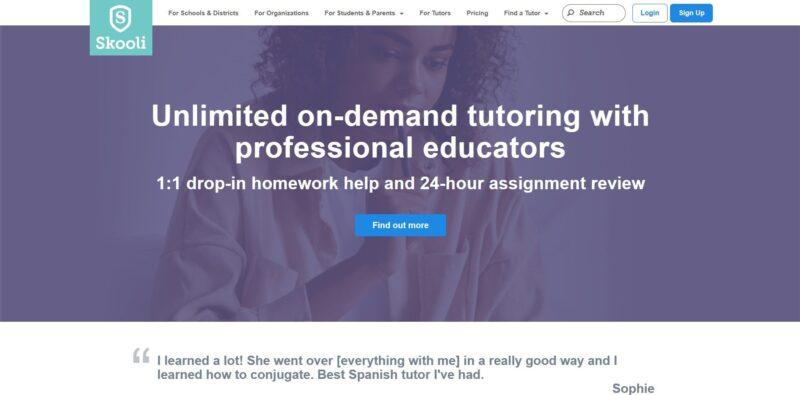 Skooli was founded in 2015 and it is undoubtedly one of the best online course platforms for instructors. Kids from kindergarten to college students all can find help when using this platform.
Qualified and certified teachers are hired by the platform to make sure that the users of the website get top-class service. Virtual classes, screen sharing, and a few other methods of teaching are used on this platform.
There are numerous online course platforms that offer certificates to enhance learning experiences. These platforms provide a convenient and accessible way to gain knowledge and skills, while earning recognized certifications to boost professional development. With a wide range of subjects and flexible learning options, these platforms cater to diverse interests and goals.