NFTs and the associated crypto art marketplace are the talk of the town right now. If you are new to these terms or the NFT world, don't worry; here in this article, you will get insights about NFT and the best NFT Art marketplace. NFT is a distinct digital ledger data unit that can be bought or owned by a single person or entity.
They are unique items that cannot be replaced with anything else. There are numerous platforms in the market which are built on different blockchains and facilitate you to trade non-fungible tokens. Selecting the best NFT marketplace is significant for thriving investment. The best NFT art marketplace can help fulfill your goals, from finding unique crypto collectibles to global trading.
Before getting to the information about the NFT marketplace, let us briefly understand NFTs.
What are NFTs?
NFTs stand for Non-Fungible tokens; they are cryptographic tokens stored on the blockchain and can be used to symbolize virtually anything. They are creating a significant change in the way digital art is purchased and sold in the art world, and artists are taking its advantage.
NFT can be a tokenized version of anything like music, video, image, frogs, cats, monkeys, etc. The owners of NFTs get proof of authenticity plus ownership of the item they purchase. You should also know that you cannot exchange or trade them for a different NFT; this is what makes them limited and highly coveted.
NFTs are unique items; you will not be able to replace them with any other card, implying that it is a one-of-a-kind trading card. Therefore, if you try to trade one card for the other, you will end up having something different with you. Also, they are tokenized on the blockchain, which means that it is impossible to modify or erase their ownership from the network on which they are created.
NFTs boom
NFTs were not that famous until 2021; its hype was created when there was a record-breaking purchase of Christie's $69 million auction of a Beeple painting. After that, there was no looking back, and the demand for NFTs is growing tremendously, and it is expected to bloom as the digital art scene continues to gain traction.
You will be amazed to know that it has crossed $2.5 billion in just 6 months from September 2021. Thus, you can say that the NFTs witnessed a colossal hike in a concise duration which proves that NFTs growth is magnificent.
Choosing an NFT marketplace
Many platforms claim to be the best art NFT marketplace for creators to sell NFT, but how do you know if it is the best for you or not. Therefore, there are a few things that you will have to check before selecting the NFT marketplace.
So, the first thing you will have to decide on is the type of digital asset you want to create or trade-in. Narrowing down your interest is a good thing as anything digital such as videos, images, written words, video games, art, etc., can be tokenized on blockchain. Knowing what you want to invest in will make it easier for you to choose the NFT marketplace. For example, if you want to buy a football trading NFT card, you need to visit a different website, and for trading in baseball cards, the platform is completely different.
The next thing to look upon is the type of tokens that the marketplace supports; a few platforms support a vast variety of tokens. On the other hand, closed platforms use a particular proprietary token.
When you open your account in any marketplace, you need to ensure that you fund your blockchain wallet with the appropriate crypto or token needed for participating in the website's activity. As soon as you open your account, it will ask you to link the wallet with the NFT marketplace. Do not forget to read the reviews about the kind of security it offers and do not opt for it if it had any issues in the past.
21 Best NFT Art Marketplace
Here is the list of some of the best and most reliable NFT Art marketplaces; it has been created by experts. All these platforms are well-known and safe; you can select any as per your requirements. Let's get started.
If you are looking for extraordinary NFTs, OpenSea is the best platform for you. It is a marketplace for user-owned digital items and comprises various categories. OpenSea is the oldest, broadest, and most used NFT marketplace.
It hosts every kind of NFT, starting from music to art, photography, digital art, sports collectibles, etc., that are backed by a blockchain like Ethereum.
They offer thousands of NFTs to trade and discover in different price ranges. This platform was established in 2017 by Alex Atallah and Devin Finzer. OpenSea has more than 1 13,000 users over 15.5 million NFTs and has done a transaction of around $354 million.
On OpenSea, you can buy, sell, and discover exclusive digital assets such as Axies, CryptoKitties, ENS names, Decentraland, etc. It enables the users to mint and set up their sellers' profiles by using its infrastructure without paying anything. But, they charge a 2.5% fee on every sale you do through its marketplace.
Features:
User-friendly marketplace.
Its core infrastructure is upgraded regularly to support the future of NFTs.
Supports more than 150 different payment tokens.
It supports users in freely trading their assets.
This is yet another amazing NFT marketplace which is an online video game based on NFT. It is a well-known blockchain game that allows users to create, buy and sell axies. Just like in any other game, here also the experiences are created, and you can use axies for earning crypto.
You must be wondering what axies are; they are the mythical creatures that gamers can acquire, teach, and challenge to win rewards against the axies of other players. Axie is created on Ronin, a layer2 blockchain that operates as a sidechain on the ETH network.
Players can purchase new axies, entire lands, and other items as NFTs for use within the game on the Axie marketplace. These axies can be sold later whenever the users think they are getting a reasonable price for them.
Features:
You need to have a digital wallet to start playing and earning with Axies.
It enables the players to purchase new Axies as NFTs, plus they can also buy entire territories and other products for use in-game.
Intuitive and user-friendly interface.

Just like OpenSea, it is a big marketplace where you can get all sorts of NFTs. It is also based on Ethereum blockchain technology, but the significant difference between them is that for doing transactions here, users will have to use their own token called the RARI token.
A premier NFT platform allows digital artists and creators to buy and sell custom crypto assets that present ownership in their digital work. It has a user-friendly interface that enables its users to seamlessly mint and trade NFTs.
On Rarible, you can trade all sorts of art, videos, collectibles, and music can also be purchased, sold, or created on the platform. The best part about them is that it works without mediators and enables the artists to designate their share as royalty for the secondary transactions.
Features:
It is community-owned and promotes decentralization.
They focus majorly on art assets.
Best for exploring new NFT categories.
They charge a 2.5% fee to both buyers and sellers.
This is one of the best NFT art marketplaces where you can find curated drops that are sold directly by the creators. This platform is particularly for elites as NFT transactions get the instant spotlight as they start to trend in the crypto market.
They aim to see a minimum of 1 billion people that have collected Nifties. The NFTs, known as Nifties, are built on Ethereum. Here you will find limited edition works for a limited time only. Once the initial drop for a collection closes or sells out, you will be able to get Nifties from that collection only in the marketplace.
Nifty Gateway is built on Ethereum blockchain; it is basically an art curation platform that has sold NFT artwork of some of the world's well-known artists, such as Beeple and Grimes. Beeple's CROSSROAD and Pak's The Merge were sold for US$91.8 million in December 2021.
Features:
Gemini, which is the US digital currency exchange owns Nifty, which puts Nifty Gateway under the regulation of the Securities and Exchange Commission.
Only verified creators can mint and list their NFTs on the marketplace.
On Nifty Gateway, you can also get the fantastic works of renowned celebrities and musicians like Deadmau5, Steve Aoki, Beeple, Grimes, etc.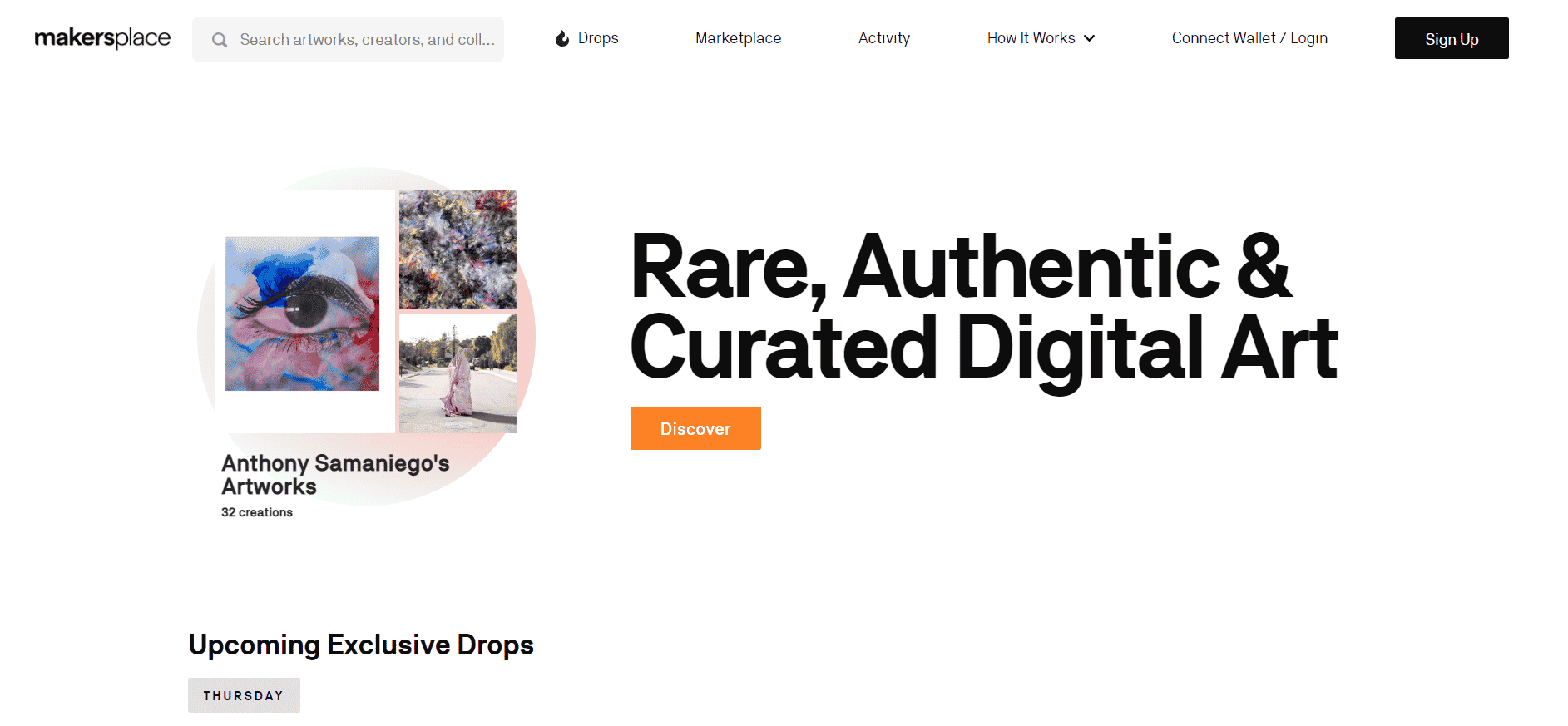 This is one of the best platforms if you are looking for rare and authentic digital art projects. Here, you will find numerous reputed artists, photographers, galleries, and institutions that render their NFT work.
It is open to everyone; they aim to provide a service that helps make blockchain technology easy and benefits everyone.
It was founded in 2018; it is a San Francisco-based company. MakersPlace provides creative artists with a chance to present their work on a professional platform. Therefore, if you wish to search and collect unique digital creations to get a wide variety of artwork, this is the perfect platform for you.
Features:
The best part about this platform is that every digital product they sell is authentic and unaltered work done by the creator, who has signed and issued it. This means if you buy from MakersPlace, you will get the original NFTs as legit as possessing a Picasso painting.
Good blend of impressive art.
For every sale, MakersPlace takes 15% commission on the selling price value. They provide creators with 10% royalty as commission every time the art is re-sold on their platform.
Also Read: 16 Best free play to earn NFT games
It is a great platform if you are looking for some excellent NBA NFTs. The NBA and Women's National Basketball Associations foray into the NFT world. They tokenize the moments of every star player in the NBA and capture their amazing performance into the NFT cards.
It enables gamers and fans worldwide to collect, keep and trade digital cards demonstrating the major short video highlights and dubbed moments. This means that you can own that moment forever with you. It is an apt place to get rare and unique NBA NFTs.
Features:
On NBA Top Shot, you can purchase collectible moments and art from the world's premier basketball leagues.
They offer buyers ownership rights and users authenticity for those special moments.
For every NFT highlight sold, they charge a 5% transaction fee.
This is one of the best NFT Art Marketplaces for Creators to Sell NFT as they accept only 1% of the artists who apply. This means if your work gets selected by them, then you are in the league of highly curated and excellent artworks. Visiting them, you will feel like you are in an art gallery as it is an art-first NFT platform that puts credibility and artistic intent above meme-friendly art.
It is a peer-to-peer marketplace that is built on Ethereum; as of now, they have a small collection of hand-packed artists because of their strict approval process. But, you can submit your work easily on their website, as all you need to do is fill out the form on the website and submit your artist profile, this way, you can be on their list till their full launch next year.
Features:
Artists make their artwork or pieces in their network, and after that, they are tokenized with an NFT to start trading.
SuperRare is a platform that bolsters the development and NFT collection of cryptographic works of art.
All the purchase and sale on SuperRare is done between peers without the requirement of involving any expensive third-party intermediaries.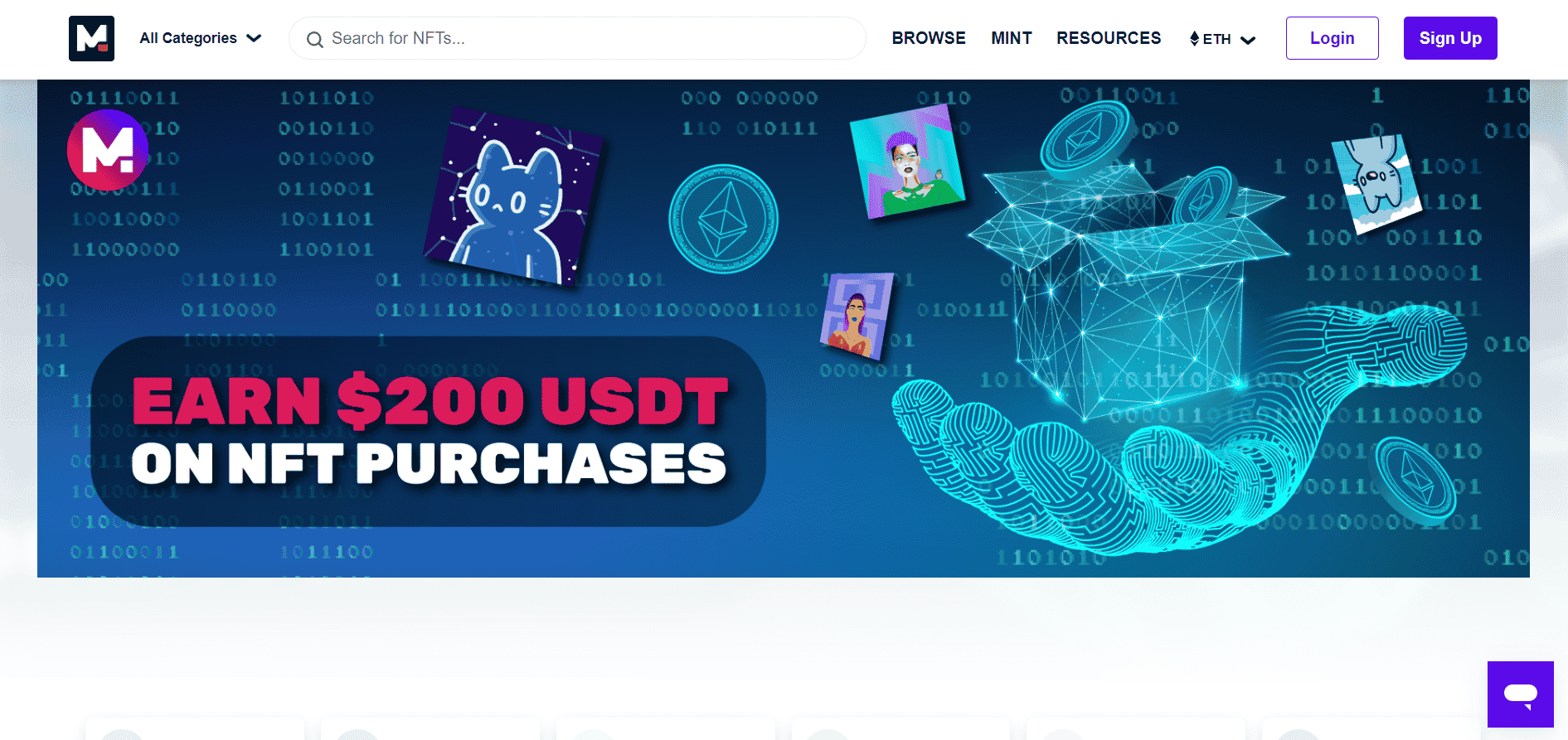 Yet another excellent marketplace for trading NFTs, and the best part is that you can also mint your own NFTs as well here. It is relatively new in the market but has become famous because they have made creating and selling NFTs easy and quick. It is supported by the well-known billionaire Mark Cuban, and they aim to provide broad content which is easy to use.
Mintable was established in 2018; it supports ETH, Immutable X, and Zilliqa NFTs. They provide various kinds of NFTs such as music, sports, collectibles, art, and many more. They have a straightforward web layout, making it easy to navigate and use even by beginners. They support the minting of NFTs for creators of all kinds who wish to sell their work as digital assets.
Features:
Mintable enables its users to make payments by using ETH or can also do it with a credit/debit card. You should know that they charge a 5% service fee if you make payment by using a card.
It is a great platform as it offers the users a unique gasless minting option called lazy minting, which means that you don't have to pay a fee when you start creating your own NFTs.
It deals in 3 types of auctions: Traditional Auctions, Timed Auctions, and Buy It Now Auctions.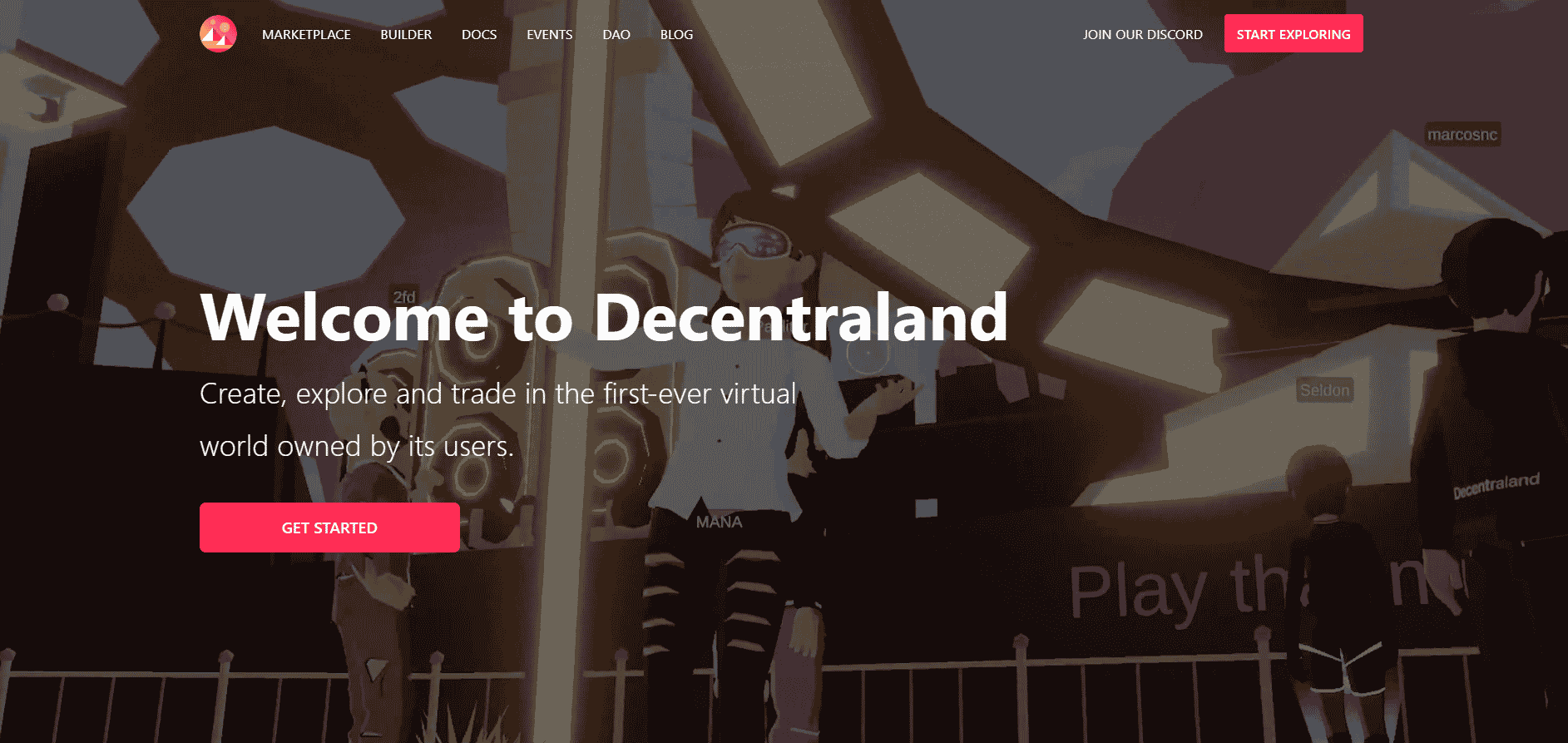 It was initially said to be a far-fetched NFT platform based on metaverse, but today the statements have changed because of its high popularity, as it can now be called the game-changer in the crypto world. It was established recently in 2020; this play-to-earn virtual world is built on the Ethereum blockchain.
Their primary aim is to render complete rights to the NFT artists and creators. Decentraland is pretty different from others in the list as it is a virtual land where you will be able to make money on the things you create and own.
In Decentraland, you will be able to see a 3D traversable measurable universe that is called LAND. The space and all its contents are segregated into parcels which are "identified by cartesian coordinates (x,y)." The parcels are owned permanently by community members, and all its transactions can happen only using MANA, which is a crypto token created by Decentraland.
Features:
Decentraland renders NFT artists and creators with complete rights to their work.
It is said to be one of the safest and best NFT art marketplaces because all your assets are saved within a smart contract based on Ethereum.
Their marketplace provides users with a massive range of digital assets, such as clothes, parcels, estates, and names.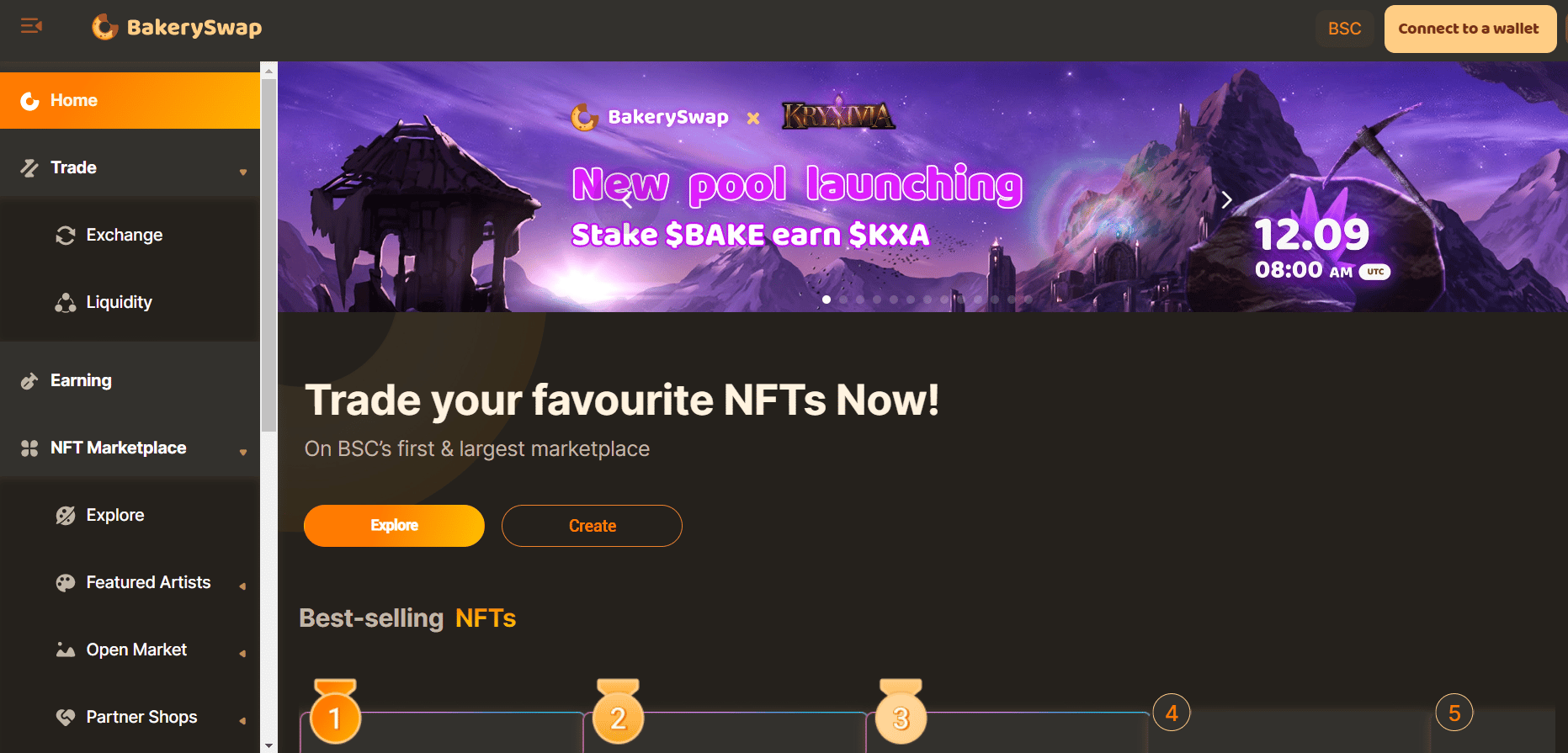 It is a fantastic marketplace as it is the first automated market maker and NFT exchange on the Binance Smart Chain. It is a decentralized exchange that offers numerous NFT cards to trade, purchase, and sell. Along with the NFT cards, you can also host NFT games, digital exhibitions, and meme competitions.
They have their own token called BAKE, which you can use to trade on this marketplace. It is a multi-functional crypto platform that renders a plethora of decentralized finance (DeFi) services, a crypto launch pad, and an NFT supermarket.
Features:
It enables the users to trade and exchange liquidity assets with one another.
The BAKE token it offers is a native BEP-20 governance token.
BakerySwap has made minting and selling your artwork a pretty simple and straightforward process.
Also Read: 50 Most Popular NFT Tokens
This NFT marketplace works with various well-known digital artists, collectors, and crypto natives. They have various well-known artists such as Nadya Tolokonnikova of Pussy Riot, Zach Lieberman, Aphex Twin, Kim Laughton, and Dom Hofmann, co-founder of Vine.
Foundation has a mission to construct a new creative economy. On this platform, creators will be able to use the Ethereum blockchain to value their work in an entirely fresh method and create strong relations with their supporters.
It is a P2P marketplace that operates particularly for crypto natives, digital art creators, and collectors to take this culture a step further. But, their primary focus is on digital art. It has gained a lot of fame in just a year as it was launched at the start of 2021, and so far, they have sold over $100 million of NFTs.
Features:
Foundation only takes 5% of the total sales price on each transaction.
High-quality art and projects.
The website has a sleek and professional design, making it straightforward and uncomplicated to navigate.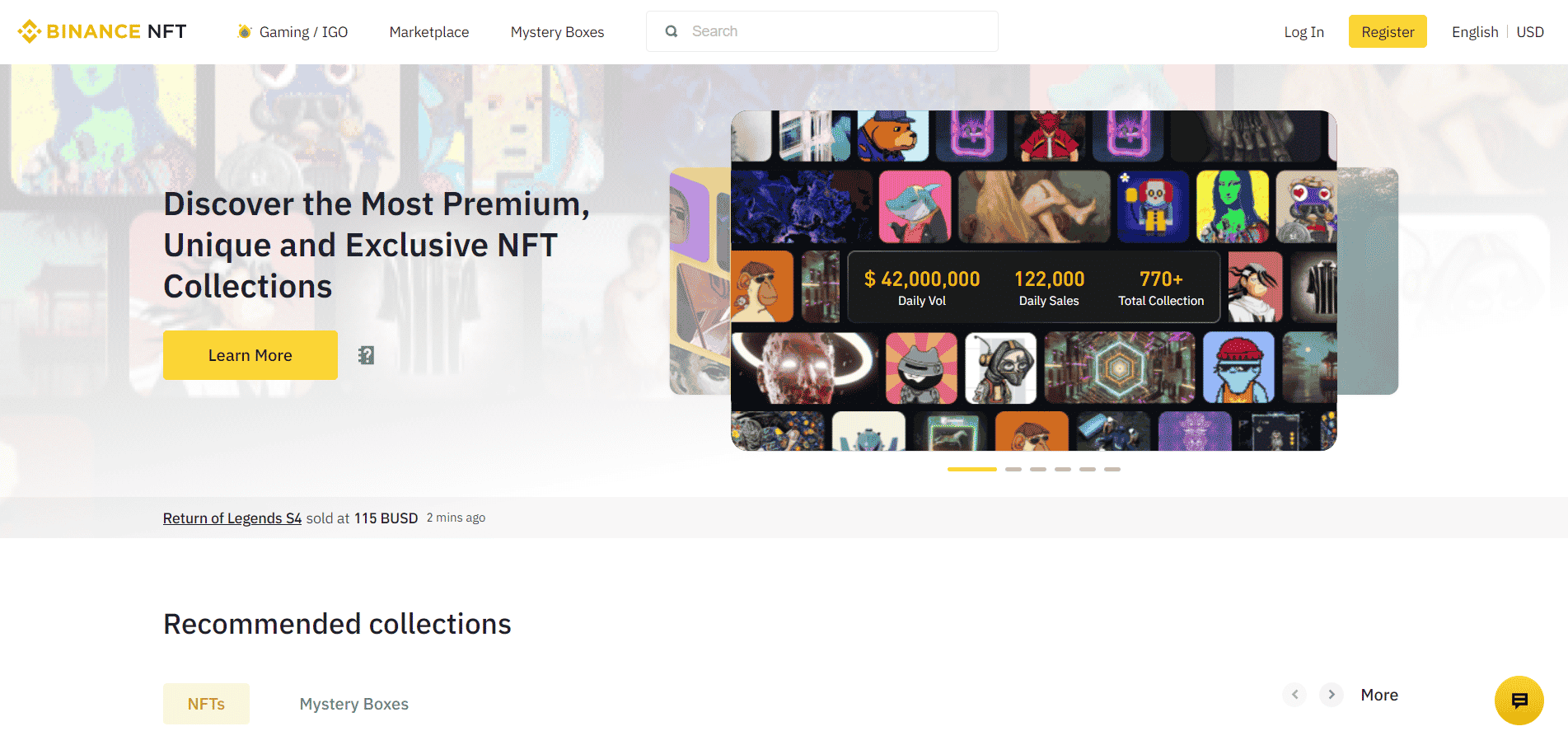 This is yet another amazing and one of the best NFT Art Marketplaces as they charge significantly less, it is around 1%, which means you will be able to purchase NFTs by just paying such a less transaction fee. It is run by the world's largest cryptocurrency exchange, Binance. It runs and functions on the Ethereum blockchain, which makes trading safe.
You will be amazed to know that they have over 2.5 million NFTs that are available on Binance NFT Marketplace for trading. They have an easy-to-use interface and offer incredible features which make it effortless for you to trade. They offer various NFTs that you can trade, such as sports, art, gaming, entertainment, collectibles, etc.
Features:
On the Binance NFT marketplace, you will be able to pay using ETH, BNB, or BUSD; it depends on the terms of the owners.
It is a massive and secure marketplace to trade NFTs.
They also provide users with an amazing 'Mystery Box' feature; the user can buy a box and get a random NFT which might be extremely valuable.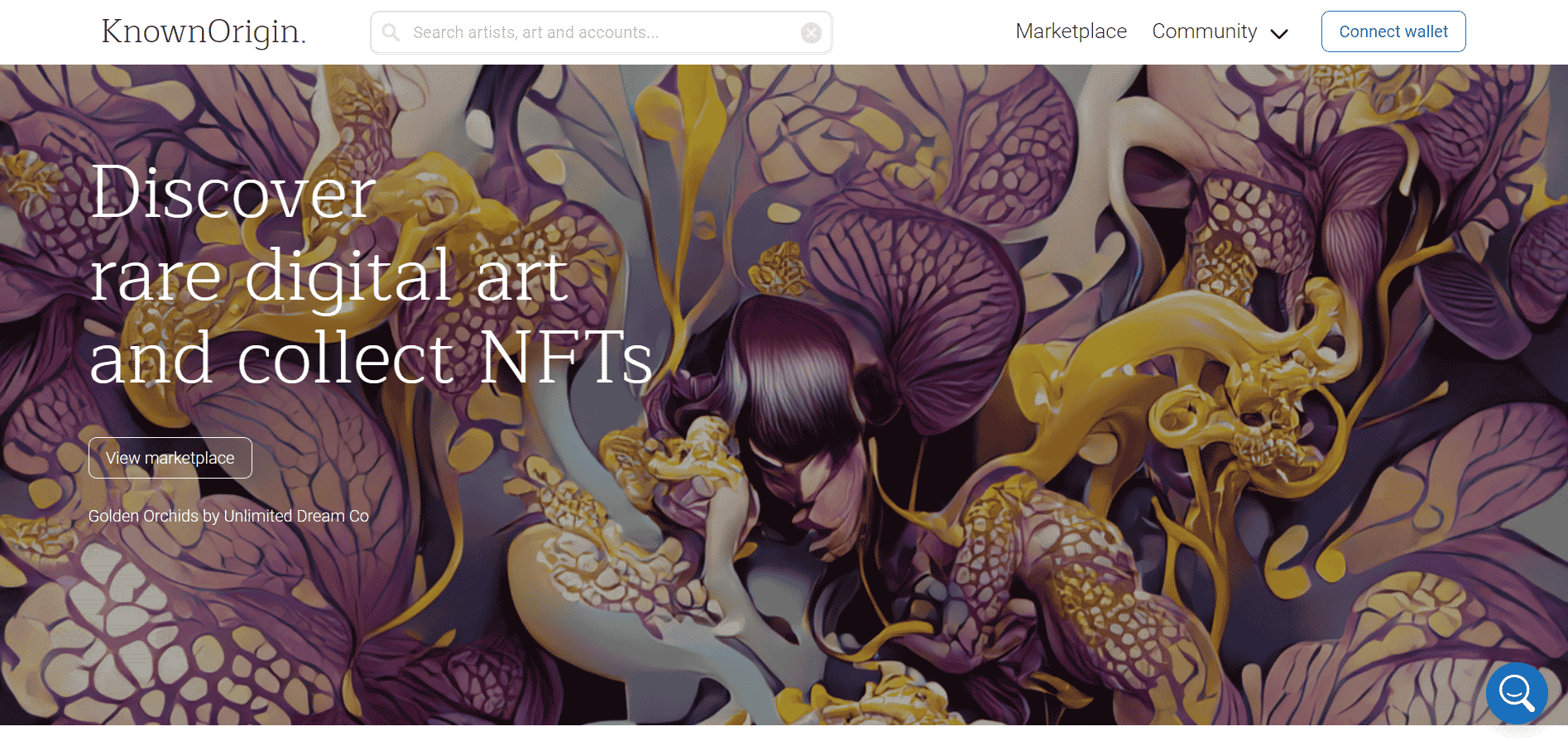 This is one marketplace where you will be able to find and collect rare digital artwork. The best part about this platform is that every artwork you find here is genuine and unique. They save every NFT artwork on IPFS that protects the underlying materials.
This is one of the most well-known platforms and is secured by the Ethereum blockchain. It is well-suited for creators who wish to present their skills and work to collectors or buyers who value uniqueness and authenticity. The best part about this platform is that on KnownOrigin, you will find no strange avatars or weird animals.
Features:
Easy to understand and use.
You will get curated NFT editions.
On KnownOrigin, the creators need to submit their work to its gallery in gif, or jpg formats, with all files on IPFS.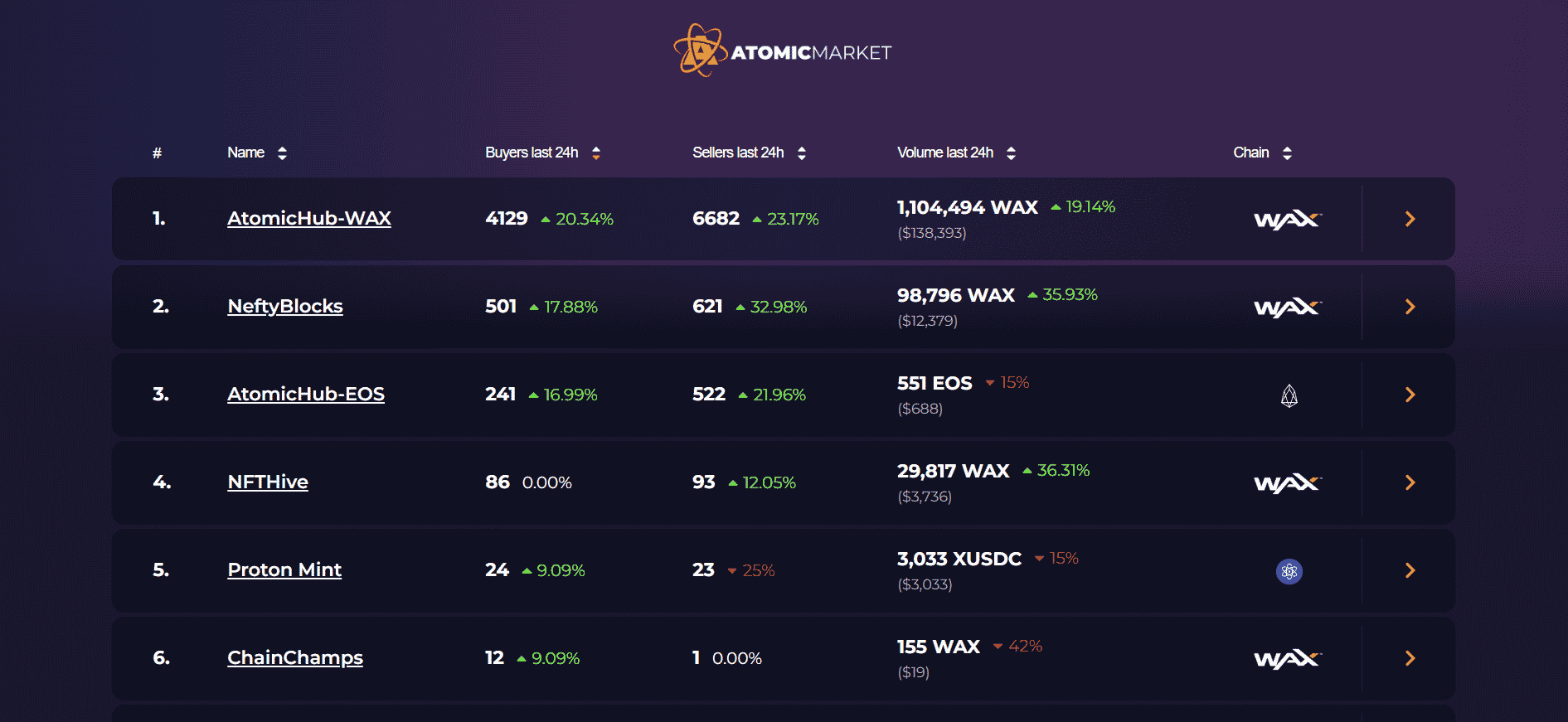 It is a shared liquidity NFT platform that was launched recently in 2021 and is an integral part of the Atomic Assets Hub. Various well-known websites use this platform for their operations because of the amazing features it offers, ease of use, and shared liquidity.
You must be wondering what does shared liquidity NFT market smart contract means? Shared liquidity NFT market contract means everything which is listed on one market will show up on other markets as well. They work on a completely different technology called eosio blockchain technology. Its significant advantage to the users is that it enables them to list their assets on AtomicMarket.
Features:
On AtomicMarket, its atomic Digital Asset standard is open source.
The best part about this marketplace is that you can easily and quickly distinguish genuine and fake NFTs as they have a verification tick.
Once you list the asset for sale, the trade offer is released to the marketplace. The highlighting thing is that the offer is instantly accepted as soon as the buyer purchases the asset.
It is one of the best NFT art marketplace as it enables the users to discover, buy and sell NFTs from various collections. You will be amazed to know that Solonart is the first non-financial transactions marketplace on the Solana network. Here, you will be able to get collections from multiple NFT projects such as Solpunks, Degenerate Ape Academy, etc.
It has a unique functionality as here you will get only a limited number of NFTs for purchase, unlike OpenSea, where you can find all sorts of work from different sellers.
Features:
Solanart works on the Ethereum blockchain technology.
They charge users a transaction fee of 3% for every successful NFT sale.
Despite being a relatively new NFT marketplace, it has more than $500 million in total trading volume.
Also Read: How to Make Money with Bitcoin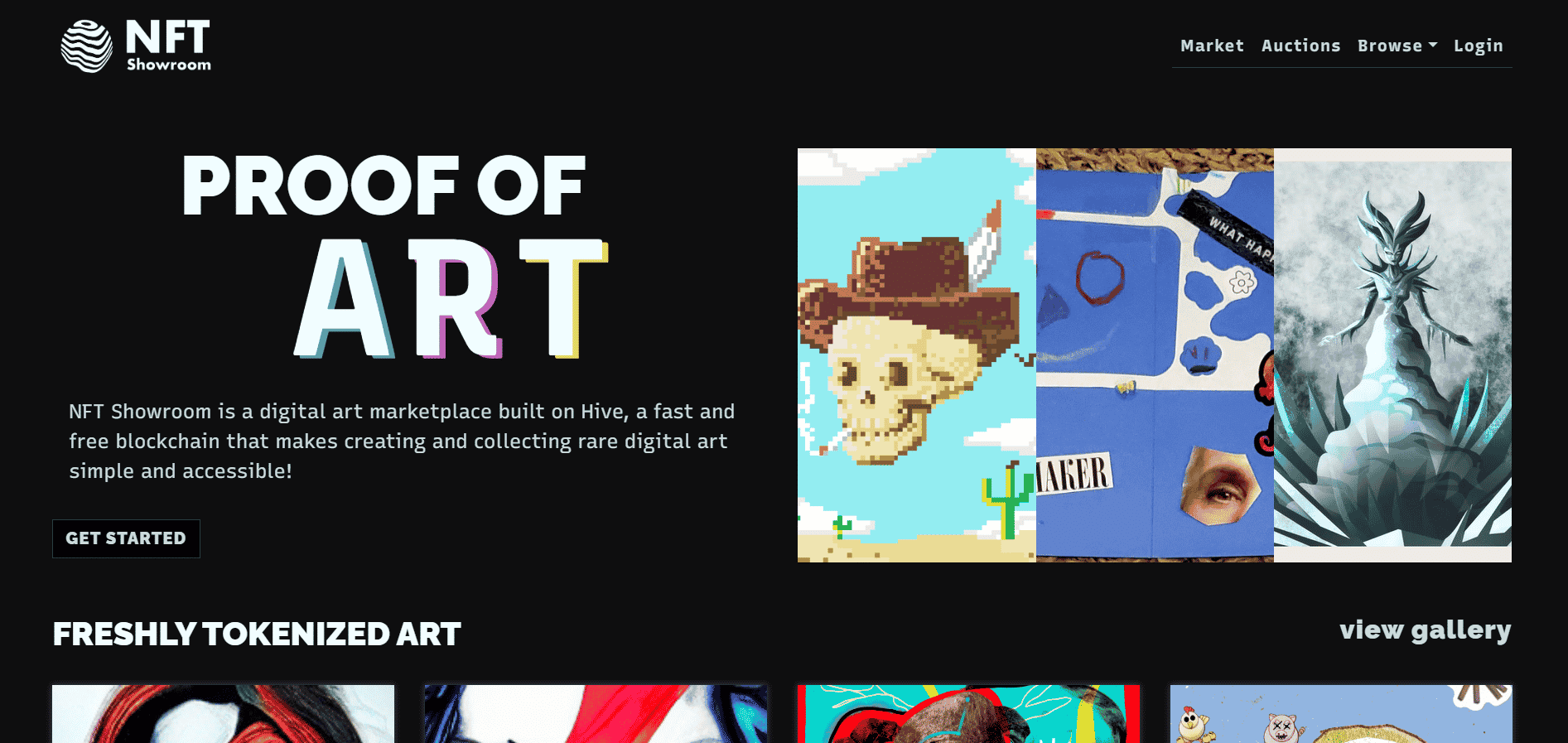 This digital art marketplace is created on Hive, which is a fast and free blockchain. The best part is that it enables you to make and collect unique digital art facile and accessible. At NFT Showroom, you will be able to get artwork of every style with different levels of expertise. Every artist gets a commission of 5% on every secondary sale.
Its functionality is similar to other marketplaces, where artists can design limited edition art and then create NFT tokens for their work. As an artist, you also have an option to make the art available for commercial use as well.
Features:
They charge a commission of 10% when a creator sells their art for the first time.
To begin creating and collecting artwork in NFT Showroom, one thing needed is to make a Hive account and Hive Keychain.
It renders creators with two options for creating tokens – Private and Limited Reproduction Rights.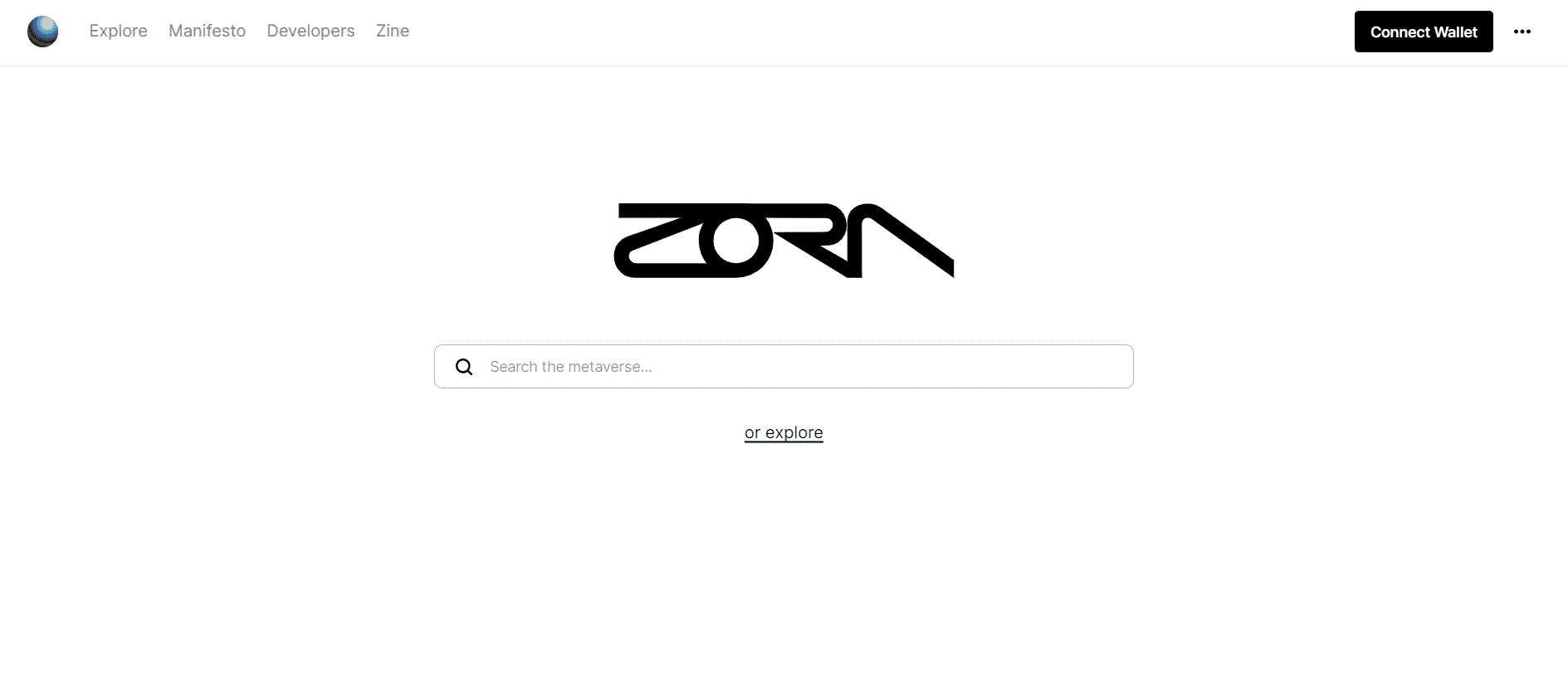 This platform started as an artist-invite-only platform; its functionality is pretty similar to that of Foundation. A couple of years back, it transformed itself and became an open marketplace that anyone could use. The best part about this platform is that it offers artists and creators more power and ownership over their art.
Zora is an easy-to-use platform and allows you to make perpetual bids, which means any individual can bid in any currency.
Features:
It enables you to commence your own auction house.
Zora also supports various big artists and creators.
Here, you can purchase NFTs of real-world collections.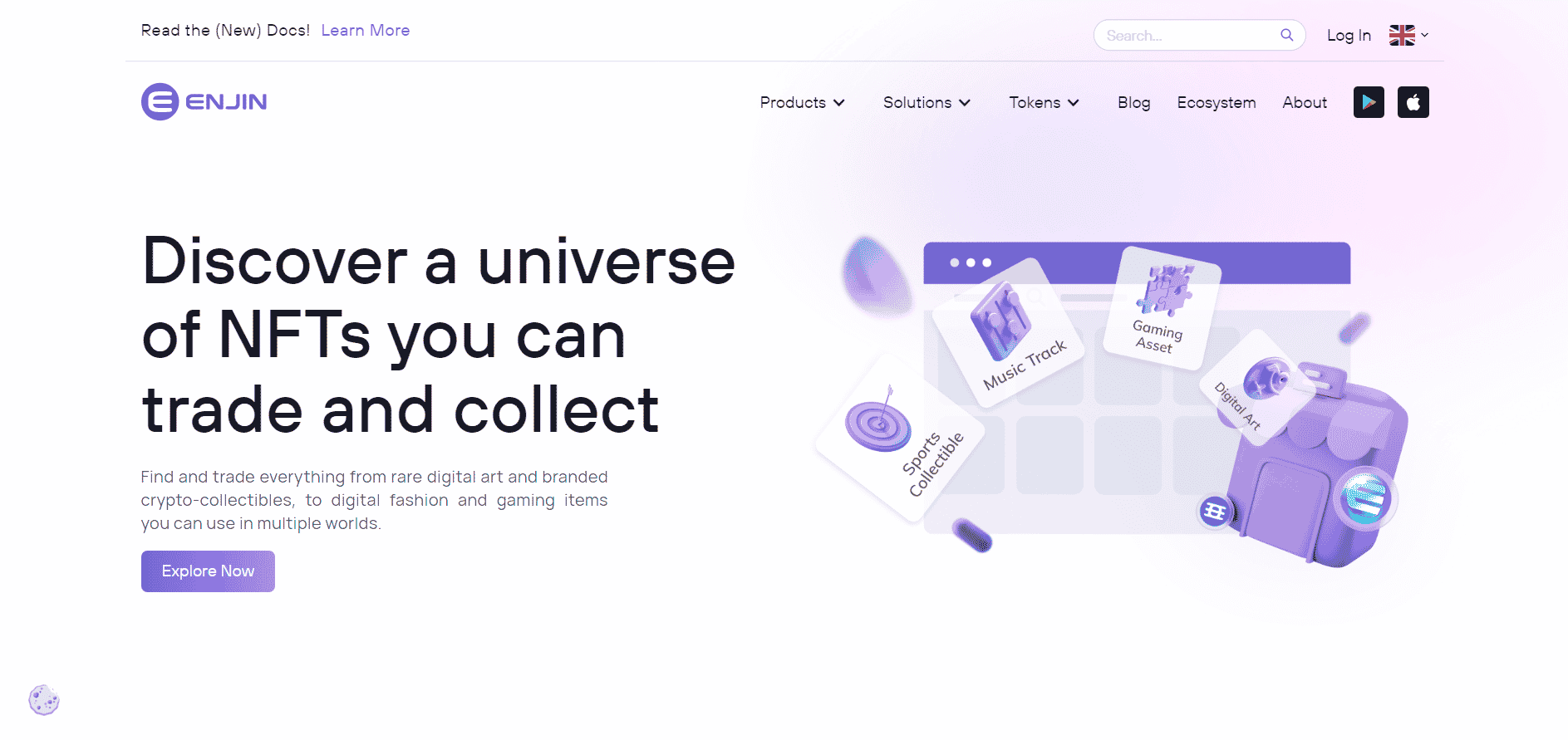 This is an amazing platform that enables you to explore and trade in blockchain assets. Enjin Marketplace is the official website for Enjin based NFTs and blockchain projects from its vast game collection like the Age of Rust, the Multiverse, The six dragons, etc.
In fact, they offer a few games that offer reward programs like Microsoft's Azure Heroes, community-created collectibles, and NFTs hosted by Swissborg and Binance.
Features:
It enables you to search and trade various kinds of digital assets.
So far on this platform, more than 43 million Enjin Coin have been spent on digital assets, and over 2 billion NFTs have been traded.
It enables the users to list and purchase collectibles and gaming items.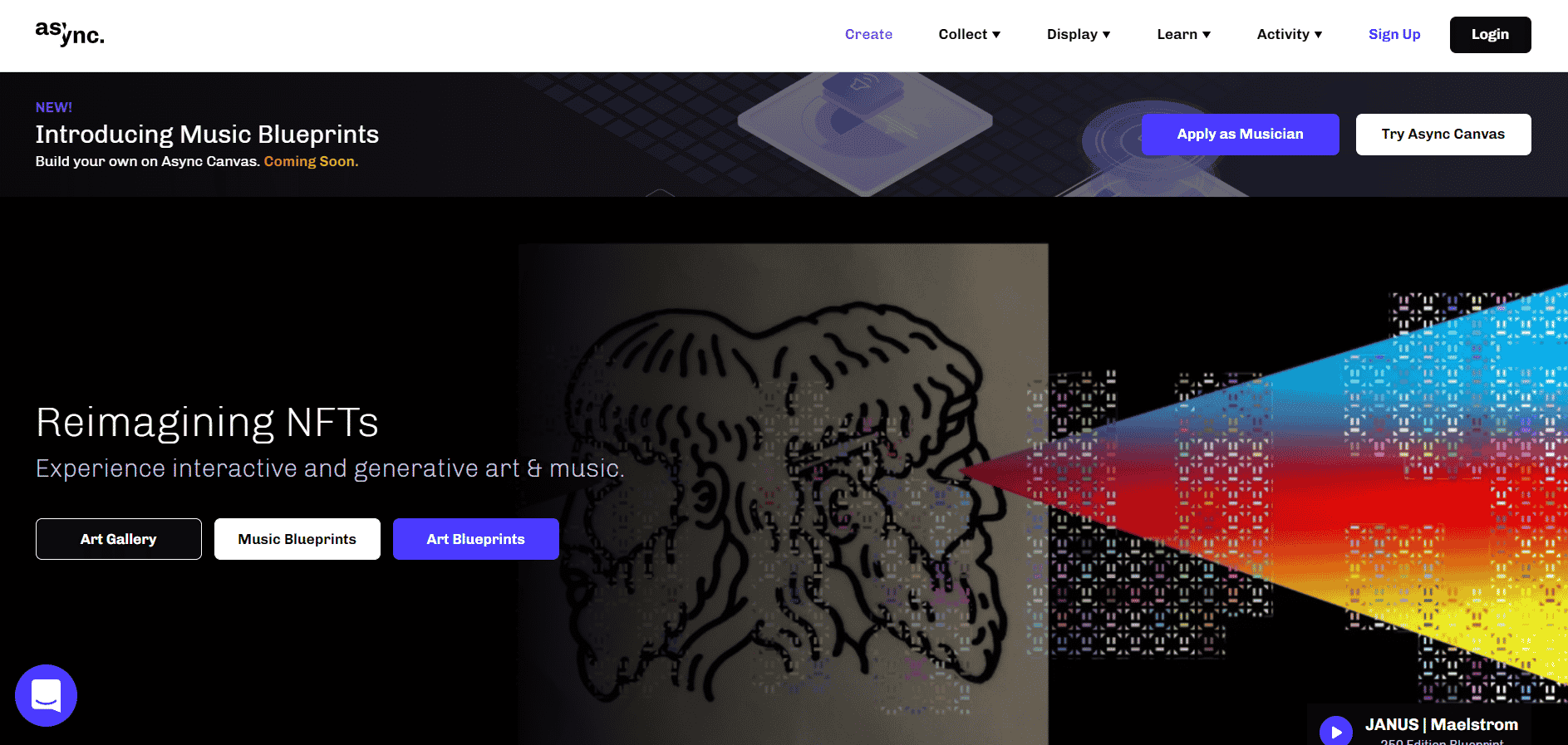 It is an exciting digital art marketplace as here you will be able to buy art pieces that change with time. It is an excellent method of benefiting from the technical nature of this art form. In fact, this platform is also well-known because of its 'programmable art.' Every artwork on this platform is made of Master and Layers.
Masters are said to be the NFT, whereas Layers are the individual elements that create the art and can be altered. Everything on Async Art is tokenized, which means that artists can own distinct layers and contribute to modifying the artwork.
Features:
This platform was launched in February 2020, and since then, it has more than $6M in bid volume and over $1.5M in artist sales.
This marketplace is created on the blockchain that enables you to generate, trade, and collect programmable art.
Blueprints offer a new opportunity.
This is yet another amazing marketplace that connects digital artists and collectors that use NFT technology. It helps them to quickly sell, invest and own collectibles with 100% transparency. The Portion is said to be a global community of decentralized artists and creators where they can trade without any trouble.
The best thing is that they enable users and collectors to operate both physical and digital NFT digital art in one place; this means that you will be able to exchange crypto art with a physical painting or a comic book.
Features:
The tokens that it offers are ERC-20 assets on the ETH Blockchain and are created to administer and vote on the future of this platform decentrally.
Portion facilitates anyone to be a collector.
They have also released new tokens, especially for artist grants, future partnerships, liquidity mining, and team members.
Also Read: Minting NFTs: A Complete Step-by-Step Guide
It is one of the best NFT art marketplaces as it supports numerous digital trading card brands. Some of the featured markets that it supports are Heroes. Market, GPK.market, Shatner.Market, GoPepe Market and KOGS.Market. It is predicted that within no time, Myth Market will become one of the leading platforms to sell NFTs.
Features:
Ease of use.
Various digital art pieces are available for trade.
Supports various big markets.
These are some of the best NFT art marketplaces; all of them are reliable and 100% legit platforms. You can choose any based on your requirements, ease of use, and budget. The trend of NFTs has risen tremendously over a couple of months as various businesses, celebrities, and individuals are entering the NFT world. In fact, this has led to the constant increase in the price of NFTs.
Still, various NFTs are undervalued because it is a relatively new technology and has not got the utmost recognition to date.
All in all, it can be said that the greatest potential of NFTs is yet to be explored, and this is the perfect time to search for the best deals on the NFT marketplaces.