Most traded and popular equities are called large-cap companies. They represent major corporations in a nation's equity market that are more reliable than small enterprises. Large-cap corporations often have a high market capitalization, indicating their high share prices compared to their large size. Investors should consider including these shares in their portfolios since they generate consistent revenue and profits. In this article, we will inform you about the best large cap stocks in India.
Advantages of Large Cap Stocks
Consider them blue chips—they've withstood downturns and other difficulties while also paying out dividends quarterly or so. India's leading indexes, such as the BSE SENSEX and NIFTY 50, only include large-cap companies. Here are some of their advantages.
Better Stability of Portfolio: The most significant benefit of including large-cap stocks in your investment portfolio is the steadiness they may bring. Because large-cap firms are so huge and have such a strong customer image, they are less likely to face a commercial or economic condition that makes them bankrupt or causes them to cease revenue-generating operations entirely.
More Available Information: Investors and creditors may readily access data about the company's management and profitability levels since large-cap corporations frequently have a long business lifespan. These factors are critical in determining the risk and possible benefits of buying into best large cap stocks in India.
Regular Dividends: Another advantage of investing in large-cap firms is the possibility of receiving consistent dividend payments. When these dividends are factored into productivity and capacity over time, they can result in outstanding total returns for large-cap investors. Stocks that produce consistent dividends are popular among income investors and those looking for income through relatively cautious investment.
12 Best Large Cap Stocks in India to Invest In
Large cap stocks in India are sometimes seen as safer investments since they have been around for a longer period and have established their worth. Let us now begin our list.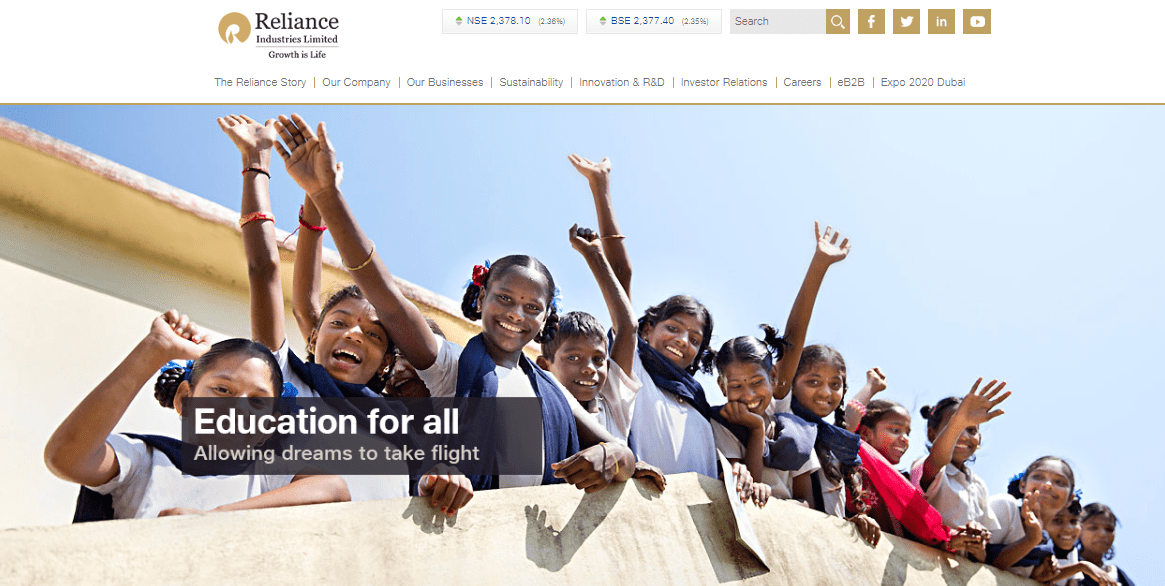 By market capitalization, Reliance Industries is India's largest publicly listed firm. RIL's businesses are highly integrated, with a presence across the whole energy value chain. It has diversified revenue streams, a massive scale of downstream enterprises with one of the most intricate refineries, a strong financial risk profile characterized by a robust asset base, stable cash flows, and a healthy liquidity position, as well as a strong financial risk profile. RIL's various activities include electricity, natural gas, retail, renewable energy, mass media, textiles, and its Reliance Jio telecoms company.
The company was able to establish a strong position in the market in the organized retail sector and lower its debt. Its future direction will be determined by the increased exposure of its leveraged businesses to more consumer-facing and digital efforts. Furthermore, RIL is on the verge of a new investment cycle, with the unveiling of fresh Capex plans totaling USD 80 billion in the green energy area.
The global economic recovery bodes well for all of RIL's business areas, and experts believe the business is well-positioned to nurture new ventures and seek inorganic possibilities. All this makes RIL one of the leading large cap stocks in India.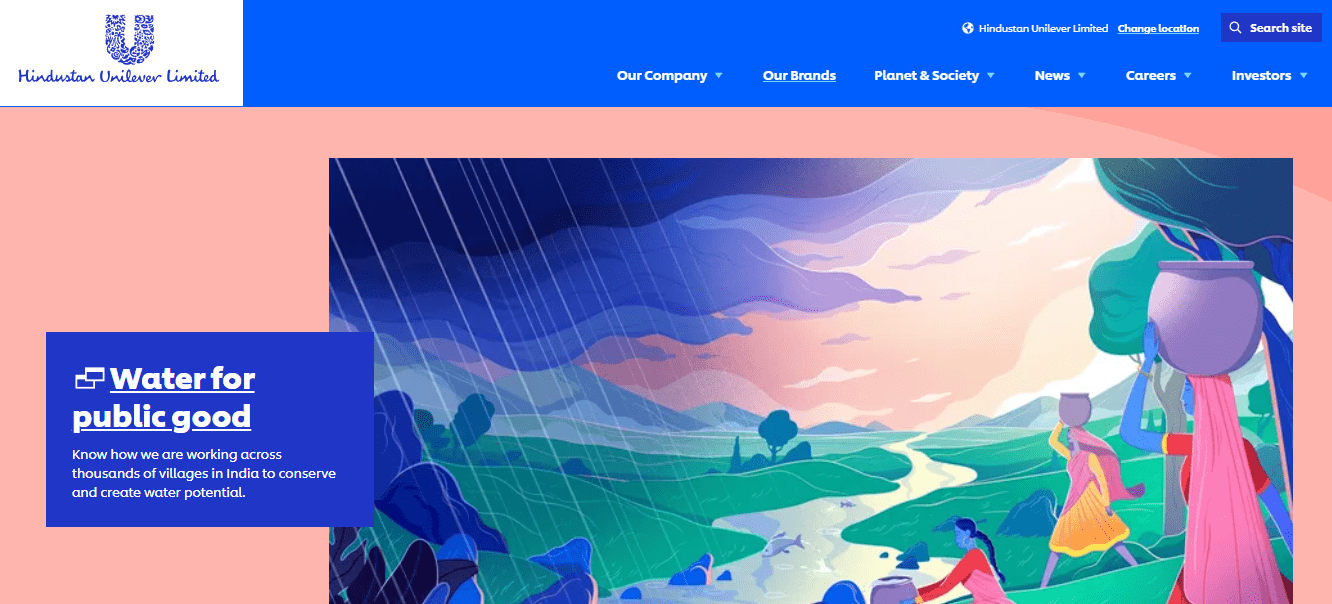 Hindustan Unilever Ltd. (HUL) is one of India's major FMCG companies, having a history spanning more than 80 years and is easily one of the best large cap stocks in India. Each of its seven brands has annual revenue of more than Rs. 1,000 Cr. HUL offers a wide range of items such as meals, drinks, cleaning agents, personal care products, and so on.
HUL has adapted its channel approach for its goods and market sectors by using its distribution strengths. The financial risk profile is maintained on a consolidated basis by high net cash accumulation and no outstanding debt as of Q2FY23.
With a dividend yield of 1.26%, HUL is recognized for its aggressive dividend distribution strategy. The firm has plenty of liquidity, as evidenced by a cash and bank balance of Rs. 2,407 Cr. as of September 30th, 2022.
The Indian FMCG market is supported by both organized and unorganized competitors across categories and goods, and HUL faces intense competition from new entrants. HUL's solid financial risk profile and dominant role in the domestic FMCG business, on the other hand, would allow it to maintain its leadership and weather any economic slowdown or catastrophe.

In terms of its market capitalization, HDFC Bank is India's largest private-sector bank. HDFC Bank was founded in 1994 as a subsidiary of the Housing Development Finance Corporation (HDFC), another company on this list. On the wholesale side, the bank provides commercial and investment banking, while on the retail side, it provides transactional/branch banking.
Despite its current terrible performance, HDFC Bank has returned 67% over the previous five years. Since the beginning of 2010, the HDFC Bank's share has increased by more than 750%, making it India's largest wealth producer.
The bank also has good financials, making it a popular choice among mutual funds. During the previous decade, the bank's net interest income (NII) increased by 666.92%. The capacity of HDFC Bank stock to withstand market volatility, as well as its clean corporate governance processes and exceptional results, make it an attractive investment.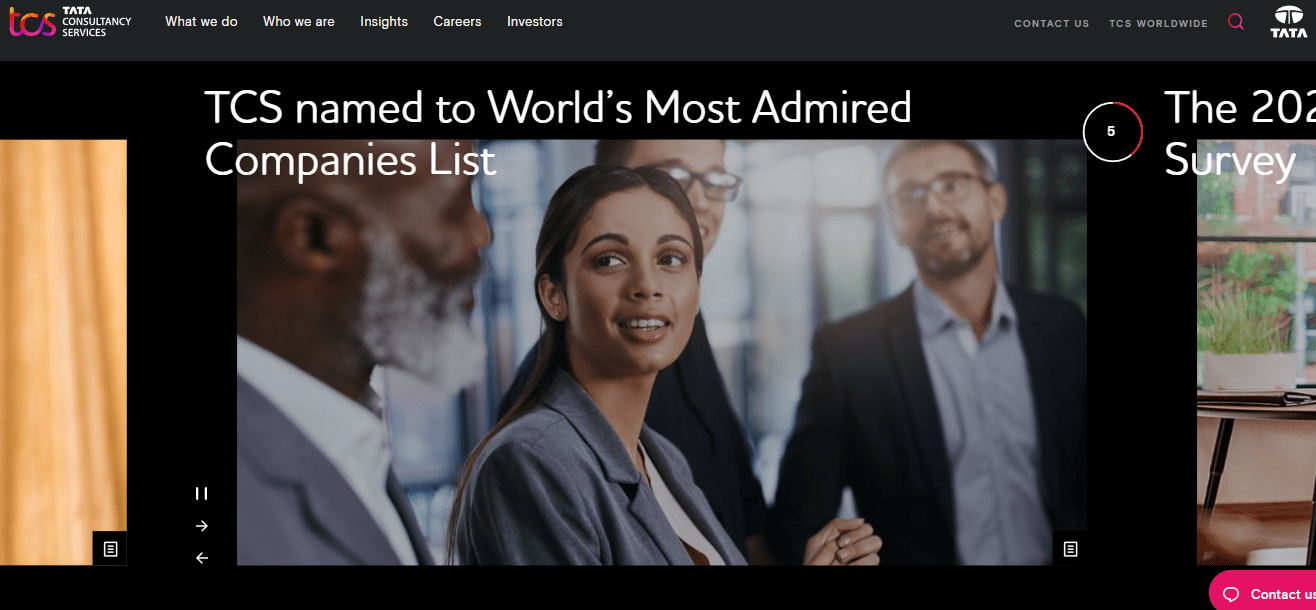 Tata Consultancy Services, the IT services and consulting arm of the Tata Group, is the largest IT services firm in India in terms of market cap and one of the large cap stocks NSE. This Tata Group subsidiary has 149 sites in 46 countries. It boasts a diverse and increasing client base, a diverse variety of services, and scalable operations.
TCS has a good financial profile, with healthy revenue growth, regular cash accruals, and substantial liquidity in the form of its free cash reserves. TCS has proved the capacity to develop and execute large-scale global projects, allowing it to consistently gain market share over the competition during the last five fiscal years.
TCS has a significant concentration of earnings from the BFSI market (nearly one-third of revenues), although this is tempered by its existing customer relationships and extensive subject understanding.
The company's financial profile remains solid, as evidenced by its high operational profitability of 24%, excellent capital structure, and good liquidity stance in the form of a solid cash balance of Rs. 5,834 Cr as of Q2FY23. Read on to know more about the best large cap stocks in India.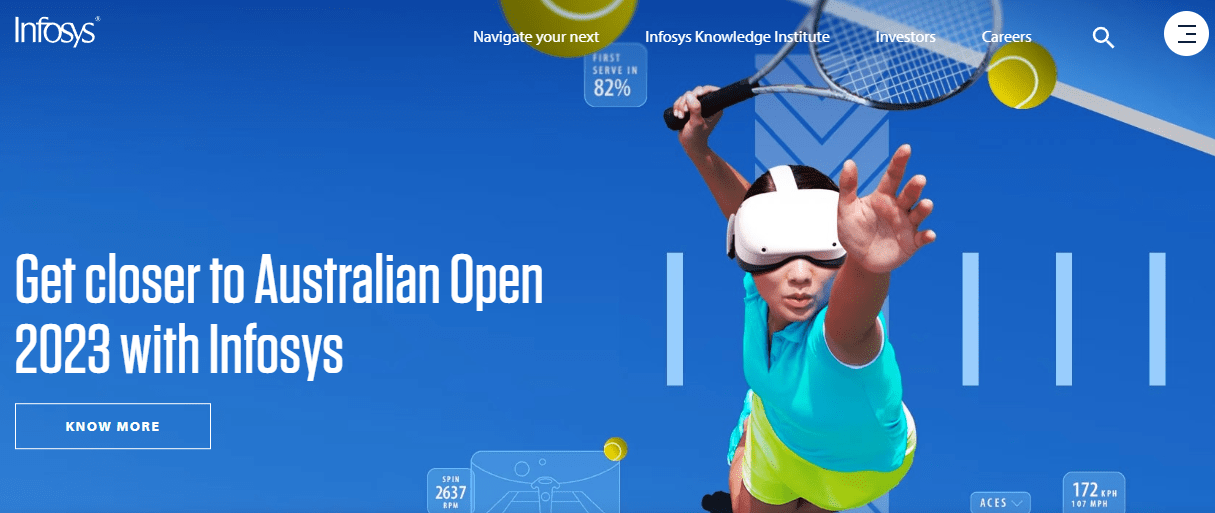 In 1981, Narayan Murthy founded Infosys with six other engineers in Pune. In terms of revenue, the corporation also ranks as the second-largest Indian IT company behind TCS.
The firm provides a comprehensive range of IT services to clients worldwide and across several sectors such as the United States, Europe, Asia, and the rest of the world. It services the following industries: BFSI, Retail & CPG, Communications, Energy & Utilities, Manufacturing, and Hi-tech. The geographical distribution includes North America, Europe, India, and the rest of the world.
With a 5-year average ROE of 25.8%, the firm has generated a great financial performance. Over the previous five years, it has generated a 12.2% CAGR increase in the top line and a 9.16% CAGR growth in the bottom line.
Whistleblowers pose a risk to Infosys at times. But the company has proven effective in the past in assuaging any worries, but several allegations may still tarnish its image.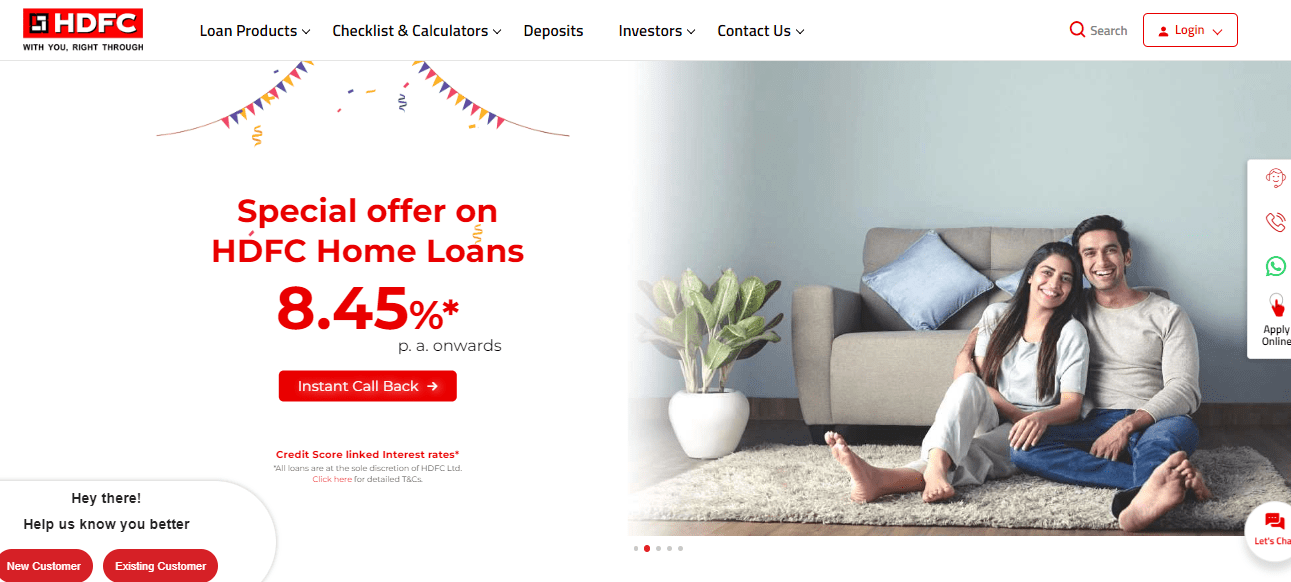 HDFC Ltd. is the country's leading home financing provider. It commenced operations in 1977. It has NRI housing financing offices in Dubai, London, and Singapore. It is among the best large cap stocks in India.
The majority of the company's lending offerings are house loans, plot loans, and rural housing loans. To present, HDFC has financed almost 9 million housing units. Its overall loan portfolio exceeds Rs. 6.2 trillion.
The major goal of HDFC is to boost the housing industry by facilitating the flow of resources via housing financing. With 651 offices distributed across the country, HDFC has a massive network. HDFC has a market capitalization of Rs. 491,752 Cr. It is also included in the NIFTY 50 index. It is now trading at a share price of Rs. 2,689.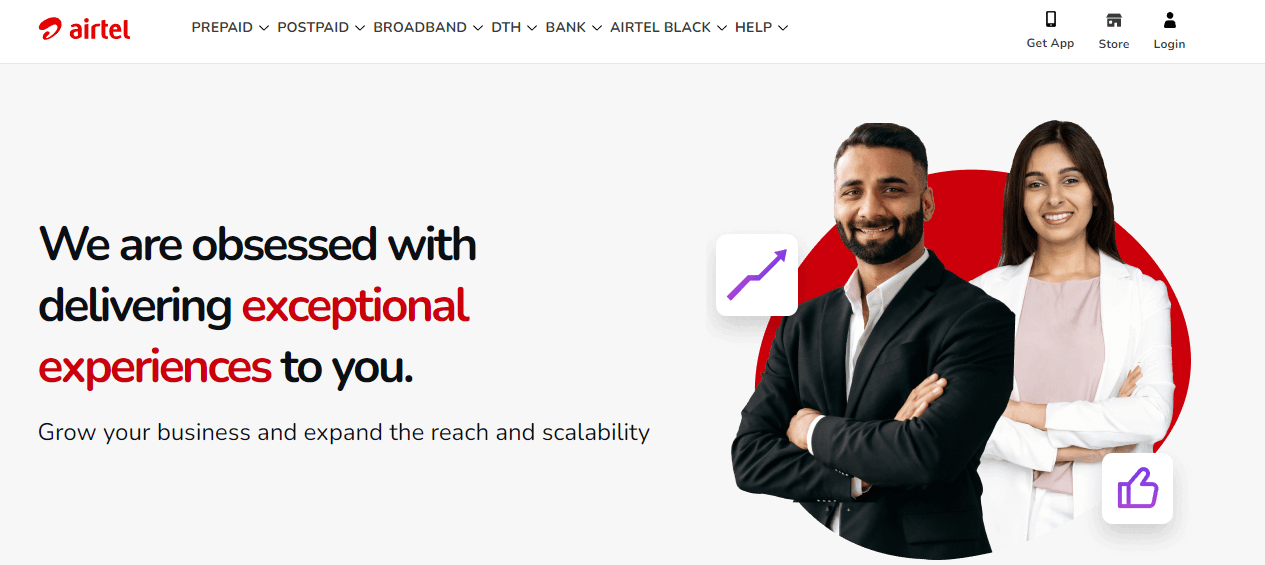 The year Bharti Airtel was founded is 1995. Apart from India, Bharti Airtel is a transnational corporation with a global presence in 18 countries. Its headquarters are in Delhi. Because of its large user base, it ranks third among mobile service providers.
The business, known as one of the country's telecom revolution pioneers, has been essential in reshaping the industry by providing world-class services based on cutting-edge technologies. Mobile Services, Airtel Telemedia Services, and Enterprise Services are the company's three strategic business units (SBUs). It provides 2G, 3G, 4G, landline, internet, and DTH services in addition to basic mobile services.
Bharti Airtel has a market capitalization of Rs. 445,475 Cr. making it one of the best large cap stocks in India. Its yearly revenue has increased by approximately 20%, while profits have increased by 40%. Another factor that contributes to its high value in the business is that it is always inventing. It has recently developed Airtel Safe Pay, Airtel IQ, Airtel Secure, and Airtel IoT.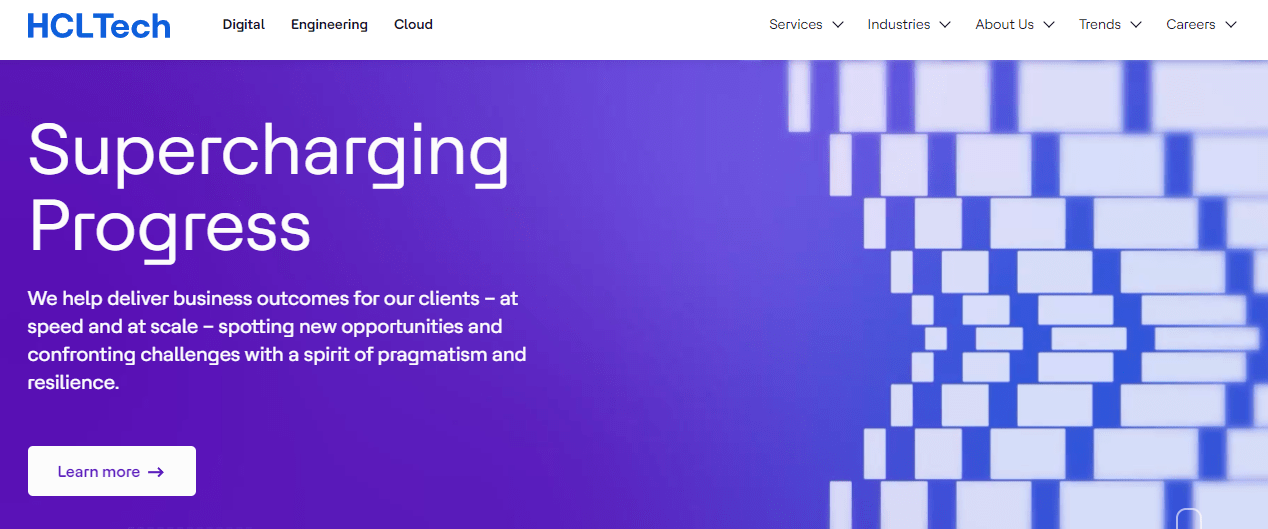 Since its initial public offering in 1999, HCL Tech has been concentrating on transformative outsourcing. It is a global leader in IT services and therefore large cap stocks NSE. In terms of revenue, it is one of the top 5 Indian IT services businesses. In FY22, the company's sales in CC increased by 12.8%, while IT services increased by 14.5%. IT service growth has been the highest in the last five years.
In FY22, the company's ER&D division expanded by 16.8%. This market would be a primary driver of its expansion. The company's margins are rising, and its growth is catching up to those of its top competitors. It belongs on this list of best large cap stocks in India.
In addition, the corporation offers a 3.7% dividend return. Because of the high demand from AWS, the firm has been aggressively hiring in this market. Given the firm's depressed prices, projected growth and margin expansion make a compelling argument for the stock.

ITC Ltd. operates in a variety of industries and holds a commanding position in the Indian FMCG industry. It has also produced excellent long-term profitability making it one large cap stocks list in NSE and BSE. ITC has successfully transitioned from a tobacco-only corporation to a well-diversified, scalable business conglomerate with a strong position in paperboards, agricultural commodities, hotels, printing and packaging, branded packaged foods, and other industries.
Furthermore, the acquisition of Sunrise Foods Pvt. Ltd. is projected to bolster ITC's market position in the spices area and increase diversification. ITC is well-known for its strong internal cash accrual, low debt, and strong liquidity.
The government has left the duty on cigarettes constant in the Union Budget of 2022 to assist the business in recovering volumes, which will offer a significant boost to ITC's falling cigarette market, which has been half by the epidemic.

SBI was founded in 1806 and has proudly carried on its tradition and heritage for almost 200 years. SBI is a worldwide organization with a presence in 32 different countries. SBI is also a Fortune 500 corporation.
SBI is among those large cap stocks that have managed to produce pretty good earnings per share despite being the country's largest bank. This bank's market capitalization is reported to be Rs. 493,710 Cr.
SBI is easily one of the trusted banks in terms of investment because of its solid PCR, substantial capitalization, solid liability franchise, and better asset quality outlook. SBI is the strongest option for the Indian economy's steady recovery among PSU banks. Credit cost normalization and a better growth outlook could result in double-digit ROEs of 14-15% through FY23-24.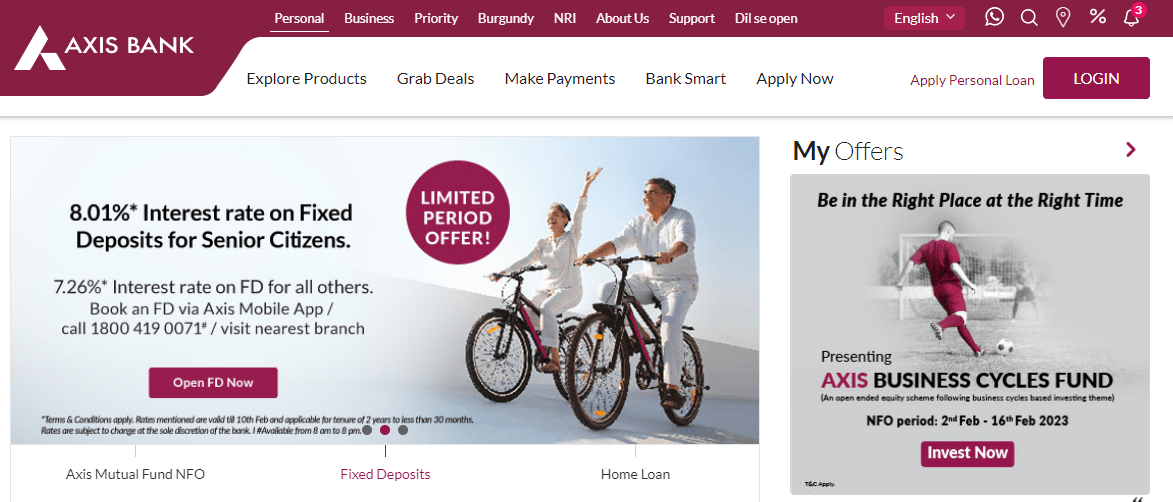 Axis Bank is India's 3rd largest private-sector bank and one of the best large cap stocks in India in the banking sector. The bank's total assets were at INR 11.75 lakh crore as of March 31, 2022. Through several distribution channels, the bank provides a comprehensive range of financial services and banking products to retail, commercial, and wholesale customers. The bank has 4,758 branches in India, as well as 16,900 ATMs and cash deposit/withdrawal devices.
Quarter after quarter, the bank's financial performance has improved. The bank's return on assets increased to 1.46% from 0.88%, while its return on equity increased to 15.87% from 11.33%. The bank looks to be on track to meet its 18% ROE objective.
The bank's retail portfolio, which has been the management's priority for the previous 3 years, has increased significantly, reaching 56.5% from 49%. The bank's continued efforts to strategically develop its asset portfolio, which include the mobilization of low-cost deposits, reducing credit costs, margin expansion, and an enhanced return ratios matrix, are optimistic signals for future earnings growth.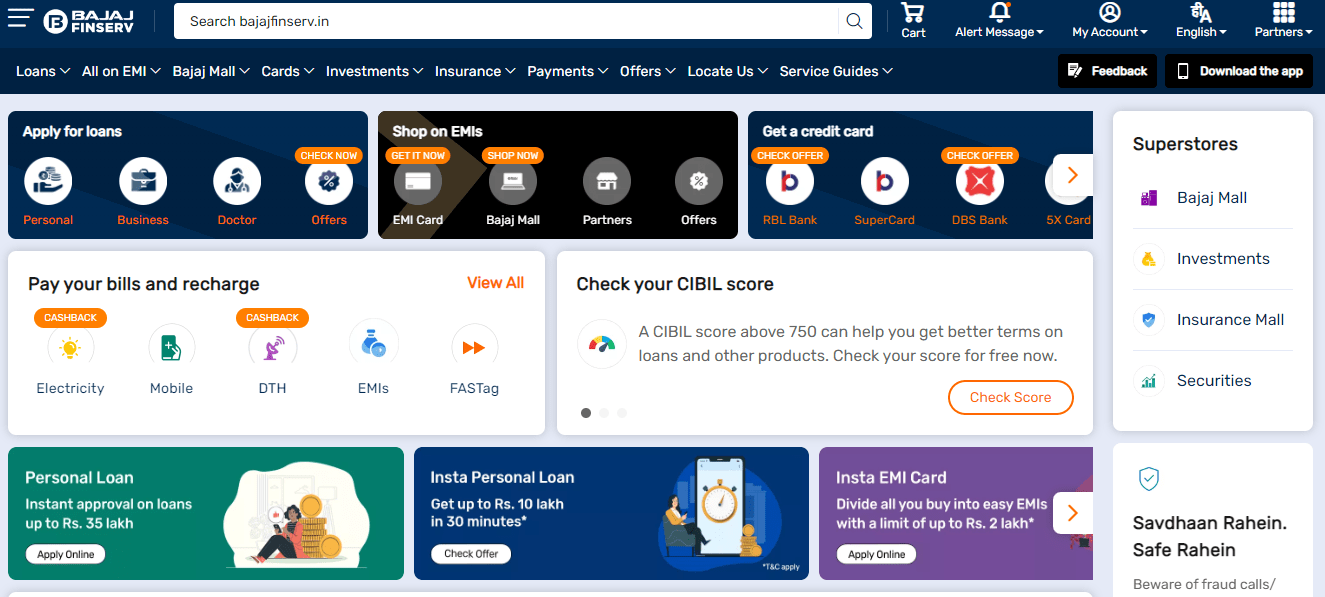 Bajaj Finance, founded in 2007, is an Indian NBFC that provides financial products such as loans, general insurance, loans for small and medium-sized companies (SMEs), consumer finance, wealth management, and commercial lending. Aside from a significant emphasis on retail finance, the business also introduced IPO financing services for high-net-worth individuals (HNIs). Future ambitions for the firm include expanding its footprint in semi-urban and rural areas through new product offerings.
The company's asset base has increased by 41%. This is a great indicator for the firm. Bajaj Finance has a substantial market share and extensive penetration.
Many firms are now attempting to join this sector, but Bajaj Finance has benefited from being the first to do so. With revenue likely to more than double in the coming year, Bajaj Finance promises investors excellent top-line growth.
Its most recent numbers have surpassed its five-year yearly average. Bajaj Finance not only excelled in its previous performance, but it also outpaced the Consumer Finance industry expansion, which recorded 16.05% profit growth.
Comparison
You now already know the best large cap stocks in India but for easy comparison, we have arranged all these large cap stocks in a table below. It will help you analyze and decide which of these large cap stocks is suited for you.
| | | | | | | |
| --- | --- | --- | --- | --- | --- | --- |
| Sr. No | Name of the Company | Current Price | Market Cap. | P/E Ratio | Dividend yield | High/Low |
| 1. | Reliance Industries | Rs. 2,337 | Rs. 1,581,293 Cr. | 24.9 | 0.34% | Rs. 2,856/2,180 |
| 2. | Hindustan Unilever | Rs. 2,587 | Rs. 605,549 Cr. | 61.2 | 1.325 | Rs. 2,742/1,902 |
| 3. | HDFC Bank | Rs. 1,657 | Rs. 924,997 Cr. | 21.1 | 0.94% | Rs. 1.722/1,272 |
| 4. | TCS | Rs. 3,538 | Rs. 1,294,298 Cr. | 31.8 | 1.22 % | Rs. 3,856 / 2,926 |
| 5. | Infosys | Rs. 1,609 | Rs. 669,435 Cr. | 28.3 | 1.93% | Rs. 1.924/1,355 |
| 6. | Housing Development Finance Corporation Ltd. | Rs. 2,689 | Rs. 491,752 Cr. | 19.7 | 1.12% | Rs. 2,934/2,062 |
| 7. | Bharti Airtel | Rs. 772 | Rs. 445,475 Cr. | 61.2 | 0.39% | Rs. 877/629 |
| 8. | HCL Technologies Ltd. | Rs. 1,116 | Rs. 302,763 Cr. | 20.9 | 4.30% | Rs. 1,215/876 |
| 9. | ITC Ltd. | Rs. 371 | Rs. 460,871 Cr. | 25.3 | 3.10% | Rs. 388/207 |
| 10. | SBI | Rs. 553 | Rs. 493,710 Cr. | 10.5 | 1.28% | Rs. 630/425 |
| 11. | Axis Bank | Rs. 867 | Rs. 266,716 Cr. | 13.0 | 0.12% | Rs. 970/618 |
| 12. | Bajaj Finance | Rs. 6,436 | Rs. 389,681 Cr. | 36.2 | 0.31% | Rs. 7,778/5,220 |
How to Choose?
Here are some of the factors that one should pay attention to while choosing the right large cap stocks in India for their portfolio:
Transparency: A firm that is open about its business operations and strategies will be able to give more precise financial statements and predictions than one that is not. Such transparency helps in choosing a company that is reliable and safe.
Stability: The stability of a firm is an important issue to consider before actually investing in its shares. Dividends are often paid by stable enterprises, and their earnings are not impacted by changes in economic conditions.
High-Quality Operational Maintenance: The capacity of a firm's management to sustain high levels of effectiveness over time is referred to as maintenance quality. If a firm has consistently provided high-quality maintenance for many years, chances are it will do so in the foreseeable future as well making it popular pick as large cap stocks list in NSE 2022
Dividend Payout Ratio: If a company pays dividends, it signifies it has grown large enough to transfer earnings to shareholders. Any firm that pays regular dividends demonstrates trust in its potential to remain successful, making it an appealing investment option for the majority of investors. The dividend payout ratio shows how much earnings are distributed as dividends each year.
Because of their larger market capitalization, best large cap stocks in India are often more costly than other types of equities. As a result, when investing in them, one should bear this in mind. Furthermore, the price of large-cap companies swings less than that of small or mid-size stocks since its value is based on an assessment of how much capital it would cost to acquire all of the existing shares. This makes them an enticing investment for those seeking consistent profits over time.
Indian stock market offers a diverse range of large-cap stocks that investors can consider for potential growth. Thorough research, analysis, and staying updated with market trends are crucial for making informed investment decisions. Ultimately, individual risk tolerance and long-term financial goals should guide investors in selecting the best large-cap stocks that align with their investment strategies.