Furry art is an art aiming to represent non-human beings in a human-like form. Many people think it's just a trend, but it's not. It has gained tremendous popularity over time, especially among members of furry subcultures like furries and gamers. The art form has been around for many years and is still growing. The furry fandom is large, but you can find yourself lost in it. In this article, we will inform you about the best furry art sites that you can explore.
22 Best Furry Art Sites for Art Lovers
Furry art is among the most popular forms of artistic expression today. With all the attention and success that is gaining exponentially, it has a bright future. Finding the best place to post furry art online is not easy, especially if you're new to this work. The list given contains the best furry art sites where you can view and post furry art. Let us begin our list.

The Furry Network website is one of the leading sites for artists, creators, and other furry community members to share their work with others. It gives people their page on the website and allows them to create and promote their submissions.
The site has many folders for users to organize their favorite images. It is considered the best place to post furry art online. It also supports creating communities through its discussion forum, user profile gallery system, and many other features. Furry Network is run by a team of dedicated staff who look after every aspect of the site.
Fur Affinity is the best place to post furry art online. The site's focus is to promote creative and artistic works by furries from all over the world. People can view their favorite submissions and check out avatar profiles and viral posts for the latest additions to their most liked categories.
The site is known for its enormous database of art and creative works. Users can promote their creations together and comment on other users' content. The site's user-friendly interface makes it an ideal platform for artists and fans worldwide to come together in one place.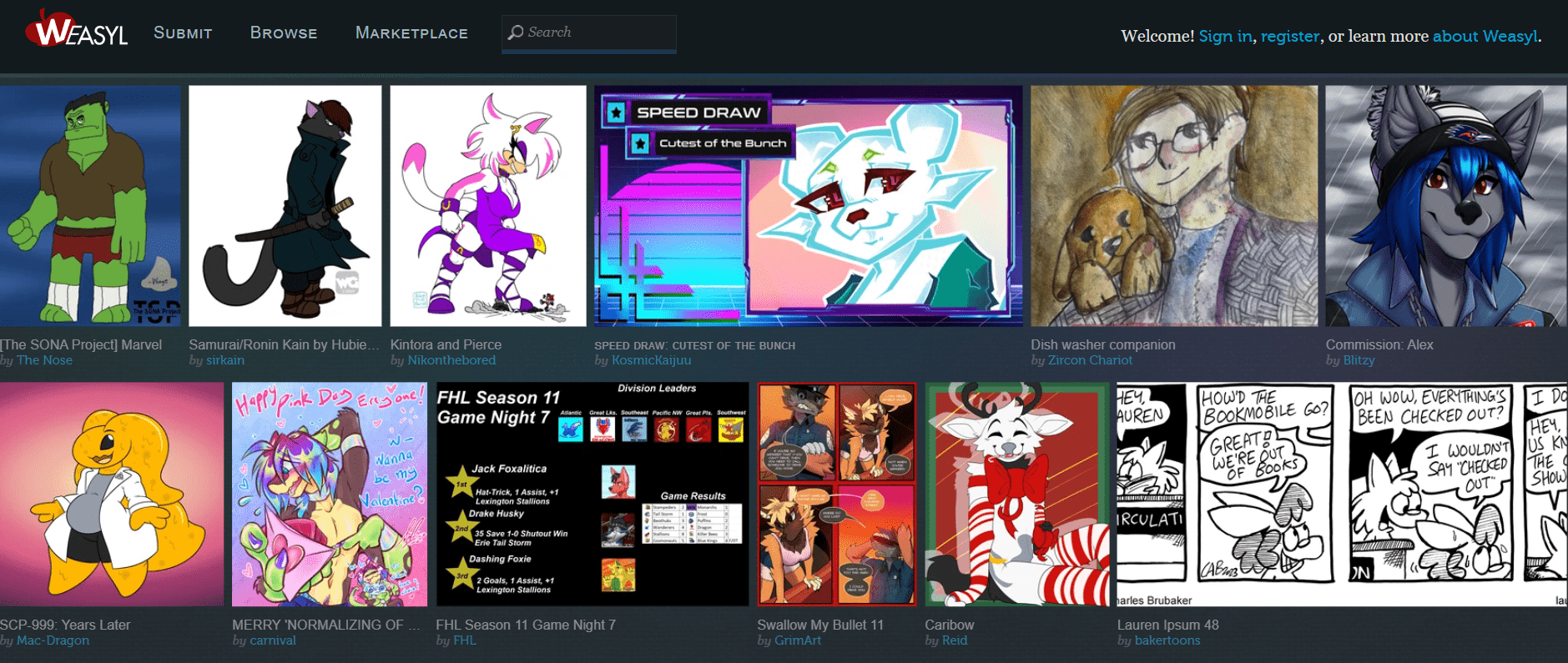 You have to try Weasyl if you are looking for the best place to post furry art online. It is a website hosting a social art gallery for furries and the larger internet artistic community. The furry art community has grown exponentially since its inception.
It started as a niche based on the popularity of anthropomorphic content within the fandom. This has grown into a much more significant and varied fandom throughout time. It's a great site with many cool features, including images, stories, and more!
The site has a certain set of other features that will make it easier for artists and users to interact with each other. It offers web-based applications for sharing media and discussion forums. It serves artists, writers, musicians, and other creatives.
F-List is a furry art website with lots of great artwork. A thriving artistic and fan base is always willing to support one another's endeavors. It is undoubtedly another of the best place to post furry art online.
Furry-list is a Furry role play website where people can role play their fantasies and share them with others. It has a global community that consists of different countries and a variety of users, including just individuals looking to have fun while they chat.
Users can create profiles with up to four characters on this social networking website. These characters are then given their categories of kinks.
5. Inkbunny
Inkbunny is a furry art community and portal that all fans of the furry fandom need to be a part of. With a vast collection of artwork, comics, stories, music, and animations, Inkbunny offers an extensive database for furries looking to share their creative side.
It has been in existence for years and offers artists a straightforward method. It is an excellent place for furries to be given their page where they can share their art, sales, and other information. The website is well-designed, with a user-friendly layout and a pleasing aesthetic. Users can search through the gallery and find specific pieces they might like.

Sofurry is one of the best furry art sites that has been around for years, and it's still growing. The site has become quite popular in the furry community, hosting different adult and non-adult content. It's a great place to share and promote your furry artwork or stories with furries worldwide.
It is one of the most popular furry-related sites with over 100,000 members. It organizes many content-sharing threads, allowing users to share their works or write post comments. Users can explore artwork from artists from all over the world or create user-generated content. The visuals are simple, clean, and easy to navigate.
Furvilla is an art-based social game where players create their furry villagers and share them online. The key to this game is the panties system. This allows players to personalize the items that their pet character wears.
It allows players to create their furry characters, build and customize their village, and interact with other players online. You can make the villagers look exactly like your favorite furries or adopt an existing animal from the list. You'll have access to many different colors and shapes.
Also Read: 21 Best NFT Art Marketplace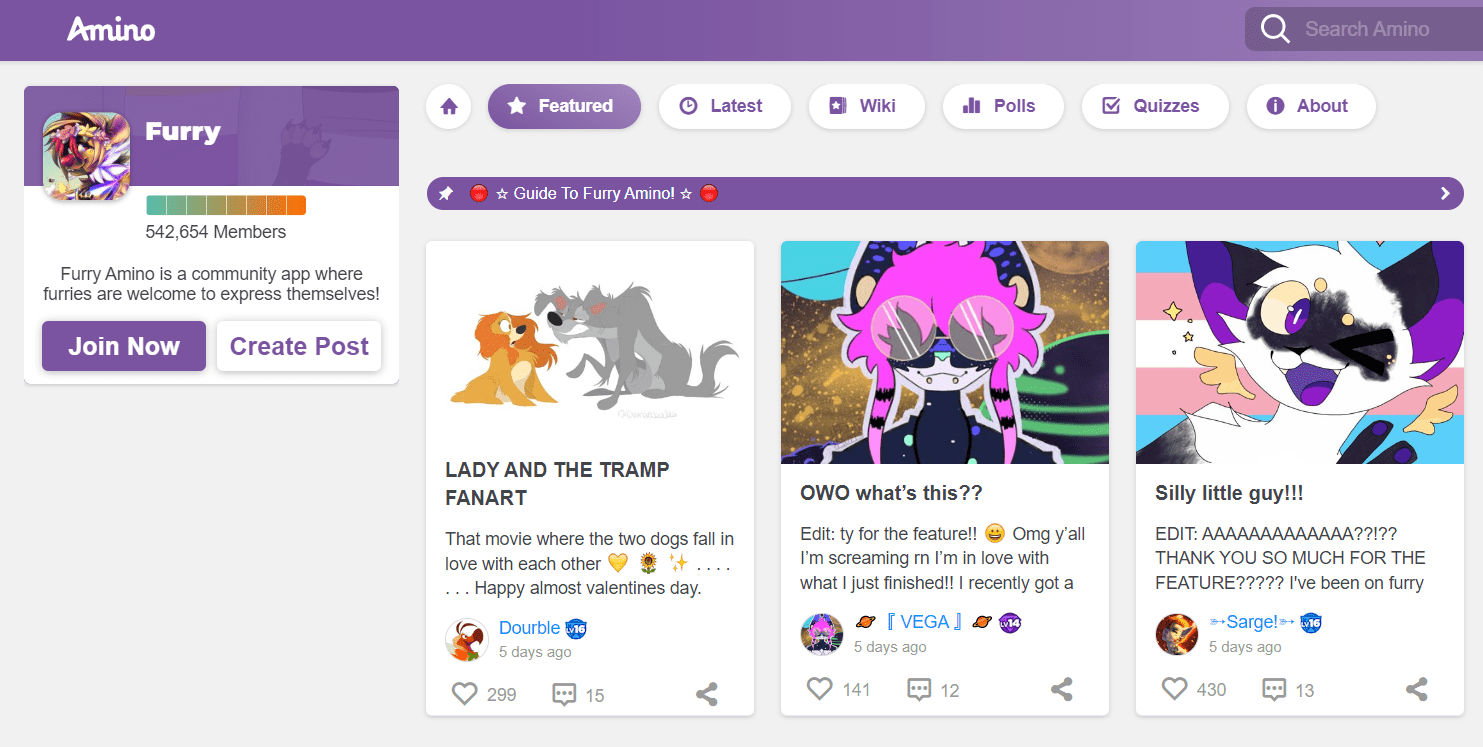 Furry Amino is a social networking and chatting community dedicated to the furry fandom. It provides a means for furry fanatics to interact and exchange content. This feature-rich social media app lets you express your feelings by curating your content and interacting with other users on a private or public level.
This community can be found on the well-known app Amino, which has been around for a long time. The app has been flooded with regular users and has an international following.
Furry Reddit is a popular online furry community where members discuss relevant information and media regarding the fandom. It is highly rated and ranked as one of the best forums.
The forum consists of topics that users and subscribers create. Through Reddit, you can post your message and comments on other users' messages. The website allows users to create and manage their profiles, communities, and user groups. This is one of the best furry art sites.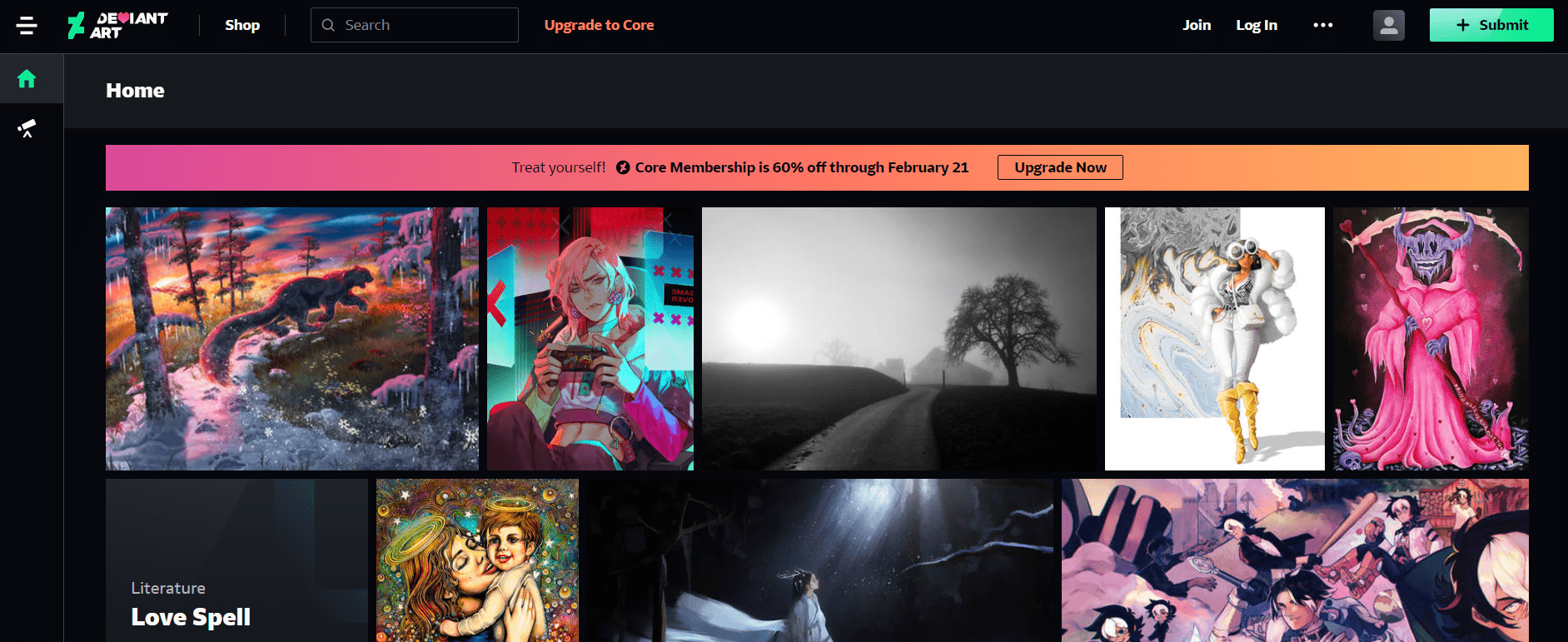 DeviantArt is one of the best furry art sites online today. It offers excellent tools for creating a unique profile and sharing your work. With millions of users, it's simple to discover artists and share your creations.
Furries that post their furry art on this site receive many likes and alerts from other furry artist, which makes it very encouraging for them. You can exhibit your furry artwork there and get helpful feedback.
A popular messaging platform with millions of users worldwide is Telegram. If you're a furry and want an interactive platform to collaborate with other furs, read and even create content, it's time to join telegram Furlist.
Telegram Furlist provides a centralized location for mobile and desktop users to find furry fandom and message group chats easily. It lets you find and interact with other furries, artists, and other members of the community to share, discuss and join a group.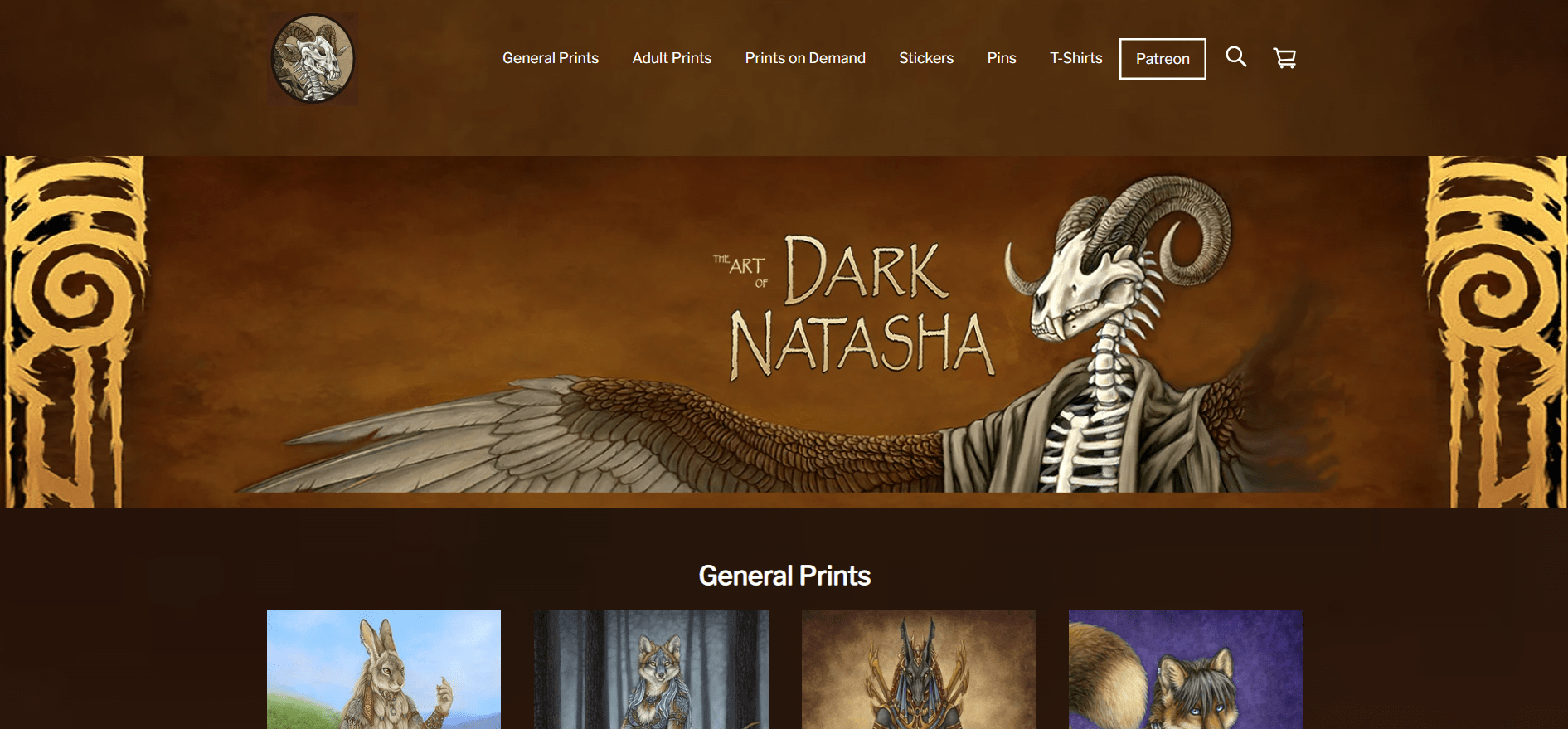 Having been active since the late 1990s, Dark Natasha is a well-known furry artist. She has a very professional portfolio with many great examples of her artwork.
Dark Natasha is one of the top-selling artists today and has a website where she sells furry artwork you can purchase. Most of her work is quite realistic, but she also does some other media. Her art style is one of the most recognizable in the fandom.
13. Fox Amoore
Fox Amoore is a renowned furry artist that has been creating artwork for over a decade. He has a longstanding experience in the furry community and is a musician.
Fox Amoore was born in August 1984 in Scotland and is best known for his original music and video game music remixes. He has made a name for himself as one of the most honored artists in the furry community by participating in several successful projects.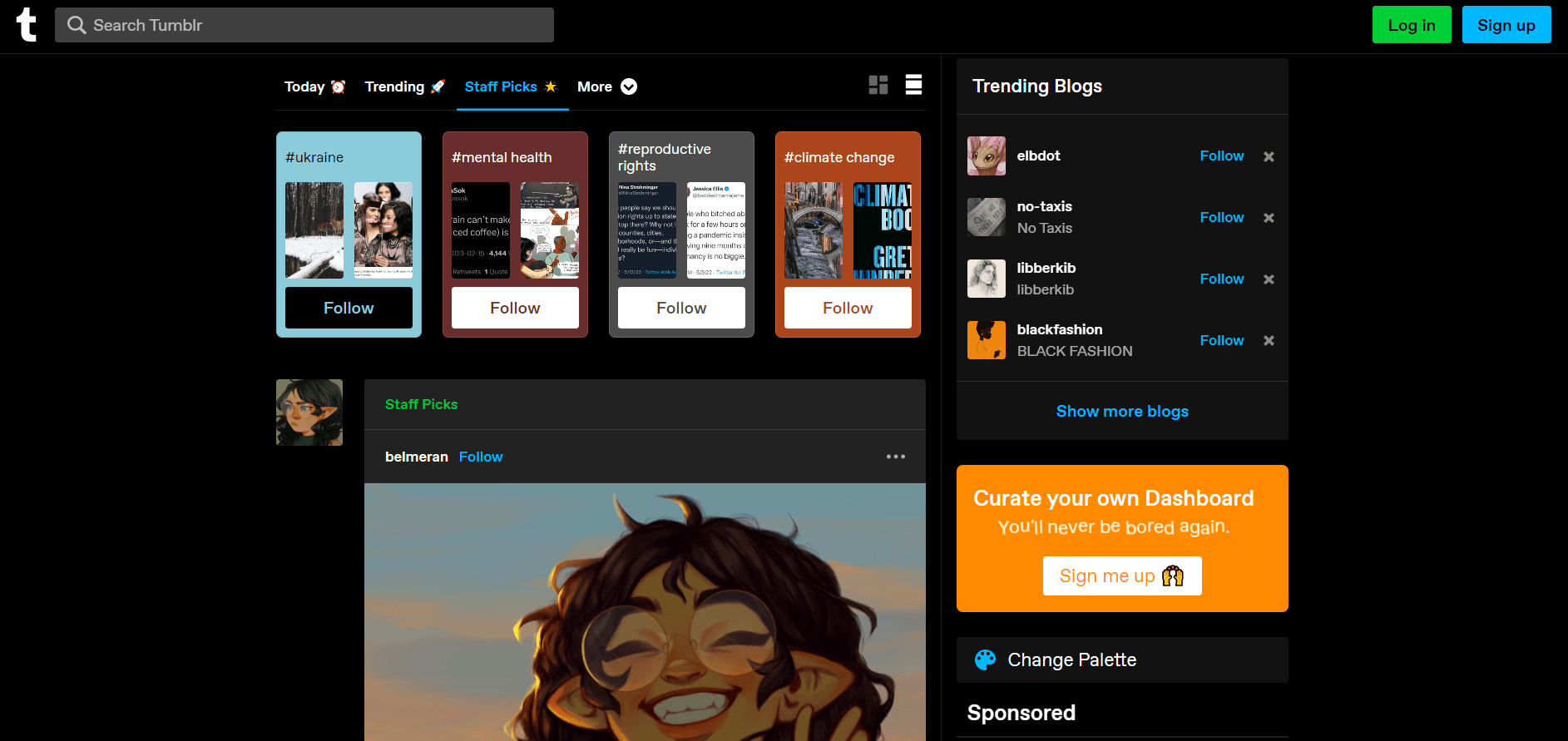 When it comes to furry art, Tumblr has the largest community. This social media platform was created by David Karp back in 2007. It has millions of users worldwide. The website was first opened for creators and artists, and soon after, it gained popularity for all kinds of content.
This website hosts fan-created content from all over the world. You can follow your favorite furs on Tumblr and view their posts as they post them. The best part about Tumblr is that you can create blogs or teams based on your interests.
Also Read: 51 Ways to Make Money Online For Beginners
Kenket is a well-known artist who often creates artwork featuring ravens and dogs. Since 2015, Kenket has created several works of artwork frequently used in magazines and other clients. She often collaborates as a freelance illustrator and creates beautiful artwork.
Kenket has attended numerous furry conventions and still attends many more. She has collaborated with BlackTeagan on a lot of projects.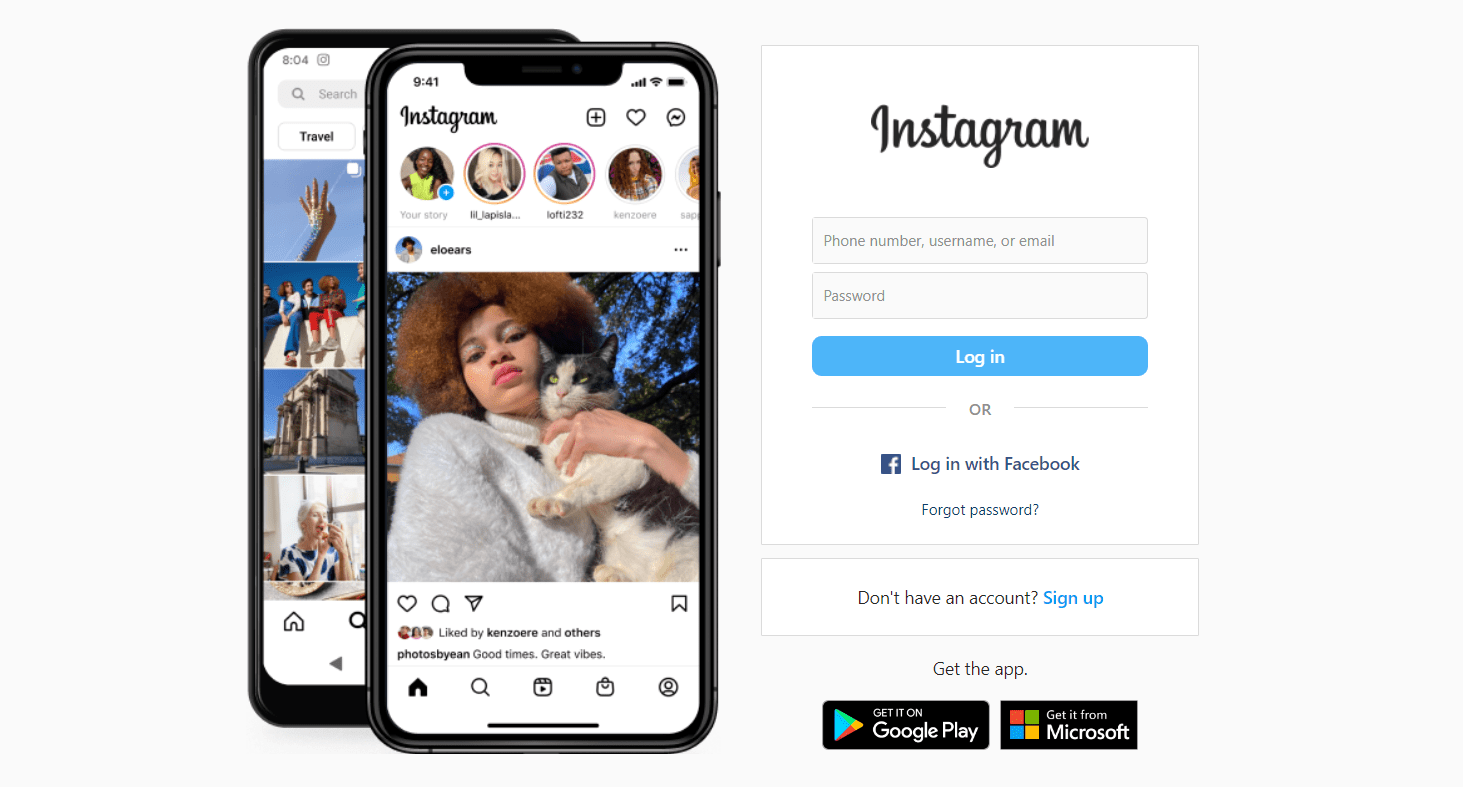 Artists have been using Instagram to promote their work since it was launched in 2010. It's by far one of the best options for artists of any kind. It's free to sign up and join and does not require paying for any packages or upgrades.
Instagram is an excellent platform for showcasing your artwork, which can help you spread awareness. All your fans can go to Instagram, view the art, and like or comment on it with some feedback.
17. Uncle Kage
Uncle Kage is an excellent furry artist and personality. His creations are of the highest quality, and his art style is unique. He has been Anthrocon's chairman since 1999 the world's oldest furry convention. He has also attended many other furry conventions.
Uncle Kage has a series of art, but he also makes videos and shows his skills in different areas on his YouTube channels.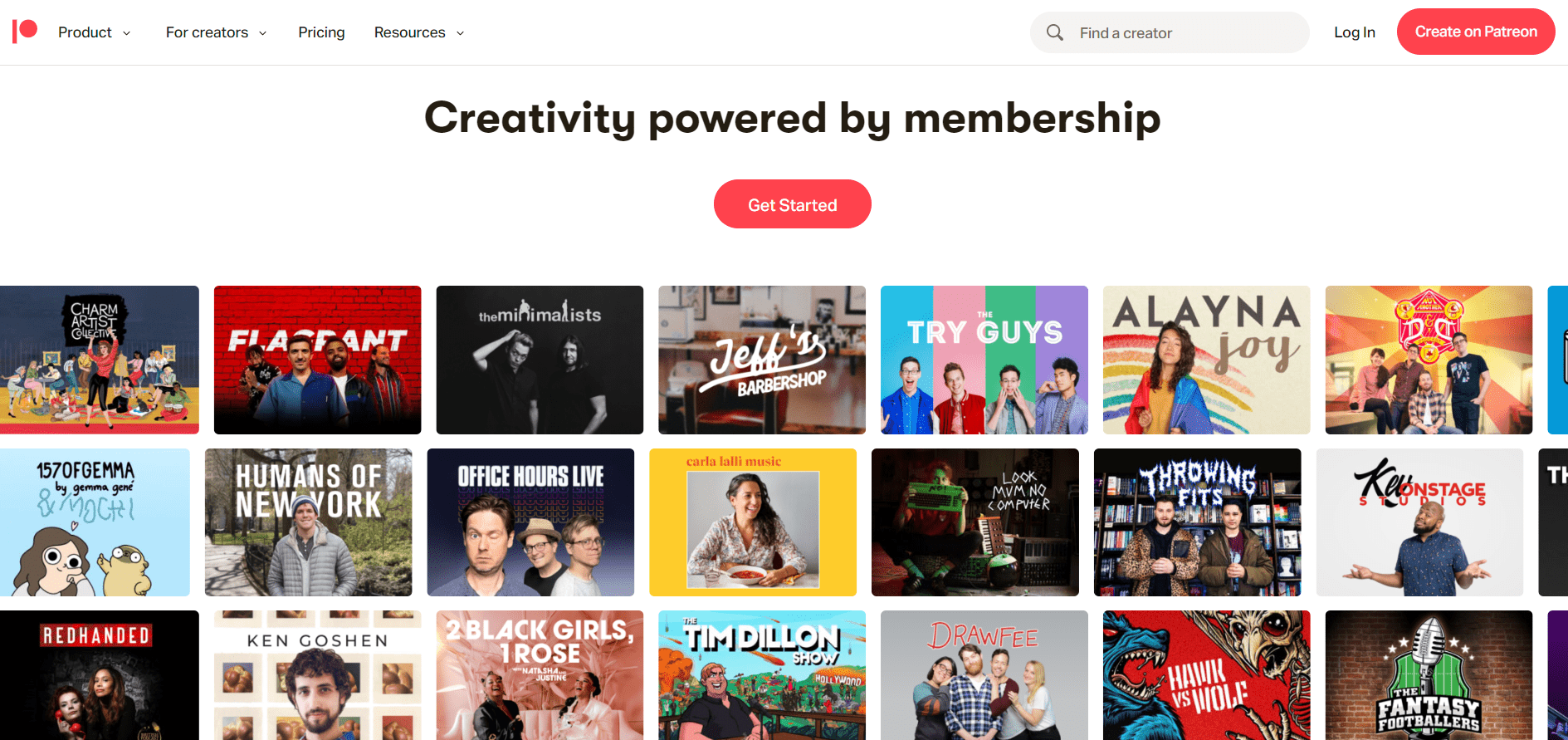 It is a membership platform and is said to be of the best furry art sites, making it pretty easy and simple for artists to get paid for their work. If you are just a beginner in this field, it can be a great site to start your work as a furry artist. It has a vast audience that will render you excellent feedback that will be helpful for your further artwork.
In fact, they believe that people who create artwork should get well paid for it. All you need to do is share your artwork with your patrons and check them whenever you want. This site is pretty different from others as they have a feature that enables you to set up rewards for patrons who reach a specific goal.
Another added benefit of this platform is that it enables "pay what you want," which means that fans can decide whatever they wish to pay. It can be less than the minimum amount mentioned by the platform, i.e., $1- $5 a month, and you can also pay by credit or debit card as well.
19. Furry Art Central
It is a community especially made for furry artists where they can share work done by them. It is a massive community with over 50,000 members, and being a part of it can give you fame and recognition. Fur Affinity powers it; thus, it becomes easier for users to upload their work and manage accounts from both sites. Various features make it user-friendly-
The comment system is pretty good; it enables the users to comment on each other's work and discuss it in detail
The best thing is that the members can search for any furry artwork posted with tags or keywords
This site is recommended because they prefer quality over quantity; thus, you will be able to see excellent artwork and get good feedback on your work. This is one of the best furry art sites.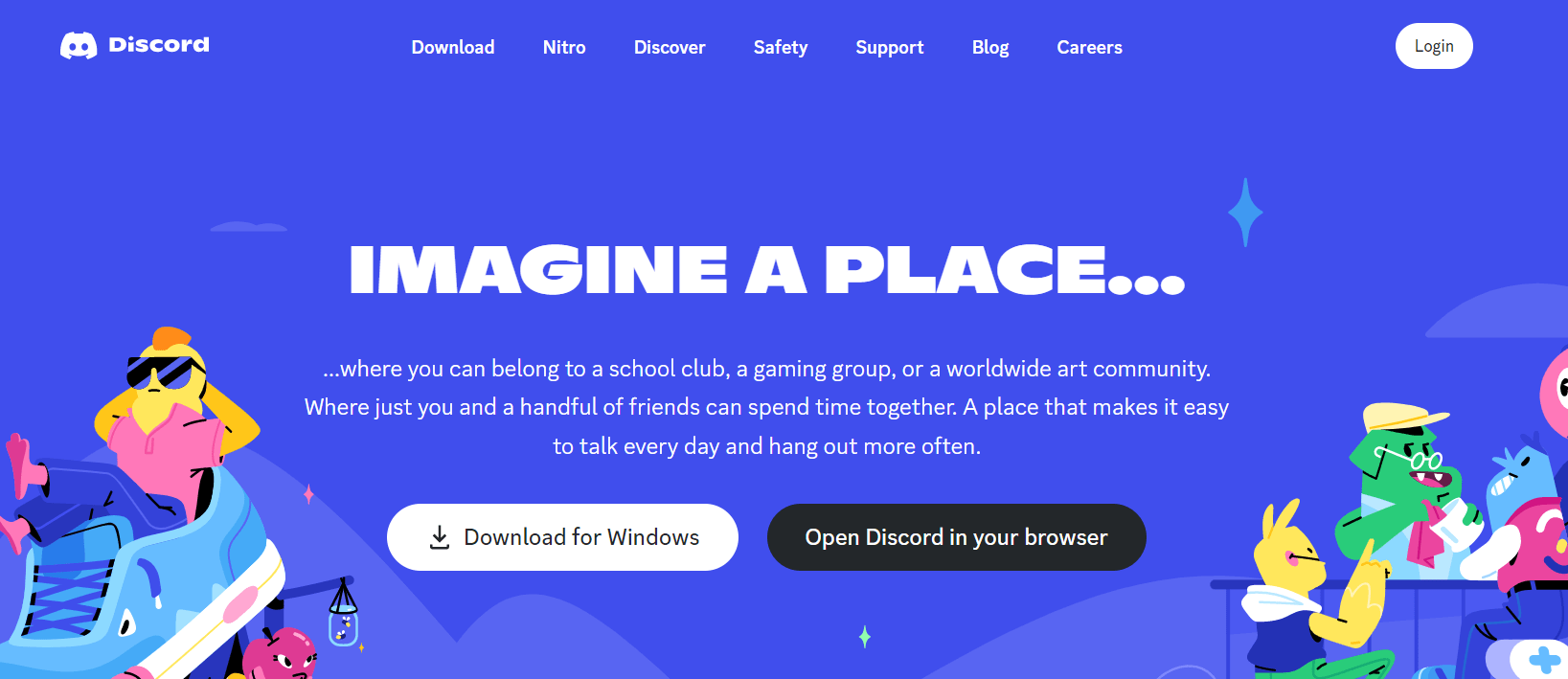 This is a chat app where users can send free voice messages and chat via text. In fact, they can do group chats, share pictures, videos, and even screens with each other. You must be thinking, what is in there for furry artists? Well, they have a huge furry community with more than 1 million members globally. Thus, you can post your work there and also check out others' work as well.
Twitter is the best place to be in today's social media landscape. It has a ton of furry artists from all over the world. It's an excellent way to keep up with news, happenings, and people in the furry community. You can watch live streams; follow all the latest conventions, stay up-to-date on new artists and creators, etc.
Also Read: 23 Best Photography Websites to Sell Photos Online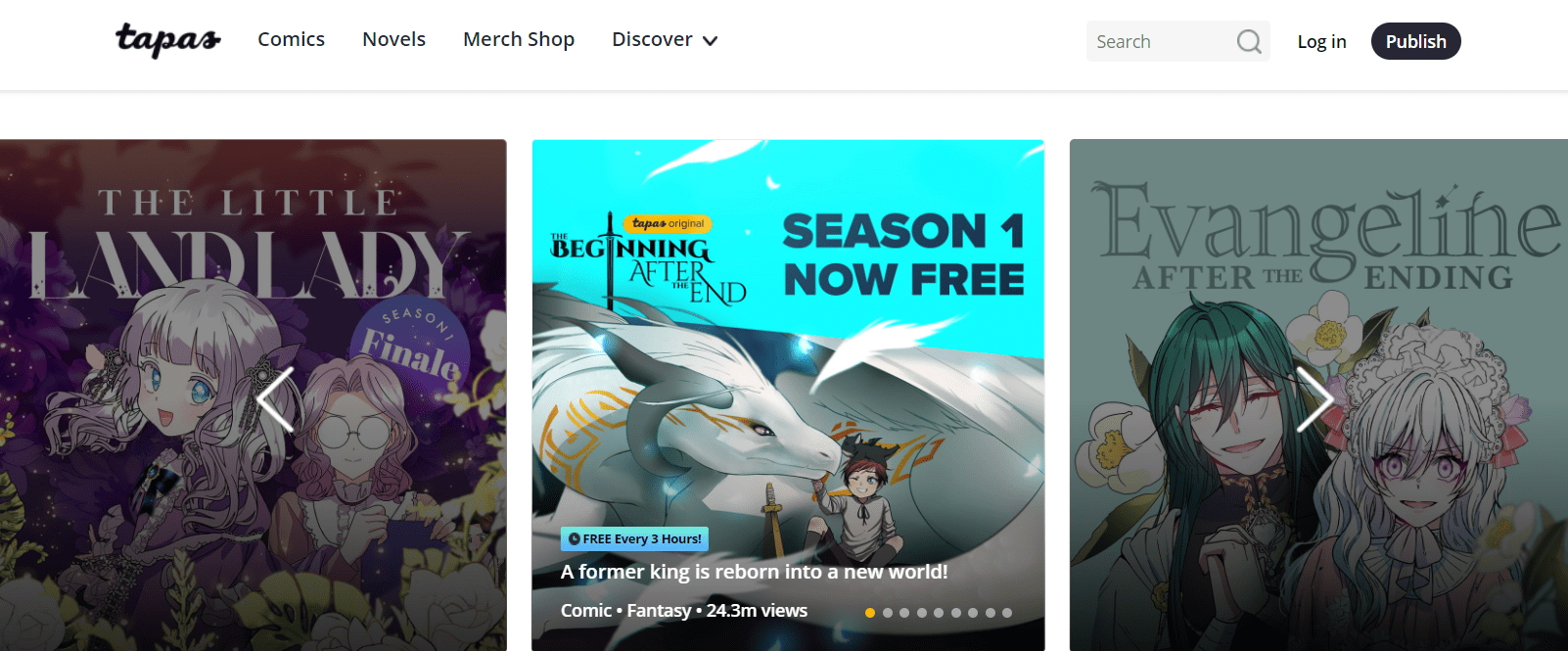 This is also a free app, but you can opt for its paid version as well if you wish to use its premium services. They also have a large community with thousands of artists daily uploading their work. The community and fans both are pretty active on this app; they leave comments and share their favorite comics as well. You will find an extensive collection of furry art and comics on Tapas.
In this article, we rounded up the best furry art sites online to help you find what you're looking for without hassle. The popularity of this niche keeps growing, and if you want to be a part of it, then these websites will be able to help you with that.
For furry art fans, the furry sites offer the opportunity to communicate and socialize with each other. They are likely to have a wide variety of content from different artists. For aspiring furry artists, it is a great chance to be seen by professionals and communicate with them.
FAQs
Given below, we have answered some common queries related to furry art.
Q1. What is Furry Art?
A. The term furry is used to represent artwork that shows anthropomorphic characters, animals, and avatars. Anthropomorphism is the concept of attributing human characteristics to non-human beings. The person who creates such artwork is referred to as a furry artist.
Q2. Who is the most famous furry artist?
A. Some of the famous furry artists are Blotch, Dark Natasha, Wolfy-Nail, and Jay Naylor.
Q3. Which country has the highest furry population?
A. The USA has the highest furry population with 34.9%, followed by Canada at 16.5%, China at 11.1%, the UK at 9.1%, Germany at 8.2%, and so on.
Q4. What is the most popular type of furry?
A. The most popular furries are wolf, fox, domestic cat, and dragon.