In the past few decades, numerous trends have come and faded away after a while, but email marketing is one channel that is still trending amongst the other advanced methods that have evolved.
Email marketing has become inevitable for any digital marketing campaign. The reason why people use it is that it is the least expensive, plus it is one of the most effective methods to convey a message to your target audience.
There are various best email marketing tools on the market that can help make a huge impression on the prosperity of your marketing campaign.
What is Email Marketing?
It is an excellent method through which advertisers reach out to potential customers through emails. You can also use this technique to attract new customers and keep the prevailing ones engaged. Numerous people use it in their marketing strategy because it facilitates maintaining trust with customers and increases customer loyalty.
It is an excellent way of keeping the customers notified about your promotions, new launch, offers, discounts, and any other updates. Email Marketing is a perfect method of reaching out to your customers directly, and through the channel they like.
As per a recent survey, it was observed that customers prefer reaching them through email rather than any other channel.
Why is Email Marketing important?
It is vital to know why including Email marketing as a part of your marketing campaign is necessary. Here are some, along with a few examples, that show how successful it has been in the past:
As per Litmus's State of Email 2020 research, every $1 spent on email marketing helps get an ROI of $42.
Hubspot did another research in 2020, and it was observed that around 78% of the marketers had seen a rise in the usage of this technique observed over the last year.
Yet another survey validates that more than 80% of marketers use email newsletters for content marketing.
All these figures and data prove that Email Marketing effectively reaches out to your audience.
What to watch for in a good Email Marketing Tool?
Picking the Best Email Marketing Software is essential as it should facilitate you to generate profoundly engaging email newsletters with an easy user interface. Various elements set apart good from best, let us look into those factors:
1. Cost- Here, cost just does not mean your budget, but it implies that you should also compare the two platforms. For example, one email marketing tool is for $30 and the other is for $100, see the difference between the features as sometimes it is small.
Do not just analyze them by cost, but also consider the factors that come along with them. Thus, do not opt for the cheapest plan but one that renders full value for money.
2. Ease of use- There are various marketing tools that might take a couple of hours to create an email marketing template that looks great on a mobile device. Although all the tools offer visual email builders and Easy UI, some are still better than others as they come with bell icons, whistles, etc.
3. Deliverability- The email marketing tool is useless if the email you send goes into the users' spam folder. Hence, deliverability plays an important role in email marketing. There are a few factors that you should look upon to check the deliverability of email marketing tools, such as:
Read the reviews
Check blacklists
Monitor the reputation of their IP addresses
4. Email Marketing features- All the best email marketing software tools of 2021 offer excellent features like autoresponders, pre-designed email templates, and visual email campaign builders. There are only a few tools that offer more advanced features that can help save your time and give better results. Thus, you can review where you get more characteristics and then make the ultimate decision.
 5. Reporting & Analytics- When it comes to reporting functionality, email marketing tools offer very little in this aspect. But, reporting and analytics play an important role when it comes to a marketing campaign. Hence, you should look at the reporting offered by the tools and then decide which one to opt for.
 6. Customer support & Training- Read the reviews about the type of customer support they offer as various platforms do not look into the queries after taking the fee. But, some of them offer world-class training and render excellent customer support.
 7. Security & compliance- Not to forget the most important factor, security and compliance. These are the two elements that are important for almost every organization. Hence, never compromise on them and check the reviews and ratings before jumping on to the final decision.
These were some of the major factors that everyone should examine before determining the best email marketing software. Now, let us look at some of the most renowned tools that will assist you in selecting the perfect software for you.
33 Best Email Marketing Tools for Small Businesses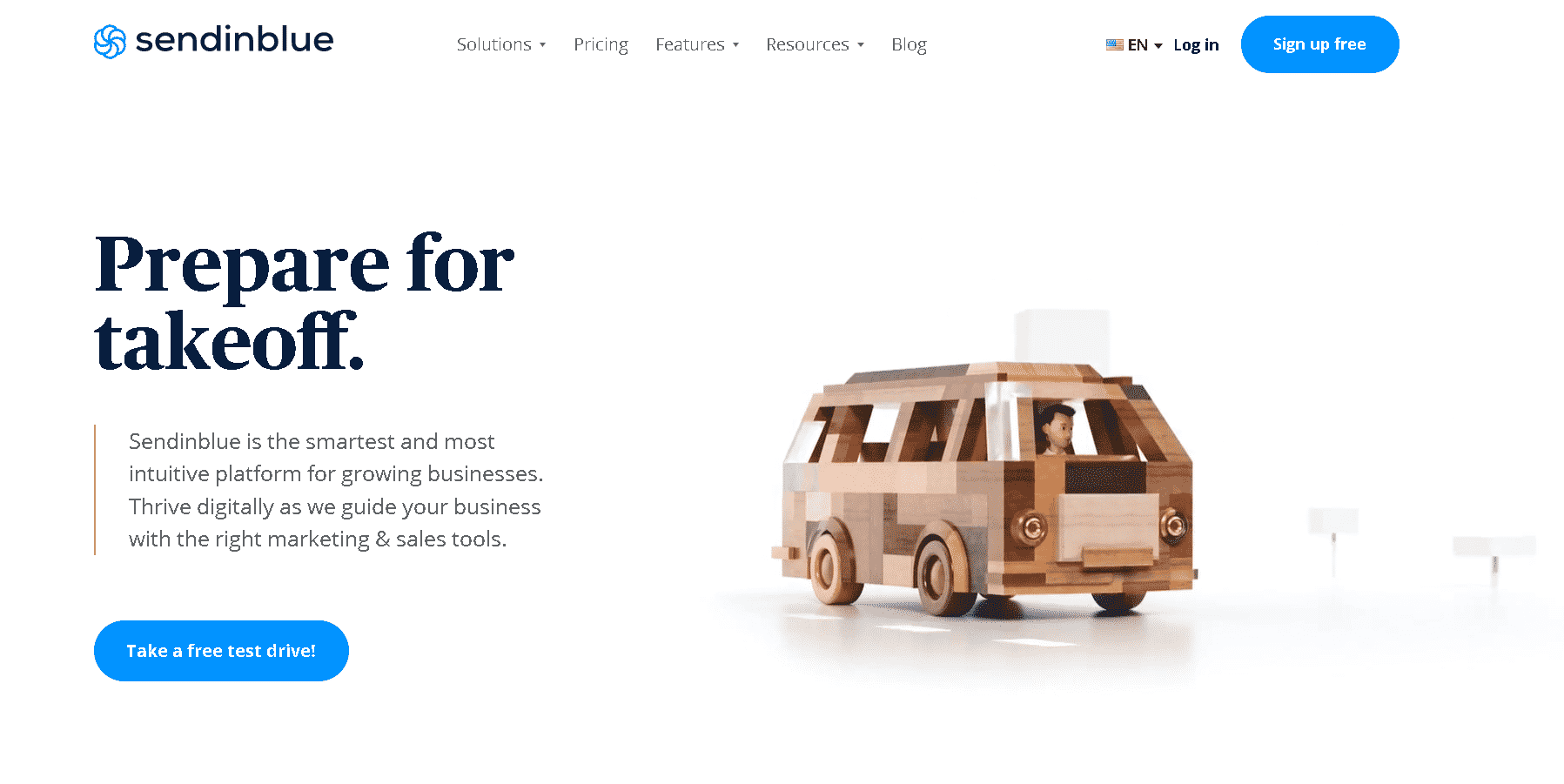 It is a complete SMS and email marketing software for businesses. This editor is completely functional in the mobile browser. This tool is also said to be one of the most reliable transactional email services. The best part about it is that it helps you run a campaign in an automated and flawless way.
Features:
Ease of use
Drag & Drop Editor available
Marketing Automation
Facebook Ads
CRM integration is available to get insight on contact details
Mobile-friendly editor
Sign-up forms
Dynamic content to give your emails a personal touch
Pricing:
It comes with a free plan as well.
The basic plan starts at $25/month with 20,000 emails.
The Premium plan costs $65/month.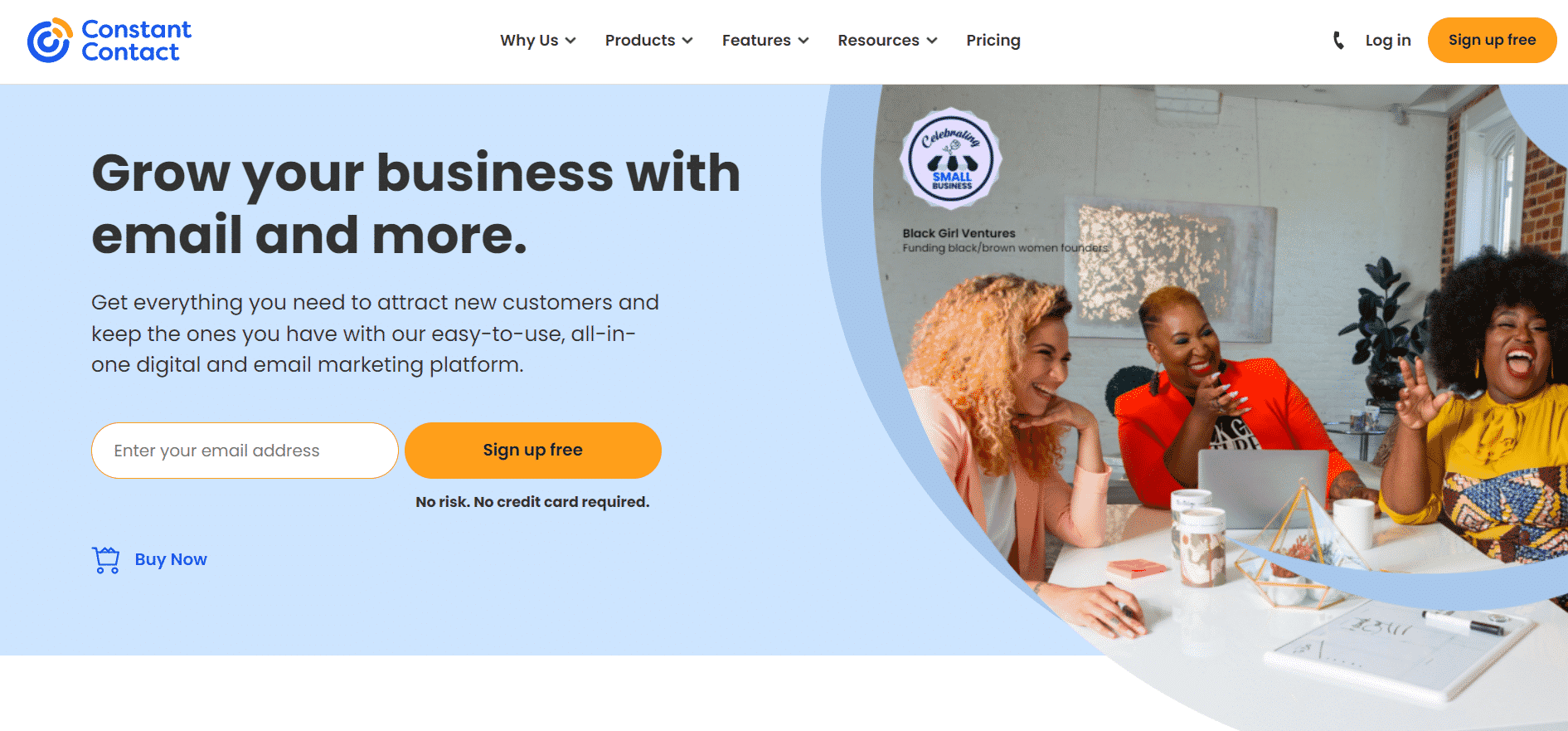 This is one of the fastest-growing email marketing tools as it provides some of the best features and is pretty easy to use. It offers automation, surveys, A/B testing, can import your email contacts effortlessly, and much more. With the help of this tool, you can generate elegant marketing emails and tons of responsive templates.
Features:
Real-time email tracking
Automatic welcome emails
Constant Contract gives numerous options for importing your email contacts. Some features are copy-pasting, uploading emails in quantity from a file, and sending contacts from Gmail, Outlook, and other 3rd party apps. The entire process itself is straightforward to follow
Contact management
Reliable deliverability mechanism
It uses a drag and drops functionality collectively with element blocks
Pricing:
It comes with a 30-day free trial. In this free trial, you get 100 contacts.
The Basic plan is for $9.99/month.
The Email plus plan is for $45/month.
Also Read: 40 Best Influencer Marketing Platforms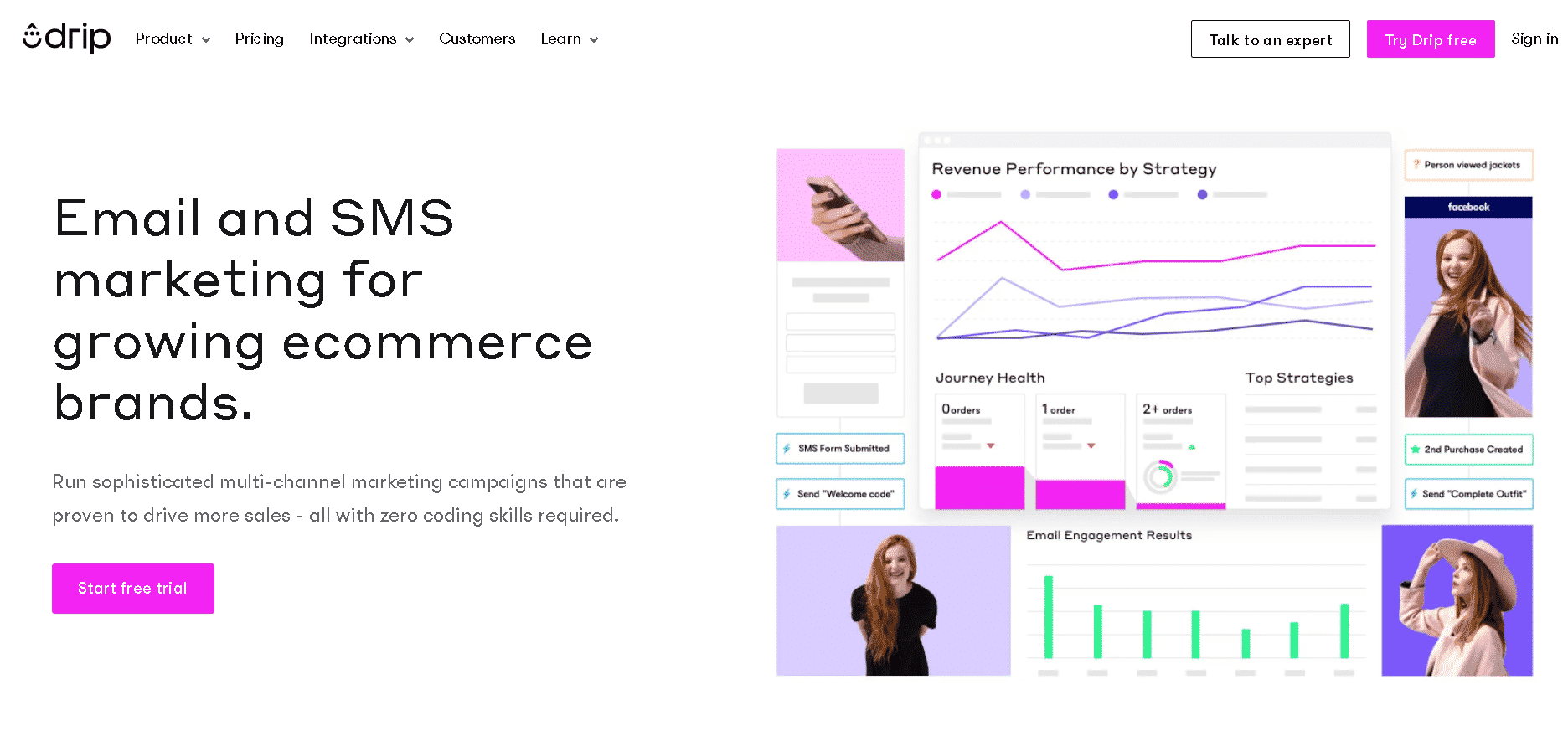 It is a robust enterprise email marketing platform that is best suitable for bloggers, e-commerce, and digital marketers. This tool comes with a visual email builder that can help make awesome marketing emails and SMS from scratch.
Features:
Drip comes with a nifty visual builder for the consumer funnel flow; if you want, you can do a split test to choose the better one.
It offers a visual workflow builder to create custom email campaigns
Various other features comprise message personalization, drag, and drop tools, integration with e-commerce platforms including Shopify, customer segmentation options, comprehensive data analytics, contact tags, opt-in forms, and much more
Reporting dashboards
Visual automation
Email and SMS marketing
Pricing:
It comes with a free 14-day trial which can be used to examine all its features. Here is the brief about its paid plans:
Up to 500 contacts: $19 per month
501 to 2,000 contacts: $29 per month
2,001 to 2,500 contacts: $39 per month
2,501 to 3,000 contacts: $49 per month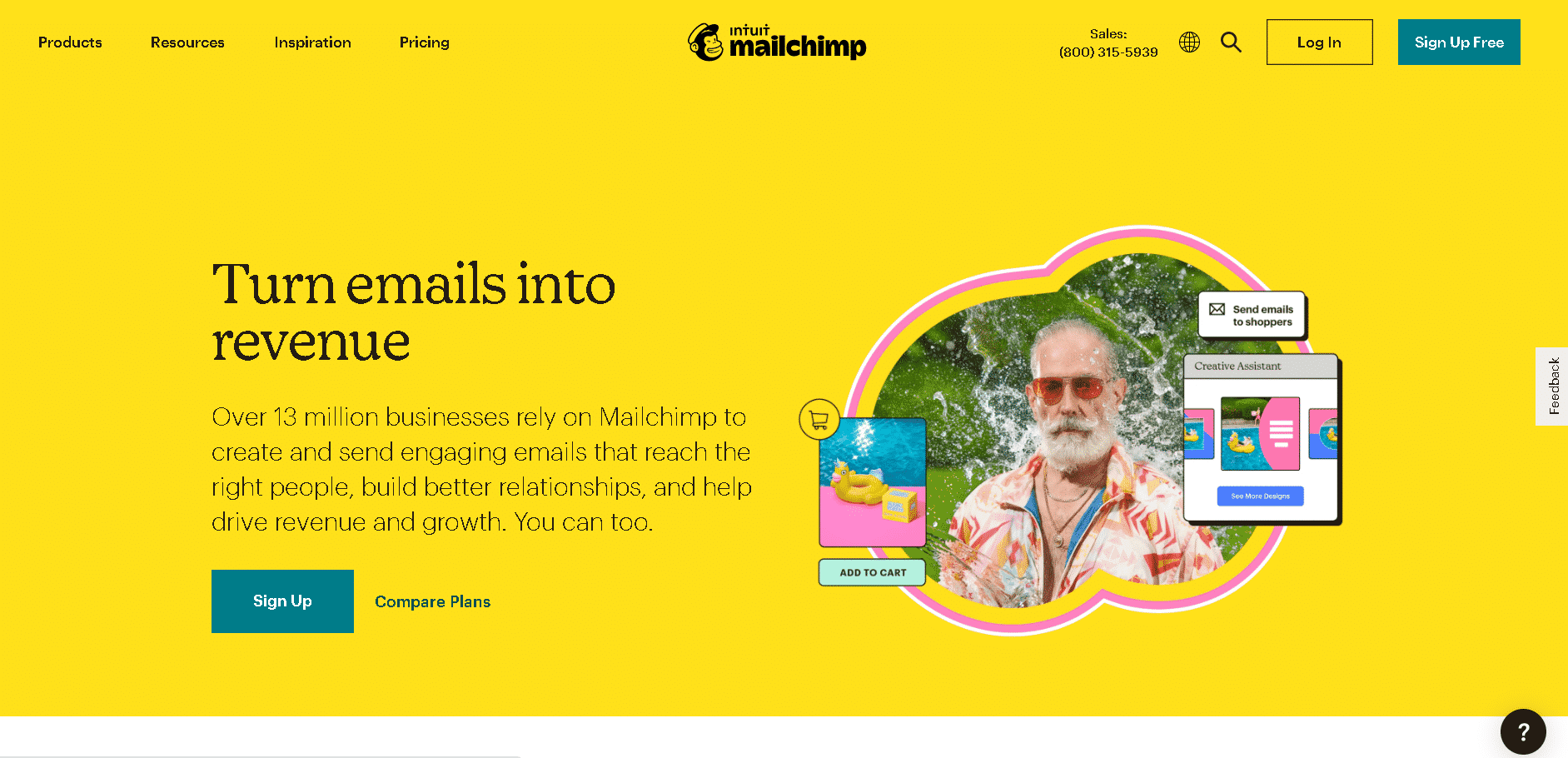 It is one of the best free email marketing tools as the features it offers are needed the most by businesses. The best part is that it has an easy-to-use interface that enables you to create, schedule, track and send marketing plus transactional emails.
Features:
It offers round-the-clock email and live chat support with paid plans. You also get additional phone support if you opt for the highest-paid plan
Spam filter diagnostics
Clear reporting that helps optimize future sends
Advanced drag-and-drop builder
Autoresponders
Easy to build and customize campaigns
Advanced contact list segmentation
Pricing:
Mailchimp comes with a free plan; it includes a basic template with 2,000 contacts and up to 10,000 monthly email sends.
It also has three paid plans; their cost varies based on the subscribers you have:
Essentials Plan: $9.99 to $270 per month
Standard Plan: $14.99 to $540 per month
Premium Plan: $299 to $1,190 per month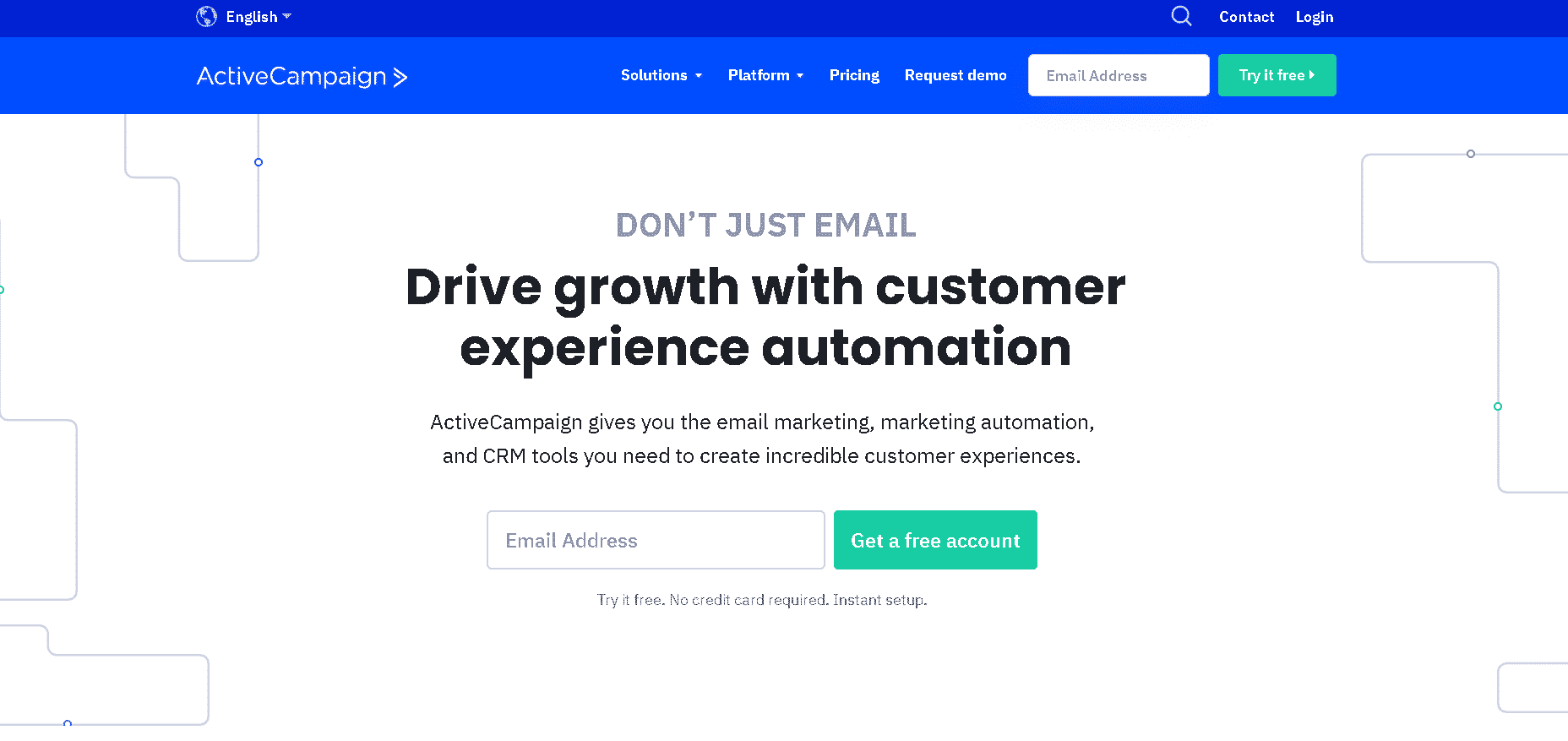 It is an excellent tool for automation as it offers its users hundreds of pre-built automation which can aid you in personalizing campaigns for every user. Within no time, it has gained a lot of fame in the market, and to date, it has more than 1,30,000 small business customers. With the help of its in-built email builder, you can seamlessly create beautiful marketing emails in multiple formats.
Features:
Marketing automation
Drag-and-drop campaign builder
The best part about Active Campaign is that there is no restriction to the number of emails you can send with their plans
Web personalization
Helpful, friendly, and quick customer support
Split testing
Pricing:
It comes with a 14-day free trial so that you can examine the peculiarities of the software. If you like the software, you can opt for any of its four-price plans. The cost of each plan depends on how many contacts you have. Here are the four plans:
Lite: $9 per month
Plus: $49 per month
Professional: $149 per month
Enterprise: Customizable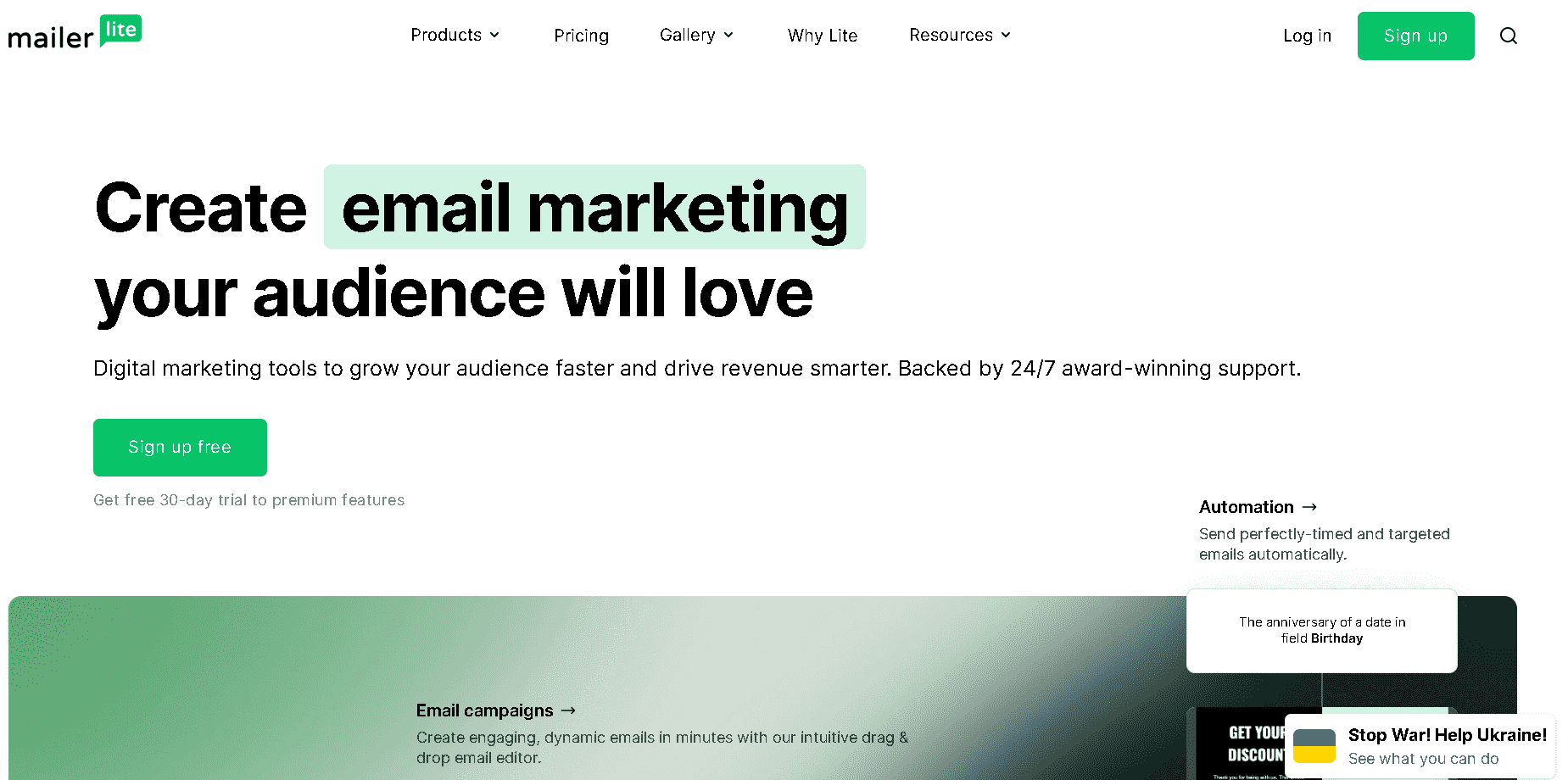 It is an excellent tool for email automation and creating beautiful newsletters with the help of drag-and-drop editors. It is the easiest email marketing software to use, plus you can create the designs you want without much effort. Thus, it is an all-in-one email marketing tool as it helps create, personalize, automate, manage, review, optimize and conquer your email campaigns.
Features:
Build and automate marketing emails
MailerLite has more than 110 integration options with numerous applications and social media accounts
Round the clock live chat and email support
Advanced report generation
It can also help increase your audience base; all you need to do is use its website builder, pop-ups, landing pages, and embedded forms
Pricing:
It comes with- a free-forever plan that comprises 1,000 subscribers and you can send 12,000 emails per month.
You can pay monthly or annually as per your convenience, but you get a 30% discount with an annual plan. The charges of the plan would depend on the number of subscribers you have.
Here is the brief of the price plans:
Up to 1,000 contacts: Free
1,001 to 2,500 contacts: $15 per month
2,501 to 5,000 contacts: $29 per month
5,001 to 10,000 contacts: $47 per month
Also Read: Top 35 Affiliate Marketing Agencies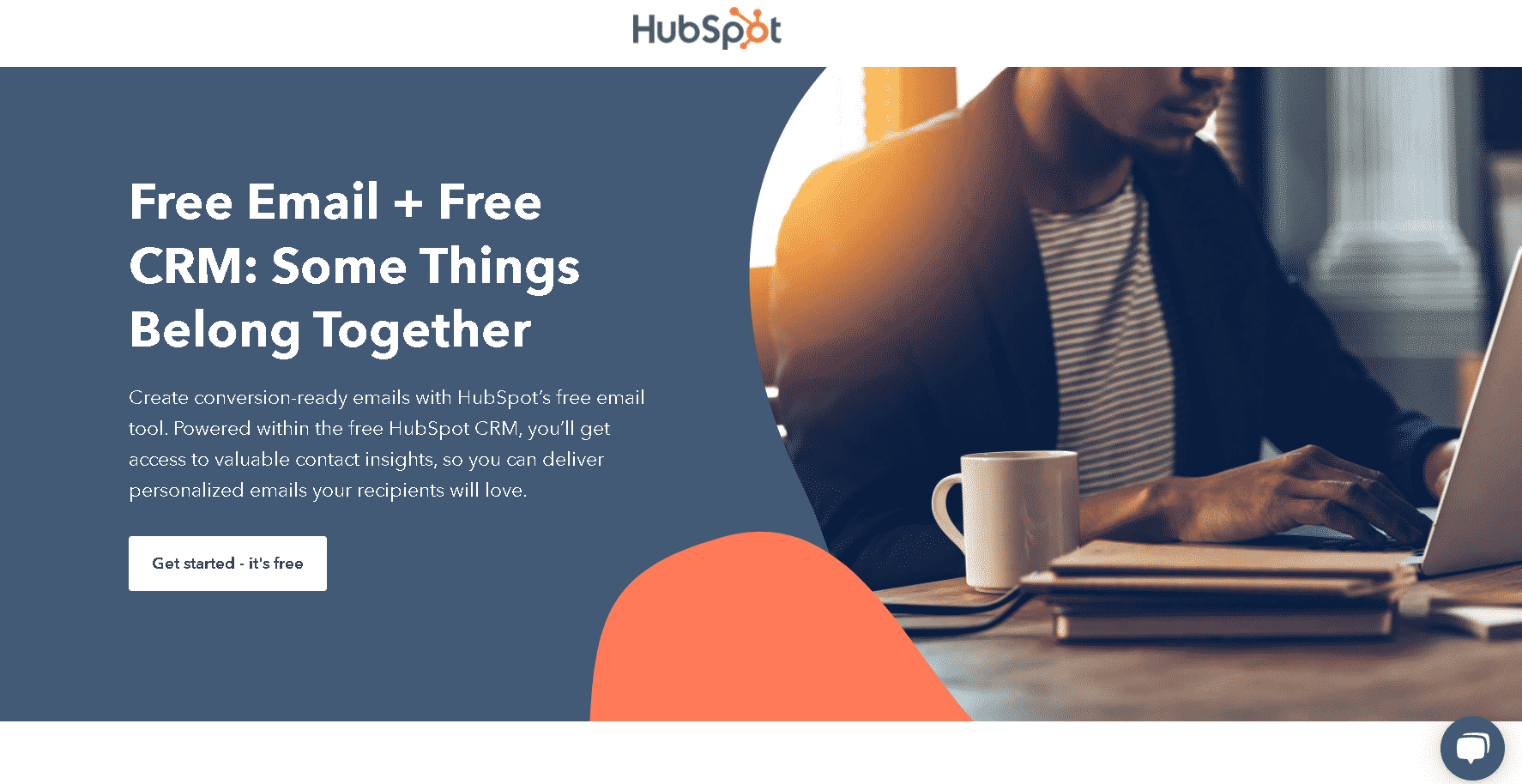 This is a top-class all-in-one sales and marketing platform that comes with numerous amazing features. The best thing about them is that they help businesses flourish irrespective of wherever they are on their business journey. All your contact information can be saved in the CRM of Hubspot and allure the target audience via live chat, online ads, and lead forms.
Features:
Drag and drop editor
A/B testing and advanced marketing automation features
Comes with a comprehensive marketing set that includes CRM, social media, blogging, and email marketing capabilities
Contact list management
Audience segmentation options based on contact list membership and lifecycle stage
Track leads throughout their buying journey
Pricing:
It comes with a 14-day free trial. It is free to store unlimited contacts, but once you exceed the number of emails included in the amount, you will have to pay an additional fee. Here is the list of the paid plans:
Starter (up to 1,000 contacts): $45 per month
Professional (up to 2,000 contacts): $800 per month
Enterprise (up to 10,000 contacts): $3,200 per month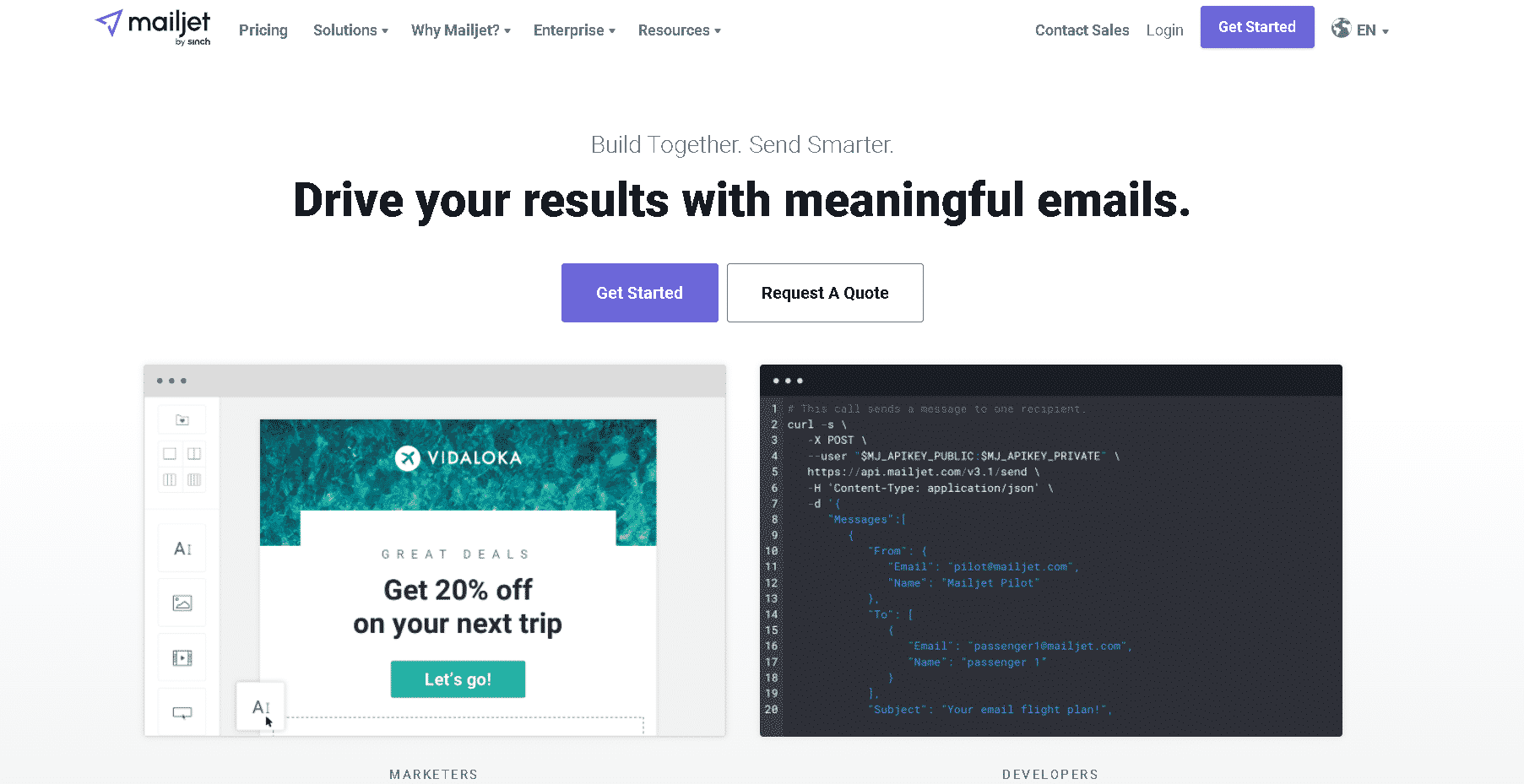 It is one of the best free Email marketing tools as it enables the users to generate, send, automate and review email marketing campaigns. It comes with easy-to-use and collaborative tools that can help you create amazing campaigns, leading to an increase in leads. In addition, Mailjet comes with an array of readymade templates that can help you create fantastic marketing campaigns without technical knowledge.
Features:
Advanced Drag and Drop Editor
With Mailjet, you can customize any pre-designed template and generate responsive emails
Its SMTP server and RESTful API integrate well with other apps
A/B Testing and email validation
It enables you to add dynamic content; it helps create personalized and appropriate emails for every recipient
Mailjet provides a 24*7 support line
Pricing:
It comes with a free plan in which you can send 6000 emails per month (200 emails per day) and 10,000 contacts.
Essential plan- It costs $15 a month. You can send 15,000 emails a month with no restrictions on daily emails.
Premium plan- It comes for $25 a month. You can send 15,000 emails per month with no restrictions on daily emails.
If you have any other requirements, you can contact them as they also offer customized plans.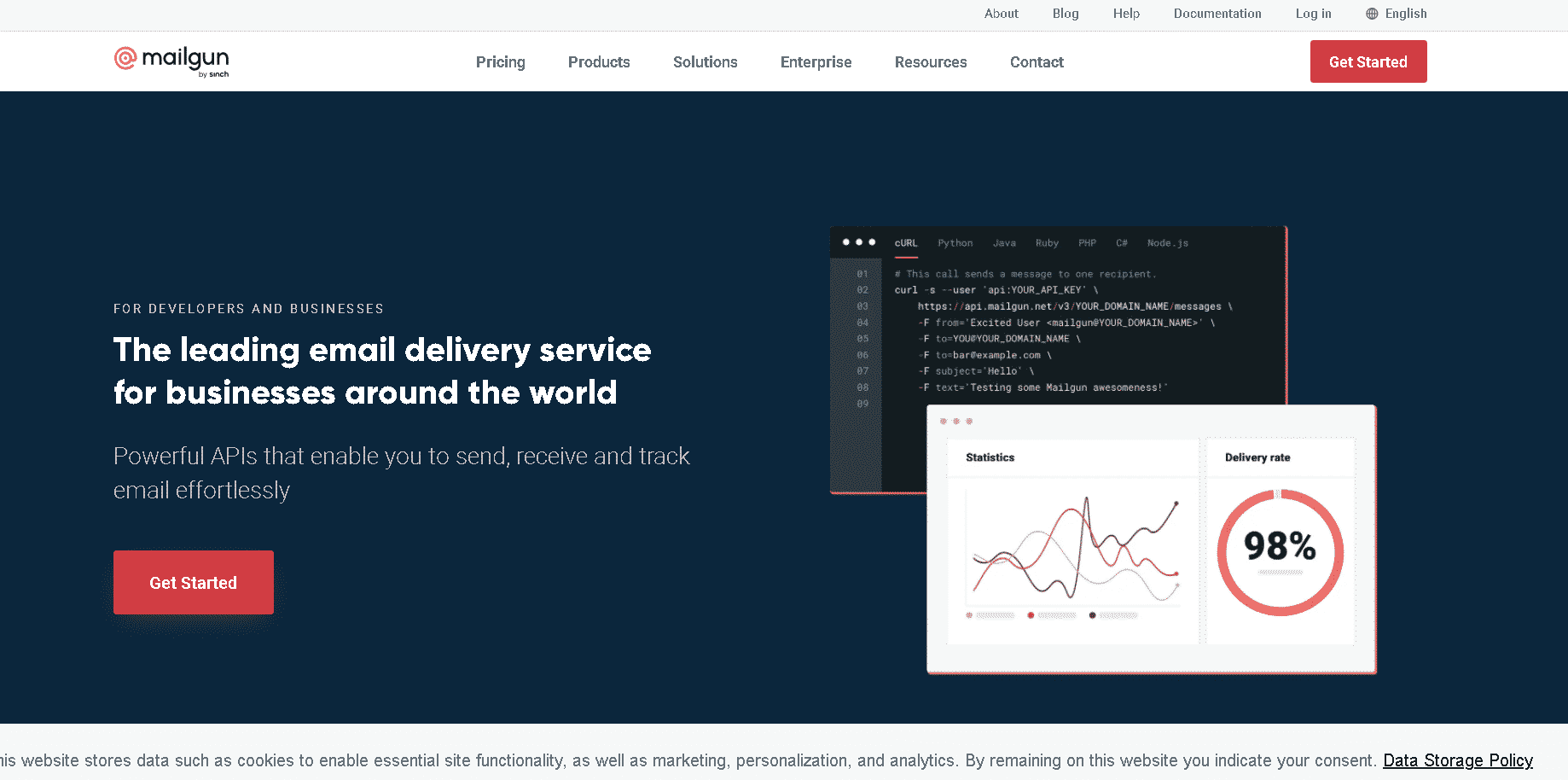 This email marketing tool is best suited for people who have the requirement of sending bulk and transactional emails via SMTP relay and HTTP API. It comes with a suite of email marketing tools that aid in optimizing your campaigns. Mailgun is a cloud-based tool that is designed particularly for developers and businesses.
Features:
Automatic email parsing
Email ID validation
Real-time email analytics
Burst sending of up to 250,000 emails every minute
Personalize, schedule, and track emails in real-time
A/B test of data
Improved email deliverability
Mailgun comes with an in-built email API which sets the platform in a couple of minutes
Pricing:
Free for 5000 emails for three months
Paid plans start from $35 per month.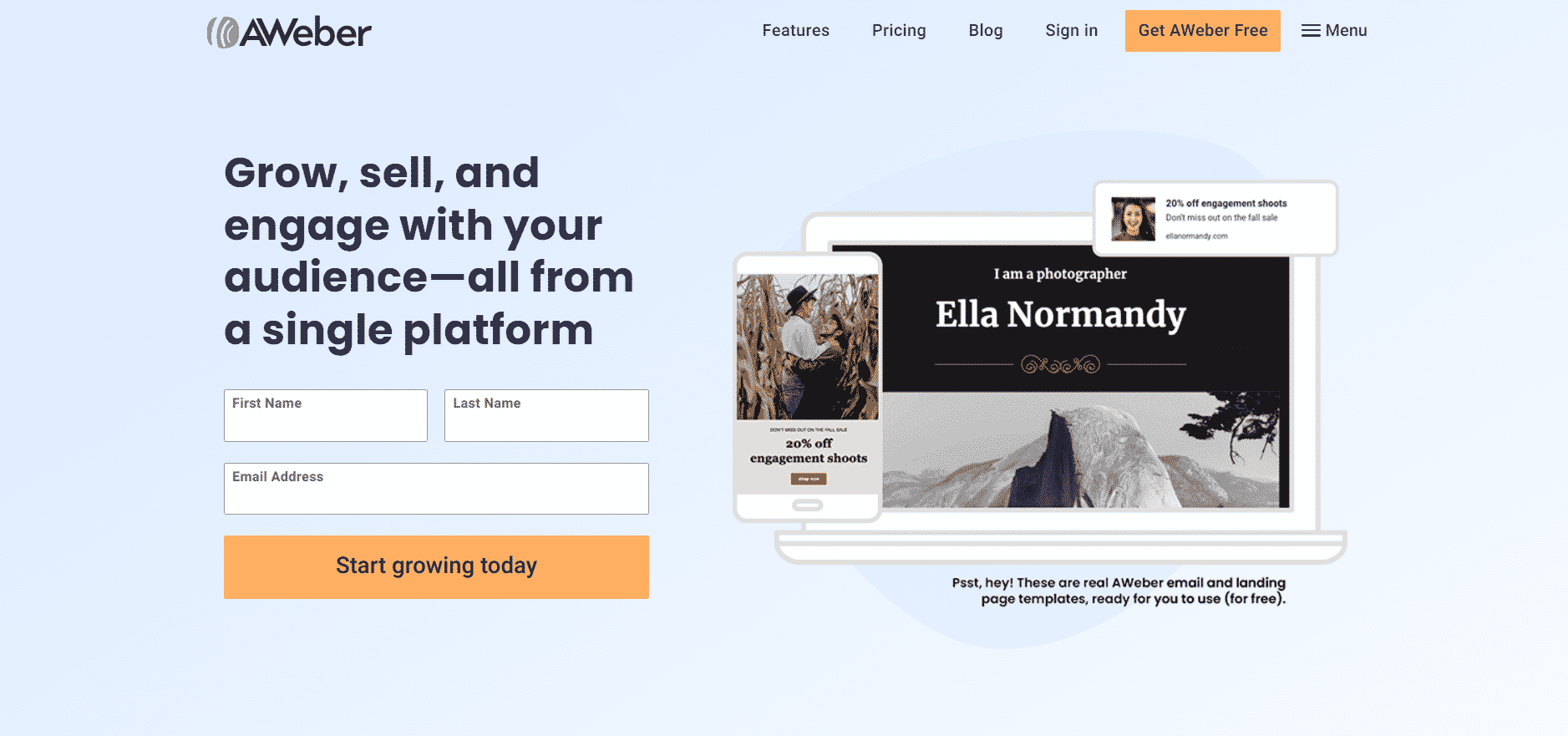 This tool is best for people who have established their business in the web marketing industry and are hunting for a reliable and reasonable tool. It is one of the oldest email marketing tools, and the best part is that you get expert access irrespective of the paid plan you opt for.
Features:
It comes with a huge gallery of visually alluring templates
You also get pop-ups and sign-up forms for data collection
AWeber has an AI-powered email template designer; it makes the complete process of generating email pretty easier
Its autoresponder tool is an excellent method to engage your customers
Real-time data analytics
Built-in analytics dashboard
Pricing:
Free plan for 500 subscribers.
Premium plan – $19/month for unlimited subscribers.
Also Read: 55 Ways To Advertise Your Business For Free On the Internet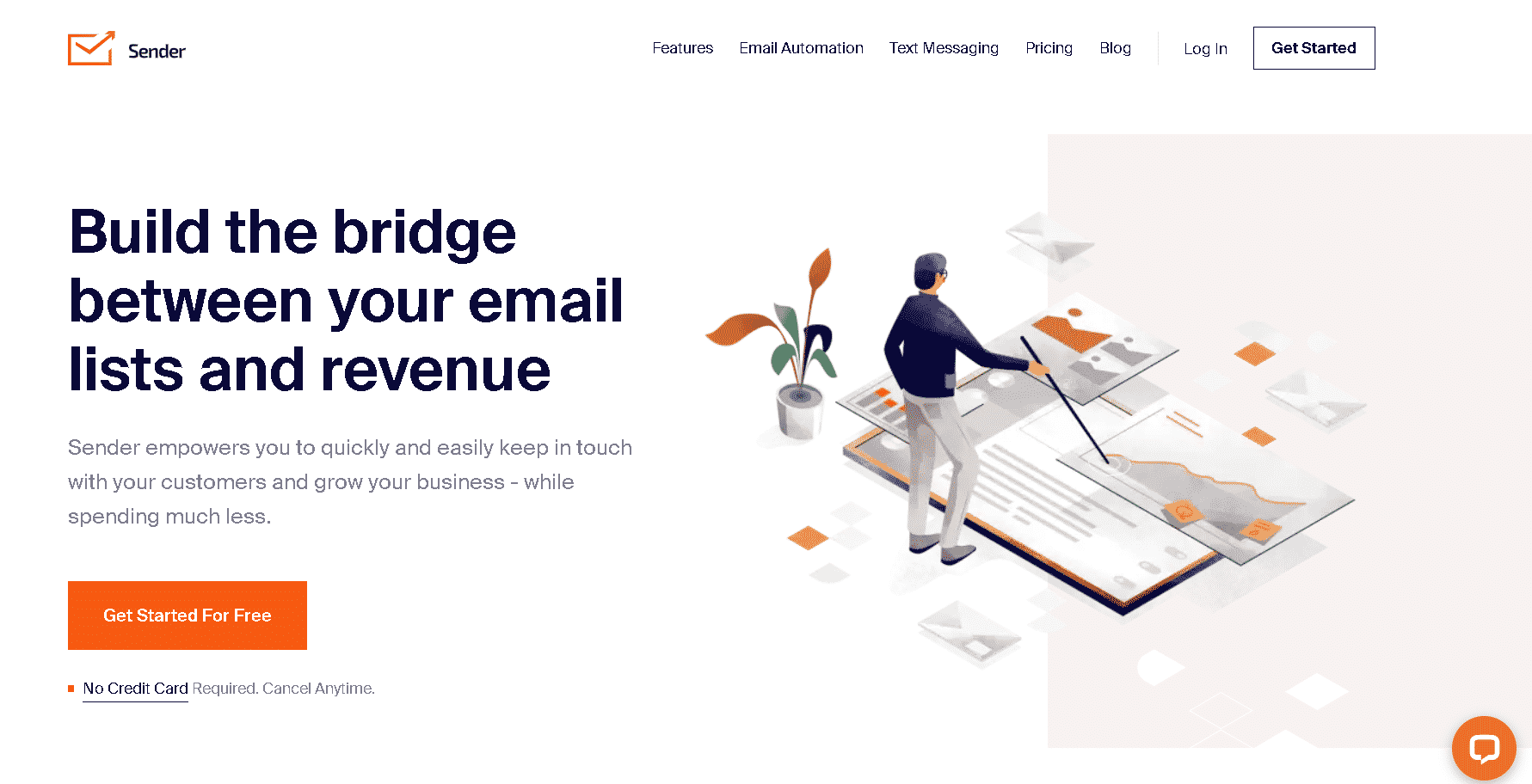 It is one of the best email marketing software for entrepreneurs and established businesses to flourish. The highlighting part of this software is deliverability, as it can help increase engagement with customers and lead to increased sales. With Sender, you can make beautiful newsletters even if you have no HTML knowledge.
Features
It helps create signup forms and pop-ups that can help increase the customer base
Enables you to personalize your newsletters for every recipient; it leaves a huge impact on the customers
You can use its email automation feature for reviewing abandoned carts, welcome emails, and personalized celebration emails
Sender's robust analytics feature enables you to get information on who opened your emails, clicked on the links, the time they opened the email, and much more
Offers free template library
Pricing
Free plan available (For up to 15,000 emails per month)
5,000 subscribers plan: $15
10,000 subscribers plan: $25
25,000 subscribers plan: $62.50
50,000 subscribers plan: $125
100,000 subscribers plan: $250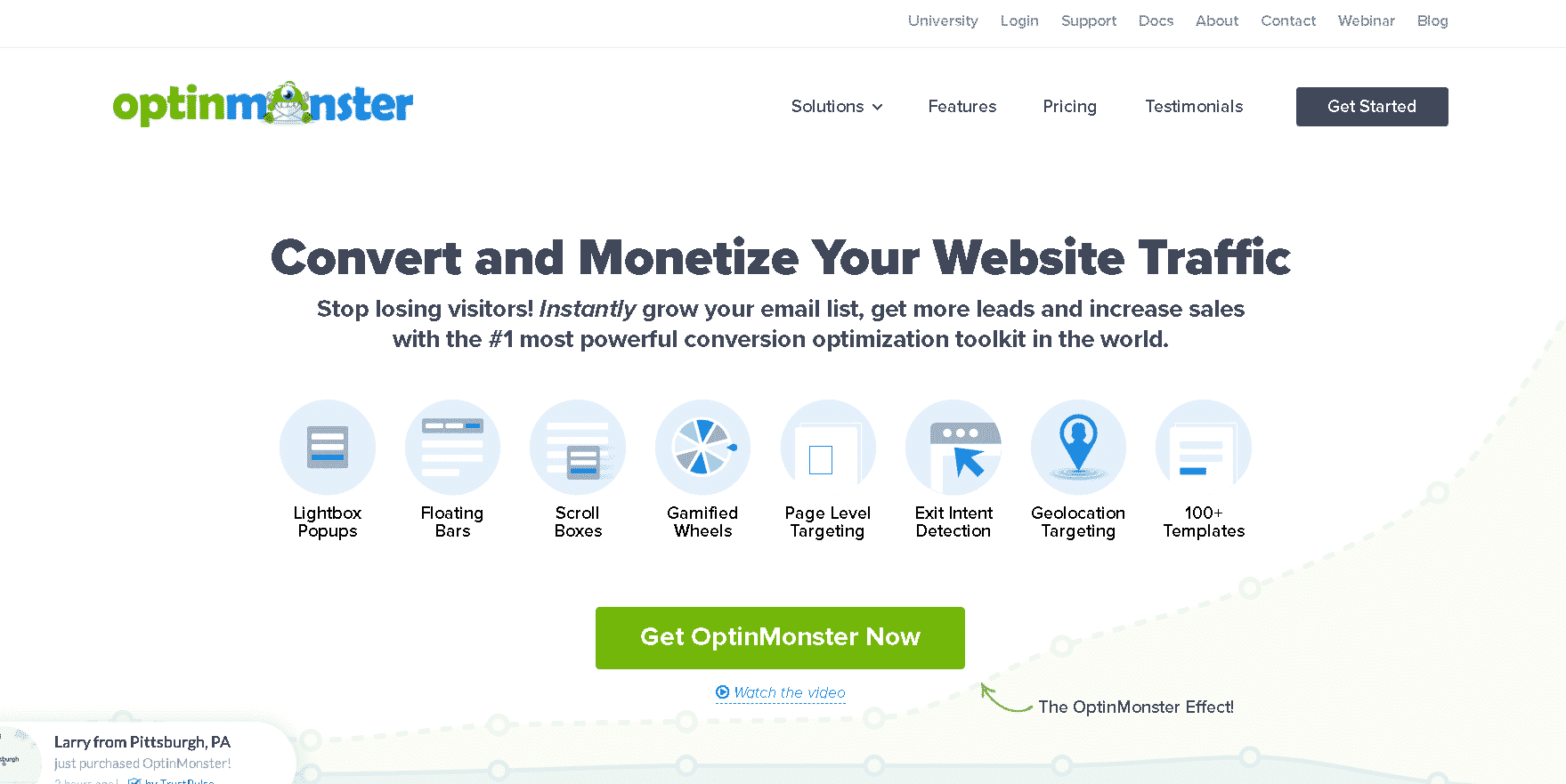 It is excellent conversion optimization software that lets you easily transform website visitors into customers and email subscribers. With the help of this tool, you can create, send and automate email, SMS, and push notification marketing campaigns effortlessly.
Features:
It comes with easy-to-integrate lightbox pop-ups
You also get welcome mats
OptinMonster offers slide-in modules
You also get coupon wheels
Various other features aid you in automatically targeting potential users and showing them personalized campaigns
Pricing:
Basic Plan- $9/month
Plus Plan- $19/month
Pro Plan- $29/month
Growth Plan- $49/month
Note: All its plans are billed annually.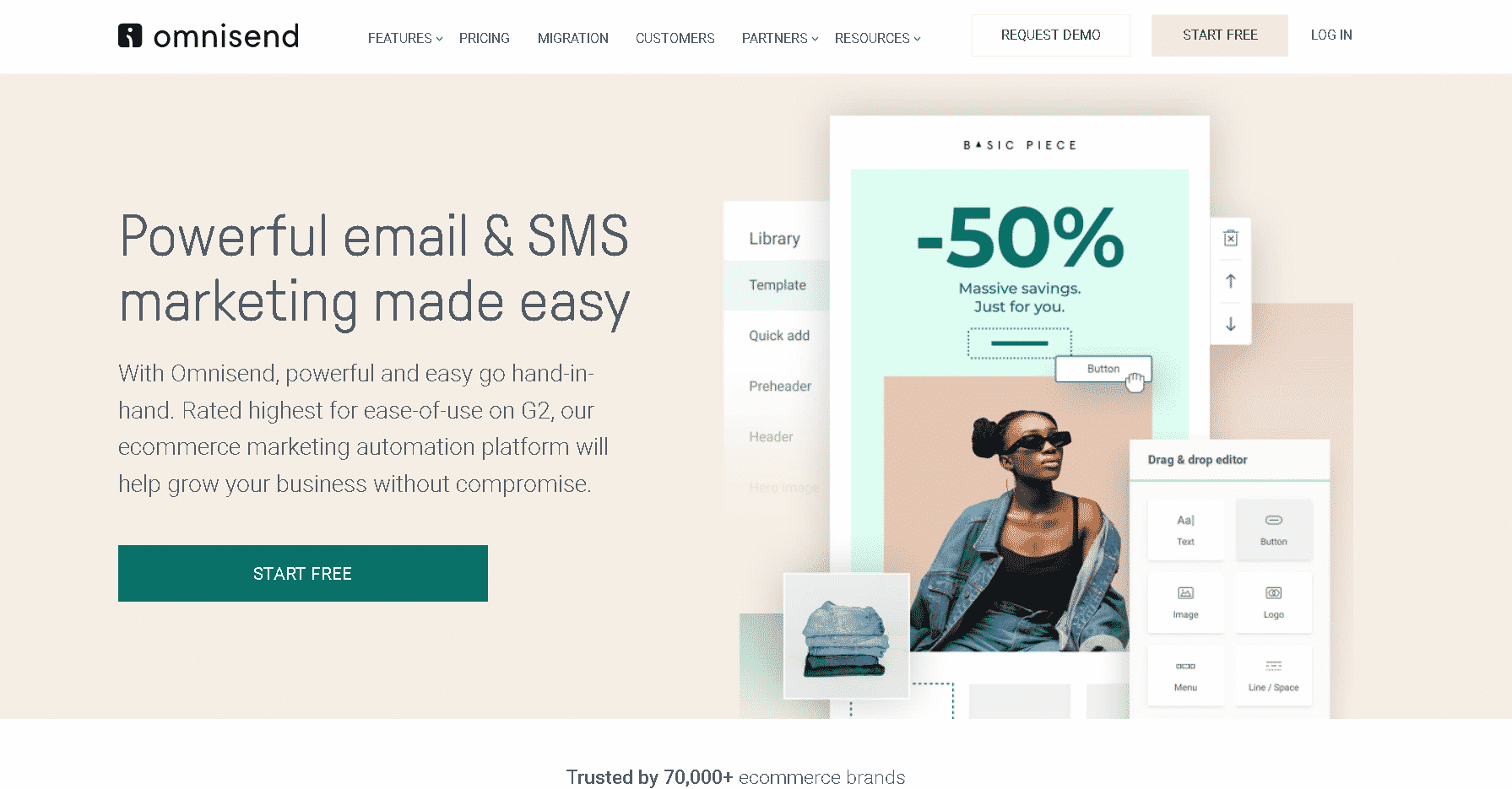 It is an excellent platform that offers its users numerous templates, an intuitive email builder, and stock images for instantly creating numerous types of marketing emails. It is one of the fastest-growing tools in the automation marketing world. It renders a robust automation tool that enables you to automate your emails and boost email marketing results by using other channels.
Features:
Robust A/B testing system
Advanced segmentation
Visual email builder
It integrates all your communication platforms in one place
Omnisend has comprehensive audience insights; you can use it for sending more appropriate email marketing messages
It empowers its users with smart segmentation that enables layer targeting rules; thus, you can personalize the message as per the target audience
Pricing:
The free plan includes 500 emails/month
Standard plan- $16 per month
Pro Plan- $59 per month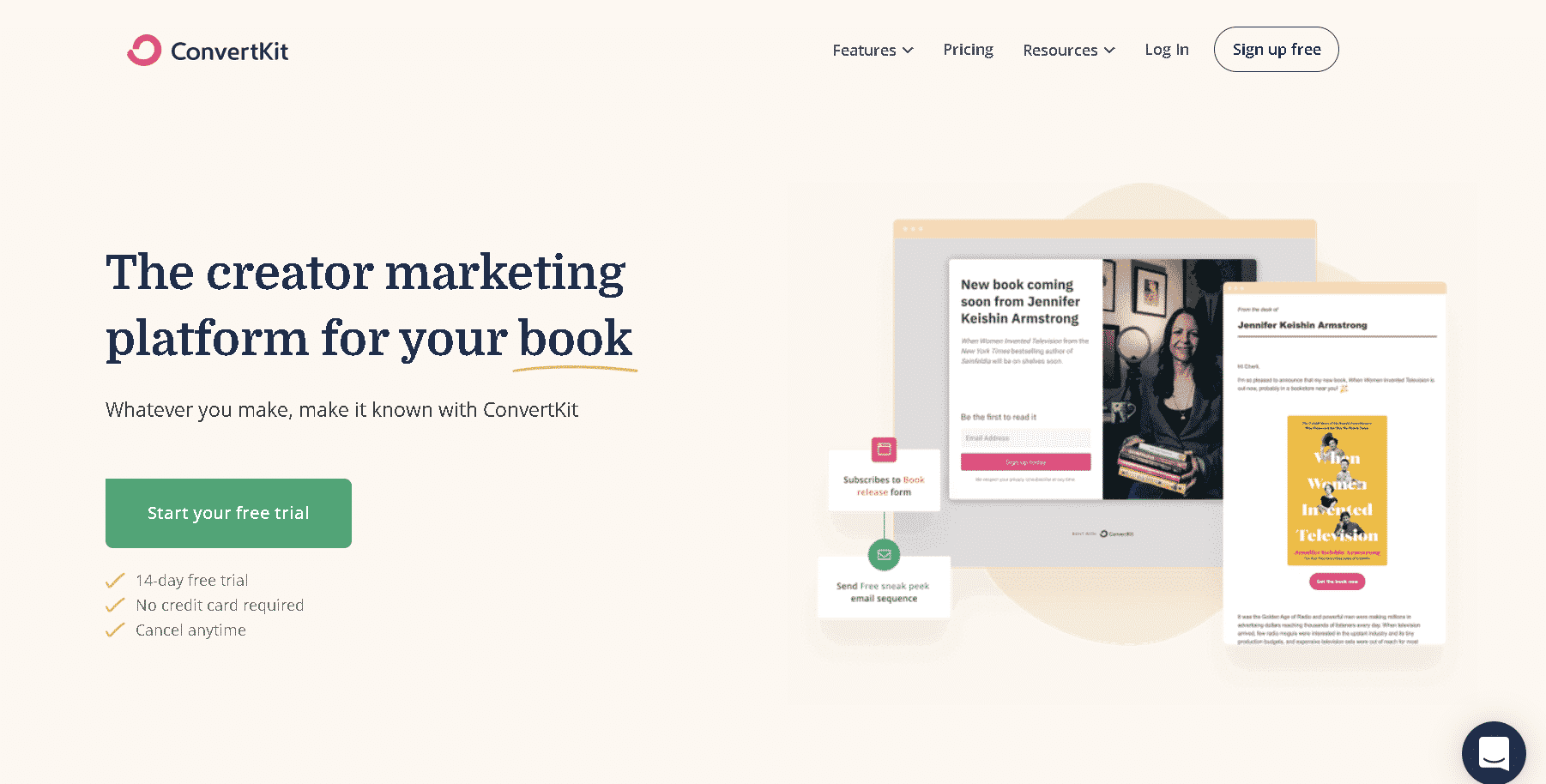 If you are into blogging or your business relies majorly on blogging, there is no better tool than ConvertKit. It enables the users to send attractive offers and incentives without any trouble. You can also send drip mails with the help of its easy-to-manage auto-responders. With ConvertKit, it becomes easier for the users to create emails by using their readymade templates.
Features:
It comes with customizable opt-in forms to attract more subscribers
Easy to use
Offers automated emails to help raise your conversions
Unlimited landing page templates
Time-sensitive broadcasts for bulk emailing
Pricing:
It offers both free and paid plans.
$29 per month on an annual basis with 1,000 contacts
Free plans with 500 subscribers
14-day free trial
Note: They also provide a 30-day money-back guarantee.
Also Read: 200+ Free Blog Submission Sites List
It can be a perfect choice for small businesses that require easy-to-use email marketing tools. They provide a set of numerous templates and stock images, plus you also get an intuitive drag-and-drop editor for generating customized marketing emails.
Features:
Sign-up forms
You can also add and edit images to your email with the help of its amazing features.
More than 1500 integrations
The email editor tool enables you to add effects, stickers, and text to send across your message
A/B testing
Pricing
It comes with both a free and paid plan.
Premium plan- It is for $15/month for unlimited emails.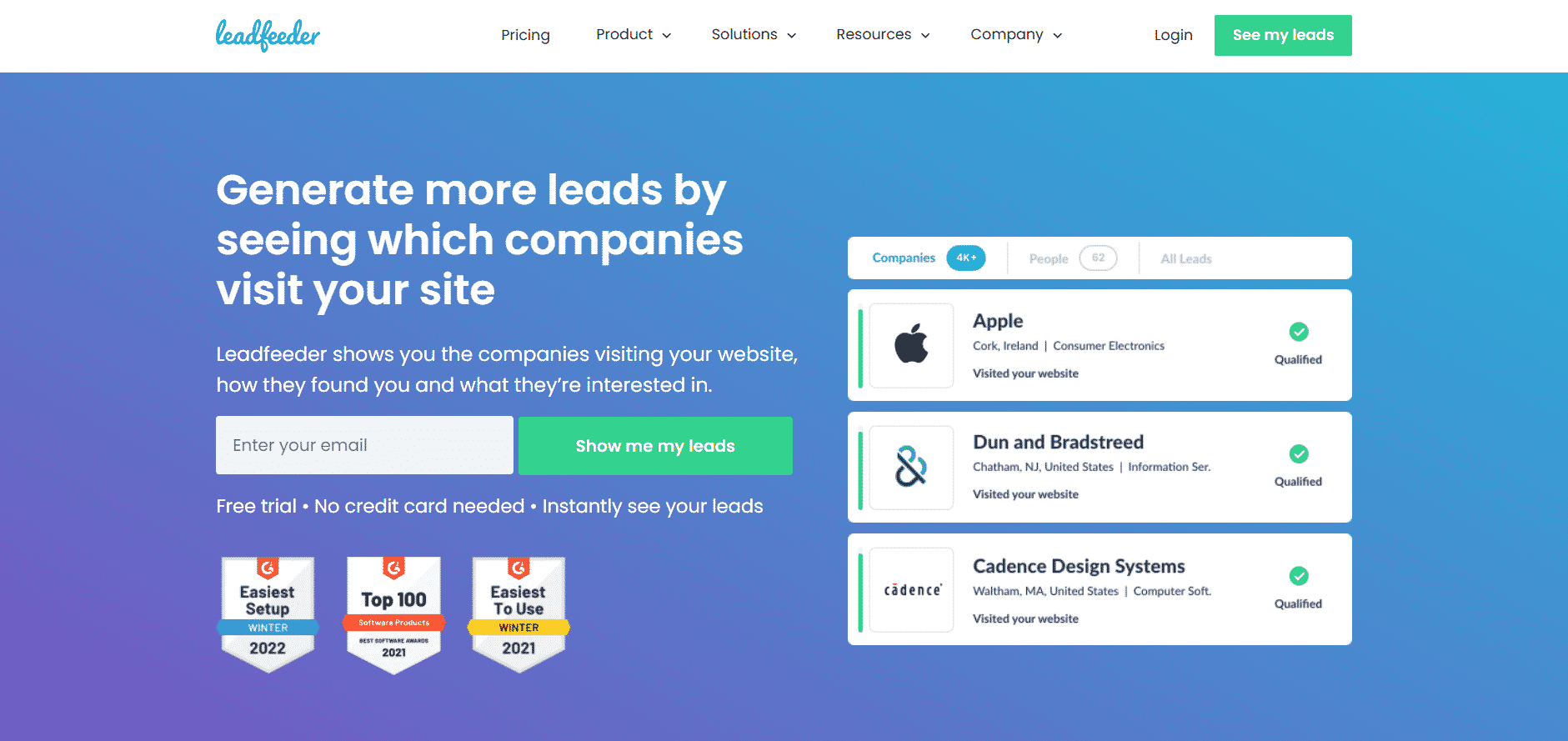 It is one of the best email marketing tools that come with a fantastic website visitor tracking software solution. Once you get the data on people who visit your website, you can gauge more information about them and then send them bulk emails to get more conversions.
Features:
Leadfeeder offers fantastic integrations
Easy user-interface
It helps render high-quality leads
Empowers targeted emails to the right decision-makers
Pricing:
You get a free Lite plan with Leadfeeder.
Its premium plan is $79 a month, and you get a free trial for it.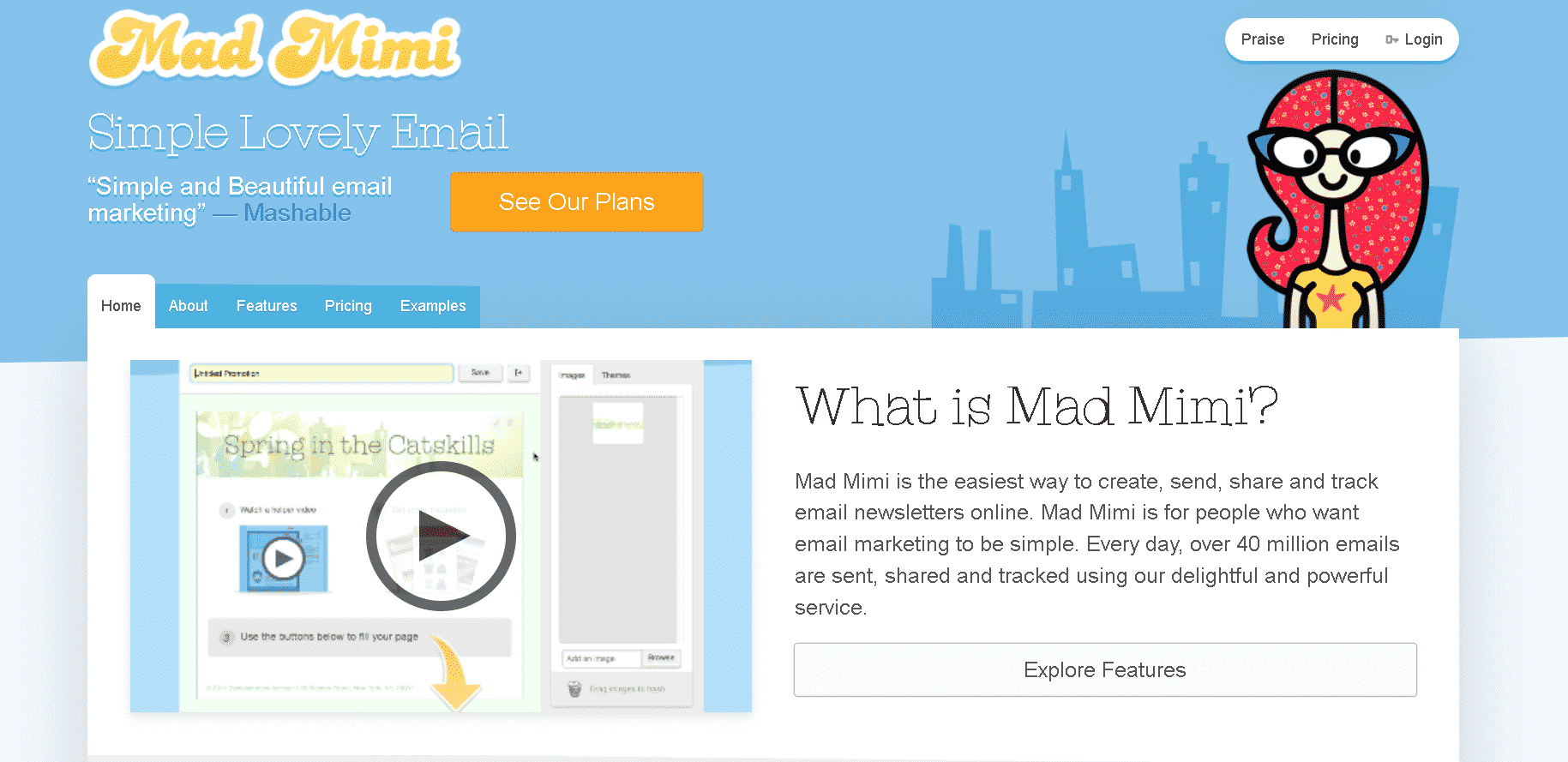 It also comes with a WYSIWYG editor that enables you to make professional-grade emails. You get an option to select from 39 social networking buttons such as like, share, tweet, pin, etc., and customize your emails for adding links. Mad Mimi also comes with a clone tool; with its help, you can copy campaigns and change the original document without making alterations to the previous version of your work.
Features:
Detailed reporting
Integrates well with Google analytics
Mad Mimi also offers "forward to friend" reports
You can also get real-time responses on your social networking activity concerning email campaigns
Pricing:
The price plan begins from $10 a month, and you get 500 contacts.
The pro package is for $42, and you get 10,000 contacts.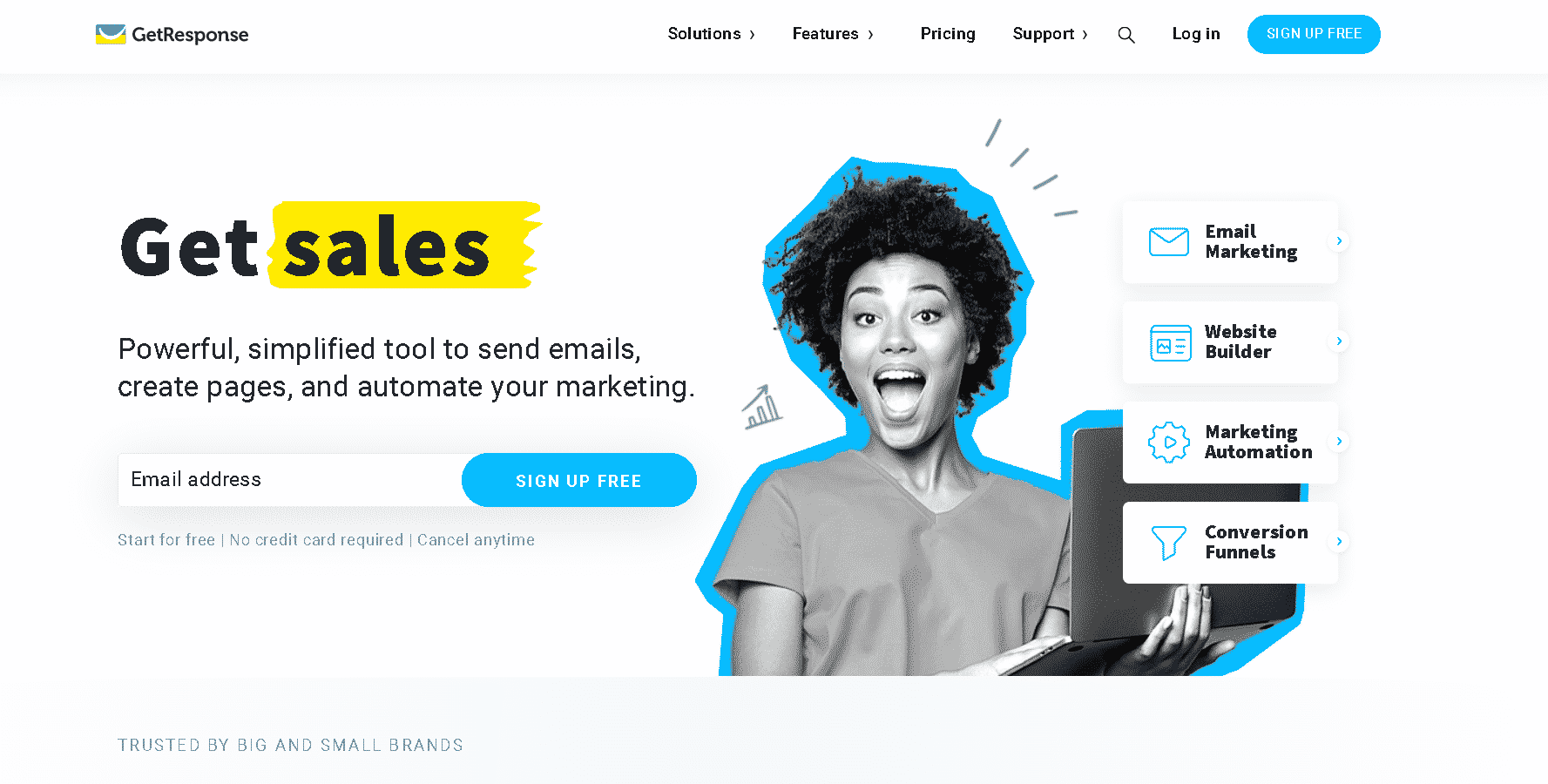 It is one of the most user-friendly platforms that help boost customer engagement. The dashboard comes with quick action buttons with the help of which you can add your contacts easily. In addition, you can upload the contacts individually or import them from a file in just a couple of minutes.
Features:
Advanced segmentation
It comes with automated email options and blog digests
A/B testing
GetResponse offers customer support round the clock over the live chat and email
Split testing of emails
Drag and drop email design tools
Mobile-friendly emails
Pricing:
$19 per month with 1000 contacts
30-day free trial (No credit card needed, cancel anytime)
Also Read: 25 Best Affiliate Marketing Platforms & Networks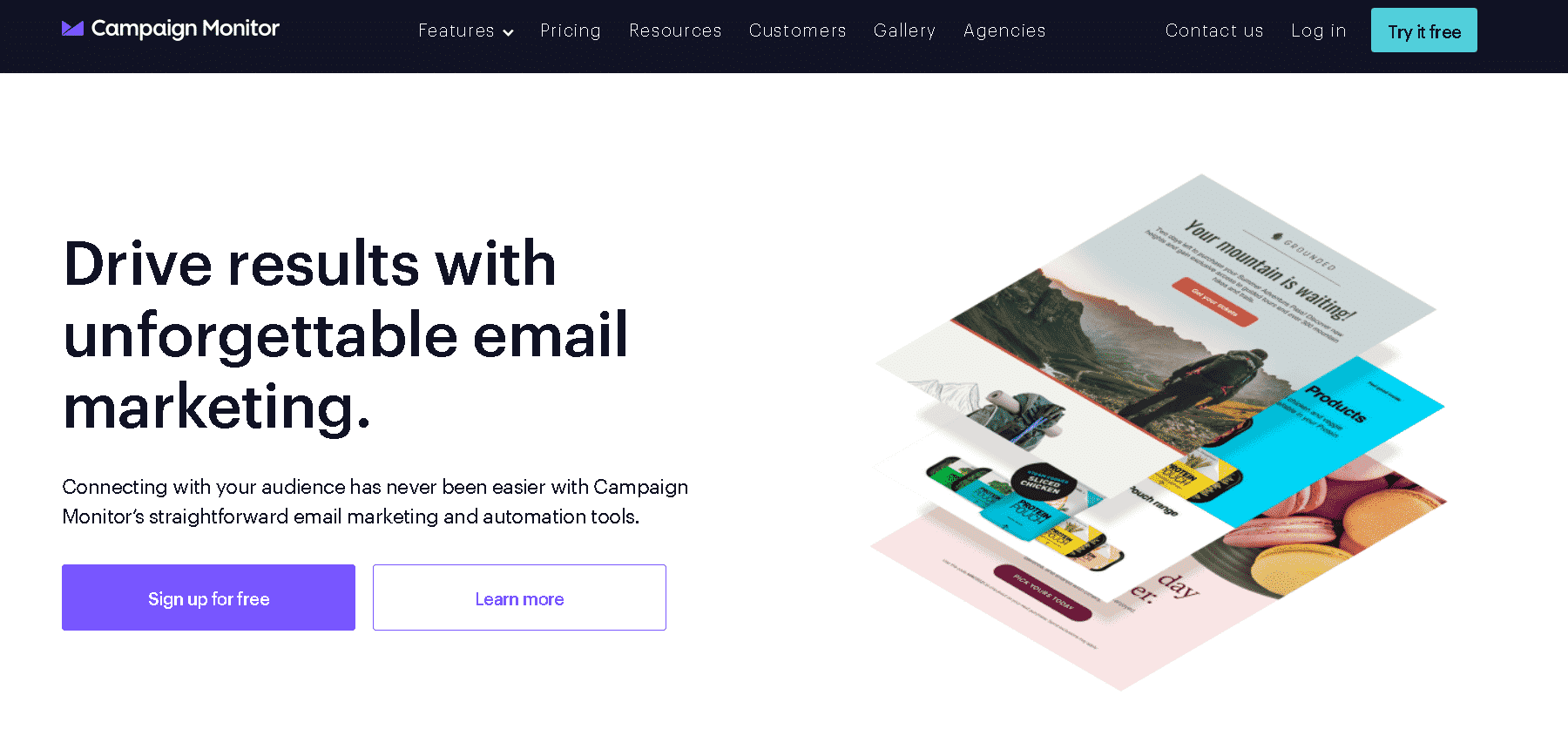 It is one of the best email marketing tools. It ensures that all the emails are easily readable on a mobile device so that no opportunities are missed because the emails are displayed improperly. Unfortunately, it does not have a mobile app, but you can sign up in the mobile browser view. The major drawback is that its support is available only through emails only.
Features:
You get numerous readymade email templates
A customer segmentation option is also available
It creates actual screens of your email design in renowned email clients such as Gmail, Hotmail, Yahoo, etc.
Campaign Monitor offers you a countdown timer feature to create urgency
More than 250+integrations with 3rd party applications
Setting autoresponders is really easy
Pricing:
Basic Plan- $9 per month
Unlimited Plan- $29 a month
Premier Plan- $149 a month
Pay per campaign option is also available
Free trial but only for less than 5 contacts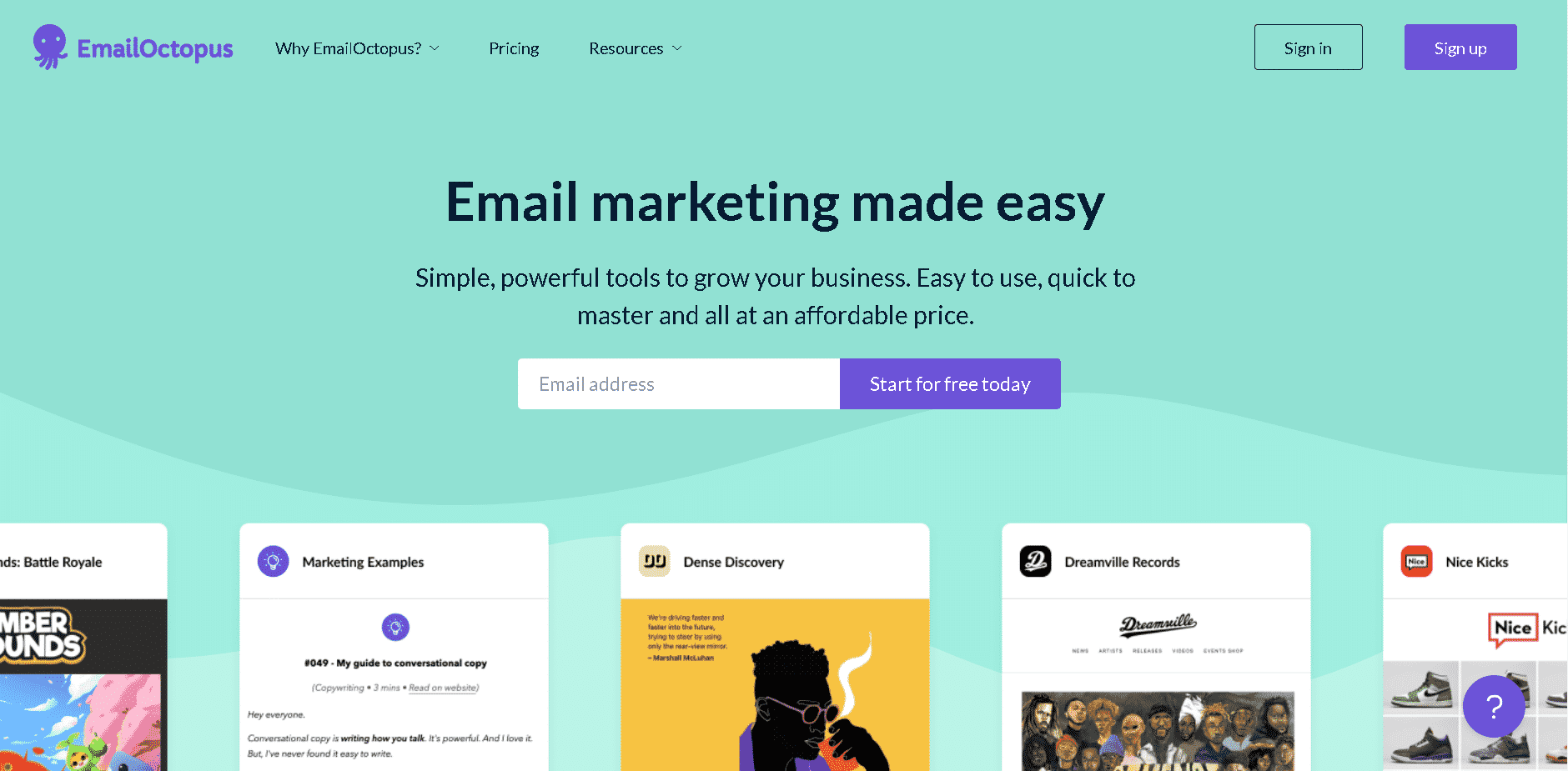 It is an amazing email marketing tool that operates on the Amazon SES (Simple Email Service) infrastructure. It is apt software for a small agency or entrepreneur representing other brands. It comes with pre-designed templates and optimized campaigns and it automates them as well.
Features:
Comes with an automatic editor that enables you to collate sleek emails
It integrates with third-party apps such as MailOptin, WordPress, and Zapier; it helps you in exchanging customer data seamlessly between different tools
Easy to use features
Potent automation for sending bulk emails and driving conversions seamlessly
Pricing:
It also has a free Starter plan in which you get to send 10,000 emails a month
The paid plan is called, the Pro plan; it starts from $8 monthly with a cancel-anytime option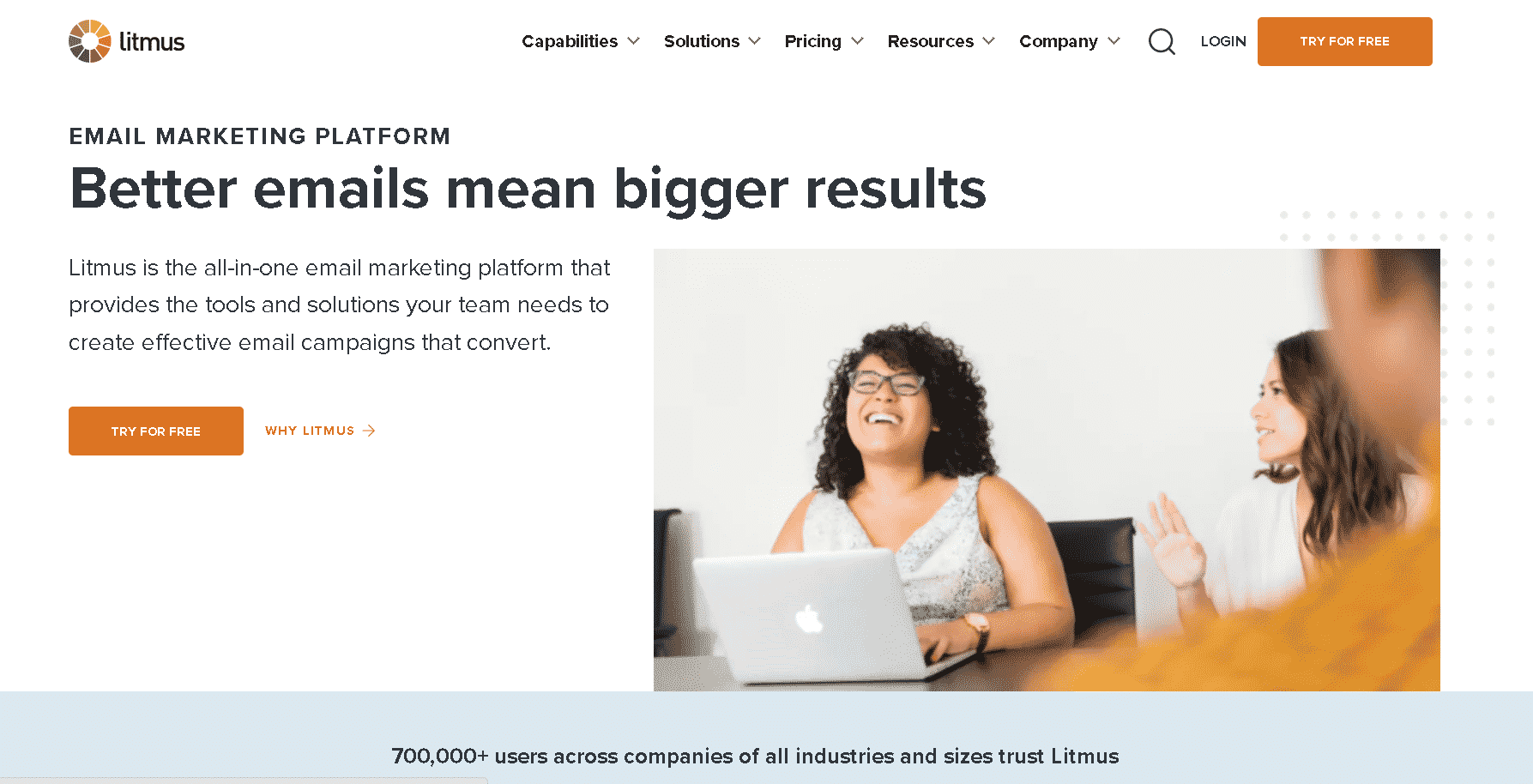 It is a comprehensive email marketing tool that lets marketers create, preview, test, and trace their email marketing campaigns. The unique part about this software is that it can be used for render testing; this way, you can be sure that your creatives are perfect for any given device.
Features:
Competent HTML editor
It comes with a fantastic Drag-and-drop web-based email editor
Interspersed dashboard
You can also do real-time tracking of sent emails with Litmus.
Pricing:
Litmus comes with a free 7-day trial.
Here are its paid plans:
Enterprise version- Customizable
Plus version- $159 a month
Basic version- $79 a month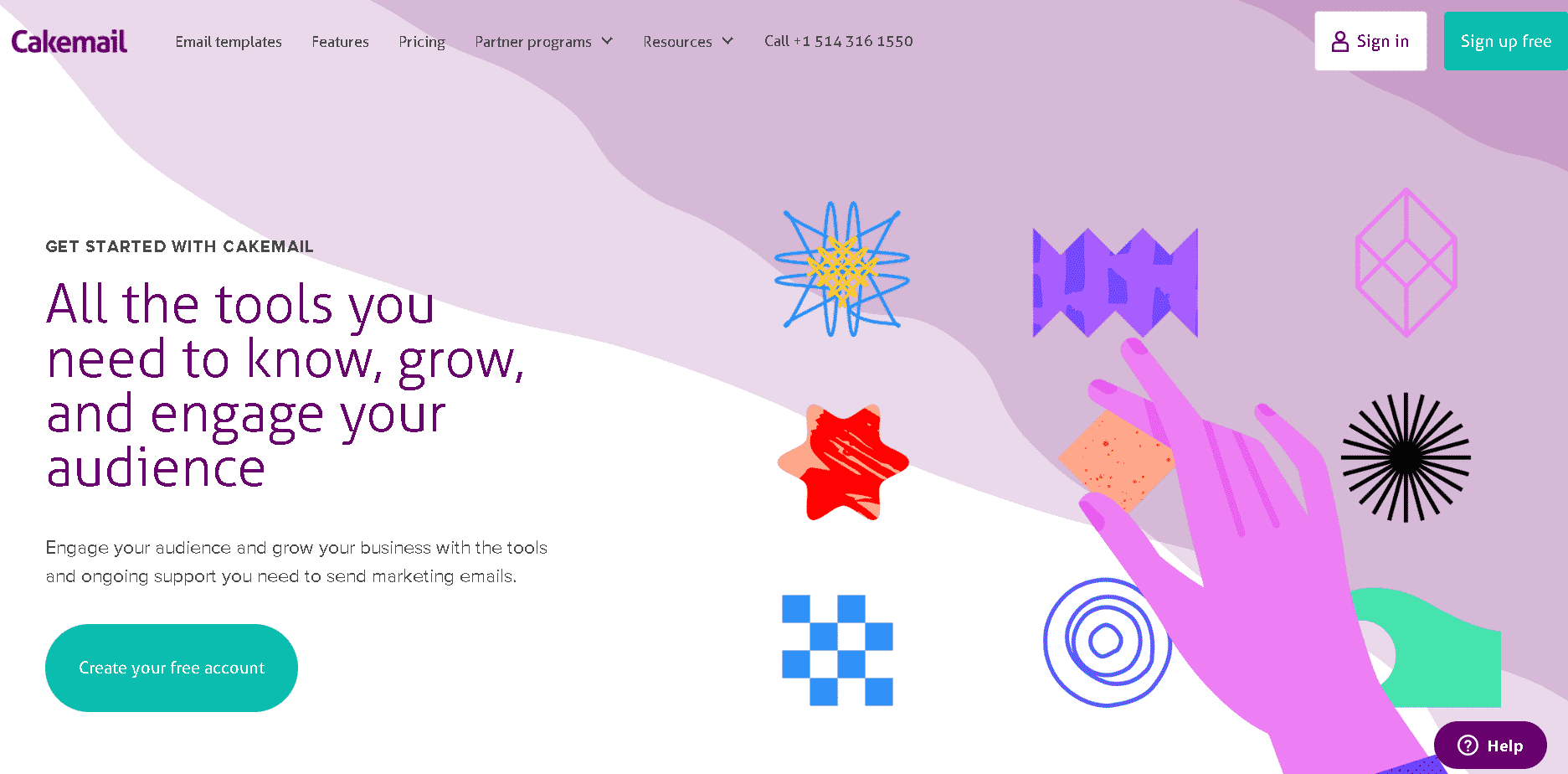 It is one of the best email marketing software for small businesses as it renders a seamless email designing experience. It enables you to send bulk emails to multiple contacts within no time. In addition, it comes with A/B testing and Google integration so that you can view detailed stats on how every campaign is running.
Features:
Cakemail comes with readymade email templates and content blocks
It has a fabulous editor that enables you to add, delete, and rearrange sections of your email such as text boxes, QR codes, social media elements, images, and Google Maps
With Cakemail, you can do efficient contact management and segmentation
Analytics and reporting become easier with this software
Pricing:
It comes with a free starter plan in which you get 500 contacts along with 500 emails
Their basic plan starts from $8 per month
Also Read: 30 Profit-Making Small Scale Manufacturing Business Ideas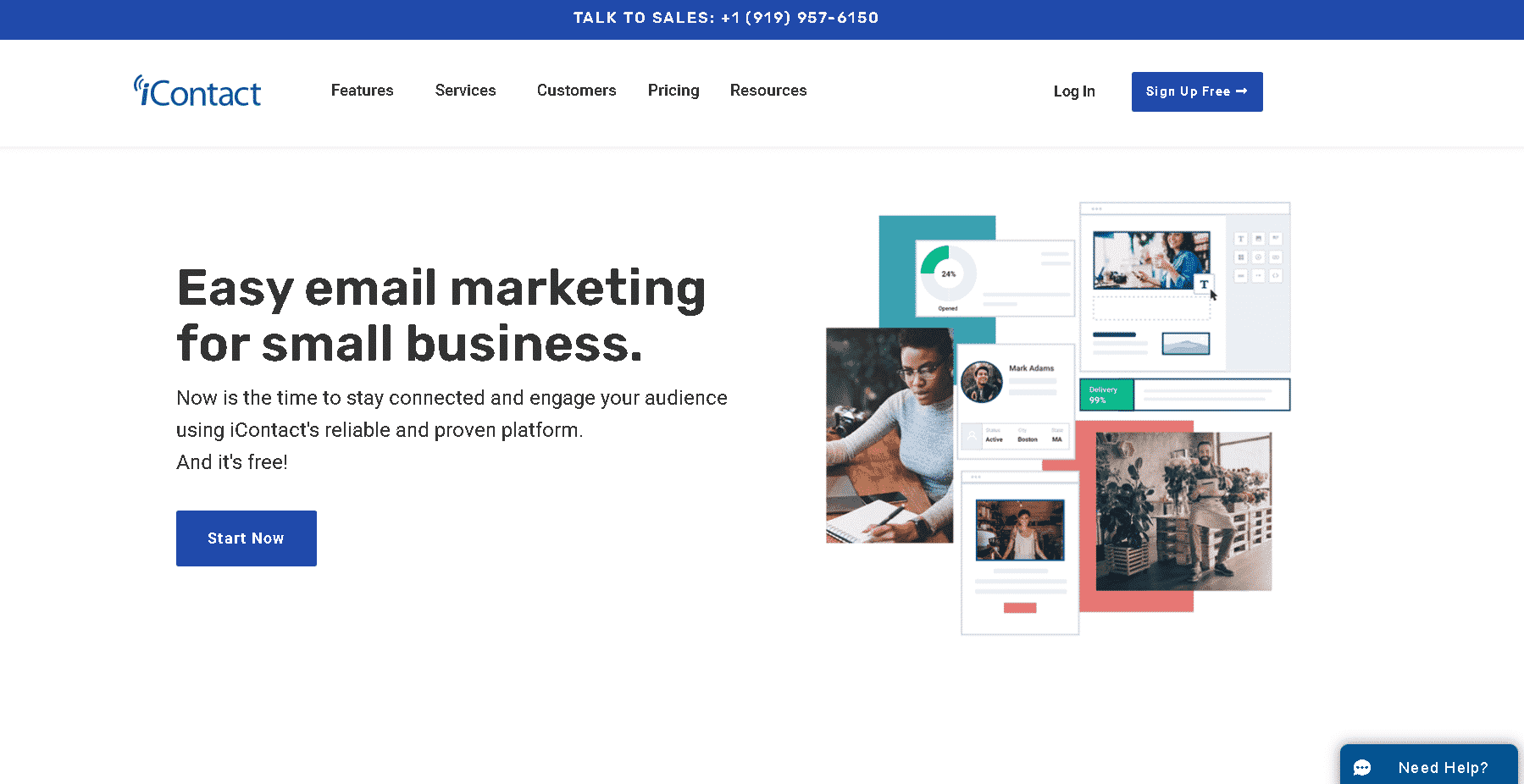 It comes with easy to navigate interface that is nicely streamlined. It has a great autoresponder feature that lets the users send automatic messages at the interval you set, which means you don't have to worry about sending emails. It will do its work even when you are sleeping.
Features:
Round the clock email support
A/B split testing
1000+ integrations
Pre-made email automation options
Inactive subscriber segmentation for re-engagement
Pricing:
No Free plan
The basic plans start at $23/month with 1500 contacts
It comes with a 30-day free trial with a 100 contact and 1,000 email limit (No credit card information required)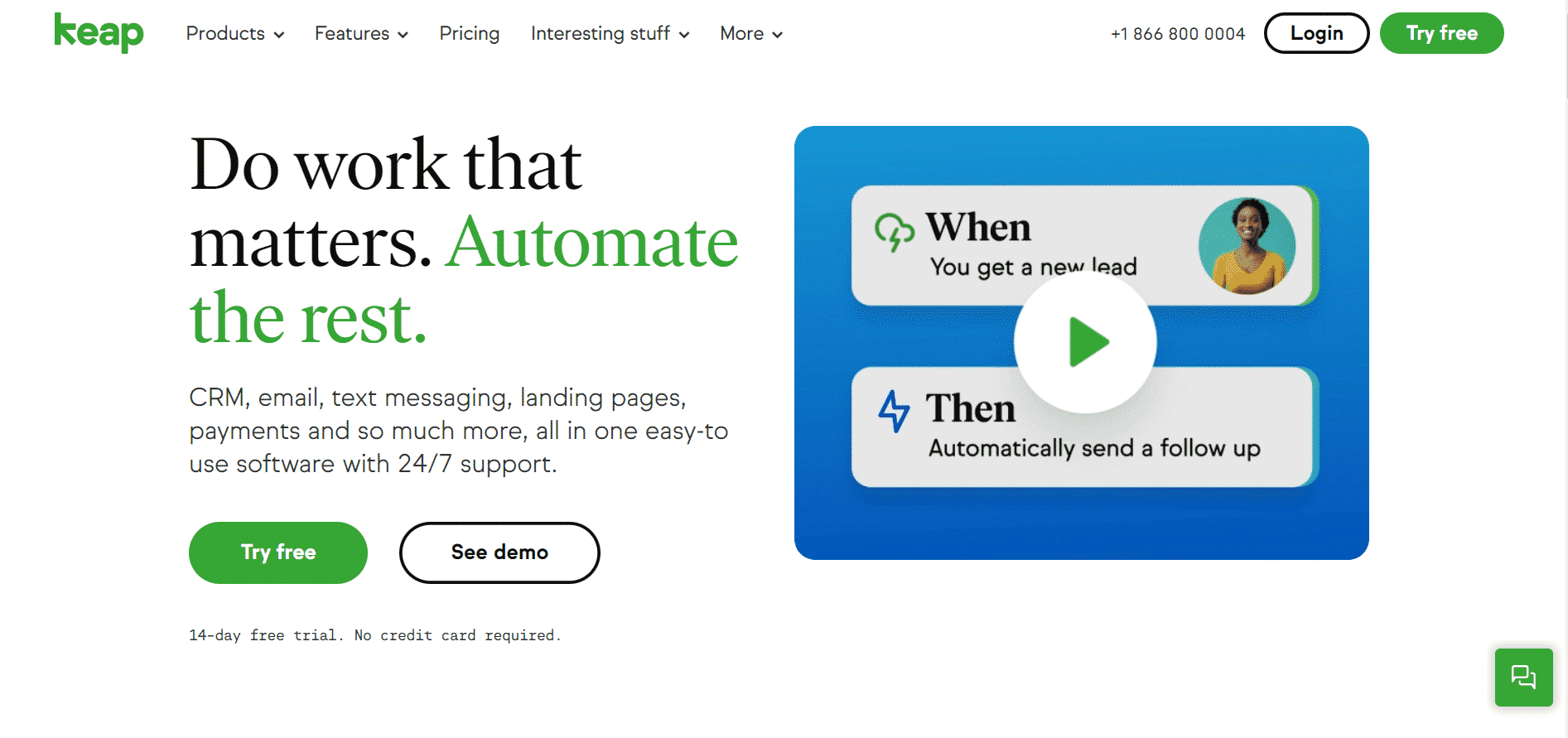 This tool might be relatively more expensive than others on the list, but the ROI that it would get is super amazing. Keap aids in automating different sales and marketing procedures. You can seamlessly build email campaigns and can also set up your own automated marketing campaigns as well.
Features:
It is an all-in-one marketing platform
This tool comes with a built-in CRM
You can also automate your workflows with it to make sure timely delivery of emails
Detailed analytics
Pricing:
Keap comes with no free plans. Instead, its basic plan starts at $129/month
This video email service lets you send personalized video emails to your targeted customers. A lot of people are using this platform because videos help increase engagement rates that can, in turn, boost your sales. With this platform, you will be able to send videos straight away from your inbox without any trouble.
Features:
Live chat support is available
Integrates well with Gmail, Salesforce, and Outlook
Powerful email tracker
Pricing:
It comes with a 14-day free trial period, and the best part is that no credit card is required. However, the paid plan costs $39 monthly per user.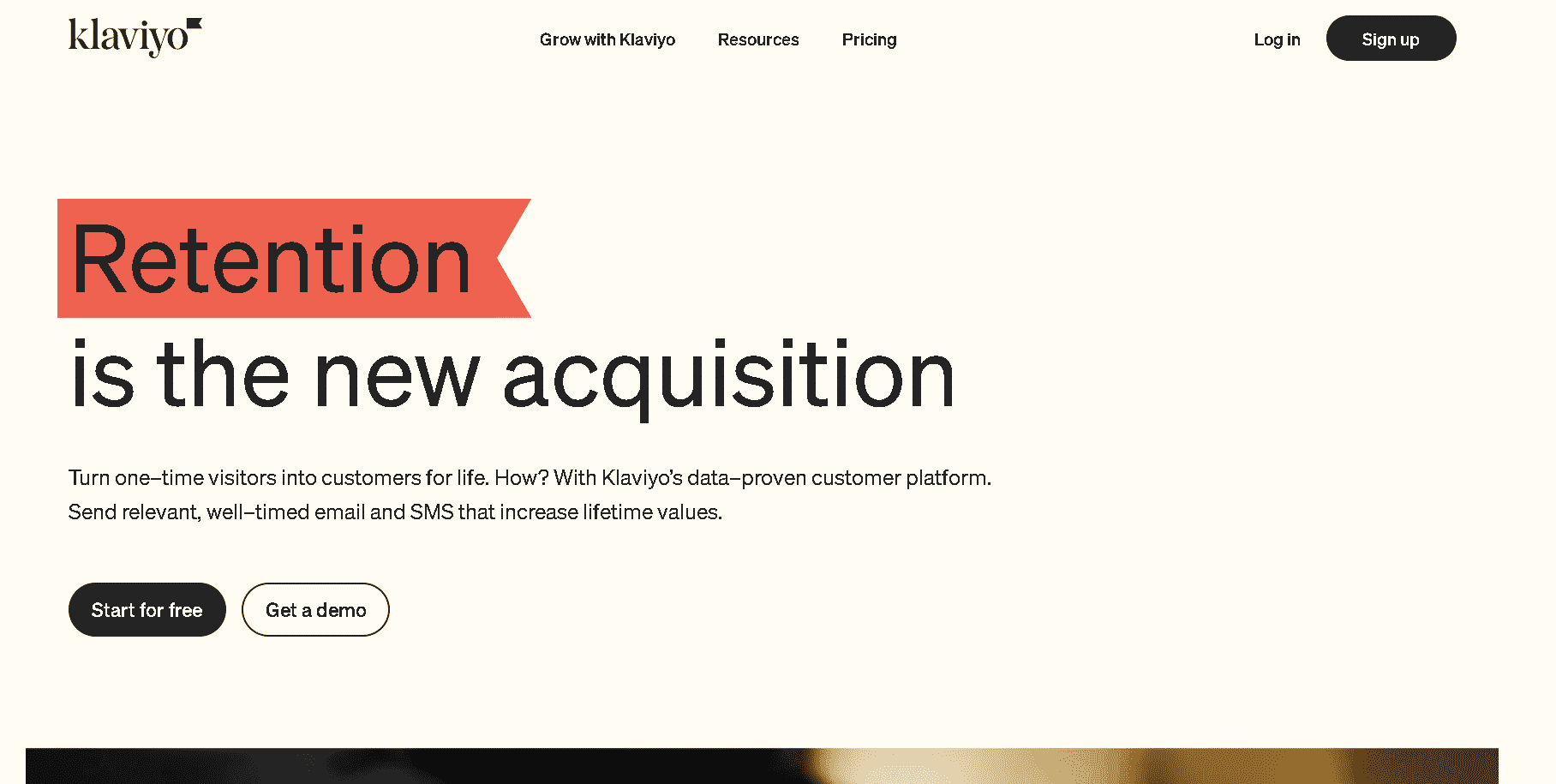 It comes with more than 50 templates, numerous pre-built layouts, and saved templates that already have your company's logo on the canvas. It comes with an amazing image editor tool plus a preview option for both mobile and desktop, with the help of which you can make immediate alterations without leaving the preview.
Features:
It comes with an application for iOS users as well
Customer segmentation for targeted emails
Klaviyo offers an option to access your account with the help of a mobile browser.
Drag and drop tools
Other features comprise pre-built email automation options, dynamic content, sign-up forms, and more than 120 one-click integrations with social media accounts and other apps
Pricing:
Klaviyo offers a free plan in which you get up to 200 contacts
The basic plan starts at $20/month with 500 contacts. But, there is no trial version or a money-back guarantee with them.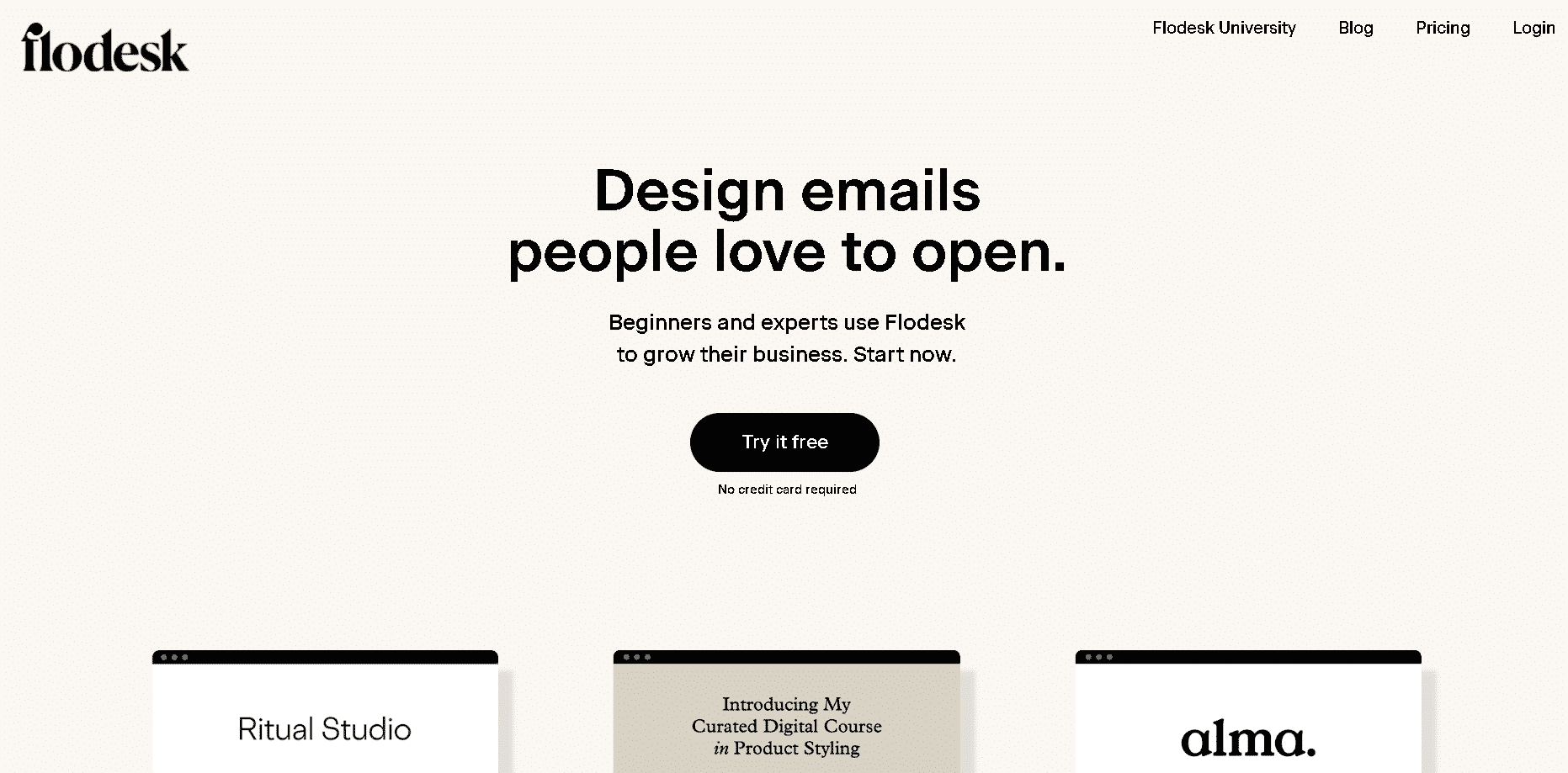 It is one of the best email marketing software tools of 2021 that is perfect for small businesses as it enables them to design amazing emails without any trouble. It comes with a layout builder that enables you to create custom graphics that eliminate a design tool's requirement.
Features:
It has easy-to-use automated workflows
The good part is that Flodesk has integrations with Shopify & Zapier
Drag-and-drop layout builder
You get to sign up forms with them
Pricing:
It comes with a fixed price plan that costs $38 per month or $418 yearly. With this plan, you can send unlimited emails & get unlimited subscribers.
Also Read: 15 Best Landing Page Builders Software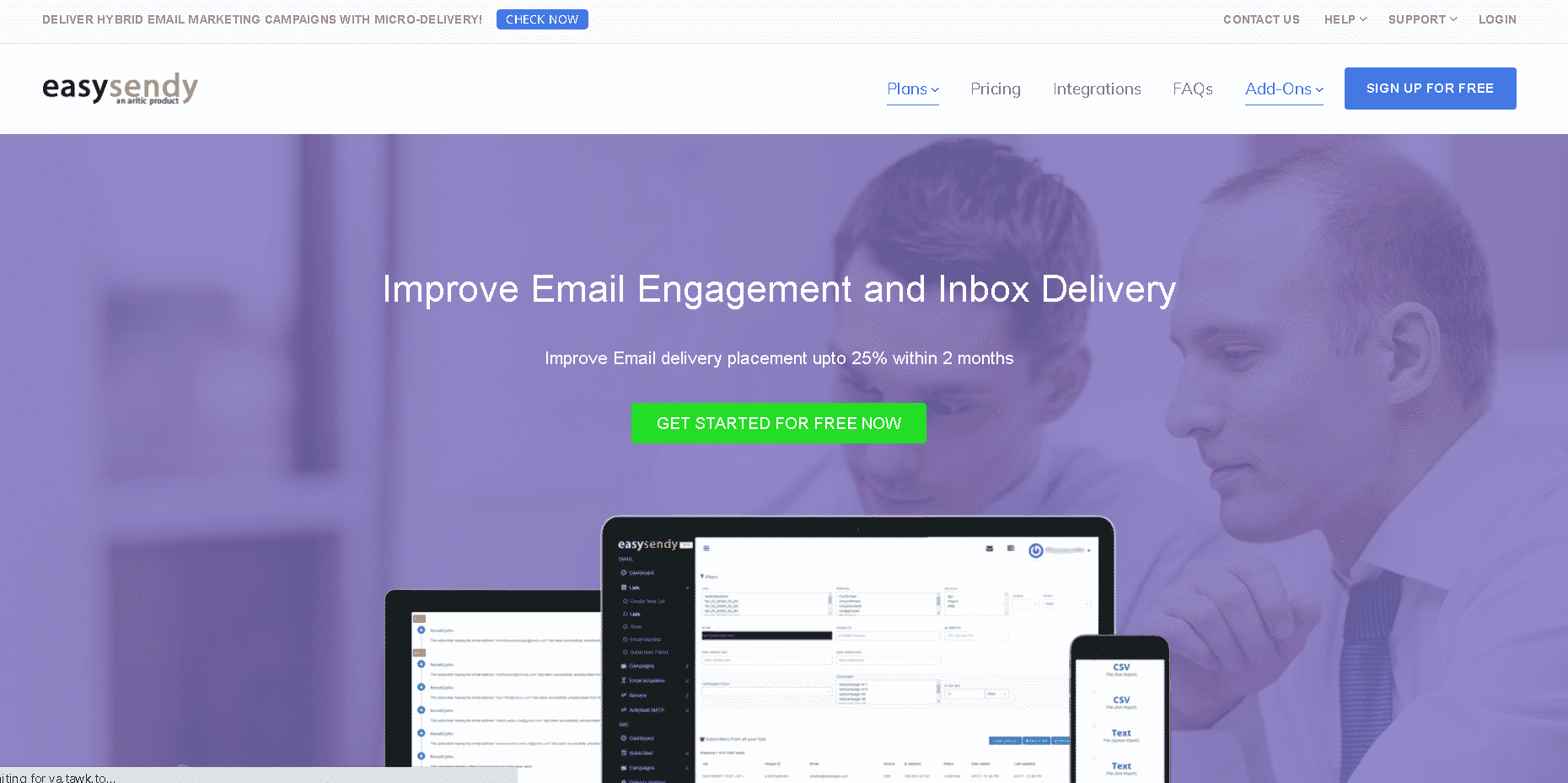 This is an excellent email marketing tool that enables you to capture leads straight away from a website and lets you send automated emails. The unique feature about them is that you can re-send emails to only those who did not read your emails during the last campaign.
Features:
It comes with a drag-and-drop email creator and editor
Easy to use
With the help of EasySendy, you can create pop-ups, social signup buttons, and much more
Easily scalable
It renders free migration services from other platforms
Pricing:
It comes with a free plan in which you get up to 2000 subscribers.
Its paid plan begins from $19 a month, in which you get 10 000 subscribers.
29. TargetHero
It has a great WYSIWYG editor, which means what you see is what you get. Some other amazing features that come with this platform are image hosting, HTML and simple text emails, etc. TargetHero is best for people looking for numerous features to run their campaign but does not possess a large subscriber list.
For using this platform, you would have to get account verification; for this, you would first have to sign-up with them, and after that, just follow the SMS authentication process.
Pricing:
It comes with a free plan in which you get 1,000 contacts and unlimited emails.
TargetHero comes with three paid plans:
You can opt for the Mini Hero Plan which costs $9.90 a month and get up to 3,000 contacts.
In the Hero plan, you get 5,000 contacts at $19.90.
The Super Hero costs $39.90, and you get up to 10,000 contacts.
Note: ActiveTrail has acquired TargetHero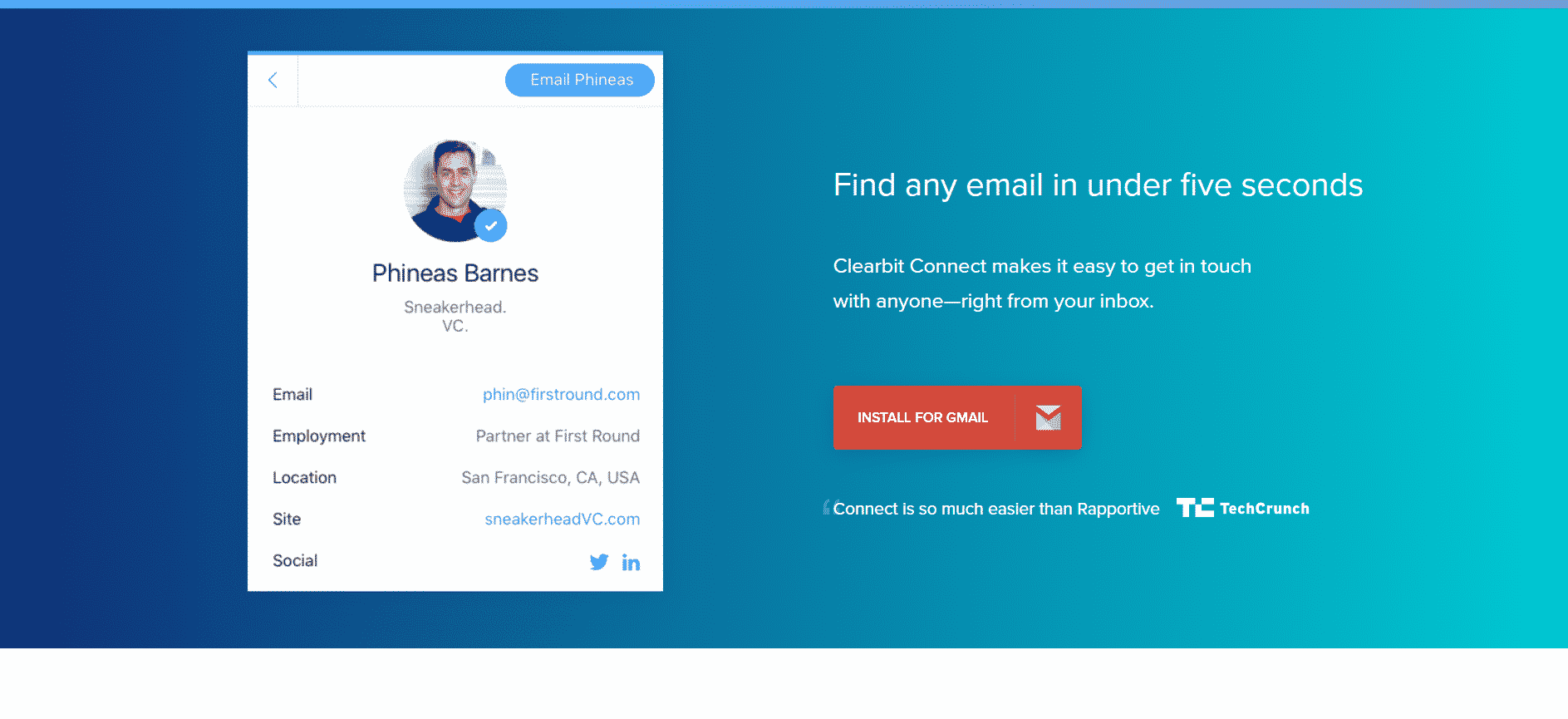 It is one of the best free marketing tools if you want to search for email ids. The major benefit is that it enables you to connect within seconds to anyone with an email id. With the help of Clearbit Connect, you can also search for contacts in a company by name, job title, or role.
Features:
User-friendly interface
With the help of Clearbit Connect, you can easily get additional contact information, like location, titles, and personal details.
It integrates well with Salesforce which offers you excellent contact insights
You also get widgets for Gmail or Outlook that makes things easier
Pricing:
It is a free platform, and there are no paid plans.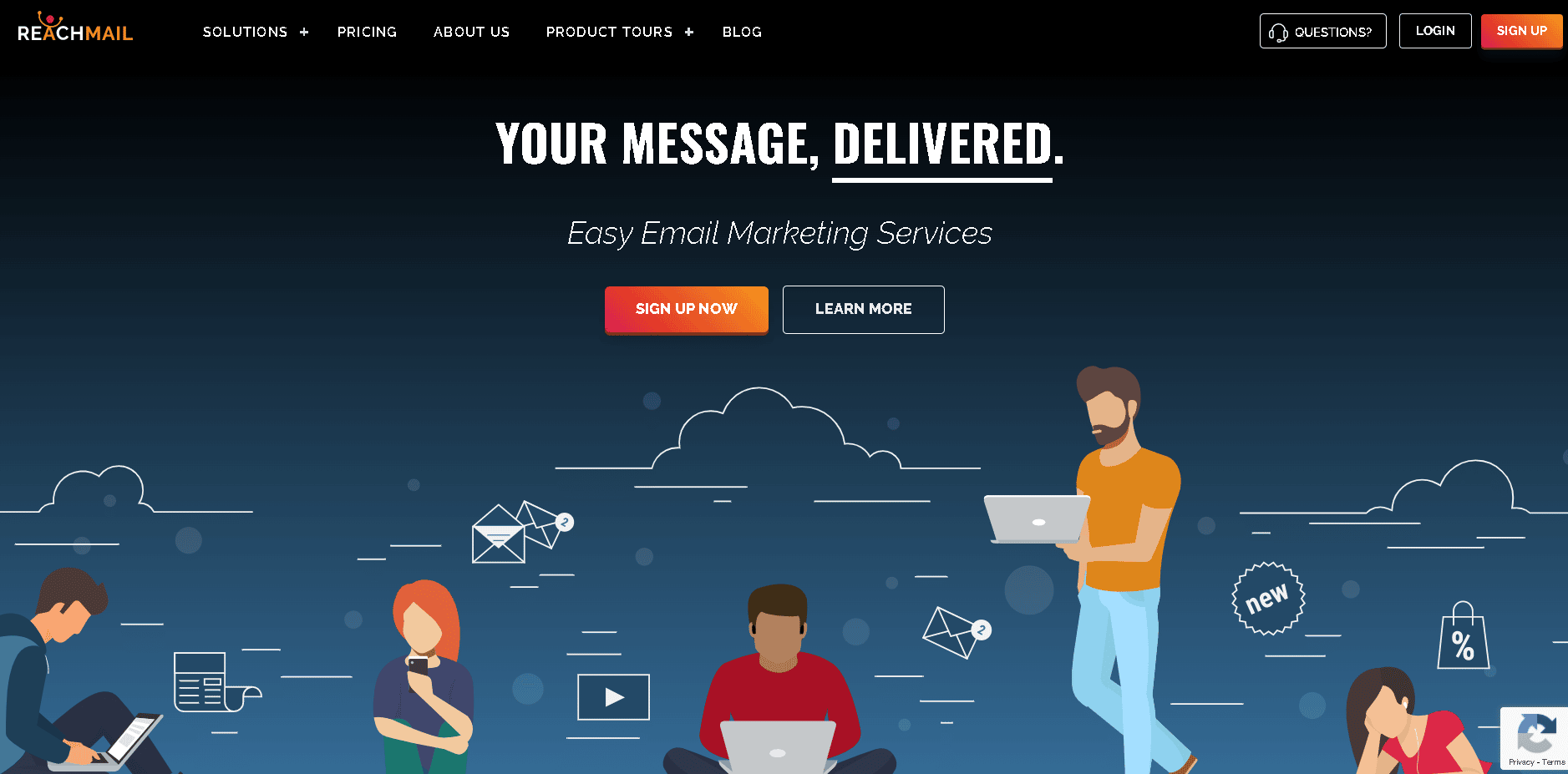 It is a great platform as it comes with a message testing feature that helps you monitor direct performance metrics comparison of five individual email campaigns. Once you complete the test, it creates a snapshot report which presents open and click rates for every version. You just need to choose the best-performing one and schedule the rest of your emails for getting this.
Pricing:
Its plan begins from $9 a month and goes up to $749 a month.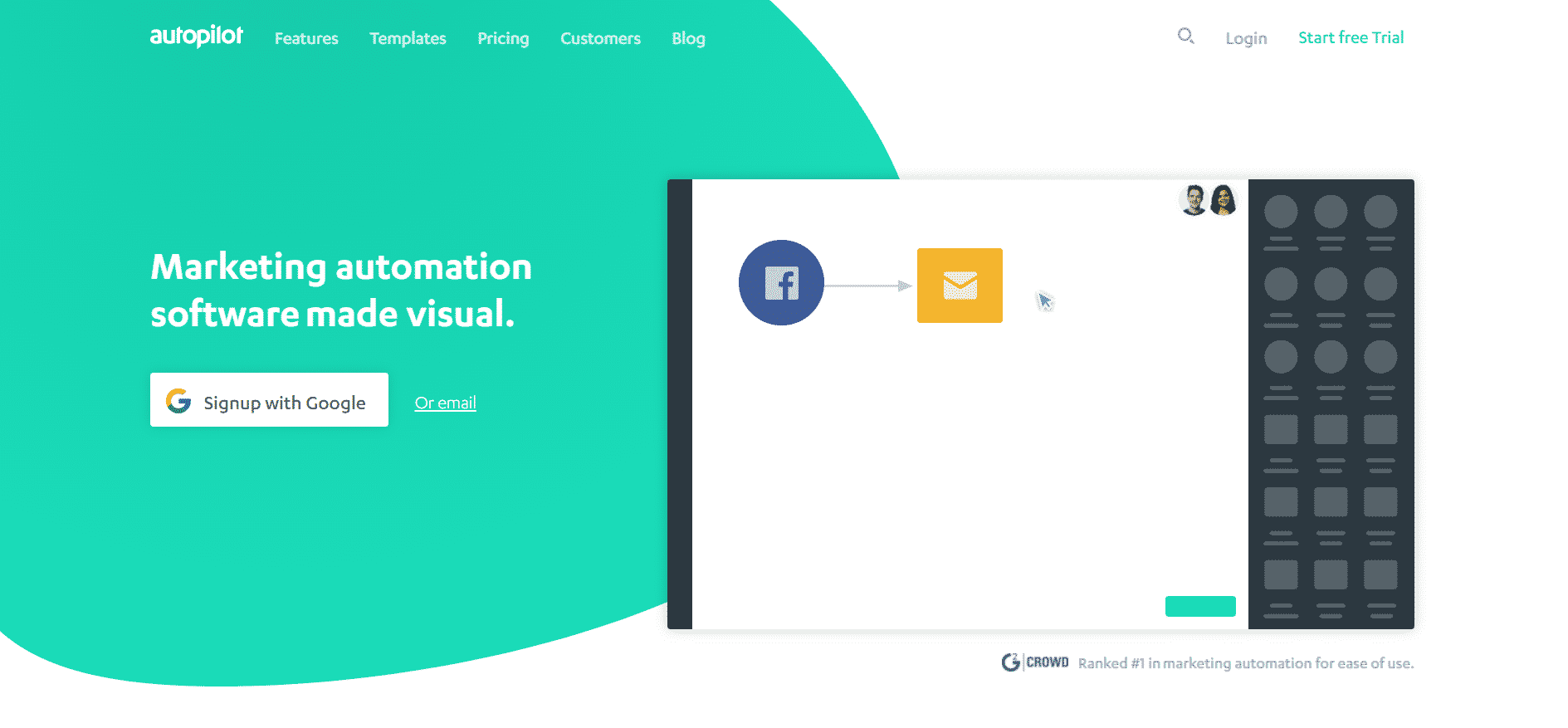 People prefer this wonderful tool because it automatically lets you send the right messages to the right leads at the right time. For creating email automation sequences, it offers its users the best-designed canvases.
Pricing:
Its basic plan starts at $49/month, in which you get 2,000 contacts.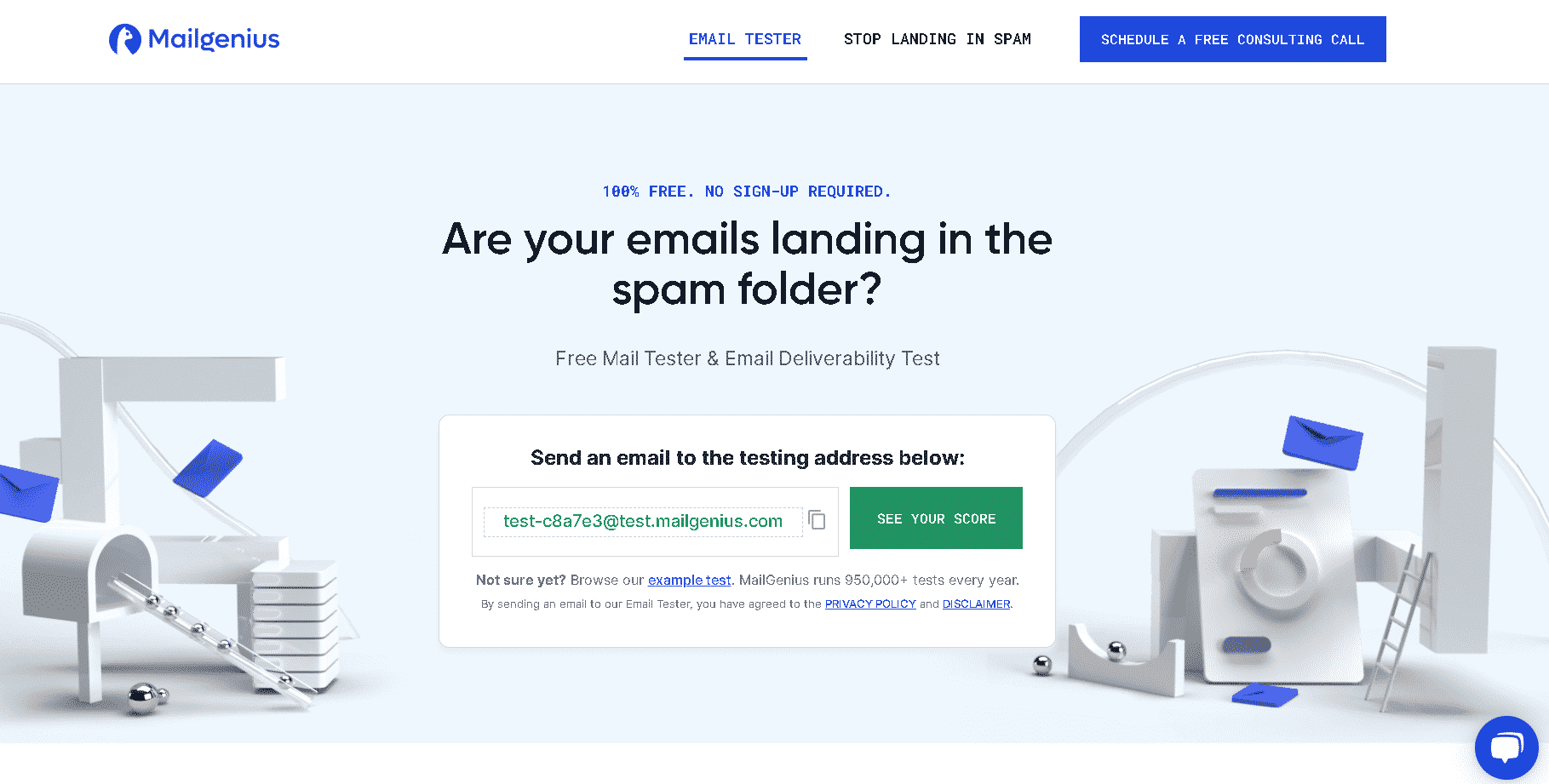 It is an amazing free email marketing tool that monitors your emails and finds possible triggers that can help get your emails sent to the spam folder. You can also do a deliverability test to ensure if the email goes to the recipient's inbox or not. It also offers you advice on things you can do to avoid emails landing in the spam folder.
Pricing: Free
This was the list of some of the most reliable and efficient email marketing tools with the help of which you can save a lot of time and money.
Most people open their email inboxes every day, which is why businesses are investing in email marketing to get their jobs done easily. After looking at their features and price, you can choose any tool from the above list of the best email marketing software. Select the reliable, secure and powerful; do not compromise if you want the best results.
These tools are the must-have for a good email marketing strategy for your business, so be wise while choosing the platform as they can help reach your recipients at the right time.