Firstly, let's clear out the confusion about whether Demat and Trading account is the same or not? The answer to this is no. They have a difference between them.
A Trading Account is used when someone wants to place some order for buying or selling securities in the market. The meaning of Demat is to transfer the shares from physical form to an electronic form to handle them easily. Therefore, a Demat account is like a bank account that is used to deposit shares when they are bought and to take shares from when they are sold. Now, below are the best Demat and trading account that one can find in India.
10 Best Demat and Trading Account in India
1) 5Paisa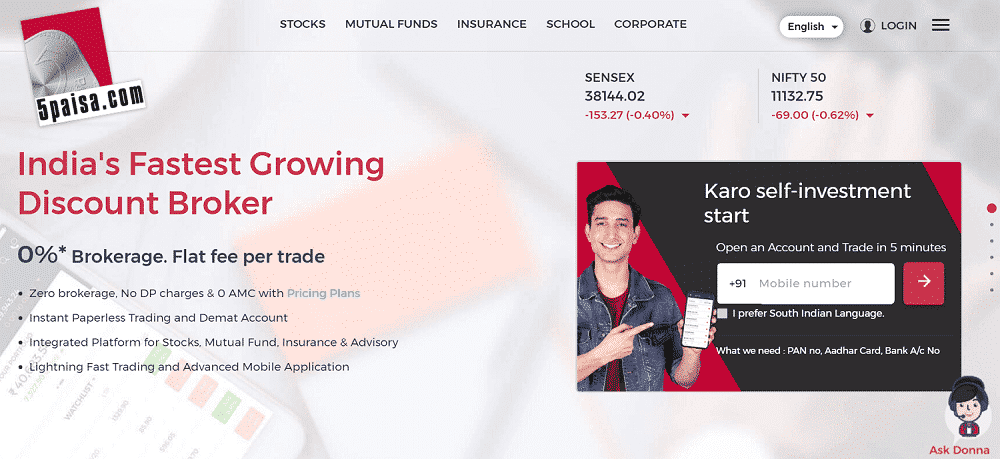 5Paisa is a platform for multiple functions online. Some of them include mutual fund investment, stock trading, insurance, and advisory. This platform also has its own app that allows you to handle the stocks' trading and investment on your mobile-only.
This is very cheap because of the fixed brokerage fee, which is very low, and there is no percentage charged on brokerage. 5Paisa has a good customer base, and therefore, it is a trusted brand. The documents that you need to open an account are Aadhaar card, PAN card, and the bank account details. The added features of it are:
The brokerage fee is fixed at just Rs.10, which is the lowest.
The charge for opening an account is Rs.650, and the annual charge for maintaining such an account is Rs.400.
There are 2 platforms under 5Paisa for both low-volume traders and high-volume traders. They are named investor terminal and trader terminal, respectively.
Discounts and waivers are also available for different charges.
2) Zerodha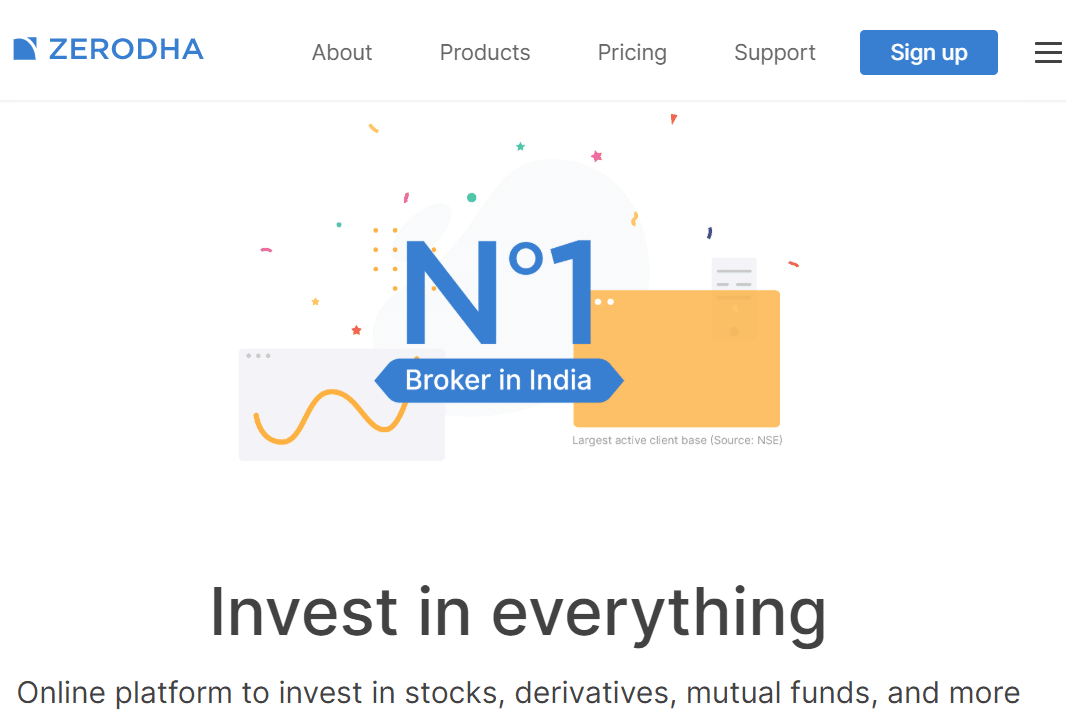 Zerodha was established in 2010, and now it is recognized as the largest discount broker in India. It has changed the stock scenario in India by handling huge volumes of stocks on a daily basis. The new investors face problems because they get confused about where they should start. Therefore, it is recommended for them to start with some established brands. Here, comes the name of Zerodha. It has great customer support, and it is very easy to use. Some added features of Zerodha are:
It has both a percentage and fixed brokerage fee, whichever comes to be lower. The fee is 0.01 percent and Rs.20, respectively.
The delivery of equity is free in this case.
The per year charge for maintenance is just Rs.300.
The brokerage fee is at a lower side, as well.
Also Read: Zerodha Review 2020: Fees, Charges, Benefits, Pros & Cons
3) Angel Broking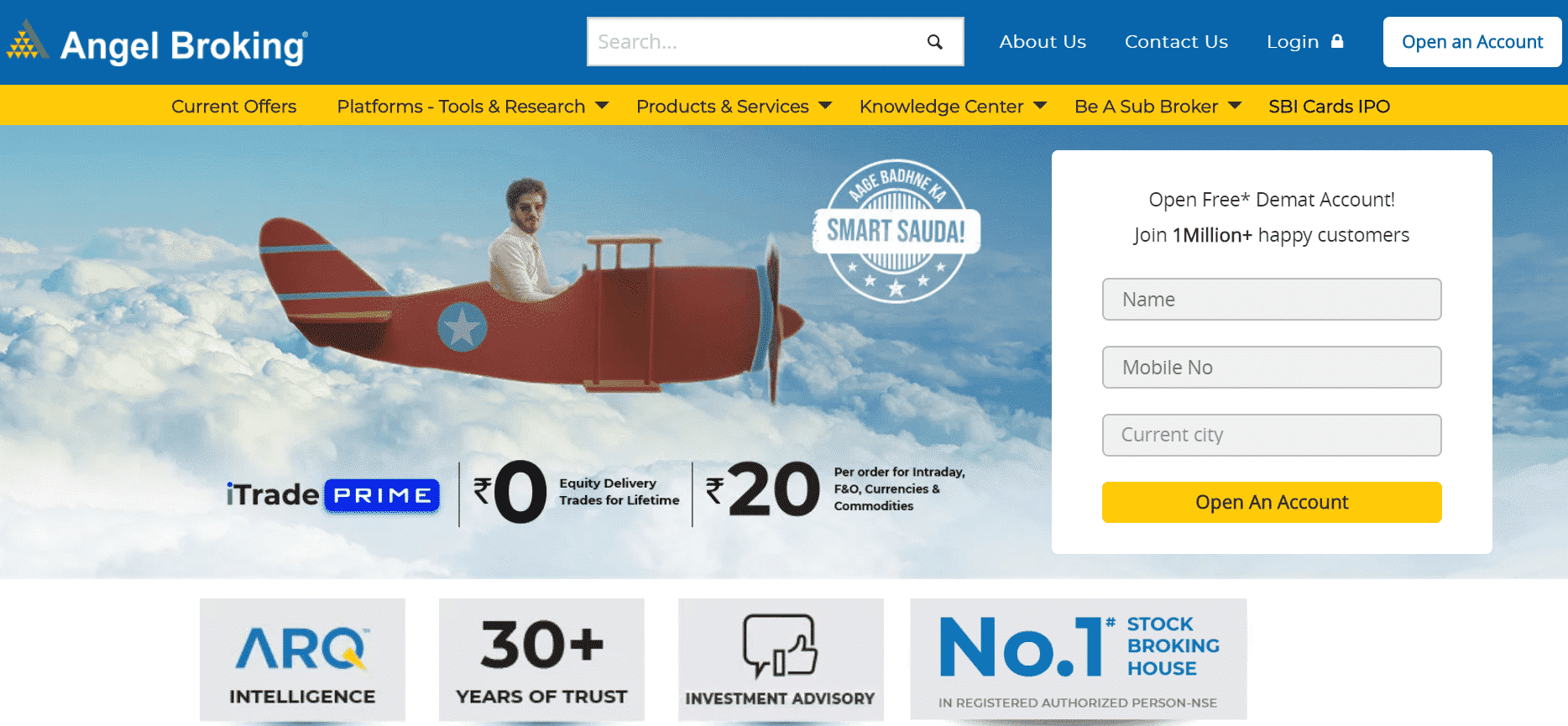 Angel broking has been in the market for a long now as it started in 1987. Currently, its customer base is over 1 million and is among the most popular brokers in India. Its outlets are spread in over 900 cities across India. The number of sub-brokers of angel Broking amounts to around 8500.
Angel Broking has membership in NSE, BSE, NCDEX, and MCX. They have plenty of services to offer to customers. The added key features are:
After you sign up, you get a Demat account for lifetime
There is a 20 percent discount on online brokerage.
You can get pieces of advice on investing through their website.
The trading can be started just after getting the account opened.
4) ICICI Direct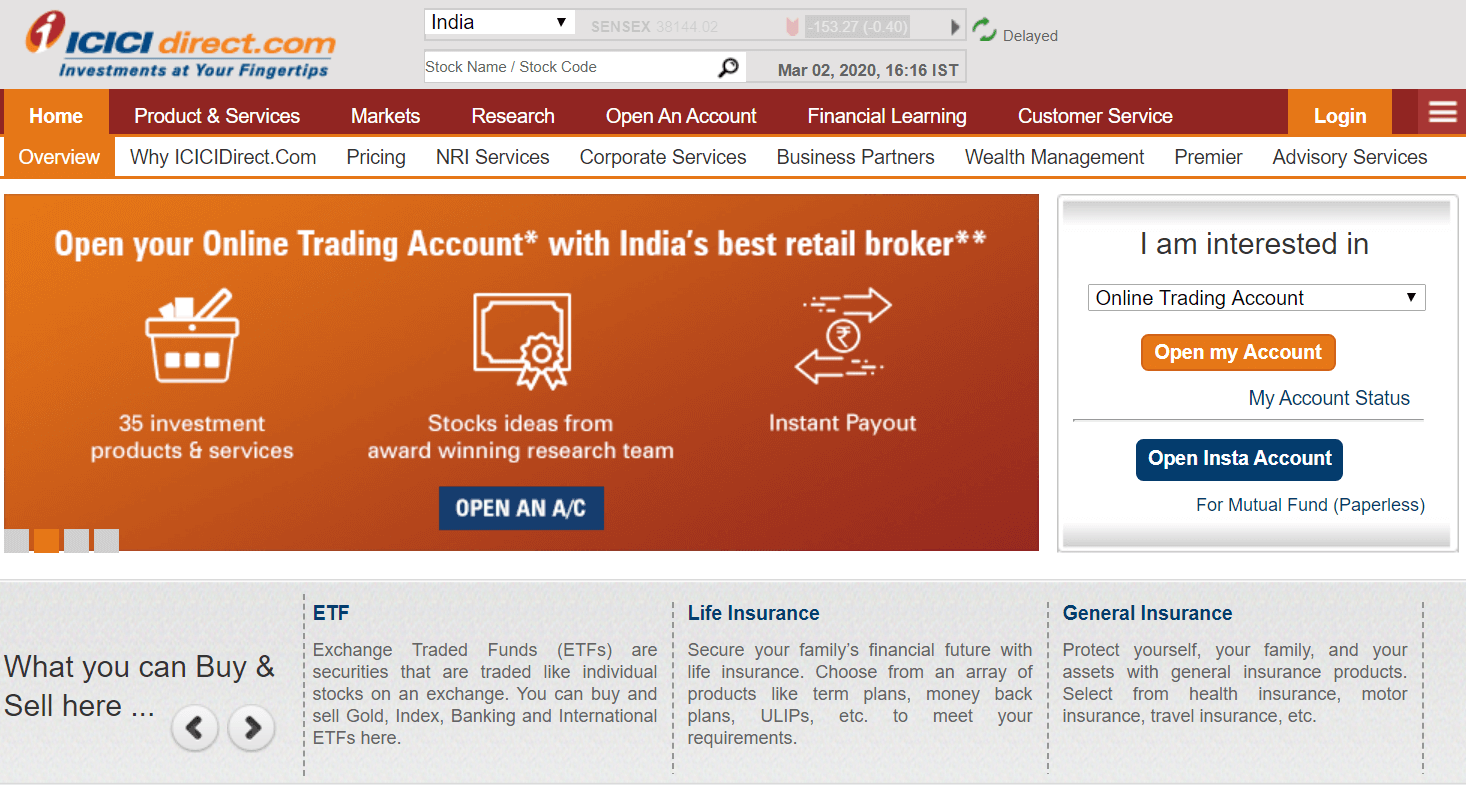 This broker is a trusted one because it belongs to the ICICI Bank. It is among the brokers that have the largest customer bases and hence, can be considered among the largest companies in India. You would make sense by opening a Trading and Demat account with ICICI Direct if you already have a bank account with ICICI. Everything becomes much easier if this is the case.
However, it is not necessary to have a bank account for getting a trading or Demat account. This is because ICICI Direct offers a 3-in-1 account already, which includes a Demat account, trading account, and a bank account with ICICI. The key features of ICICI Direct are:
It offers a 3-in-1 account
There are 2 different trading platforms available
The intraday of equity is somewhere between 0.25 percent and 0.75 percent.
5) Sharekhan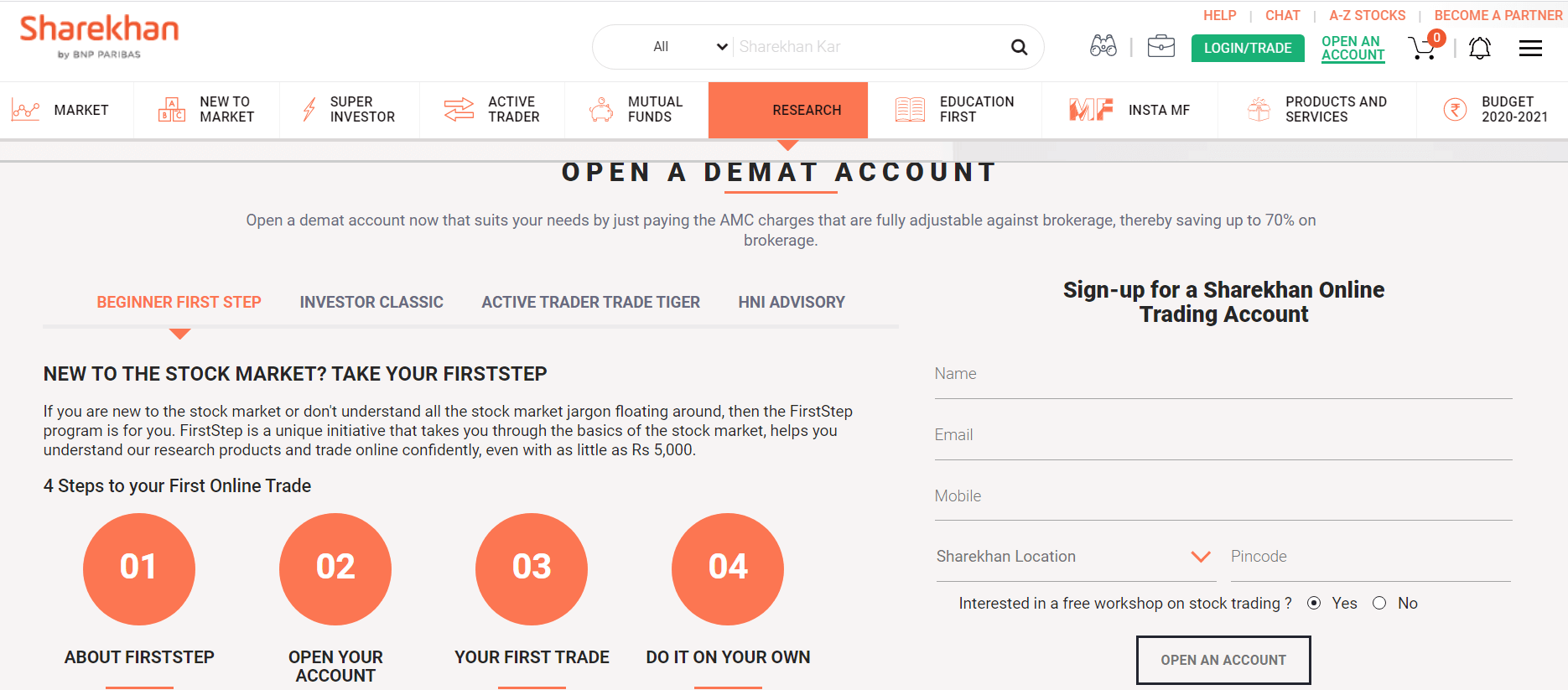 Sharekhan is a popular Demat account which was founded in 2005. BNP Paribas, which is a French company, acquired it in 2015. The number of customers of Sharekhan is in lakhs. The company undertakes its operations in 500 cities. The website of Sharekhan is user-friendly with various unique options to offer.
There are 2 types of accounts that you can get. They are – trade account or a classic account. The type of account that you get will depend upon your activity. That means that how frequently and actively you trade in the market. It also depends on your knowledge in this field. The added features of Sharekhan are:
There are no opening charges for the accounts
The fee for the maintenance of the account is between Rs.400 and Rs.750 per year
It offers two different types of accounts, named Trade and Classic.
The equity delivery charge is 0.5 percent, and the intraday charge is 0.1 percent.
6) Indiabulls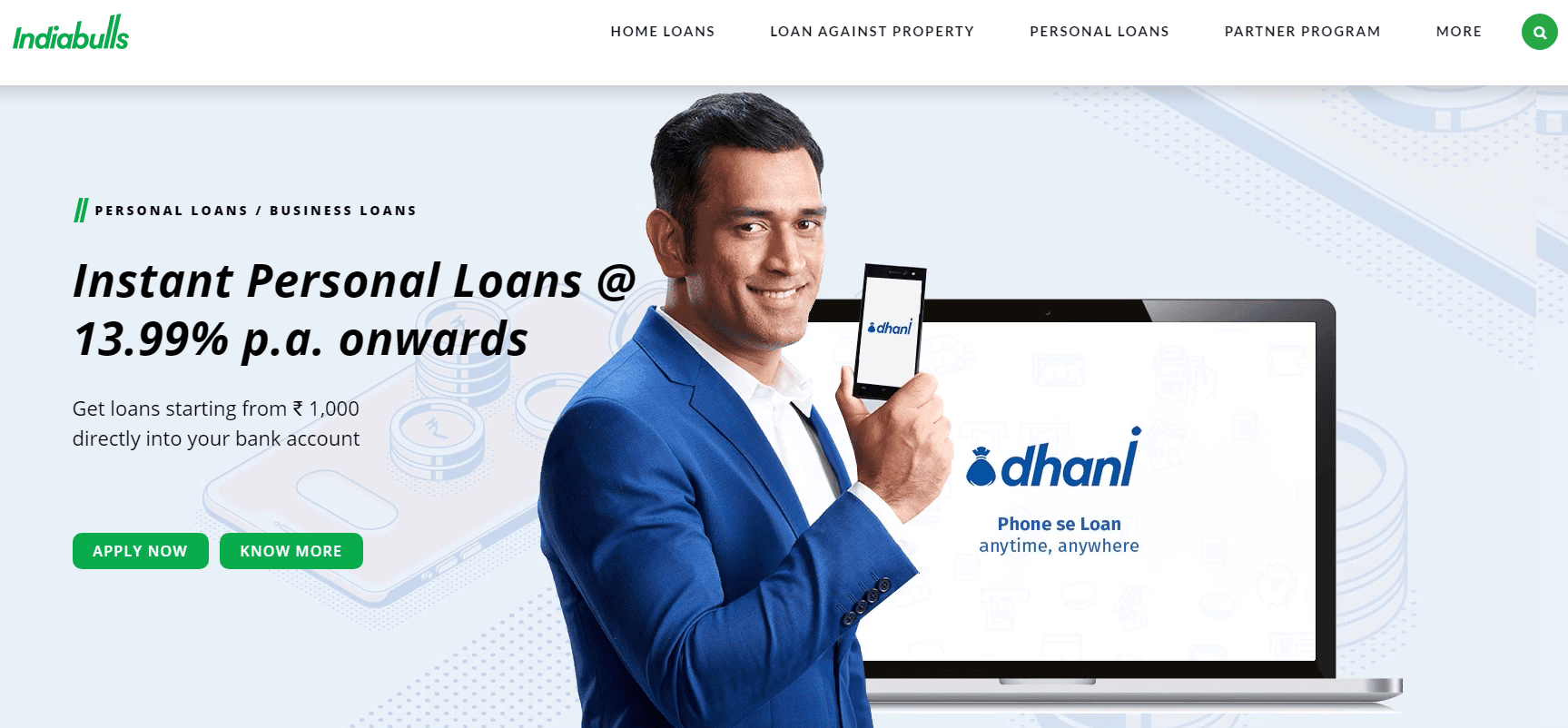 Indiabulls also deals in areas other than stocks such as real estate and infrastructure. It is a public company which levies no service charges for maintenance of accounts. The only charge to be paid by an individual here is the opening charge. They also have their own app on the Play store, which is user-friendly. There is full disclosure about the company on its website, which anyone can see. The added features are:
The charge for opening an account is Rs.750
The maintenance charge annually is NIL
The customer service of Indiabulls is very good
7) Aditya Birla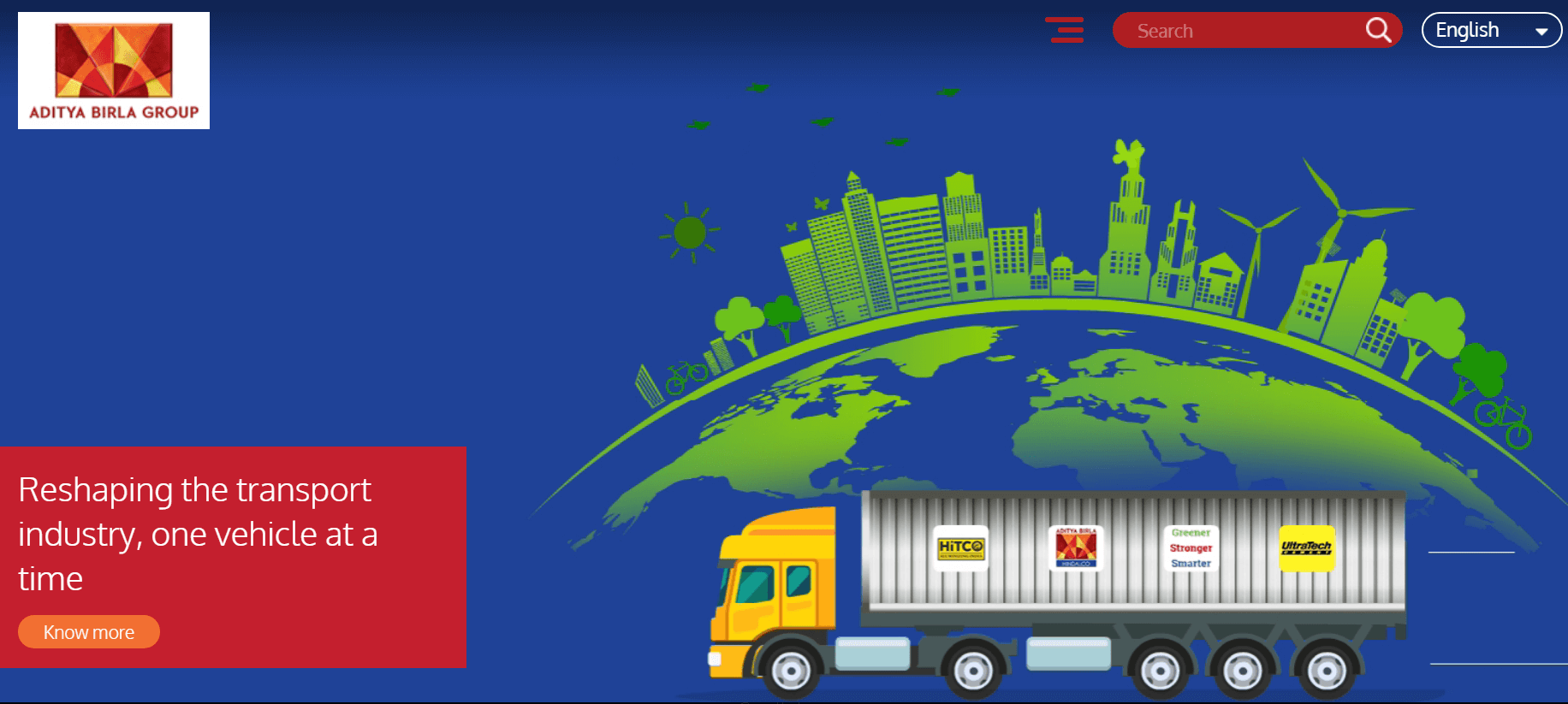 Aditya Birla is not as established as others in this field because it has started offering Demat services recently. But, if we consider Aditya Birla as a company, then it is a trusted one. The reasons that one can consider to choose the Demat account of Aditya Birla is its experience in financial services.
It has a reasonable fee also. Some of the other features are:
The opening charge here is Rs.555
Aditya Birla undertakes its trading through NSE and BSE
There is a training available through the website, and a mobile app is also available on the play store.
You do not need to pay any maintenance charges for the first 5 years.
8) Kotak Securities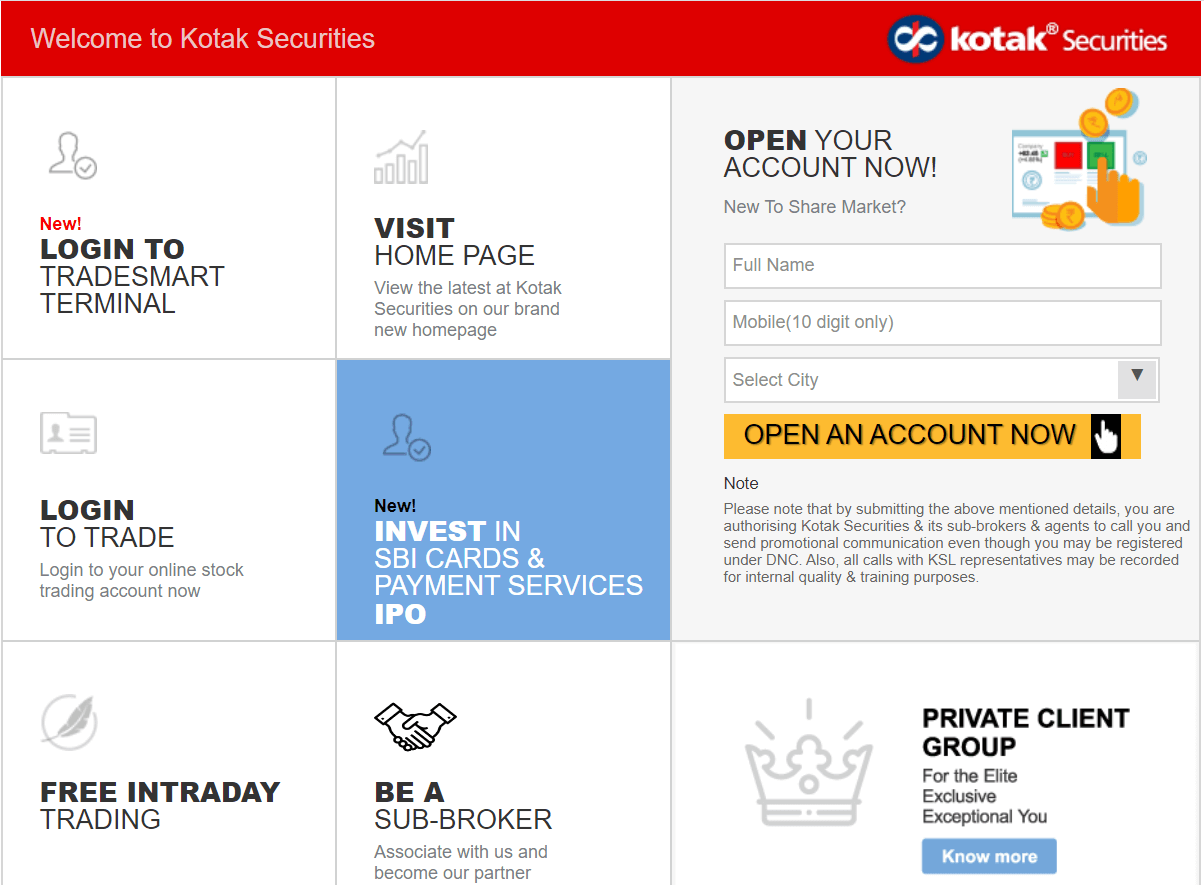 This is a platform of Kotak Mahindra Bank for online trading in stocks. Kotak Mahindra is the 2nd largest private bank according to the market share. The products of Kotak have a brand value because of its reputation among Indians. The online platform of Kotak Securities is very well-developed.
Through Kotak Securities, you can not only have a Demat account, but you can also invest in mutual funds, bonds, shares, government securities, etc. The other key features in this case are:
For the Demat account, you need not pay any opening charges
But, for the trading account, you need to pay Rs.750 as account opening charges.
The maintenance charge to be paid annually is Rs.600
They also offer a mobile app
9) Religare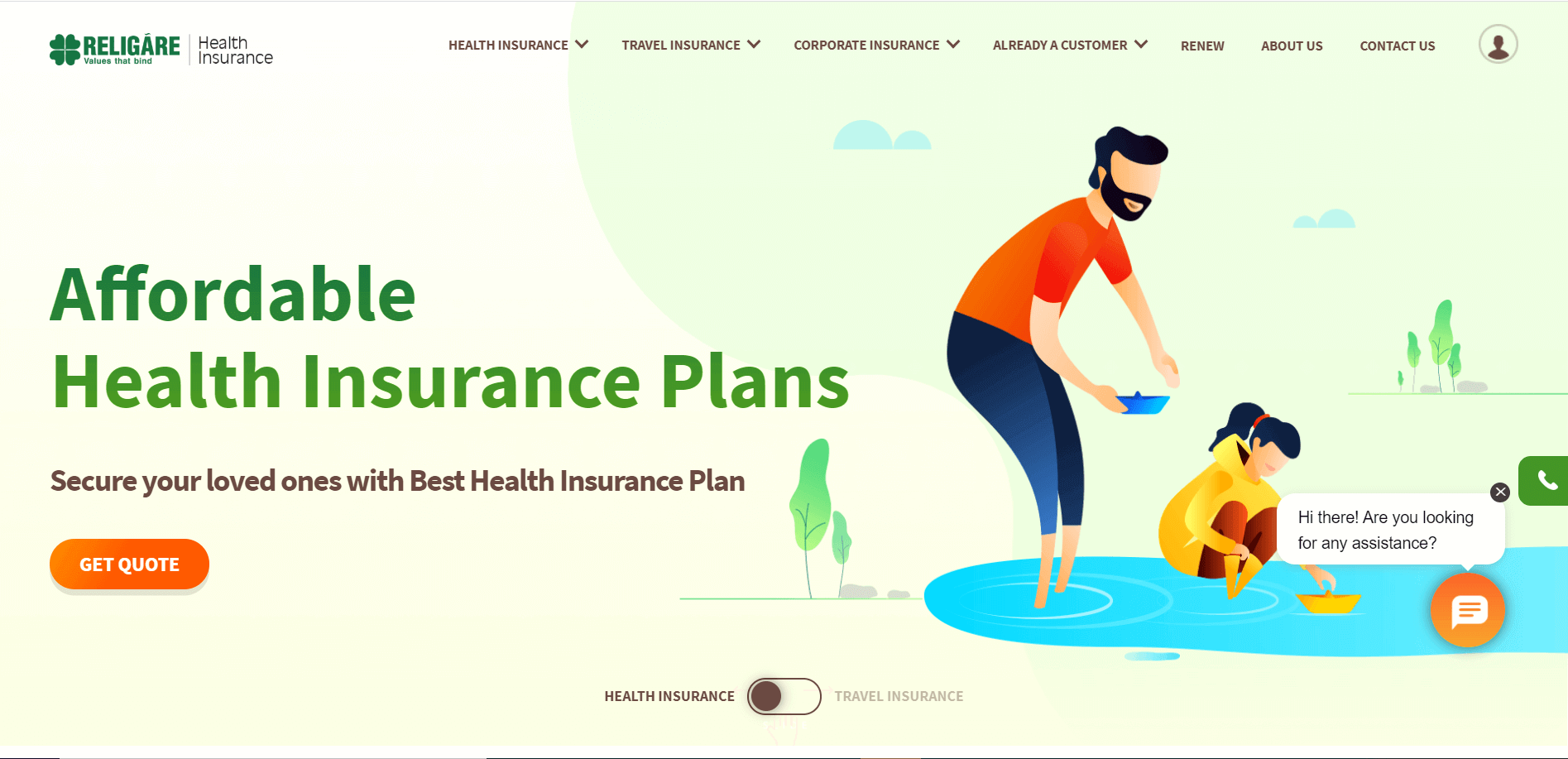 They offer an online trading platform to purchase and sell shares. Religare is a public company and has been in this field since 1994. Religare is also counted among the largest stock brokers in India.
Also Read: 12 Best Stock Market Trading Apps In India
There are no opening charges in Religare, and also, you need not pay any charges as maintenance fee for the first year, and the service charges are also very low. Some of the other features are:
For every offline order, the charge is Rs.10
From the second year, the maintenance charge that you will be paying is Rs.500
No opening charges
A mobile trading platform is also available
They charge a maximum of Rs.50 in a day.
10) Motilal Oswal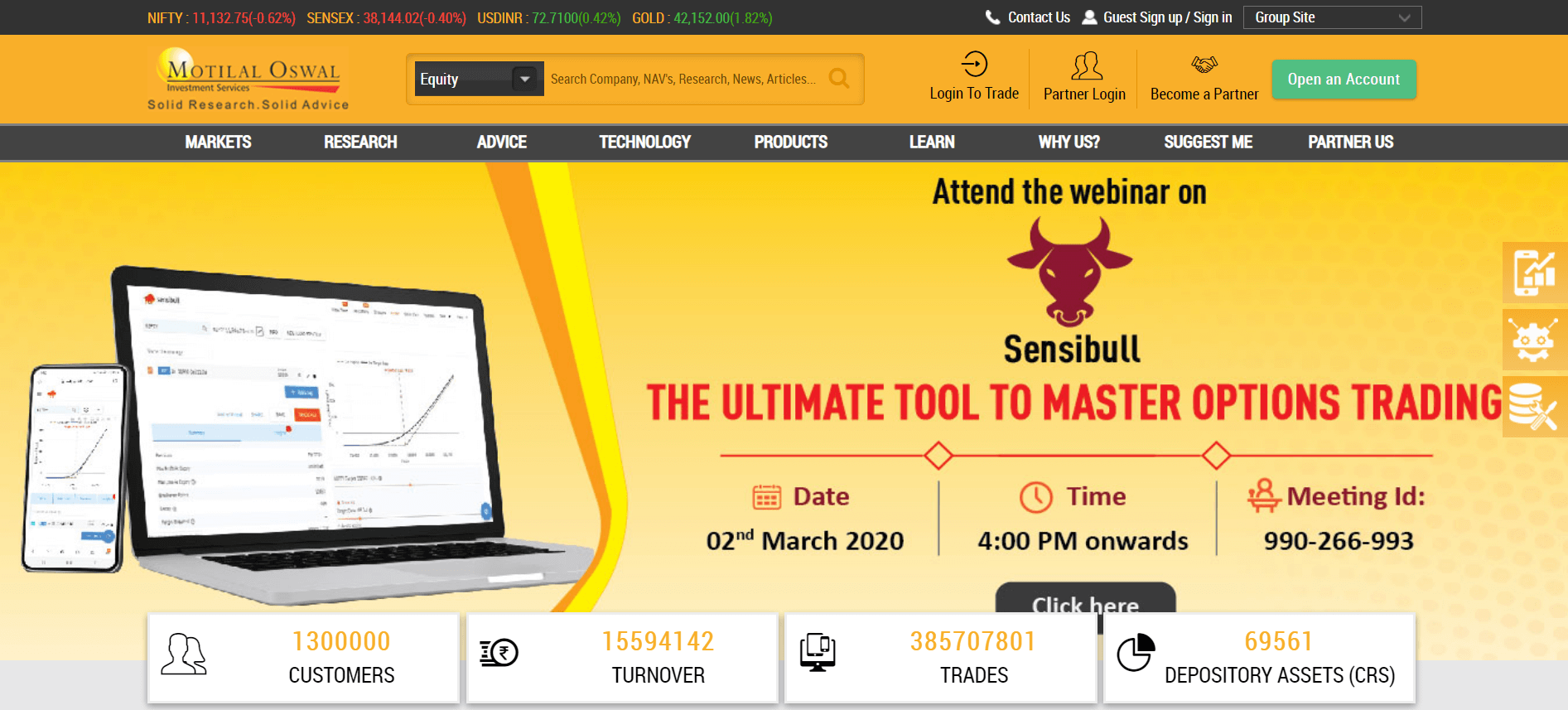 Motilal Oswal company is a financial services company. This company's name is kept on its chairman and MD's name. It has been getting awards in the field of financial services and business. The chairman of Motilal Oswal Financial Services Ltd. was also awarded because he was the highest income tax payer in India.
All this contributes to their customer base of over 1 million. You can get help regarding investments from them. Other services include currency broking, retail broking, home finance, wealth management, and much more. The key features of Motilal Oswal are:
You do not have to pay an opening charge for getting a trading or Demat account
Every year, you need to pay a maintenance charge of Rs.400.
The equity intraday charge is 0.05 percent
The 3 different platforms offered by Motilal Oswal are mobile, desktop, and website.
There are a large number of choices when it comes to broking firms. You might get confused sometimes. But, you can go through the above article and decide which account you want and which suits you the best. You would surely get answers to your queries.