Searching for a lucrative opportunity to earn better? The best way to make and increase your net worth in today's times is to invest in cryptocurrency. Couldn't agree more than seeing people becoming rich in a very short span. Although the market is highly volatile, still investing a portion of your money into the crypto market is not a bad idea.
However, it is always recommended that one should always invest money that they do not require or need to withdraw in the coming years. As you never know, the portfolio value will double or become half in a certain duration.
Do you know the most effective and crucial tool required to keep your digital currencies safe? It is crypto wallets that serve as an essential tool to buy, trade, or sell cryptocurrencies and keep them secure. Before we proceed further and go through the list of the best crypto wallets, let's get to know what cryptocurrency wallets are?
What are Crypto Wallets?
Want to store your crypto coins far from the reach of hackers? The best way to ensure the safety of your digital assets is to have your own cryptocurrency wallet, which exists in multiple forms, including mobile, web, desktop, hardware, and paper wallets.
All the wallets are featured with the same functionalities and facilitate the purchasing and storing the crypto coins. However, the wallets can be categorized once you have decided what you want to use your cryptocurrency for? This factor is highly responsible for ensuring your wallets' performance is better or inferior to others.
A cryptocurrency wallet is an application or software to store your crypto assets. All the cryptocurrencies cannot be stored physically, as they do not exist physically. Therefore, technically they can only be stored in coin wallets. Usually, it is featured with an intuitive interface, is secure and reliable, and offers fast services to the users. We will see the best crypto wallet apps later in this article, but before that, let us have a look at the workings of these wallets.
How Do Crypto Wallets Work?
When any other investor/trader sends you a digital currency, be it bitcoin, Ethereum, Cardano, ripple, or any other asset to your crypto wallet, it does not imply they are actually transferring coins. It indicates they are signing off the ownership thereof to your wallet's address, which means the crypto on the blockchain now belongs to your address, but not to them.  Listed below are the 2 digital codes that are essential to complete the process:
1. Private Key
It is a string of numbers and letters that only the owner of the crypto wallet knows about.
2. Public Key
The Crypto wallet provider automatically generates a string of letters and numbers. For instance, a public key will look like this: D2gjIYz26e8K90trA67sdF712.
Still confused? Just think of a crypto wallet as an email account. You will only be able to receive an email once you let other people know your email address. The public key acts just like your email address in the case of crypto wallets. You need to share the public key with others to participate in any blockchain transaction.
However, you do not want anyone to access your email account, right? So for that, you should not give your private key to anyone as it is just like the password to your crypto wallet, which should not be shared with your pals under any circumstances.
Without compromising the currency's integrity, these 2 private keys enable the crypto wallet users to participate in transactions. However, only when the public key matches with the private key assigned to your digital wallet; the user will be able to send or receive funds once the authentication is completed. The balance in your crypto wallet surges or tanks once both the keys are verified. Now let us move to our top cryptocurrency wallet list.
List of the Best Crypto Wallets
Want to pick a reliable, secured, robust, and top cryptocurrency wallet to keep your digital assets safe? The list prepared by our proficient writers will cater to all your troubleshooting needs. The comprehensive research is done, and the list of best crypto wallets is ranked according to their features and utility. The list comprises both open source (free) and advanced (paid) best crypto wallet apps: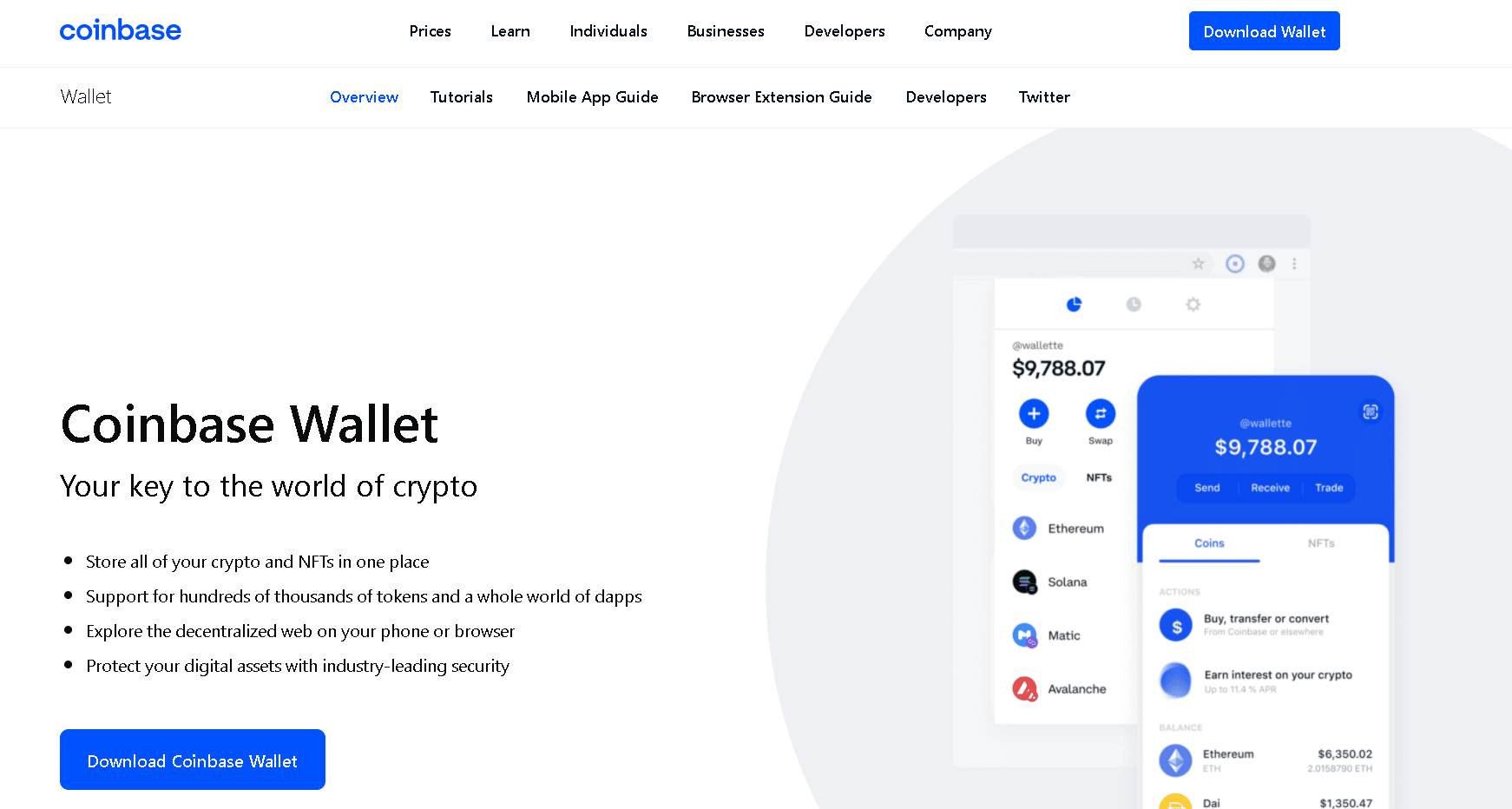 Coinbase is the best crypto wallet and topped our list for many reasons. It is a cryptocurrency exchange that rose to prominence rapidly in the United States. The platform makes it easy for investors or traders to buy or sell an extensive range of coins from bitcoin, or Dogecoin, to Tezos. Moreover, the company has its own Visa-backed debit card that integrates with Apple Pay and Google. The platform also stores a wide range of digital assets in offline storage and is supported in more than 100 countries.
The users also get a $5 signup bonus as soon as they subscribe to Coinbase. Moreover, it also allows you to schedule your currency trading daily, weekly, or monthly. In addition, your funds are highly secured in the vault provided by the platform for additional safety.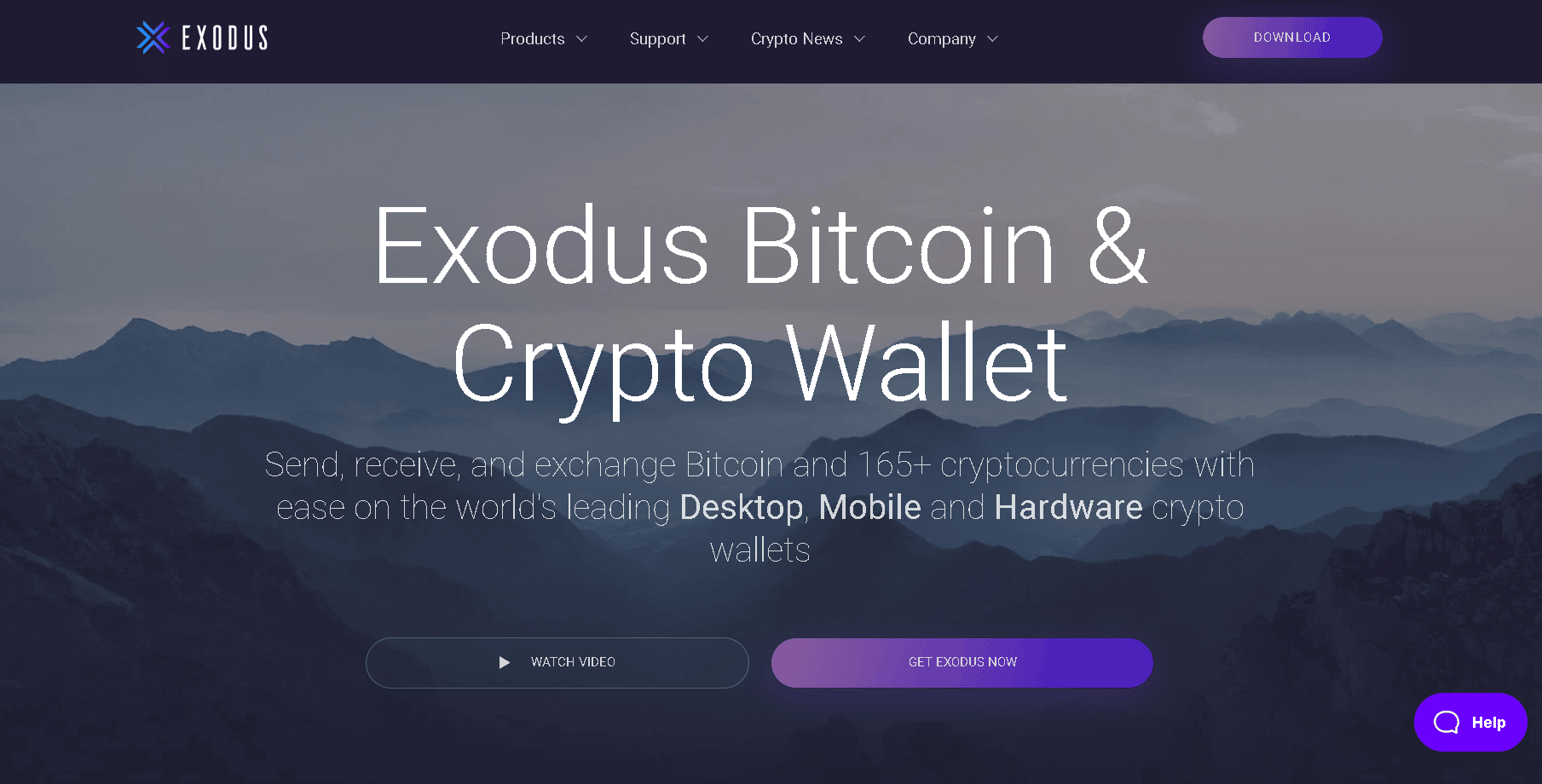 Exodus is software that secures your digital assets offline on Trezor hardware. The platform lets you earn high interest on the digital assets you have stored. You can opt for its mobile or desktop app on which it works the best for you.
Besides storing your coins and earning a decent interest rate on your savings, you can also send or receive coins seamlessly. The company offers 24×7 customer support, helpful FAQs, videos, a massive knowledge base, and charts to ensure that the users are provided with the ideal information they require.
The platform is also known for monitoring the market movements on the go and allows you to receive, send, and exchange crypto with your mobile, desktop, and hardware wallets.
Also Read: 15 Best Hardware Wallets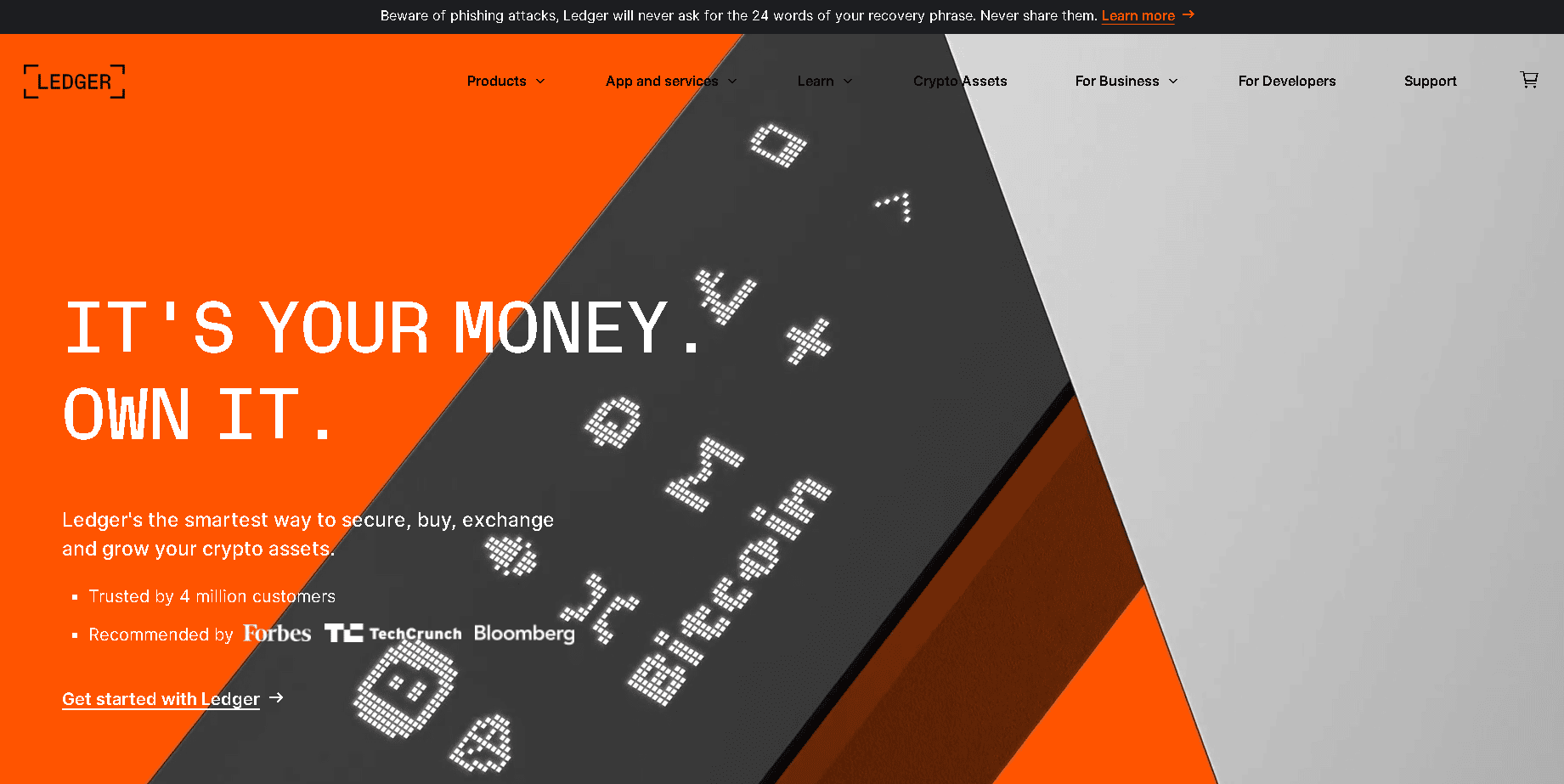 Highly reliable and one of the best crypto wallet apps, Ledger Nano X provides users with a wide range of supported currencies, excellent mobile trading capabilities, and high-security standards to safeguard their digital assets.
Its popularity sparked initially when the brand 'Ledger' introduced its first crypto wallet, Ledger Nano S, a feature-packed cold wallet. With its success, the company expanded on the Nano S wallet and named it Ledger Nano X by adding a built-in battery and useful features, including Bluetooth connectivity and greater asset management capabilities.
The impeccable wallet is priced at $119 and features a 128 x 64- pixel screen for cycling through apps. The wallet also allures users by offering a matte black finish dashboard. Currently, the wallet supports 1800 coins, and the best part is that it is competent in managing up to 100 digital coins simultaneously through the apps on the device.
An impressive aspect about this wallet is that it is packaged with Secure Element Chip, which is used for high-end security solutions such as passports, or debit/credit cards, facilitating protection from hacking or other cybercrime. In addition, the platform can also enable you to generate huge revenue by allowing you to lend and stake crypto coins.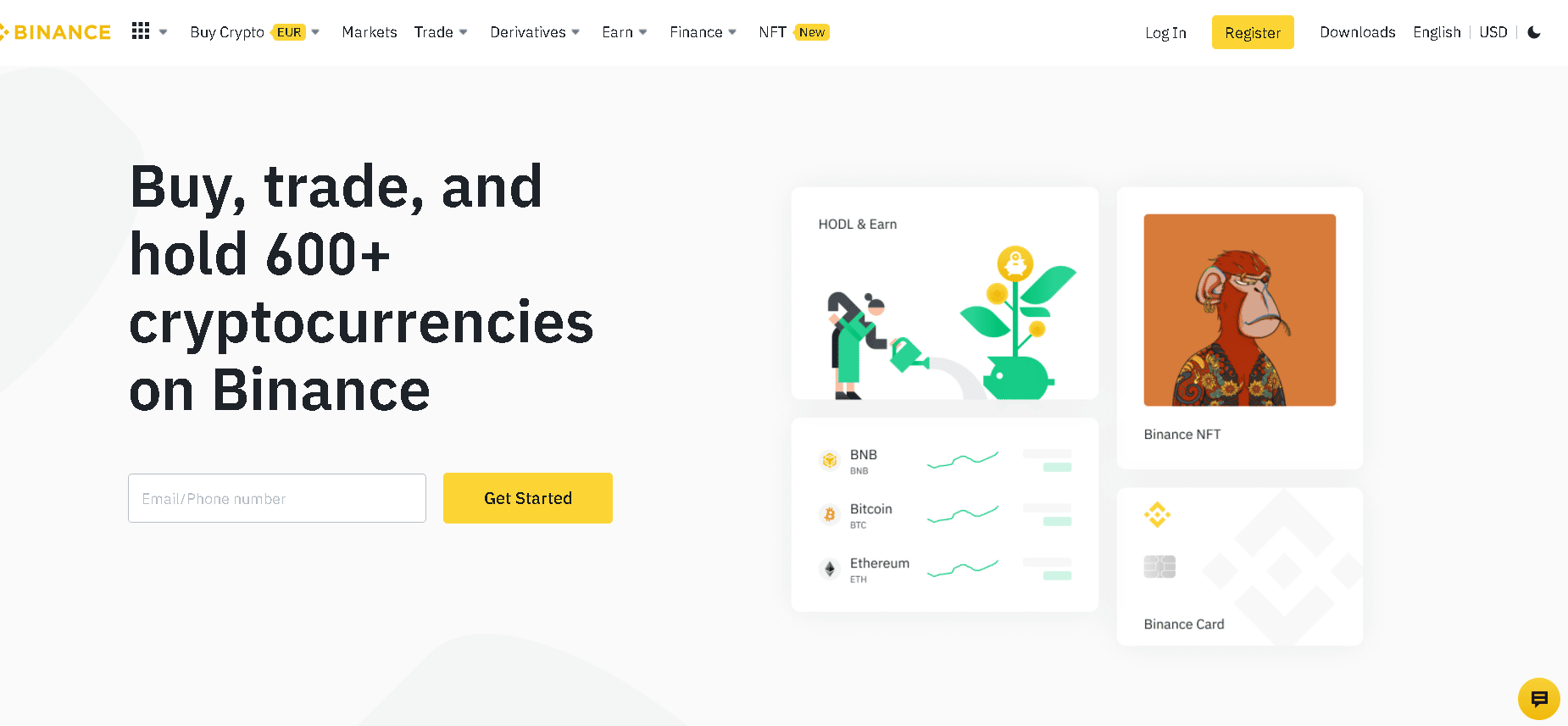 Binance is a spectacular platform allowing you to trade or invest in 150+ crypto coins. The platform is famous for providing an API that facilitates integrating your current trading software.
Primarily, Binance helps you create a bitcoin wallet featuring 24×7 customer support. The software is compatible with iOS, Android, Web, and PC clients. In addition, Binance offers basic and advanced exchange interfaces for trading.
Billions of people are investing or trading with this renowned crypto exchange. As per records, 1.2 billion daily trading volume is making more than 14,00,000 transactions per second. You can also get a 20% commission kickback with a bitcoin wallet created through Binance by using a referral ID- SYURN6LW.
Also Read: 20 Best Crypto Exchanges without KYC Verification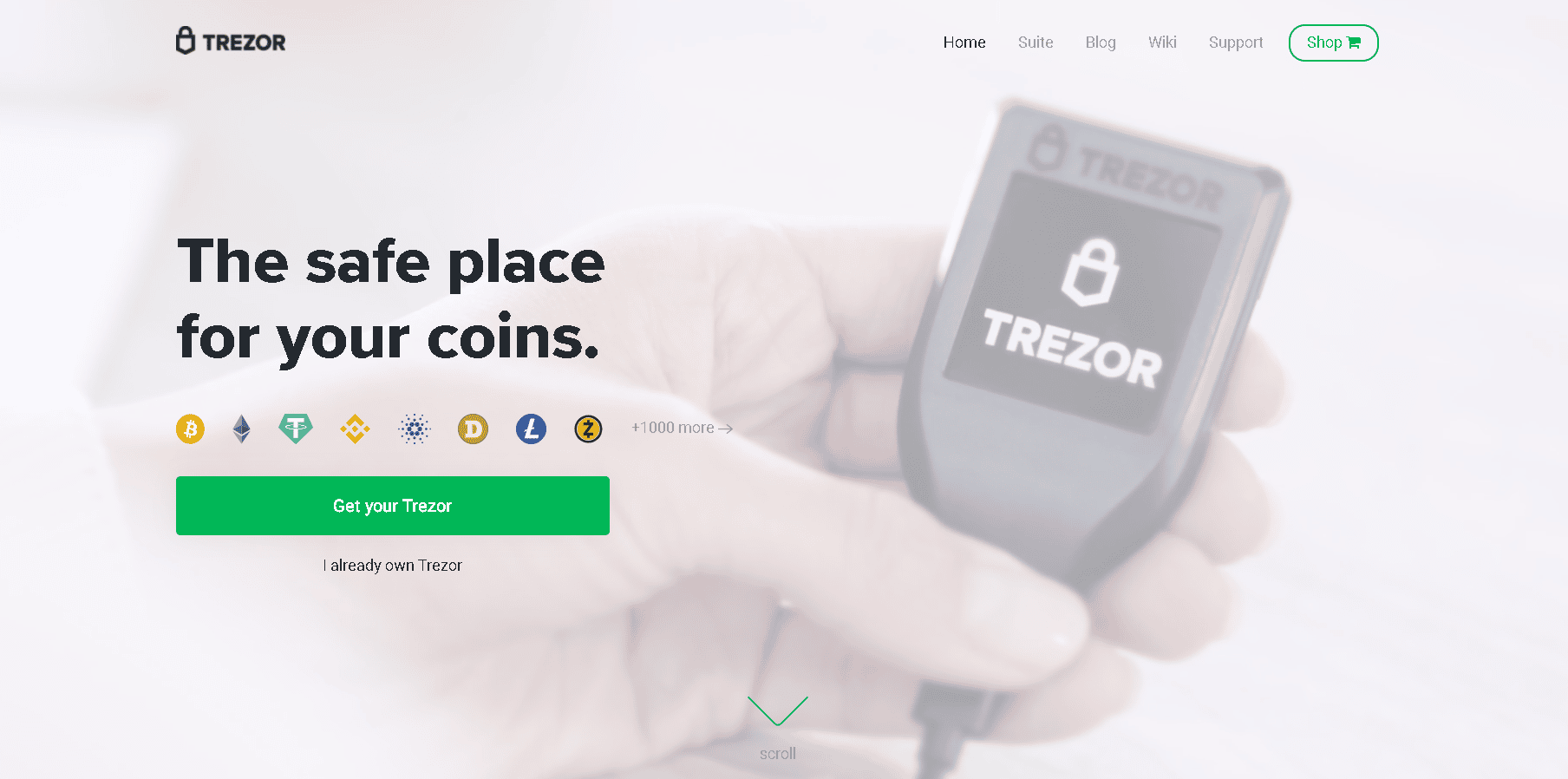 Another recognized and top cryptocurrency wallet used by plentiful crypto investors, Trezor, is made by Satoshi Labs Inc. The platform lets you choose from thousands of cryptocurrencies to invest in and keep them safe in your Trezor T wallet.
You can access the wallet either through their website or a desktop app. At first, you might think the price of the hardware wallet is quite high (starting price- $159), but looking at the premium features, universal support, and ease of use, it's worth its price.
The Trezor One was released in 2014 (the oldest in the market) and designed to suit active traders and HODLers. After 5 years, in 2019, the brand emerged with another model named Trezor T. The major differences between them were in the screen size and the color display.
The wallet is an ideal choice for beginners, professionals, and advanced users. Plus, it enables you to send funds to multiple recipients in one transaction.
This model of Trezor is compatible with Windows, iOS, Linux, and Android via OTG support. Another good part about it is that you can make payments through your phone while accessing this wallet.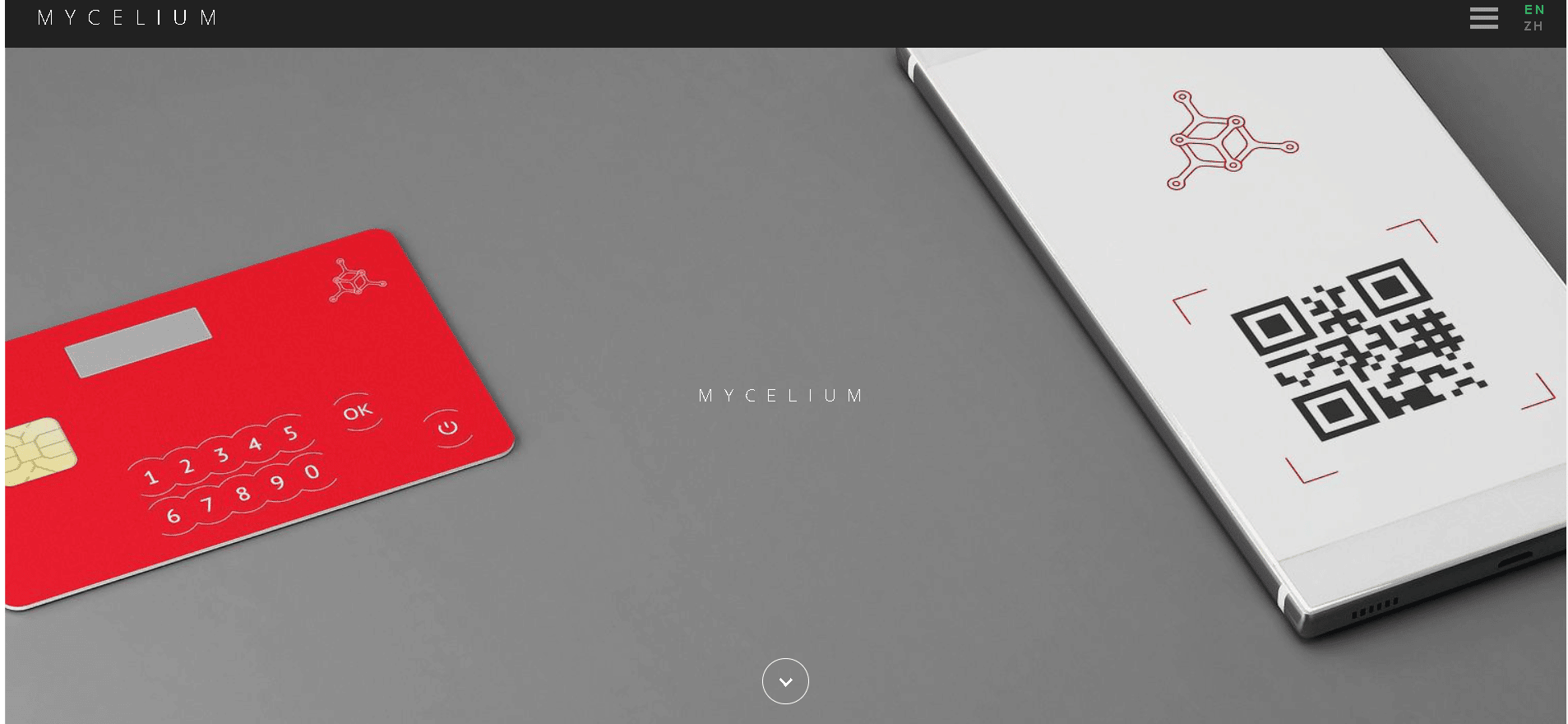 Created in 2008, Mycelium was established to develop a mesh networking project. However, when bitcoin was launched in 2009, the company shifted towards blockchain technology.
In 2014, Mycelium was awarded the 'Best Mobile App' by blockchain.info. The best part is that the software is compatible with Ledger and Trezor, making it one of the best crypto wallet apps on this list.
An astounding feature offered by Mycelium is the Watch Only functionality, which enables you to see your current funds without requiring your private keys. The software also supports SPV (Simplified Payment Verification) technique. With the help of this technique, you can confirm transactions without downloading the entire blockchain.
Furthermore, the platform allows creating a backup of the wallet primarily for professional users, which involves backing up the 12-word seed and setting a PIN afterward.
Also Read: 16 Best Cryptocurrency Brokers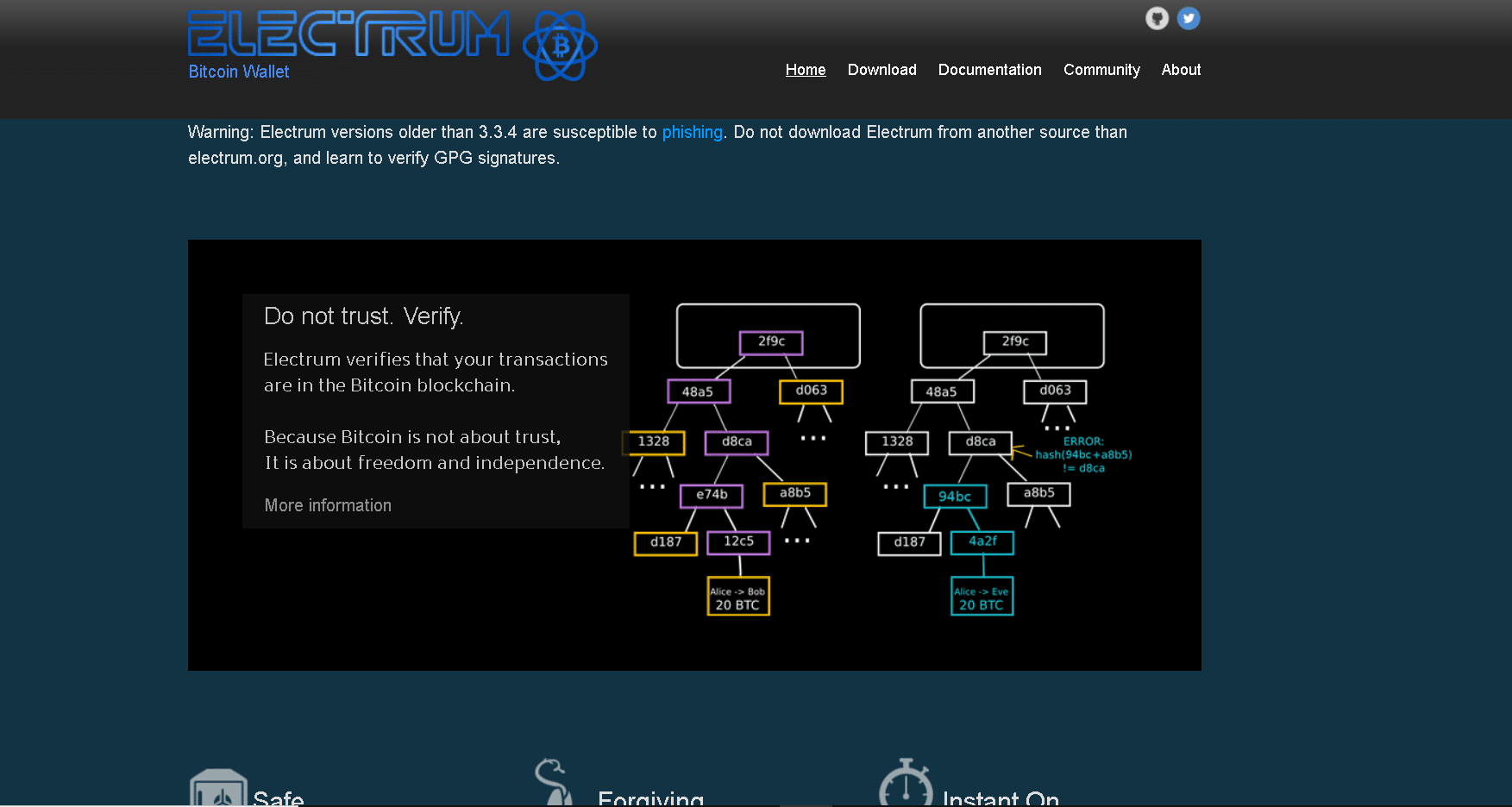 Compatible with iOS, Android, Linux, Windows, and Mac, Electrum is good for beginners. It is the best crypto wallet and one of the oldest wallets in the industry, introduced in 2011. The users cannot connect anywhere to get on because Electrum is completely web-based.
Electrum charges 0.2 mBTC per transaction and operates around 10% of all bitcoin transactions. However, this fee can be reduced for particular transactions. The software features an intuitive interface, making it easy for newbies to get some skin in the game.
The platform primarily makes payments and completes transactions using its online desktop hot wallet version.
Furthermore, it offers outstanding privacy features that keep your Bitcoin and other digital assets safe and secure and ensure low waiting time via server usage. Users can also integrate Electrum with existing hardware solutions, including Ledger Nano, KeepKey, and Trezor.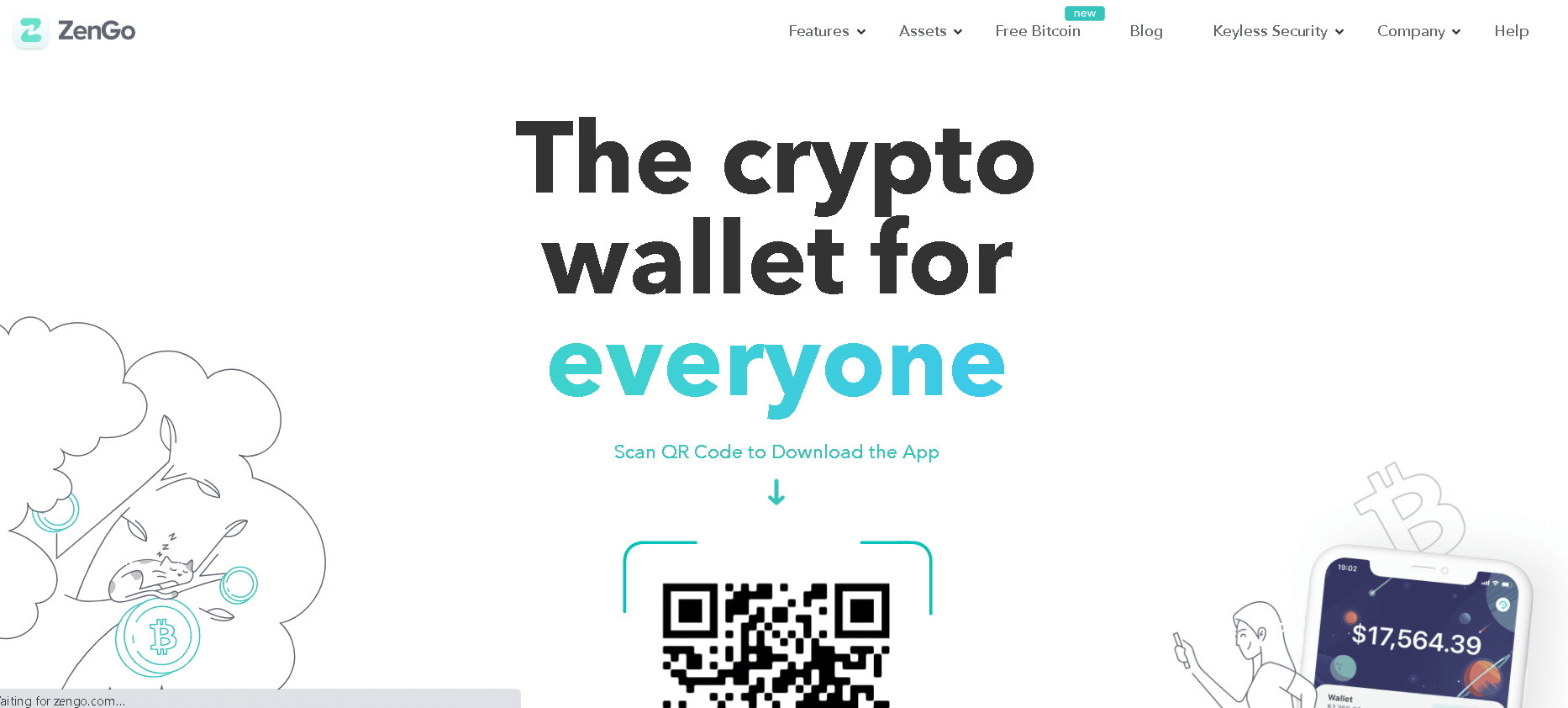 Searching for a keyless crypto wallet helping you keep your digital assets secure in one place? ZenGo is the perfect solution for you to meet all your requirements. It is a non-custodial software that makes storing your crypto coins hassle-free. You can swiftly sign up to this platform within seconds and be the master of your crypto.
This best crypto wallet is available on the Google Play Store and App Store. Unlike other hardware wallets, requiring you to write down a seed phrase, this platform allows users to restore keys in case of emergencies by providing a set of 12-24 words.
In order to protect your private key, the wallet comprehensively supports the use of biometric scanners and smartphones. The best part is that it provides an option to buy from a wide range of cryptocurrencies (70+) as per your choice. So, you can buy, sell, and are also entitled to earn a decent amount of interest on your digital assets' holdings.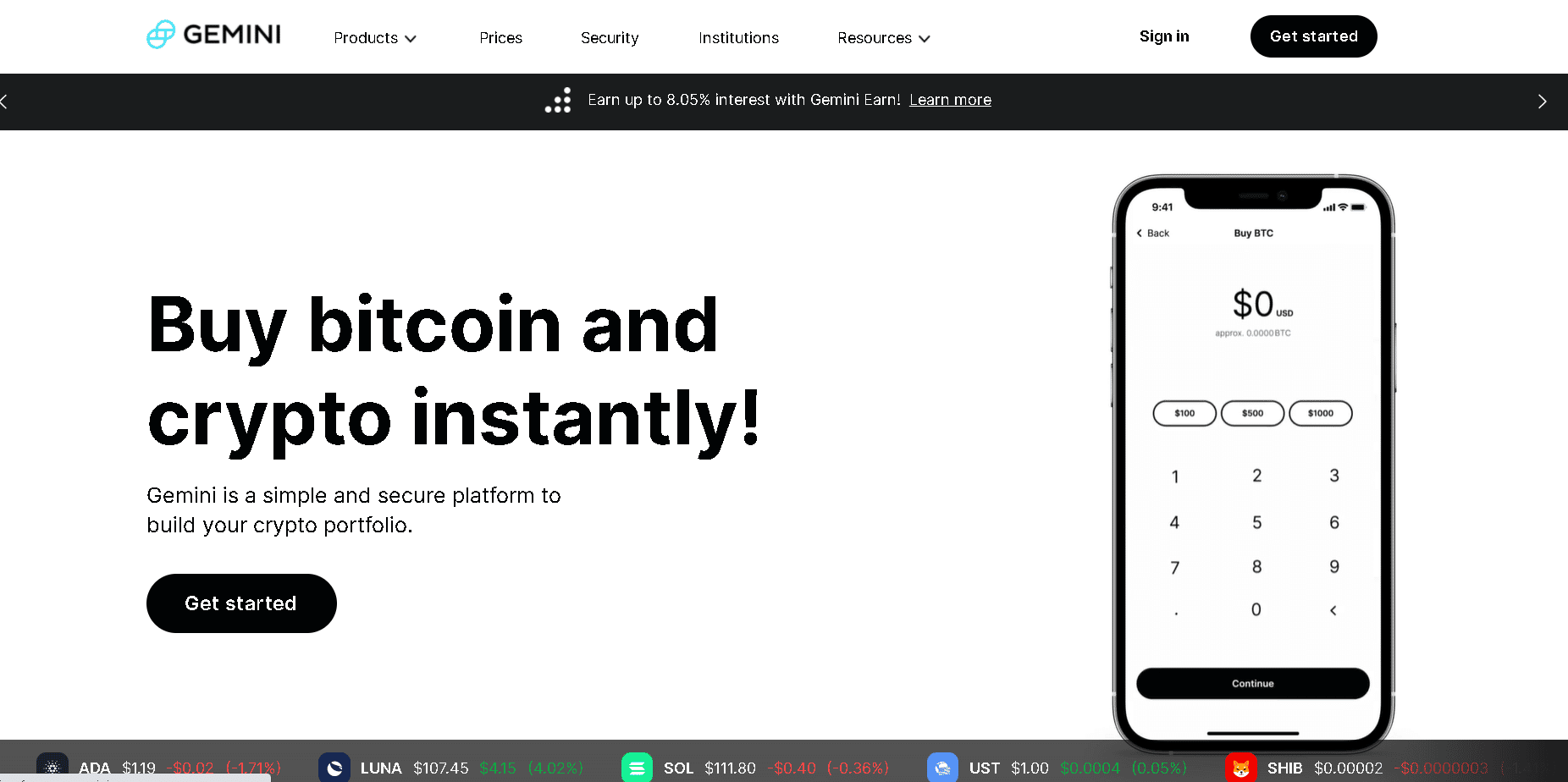 Are you looking to build your crypto portfolio and implement your prudent trading strategy with intuitive tools? Gemini is currently on top of the best crypto wallet market trends that serve as a wallet and a crypto exchange for desktop and mobile users.
It is a fully regulated exchange that offers robust security measures to build an impressive crypto portfolio.
The platform facilitates legitimizing cryptocurrencies all over the world. Plus, they offer multiple crypto coins to buy from, including bitcoin, Ethereum, Stellar, Dogecoin, Litecoin, bitcoin cash, and many others.
The software is also known for tracking asset prices and real-time prices seamlessly. You can easily set price alerts to gauge price movements for particular assets you like. It also allows users to schedule their purchases if they consistently buy a crypto asset while averaging a buy-in price.
Still, thinking of creating your account? Make your first buy swiftly with Gemini!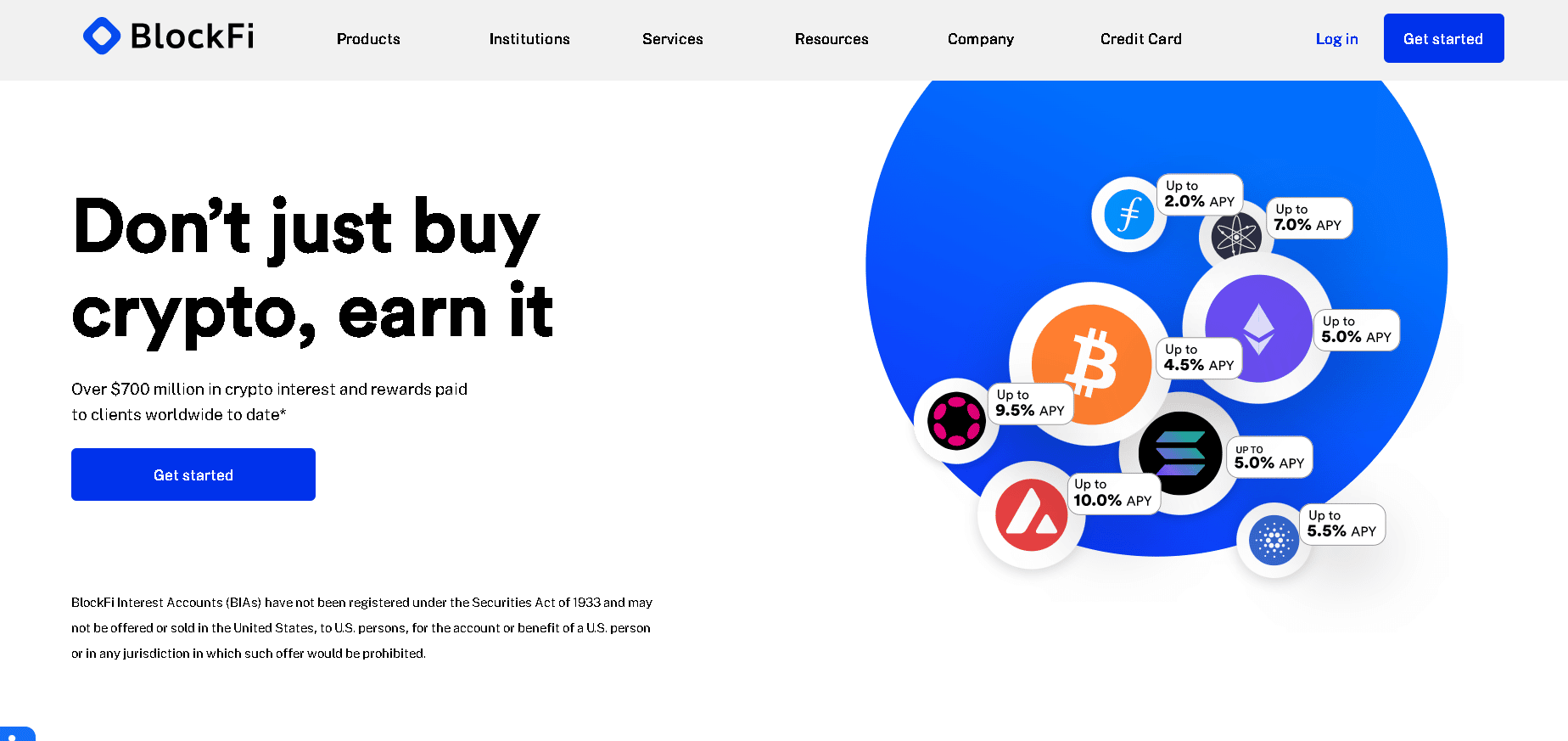 Get registered to this magnificent platform and earn up to 8.6% interest on your crypto holdings in your wallet with BlockFi Interest Account (BIA). The process of signing up for this account is straightforward. It simply takes 2 minutes.
BlockFi boasts custody solutions and potent cybersecurity. Plus, you do not need any minimum deposit balance to be eligible to earn interest. The best part is there are no hidden fees and no reason to wait.
The only drawback is that users need to wait for 7 long days after pushing through their fund withdrawal request. However, these guidelines may change soon after several users receive feedback.
Also Read: BlockFi Review: Is it legit or too risky?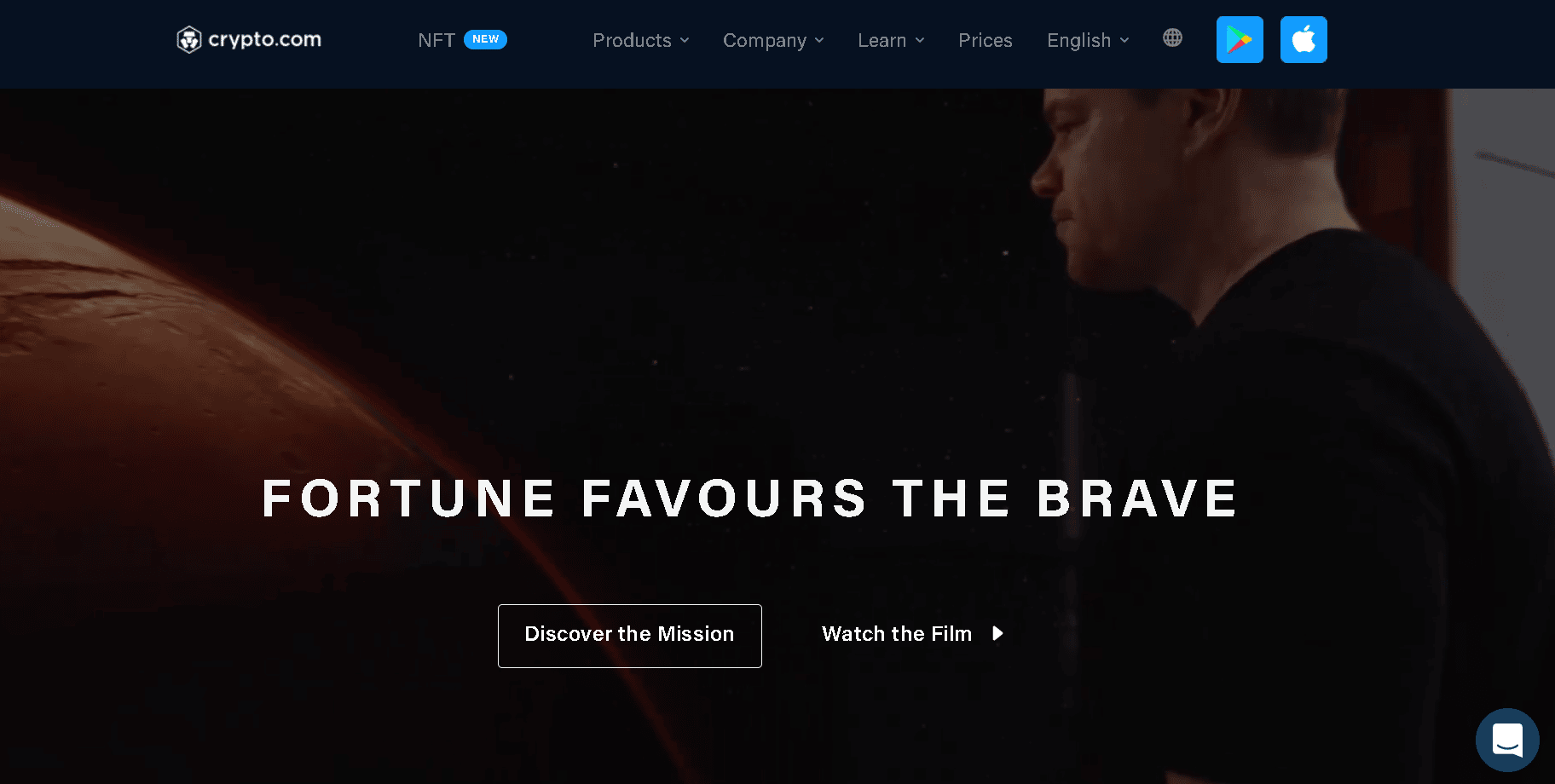 Crypto.com undoubtedly deserves to be on this list of best crypto wallet apps. It offers a De-Fi wallet that provides you access to a full suite of DeFi services in one place. Primarily, it is a non-custodial wallet ensuring all your crypto assets are safe and you have full control over them.
The platform offers plenty of coins to build a diverse crypto portfolio, besides offering a customizable interface.
Another good part about the app is that it streamlines web apps, allowing you to swap DeFi tokens directly from your DeFi wallet. Moreover, you are also entitled to send crypto assets at your preferred speed and the network fee.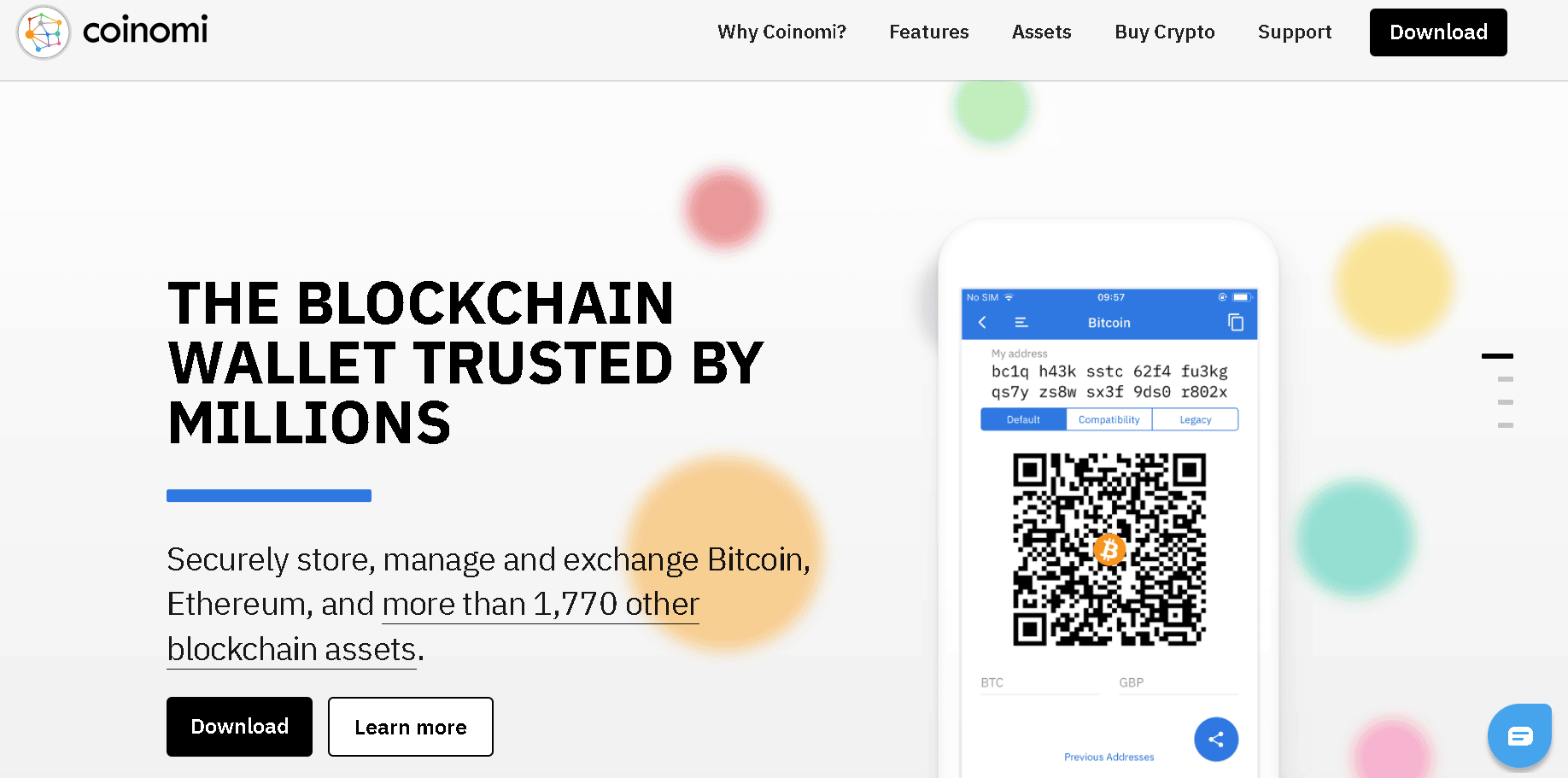 Coinomi is considered the top cryptocurrency wallet for beginners, professionals, and advanced users. The software offers 125+ cryptocurrencies and more than 380 tokens.
Coinomi is a spectacular app ideal for mobile or desktop users. In addition, there are no flat fees, which means you can grab crypto coins and tokens at different rates depending upon the market.
The software ensures you are able to fetch the best prices and stake your tokens instantly when they arrive. As a result, you can earn up to 7% interest once the transaction is processed and the crypto coin is transferred to your wallet.
Sign up to Coinomi hassle-free and enjoy earning interest per month.
Also Read: 15 Best Staking Coins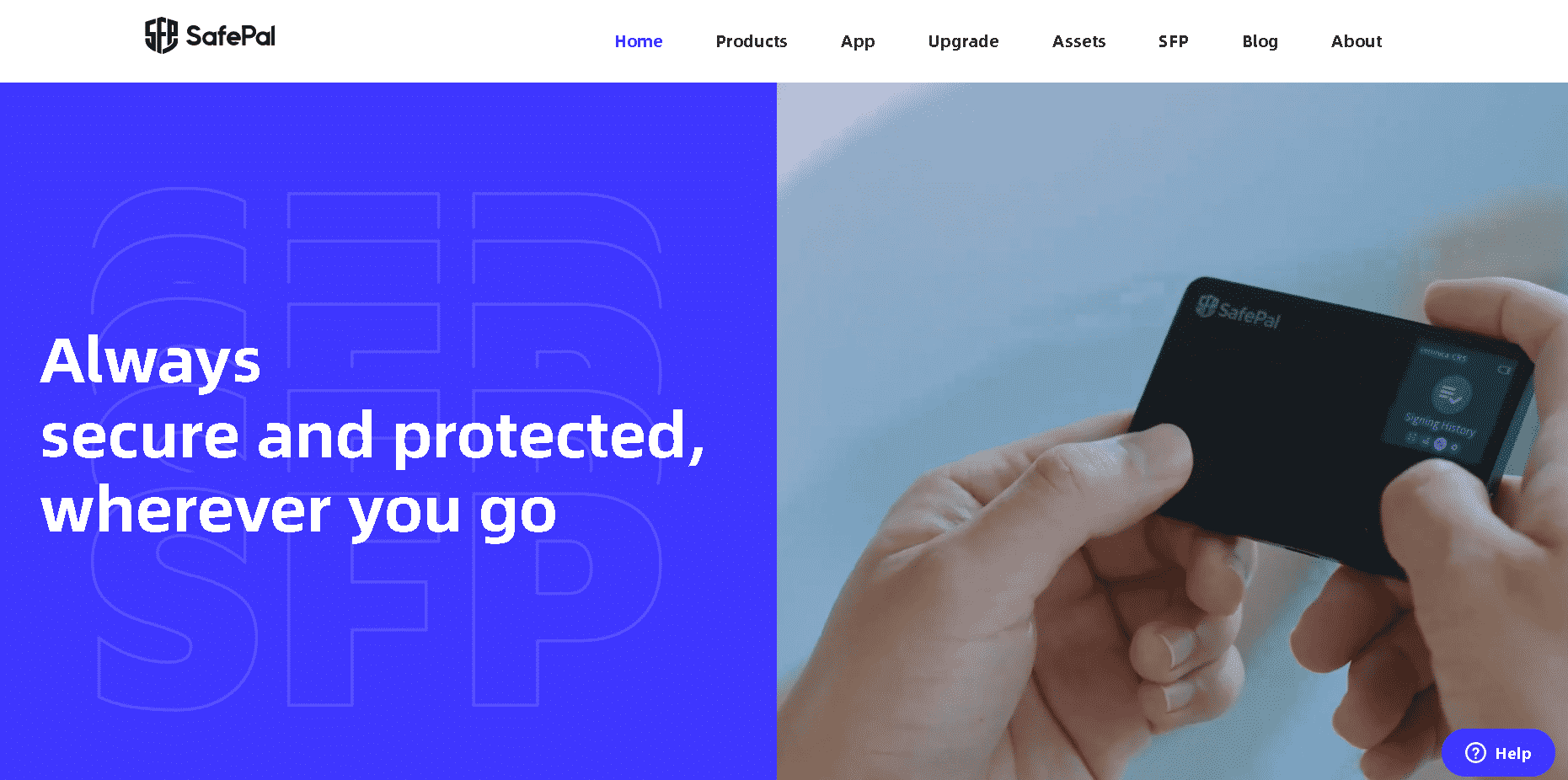 Searching for the best crypto wallet? SafePal S1 is the answer to your search. It provides you with portable options to straightforwardly track and manage your crypto assets. Plus, carrying your SafePal S1 wallet is also very convenient as its size is the same as that of the credit card.
The users can easily connect to the SafePal S1 app using a local QR connection and transfer their crypto coins to whomsoever they want. However, make sure you do not connect it through any public WiFi or someone else's Bluetooth device.
SafePal S1 has made it easy to put all your crypto tokens and coins in one place. The best part is that it supports more than 10000 cryptocurrencies to invest from. So, users are provided with numerous options and buy what they actually like to buy.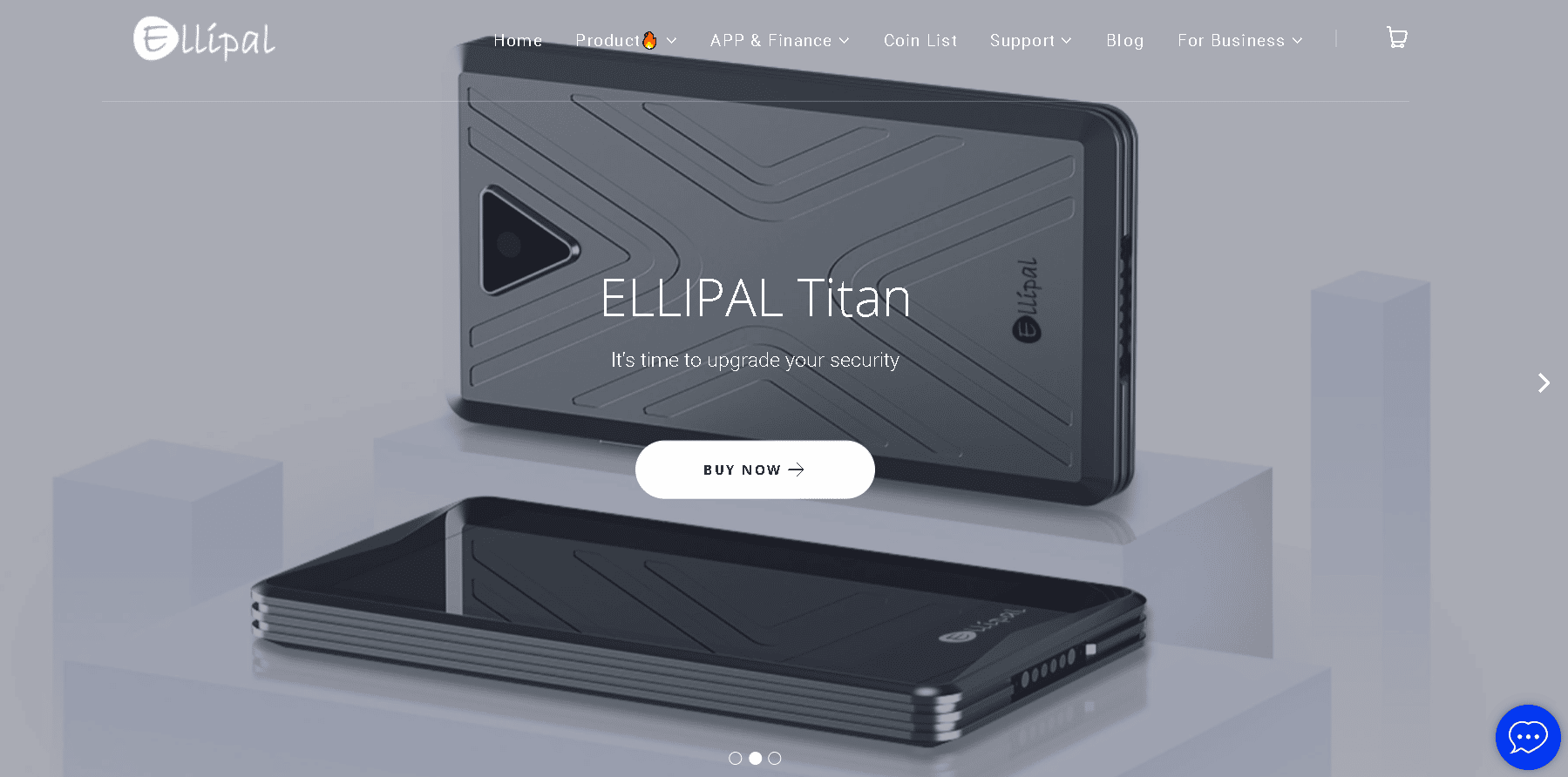 One of the leading and best crypto wallet apps, Ellipal Titan is an excellent hardware wallet that does not look like a cryptocurrency wallet but instead resembles a cybertruck phone. The reason is that Ellipal wallets are featured with a touch screen display to interact with your crypto coins.
The wallets of Ellipal are air-gapped, implying that your private key cannot touch the internet as it is fully isolated from the environment.
The app provides ample cryptocurrencies, starting from Bitcoin, Litecoin, Wink, and many others.
This wallet is equipped with a unique feature. It is competent in managing Ethereum tokens and Binance Smart Chain tokens while serving the security of the cold wallet with the hot wallets' functionality.
Also Read: How to Mine Ethereum? (Beginners Guide)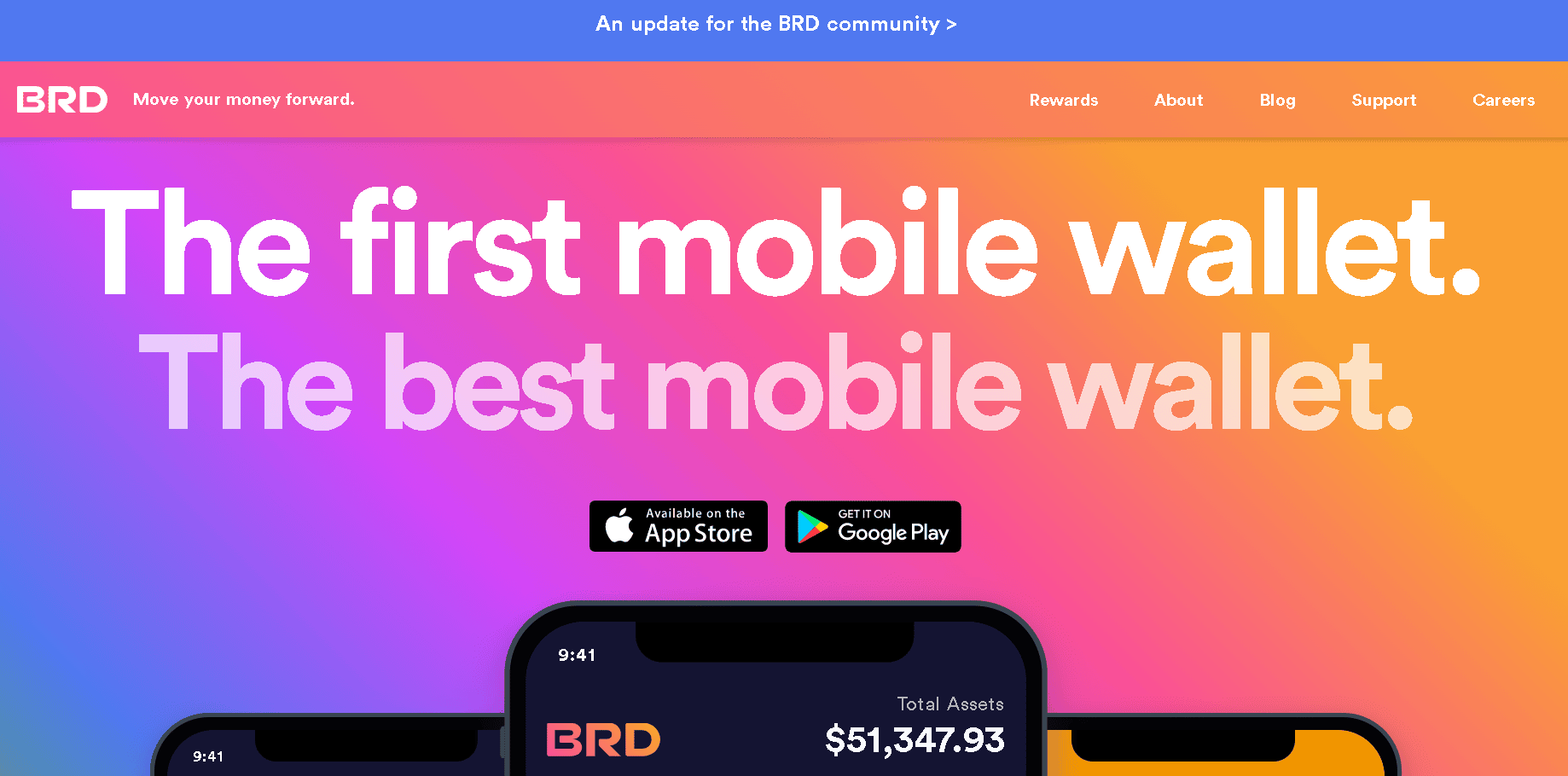 BRD wallet makes it easy to exchange Bitcoin, Ethereum, or any other ERC-20 token. It is best known for providing hardware encryption that helps enhance the security of the digital assets you hold in the wallet.
The platform also renders customer loyalty and rewards programs. In addition, it helps facilitate converting your BTC into other coins such as ETH or Bitcoin Cash. Plus, it offers impeccable customer support to all its customers by solving all their queries in one go.
Besides the ones mentioned above, the other top cryptocurrency wallet you could pick include:
Lumi Wallet
KeepKey
WalletGenerator
Coinsmart
Paybis
Blockchain
Coinmama
FTX
Paxful Wallet
CEX.IO
Changelly
Wirex
Bitflyer
Bitifinex
Trezor One
Ledger Nano S
Kraken
Overbit
Phemex
Coingate
BitIRA
Bybit
Payeer
YouHodler
Monero
Jaxx
Edge
Xapo
Atomic Wallet
Nash
Also Read: How to Cash Out Bitcoin Easily
Types of Cryptocurrency Wallets
After learning about each best crypto wallet in detail, let us look at the types of crypto wallets. There are multiple types of best crypto wallet apps, including:
1. Cold Wallets
The keys used by cold wallets are created on an internet-friendly device. These wallets are highly secure and are considered ideal for storing your private key information permanently offline. However, the data is stored offline and does not require internet connectivity. These reliable wallets efficiently manage large sums of money and manage all transactions.
2. Hot Wallets
Hot wallets are created or stored on a capable device to connect to the internet. These wallets use keys and are based on a type of cryptography, just like a password. They are best-known for offering high utility to all users but are considered less reliable than cold wallets.
3. Hosted Wallets
These types of wallets are created and hosted on another server that you do not have control of. It is one of the major reasons why hosted wallets are considered less safe than Hot and Cold wallets. These wallets are mostly used by hackers offering a different level of protection as some hosted wallets are insured by third parties.
4. Hardware Wallets
The hardware wallets look like a USB with an OLED screen with side buttons. The hardware wallets can be connected to a PC accessed by native desktop apps. They are more secure than hot wallets but less than desktop and web wallets. These wallets provide more control and a reasonable amount of control to ensure the safety of digital assets.
It might be difficult for a beginner to manage their crypto coins if the investment is enormous. The best hardware wallets for these purposes include Trezor and Ledger Nano S.
5. Desktop wallets
Desktop wallets are increasing in demand; they are installable software packs available for different operating systems. So, why exactly are desktop wallets gaining recognition? Just like anti-virus is required for maintaining the excellent performance of the computer, desktop wallets are being used to store cryptocurrencies safely as keeping crypto coins on an exchange is risky. The best desktop wallets include Bitcoin Core, Electrum, Exodus, and many more.
6. Mobile wallets
Mobile wallets are similar to desktop wallets that use QR codes for transactions. These wallets are vulnerable to malware issues but are suitable for daily operations. To enhance the security of mobile wallets, their encryption is necessary. Some of the best mobile wallets to store your crypto coins include Mycelium, Coinomi, and many more.
7. Paper wallets
Paper wallets can be set up if stringent security precautions are taken. They have physically printed QR-coded form wallets allowing users to download the code to generate new addresses online. These wallets are prone to hacks. One of the major disadvantages of them is that users cannot send partial funds, which means they cannot be reused. Priorly, these wallets were used for cold storage but not after the introduction of hardware wallets.
8. Web Wallets
Web wallets are accessed through an internet browser. These wallets can be both hosted or non-hosted. They are considered the least secure wallets and are ideal for small investments that allow quick transactions. The private keys featured in these wallets are prone to DDOS attacks.
To name a few, MetaMask, Coinbase, Kraken, Binance, etc., are best performers than other web crypto wallets.
What Type of Crypto Wallet is Ideal?
A couple of things should not be ignored while you choose a crypto wallet to store your digital currency. Before knowing the recommendations for what to look at in a crypto wallet, it is vital to ask yourself; How often do you trade? How much are you willing to spend? What do you want to trade? What functionality do you need in the wallet?  Once you have asked yourself these questions, consider these factors before selecting a crypto wallet.
1. Intuitive Interface: Whether you are a newbie or an advanced crypto user, the cryptocurrency wallet you choose must be featured with an accessible, easy-to-use interface. Always opt for the wallets that do not make you jump through hoops to start basic trading.
2. Supported Currencies- One important question to ask yourself before finalizing your crypto wallet is ensuring what all currencies it supports. According to the thumb rule, 'the more, the better.' Even if you solely trade in Bitcoin, it is always recommended to opt for the wallet supporting at least a few of the more renowned altcoins.
3. Hardware Wallet Compatibility: Getting a hardware wallet is imperative if you are thinking of entering the cryptocurrency world or already trading inside the colossal market. You must opt for hardware wallets to ensure the safety of your digital assets, even if you do not trade frequently. The investors who are using hot wallets to safeguard their crypto coins must be compatible with at least 1 brand of a hardware wallet to default to the model(s) supported by their wallet.
4. Excellent Customer Support: Having robust customer support available throughout the day to solve all your queries seamlessly is what you will expect once after choosing your crypto wallet. With efficient customer support, you won't face any challenges even if your wallet undergoes frequent updates or suffer from visual glitches. Ensure and check extensively that the platform you are about to choose offers impeccable customer support.
5. QR Code Scanner: Looking to access the mobile crypto wallet? A QR code scanner is indispensable, which allows these wallets to generate and scan a QR code for coin transfer.
6. Backup Option: Make sure the crypto wallet you choose provides you with the backup option. It will save you if your laptop, pc, or mobile device crashes or stops working; having data to back up immediately will be a lifesaver. Isn't it? So, always prefer choosing the wallet featuring an option to restore your wallet.
How to Choose the Top Cryptocurrency Wallet?
As crypto wallets come in many categories, some strategies help investors choose the crypto wallet prudently. But, what factors affect their decision? Our list of best crypto wallet scored high in the following categories:
1. Features: Every wallet offers different features. Moreover, every wallet may focus on specific functionalities. The top-rated wallets are featured with massive tradable assets, staking & lending capabilities, live charts, and hardware wallet compatibility.
2. Cost: What if you get all impeccable wallet features at a reasonable price? The best crypto wallet apps are the ones that charge less for processing transactions. However, the cost of the wallet also depends on the type of wallet. The wallets with customizable transaction fees are listed in our top crypto wallets list.
3. Reliability and Security: Safety is our top concern. A crypto wallet must be reliable to be the best crypto wallet. Also, the impeccable crypto wallets follow strong protocols such as 2-factor authentication, multi-signature support, biometrics, and open-source code for all transactions. Plus, an investor should feel secure while keeping all their altcoins in the crypto wallet for a specific duration.
Also Read: 11 Best Cryptocurrency Apps
FAQs
Q1. How To Buy a Crypto Wallet?
You need to pay a fee depending on the amount of the transaction processed through the wallet. The majority of the crypto wallets are hot wallets; however, cold wallets are considered more secure and can be purchased from third parties such as Amazon. The best option to buy cold wallets, such as Ledger, Trezor, Opolo, KeepKey, etc., is to purchase them on their respective websites.
Q2. Which Crypto Wallet has the Lowest Fees?
There is no particular crypto wallet charging static fees. The transaction fee varies depending on the exchanges used for investing or trading. Some wallets may charge a higher amount to stimulate the transaction's speed.
Q3. Are Assets insured in Crypto Wallets?
Many companies may offer some type of guarantee to their users, but the fact is FDIC (Federal Deposit Insurance Corporation) is not insuring any crypto coins. They are consistently gathering information, knowing that the environment is evolving; they might consider legislation for the future.
Q4. What is Blockchain?
The entire functioning and database of cryptocurrency are based on the blockchain. It is a decentralized system in which transactions are recorded and maintained across numerous computers linked in a peer-to-peer network. This technology facilitates creating a digital ledger system of transactions.
Q5. What is Crypto Public Ledger?
Ledger is simply a record-keeping system. Every business requires creating a ledger to maintain and match its financial accounts. Similarly, a crypto public ledger is a computerized record of transactions to maintain participants' identities anonymously.
Q6. How Long does it Take for the Altcoins to Appear in the wallet?
It varies from wallet to wallet to build a transaction block. The Bitcoin asks for 6 confirmations, which usually takes an hour before a translation is realized. On the contrary, Ethereum asks for 24 confirmations, and the translation completes within a few minutes.
Q7. Should I Invest in Crypto?
Cryptocurrency is a fascinating financial asset that has allured many investors in recent months or years. Crypto gained utmost recognition, especially in 2021, when the prices of some altcoins sky-rocketed within 2 to 3 months.
Consider the story of Dogecoin, which is just a meme coin based on the Shiba Inu dog and created as a joke by Jackson Palmer, and Billy Markus on December 6, 2013. The currency reached a market capitalization of $90 billion. It hit an all-time high on May 8 after Elon Musk and Reddit users were involved in the GameStop short squeeze and gained the attention of massive audiences to it. After this, the coin price is consistently falling, and no one knows to what extent the prices will crash.
While taking the example of Bitcoin, when the cryptocurrency was just introduced. In 2010, the price of Bitcoin was just $10, which is worth more than $34000 in Jan 2022 (that too when the prices fell 50% in May of 2021 when 1 BTC coins' value surpassed $64000).
All in all, the story of cryptocurrency is unknown, and it will always remain an unpredictable asset. Therefore, investing or trading in crypto coins with caution is the key to making profits and surviving in this volatile market. A few aspects should always be gauged while investing your money in this financial market, including:
1. Crypto assets are unregulated: All the countries worldwide are still grappling with introducing laws related to the regulation of cryptocurrencies. It has become a global concern. The government around the world is asking; Should crypto be regulated? And if yes, who should regulate cryptocurrency? The lack of adequate regulation means the investors or traders who have invested in the crypto world are not protected against any types of scams or crimes.
2. Altcoins are not backed by anything: The government does not back crypto coins. They are speculative assets and are risky due to massive fluctuations in price. Moreover, the growth potential of individual altcoins is difficult to determine, unlike the case of the stock market, where stock analysts or financial advisors let know of the growth potential of the specific company. This increases the volatility of the crypto extensively.
3. Highly Volatile: The price of every altcoin can see massive peaks and depressions throughout its lifespan. The dramatic changes in the crypto coins are not normal compared to how other assets move.
Q8. Where can we find the Best Crypto Wallets?
The hunt for finding a suitable crypto wallet meeting your requirements is over. With Privacy Pros, which is not just a wallet, but a massive online store that allows you to buy an extensive range of cryptocurrencies and keep them secure in the wallet you choose. Popular crypto wallets you can find on this platform includes Trezor, Ledger, and many others.
Q9. What Happens if the Hardware Wallet Company Shut Down?
Just think like Microsoft shuts tomorrow; you will still be able to play games on your Sony Play Station or Xbox without any restrictions. Similarly, it will not make any difference to the user in case the hardware wallet company goes out of business. The crypto assets stored in the hardware wallets are safe. However, you only need to run your own node to process the transaction.
To set up your own node, you need to install Electrum on your laptop or pc. The Electrum wallet will import all the transaction history, fund balance, and details exactly in your migrated platform.
Q10. How to be Safe and Cautious?
To ensure the quality and authenticity of the crypto wallet, it must be purchased from its official website. Buying the crypto wallet from third parties like eBay or any other may not ensure the originality of the wallet. However, purchasing it from the official website will eliminate the chances of manipulation by third parties and scammers, restricting them from stealing the coins from your hardware wallet at a later time.
Furthermore, you can open a dummy account on the device to ensure more safety. You need to store an amount that you can afford to lose in this account.
Recommended: 10 Best Stablecoins
The Takeaway
No matter which crypto wallet you persuade your client to opt for, out of the best crypto wallet mentioned above, do not overwhelm them too much at first. You can always encourage them to try some low-cost or free options with robust security measures.
The crypto prefers open source technology over closed sources. There are numerous cryptocurrencies established today; more than 8000 as of 2022. Only invest the amount you can afford to lose to make good money. Buy a hardware wallet if you can afford one and want your funds to be secure. If not, do not forget to make a dummy account and store a minimal amount that will not bother you even if someone grabs that portion.