Bots are part of the ongoing Artificial Intelligence revolution that is programmed to perform a specific task without involving any human effort. You can find AI in every sector today including the stock market and cryptocurrencies. People have been using bots and algorithms to predict the market for years. Similarly, there are bots that help traders to maximize profits. Bots can do a high number of calculations and implement strategies which are well beyond the scope of humans. Even a free crypto trading bot can work wonders and make trading efficient. In this article, we have compiled a list of the best bots for crypto trading that will increase your profits and save you time.
How do Crypto trading bots work? 
Trading bots work under the umbrella of AI and machine learning. With the help of an Application Programming Interface, the bots collect all relevant information using the prior mentioned smart technologies. The purpose of using a free crypto trading bot is to predict future prices based on past price trends. The best crypto trading bot will predict a price that is near the actual price of that cryptocurrency.
Among many most common types of trading, the order is a limit order. Since these orders are completed at a fast pace so any order by a bot results in a profit or loss. A loss occurs sometimes because all the information is taken from online sources like news articles, past trade trends, etc. So if you are using an expensive crypto trading bot, it might take you some time before you start making huge profits.
21 Best Bots for Crypto Trading
Humans have always used technology to increase productivity and perform complicated tasks. Trading involves lots of numbers and precise calculations. One wrong estimation can result in a huge loss. It is where these bots come into the picture as they are less likely to make an error when compared to humans. They also help you organize your stocks and strategies. Let us start our list.
HAL trading is one of the best trading bots for crypto which provides advanced automated strategies and indices which are designed by qualified professionals. The application offers a single dashboard to track your every trade. Also, HAL provides you with a guide on how to manage your trades and develop strategies and make them work with your crypto. It works in support of an artificial programming interface to do automatic trades without any human intervention.
Automated trading strategies.
30+ crypto support.
Compatible with Binance, Kraken, FTX, and Bitfinex.
Kryll leads an active trading community because of its intuitive interface with drag and drops feature where a trader can graphically design their strategies. On Kryll you can even publish your winning trading strategies and earn a commission when a trader uses your strategies.
Strategies on rent are available for new traders.
Stop loss option helps to minimize losses.
Easy to use with Kryll mobile app to track everything at your fingertips.
No need to log in to your trading app with API integration.
Easy to design Trading algorithm with drag and drop interface.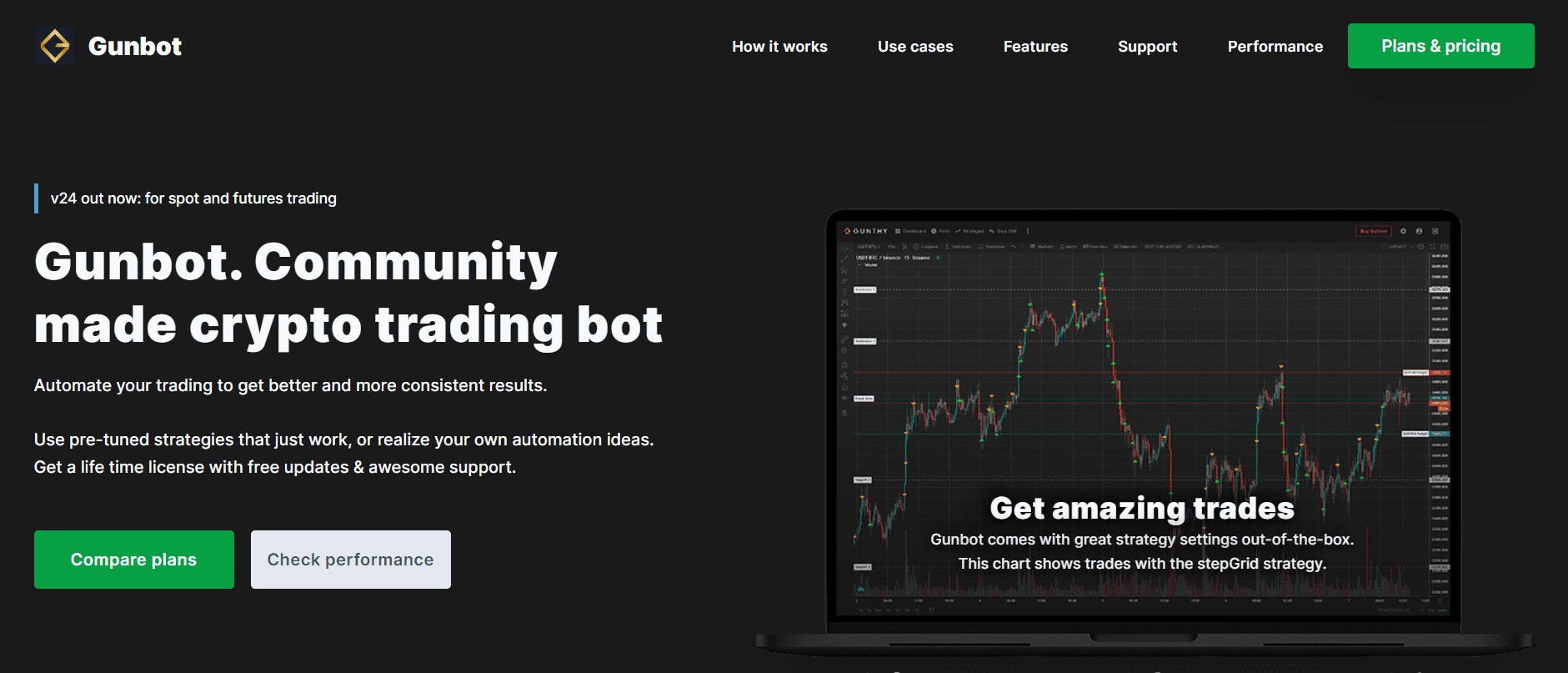 Gunbot is an easy-to-use trading bot famous in the market for its advanced features. It was launched in 2016 and has since then proved its worth in the market with industry-standard trading indicators which fulfill the needs of both newbie and experienced traders.
Easy to install with a 5-minute installation period which includes a simple unzip.
Exchanges supported by Gunbot are more than 15.
A double-up feature that buys more crypto after a sudden drop in prices to compensate for your losses.
Reversal trading to accumulate more units of the quote currency while prices are moving downwards.
Trader can create their trading strategies with the use of the tradingview add-on.
Margin was launched in 2014 and since then its simple graphic user interface with features like drag and drop has developed a good customer base with trust. All you need is to download the application through which you'll be able to perform various trading strategies.
Visual trading-Drag and drop orders and see profits by just hovering the pointer on your trade.
Easy to setup automatic trading strategy bots.
Make custom strategies using the python strategy editor.
General user interface can be configured as per individual need.
Advanced features are available for institutional traders.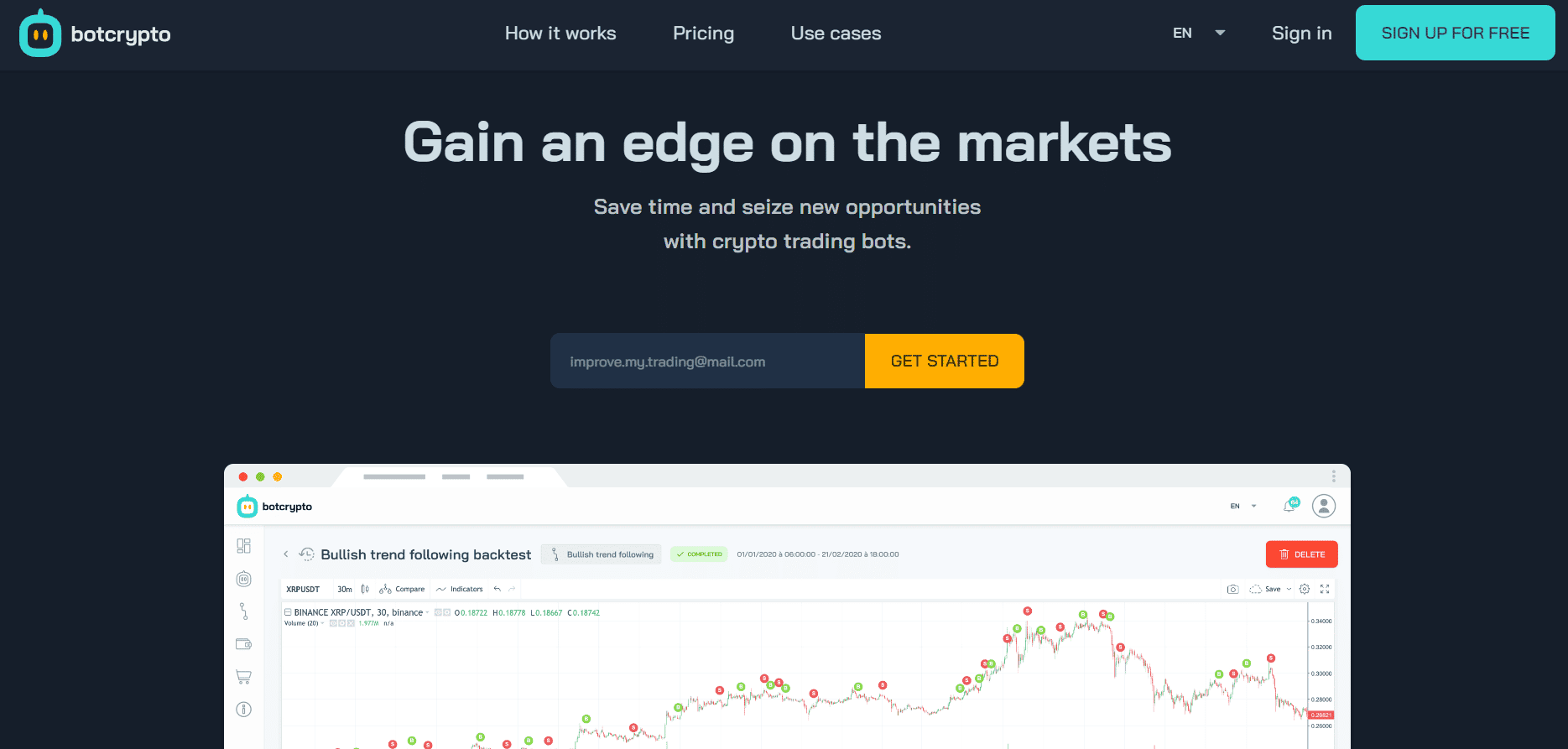 Botcrypto is one of the free crypto trading bot with a drag-and-drop interface. But its free version doesn't support bots that is you are only allowed to make and import strategies. It is a great contender in the3 race of best bots for crypto trading.
Instant feedback with 3 years of data to validate your trades.
Unlimited real-time simulations are available.
Free access to Artificial Programming Interface.
With the cheapest plan, you get 2 bots.
Pricing : 9.99 € (Bronze), 29.99 € (Silver), 59.99 € (Gold).
Also Read: 23 Best Cryptocurrency Affiliate Programs

Tradesanta is one of the best bots for crypto trading because of its simple interface and cutting-edge features. It has been in the market for quite some time. It works on a cloud-based platform and has more than 2 million servers.
A variety of trading signals like Bollinger and Tradingview.
Feature to copy the best bot trading strategy.
The mobile application version is also available to track trades 24/7.
Manage all your portfolios in one place with its free trading terminal.
Pricing: $13 (Basic), $23 (Advanced), $35 (Maximum).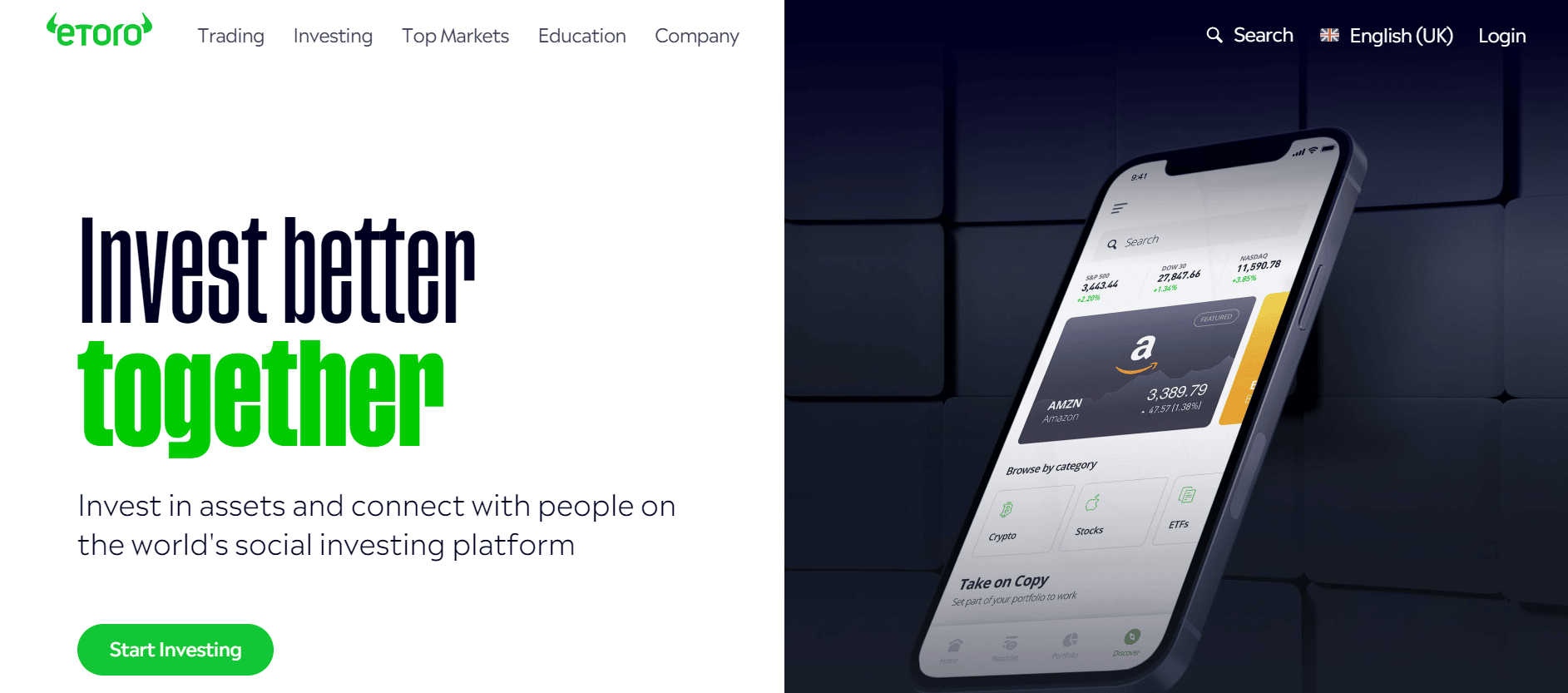 eToro is a crypto trading platform that gives to you the wisdom of a million investors. It lets you trade in crypto, stocks, and ETFs. Etoro is where you can discuss trade strategies and share ideas.
Buy and sell 60+ crypto assets.
CopyTrader lets you copy the winning strategy of top investors.
Option to select from a range of smart portfolios.
Good customer service and help center support.
Option to invest in fractional shares.
Zero commission on long stock position.
With one in four crypto traders using Kucoin and 20+ million investors registered with this app, it is bound to have a great trading bot. It has the following features.
24/7 customer support to ask all your queries.
No exchange limit between Fiat and Crypto.
You can start trading for as low as $1 to provide traders with practical experience.
KuCoin application is available for android, iOS, and Play Store.
Botsfolio is the best crypto trading bot for new or novice investors as the platform offers great security features to secure your trade investments when the market is down.
Active Trading – When you deal in high-risk high profit trades only a small part of your portfolio is used.
Readymade basket of coins which are bought and sold according to market changes.
Risk tolerance can be adjusted between 50 to 100%.
Crypto Exchanges available on Botsfolio are Binance, Coinbase Pro, and OKX.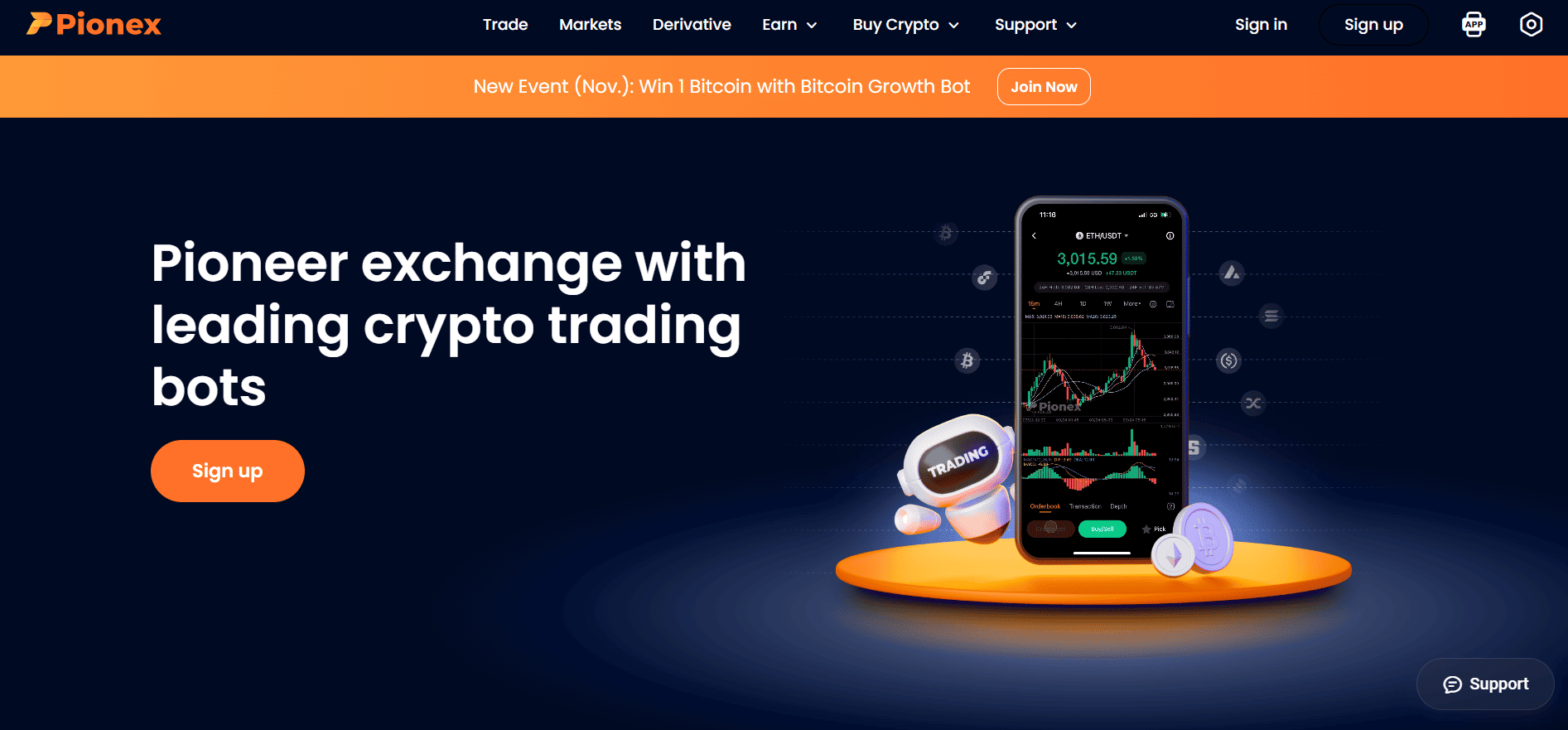 Pionex is one of the best bots for crypto trading. It is supported in iOS and Android and is available for free. It offers amazing features like:
16 free built-in trading bots.
Offers 99.99% uptime.
Daily trades on Pionex are 100 million+.
379 coins available with only a 0.05% trading fee.
Grid Trading Bot helps you buy low and sell high automatically 24/7.
Leveraged Grid Blot gives 5x leverage.
Allows traders to set up a stop loss, trailing in one trade, and take profit through its Smart Trade terminal.
Spot-Futures Arbitrage bot makes sure that retail investors make passive income with low risk.
Also Read: How to Mine Dogecoin?

Cryptohopper is a world-class automated crypto trading bot. It is a free crypto trading bot that you can use. It supports iOS and Android. Its features include:
Offers user-friendly interface.
Helps you create trading algorithms easily.
Helps manage your complete portfolio from one place.
Allows you to trade for Litecoin, BTC, Ethereum and more.
Provides strategies and bot templates.
Keeps your data private and protects your account by protocols that are secure.
An easy set-up process with no credit card information required to join.
To check your strategy with zero financial risk it allows you to paper trade.
Subscription plan starts from $19 per month.
WunderTrading is one of the best bots for crypto trading that allows you to start your trading journey in investing in cryptocurrency easily. It supports iOS and Android. It provides features such as:
Offers an easy and safe cryptocurrency portfolio tracking tool.
Helps traders manage multiple crypto exchange accounts either manually or automatically.
Provides Arbitrage Trading which helps traders take advantage of price differences across different markets.
Other features include Trailing stop, Swing trading, multiple take profit targets, move stop loss to breakeven and DCA.
Helps to create trading strategies which are executed automatically 24/7.
Allows users to copy other professional Traders and Bots in a few clicks for Free through its Copy-Trading feature.
Offers free trial and subscription plan starting at $9.95 per month.
HaasOnline is an advanced automated crypto trade bot which helps to backtest, develop, and deploy high-frequency crypto trade bots across so many cryptocurrency exchanges quickly. Its features include:
Includes HaasScript which allows you to create complex automated trading algorithms, and technical indicators, generate and interpret signals, and much more.
Keeps your codes and data private and secure.
Gives real-time performance reports.
You can monitor your trading bots and market movements using custom dashboards.
Helps you create your technical analysis.
Offers 99.9% uptime and reduces risk with backtesting and simulated trading.
Gives a subscription plan starting at 0.011 BTC.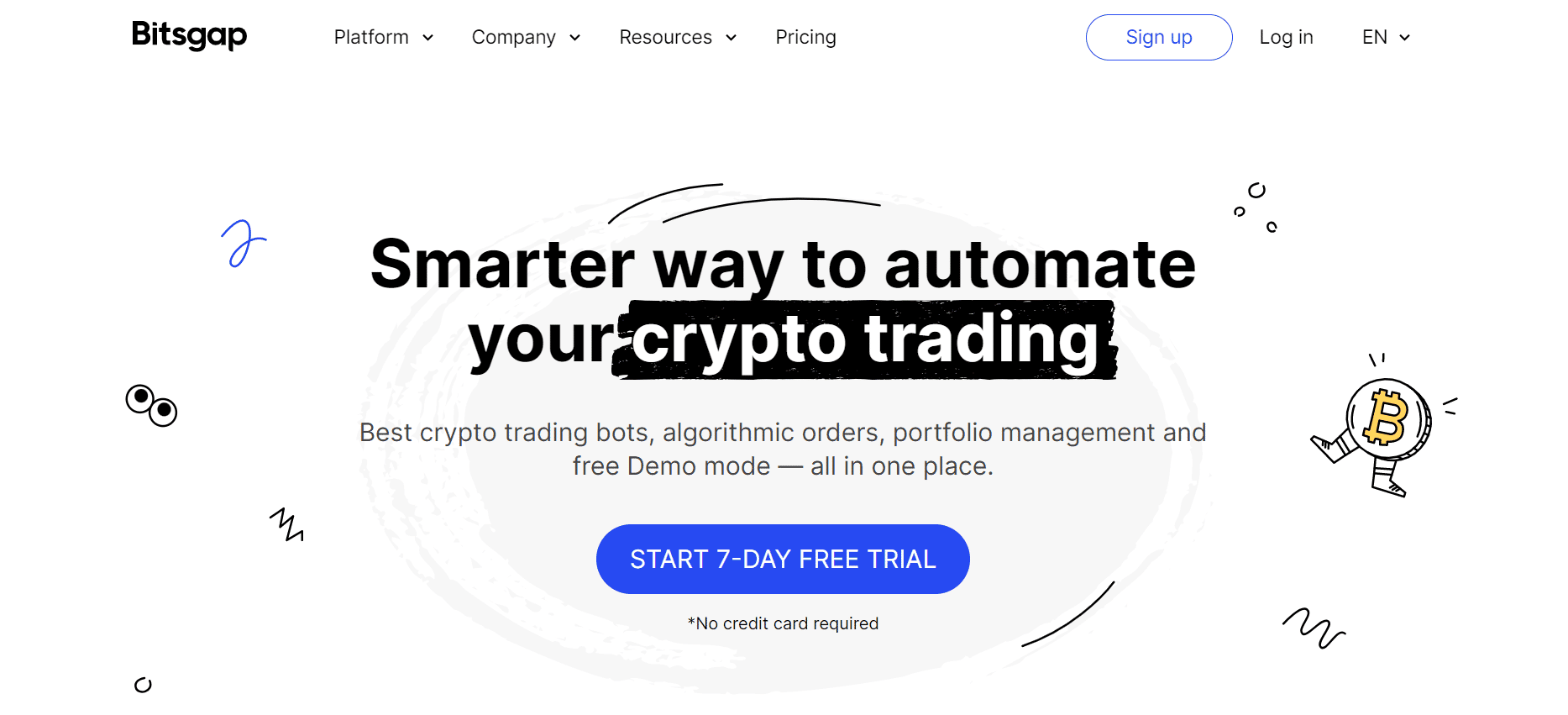 Bitsgap is one of the best bots for crypto trading that offers a smart way to automate your crypto trading. It gives amazing features like:
$300B trading volume and 500K traders worldwide.
Keeps your funds secure and offers fast trading servers.
You can connect your exchange account using a secure API connection.
Allows you to view your trading through a chart.
12 chart types and 100+ technical indicators for quick crypto research.
You can access it without downloading it.
Offers 15+ supported exchanges and a fully automatic portfolio.
7-day free trial and subscription plan starting at $23 per month.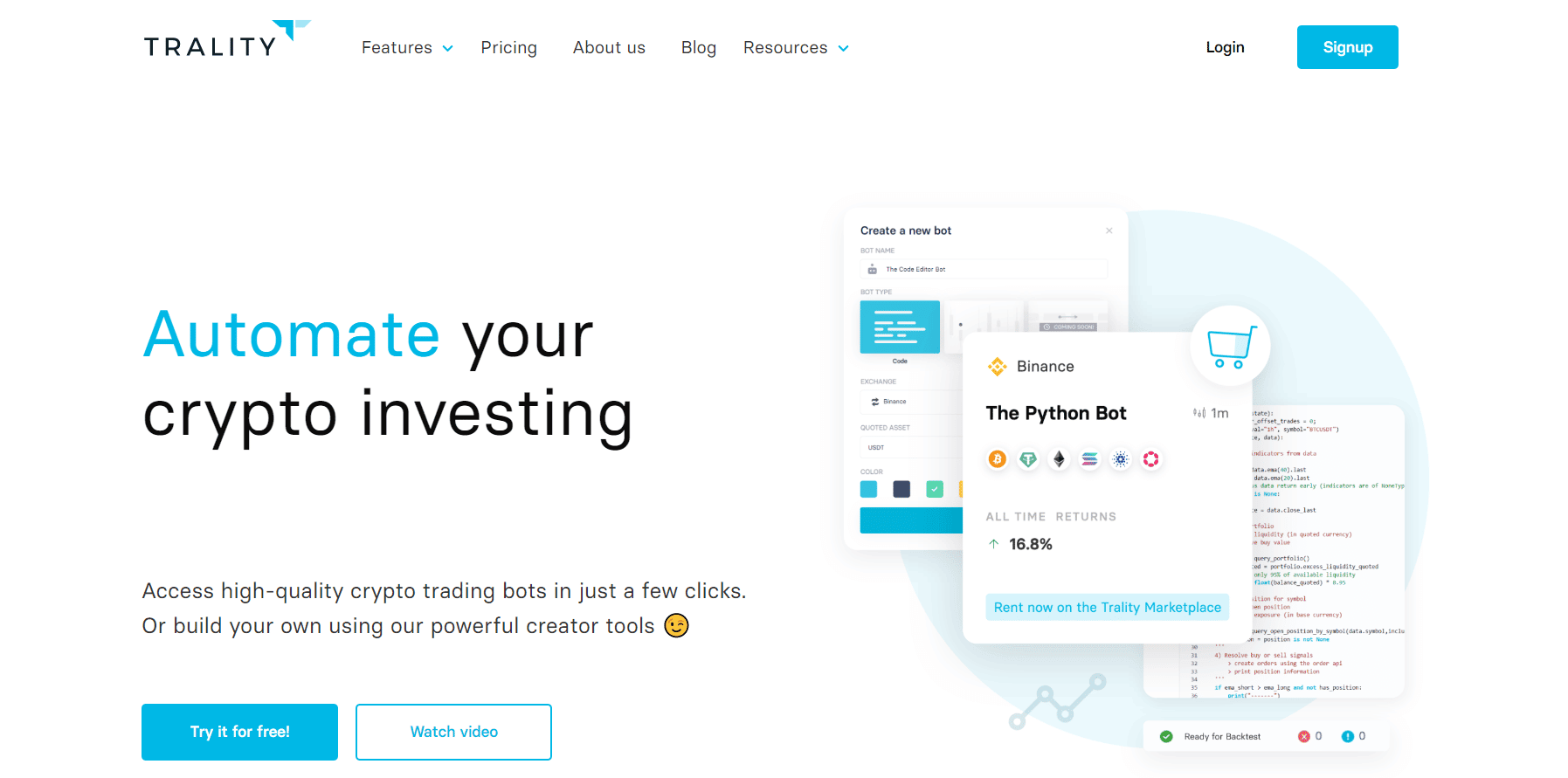 Trality is the best trading bot for crypto that helps you access high-quality crypto trading bots. Its features include:
Keeps your strategies of trading end-to-end encrypted.
Helps your algorithms run reliably 24/7.
Keeps your funds safely on your exchange.
Provides up to 3x leverage and daily interest as low as 0.01%.
Offers curated pre-defined strategies.
Fastback testing module and drag and drop graphical interface.
Offers free services along with plans starting at euro 9.99.
Also Read: 16 Best Cryptocurrency Brokers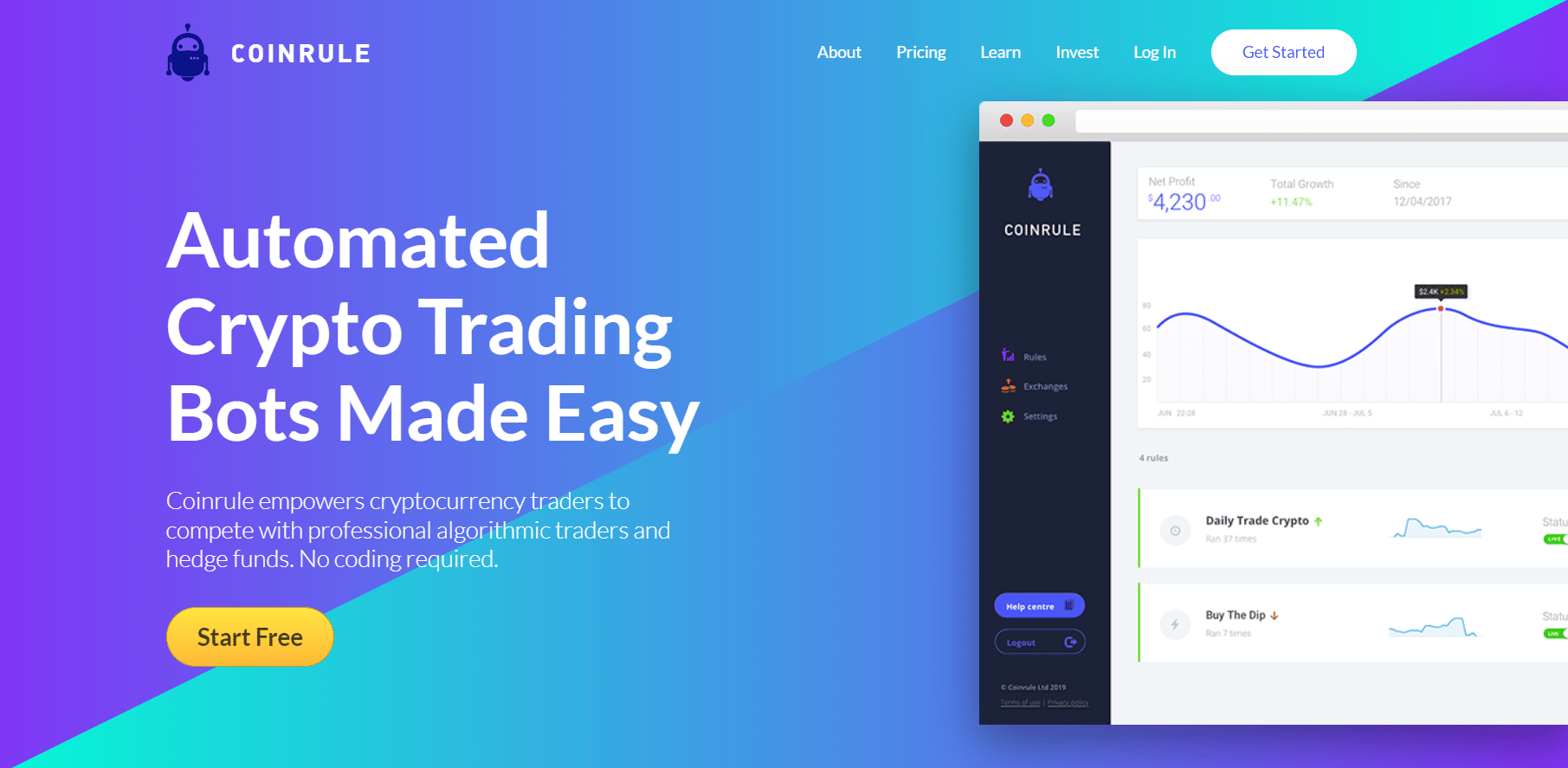 Coinrule empowers traders of cryptocurrency to compete with algorithmic traders who are professionals. It is one of the best bots for crypto trading which offers features like:
Manages volatility and maximizes profit.
Trigger actions when the market changes.
Offers a safe platform to send automated trading instructions to your favorite exchanges, including Binance, Kraken, Coinbase Pro, etc.
No codes require and it is beginner friendly.
Allows you to choose among 200+ rules or built your own.
Offers encryption that is military grade and amazing customer service.
Available for free and offers plans starting at $29.9 per month.
3Commas helps you grow your crypto investments using a feature-rich terminal and proven automated bots that operate on 18+ major exchanges. It is a free crypto trading bot that offers features such as:
Reduces average acquisition cost, and increases your profit margins from each trade.
You can use DCA Short bots to borrow and sell tokens at the current price and buy them back at a lower price.
SmartTrade and Terminal help you to set your trades in advance based on the triggers you specify.
Helps to keep your investment in one place.
You can use Grid bots to pick up cheaper tokens when they hit support levels and sell them when they're close to resistance levels.
Keeps your funds secure and its dashboards show you exactly how your trades are performing.
Gives free services along with subscription plans starting at $9.9 per month.
Shrimpy is one of the best bots for crypto trading which manages your entire crypto portfolio in one place. It is the trusted portfolio management platform for over $1B in digital assets. Its features are as follows:
Tracks your performance and analyses the market.
You can safely and securely connect your wallets and exchanges to manage your crypto assets.
Allows you to study trading strategies with its advanced portfolio backtesting.
Helps you optimize your portfolio by automating a crypto portfolio rebalancing strategy.
You can link over 25 exchanges and wallets.
Subscription plan starts at $15 per month.
CryptoHero is a highly-rated crypto trading bot. Because of the amazing features it offers, it is considered the best trading bot for crypto.
Keeps your trading data private.
Offers automated trading 24/7.
Set-up instructions are easy for the bot without writing code.
Ultra-fast backtest allows users to determine the effectiveness of the strategies.
Provides a user-friendly interface.
Allows a one-click view for digital assets across all connected crypto exchanges through portfolio management.
Along with free services, it offers plans starting at $13.9 per month.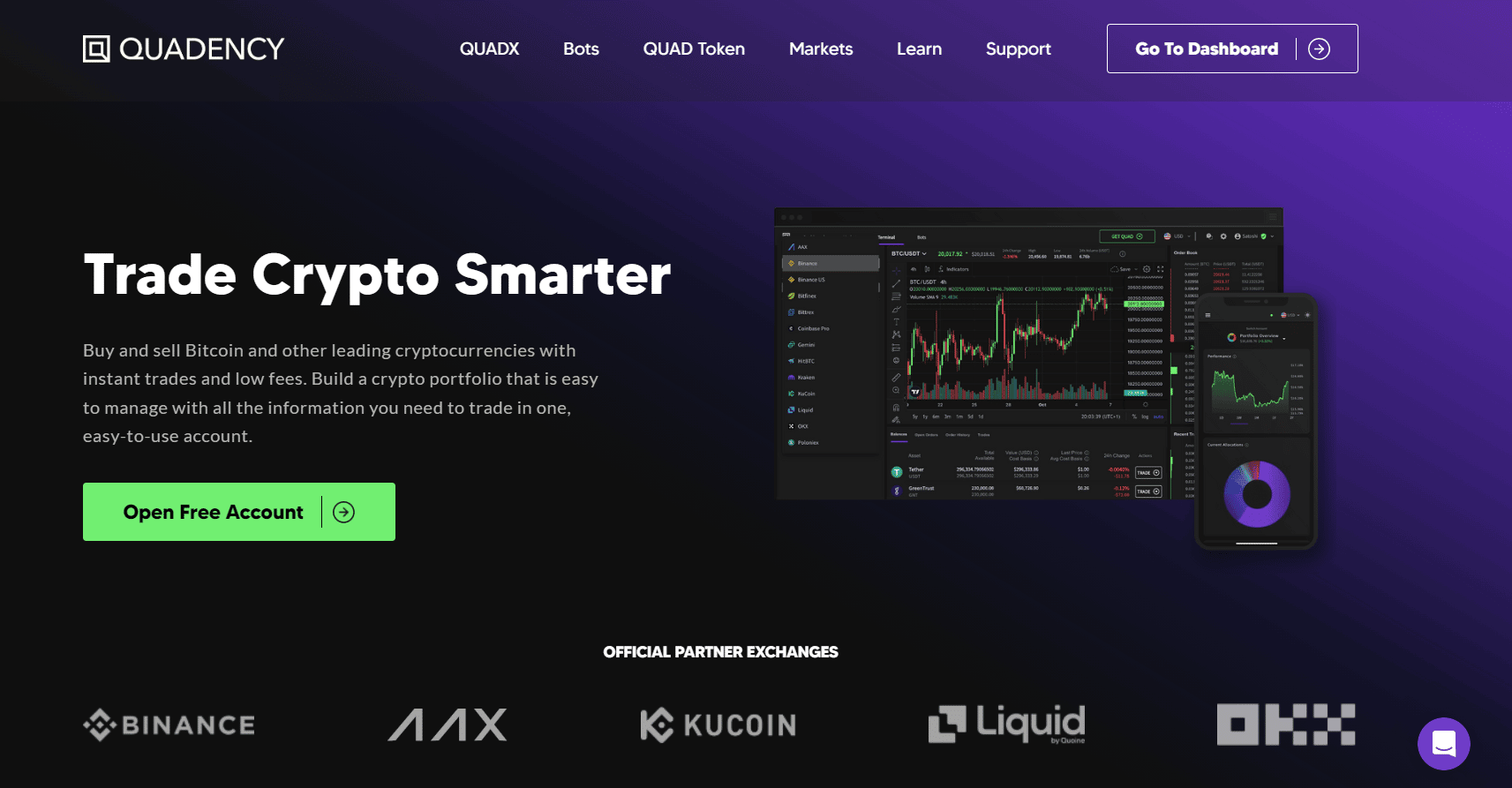 Quadency is one of the best bots for crypto trading which offers the following features.
Offers crypto asset protection and world-class security.
Trusted by over 100k users and gives responsive support team.
Buys and sells leading cryptocurrencies with low fees and instant trades.
Builds a crypto portfolio that is easy to manage.
Makes sophisticated trading simple, choose from pre-built popular strategies.
Offers free crypto trading bot.
Also Read: 12 Most Profitable GPU Mining Graphic Cards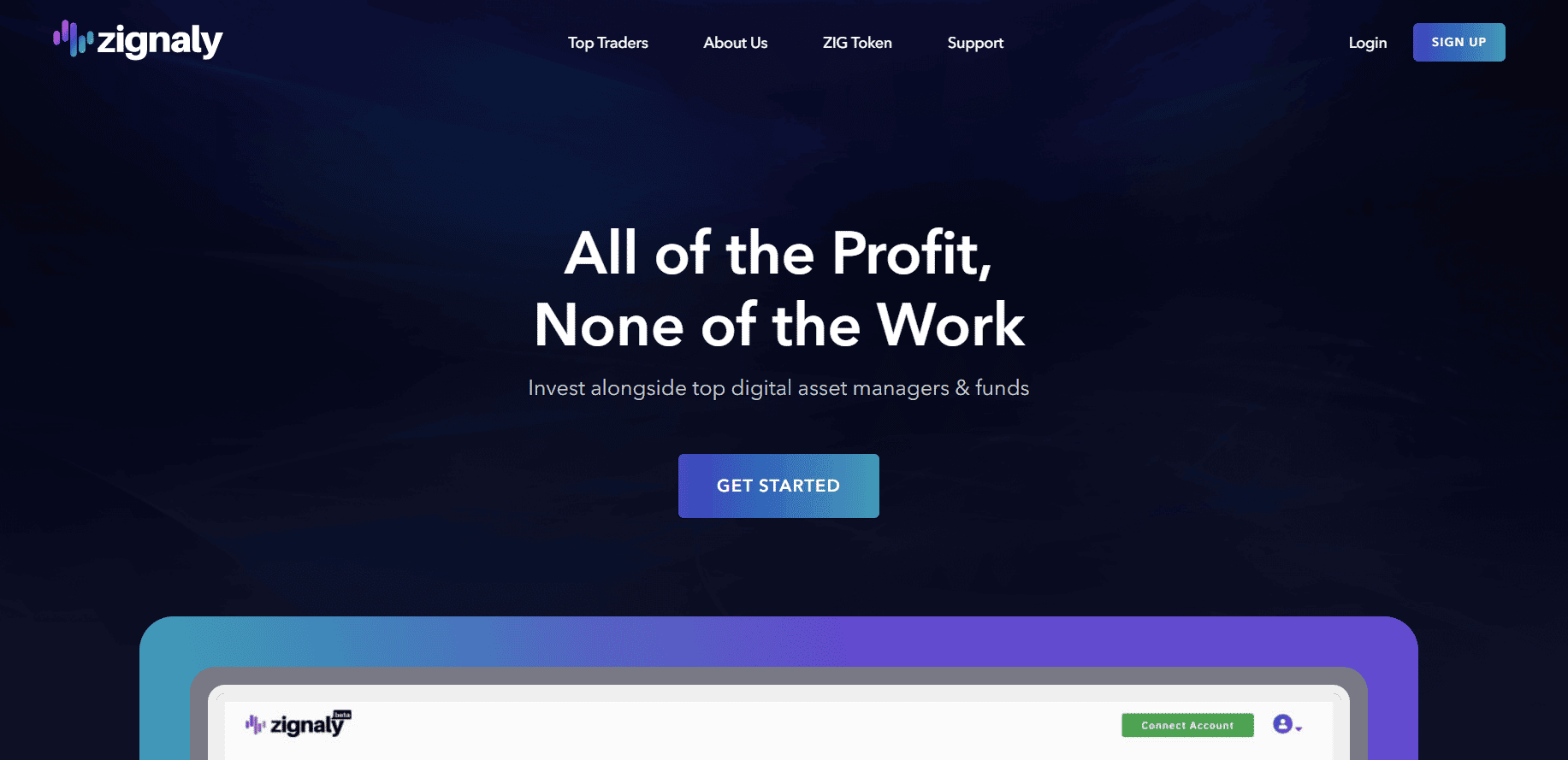 Zignaly is a free crypto trading bot that allows you to build your strategies from scratch. It supports iOS and Android and provides various features which benefit users.
You can trade unlimited coin pairs and positions.
Provides copy trading which lets users copy trades of experienced traders.
Connects investors with top digital asset managers so that users can share the profits.
Reviews each trader to make sure that they reach high standards.
No monthly fees and no minimum investment.
Controls your assets and gives you the option to withdraw anytime.
We hope you enjoyed our list of the best bots for crypto trading. As the competition increases in the crypto market, traders are finding it easy to work with bots to enhance their trading strategies. Many young investors are using free crypto trading bot to get in the game. This generation wants to automate everything and these bots are the prime example of how AI, when used correctly, can make a huge difference.