If you are planning to invest for the long term with low risk and steady returns then blue chip investments are for you. You must have heard of MNCs like Google, Apple, IBM, etc. Similarly, India has some of the biggest MNCs and conglomerates like Tata Consultancy Services, Reliance Industries, ITC etc. These companies have remained stable for years which has made them a favorite of investors. The term 'Blue Chip Companies' refers to these large MNCs. In this article, we will inform you about the best blue chip stocks in India. We will also cover high dividend and low price blue chip stocks so that you can invest as per your capacity.
What Are Blue Chip Stocks?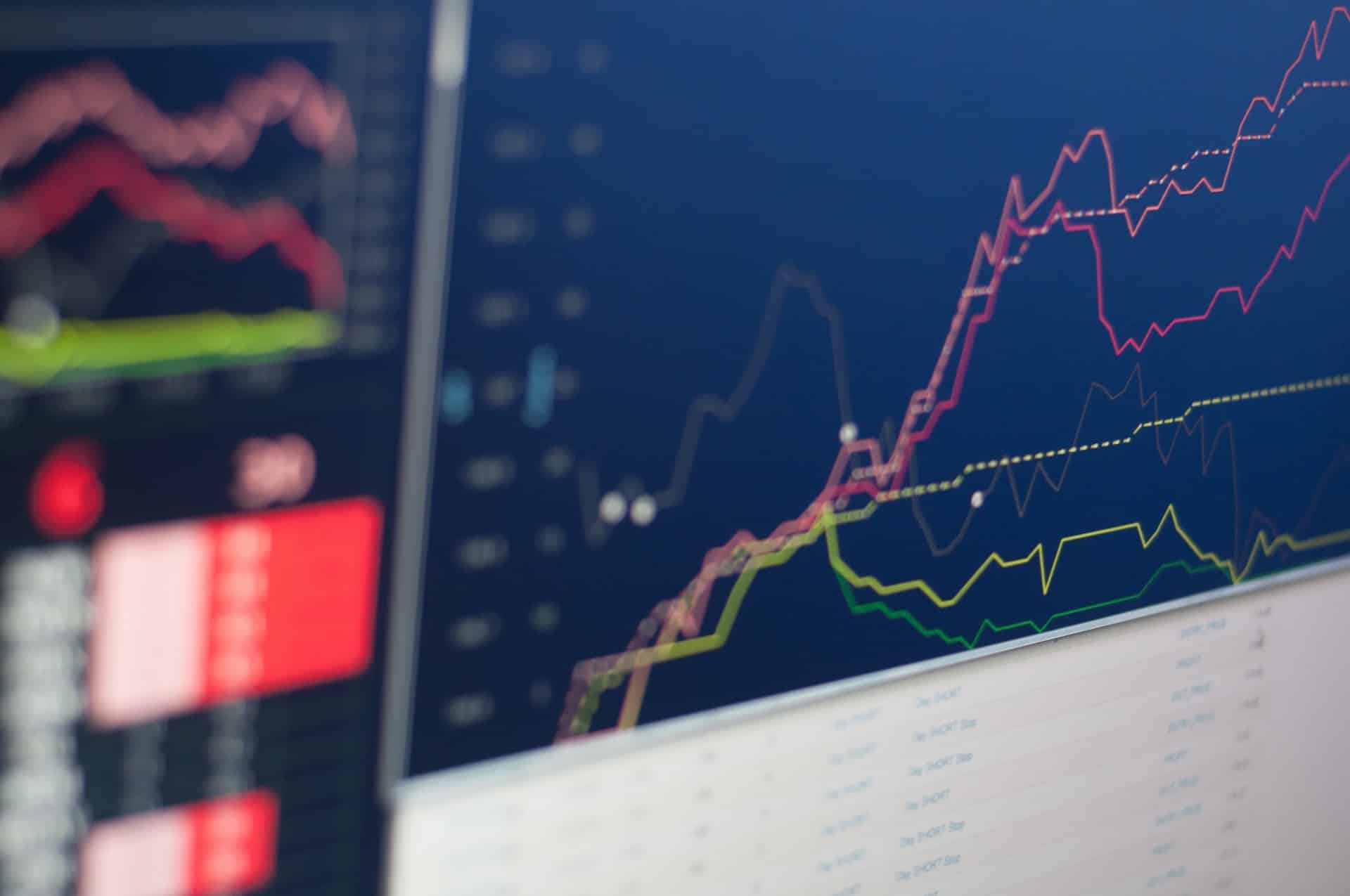 Blue chip stocks are the shares of firms that are typically market leaders in their industry. These businesses have been around for a while, have gained the trust of investors, and can promise consistent profits and returns as dividends. In 1920, Oliver Gingold, a worker for a business later called Dow Jones, coined the phrase.
He referred to expensive stocks, those that were quoted at or above $200, as 'blue chips'. The phrase 'blue chip' has developed over time to distinguish premium stocks from expensive companies. These two ideas frequently overlap because investors are prepared to pay a high price for high-quality shares.
The best blue chip stocks in India are typically characterized by a high market capitalization, a proven track record of sound financial management, and tremendous growth potential. Blue chip companies have the major market share a small percentage price change in the company's shares could drastically affect the market and investor profits.
Corporations must develop through time before they can be referred to as blue chip companies. The market has no official list of blue chip stocks. Investors must determine whether a company now meets the criteria for blue chip status because being a blue chip company is a process that is always changing.
Benefits of Blue Chip Stocks
High-value blue-chip companies make great long-term investment vehicles. Over time, blue-chip stocks offer several advantages. Most of them are not:
Brand Reputation and Value: Blue-chip enterprises are present in our daily lives through the use of reliable products and services. These businesses consistently enjoy an advantage over other startups. They have become industry leaders by utilizing their simple franchise distribution advantage, availability, and cost-efficiency.
Dividend Paying: This element determines the company's blue-chip ranking. If dividend payments are regular, there will be extra income on top of the initial investment. When investors put a sizeable sum into a blue-chip company, they get additional dividend benefits.
Good Financial Records: Blue-chip businesses benefit from a strong and reputable financial foundation. This indicates that these businesses maintain a favorable debt-to-equity ratio, lower volatility, fewer hazards, an effective organizational structure, and a portfolio of controllable risks.
Steady Growth and Returns: The confidence of its investors is more likely to be gained by a business that consistently produces earnings. It suggests that the business has solid fundamentals and is making a lot of effort to keep up its earning potential.
Diversify the Risk: Investors who are not risk-averse should include some blue-chip firm shares in their portfolio because of their reputation for dependability. Blue-chip businesses have a wide variety of revenue streams, a sizable customer base, and diversified corporate objectives. These factors lessen the dangers that an investment may face.
27 Best Blue Chip Stocks in India to Buy Now
The companies given below have a strong financial foundation, are well-established and have gained the trust of many through years of growth and profitability. Investing in them is the easiest decision to make because there is little to no risk and returns are guaranteed. Let us begin our list.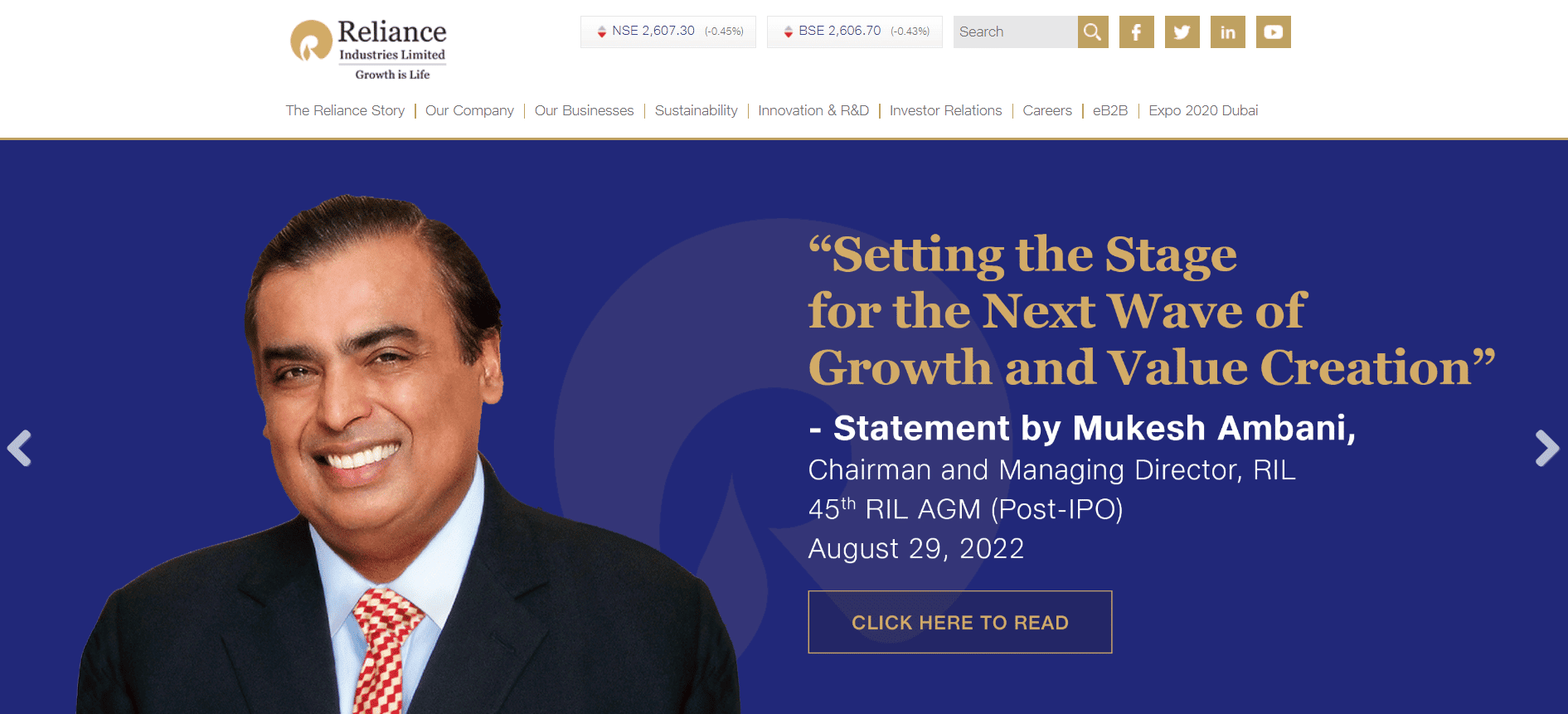 Reliance is India's largest publicly traded corporation in terms of market capitalization and is one of the best blue chip stocks in India. The company was initially in the petrochemical industry, but with the rise of Reliance Jio and Reliance Retail, it has branched out as a conglomerate operating in the retail, telecom, and technology sectors.
Reliance Industries' strong oil and gas segment generates the majority of the company's cash flows. However, the other businesses provide diversification and a foundation for achieving steady growth in the sector in the upcoming 10 years. The corporation also plans to become carbon neutral by 2035, concentrating on the energy sector while continuing to make investments in the oil and gas sector.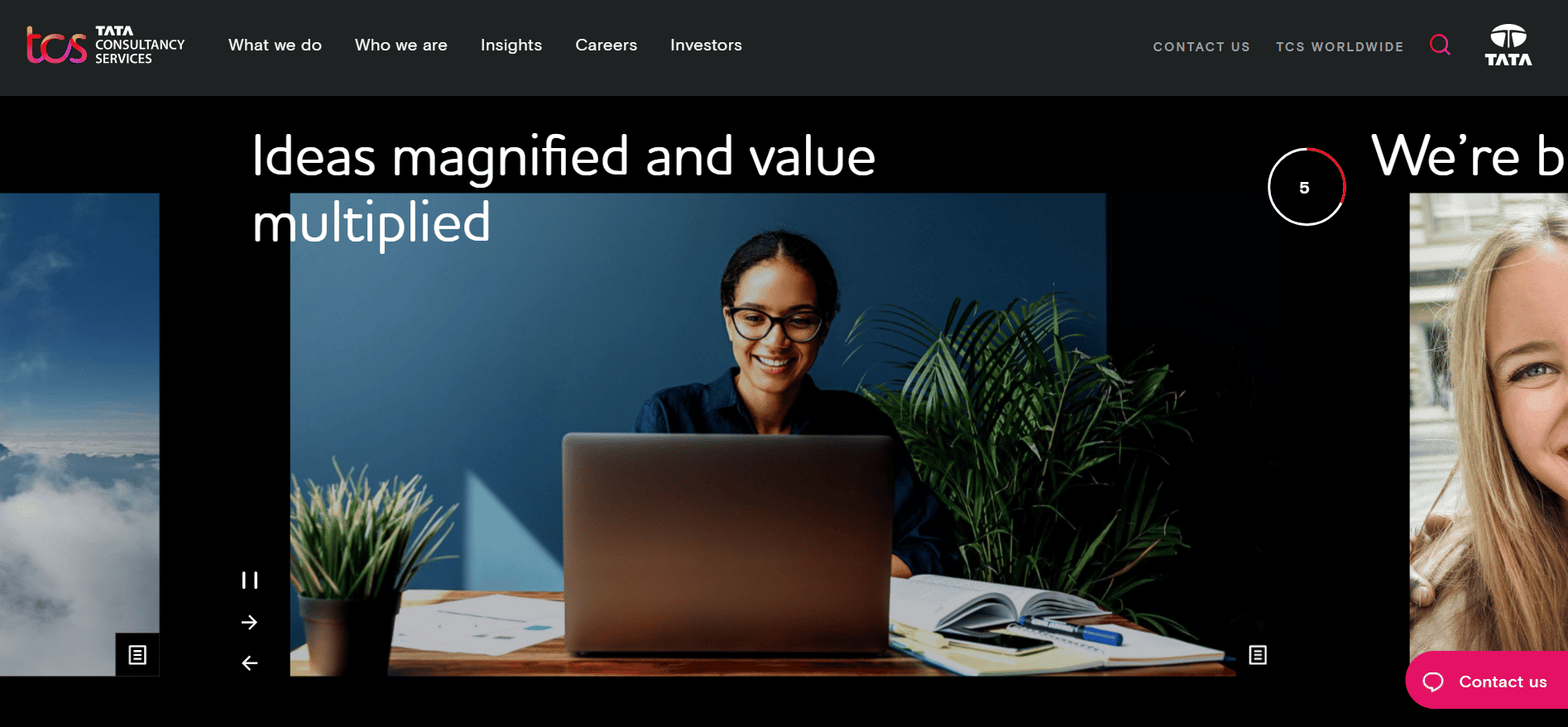 Tata Consultancy Services Limited (TCS) is an international provider of business solutions, IT services, and consulting in India. They are currently active in 46 nations. As a division of Tata Sons Limited, it was founded in 1968. The company offers a wide range of services, including consulting, IT support, business solutions, digital transformation, and IT platforms. It had also scavenged via emerging technologies including machine learning, artificial intelligence, cloud computing, and blockchain based technology. BFSI generates the majority of this company's revenue. This is one of the best high dividend blue chip stocks in India.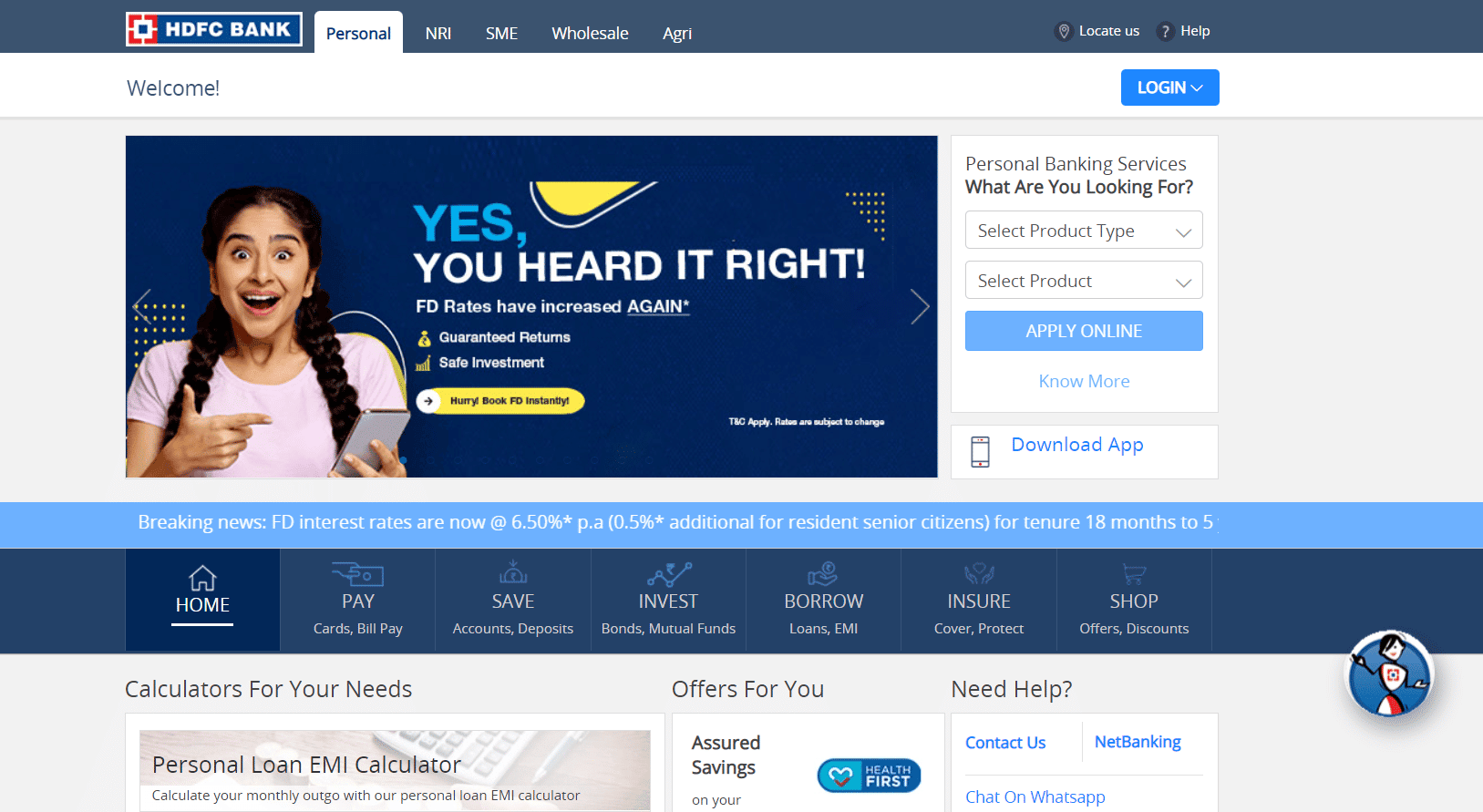 India's top bank and financial services provider and best blue chip stocks in India in the sector is HDFC Bank. It has a market capitalization of 776,526 Cr. and is the country's largest private lender by assets. Numerous goods and services are offered by HDFC Bank, such as retail and wholesale banking, Treasury, auto and two-wheeler loans, personal loans secured by real estate, and credit cards.
It is the third-biggest company and the largest bank in terms of market value. HDFC is renowned for its management's track record of success, sufficient capitalization levels, high asset quality, rigid underwriting standards, and diversification into various related segments. This has helped the company grow to keep the debt-to-equity ratio under control and to ensure that the asset quality does not deteriorate moving forward.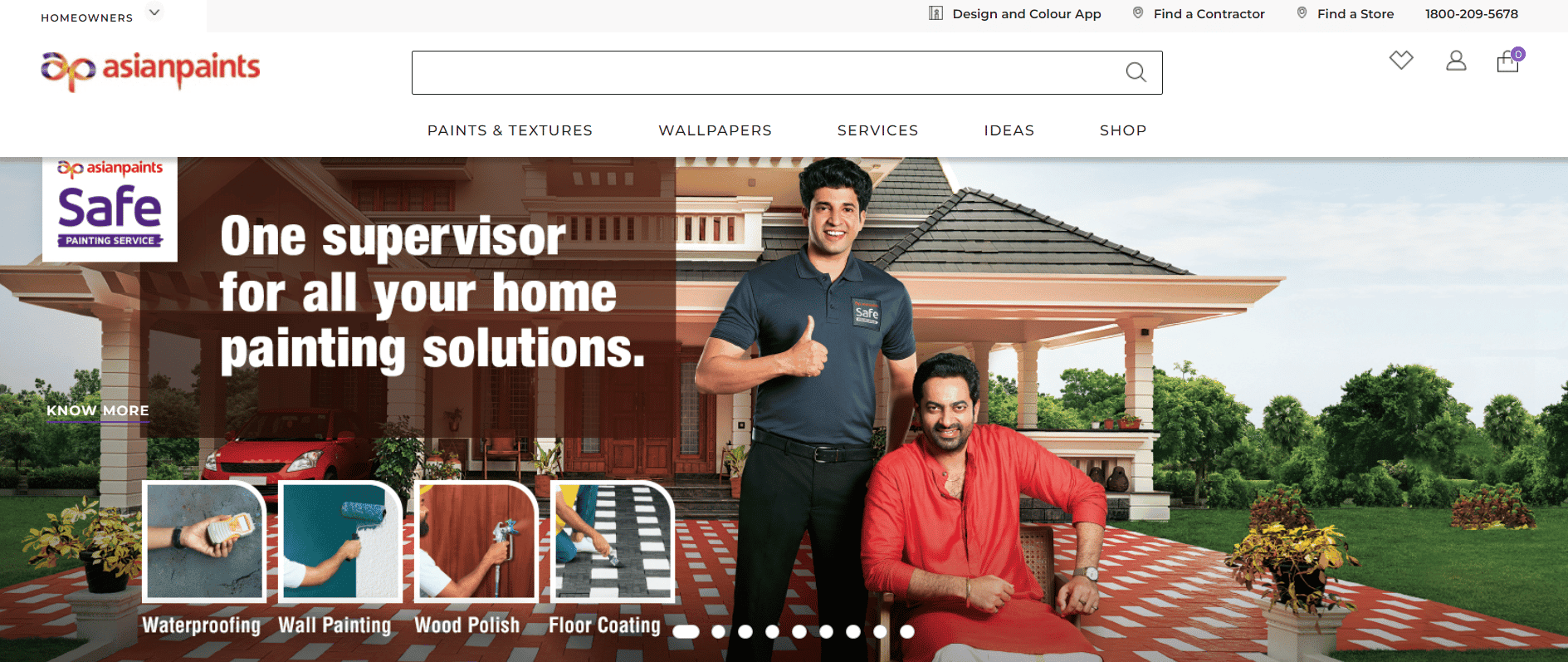 Asian Paint is among the biggest paint manufacturers and companies in India. With revenue of Rs 285 billion, Asian Paint has gone a long way from its establishment in 1942 to becoming the largest paint firm in India and Asia. It has 26 paint production plants worldwide. Asian Paints manufactures, sells, and distributes paints, coatings, home décor items, bathroom fixtures, and other related products. It also offers related services.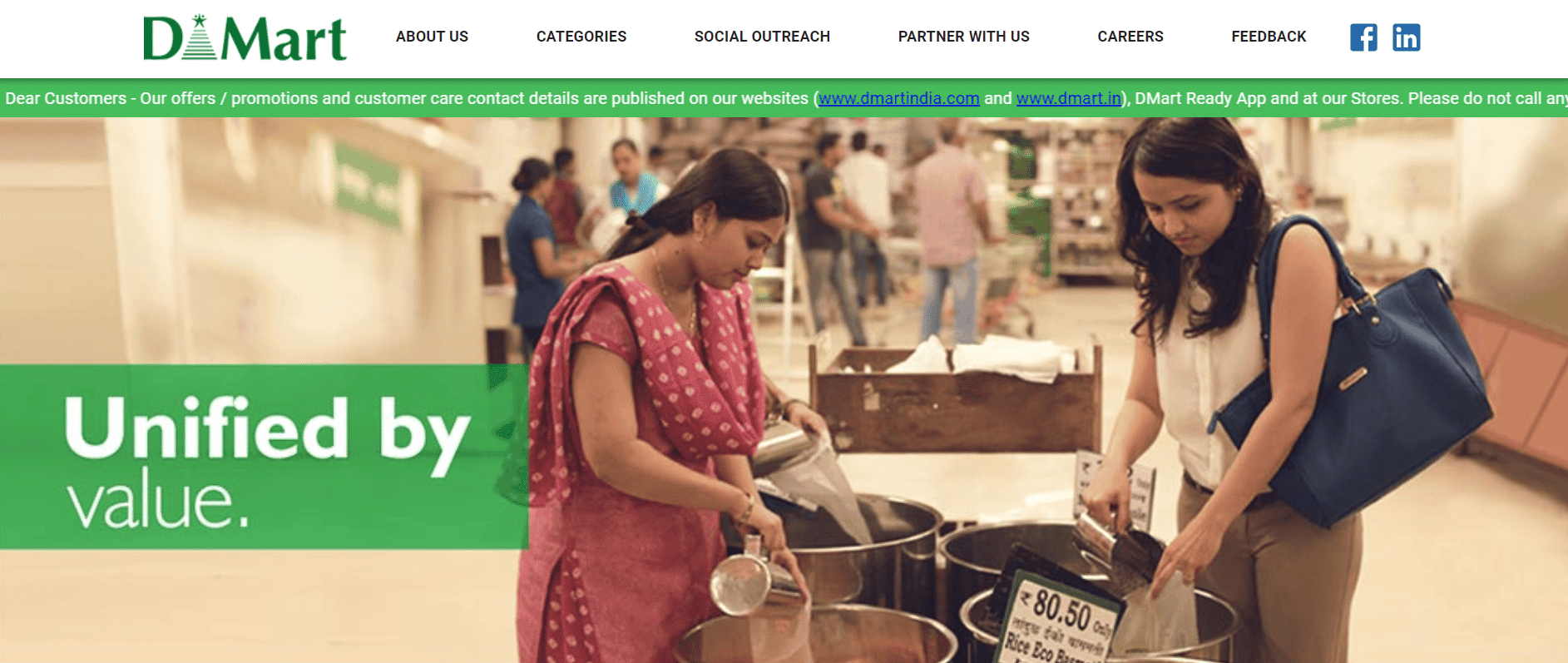 A reputable company called Avenue Supermarts owns and runs D-Mart locations. D-Mart stores are retailer chains that house a variety of goods under one roof, from groceries to home and personal care items. D-Mart runs 221 locations nationwide in 11 different states.
The business owns each store it operates, and does not function on a leasing model, but rather a 'greenfield' model. Since the business relies on an ownership model, it is unable to expand by opening additional stores in various locations. However, it is well-positioned to grow organically as a result of the enormous untapped market that lies in front of them.
Also Read: 14 Fastest Growing Stocks in India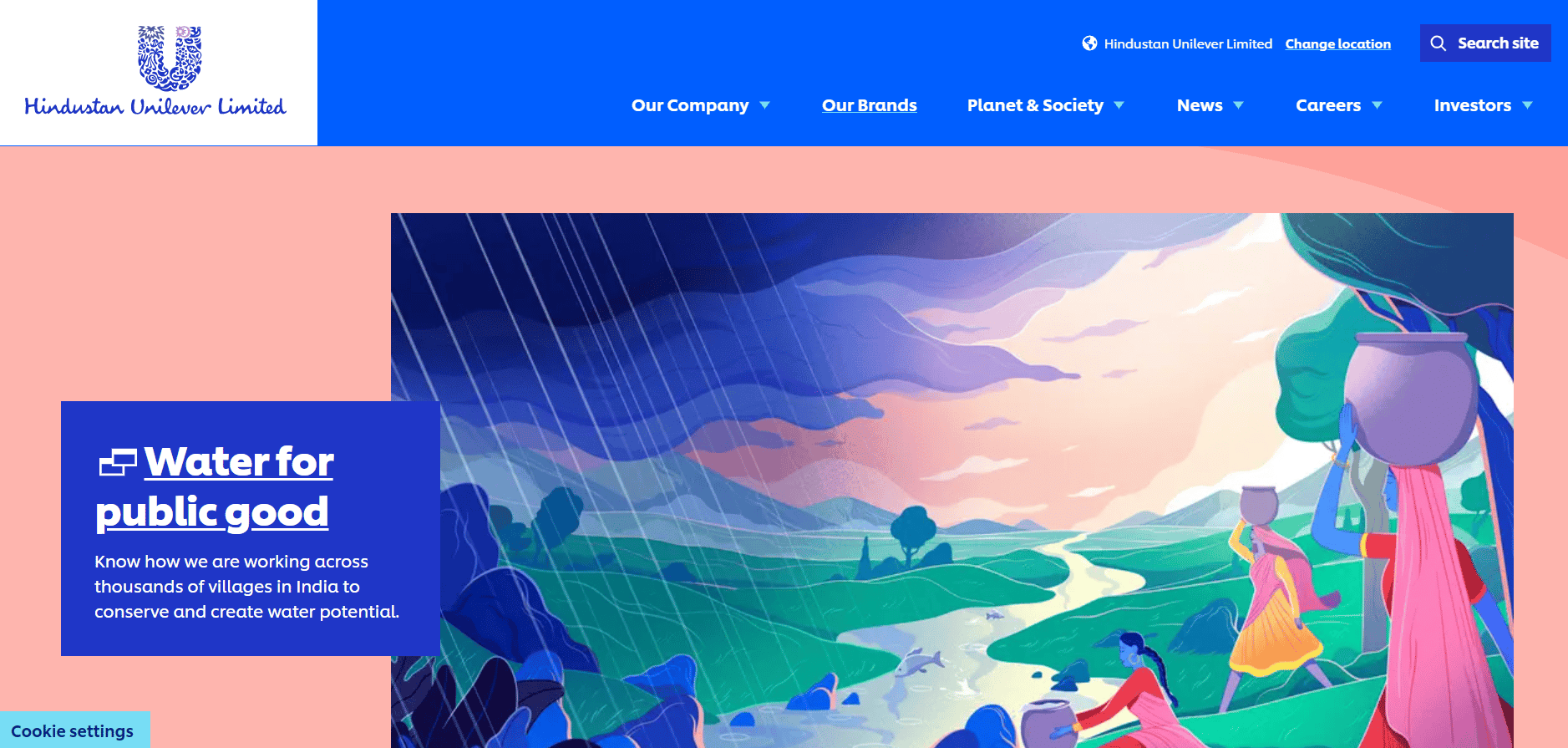 Hindustan Unilever Ltd., is one of the biggest and most successful consumer goods corporations, with a history in India spanning more than 80 years. HUL offers a wide range of goods, including groceries, household cleaners, cosmetics, beverages, and water purifiers. It is one of the rare brands that enjoy widespread recognition and has maintained market dominance through effective marketing and campaigns.
The business has many brands and products which are industry leaders and has no debt on its financial sheet. The company can endure any economic downturn or crisis thanks to its strong financial position and brand value. This makes HUL a perpetual blue-chip investment to consider. HUL also helps to preserve its leading place in the domestic FMCG sector thus making it one of the best blue chip stocks in India.

One of India's largest conglomerate corporations is the Indian Tobacco Company (ITC). Imperial Tobacco Company of India Limited was the name under which ITC was founded in August 1910. Fast-moving consumer goods (FMCG), agri-business, hotels and hospitality, paperboards & packaging, and information technology are among its five business segments.
ITC is a business with less debt. The recent two years have seen the corporation increase its net cash flow. The firm has also paid out significant dividends with rising dividend yields over the past five years. Due to this brokers have also improved their target price on the stocks during the past few months. ITC is easily one of the best high dividend blue chip stocks in India.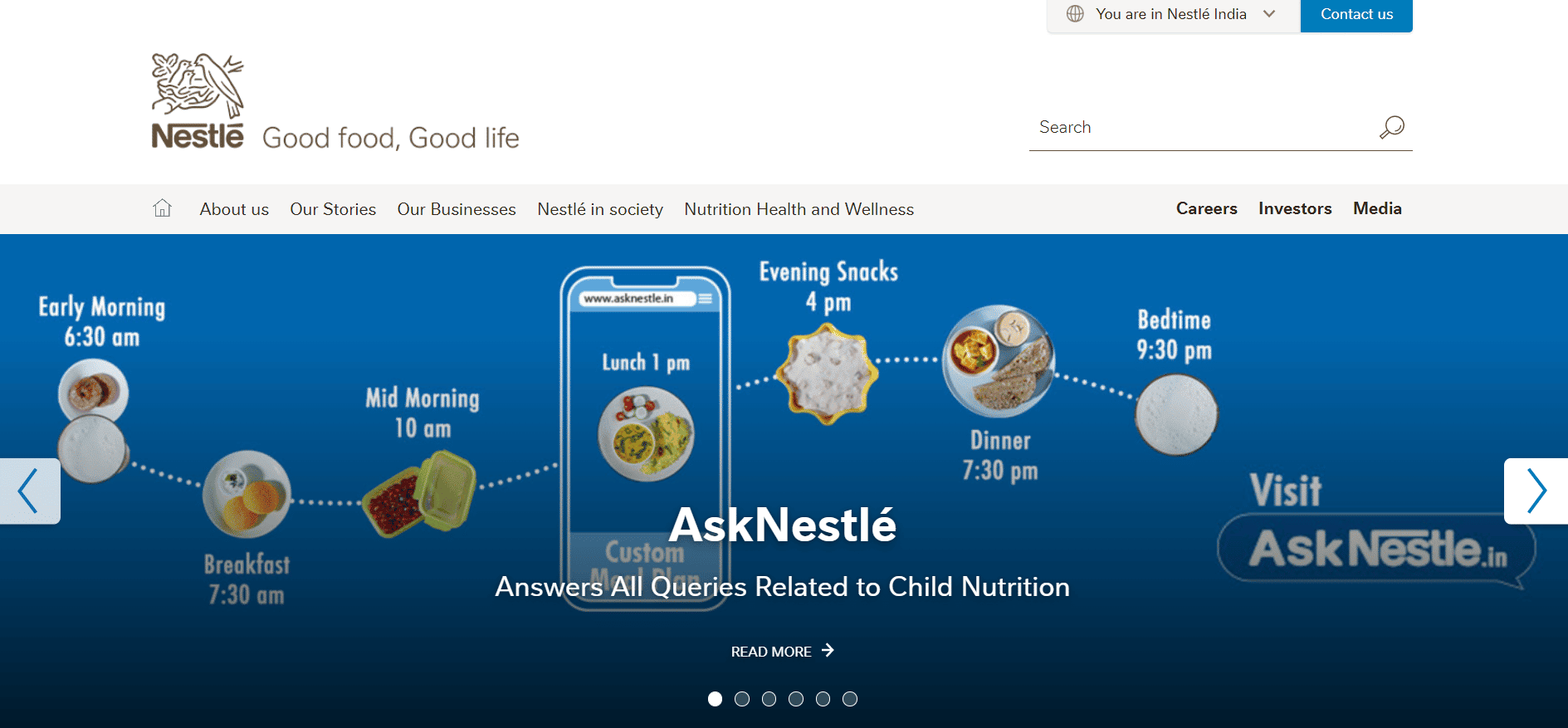 The largest food and beverage corporation in the world, Nestle SA of Switzerland, is the parent company of Nestle India. It became incorporated in 1956. In India, Nestle India Ltd. has 4 branch offices and 8 manufacturing units. The company has consistently concentrated its efforts to improve and understand the changing Indian lifestyles and anticipate consumer needs.
In the past five years, the share price has increased by 164%. The share price rising 14% over the previous quarter is also encouraging. The TSR for Nestlé India over the previous five years was 183%, exceeding the share price return that was indicated earlier. Thus, the company's dividend payments have increased the overall shareholder returns as the best blue chip stocks in India.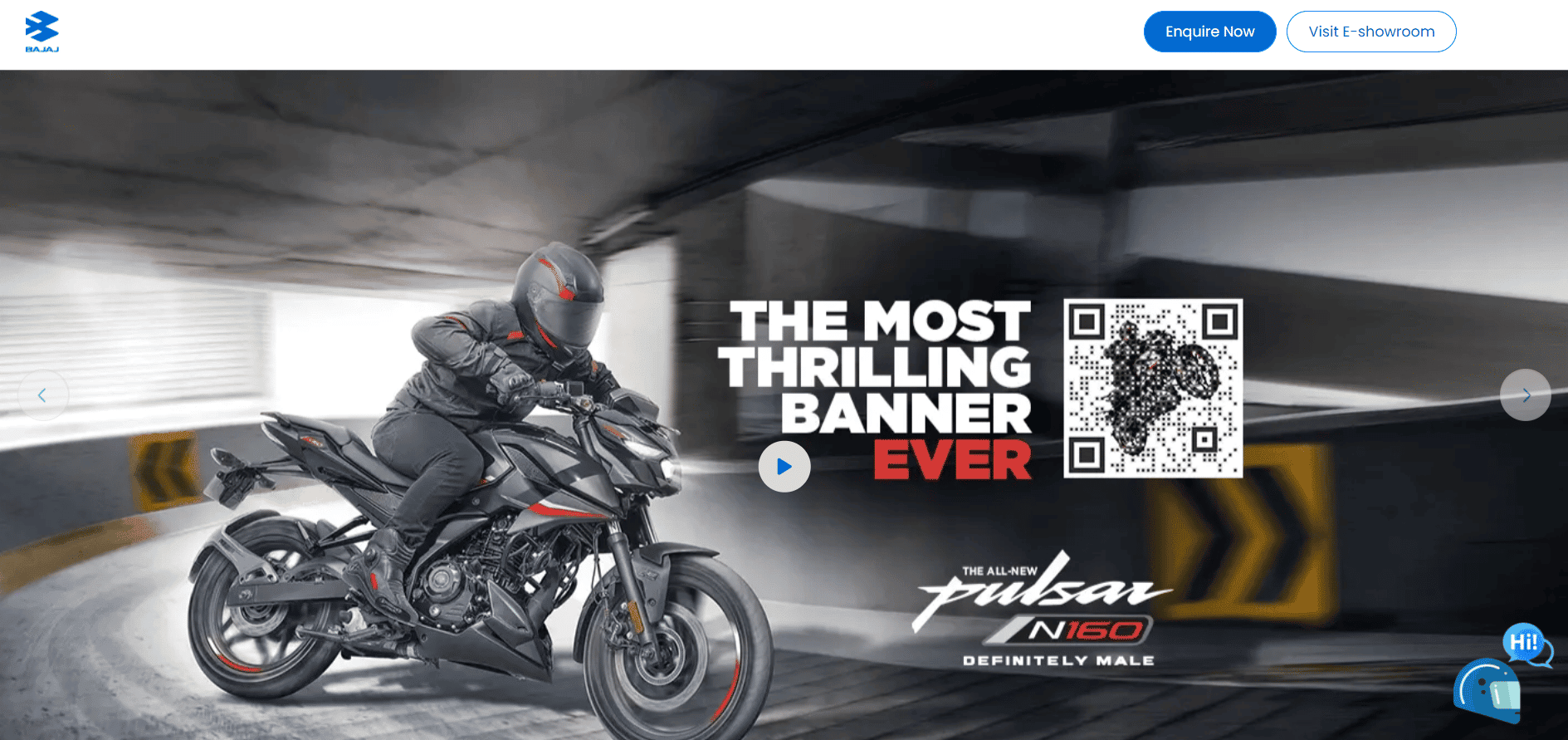 Indian manufacturer of two- and three-wheeled vehicles, Bajaj Auto, is India's second-largest motorcycle manufacturer and the sixth-largest in the entire world. It produces and sells auto rickshaws, motorbikes, and scooters. Jamnalal Bajaj established Bajaj Auto in Rajasthan in the 1940s. It is the largest three-wheeler company in the world and produces over 84% of India's three-wheeler exports. Platina, Discover, Pulsar, and Avenger are a handful of Bajaj Auto's well-known motorcycle models, along with the CT 100.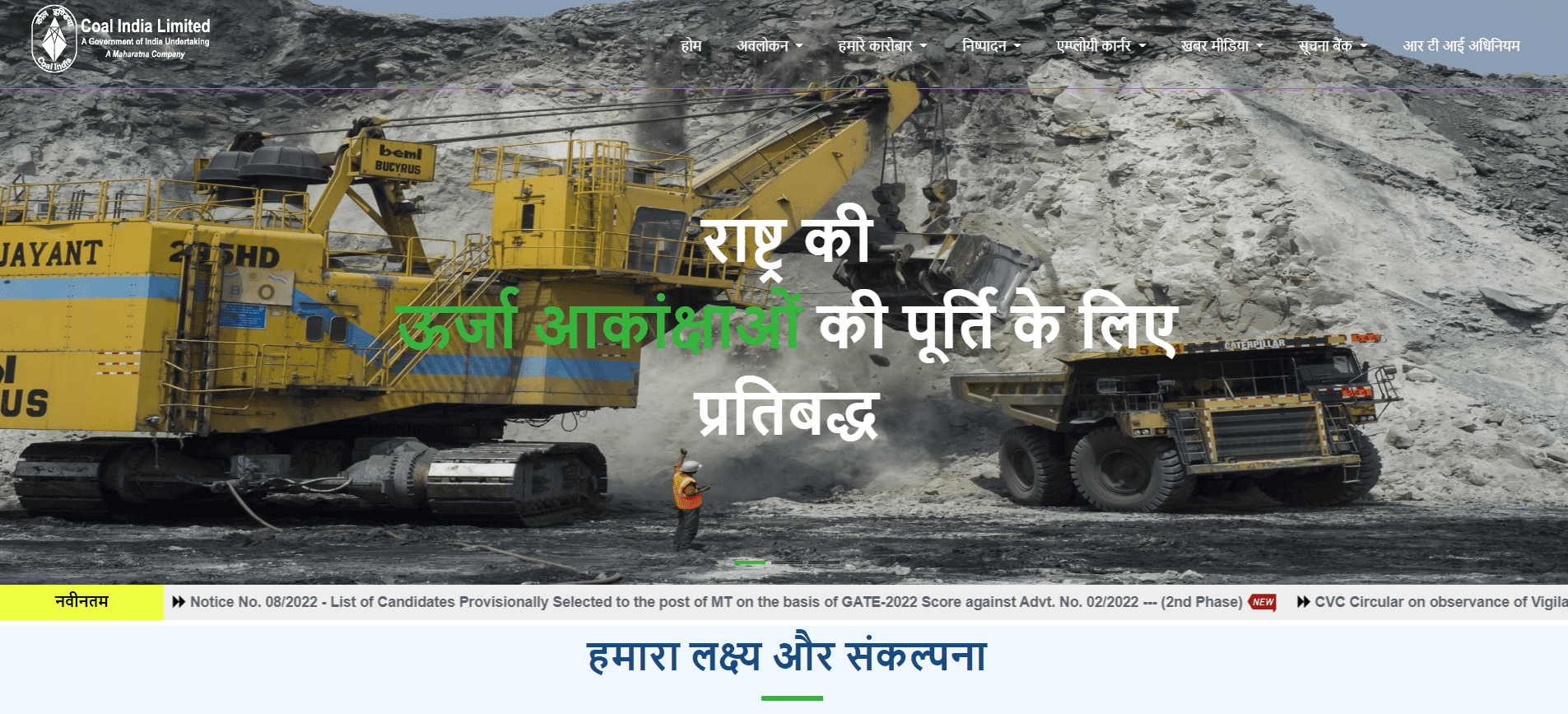 The Government of India's Ministry of Coal is the owner of the central public sector enterprise known as Coal India Limited (CIL). Its main office is in Kolkata. It is the world's biggest government-owned coal producer. Additionally, it ranks as India's seventh-largest employer.
Rising domestic coal demand and ongoing high international coal prices have helped Coal India (CIL) maintain solid operational growth with improved output and higher rake loading. On the BSE, Coal India shares jumped more than 4% to 232 per share in the early hours of Thursday. This price was close to the 52-week high. Since a few days ago, the PSU stock has been on the rise and has increased by roughly 9% in just five days.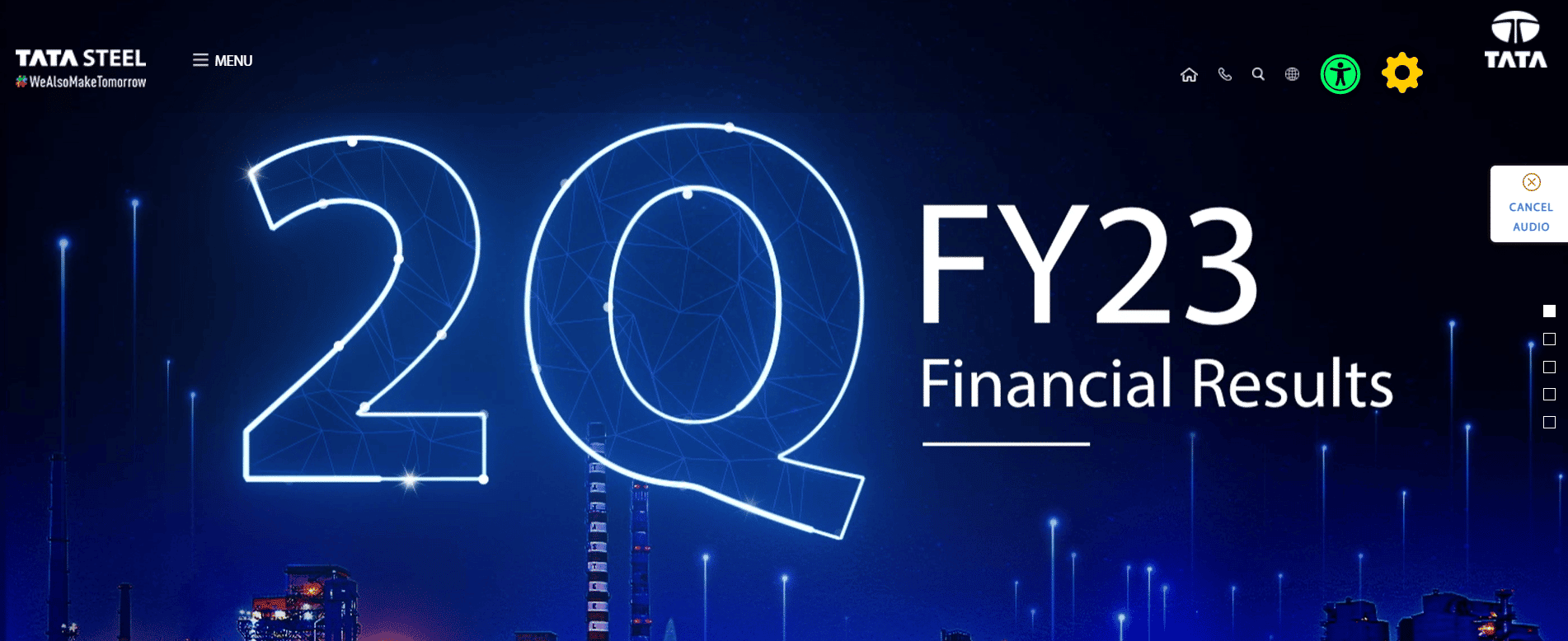 Tata Steel, the very first integrated private steel corporation in Asia, was founded in 1907 and is now a major producer of steel all over the world. Currently, the company's vast line of steel products, including coated steel, rebars, hot rolled, cold rolled, wire rods, tubes, and wires, is based on the 34 MTPA crude steel manufacturing capacity. The business has continued to pay off its debt, which has contributed to some of the best earnings in Tata Steel's history.
Tata Steel is renowned for paying out consistent dividends. The sales CAGR over the previous ten years is 6%. It is among the most sought-after Tata Group equities and is easily one of the best blue chip stocks in India.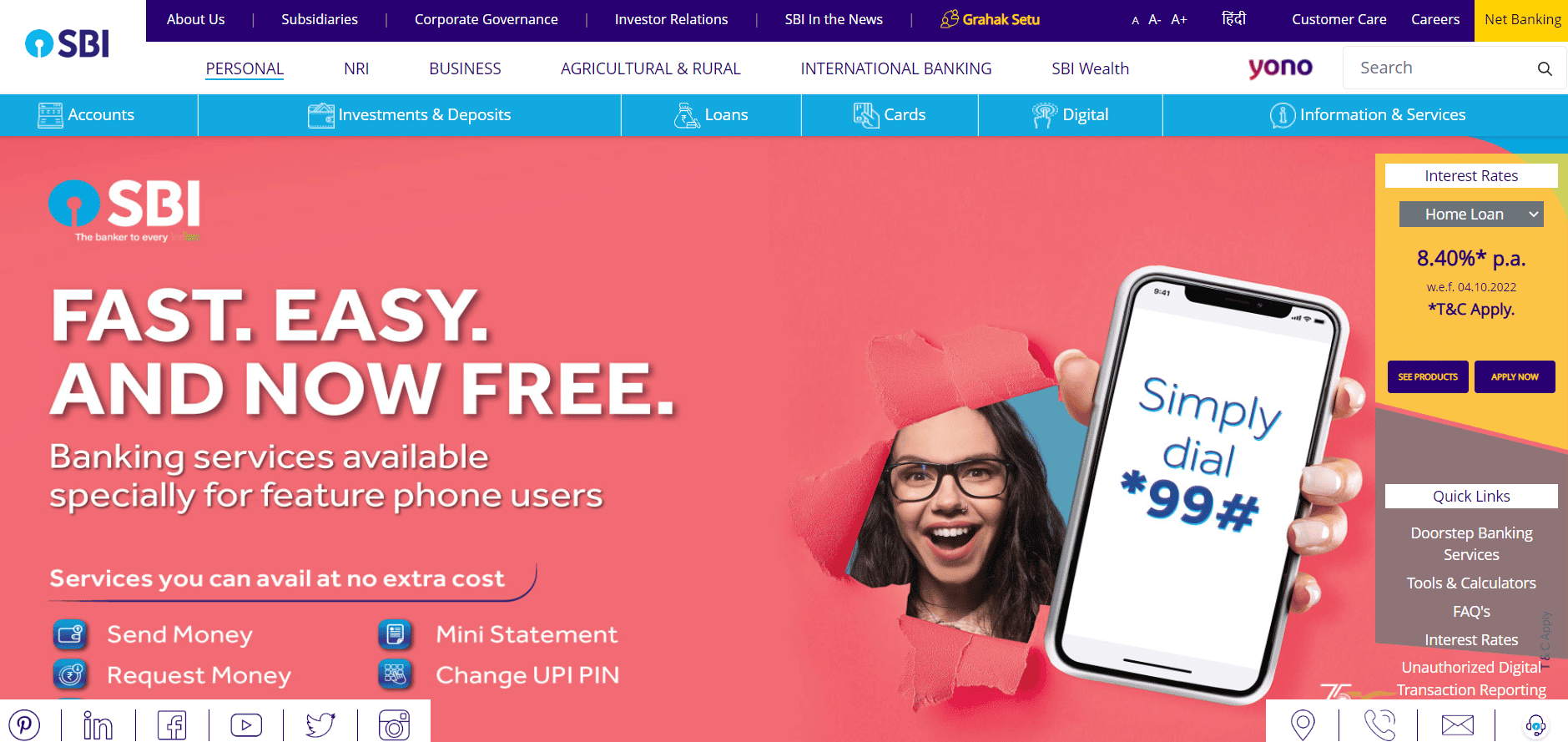 The State Bank of India established in 1806, the largest and oldest public sector bank in the nation with a history spanning more than 200 years, is the only bank from India to be on the Fortune 500 company list. The Indian government has always chosen SBI as its banker of choice.
With more than 450 million customers, this Indian multinational bank holds a commanding leading position in the Indian market. SBI has a history of providing its stockholders with a healthy dividend payout. The bank has shown that it is capable of operating profitably under challenging economic circumstances. In the fiscal year 2021–2022, the bank made 2.9 trillion in revenue.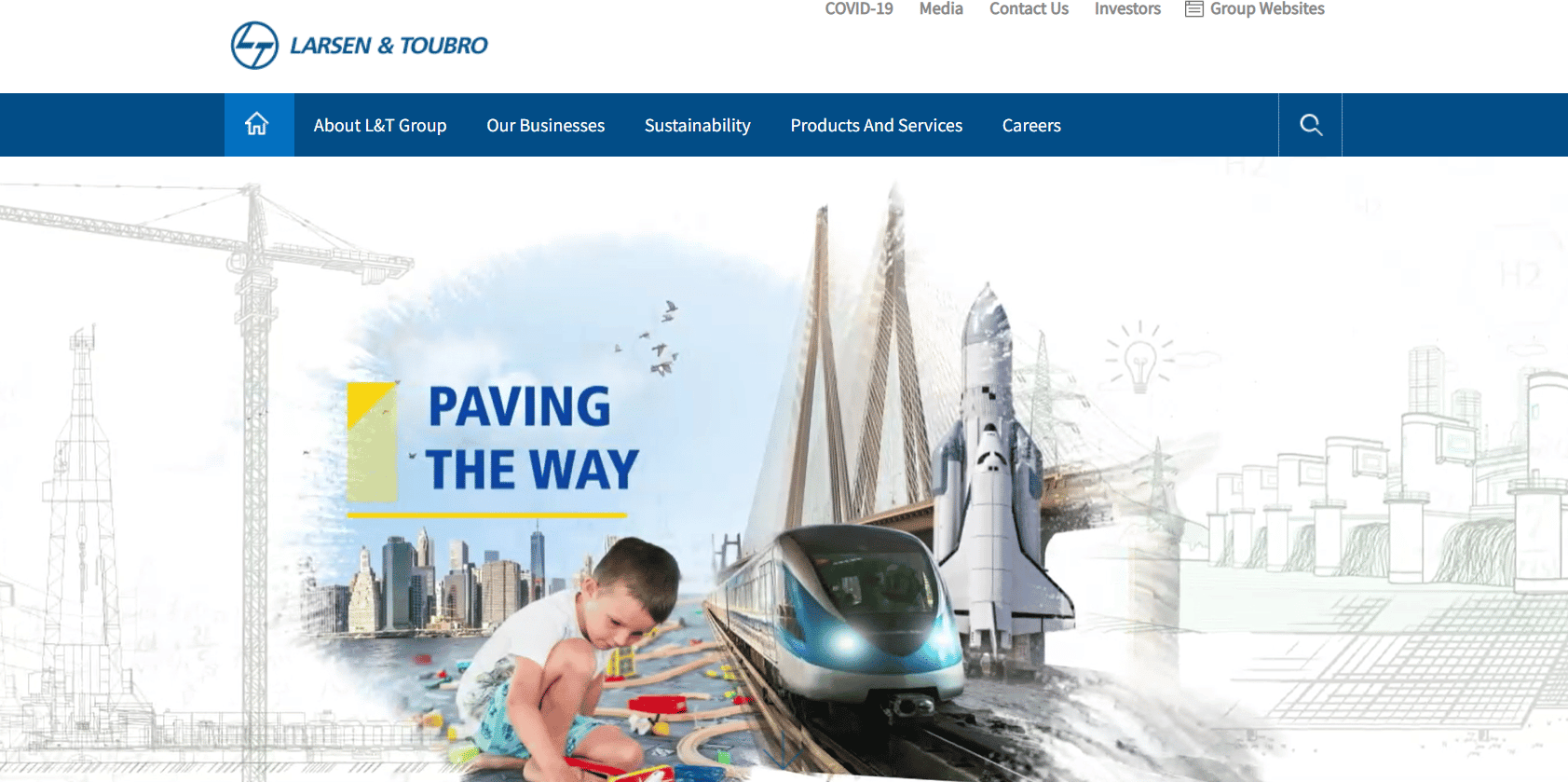 The company is regarded as one of the best construction companies worldwide. The corporation is diversified throughout several industries, including infrastructure, heavy engineering, defense engineering, oil and gas, financial services, IT, and reality. By 2020, the L&T Group had 118 branches, 25 joint ventures, 6 partners, and 35 joint operations firms.
One of the highest in the sector is the price-to-book ratio. They have a stock with 20% upside potential and a strong analyst rating. Given that expenditure on infrastructure operations would be one of the largest components of the budget of the company, the corporation has considerable potential to unlock value thanks to its large order books and expansion into numerous unrelated enterprises.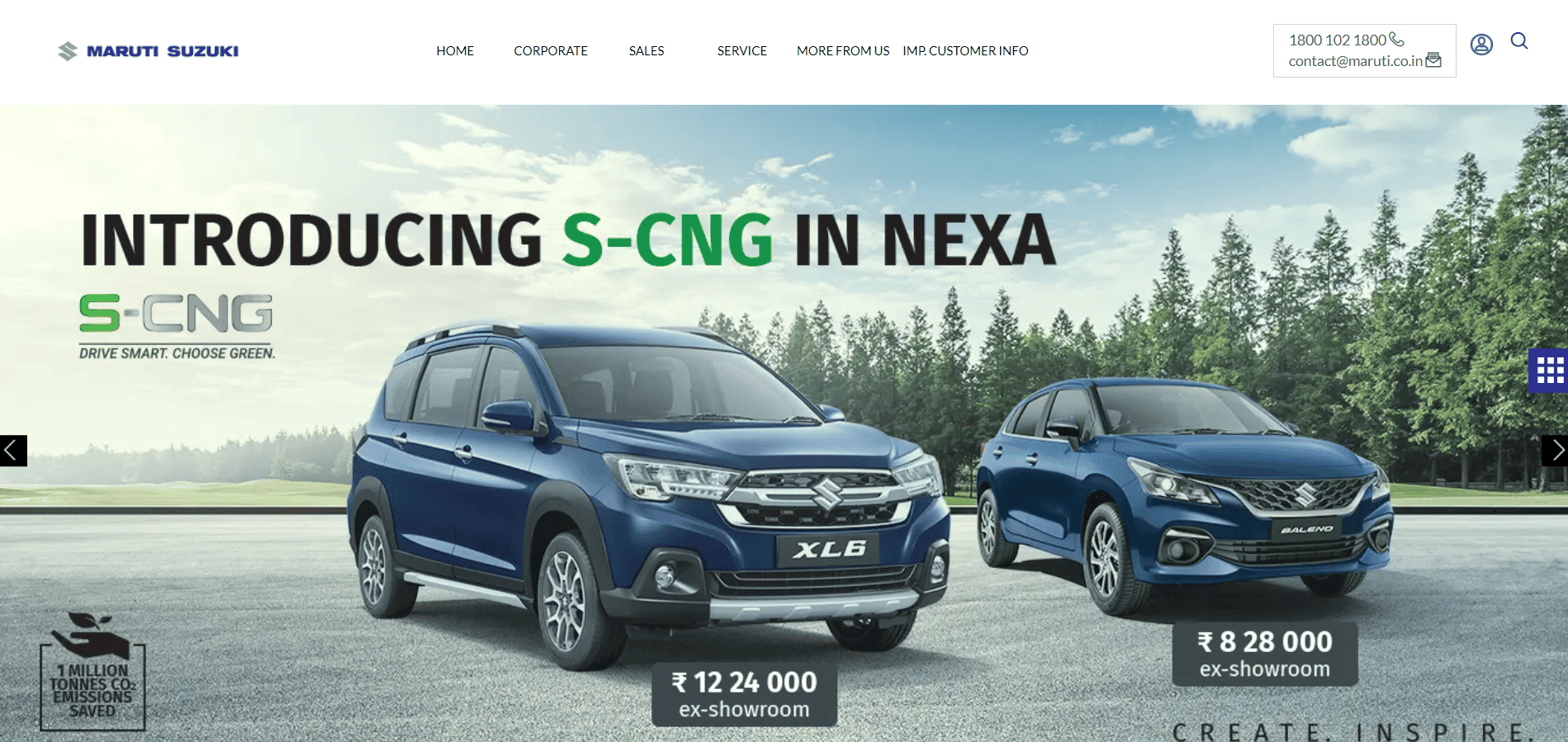 Suzuki, a Japanese carmaker, created a subsidiary in India called Maruti Suzuki India Limited, which was formerly called Maruti Udyog Limited. It was owned and run by the Indian government from 1981 until 2003. The Indian government sold the company to Suzuki Motor Corporation in 2003.
As of July 2018, it held a market share of 53 percent in the Indian passenger car industry. The price-to-book ratio is above the average for the sector. Passenger cars, spare parts & components, light-duty utility vehicles, service income, mold & dies, scrap, etc. are a few of the major market categories that the company serves. Learn more about the best blue chip stocks in India.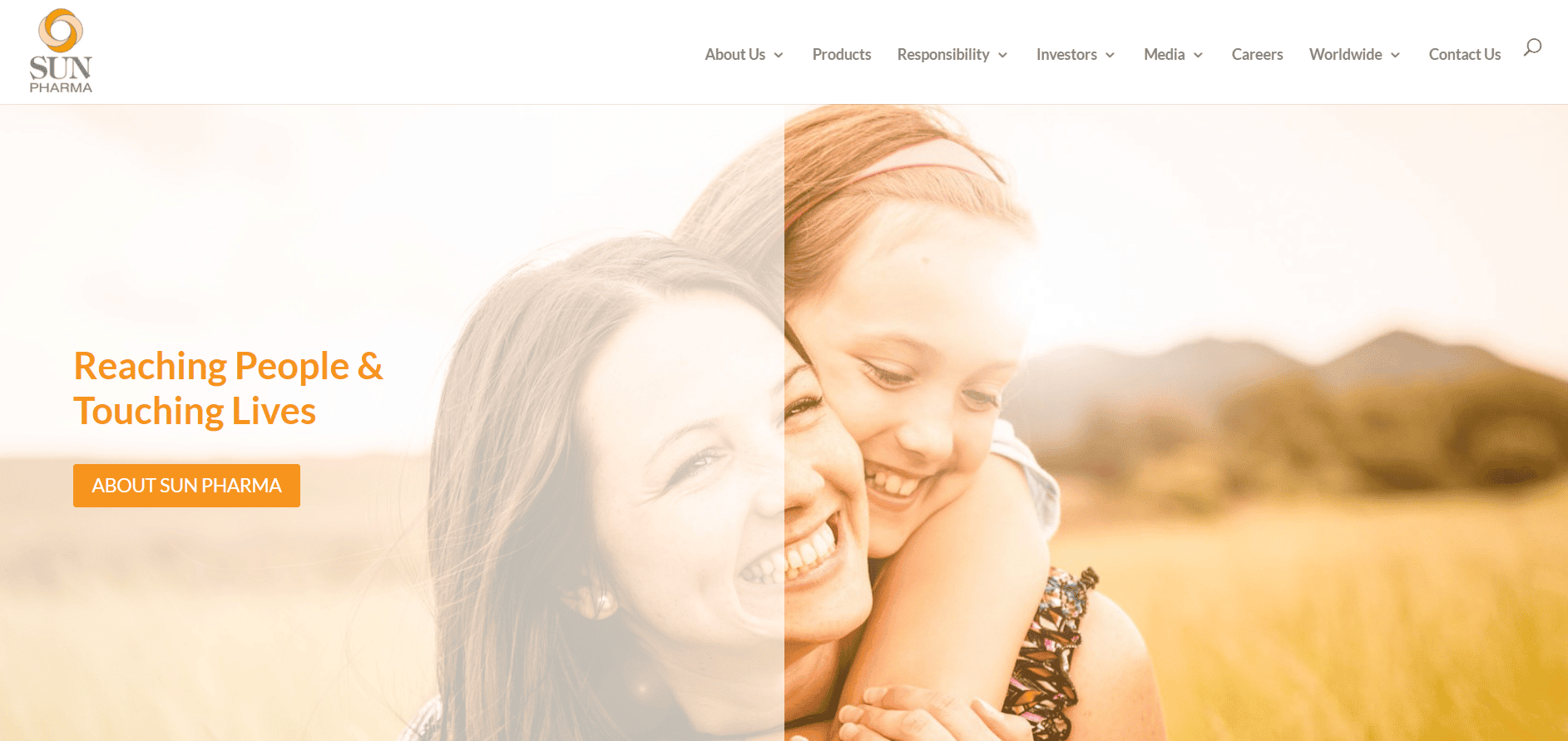 Sun Pharma was founded with just 5 products to market in West Bengal and Bihar in 1983. The business eventually began to grow across the country, and today it is India's largest pharmaceutical firm. The firm has operations in even more than 100 nations. With 43 manufacturing facilities and more than 37,000 employees worldwide, the company is also positioned 9th in the US Generic Pharma Markets.
The business is ranked 4th among specialty generic firms worldwide. Cardiology, oncology, CNS disorders, ophthalmology allergy-asthma, diabetes, and gastroenterology are among the therapeutic areas in which the company produces medicines.
Also Read: Top 10 Drone making Company in India listed in Stock Market

Comparison Table
In the table given below, you can find all the stocks mentioned above and compare them easily in different categories.
Sr. No
Company name
Sector
NSE
 

 

Share Price (Rs.)

 

 

 

Market Cap

 

 

Sales Qtr

 

 

P/E Ratio

 

 

Dividend Yield

 

1
 

Reliance Industries Ltd.

 

Refineries
RELIANCE
2527
16.60 T
230055 Cr.
25.69
0.32%
2
TCS
IT Software
TCS
3161.10
11.57 T
55309 Cr.
29.36
1.42%
3
HDFC
Banks
HDFCBANK
1459.95
8.13 T
40929 Cr.
19.51
1.06%
4
 

Asian Paints

 

Paints and varnishes
ASIANPAINT
3054
2.93 T
8457.57 Cr.
79.91
0.65%
5
D-Mart (Avenue Supermarts)
Retail
DMART
4315
2.79 T
10638.33 Cr.
122.06
–
6
 

Hindustan Unilever

 

FMCG
HINDUNILVR
2526.40
5.94 T
15144 Cr.
61.51
1.42%
7
ITC
Tobacco products
ITC
346
4.29 T
17107. 99 Cr.
24.76
3.32%
8
Nestle India
FMCG
NESTLEIND
20,270
1.95 T
4591 Cr.
90.27
1.31%
9
Bajaj Auto
Automobiles
BAJAJ AUTO
3674
1.04 T
10202.71 Cr.
18.14
3.81%
10
Coal India
Mining and mineral products
COALINDIA
244.35
1.51 T
35092 Cr.
6.54
6.96%
11
TATA steel
Steel
TATASTEEL
101.65
1.24 T
63430 Cr.
3.17
5.02%
12
SBI
Banks
SBIN
571.80
5.10 T
76780.86 Cr.
14.45
1.24%
13
 

Larsen & Toubro

 

Infrastructure developers and operators
LT
1976.80
2.78 T
35853.20 Cr.
30.23
1.11%
14
Maruti Suzuki
Automobiles
MARUTI
9548
2.87 T
29942.50 Cr.
64.95
0.63%
15
Sun Pharma
Pharmaceutical
SUNPHARMA
989
2.38 T
10761.76 Cr.
61.16
1.01%
Best Low Price Blue Chip Stocks
In case you have a limited budget and you can't invest a high amount then don't worry, there are blue chip stocks for you as well. There are some companies that are blue chip but have a relatively low stock price. Some of the best ones are mentioned below.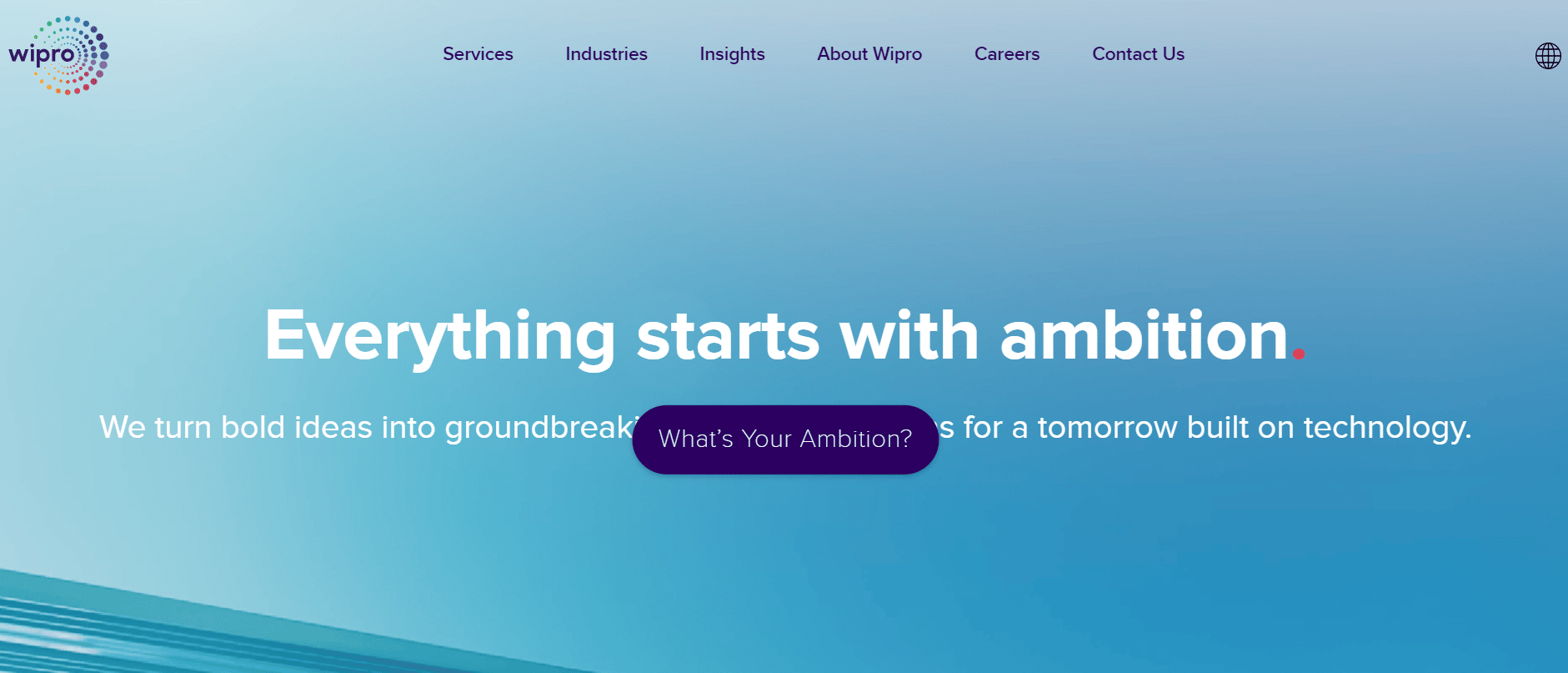 Wipro Ltd. is an Indian IT, consulting, and business process services provider. They use robotics, analytics, the cloud, and other technological advancements to assist its clients, who are spread across six continents, in adjusting to digital trends and thriving toward success. The business also produces and sells furniture, electrical appliances, and healthcare products. Wipro Ltd. recently became the 3rd IT firm to reach a market worth of Rs. 3 trillion. These stocks are cheaper in comparison to other MNCs which is the reason why it is on this list of low price blue chip stocks.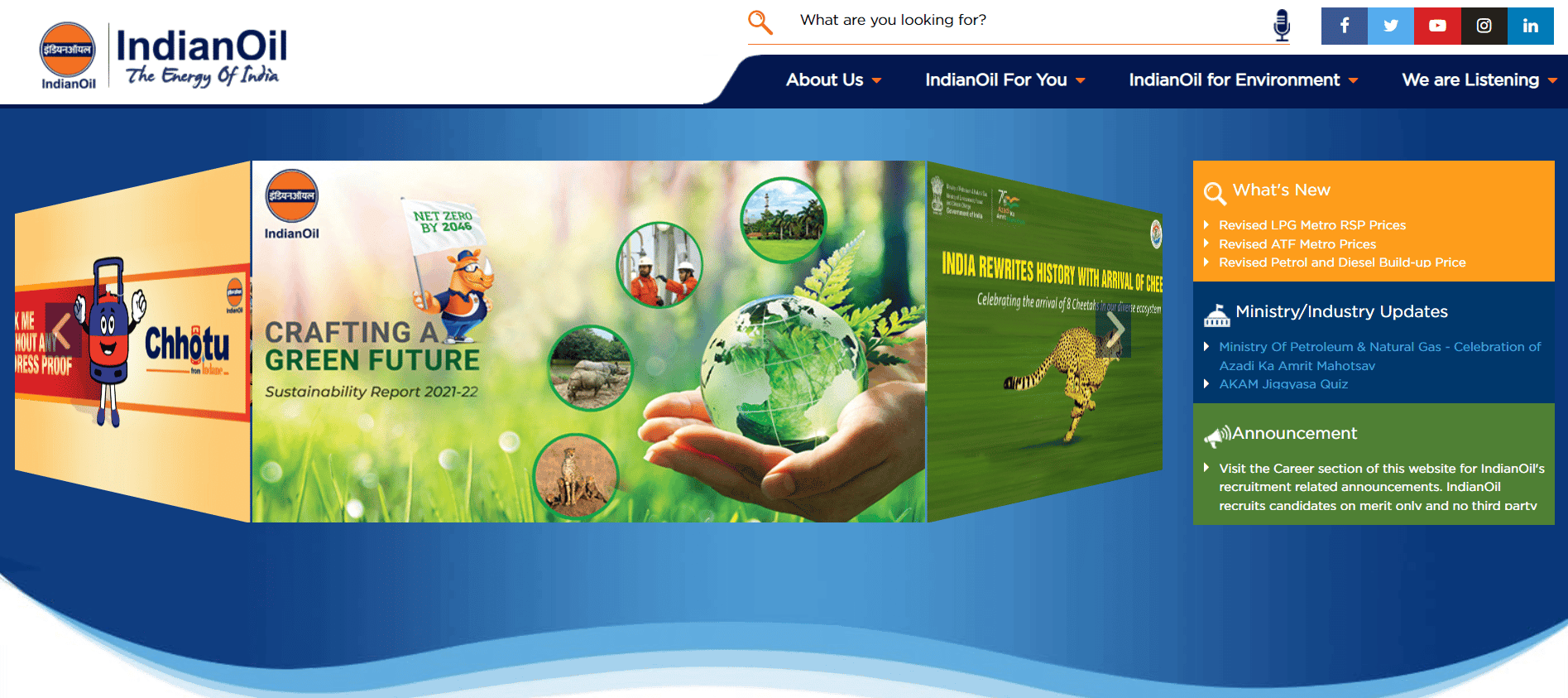 The Ministry of Petroleum and Natural Gas, Government of India, owns the central public sector enterprise known as Indian Oil Corporation Limited. As of 2022, Indian Oil is listed as the 142nd largest corporation in the world on the Fortune Global 500 list. With a net profit of $6.1 billion for the fiscal year 2020–2021, it is the largest government-owned oil producer in the nation. Yet it is one of the best low price blue chip stocks.
The company runs eight refineries around the nation with a combined annual refining capacity of almost 50 million tons. In retail sales of energy products, the corporation holds a nearly 55% market share. IOC has increased its sales by 13.6% and CAGR stands at an increase of 13.3% in the past 5 years.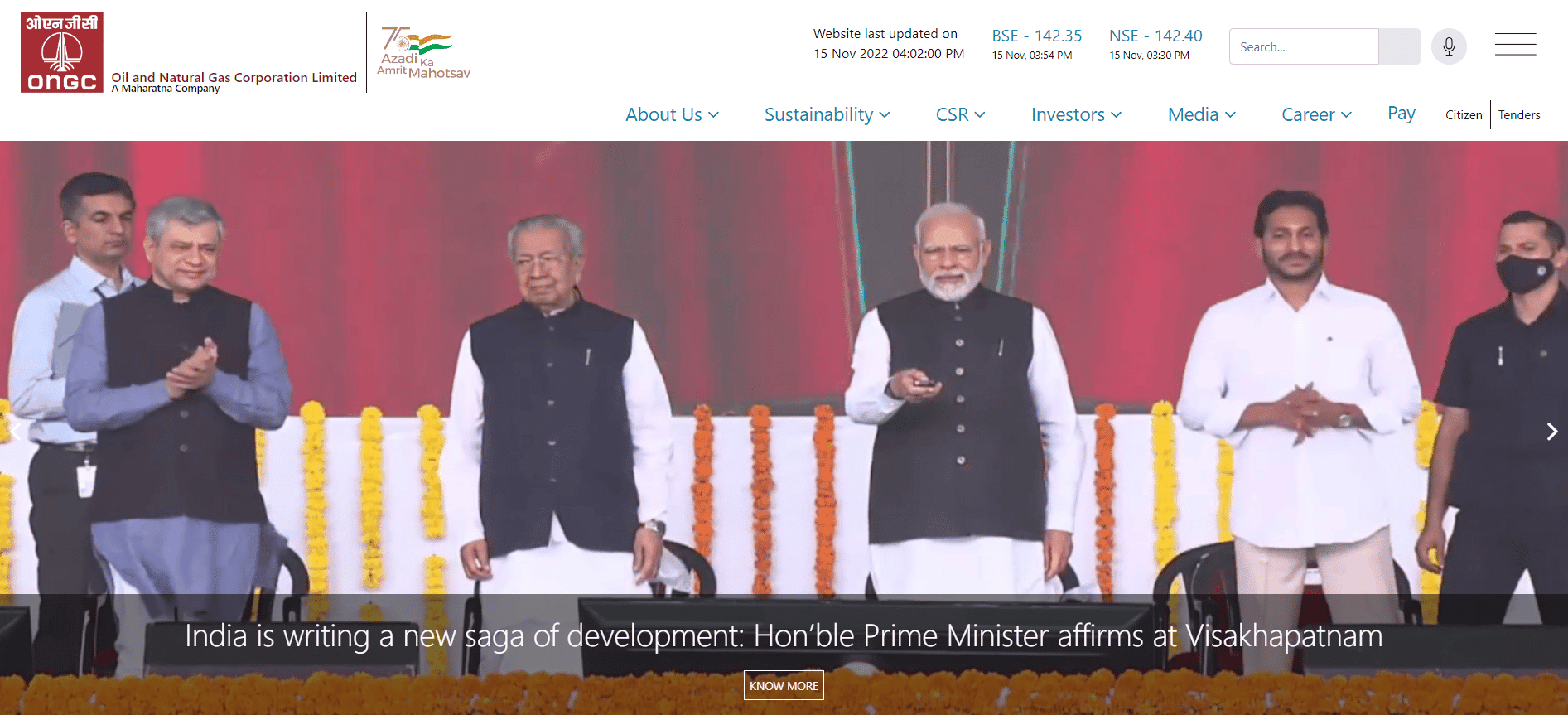 The largest oil exploration and production company in the nation is Oil & Natural Gas Corporation or ONGC. The firm operates on a global scale and is involved in several downstream activities related to the processing of crude oil. In terms of finances, the business had an ROE of 19.6% for FY22.
The corporation did experience some advantages as a result of the increase in oil prices in FY22. However, ONGC is at significant risk from fluctuating crude oil prices because the company's profits are directly impacted. It is a good option if you are looking for low price blue chip stocks.

The gas & petroleum industry is the focus of the 1984-founded large-cap business GAIL (India) Ltd. The Ministry of Petroleum and Natural Gas is in charge of overseeing its operations. Natural gas, liquid hydrocarbon, city gas distribution, the transmission of liquefied petroleum gas, petrochemicals, renewable energy including solar and wind, exploration and production, petrochemicals, and electricity generating are some of its business segments.
The company outperformed its five-year average of 15.4% with an ROE of 19.11% in the year ending March 31, 2022, making it one of the best low price blue chip stocks in India. Compared to its three-year CAGR of 6.6%, the company's yearly revenue growth improved by 60.61%.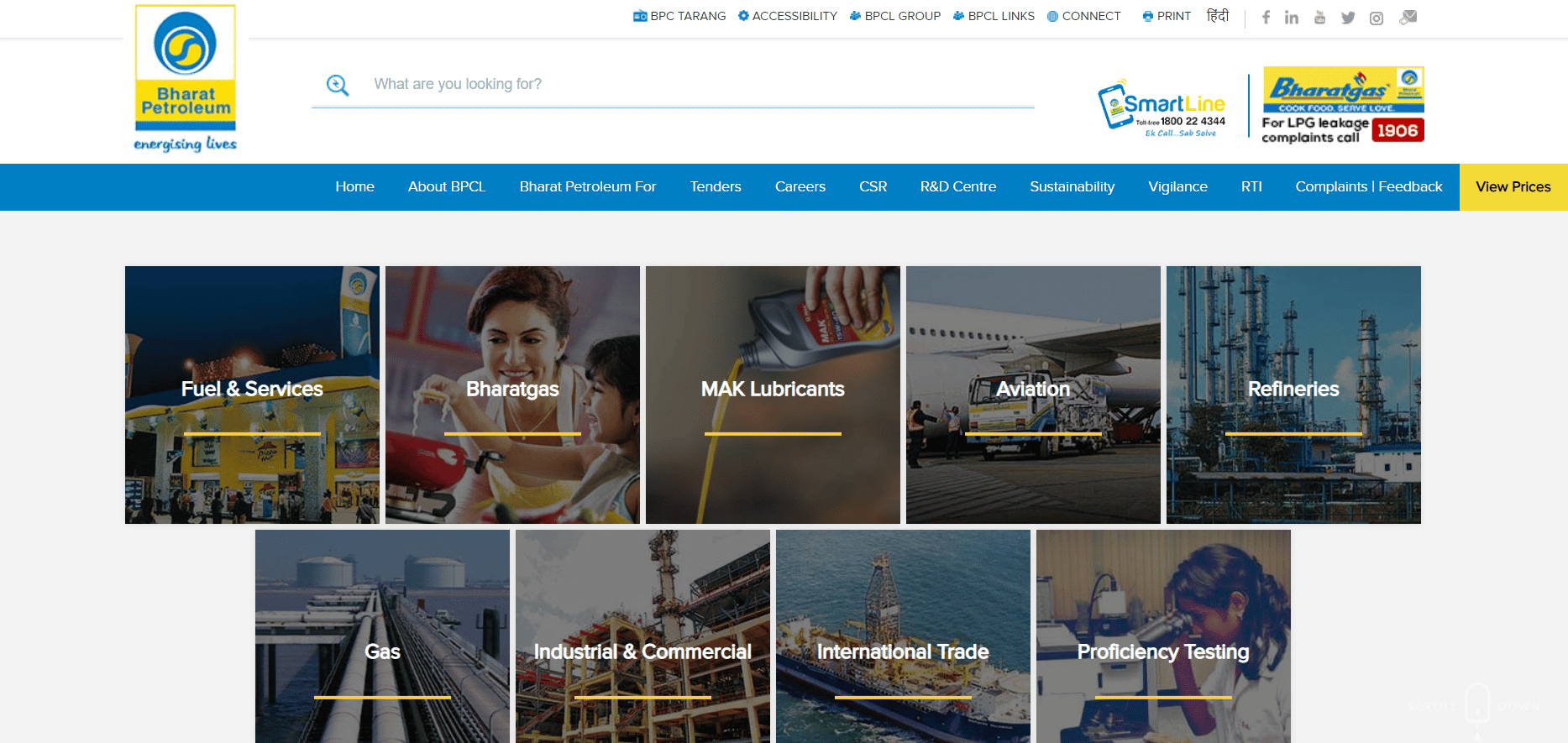 In 1952, Bharat Petroleum Corporation (BPCL) was founded. It is a notable corporation in India's petroleum industry. The Government of India acquired the Burmah Shell Group of Companies to create Bharat Refineries Limited. It changed its name to Bharat Petroleum Corporation Limited on August 1st, 1977. Additionally, it was the nation's first refinery to process freshly discovered indigenous crude (Bombay High).
Petroleum and petroleum-related goods are the focus of BPCL's exploration, production, and retail activities. The retail division of BPCL is involved in the marketing of kerosene, diesel, and gasoline. BPCL is preparing to come closer to its goal of becoming a net zero emitter. The company's earnings were INR 121,411.07 Cr., which has increased by 15.98% over the last quarter making it one of the best low price blue chip stocks.
Also Read: Best EV Stocks in India to Buy

A provider of telecommunications tower infrastructure services is Indus Towers Ltd. They are next on this list of low price blue chip stocks. For mobile carriers, the corporation deploys, owns, maintains, and operates telecom towers and communication structures. The company's primary source of income is the leasing fee it charges mobile tower renters.
Tenants typically pay for energy expenditures including electricity and fuel prices. In addition to owning and running telecom towers and related equipment, the company also buys and constructs towers. The company's assets are mostly ground and rooftop towers that are situated in India.
With its headquarters in Mumbai, HPCL is an Indian oil and gas refinery corporation. ONGC has held the majority of the business since 2018. In the 2016 Fortune Global 500 list of the largest corporations in the world, the company is placed 367th. The corporation earned a Maharatna PSU on October 24, 2019.
HPCL has a strong business model, a solid management group, strong earnings growth, and a good dividend payout along with a low P/B ratio. Since July 27, 2000, Hindustan Petroleum Corporation Ltd. has announced 33 dividends. The enterprise also boasts of a sound long-term growth strategy making it one of the best low price blue chip stocks.
Comparison Table
You can compare all the low price blue chip stocks using the table given below.
Sr. No
Company name
Sector
NSE
 

Share Price (Rs.)

 

 

Market Cap

 

 

Sales Qtr

 

 

P/E Ratio

 

 

Dividend Yield

 

1
Wipro
IT software
WIPRO
383.70
2.10 T
22539.70 Cr.
18.66
1.56%
2
IOCL
Refineries
IOC
68.50
965.89 B
223414.39 Cr.
5.08
12.26%
3
ONGC
Crude oil and natural gas
ONGC
133.75
1.68 T
182893.75 Cr.
3.27
7.85%
4
GAIL(India )
Gas Distribution
GAIL
90.05
591.40 B
37896.91 Cr.
4.48
3.7%
5
BPCL
Refineries
BPCL
303.70
657.83 B
121081.80 Cr.
24.32
5.27%
6
Indus Towers
Telecom equipment and services
INDUSTOWER
187.85
504.68 B
7966.60 Cr.
9.31
5.86%
7
HPCL
Refineries
HINDPETRO
212
300.38 B
114502.35 Cr.
–
6.6%
High Dividend Blue Chip Stocks in India
For many investors, blue chip stock means high dividend. They see them as a constant income source that keeps providing high returns. However, not all blue chip stocks give high dividend. Some of the best ones that do are given below.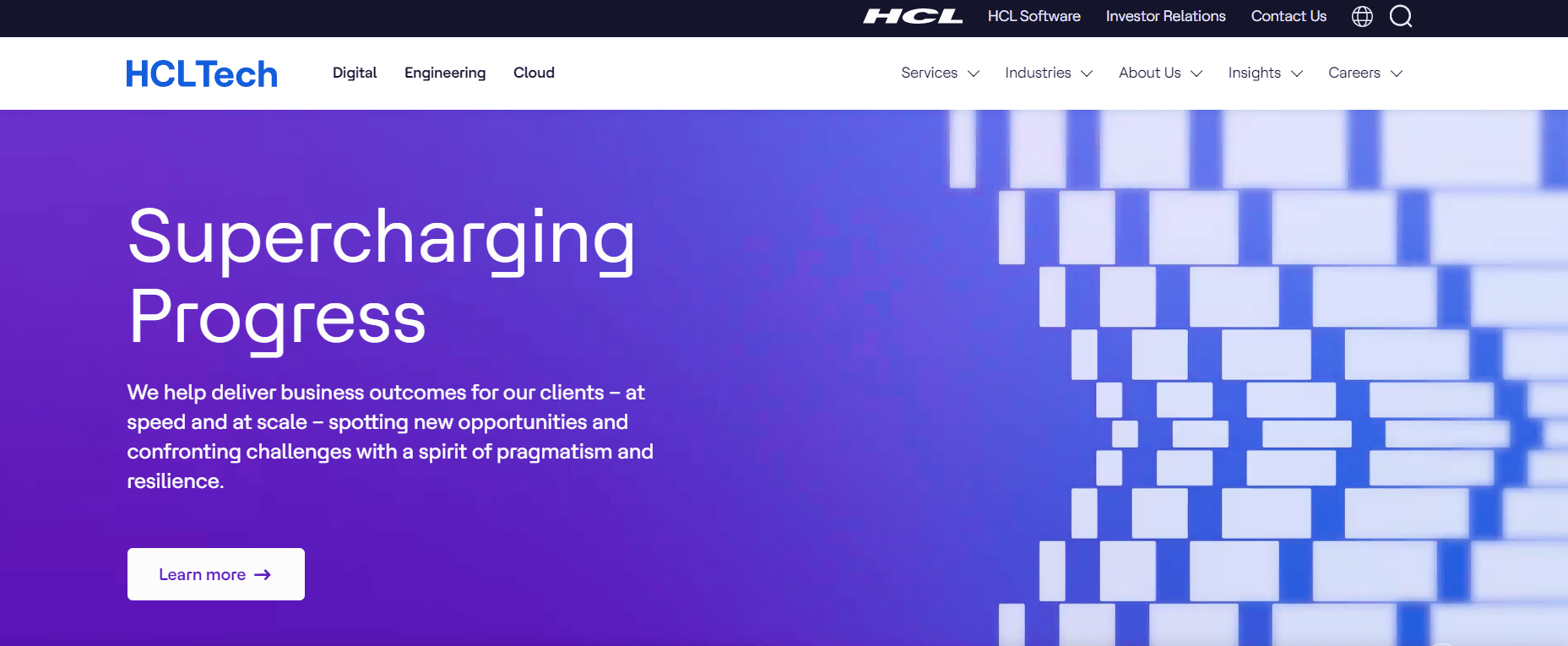 Leading international IT services provider HCL Technologies Ltd. specializes in offering a broad range of software services, business outsourcing services, etc. The organization also works in several other industries, including mining, natural resources, finance, healthcare, defense, and aerospace. The business has branches in 32 nations, including the US, France, Germany, the UK, and the United States. The stock returned 80.74% over three years, compared to 52.68% for the Nifty 100. In the most recent quarter, the company generated a net profit after tax of INR 3,487 Crore.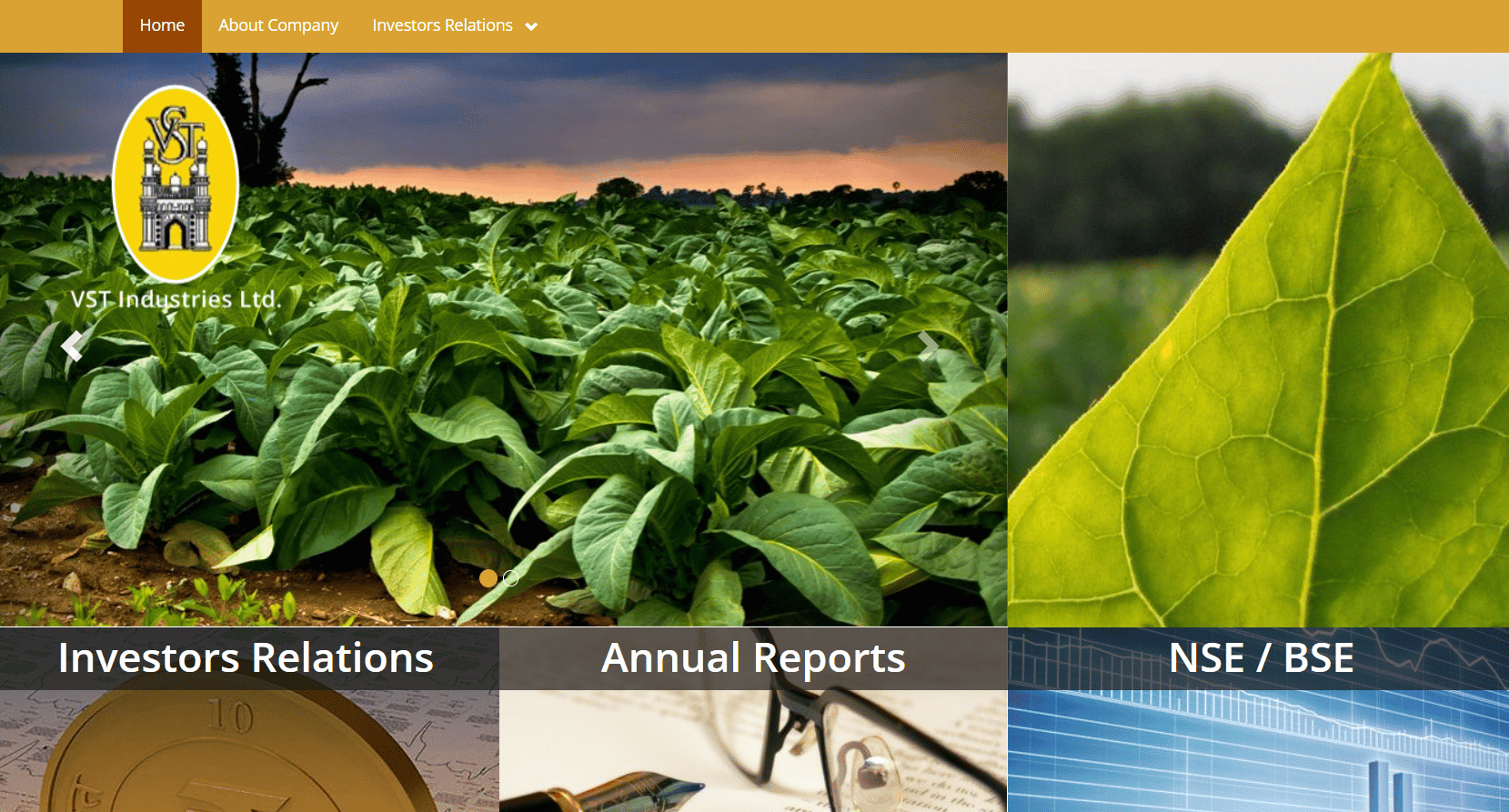 VST Industries Ltd. got incorporated in 1930 as Vazir Sultan Tobacco Company. The primary businesses of the corporation are the production and selling of cigarettes and unprocessed tobacco. For new brands, it engages in R&D to create high-quality blends with cutting-edge filter versions. Its growth initiatives involve both brand-new product development and global expansion.
VST Industries has a long and illustrious history of paying consistent dividends that have been rising since 1997. Read on to know more about the high dividend blue chip stocks in India.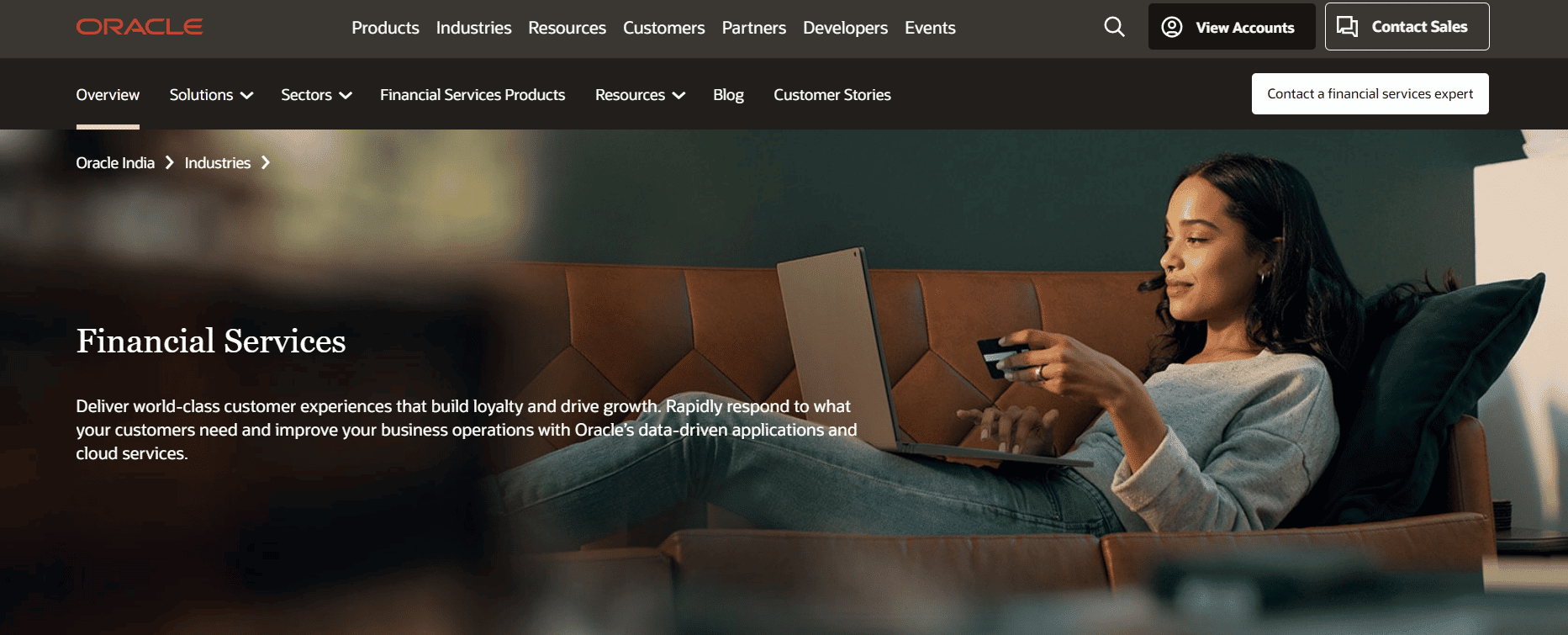 A significant subsidiary of Oracle Corporation, Oracle Financial Services Software Ltd. (OFSSL) focuses on offering IT solutions to the financial services sector. Numerous financial areas, including payments, corporate banking, and retail banking, are covered by some of the IT solutions provided. The main business division of OFSSL also includes consultancy, product licensing, and support.
With 14 development centers spread across India, Singapore, and the USA, the company serves over 810 financial institutions in 130 nations with value-based solutions. For the past five years, the company has had no debt. In the most recent quarter, the company achieved a net profit after tax of Rs. 397.75 billion turning the stocks into one of the best blue chip stocks in India.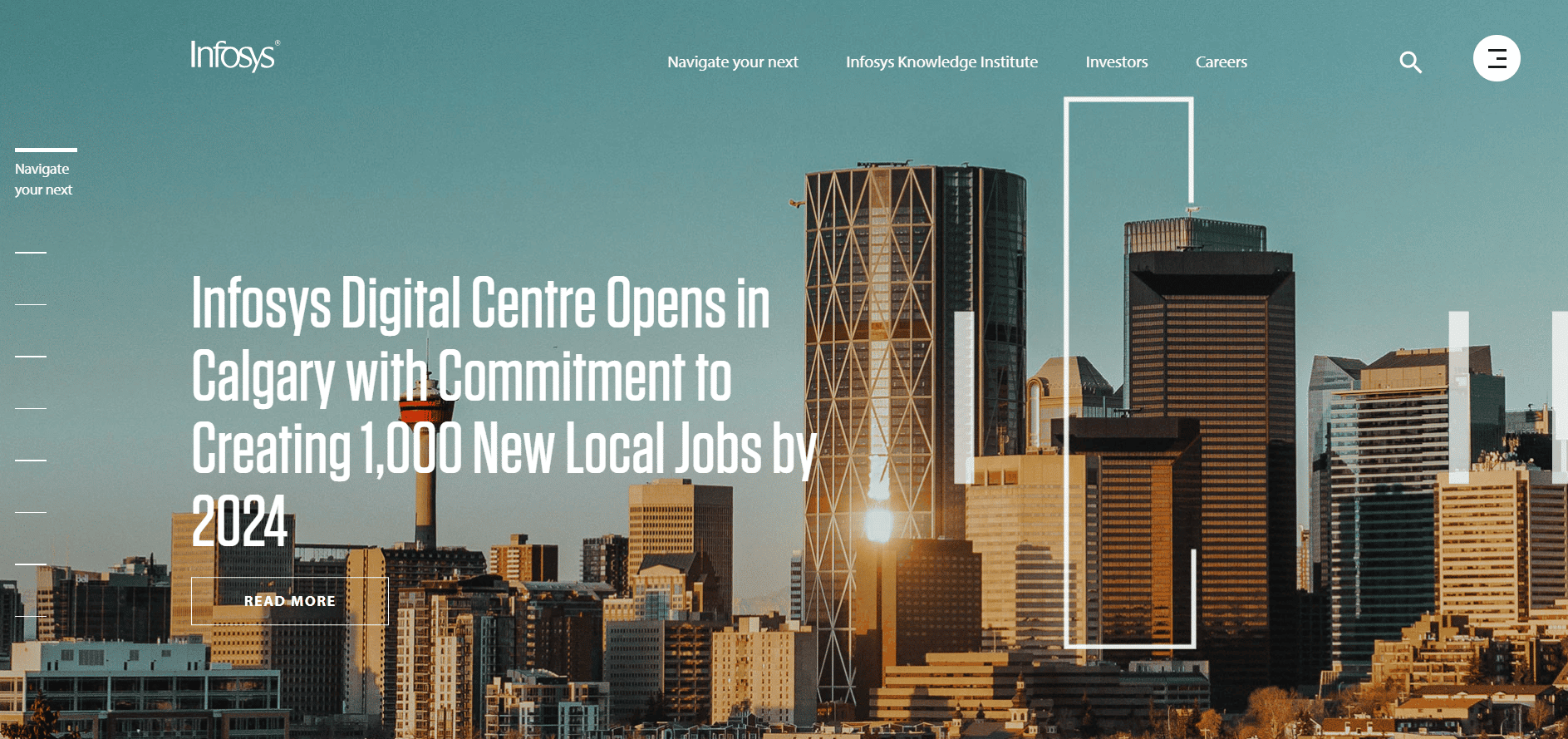 As multinational information technology corporation based in India, Infosys Ltd. offers outsourcing, IT, and business consulting services on a global scale. It is the second-largest IT firm and has operations in 45 nations to support the development and implementation of various digital transformation plans.
EdgeVerve Systems, Infosys Consulting, and Infosys BPM are the three divisions that make up Infosys. The business is very aware of how it uses its resources. The company has a solid 27.49% ROE track record making it one of the best high dividend blue chip stocks in India.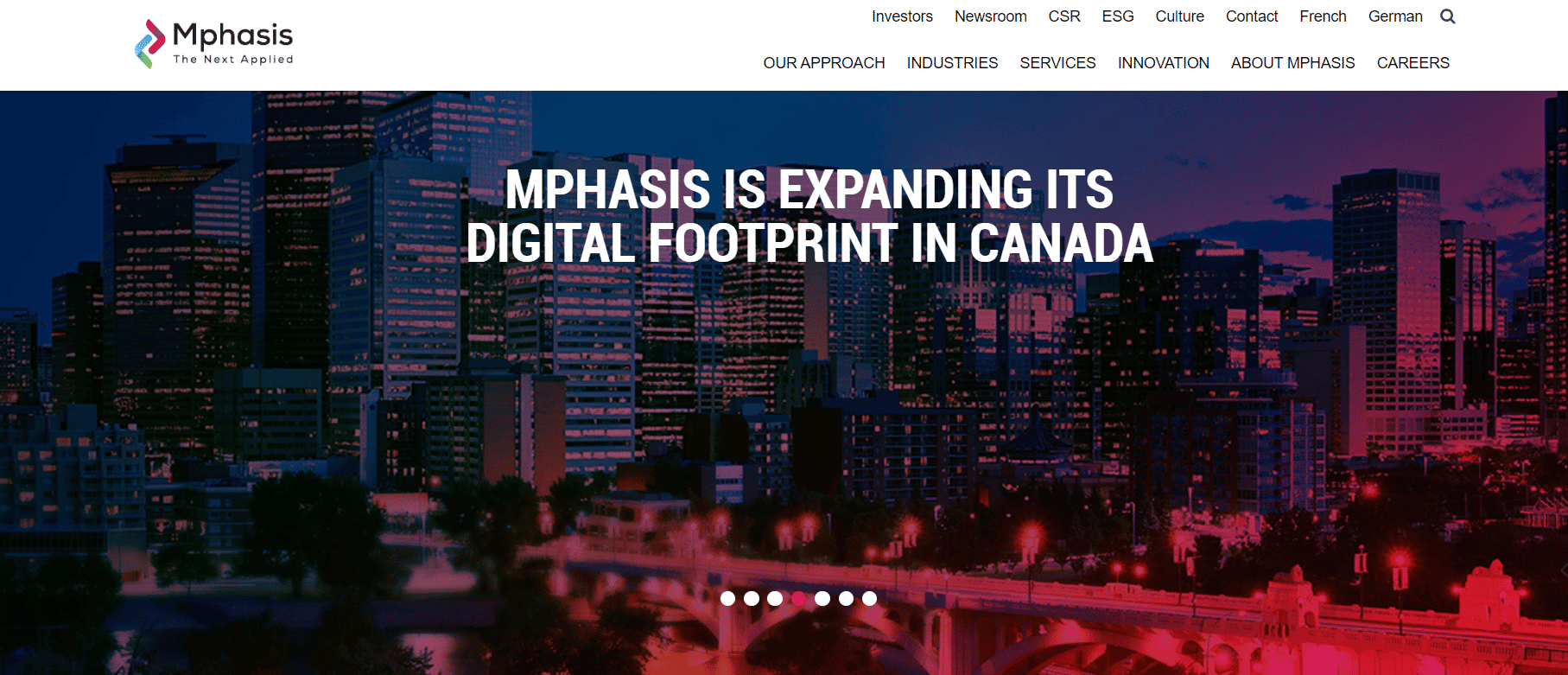 MphasiS Ltd. is a multinational, multiethnic company that specializes in offering clients all over the world IT services such as application development, maintenance, business process and KPO outsourcing solutions, and infrastructure outsourcing services.
As of 2022, the corporation has subsidiaries in numerous nations, including Australia, Canada, France, Singapore, Ireland, the United Kingdom, and the United States. Revenue growth for the company increased annually by 23.0%, outpacing its three-year CAGR of 15.14 %. Additionally, the stock's three-year return was 105.3% higher than the Nifty 100's.
Also Read: 15 Best Chemical Stocks in India to Invest

Comparison Table
In the table given below, you can find all the necessary information about these high dividend blue chip stocks in short. Pick the ones that suit your risk tolerance and budget.
Sr. No
Company Name
Sector
NSE
 

 

Share Price (Rs.)

 

 

Market Cap

 

 

Sales Qtr

 

 

P/E Ratio

 

 

Dividend Yield

 

1
HCL Technologies
IT software
HCLTECH
1030.10
2.79 T
24686 Cr.
20.25
4.66%
2
VST Industries
Tobacco products
VSTIND
3528
54.28 B
300.97 Cr.
16.17
3.97%
3
Oracle Financial Services
IT sector
OFSS
2891.80
249.90 B
1376.03 Cr.
13.84
6.57%
4
Infosys
IT sector
INFY
1512.50
6.53 T
36538 Cr.
27.77
2.15%
5
Mphasis
IT sector
MPHASIS
1953.60
366.35 B
14263.82 Cr.
23.60
2.35%
How to Invest in Blue Chip Stocks?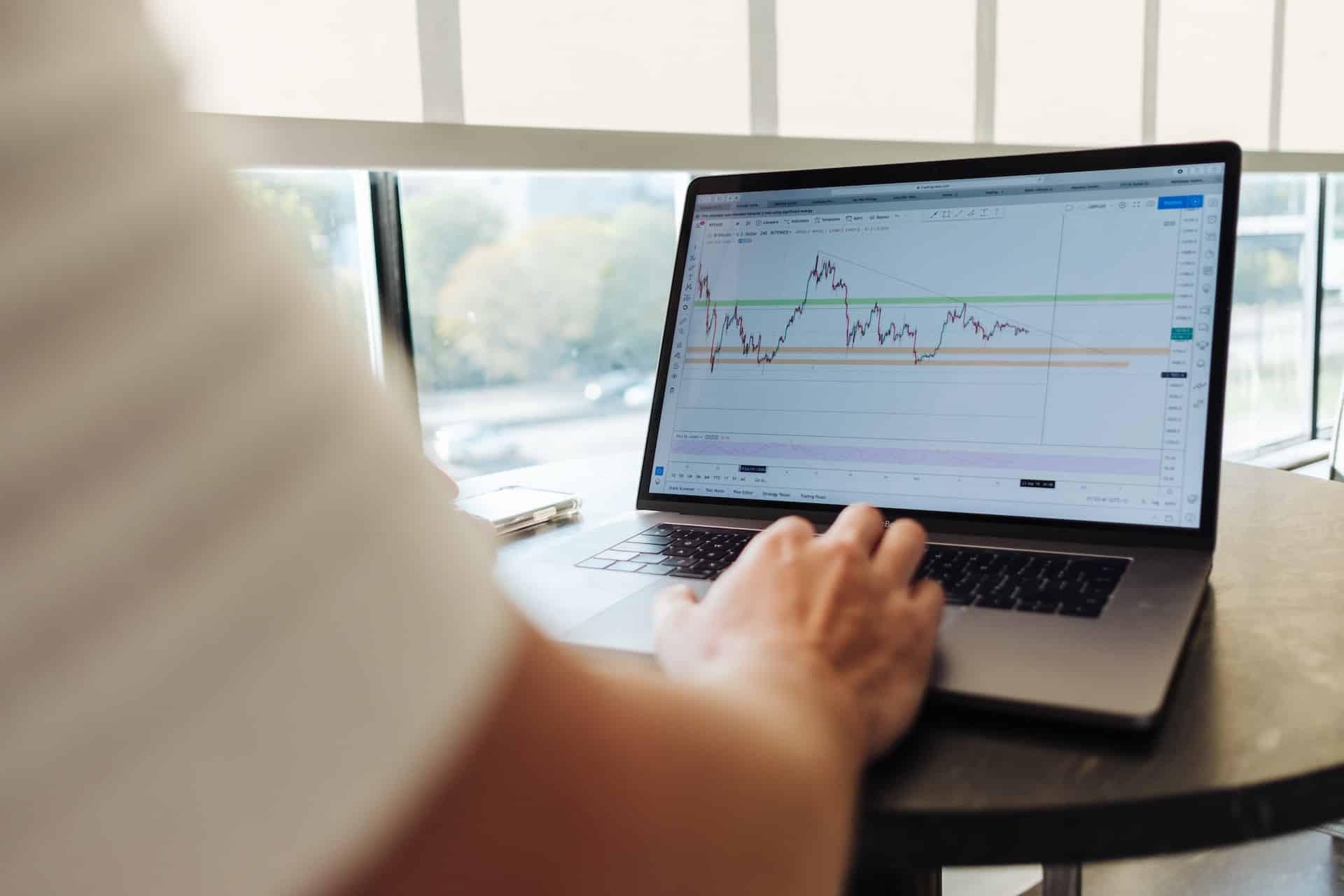 You can purchase the best blue chip stocks in India from any brokerage platform of your choice. While small-cap investments held by brokerages are easy to find, one should be capable of finding blue chip shares with some of the big names when it comes to brokerage firms. To invest in blue chip companies, one does not need to be an expert. The steps are the same as when purchasing other stocks.
Blue chip equities can be purchased as individual securities or via a blue chip index fund. Blue chip equities can be riskier but also tend to perform better than index funds. If there are specific stocks in which you believe there will be significant increases, buying individual shares is a great option. While the increased cost previously restricted who could participate in these stocks, the growing acceptance of fractional investment has allowed more people to purchase smaller portions of these blue chip shares.
On the other hand, one can choose an index fund for these stocks from the blue chip stocks list. When you invest in index funds, essentially you get exposed to dozens or perhaps hundreds of stocks in a single go. A fall in one of your equities is typically offset by an increase in the other stocks. This helps in mitigating the direct risk of losing your money if the stocks of a company fall.
Who should Invest in Blue Chip Stocks?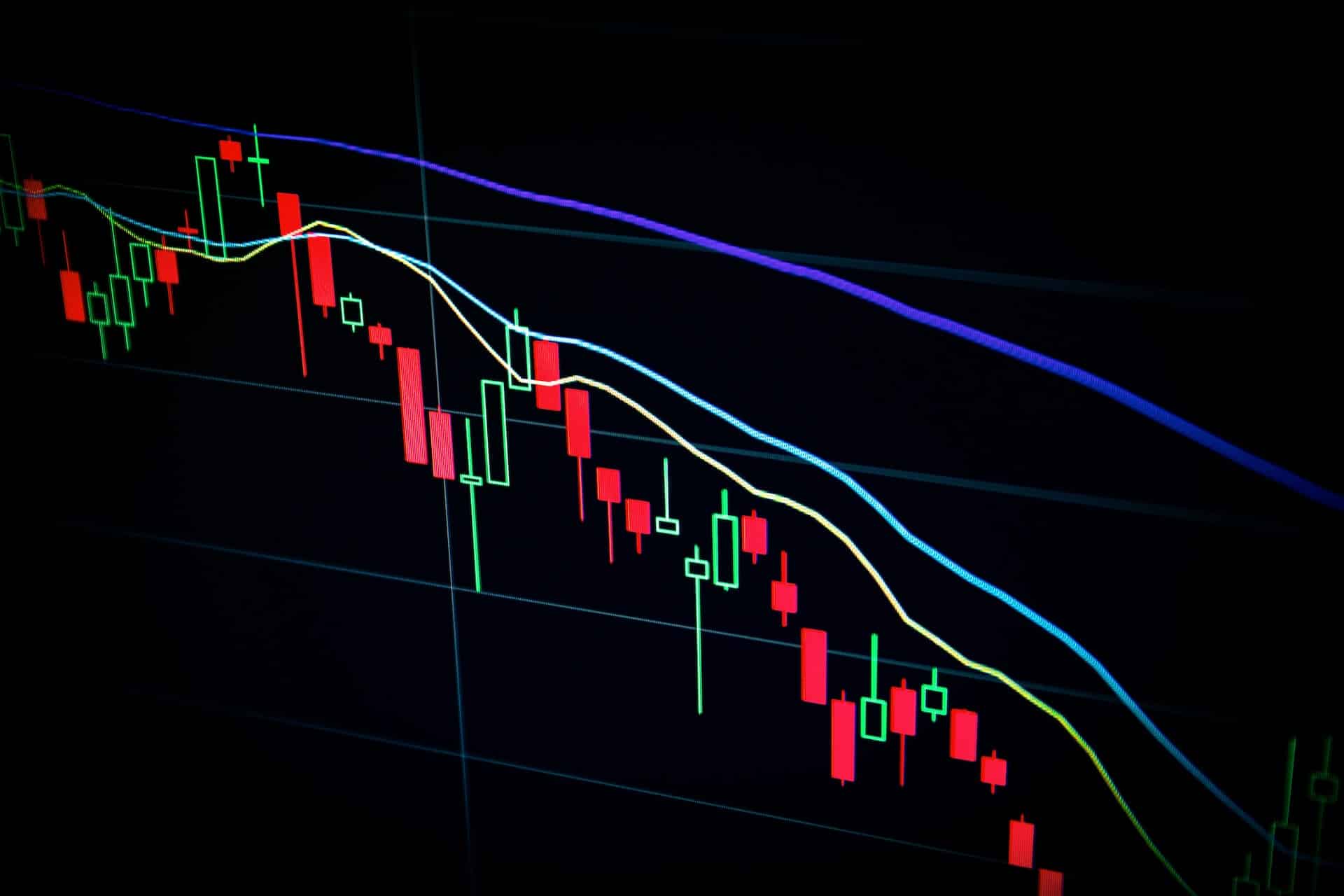 A blue-chip stock portfolio makes a great addition to any investor's holdings. They are especially well suited for retirees and conservative investors looking for low-risk investments. Blue chip shares are also beneficial for new investors because it can be reassuring to put money into a business you are aware of and that you like.
One can use the profits as a source of source income or can reinvest these funds to buy more shares. It's a chance to profit from the stock market while boosting a company you enjoy and wish to succeed.
Anyone interested in receiving consistent dividends should research the best blue chip stocks in India and low price blue chip stocks, if the budget is thin. These mature stocks generally, but not always, pay dividends. You will earn more dividend money if you own more shares.
Pros and Cons of Blue Chip Stocks
We have covered almost everything about blue chip stocks in India. We also informed you about some of the best low price blue chip stocks and also the ones that give high dividend. If you are still confused about investing in them then check out some pros and cons of these stocks.
Pros
Transparent Operation: Due to their popularity and high visibility, these businesses typically maintain a transparent business model. Best blue chip stocks in India employ seasoned management teams due to their extensive history and position as leaders in their respective industries.
Decreased Volatility: Even in times of market turbulence, well-established blue chips are resistant to economic downturns. Blue-chip organizations enjoy economies of scale due to their size, as well as diverse revenue streams from various goods and services.
Reliable And Steady Income: Blue chip dividends can be paid out steadily and effectively because of the steady earnings of the company without the requirement for significant growth investments.
Cons
Expensive: Blue chips typically cost a lot more compared to other stocks because they compete in the large-market cap environment. For several newer investors, the share price seems to be much higher than what is necessary to purchase stocks of any noteworthy size.
Growth Takes Time: You won't get rich investing in the best blue chip stocks in India unless you did it years ago. Most of these businesses are mature; their days of rapid expansion are behind them.
Slow Adaptability: A blue chip company's stellar reputation occasionally serves as a cover for its tendency to slack off on innovation. Bigger and major businesses often take a while to adapt to shifting market conditions, consumer needs, and professional tendencies.