The most frequently taught language in the world is English. It is a global language. Many people try to learn English using various methods. But it might be challenging to study it alone. Smartphones have solved this problem too. There are many apps available that will help you learn English like a pro. One of the most satisfying things you can do is learn a language. In this article, we will inform you about the best app to learn English speaking fluently. This list also includes the best app for learning English speaking offline.
Why learn English?
Here are some of the reasons why one should learn English regardless of the country or the culture they belong to:
Commonly Spoken: This is maybe the most significant reason to learn English that you should take into account. The whole world—one in five people—can speak or at least comprehend English. It's a highly useful language for communication and travel.
Beneficial for Higher Education: Have you ever thought of going overseas to school? Some of the best schools and universities in the world are found in countries like the USA and the UK. There are thousands of reputable colleges providing their programs in English all around the world, even those in non-English speaking nations. So, learning English might help you get into a better school.
Aids Career: When communicating with clients or coworkers from other countries, knowing how to speak English is crucial, if not necessary. Your chances of landing a solid job, whether at a global corporation or working overseas, are increased if you speak English well.
Read and Learn Literature: Have you ever wished you could learn the words to a song or been annoyed by a TV program or movie that was poorly dubbed? Or perhaps you've longed to read some of the great English authors, like Charles Dickens to Jane Austen to Stephen King, in their own tongue. Learn English, and you'll be able to enjoy your favorite music, TV shows, and books in their native language.
Grow Confidence: Everyone is aware of how challenging language learning can be. People will admire you for your dedication to maintaining and improving your English. You will get respect if you can interact with others and provide assistance. Additionally, people will approach you to find out more about you and your worldview. They'll be curious about you and your life experiences. They will be curious about the ideas, aspirations, anxieties, and viewpoints of someone from a different culture.
20 Best App to Learn English Speaking Fluently
After learning about the importance of the English language, it is easy to understand why it is so popular. All major international bodies use English as their primary language. Learning English will help you keep pace with the world and broaden your perspective. Let us begin our list.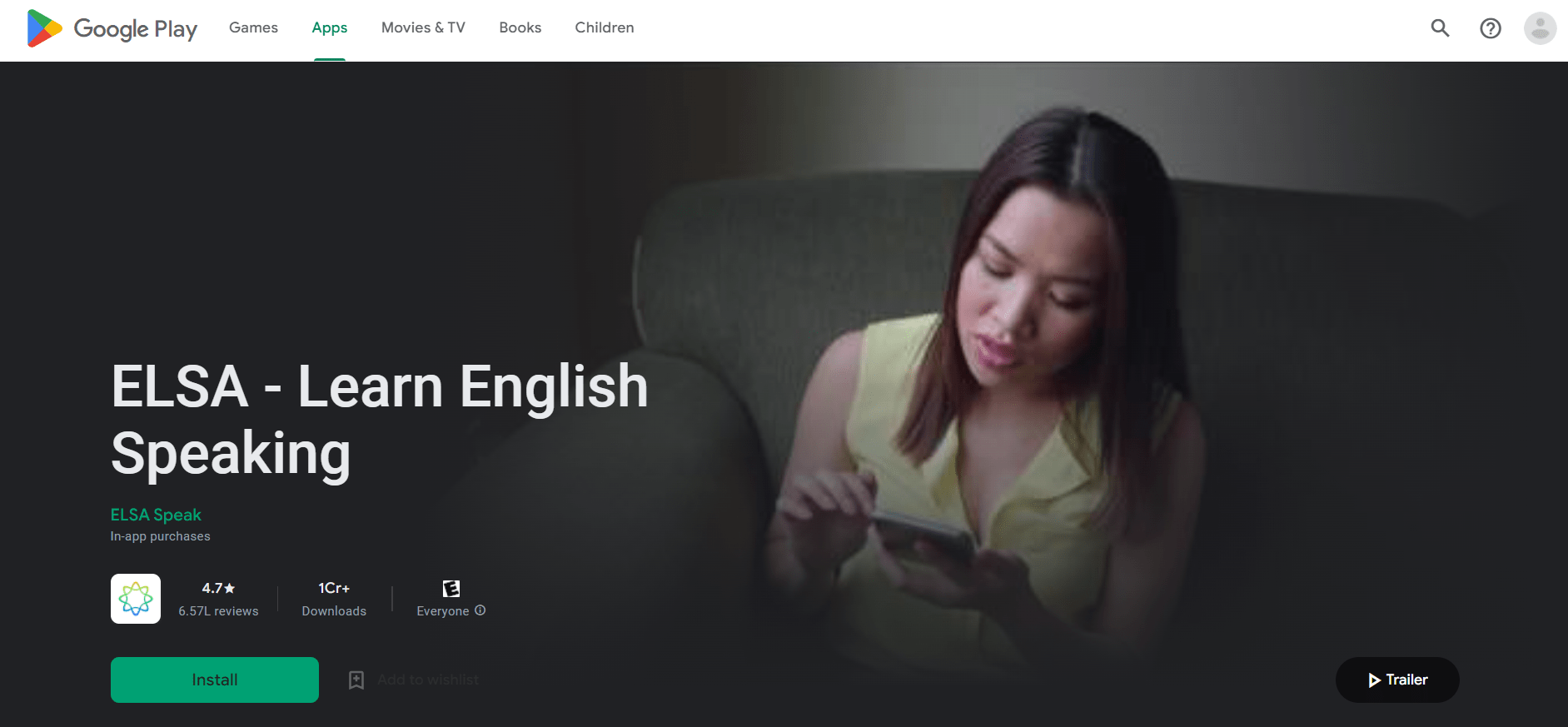 ELSA, or the English Language Speech Assistant, was developed to assist students in honing their pronunciation of American English. This app is the first and smartest artificial intelligence pronunciation coach in the world, running on our cutting-edge speech recognition technology. Students can join up for a free, access-restricted plan. Additionally, they can access 1,200 courses as well as a speaking evaluation exam during a free seven-day trial of their premium subscription.
An evaluation exam is available as part of the trial to assist students in determining their proficiency level and to provide a thorough breakdown of the major pronunciation issues. If the pronunciation is incorrect, the app scores it and offers advise on how to make it more accurate. The app's reminders to practice may be set to send at a certain time by students.
ELSA subscriptions are available at $44.99 annually or $98.99 permanently. This includes access to the ELSA Dictionary and more than 3,000 courses. You can use it as an English learning app free since a free trial of ELSA is also available before you subscribe.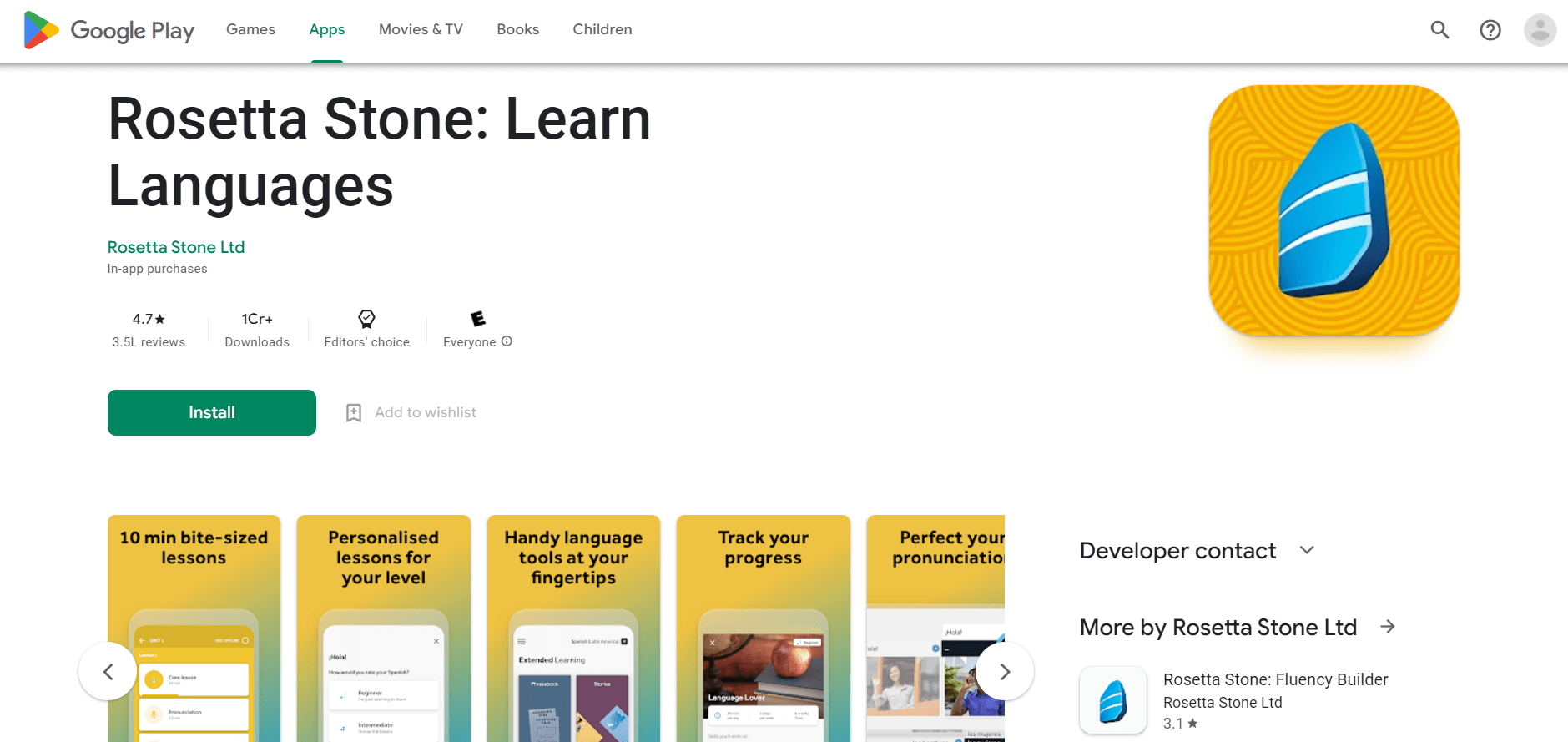 This acclaimed app for learning English covers vocabulary and grammar. You may enhance your English accent by using the pronunciation courses in Rosetta Stone. This is the best app for learning English speaking offline, as you may also download audio courses. For Android, iOS, and Windows, there are free trials for this English learning app free, as well as premium versions.
It differs from other applications in that it immerses you in English from your first session onward. This method is undoubtedly not the greatest for everyone (it might be daunting), but there is a tonne of evidence to back it up. The interactive exercises in the classes will help you become more proficient in speaking, reading, writing, and listening. The speed of the course might occasionally be a tad slow.
The Rosetta Stone English program costs $36.00 for three months of access. Longer subscriptions are also offered. Your discount increases with the length of your membership. A free 3-day trial is available for you to decide if the course is right for you.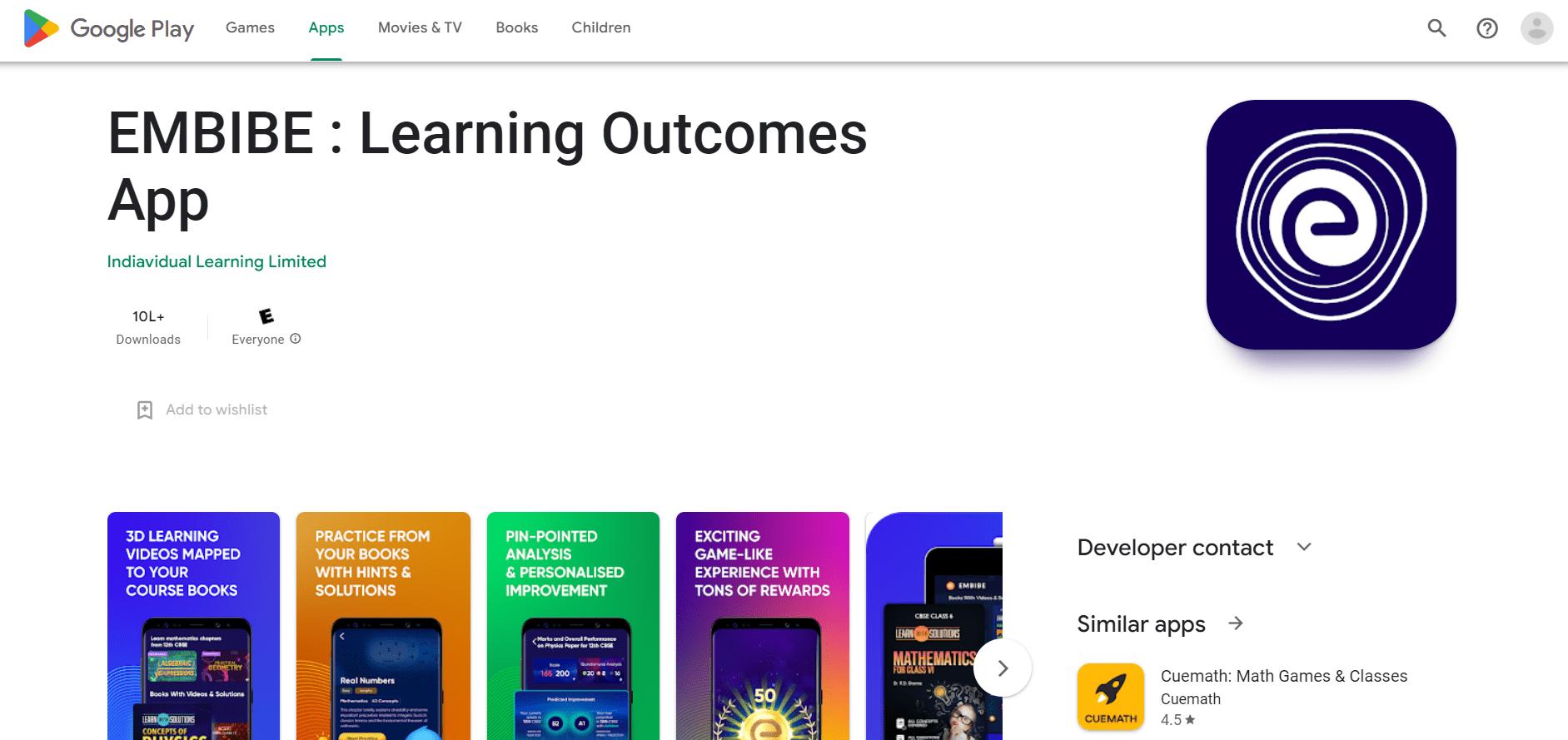 Embibe is the best app to learn English speaking fluently that is created for everyone to have a better learning process. This app is created for everyone while also being created for each person. The learning capacity of the end user is a key consideration in the development of the Embibe app. So it provides you with individualized learning materials that include wonderful videos and images. It enables goal-setting, assigns you a personal coach, uses artificial intelligence (AI) to assess your learning needs, and gives you AI-analyzed feedback.
Embibe offers you interactive videos, individual coaching, and study resources for English so you can succeed and raise your academic levels. Additionally, you can easily pass even the most difficult competitive examinations and interviews in English by using Embibe's practice resources, mock tests, and speaking advice.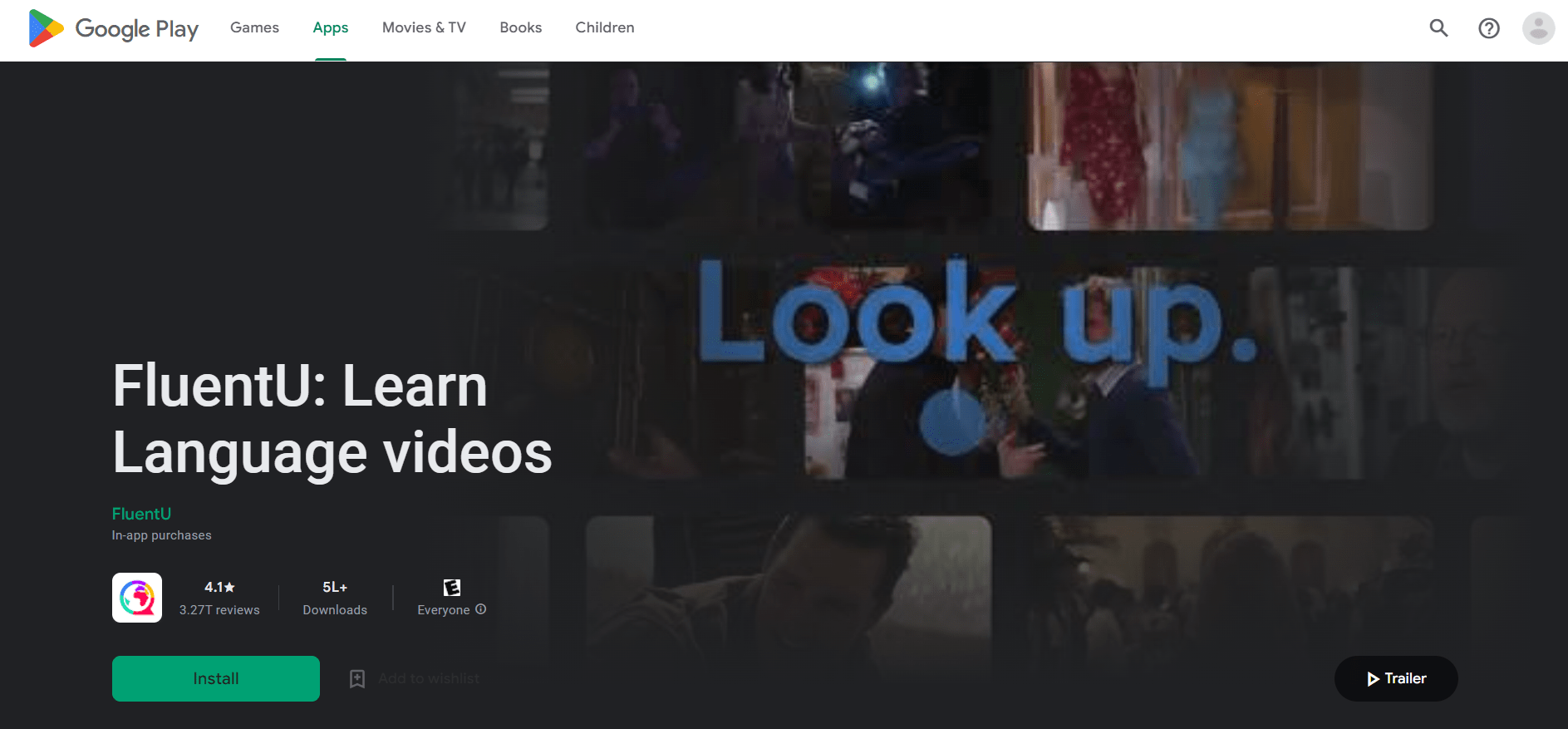 By immersing you in videos that show how native English speakers use the language, the app makes it easy to learn efficiently. Movie trailers, news snippets, and music videos are among these clips. And unlike other sources of English films, FluentU offers instructional tools that make it easy to grasp terms/expressions you haven't heard before. The videos on FluentU include interactive subtitles that enable you to choose words for a translation.
Additionally, FluentU offers customized tests that enable you to put what you've learned from the videos into practice. In the app version, the quizzes contain spoken questions that enable you to improve your English pronunciation with the device's microphone. Simply voice your response into your device, and FluentU's speech recognition software will indicate whether or not you pronounce your words correctly.
You may utilize the video material on FluentU to learn how to talk with a range of accents and dialects because it is produced all around the English-speaking globe. One can get an English learning app free trial with this best app for learning English speaking offline, but there are also monthly subscription plans available.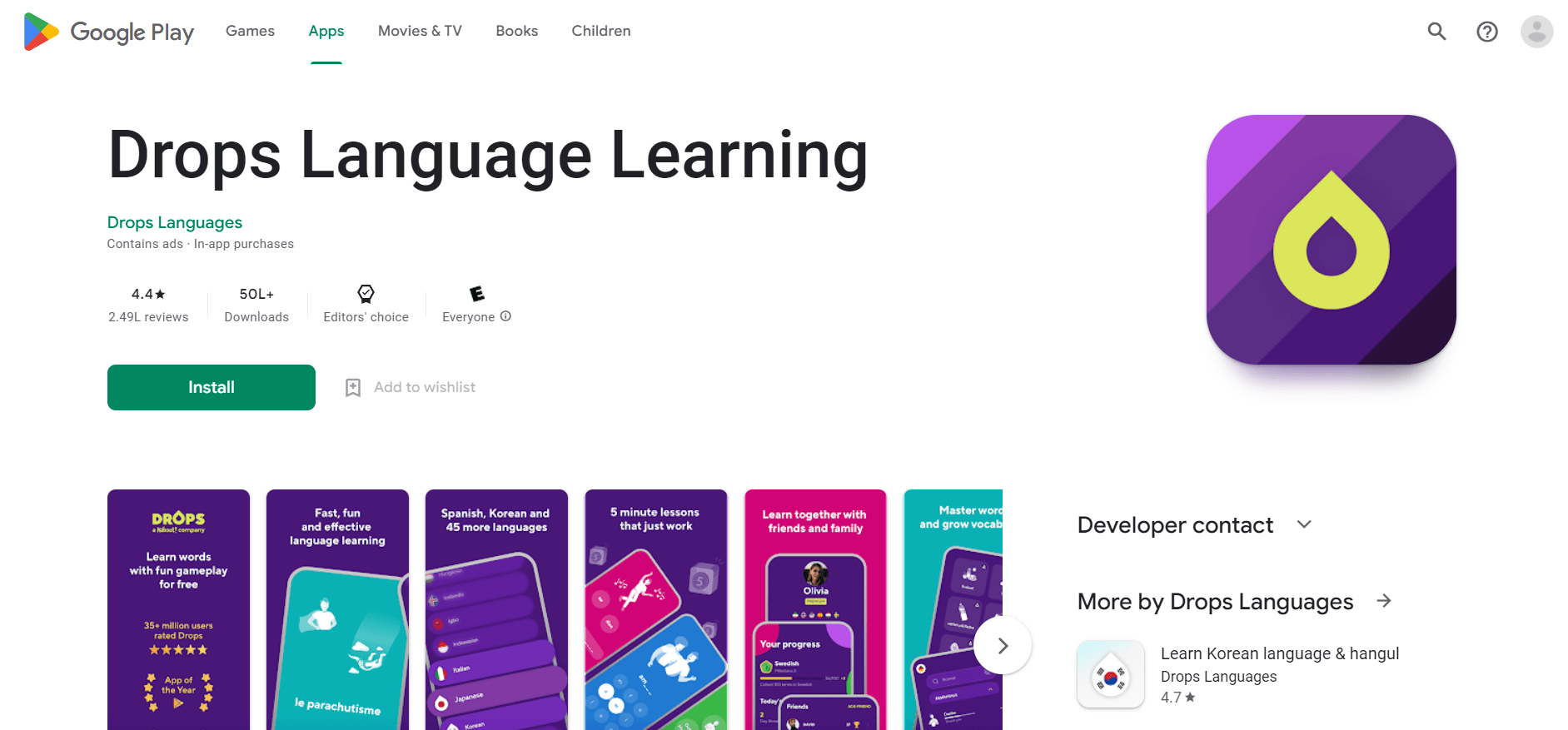 Drops is an engaging and enjoyable approach to quickly picking up a ton of English vocabulary. It contains enjoyable games that aid with long-term word and phrase retention. You simply need to utilize it for a short amount of time each day. Some of the most useful vocabularies lists you will come across are those from Drops. You learn about everything, from breakfast delicacies and household equipment to diseases and animal sounds. The app has an appealing look.
The Drops app is available for free usage for five minutes each day. That gives you more than enough time to learn a few new terms every day. A Drops subscription costs $13.00 per month if you want to increase your English vocabulary quickly. It is accessible for a lesser cost if you choose a longer duration in a subscription plan.
Also Read: 17 Free Apps That Pay You to Walk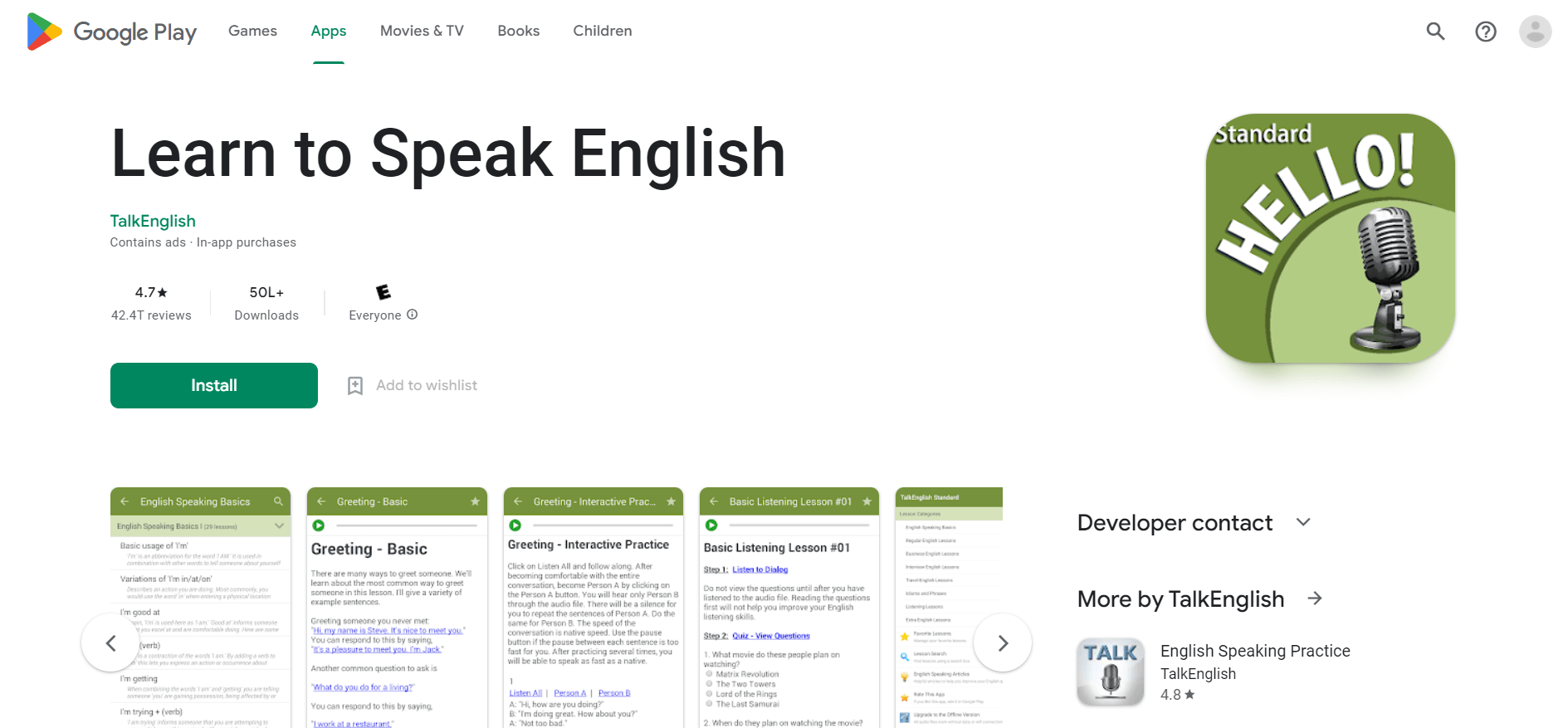 This best app to learn English speaking fluently is a fantastic tool for learning and using English conversation. It includes conversations on a variety of subjects, including food, kids, friends, etc. You can read or listen to dialogue throughout each course. Following that, you respond to several multiple-choice inquiries regarding what you just read.
Most importantly, by taking on the role of best character in the discussion, you get to practice speaking. This is a fantastic method to practice speaking in public without a companion! To compare your speech with the app's version, you may record your conversation practice and listen to it afterwards.
Although the app is free, the platform will contain advertisements. To remove advertisements, you must spend $1.99 or more, and the app's offline mode costs $4.99, making it the best app for learning English speaking offline.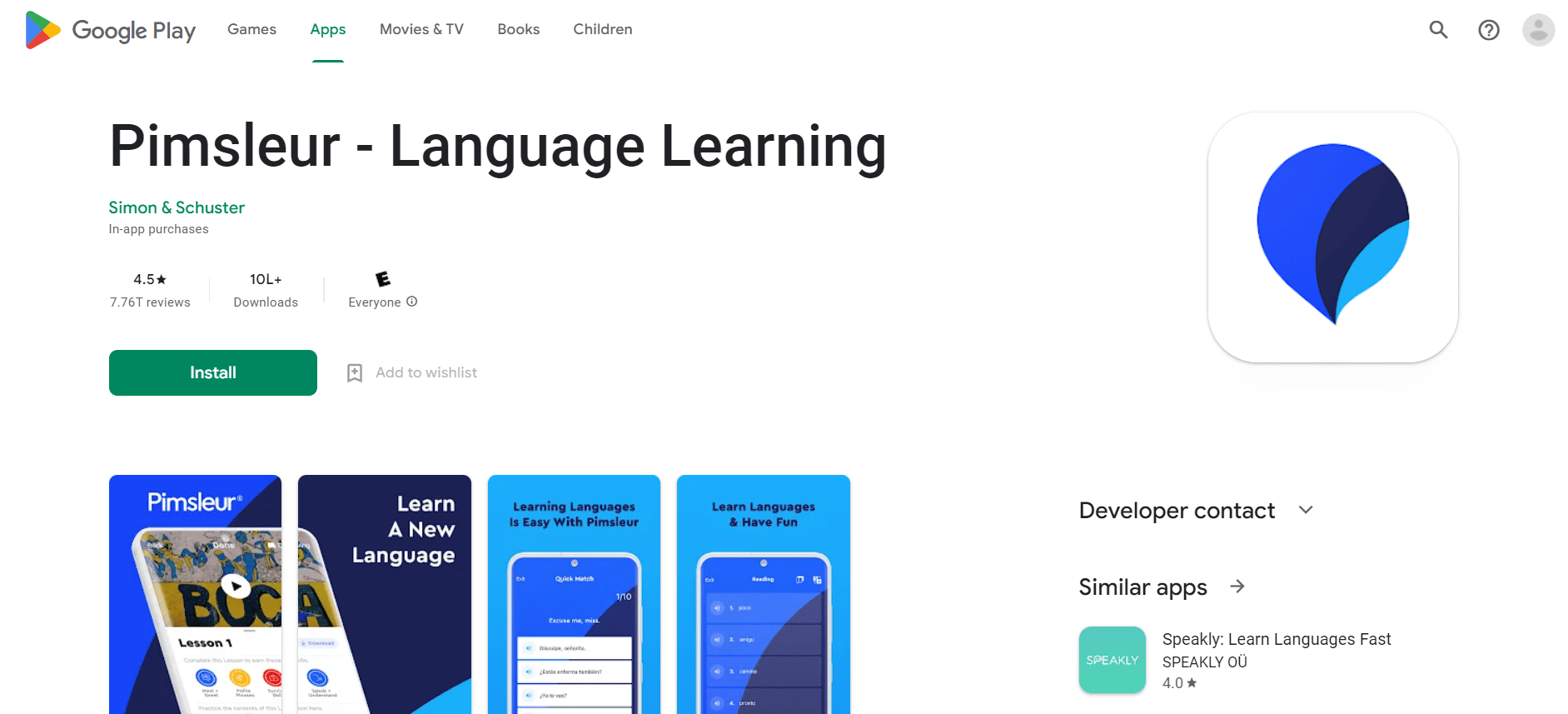 The emphasis of Pimsleur is on dialogue and pronunciation. The very first lesson has you speaking. To hear how people speak English, pay attention to native speakers. Pimsleur might be useful if you want to pick up conversational skills rapidly. The Pimsleur English course is entirely audio-based, and you speak from the very first session onward. The training focuses on vocabulary and valuable expressions you'll use frequently. Even though Pimsleur is the greatest speaking course, it doesn't truly instruct you in grammar, writing, or reading. You'd probably be better to use a program like Babbel if you wanted to practice these.
The monthly membership price for the English audio course on the Pimsleur app is $14.99. A premium subscription costs $20.99 per month if you want more features like interactive practice sessions and writing assignments. Pimsleur offers a free 7-day trial for all of its subscription plans.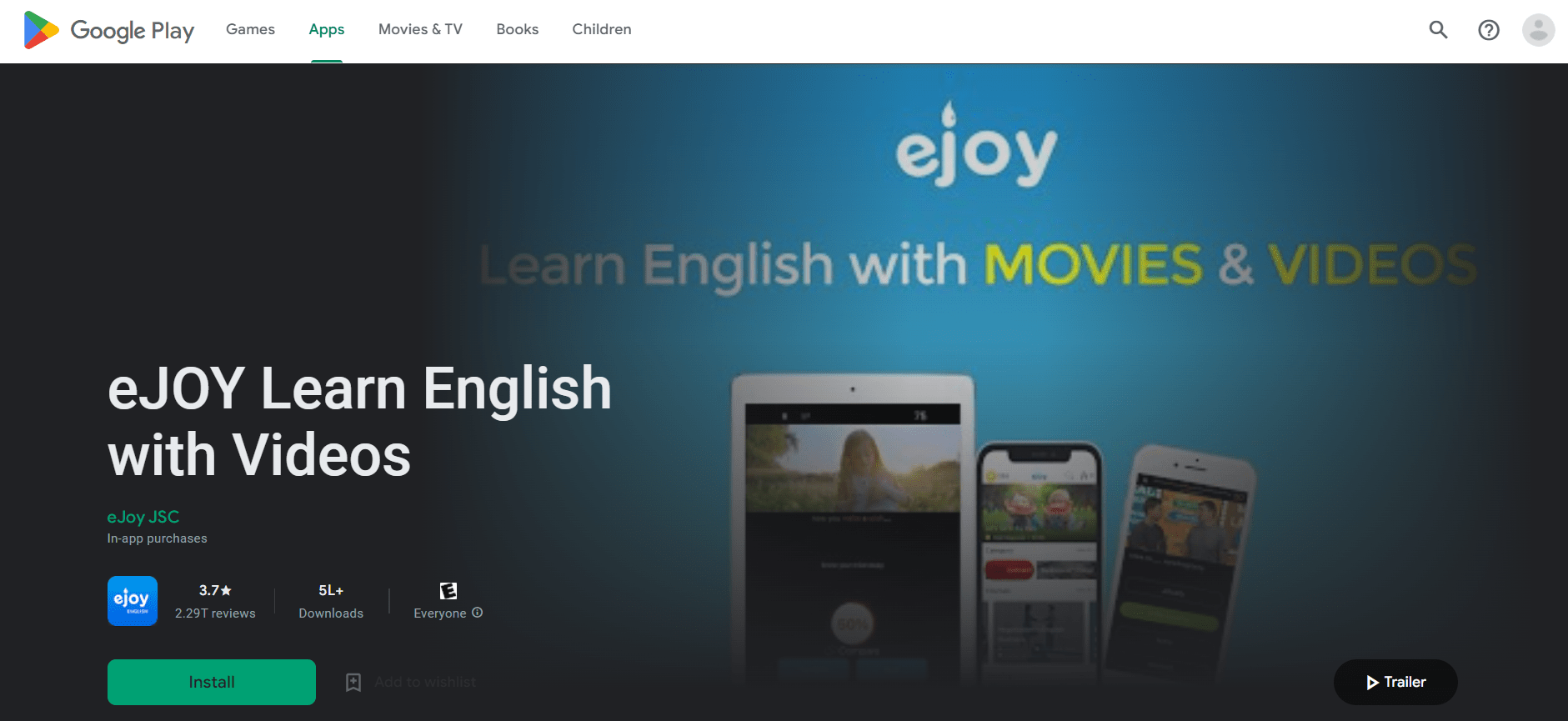 Users can practice speaking English with the eJOY English app with various features like games movies and audio files. Additionally, this best app to learn English speaking fluently enhances the writing and listening abilities of individuals. It includes more than 50,000 movies and videos with a variety of themes, lengths, and skill levels. When you tap a word while reading something online, eJOY will instantly display the term's definition and pronunciation.
Use the latest and most well-designed voice recognition software to practice your pronunciation and speaking abilities whenever and wherever you choose. As you listen and then recite phrases including the words you've stored, eJOY will evaluate your speech and catch any errors in your pronunciation. Keep doing it until you become an expert.
Playing interactive games can help you improve your vocabulary. Enjoy yourself and keep vocabulary in context. It is generally treated as an English learning app free since nearly the majority of its functions are free. However, you may upgrade to the Pro edition to have access to all of its features, including limitless word storage and gameplay. Your free account lets you store up to 100 words. You must subscribe to the PRO account of this best app for learning English speaking offline to keep saving and practicing words.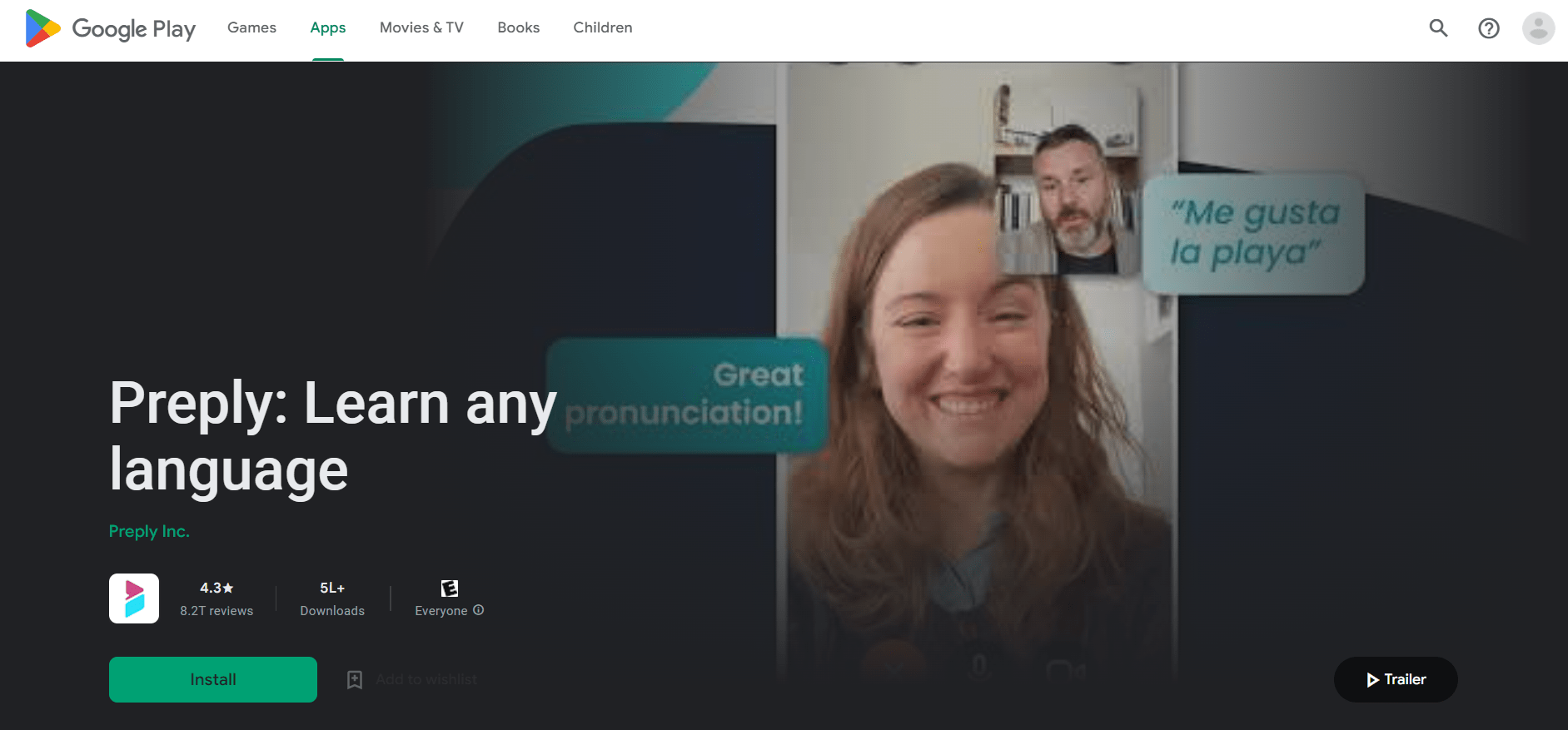 Preply matches students with qualified English teachers for private courses through video chat. You can easily pick your own instructor based on a variety of criteria, such as their place of origin, area of expertise, availability, client testimonials, and fee structure. Preply is the ideal app for learning to speak English since students use it from the very first lesson on.
You can interact with teachers and receive notifications about forthcoming classes via the mobile app. With the free English courses on a variety of subjects from beginner to intermediate levels and the flashcards to review the vocabulary from your classes, you can even practice while you're on the road.
Preply blends the most beneficial elements of traditional English instruction with the ease of a language app. When you commit errors, you immediately receive feedback. Students pick up information at their own rate, and instructors are allowed to wait until a topic has been thoroughly grasped before moving on.
You can select the price range when using the teacher search option. Prices begin at $5 an hour. This best app to learn English speaking fluently will give you a refund or provide you with a free replacement instructor if you are dissatisfied with a lesson.
You may learn English for free on Duolingo by using their vast course. Activities that focus on vocabulary and translations take 5 to 10 minutes to complete. A comprehensive English course is available on Duolingo, and it is free. To assist you with learning new words and phrases, it contains interactive courses and tests.
There are many lessons that deal with commonplace circumstances, but they aren't really in-depth. Duolingo is a good choice for the best app for learning English speaking offline, if all you're wanting to do is establish a solid foundation in English.
All of Duolingo's courses are free to take. However, several advertisements impede your education. Super Duolingo Plus is available for $12.99 per month or $83.99 per year if you want to remove adverts and access other features.
Also Read: 24 Sign-Up Bonuses to Earn Free Money

Many applications can teach you the English language, but many neglects to provide cultural lessons. Unlike MosaLingua. With the help of the flashcard programme MosaLingua, you may learn a sizable number of helpful English words and phrases. It also offers a huge collection of books, music, and movies that may be used to learn more about culture.
It is common knowledge that understanding the culture is just as crucial as acquiring new words and expressions. And MosaLingua aids you in both instances. The lack of speaking practise in MosaLingua is its sole drawback.
It costs considerably less to subscribe to MosaLingua online ($4.99/month) or mobile ($9.49/month) than most other English-language apps.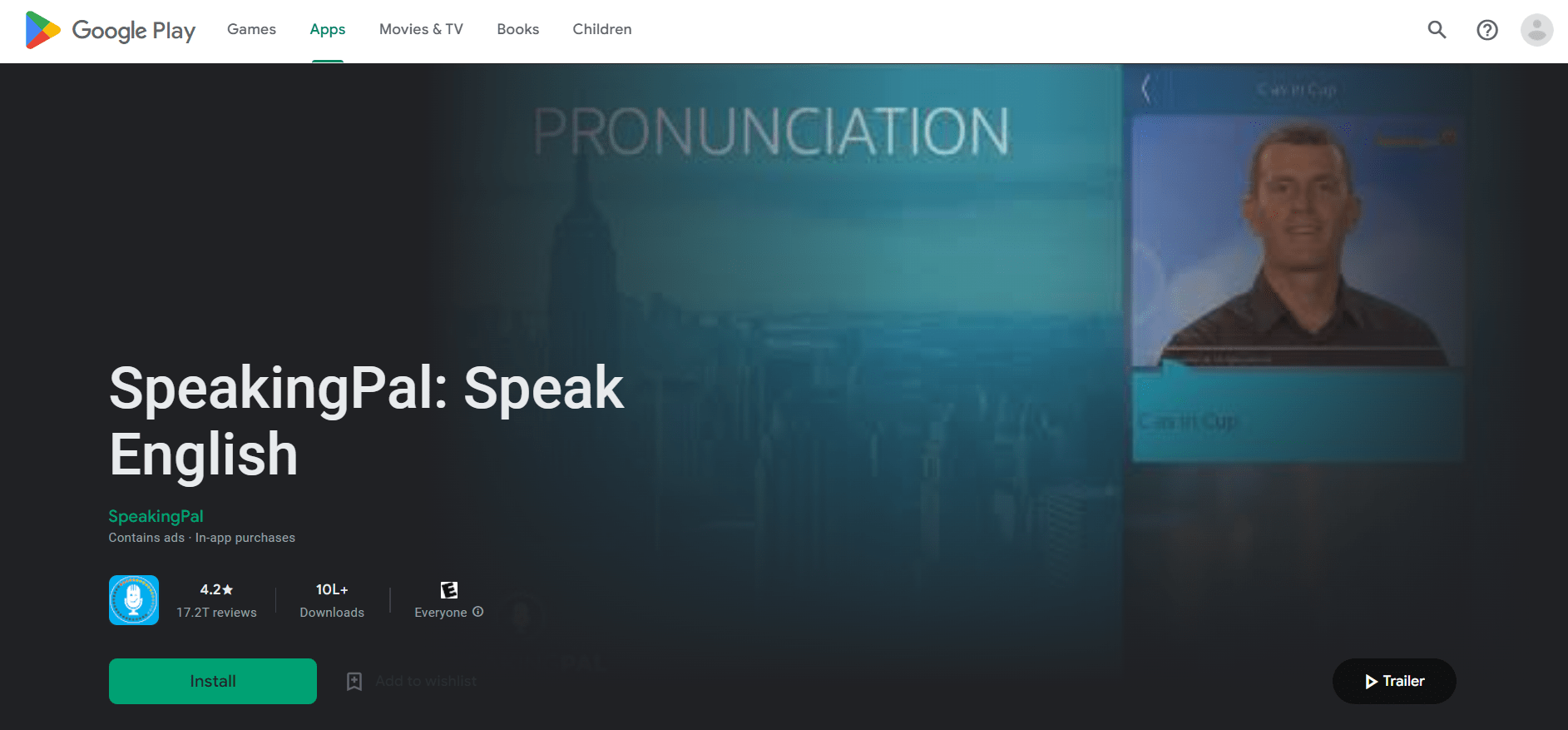 SpeakingPal can be a lot useful if you're hesitant to practice your English with a stranger. The app enables you to have scripted chats with a video character. SpeakingPal will monitor your voice and inform you immediately about how well your pronunciation sounds. Speech recognition technology is excellent for learning since it provides you with immediate feedback. The scripts also include translations so you may simultaneously learn new words and phrases.
Additional materials include understanding-testing questions and quick video tutorials. SpeakingPal also tracks your development so you can see how far you've come and how much further you still have to go.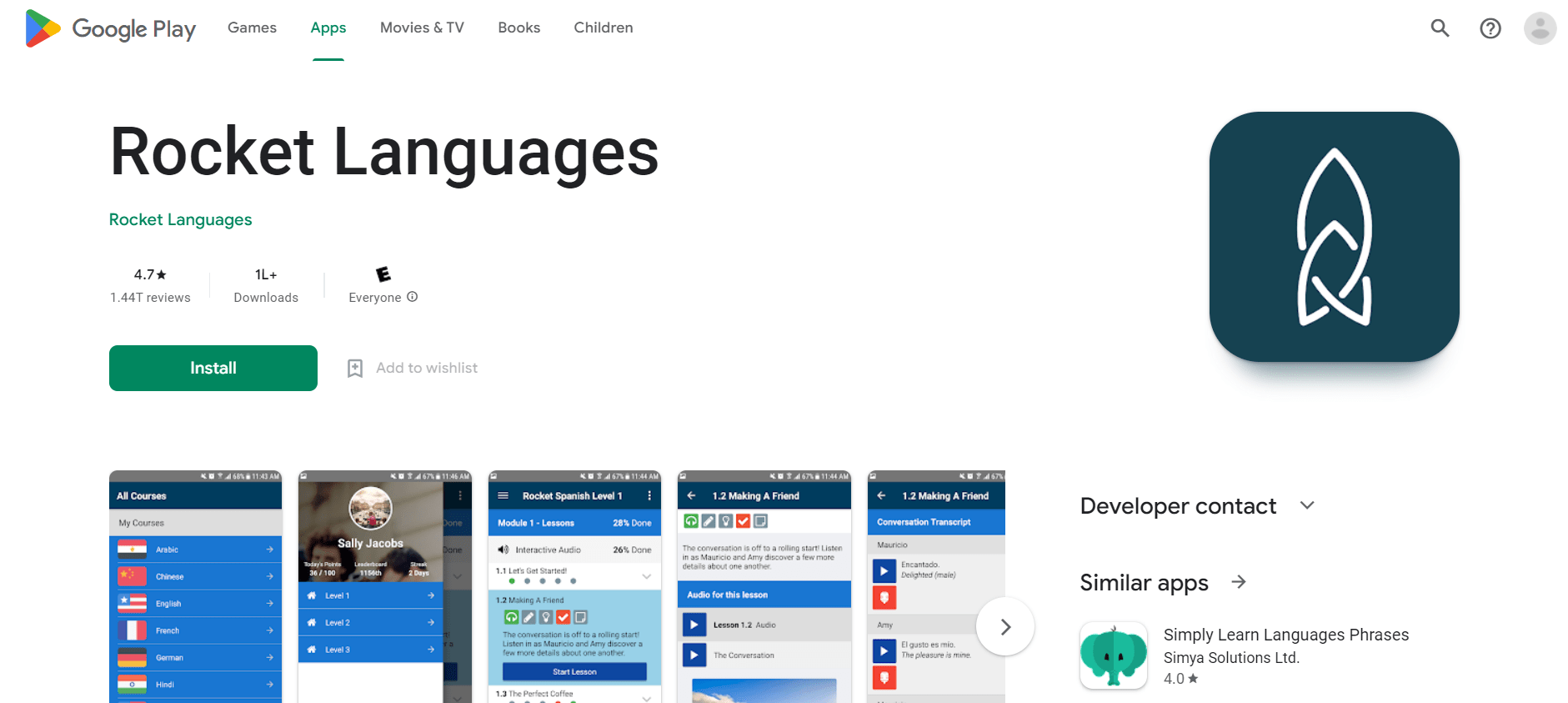 Because of the caliber of its lessons, the Rocket Languages English course is by far the finest app for learning English. It will assist you in moving from a total novice to a competent English conversationalist.
The interactive exercises emphasize communication above memorization and repetition of words and phrases. Everything from fundamental introductions to pronunciation and more is covered in the course. You must make a one-time payment to enroll in the Rocket English course, after which you have unlimited access. The cost of the course is $99.95. Additionally, Rocket Languages provides a free trial so that you may use it before purchasing.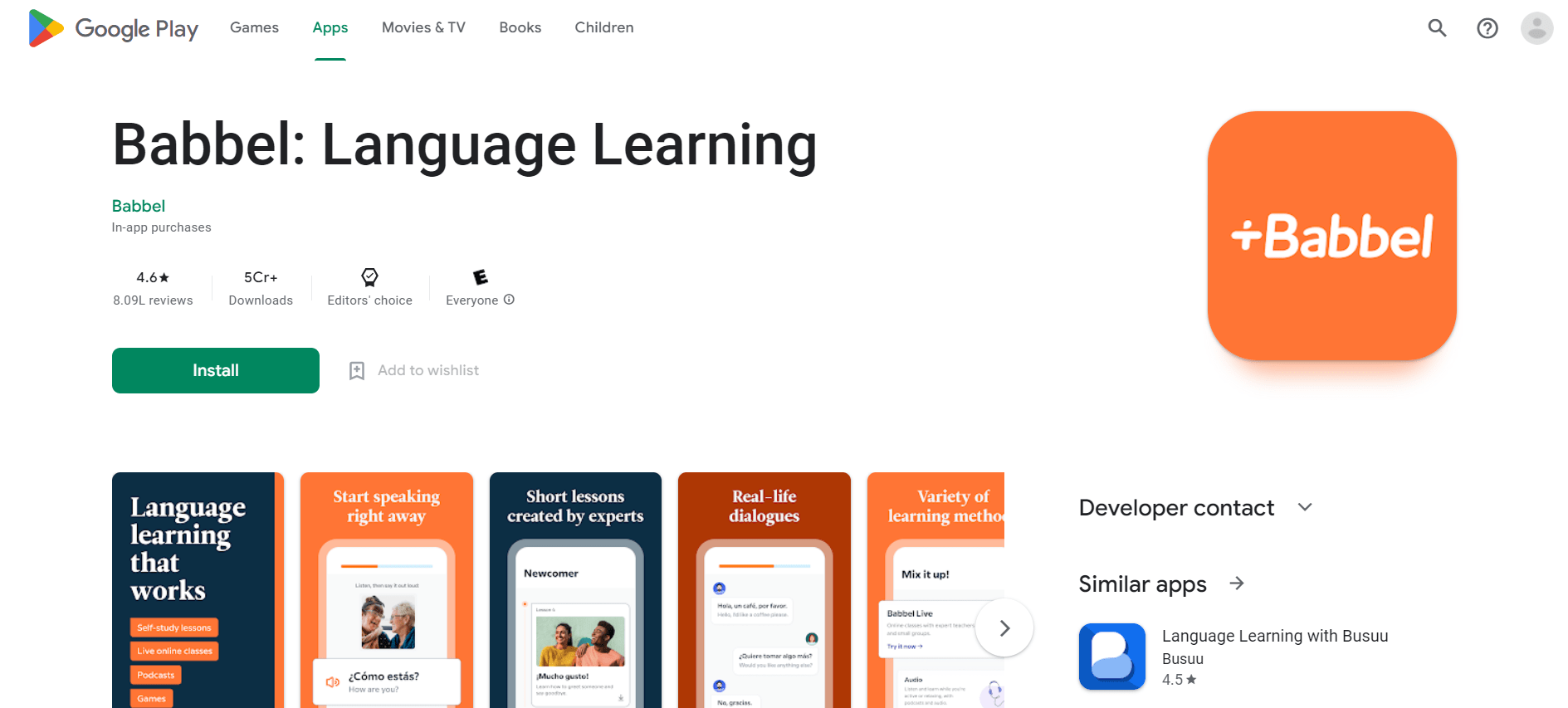 Babbel is the best comprehensive app to learn English since it covers reading, writing, speaking, and listening practice. With the Babbel English course, you can swiftly go from beginner's level of English to conversational. What truly makes Babbel standout out from all the other English learning applications is its grammatical recommendations. Although English grammar might be incredibly challenging, Babbel simplifies it into manageable pieces.
A one-month membership to Babbel costs $13.95, but you can receive a significant discount if you buy a longer subscription. You may also benefit from Babbel's 20-day money-back guarantee if you test it and decide you don't like it.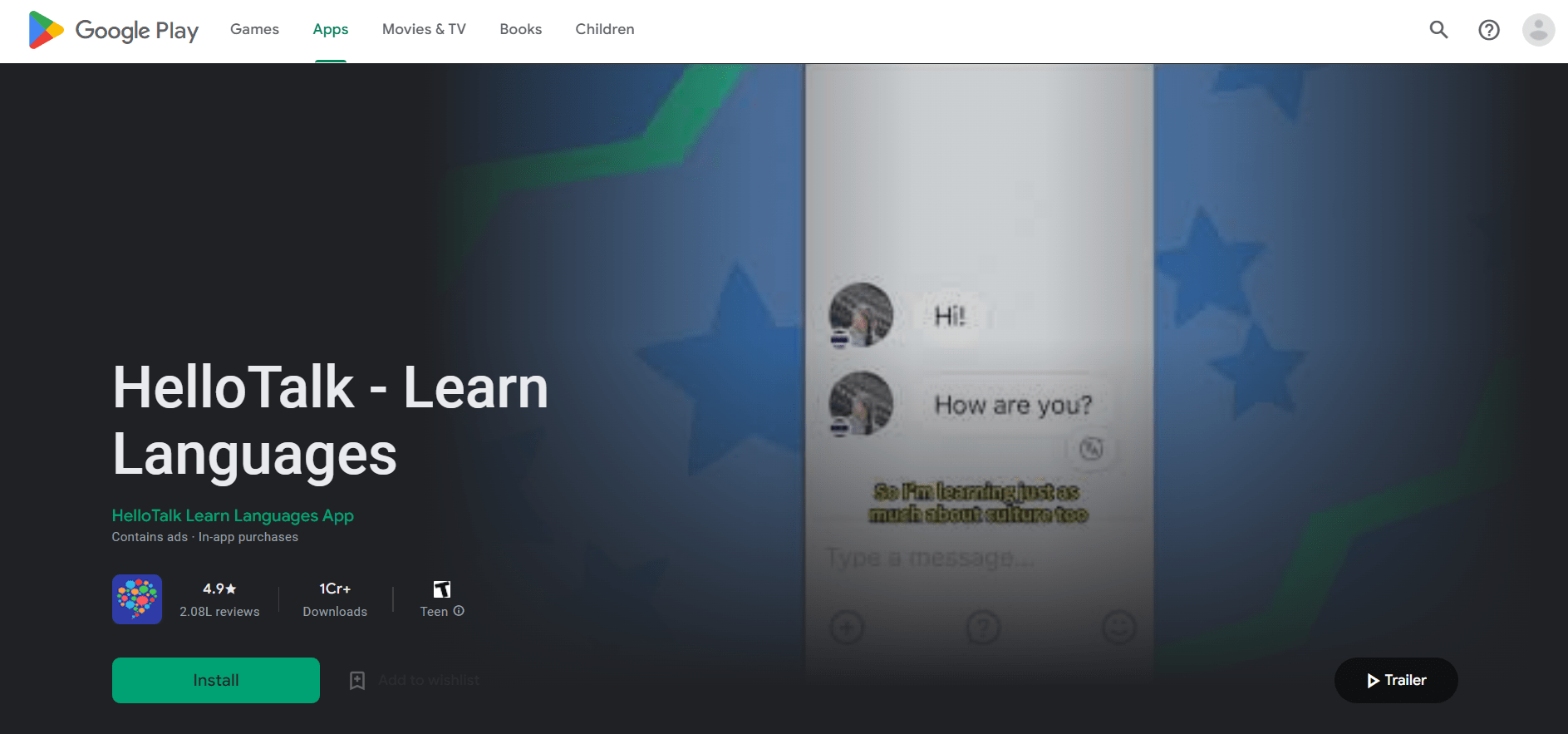 If you don't already have a language partner, HelloTalk can find one for you at no cost! When you teach somebody your native tongue and they teach you theirs, you are engaging in a language exchange (English). One of the most well-known language exchange apps, HelloTalk has over 30 million users worldwide.
Based on where they are from and the languages they speak, you can pick who you want to chat with. When you've located a speaking partner, you can communicate with them by text, voice, or video messages, phone call, or video chat. This best app for learning English speaking offline offers a grammar check feature to assist you and can identify errors in your message before you send it. Although this best app for learning English speaking offline is free, a monthly VIP membership starts at $8.99.
Also Read: 20 Best Apps That Pay You To Play Games For Free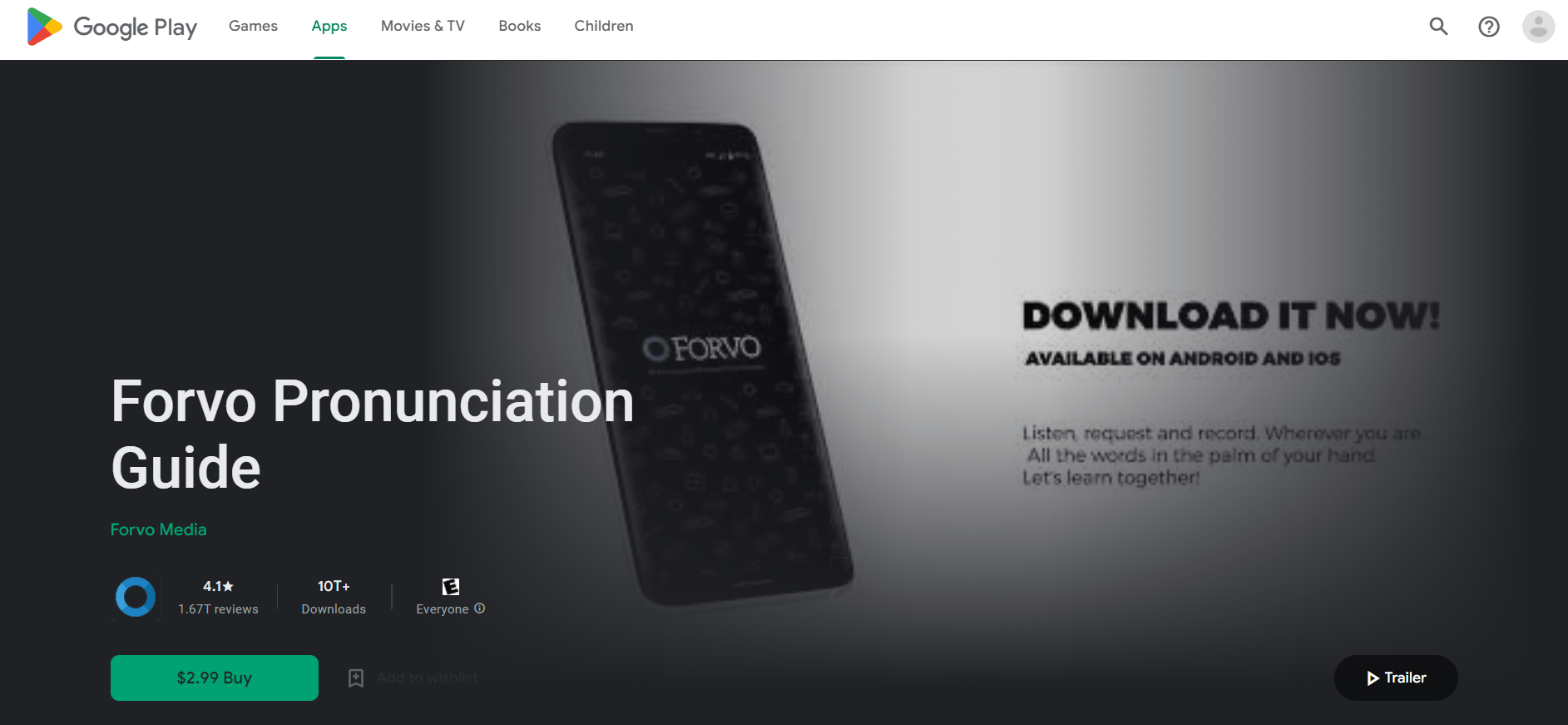 With a special twist, Forvo's word and phrase pronunciations in more than a hundred languages are all offered by actual native speakers from all around the world. Even your pronunciation of a term in your native tongue can be uploaded. You can use it to learn English by just looking up a word or phrase to listen to audio recordings of native English speakers pronouncing it. You can determine which of the audio clips is the most trustworthy by looking at how other users have evaluated the pronunciations.
The ability to hear many English speakers using the same word is one of the finest features of Forvo. This best app to learn English speaking fluently is excellent for learning how to pronounce words that you are unsure how to utter. To match the pronunciation of a native speaker, play the audio first and then repeat it. You can hear both male and female voices, as well as the many English-speaking nations' regional dialects from America, Europe, and beyond.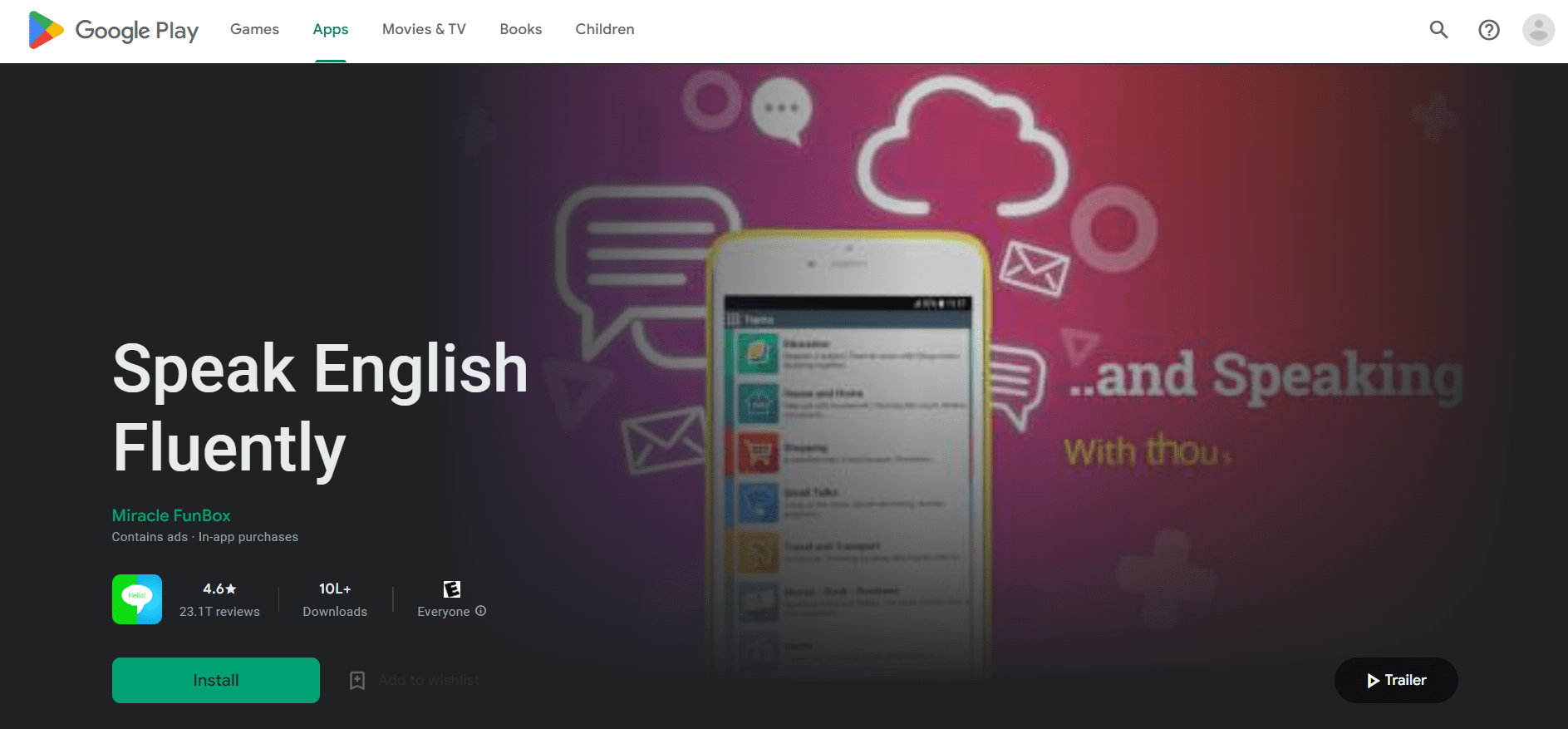 You can practise your basic and intermediate English conversational skills with this app. It provides several brief examples of typical conversations you could have or hear in daily life. The narration is performed entirely by native English speakers, and the scripts seem relaxed and genuine. You also receive a list of typical sentences and words that you'll probably use a lot in addition to the chats.
The program also includes brief lessons on idioms, frequent phrasal verbs, and irregular verbs to help you feel more comfortable speaking English. These additional courses are wonderful complements since they cover a variety of topics that language learners may find perplexing.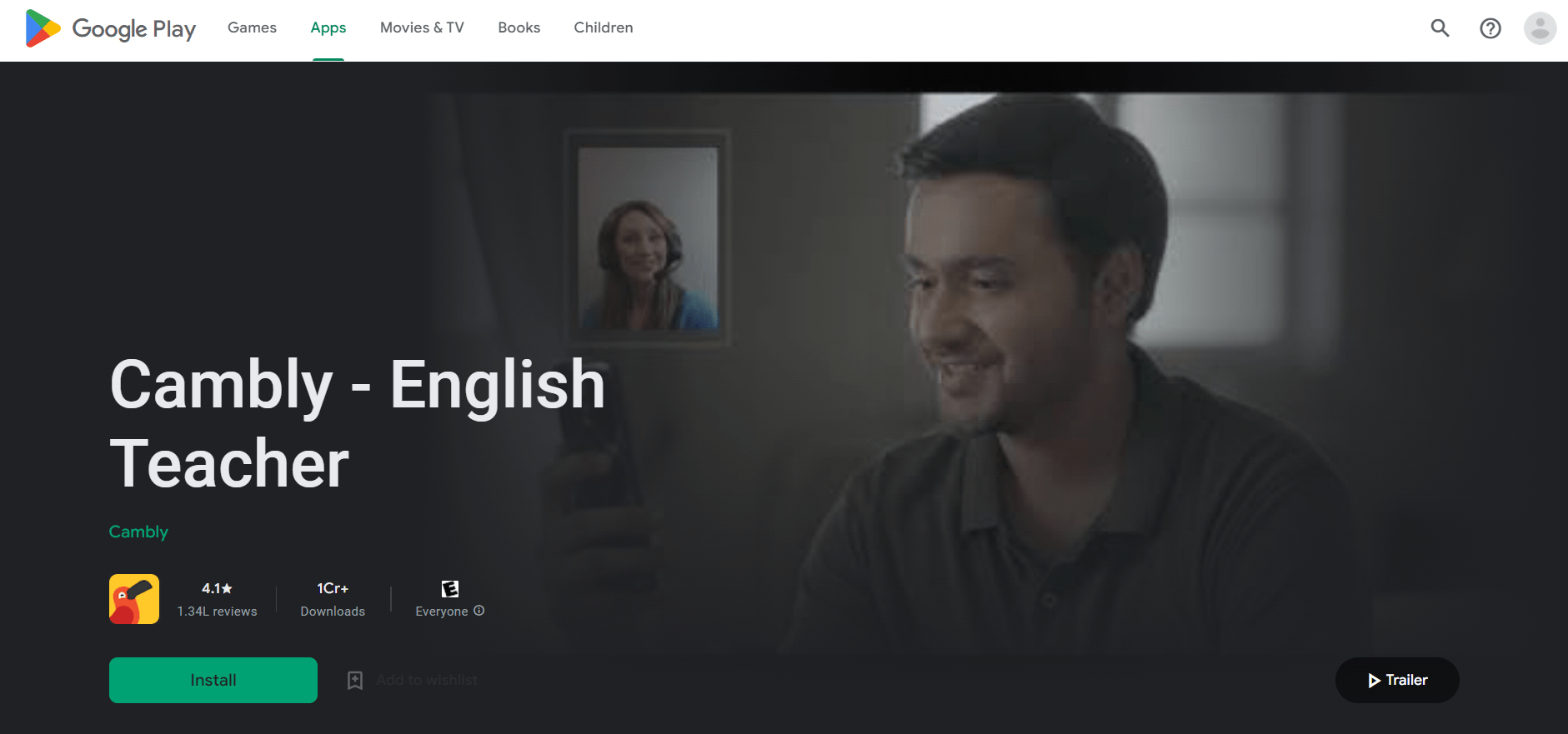 You might love Cambly if you want to practice your English in private more. With the help of this app, you may interact with a native English-speaking instructor. Based on their availability and areas of expertise, you can pick your English instructor. Once a lesson has been planned, you can meet with your teacher one-on-one for up to an hour at a prearranged time. Whether you want to work on your grammar or pronunciation, or just practice speaking to gain confidence, he or she will assist you.
Along with guided courses that concentrate on particular English abilities, including business English or academic English, the best app to learn English speaking fluently also offers personalized video classes. This app costs $85 per month.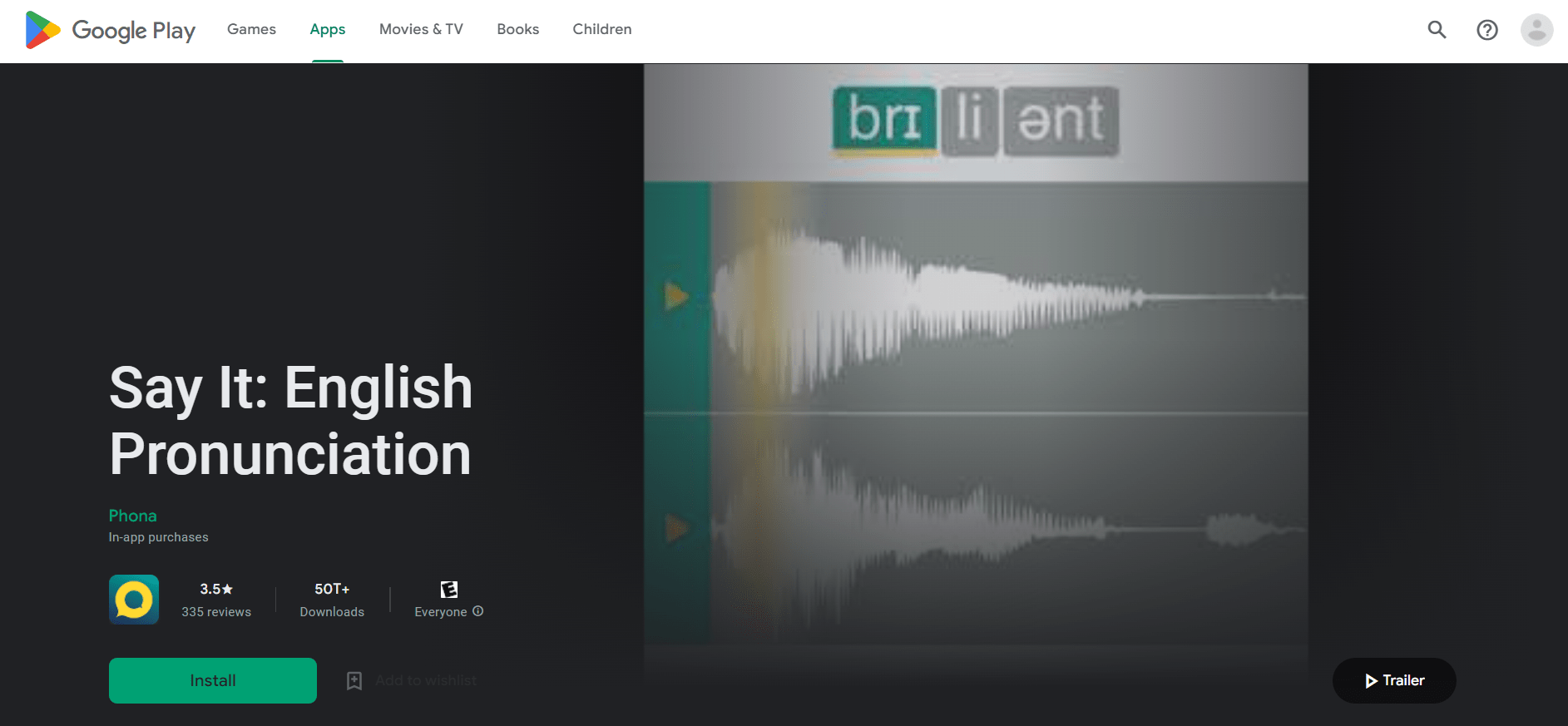 Say It aids how to pronounce terms users are already familiar with. English students can increase the accuracy of their pronunciation. Students can join up for a limited free edition, but they must subscribe to the premium version to unlock all the features. The app is aware of the wide range of accents used by native and non-native English speakers.
You can replicate the typical British or North American accent used by Say It as a point of reference, which can help you pronounce words clearly and increase your confidence and fluency when speaking English.
Students can record how a word is spoken. The app then converts the word into a graph so that you can compare how the pupils pronounce it to how it should sound. This enables them to determine if the word forms and phases and the locations of the stress marks are comparable.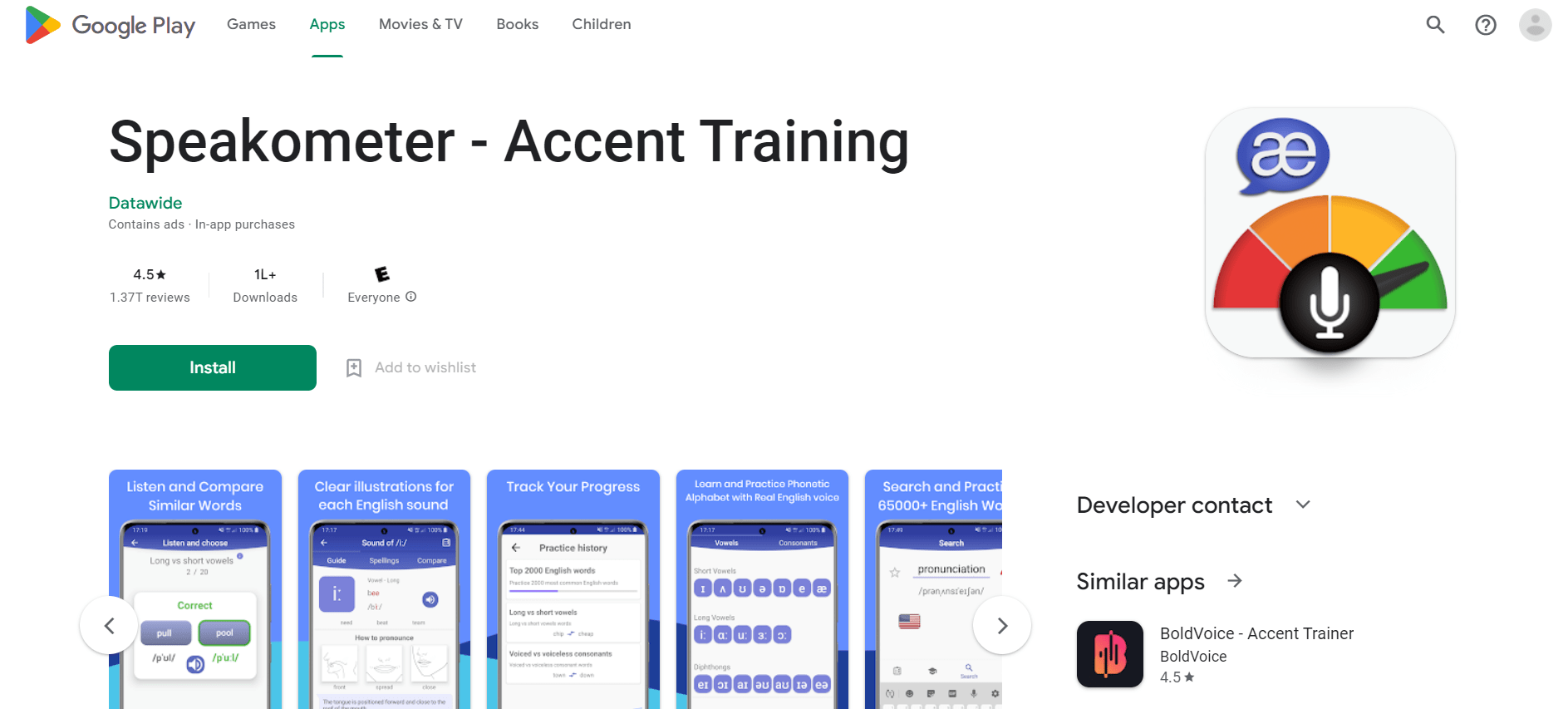 You can hone your public speaking skills by reading brief paragraphs on various subjects. They are all accessible in audio formats with various durations delivered by native speakers. These paragraphs are written in both letter and IPA format.
You can also record and hear your pronunciation with this tool. The application does not, however, allow you to rate your speech. You must evaluate them independently by contrasting them with sounds produced by native speakers. This best app to learn English speaking fluently is completely free of cost, making it an English learning app free.
Also Read: 15 Best Budget Planner Books to Manage Your Money

Benefits of Using English Learning Apps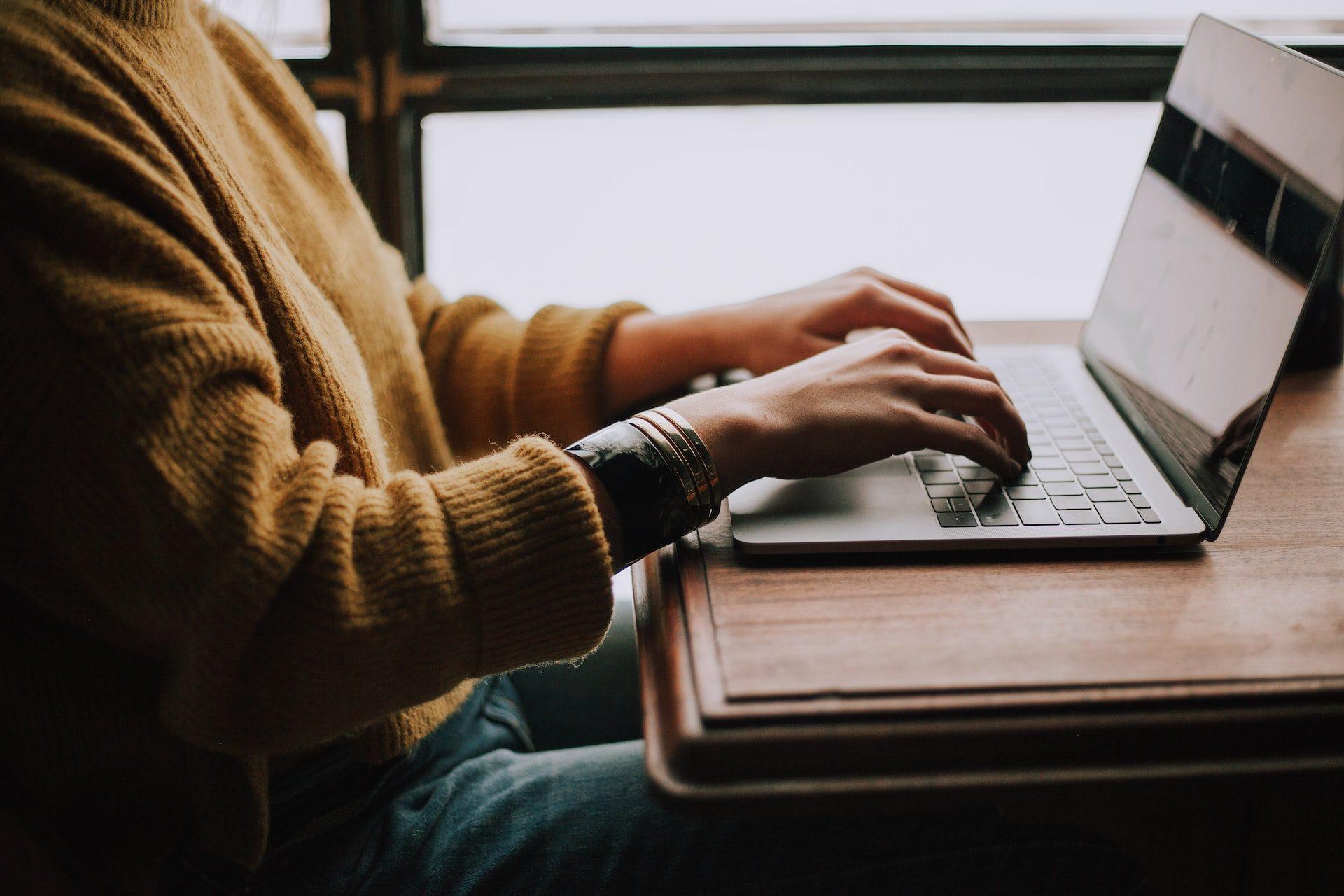 Today, learning English as a second language is essential for both professional and personal success. The process of learning English is time-consuming in the truest sense of the word. It may be quite difficult to carve out time in our hectic daily schedules. However, one can now study English anywhere and at any time using the best app for learning English speaking offline. Here are some of the benefits of using these apps.
Highly Convenient: The ability to participate in lessons from the comfort of one's home is the biggest advantage of using these apps. To learn, one does not necessarily need to travel to a facility or a class; instead, one can easily complete the course at any place one chooses.
Fun and Interesting: It is quite entertaining to learn English with a mobile application. These apps offer a variety of quizzes that keeps the lessons engaging and interesting. These English learning apps make use of the idea of games; it is designed and set up like a game with points, lives, and levels.
Live Classes: With these apps, you can register for online lessons and practise speaking English with your preferred teachers who are linked with the app. You can communicate actively with your instructors during live English courses and ask them questions if you're confused or have any issues.
Less Hesitance: Even though introverted students may find it difficult to study and participate in a big classroom setting, these tailored speaking classes over the phone help them feel satisfied and more comfortable. As a result, you would be less hesitant to engage with a new educator and would have a better opportunity to learn from your mistakes.
This list of the best app to learn English speaking fluently should be useful to you as you continue to learn this language. Every app for learning English has something special to offer and may direct your attention to particular abilities. These are the best English learning applications due to the quality, value, and features they provide. With the aid of these apps, you'll soon be able to talk with assurance.