By Team DNA, DNA-Daily News & Analysis
Shivakumar Ganesan was content with his job at Yahoo and then Flipkart, an online bookstore until early this year when he was looking out to buy a used refrigerator. Not knowing where to turn to strike the right deal, Ganesan decided to set up Roopit — a meeting point for individuals to buy and sell stuff amongst themselves.
"At Roopit(http://roopit.com/), we want to make the Internet work for India," says Ganesan. "Our flagship product roopit.com — the website — bridges the existing gap between sellers who are on the Internet and buyers who are on the mobile phone."
As the founder and the technical brain behind Roopit, Ganesan says that Roopit has received a phenomenal response ever since its launch in June, this year.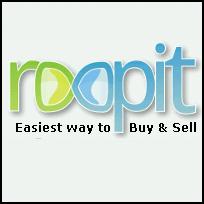 "There is a deal being struck every hour, and nearly 20 to 30 items are put up for sale each day with over 50 people wanting to buy those products," he says. "With over a 1000 users accessing the website on an everyday basis, we are truly amazed at the response we have received," adds an excited Ganesan.
The mechanism of Roopit is fast and simple, which sets it apart from other such platforms. Individuals can sell anything by writing a short 140 character description of their product on the website, or by calling or sending a text message to Roopit.
Similarly, buyers can access the information in the same manner. "For example, when someone calls Roopit and tells us that they are looking for a two-bedroom house for rent, we send them an SMS with phone numbers of house owners who have two-bedroom houses for rent. This is a powerful tool that can connect nearly 500 million Indians," he says.
Roopit allows the trade of all kinds of tangible items from cars, real estate, mobile phones to novels, hard-discs, toys, or just about anything that is in a usable condition.
"When I planned to set up Roopit, I realized that Bangalore does not have an online portal or a standard way to sell small items. All classified advertisements are property oriented. Hence, Roopit caters to the economically well-to-do who are constantly on the lookout for buyers and the not-so-wealthy individuals who are looking to buy second-hand products," explains Ganesan
In the future, Roopit hopes to expand to other cities across India. Right now they are working on a software automation process and they hope to expand and open a call center soon to enable convenient selling and buying transactions.