Annapurna Microfinance Pvt Ltd (Annapurna) is a microfinance venture of People's Forum, a development organization that is more than two decades old. In 2007, the People's Forum segregated its microfinance activity from its developmental activities and created an independent project, Mission Annapurna. In November 2009, the promoters acquired Gwalior Finance and Leasing Company Pvt Ltd, an NBFC registered in Varanasi, Uttar Pradesh.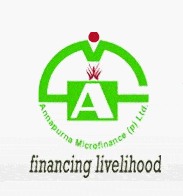 ANNAPURNA MICROFINANCE
The name was changed to Annapurna Microfinance Pvt Ltd in February 2010. The NBFC acquired most of the loan portfolio of the People's Forum in 2012-13. Annapurna operates predominantly in Odisha and extends loans for 12-to-24 month tenures to self-help groups with a monthly repayment structure. The company had an outstanding loan portfolio of Rs.112 crore and borrower base of more than 1 lakh as on September 30, 2013.
Performance on key parameters
Maintained substantial growth over the past 3 years; loan portfolio and borrower base grew at a CAGR of 144 and 142 percent respectively during the 3 years through March 2013
Asset quality is healthy; 30+ days past due (30+ dpd) remains below 0.5 percent in the past 3 years
Has a relationship with five banks and four NBFCs for funding needs. Also regularly raises funds through securitization; securitization accounted for nearly 36 percent of outstanding borrowings as on March 31, 2013
Capitalization is adequate for current scale of operations; raised Rs.13 crore from Belgian investment firm Incofin Investment Management's Rural Impulse Fund II in July 2012 to improve the net worth and support growth in 2012-13
Profitability improved in 2012-13 supported with a reduction in operating expense; however, the ability to maintain profitability will be critical
ANNAPURNA MICROFINANCE PORTFOLIO SIZE AND GROWTH
over the last 3-4 years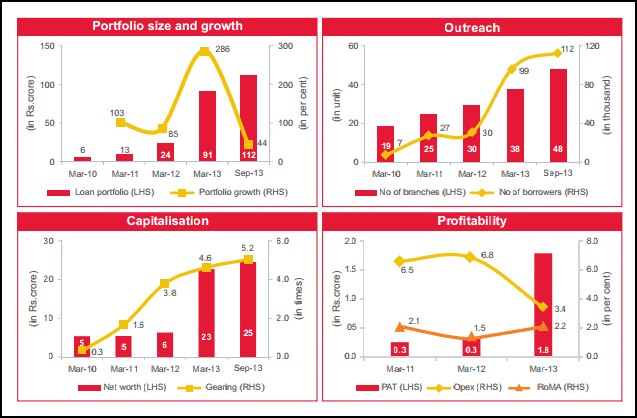 The above information has been taken from India's Top Microfinance Institutions List