Grameen Foundation India (GFI) and EDA Rural Systems have released a report titled 'A Poverty Lens on Financial Inclusion'- the Executive Summary of the report can be download below :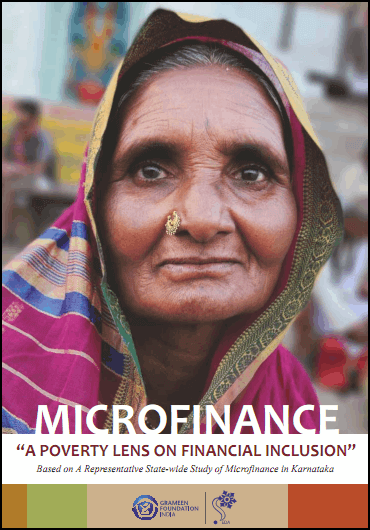 https://moneymint.com/wp-content/uploads/2020/07/Karnataka-POR-Executive-Summary.pdf.
https://moneymint.com/wp-content/uploads/2020/07/Karnataka-POR-Executive-Summary.pdf
A Poverty Lens on Financial Inclusion 
The report looks at the poverty profile of microfinance clients in the state of Karnataka and finds that while microfinance providers in Karnataka are reaching out to the poor, there remains ample room to improve outreach to the poor and this improvement can come about if the practitioners, regulator and other stakeholder create an enabling environment for outreach to the poor. The report also discusses the factors that can influence outreach to the poor including regulations promulgated by the government and the RBI.
Some of the insights highlighted in the report include:
The maximum number of MFI clients fall between the $1.25 and $1.88 poverty lines- These are the borderline poor who have some basic assets and income but are vulnerable to falling into poverty with a small shock. Not only that, but MFIs have also managed to reach down to the poorest segment as well.
The compliance with the RBI income ceiling was better in urban areas than in rural areas. The report also recommends revisiting the income lines to achieve better consistency among rural and urban targeting
There was far greater access to microfinance services in South Karnataka than North Karnataka- Urbanization and availability of better infrastructure allow MFIs to achieve better penetration in South Karnataka.
The study included data from 9 MFIs with 65% of the microfinance portfolio in the state and was supported by AKMI (Association of Karnataka Microfinance Institutions).
Using the Progress out of Poverty Index (PPI), a poverty measurement tool, the study used empirical and statistically derived data to discuss questions such as- What segments of the poor do MFIs work with? What factors impact outreach to the poor by MFIs? The full report is available and can be downloaded at http://grameenfoundation.in/ under the News and Publications Section.