5Paisa Review: It is an application-based, fastest-growing discount brokerage company that was awarded in 2018 as the digital start-up company. Its is one of the best brokerage company in India that charges a fee of flat 20 rupees, irrespective of trade volume and this has brought a revolution in the industry.
It is the sister subsidiary company of an experienced and technologically developed company named IIFL that is India Infoline, which has been in this broking industry for around 20 years.
5Paisa Review
5 Paisa is a public limited company established in the year 2016 with its headquarters based in Mumbai. It offers Investment in Mutual Funds and Initial Public Offers; Trading in commodity, Equity, and currency segments on BSE, NSE, etc. and Insurance packages such as term insurance, car health, etc., under one roof.
The users do not require a separate 5Paisa Demat account to work here; rather, they can use the already been formed Demat account by linking it to 5Paisa.
The 5Paisa application works on mobile, computers, etc. here; if the users want to open a Demat Account, they can do that for free. But for opening a Trading Account, they charge a nominal amount of Rs. 650 and for maintenance Rs. 400 is charged annually after a year.
The most attractive feature of the 5Paisa application is the nominal, flat brokerage fee of just Rs.10, whatever the trade value might be, and zero brokerage if the investments are made for the long term. This reason pulls the customers as low brokerage means higher profit margins.
5Paisa Brokerage
5Paisa not only saves the investors from paying high brokerages but also offers them Systematic Investment Plans that is an automatic option that allows investing through mutual funds.
It also offers annual subscription packs, and these plans can be subscribed by paying just a rupee. To subscribe to 5Paisa plans, you can either use the mobile application or go through the 5Paisa official website. The subscriber pack is as follows:
Optimum plan: No fee is charged under this plan, but it charges a brokerage of Rs. 20 per order. Various other charges are also levied on the users like Maintenance charge, DP Transaction charge, pay in charge, etcetera.
Platinum Plan: A fee of Rs. 499 per month or Rs. 4444 per year is charged along with the brokerage of rupees 10 per order (rupees 20 for new customers).
Titanium Plan: A fee of Rs. 999 per month or Rs. 8888 per year is charged along with the brokerage of flat rupees 10 per order.
Demat annual maintenance charges for different plans are as under:
Optimum Plan – Rs. 45 per traded month.
Platinum Plan – Free
Titanium Plan – Free
According to 5Paisa personnel, 5Paisa charges around 45-50% lower brokerage as compared to the other broking company.
5Paisa brokerage charges under different plans are as under
| | | | |
| --- | --- | --- | --- |
| Transaction | Optimum Plan | Platinum Plan | Titanium Plan |
| Stock Delivery | Rs. 20 per order | Rs. 10 per order | Free |
| Stock Intraday Trading | Rs. 20 per order | Rs. 10 per order | Rs. 10 per order |
| Stock Futures | Rs. 20 per order | Rs. 10 per order | Rs. 10 per order |
| Stock Options | Rs. 20 per order | Rs. 10 per order | Rs. 10 per order |
| Currency F&O Trades | Rs. 20 per order | Rs. 10 per order | Rs. 10 per order |
Major benefits provided by 5Paisa includes easy, and anytime that is 24*7 access, high-class technology which can work over websites or mobile application and even on desktops. It enables quick digital accounts that are linked with Aadhar or Unique Identification Authority of India along with an electronic signature, which means no paperwork and no need to run from one place to another to open an account.
It also allows the investors to invest in Initial Public Offerings, Bonds, and so many other investment plans. Investors can apply for insurance that too online. It provides term insurance, life insurance, health insurance, and auto insurance, all under a single click. It has also started its commodity trading under MCX that is multi commodity exchange.
There are almost nil stock delivery charges with trading facility in currency segments, equity and also gives future options. There is no limitation of the size to be ordered, and all the charges are laid flat and straight, which means no hidden charges.
Also Read: 10 Best Demat and Trading Account in India
5Paisa Margin / 5Paisa Leverage & Exposure
| | |
| --- | --- |
| Category | Margin |
| Equity Intraday Trading | Up to 4X |
| F&O Exposure Intraday | Up to 5 times |
| Option Writing Exposure | 4 times on normal days and 6 times on expiry days |
| Currency Futures | 1 time |
5Paisa has two types of account:
1. An all in one account: It offers a share trading and Demat account online so that there is no hassle in transactions, and work can be done seamlessly. It is a two in one account which provides access to both Robo advisory and investment in Mutual Funds.
2. Mutual fund investment account: This account is only to invest in mutual funds. It does not include a trading or a Demat account and is free of cost. The user or the customer can access the Auto Investor, the Robo advice tool for getting better recommendations based on the profile that is according to income, objectives, risk that can be taken and building a good portfolio accordingly.
5Paisa also offers a marginal funding facility. To avail this, the customer requires to activate the marginal funding service, and it will give an extended time of Trading days + 90 days, which is much higher than the non-marginal one that is trading days + 6 days. 5Paisa also gives a margin of around 3* for trading in delivery and a margin of 10* for trading in the intraday equity segment.
5Paisa platform is available in the form of a desktop-based platform, a web-based platform, and a mobile application. It provides its customers with various features, such as historical charts, charting tools, livestock tips, quick broadcast, tech analysis, etc. the mobile-based application of 5Paisa is easy to download from Play Store or the Apple store or google.
5Paisa offers various other trading platforms such as Algo Trading that is based on pre-defined parameters, swim trader that consists of technical and fundamental analysis for short term equity, smart investors based on buying and selling stocks where stocks of around 4 thousand companies can be evaluated.
Also Read: Groww Review: Good, Bad, or Ugly?
How to open an account with 5Paisa?
It is a paperless method where you can open an account by downloading the application form and filling the required details along with Aadhar card and an e signature. All this is to be sent online, and the online trading account is ready to use within a few days.
Customers and long-term users of 5Paisa have given various ratings to this application out of 10 like 7.8 in terms of experience, 8.4 for its trading platform, etc. it is provided with an overall rating of 8.38 out of 10 and a 4-star rating. It has received the best rating that is 9.5 out of 10 for its brokerage charges due to the flat and minimal fees.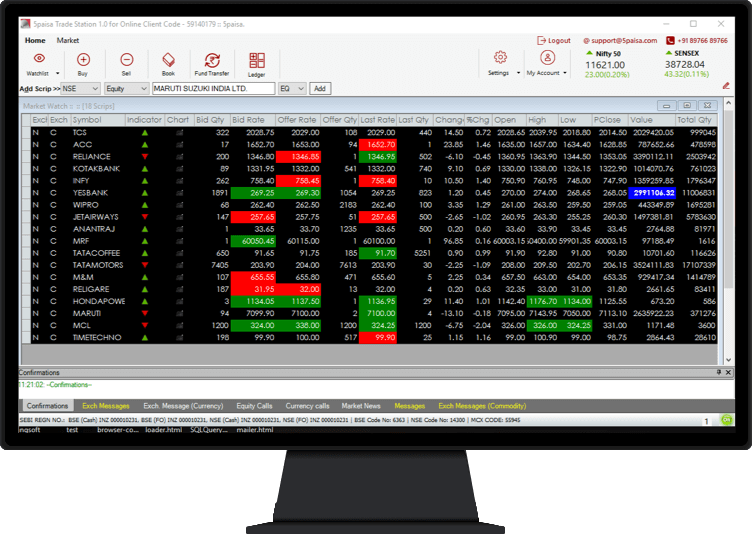 The coin has two sides, and therefore there are some negative sides of this 5Paisa company which are listed as under:
It has a high Demat debit transaction charge that is Rs. 25 in its optimum plan.
High transaction charges in exchange as compared to other brokers.
An additional cost of Rs. 100 must be paid if you want to avail of the call and trade option.
The optimum plan does not provide its users with research and advice Robo service.
It does not offer Non-Residential Indian trading services.
Also, lots of complaints have been lodged against the 5Paisa trading company, and customers also complain about improper communication.
In the end, all I would like to say is that it is one of the fastest evolving discount brokerage company with a decent client rate of 8.38. one should join 5Paisa only when they have enough trading knowledge.
Recommended: Upstox Review
It is n not so good for the investing group of users as they do not have their own offline service related to advisory and queries, and all is dependent on what the machine knows. But it is a great platform for those who are in it for trading. This concludes our review of 5Paisa and hope this review was helpful.