In the academic year 2015 – 2016, more than 3.5 Lakh Indian students opted to study abroad. Indian students continue to be among the top international students across the globe.
Australia and New Zealand have emerged as the surprising new favorites among students from India looking to study abroad. While the US retains the No 1 destination for students going abroad in terms of absolute numbers. It's stringent visa regulations and high university education fees mean that other countries are witnessing a much faster growth, albeit on a lower student base.
Indian Students opting to study abroad declined between 2010 – 2014 because of the harsh economic conditions around the globe but since the last 2 years has begun growing again and recently breached the 350,000 marks. Out of this more than 85% of the Indian students headed abroad choose to pursue their education in these five countries.
United States of America
United Kingdom
Australia
Canada
New Zealand
These countries have emerged as strong favorites because they have a large English speaking population and most of the education system in these countries rely on English as the primary language of instruction.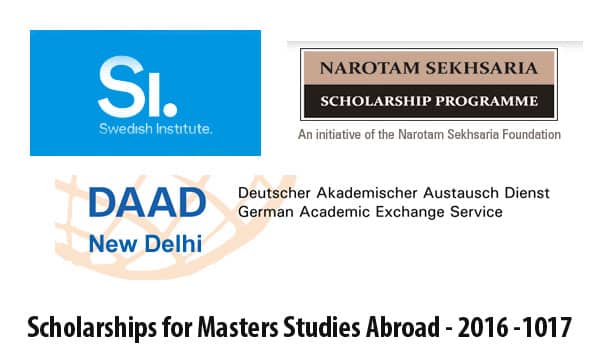 Studying Abroad is Expensive
Studying abroad is not only a dream for many Indians but is also expensive because of the costs involved. Many Indians thus opt for a student loan or apply for scholarships to fund their education. With fees running into an excess of 15-20 Lakhs for each course, students who are unable to finance their education drop out. So to help students achieve their education goals and live their dreams, we have compiled a list of 5 scholarships that Indians can apply for!
Narotam Sekhsaria Foundation Scholarship for Post Graduates Studies (Maximum 20 Lakhs)
Students with an excellent academic record can apply for this scholarship. The scholarships will be given to complete your Masters in the field of Pure and Applied Sciences, Law, Art, Architecture and Business Management. The university where you intend to study also needs to be highly ranked or you will not be eligible. For more details, you can visit their website at http://pg.nsfoundation.co.in/Home/Scholarship
No of Scholarships available: 30
DAAD scholarships for Indians studying in Germany
Germany is another destination that has emerged as a top favorite for Indians as it has introduced many internationalized courses taught in English. It is only in the last decade that German Universities decided to introduce courses in English, these are now widely accepted and Indian students constitute one of the largest student populations in Berlin, Germany.
For details of the scholarship you can visit: http://www.daaddelhi.org/en/14498/index.html#postgradindia
No of Scholarships available: More than 200 (estimates)
The Swedish Institute Study Scholarships for Indians
This scholarship is available to students admitted to universities in Sweden. It covers both tuition fees, as well as living costs. Please note that to be eligible for this scholarship you need to first get accepted by a university in Sweden. All the applications are online and you need to complete the entire form. You can apply at the following link. https://eng.si.se/areas-of-operation/scholarships-and-grants